Disposable Vapes: Trend of "Getting Bigger"
Over a long period, disposable vapes exclusively refer to non-rechargeable vaping devices pre-loaded with e-liquid. Those handy tiny vapes can be discarded once users run out of the juices inside or batteries go dead, as they're neither chargeable nor refillable. In contrast with some mods or pod kits that might last for several years, regular disposable vapes were designed for very short-range use. However, in recent days, the definition of disposable vapes has extended to a broader sense.
Driven by a widely accepted goal of long-term sustainability, an array of vaping brands is starting to manufacture mega disposable vapes. They're dubbed "mega" less for the size or heft, while more for the scaled-up capacity of the pod cartridge and battery. Moreover, some manufacturers are even carving charging ports out of the disposables to enable them to hold up longer.
Regular VS Mega Disposable Vapes
The evolved mega disposable vapes remain fuss-free and portable as the regular ones. They feature the same easy operations, tiny form factors, and drag activation. The only difference between the two might lie in the service life. Mega disposable vapes house more liquids and stronger batteries, thus allowing us to enjoy more puffs with one single device. A typical user can get somewhere from 1000 to 2000 puffs, and even more puffs from a mega disposable vape. And for your reference, traditional disposable vapes last for roughly 400 puffs on average. 
If you're looking for a vaping product to help you with a quick, smooth transition to vaping, we can't recommend mega disposable vapes enough. Nevertheless, with a galaxy of mega pens from numerous brands, you might find it hard to make a choice. That's why we've shortlisted the five Best Mega Disposable Vapes in 2021 as below. Hope the information is helpful!
Best Mega Disposable Vapes in 2021
Puff Labs Beast Synthetic Disposable Vape
Beast Synthetic Disposable Vape rolled out by the Puff Lab has risen through the ranks of mega disposables. One of its advantages over other disposables is the long service life. It holds up to 6ml pre-filled e-liquid. Besides, it's outfitted with a Type-C charging port to power its 1000mAh built-in battery. That enables us to use the device until the last drop of liquid. Such a plentiful supply of liquid and power join forces to allow for more than 2,000 puffs.
Beast synthetic disposable vape, as the name suggests, uses synthetic nicotine in its pre-loaded liquid formulation. Compared with conventional nicotine extracted from tobacco leaves, synthetic nicotine is far more friendly to the environment as it doesn't involve devastating tobacco growth. That makes Beast also an ideal choice for environmentalists. In addition, its see-through juice tank allows us to check the juice level easily.
Small and slim as it is, Beast allows us to get deep into harsh DTL vaping, namely the sub-ohm vaping style. The clouds it bangs out are massive and dense. Its vaping performance is with no doubt on the point.
Shop here: Element Vape | $11.99

Bang XXL Disposable Vape
The popular vape brand Bang has also released a big-capacity disposable stick, the XXL disposable vape. First of all, its build quality and appearance are both satisfying. The name "XXL", we have to say, is a perfect description of its amazing 6ml tank capacity, a super big leap from the 2ml of Bang's XL. We can get somewhere between 1,500 and 2,000 puffs from the XXL. 
XXL provides over 15 liquid flavors for us to choose from, all of which carry full-bodied taste and aroma. The liquid pre-loaded in XXL slightly differs from those in other disposables—its nicotine concentration goes up to 6%. For your reference, the typical concentration ranges from 2% to 5%. 6% would definitely be a great appeal for those pursuing more intense nicotine pleasure. By the way, its strawberry ice cream flavor is truly in a class on its own.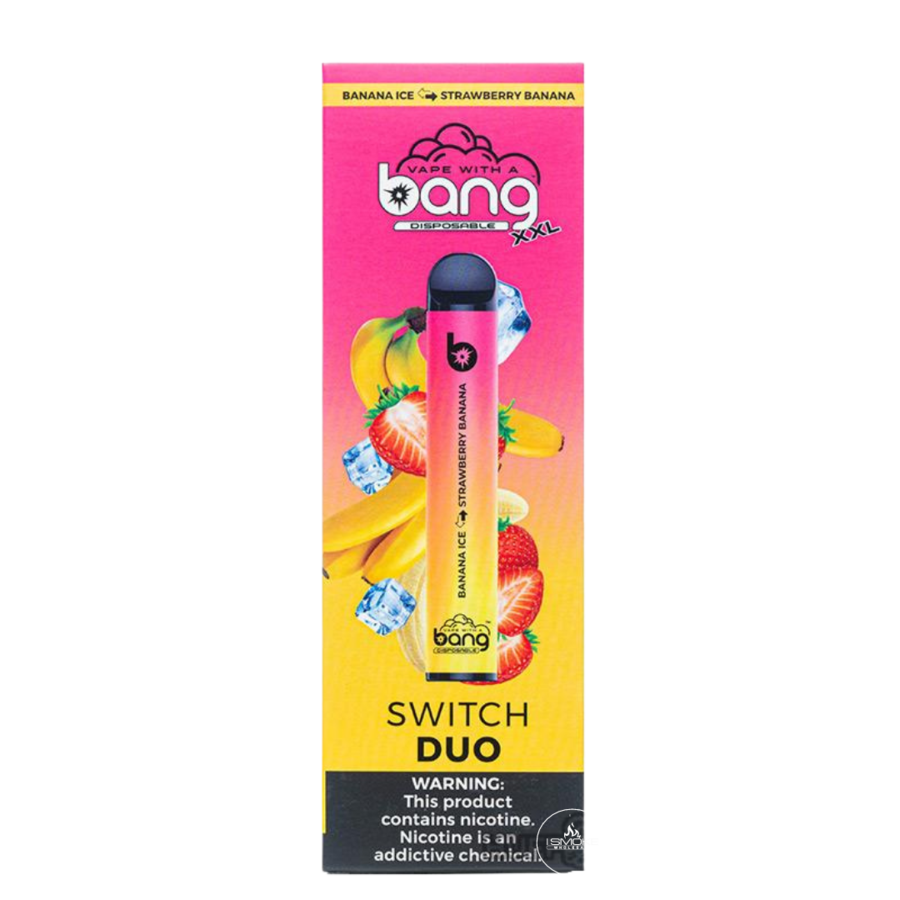 Shope here: Huff and Puffers | $14.99
Vaptio Beco Mesh Disposable Vape
The Beco Mesh Disposable from Vaptio struck us as a best-in-class disposable pen on our first puff. It gave a strong throat hit and meanwhile produced fairly mellow flavorsome vapors through the well-crafted mesh coil. It has surpassed the performance of a typical disposable vape. Beco is equipped with a 5.5ml juice cartridge, big enough. And with its 1000mAh battery which supplies constant and stable power, we can easily get more than 2,000 puffs from it.
Beco's mouthpiece is specially designed to an ergonomic shape to better fit our mouths for taking drags. And it's covered by a shiny stainless steel finish with eye-catching colors. Beco has six colors on offer, each of which corresponds to a particular flavor. It's light and slim, so it doesn't take any effort to carry it around. We can't deny that Beco's overall design just nails it!
Shop here: Vaping.com | $8.99

SWFT Pro Disposable Vape
SWFT Pro is a superb cloud-chasing disposable vape. It excels at producing massive moisturizing vapors and has a perfectly engineered airflow. The Pro series is a big step up from SWFT's earlier Bar series. We see a steep rise from 1.3ml to 6ml in the juice tank capacity and 280mAh to 1000mAh in the battery. The updated Pro is a mega disposable vape that can last for over 2,000 puffs as well.
The SWFT Pro is formidable not only for how long-lasting it can be but also for the pre-filled juices. Most of the juices come in succulent fruity flavors, accompanied by a bit of crisp and refreshing menthol. At present, SWFT Pro has a total of 16 flavors available. We especially love the banana ice flavor, though others are also good enough. Admittedly, e-liquid flavor is more or less down to personal preference. However, with so generous flavor offerings by the SWFT, we believe the palate of each of us can be pleased.
Shop here: VaporDNA | $14.99

Hyppe Max Flow Disposable Vape
There's a good reason Hyppe's Max Flow Disposable Vape went down so well with its users. This mega disposable vape features formidable construction and unmatched build quality. It delivers clean puffs and brilliant flavors from beginning to end. Its mouthpiece is designed to have a more ergonomic curved shape. And the juice cartridge is sealed up seamlessly, without any liquid leaking over. Moreover, it also lasts for 2,000 puffs.
It goes without saying that the Max Flow is a top-notch mega pen through and through. But make no mistake, it costs less than other 2000-puff disposables. Cheaper than the fellows in its class though, Max Flow doesn't compromise on the flavor choices. It provides more than 20 flavors for us to choose from.
Shop here: Element Vape | $11.99

What're the Pros and Cons of Mega Disposable Vapes?

As we said before, mega disposable vapes aim to scale up the capacity of juice tanks and batteries of those traditional disposables. That, for one thing, lengthens a device's service life. For another, longer life means we don't have to discard dead vapes and buy new ones that often. It in turn makes our vaping more sustainable and environment-friendly. When the needs for replacing vaping devices go down, so do the wastes we create and the material consumption required for ensuring a stable supply of vaping products. 
However, a couple of drawbacks also arise from mega disposables' goal of a longer life span. First, we always find severe flavor loss in mega devices when the liquid inside is about to run out. Besides, a few manufacturers somehow fail to equip their mega disposables with a battery commensurate with the growing pod cartridge. As a result, we find our mega device's battery goes dead long before the liquid is used up. Such situations are far and few between though.