Product Introduction
Hellvape Hellbeast RDA 24mm features a sleek and appealing chassis that is crafted by durable stainless steel. It boasts an innovative 72-hole trinity stepped airflow system with ample build space and generous post holes that allow for different vaping styles for decent flavour. The honeycomb intake structure is design for excellent air cooling. The quad post build deck makes it to accommodate single or dual coil configurations for maximum vapour production. Hellbeast RDA fits the mouth perfectly and delivers a comfortable vaping experience thanks to its 810 drip tip.
Hellvape Hellbeast 24mm BF RDA Features:
Created in collaboration with Beyond Vape
Deep Juice Wells
Quad Post Build Deck
1.2mm Air Hole Size
24mm Diameter
PEEK Insulation
Side Secured via Flathead Screws
Single or Dual Coil Configuration
Superior 304 Stainless Steel Construction
Adjustable Trinity Stepped Airflow Design – 72 Airholes
15° Downward Angle to Vent Directly Onto Coils
810 Resin Low Profile Drip Tip
Threaded 510 Squonking BF Pin
 
Hellvape Hellbeast 24mm BF RDA Package Contents:
1x Hellbeast RDA
1x 510 BF Pin
2x 0.37ohm Ni80 Fused Clapton Coil
2x Shoelace Cotton
1x Slotted Screwdriver
1x Coil Cutting Tool
1x Accessories Bag
1x Hellbeast Sticker
1x User Manual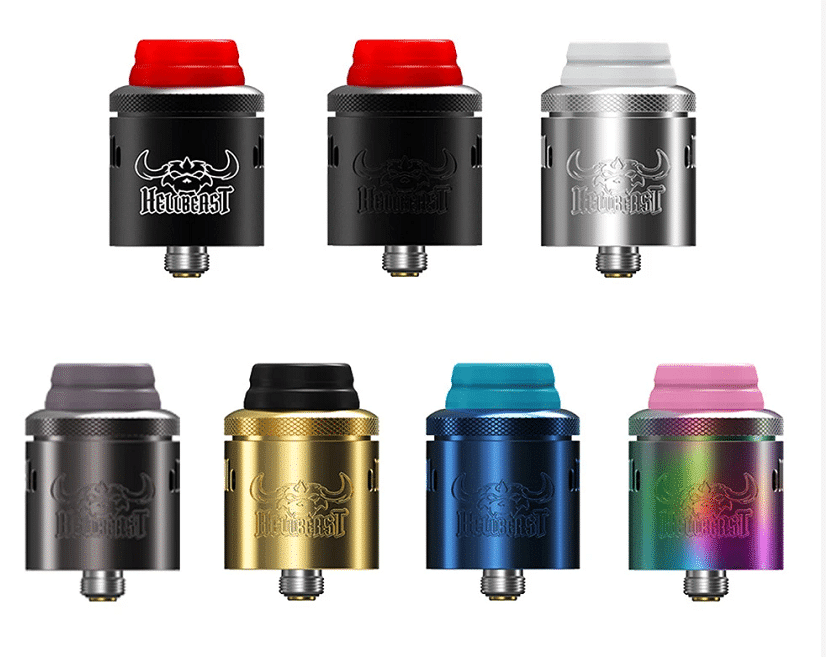 Design and Build Quality
The Hellvape Hellbeast RDA comes with a very stunning look. It features a shiny finish that makes it a quite durable device. I have used it for quite a long time but haven't scratched or nicked it. But there is a con that it tends to attract smudges and fingerprints so that I have to wipe it consequently. Underneath the fill indicator, a small Hellbeast logo on the front of the tank looks cool. The gold-flaked resin drip tip is pretty innovative. It features a honeycomb style of airflow thanks to its top knurling and micro-holes on the airflow. The Hellvape Hellbeast comes in 7 different colours. It consists of the deck, airflow control tube, top cap and drip tip. Overall my first impressions of the Hellbeast are very nice!
Drip Tips
Let's move on to the nicest drip tip that I have ever seen! Hellvape Hellbeast boasts an ergonomic 810 drip tip that looks very different from the RDAs and tanks we normally see. It's also curved and conical with a rim in the middle. The drip tip stands 7mm above the top cap, which may be a little bit low for some vapers. It definitely delivers a fairly comfortable feel when my lips touch it.
Top Cap
The walls of the top tap measure at 2.5mm thick and thinnest part is 5mm thick. The rounded edges not only provides a nice looking but also affect flavour production. Outside of the top cap, there is an O-ring to hold it into the airflow tube. The airflow holes on the bottom measure 72 x 1.2mm. It allows users to find the best vaping experience dependant of their vaping style.
Airflow Tube
The airflow tube features a simple design with a measurement of 20mm tall and 1mm thick. The Hellvape logo embossed onto the front and the airflow hole on either side. It comes with 14 airflow slots in total, among which are ten tall, two relatively small. Another one is designed to create the anti-rotation system. The airflow tube can fit onto the deck in 1 or two directions thanks to its two notches on the deck.
Adjustable Airflow
The Hellvape Hellbeast can provide a restrictive DTL draw when the top cap and the airflow tube are putting together. The 12 minimum airflow holes all boast 1.2mm holes. You can get the maximum airflow setting by adjusting the airflow with two holes at a time. The holes measure 38 x 1.2mm that creates an authentic restriction-free draw.
Build and Deck
Let's get started with the wall of the deck! It measures 7.25mm high and utilizes 2 O-rings to latch on to the airflow tube. The positive posts closed to the centre of the deck and negative posts attached to the outer wall of the deck. The coil needs to be cut at 7mm when coils wrapped clockwise. It needs to twist when coil clamped down.
Final Verdict
I am very impressed with the intense flavour and plentiful cloud production produced by the Hellbeast. There is nothing to complain about the well-built quality, almost perfect. The smooth airflow delivers a nice vaping experience. The top cap looks substantial and is thicker than other RDAs. The drip tip is really comfortable when touching with the mouth. Hellbeast has been one of my love of RDA. I would highly recommend to those who are looking for a powerful RDA.