Product Introduction
SMOK RIGEL Mini 80W Starter Kit is a compact version of the origin SMOK Rigel 230W Kit. It features a single high amp 18650 battery and an adjustable output range from 1-80W. The RIGEL Mini is paired with the SMOK TFV9 Mini Tank to deliver excellent clouds of flavoured vapour. It combines all the highlights of Rigel and maintains a slim and lightweight construction. Today, I'm going to be looking at their latest starter kit, the Smok Rigel Mini 80W kit!  Let's check out the pros and the cons and see how it performs.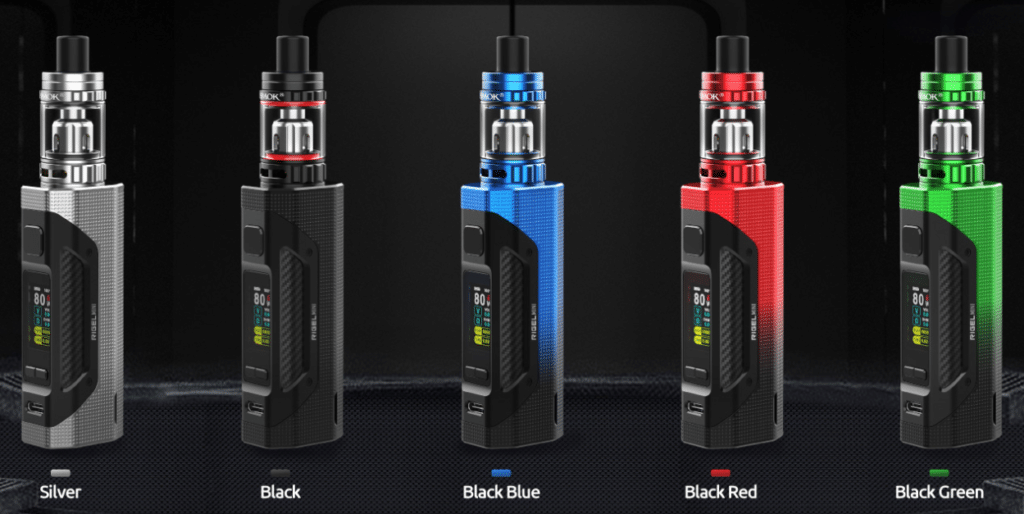 Quality and Design
The SMOK Rigel Mini is a robust device that features a luxe appearance and stunning 3D look thanks for its a finishing touch of solid zinc amalgam. Its layer boasts a smooth elastic coating for easy gripping. It combines portability with artistic flare and impeccable, eye-catching design measuring just 88mm by 34.2mm by 24.2mm. Rigel mini has an 0.96inch TFT Color Screen that is very simple and easy to read, showing vaping details like voltage and resistance, battery life and wattage. It features an intuitive fire button and two adjustment buttons, which is clicky and responsive. Rigel mini is available in 5 colours, you can choose from silver, black, blue-black, black green, black-red.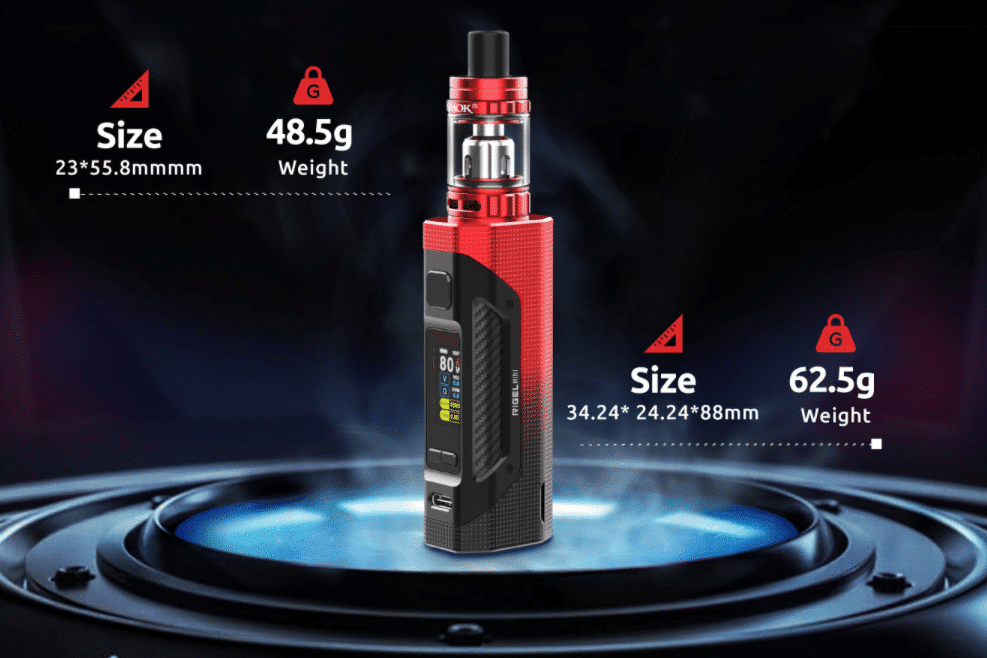 Functions and Features
Rigel mini runs on a single 18650 battery to provide continuous power and support powerful all-day vaping. It utilizes a fast Type-C charging with 1.4A yield current. It also boasts a gold-plating pin to increase rub resistance and strengthen electrical conductivity. Rigel Mini adopts multiple protections to avoid potential risks, such as low-battery warning, puff monitoring system, 8 seconds cut-off, short circuit protection and over-heating protection. It has various smooth and fully automated options and you are allowed to choose the best wattage and resistance level for an enjoyable vaping experience.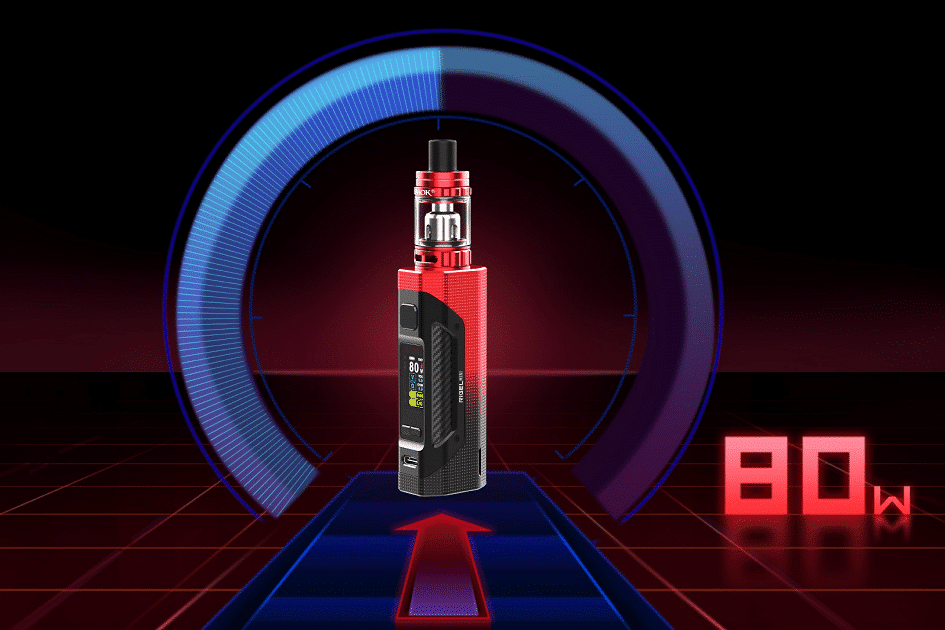 TFV9 Mini Tank
SMOK Rigel Mini vape Kit is compatible with TFV9 Mini Tank, which comes with 23 diameter and 3ml juice capacity (2ml TBD edition). It adopts a convenient sliding top-fill design and utilizes a locking, child-safe top cover to provide a safe vaping experience. Rigel mini boasts an upgraded airflow system, which can be adjusted by rotating the airflow to meet different vaping needs. The tank is made of superior stainless steel and accessible in Red, Matte Black Plating, Gun Metal, 7-Color, Gold, Green, SS, Blue, Sky Blue.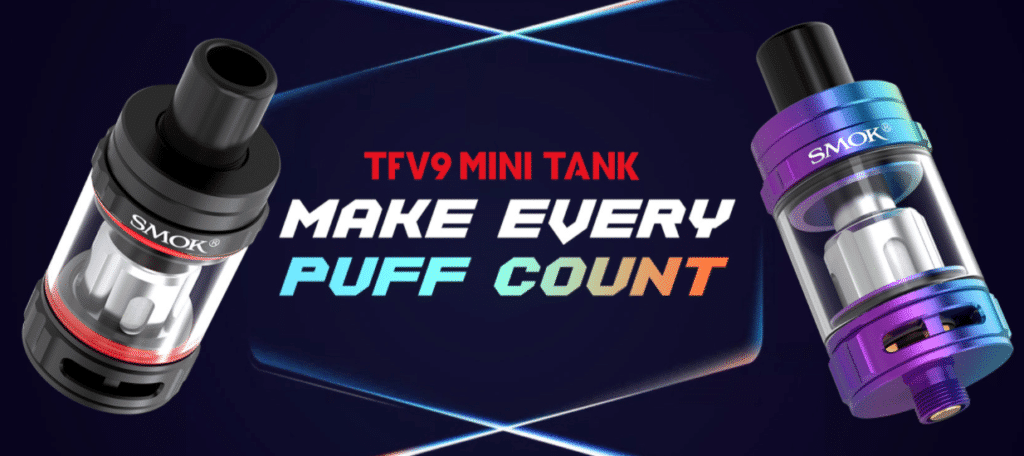 The kit comes with 2 different coils including the 0.15ohm V9 meshed coil rated for 40 – 90w and 0.6ohm V8 baby Q2 coil rated for 20- 50w to produce great flavour and a huge amount of vapour. In my testing, the 0.15ohm meshed coil did a great job to deliver huge clouds and superb flavour thanks to the large heating contact surface area. I found the 0.6ohm performed best to provide dense flavour and rich flavour.
How to fill with E-liquid

Step 1: hold the tank with one hand, lift the top cap and turn it counter-clockwise to open the filling port.
Step 2: insert the nozzle of an e-liquid refill container into the filling port, and pay attention not to drip it into the central airflow tube.
Step 3: lift the top cap and turn it clockwise firmly until you hear a "click" sound, then let it stand for several minutes to get the cotton completely saturated.
Verdict
Overall, SMOK made a great starter kit here. It comes with a smaller size and maintains all highlights from the original Rigel. Two coils did a decent job to satisfy the vaping needs impeccably. If you are looking for a new pod system, it is well worth taking a look at it.
Have you tried the Smok Rigel Mini kit? We'd like to hear from you. Let us know in the comments below.