Introduction
The Vandy Vape Jackaroo 70W kit is the latest pod mod kit from the famous vape brand Vandy Vape. Powered by an integrated 2000mAh battery, the Jackaroo 70W pod mod features an adjustable output wattage between 5-70W. It also takes pride in an advanced proprietary chipset. Moreover, the Jackaroo 70W is outfitted with a big 4.5ml pod which enables lower frequency of refills, and compatible with both mesh coils and rebuildable coils to deliver enjoyable vaping.
Actually, Vandy Vape has been releasing a series of nicely built and designed mod kits ever since its establishment in 2016, such as the Gaur-21 Mod, Jackaroo Dual 188W Box Mod and Requiem BF Squonk Kit. Recently, the brand seems to have put its focus on manufacturing smaller and smaller vape kits—in comparison with the earlier kits like Pulse V2, Jackaroo 70W does rate as a portable device. We're just curious as you are to know whether the Jackaroo 70W will impress us once again, and did a thorough test on it weeks before. In this review, we'll summarize all its good and bad sides based on our three-week use. Now let's get it started!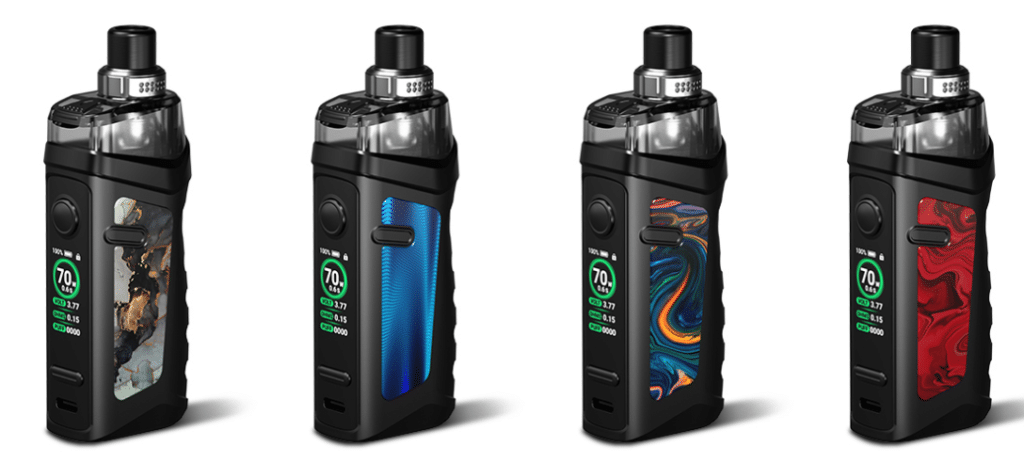 Build Quality and Design
The Vandy Vape Jackaroo 70W Pod Mod is a well built and high-quality pod mod kit. It is a smaller version of the Jackaroo dual battery box mod. The Jackaroo 70W stands at 108mm by 42mm by 26.5mm and comes with a rectangular shape that perfectly fits the palm. It features a durable zinc-alloy chassis construction and Silica gel material, IP67 Waterproof extreme water, shock and dust protection. You don't have to worry about dropping it accidentally.
The main body of the Vandy Vape Jackaroo 70W Pod Mod is black and rubber-coated. It is available in eight colors that you can choose different panels, which are replaceable and removable. The display screen is located on the side of the Vandy Vape Jackaroo. It clearly displays a battery level, current wattage, coil resistance, a puff counter and voltage.
There is a round-shape power button above the screen and two adjustment buttons below the screen. All buttons are clicky and responsive and there is no rattle on this pod mod. Below the adjustment buttons, there is a waterproof type-c USB port to provide a more stable charging.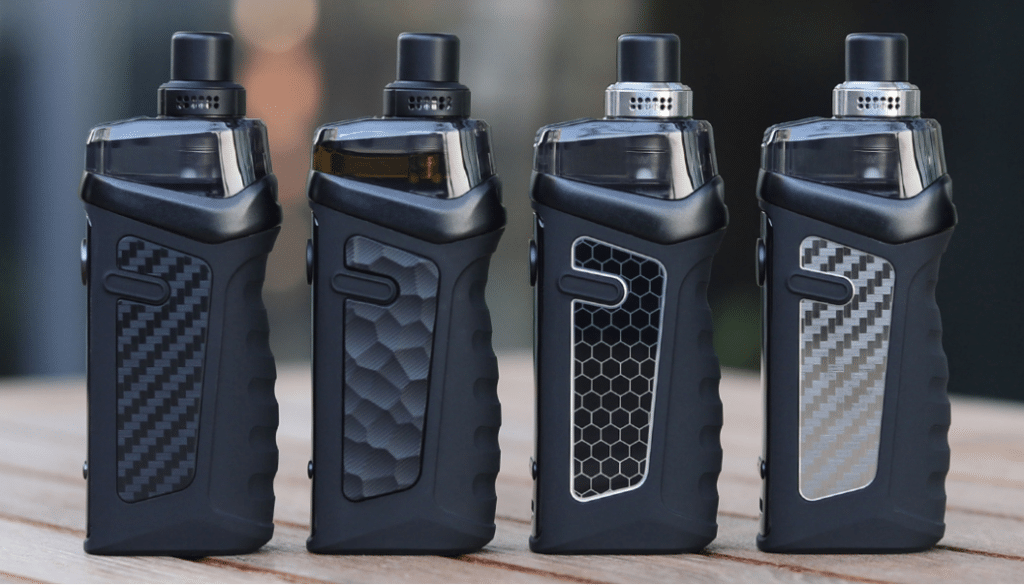 Functions and Features
Powered by an upgraded Vandy Chip, the Vandy Vape Jackaroo is capable of a max power of 70w. Like the common safety features that you would expect from other pod mods, it uses short circuit protection, low-battery warning, over-temperature protection, battery overcharge protection, 10 seconds cut-off and overload current protection, ensuring a stable and powerful vaping time.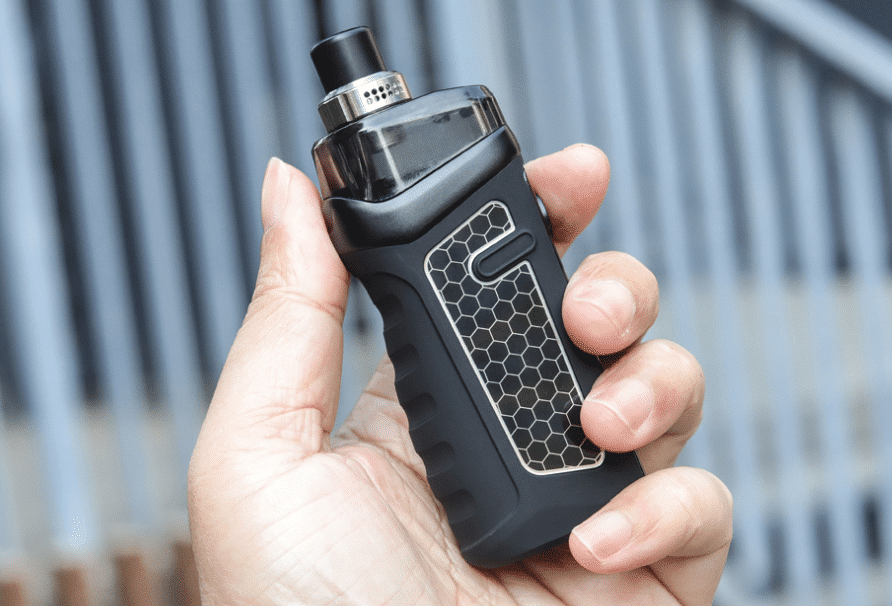 Pod and Performance
The Vandy Vape Jackaroo 70w pod mod is paired with a 4.5mL refillable pod and adopts a convenient top airflow intake with a rubber plug to prevent juice leakage. The filling port is placed on the side of the pod. You don't need to remove the pod when refill with your favourite e-liquids. You can also easily check the juice level on the pod. It boasts a top adjustable airflow, allowing you to find your vaping style by rotating the airflow ring.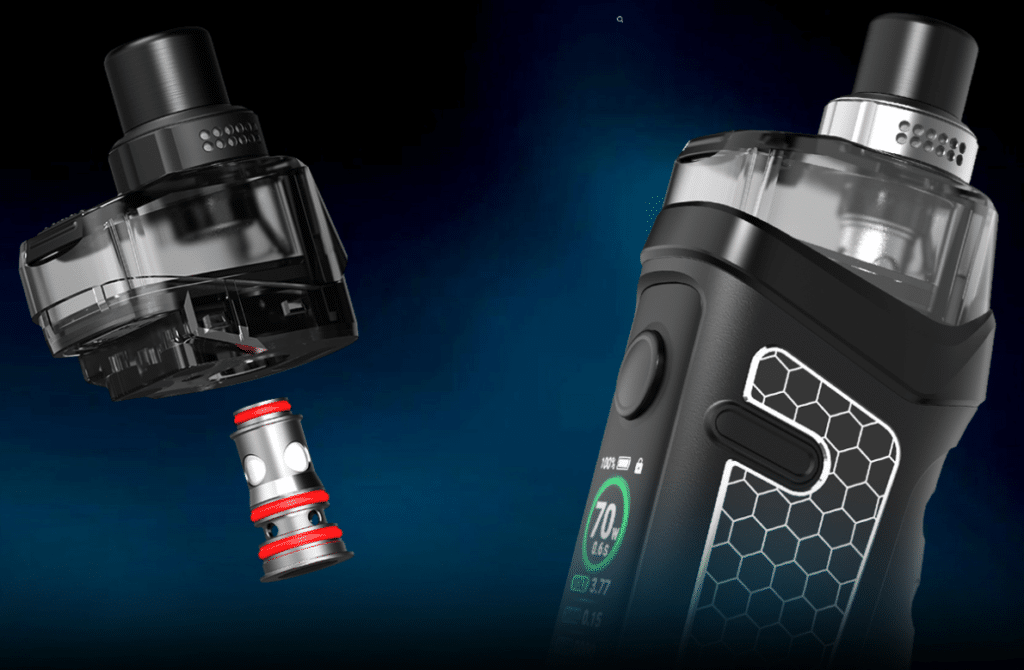 The Jackaroo 70w pod mod is compatible with the Vandy Vape VVC coil series, and there are two 0.9ohm VVC-90 coils included in the kit. The 0.9ohm coil is recommended to use at 9 – 16w. I tested this coil with my beloved Dinner Lady Lemon Tart E-liquid. The flavour is just ok when rated for 9w. As the wattage goes higher, the flavour becomes noticeable. I can get the best result when rated for 13w with half airflow open. The coil works so well with the fruity vape juice. It is a flavoursome and smooth vape, delivering a fresh-squeezed and tasty lemon juice flavour. I have refilled the pod a few times, and it still goes strong.
Battery and Charging
The Vandy Vape Jackaroo 70w pod mod houses a quite large integrated 2000mAh rechargeable battery for its compact size. The battery performance is great. This can last 1 – 2 days of vaping depending on the pod. It uses a fast type-c charging with long-life performance. It takes about an hour to reach a full charge from the dead.
Verdict
Overall, Vandy Vape did a decent job with the design of this mod. I enjoy testing and vaping with it. It impressed me in many ways, like its durable construction, Water/Dust/Shock Proof design, great MTL draw and well-built quality etc. If you are looking for a powerful pod mod, the Vandy Vape Jackaroo 70w pod mod so a great option!
Let me know what you think in the comments and thanks for reading!