1. Introduction
The Beco Plush is produced by vape manufacturer BECO. BECO has released a number of popular disposable vape series, including Beco Bar, Beco Beak, and Beco Feast. The BECO Plush 8000 is a new disposable vape kit from Beco. It has the fur texture, overall design, 5% nicotine content, and a huge puff amount up to 8000.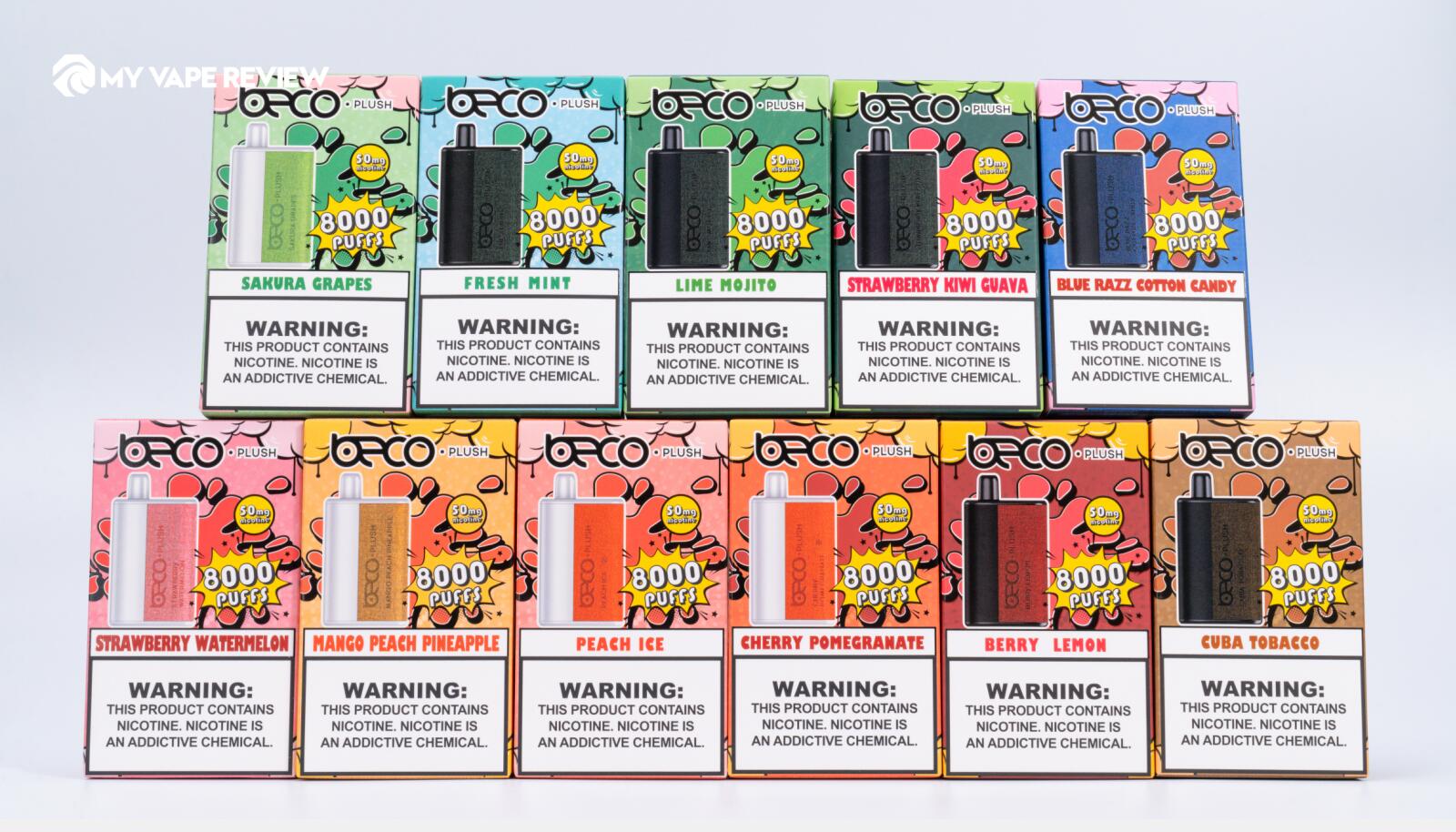 Each BECO Plush 8000 box contains 1 disposable vape kit, with an expected puff count of 8000. The device is a ergonomically designed product which is ultra comfortable to hold for an unimaginable vaping experience. The BECO Plush 8000 has a anti-scratch body with a cylinder mouthpiece on one end. The body is uneven on both side on horizontal, presents an unbalanced beauty.
Let's take a closer look at the BECO Plush and all that it has to offer!
2. Flavor
The BECO Plush 8000T is available in 12 flavors. Just like the Beco Soft, but according to my vape test, Beco Plush holds stronger nicotine strength. We can see it has Watermelon Ice, Cherry Pomegranate Ice, Sakura Grapes, Lime Mojito, Mango Peach Pineapple, Strawberry Kiwi Guava, Berry Lemon, Strawberry Watermelon, Fresh Mint, Cuba Tobacco, Peach Ice, and Blue Razz Cotton Candy.
We've broken down some of the flavors below, so you can pick a flavor that suits your preferences:
Watermelon Ice– The Watermelon Ice is a lush-inspired flavor, and it is spot on. It's a bit sour and a bit sweet, just like a sweet icy watermelon, but it also has the added sweetness notes. I'm not completely unfamiliar with e-juice flavors that mimic soft drinks or energy drinks, but this one is really special. The carbonated hit of the Watermelon Ice flavor is sure to wake you up and keep you stimulated for a long, busy day. 5/5
Cherry Pomegranate Ice – The Cherry Pomegranate Ice flavor is a delicious blend of sweet and tart. The cherry adds a juicy, fruity taste, while the pomegranate provides a sharp, tangy kick. The two flavors complement each other perfectly, creating a well-balanced vape juice that is both satisfying and refreshing. 4/5
Sakura Grapes – The 'Sakura Grapes' flavor is a delightful blend of two different flavors: 'Sakura, and Grapes. The flavor is crisp and sweet, capturing the essence of each grape perfectly. The inhale is predominantly grape with a hint of sakura , followed by a smooth and refreshing honeydew finish. The vapor production is excellent, providing a satisfying throat hit, and the aroma is light and fruity. If you're a fan of grape flavors, this one is definitely worth trying. 4/5
Lime Mojito – The Lime Mojito flavor is a sweet and icy blend of blue Mojito and icy. The Mojito is cozy and tart, while the lime provides a crisp, cooling sensation. The combination creates a delicious vape juice that is slightly sweet and very refreshing. The inhale is predominantly blue Mojito, with a blast of lime sour on the exhale. 4/5
3. Design & Quality
Design
Beco Plush's thoughtful design includes not only a convenient form factor and anti-scratch matte coating, but also an engraving of snowflakes on Eco-leather that hints at a cooler taste.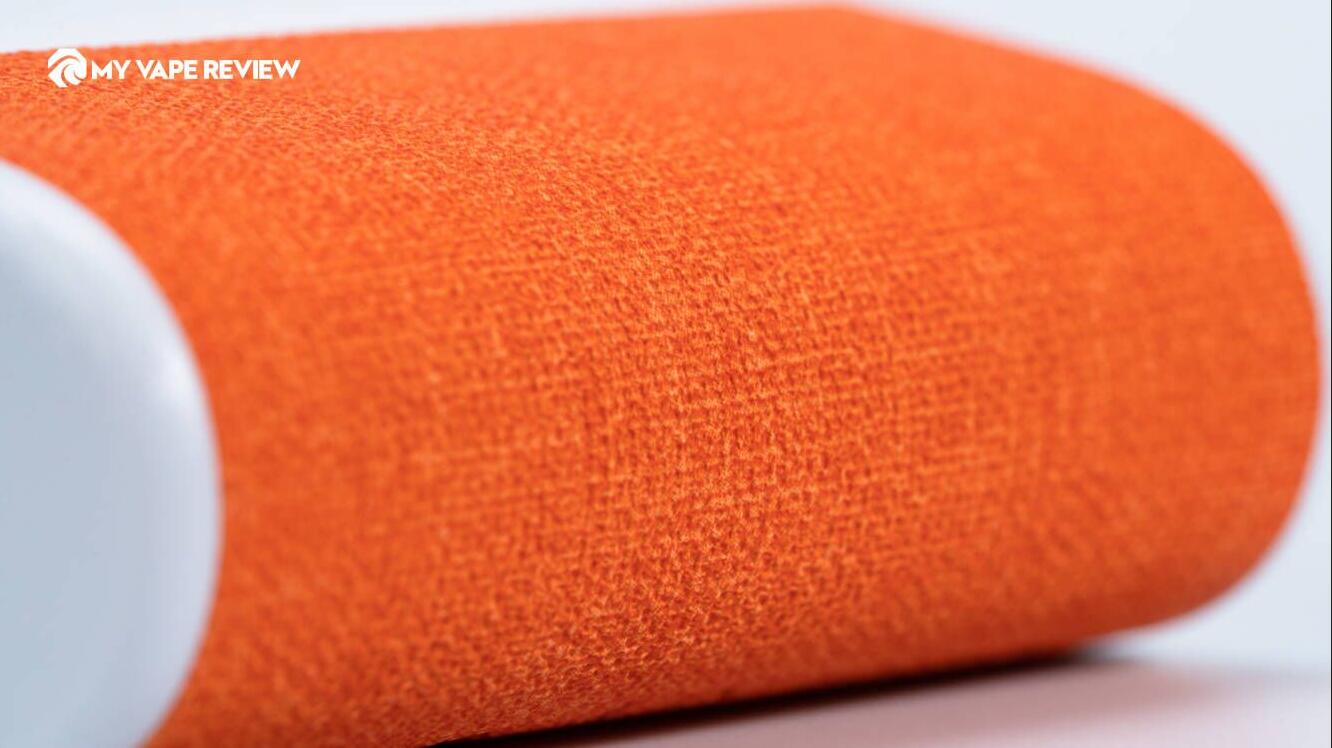 The BECO Plush 8000 is built from soft coating and white color plastic with the BECO branding embossed along the front. The uneven body of the disposable display an elegant beauty that matches the color of the body. You can easily keep an eye on the fur-like material with this design. The product is extremely comfortable to hold in hand.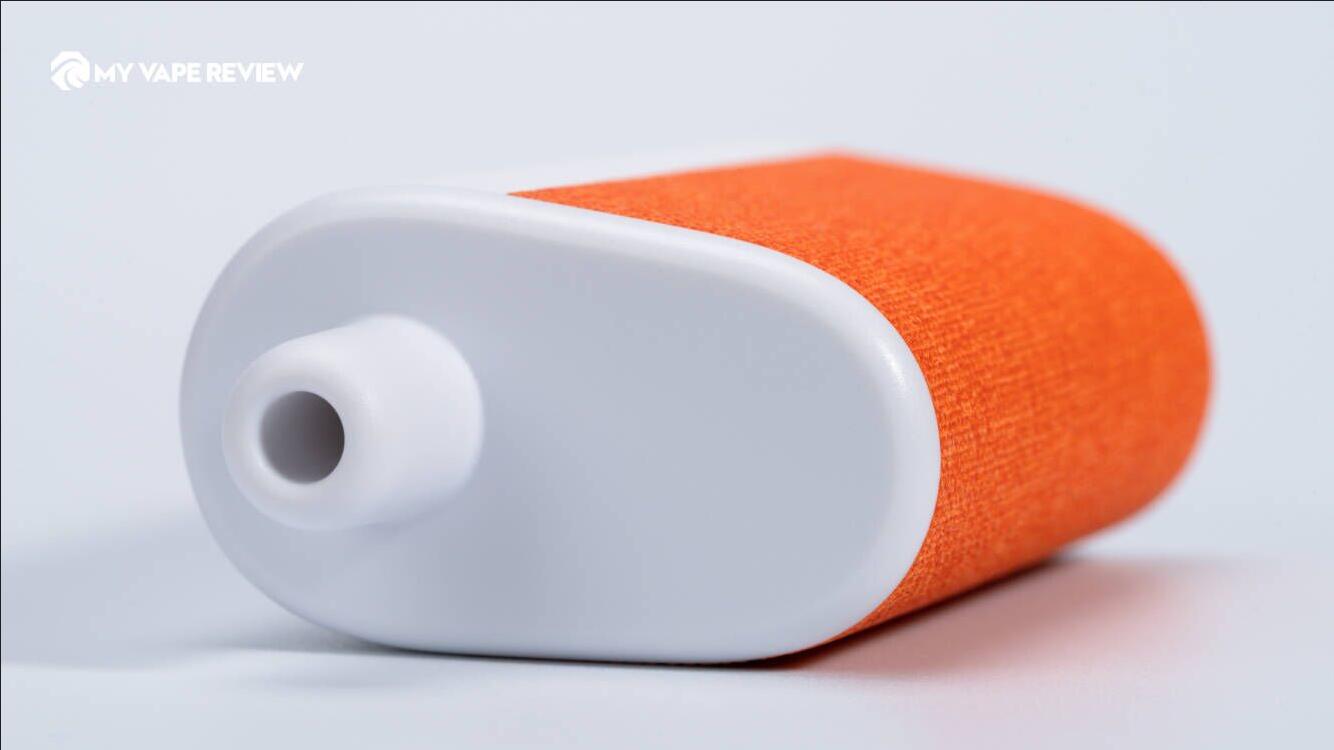 You can also see the long mouthpiece tube that extends from the top of the device. This is not a really nice mouthpiece in my opinion. The mouthpiece is like a chimney popping out from the body.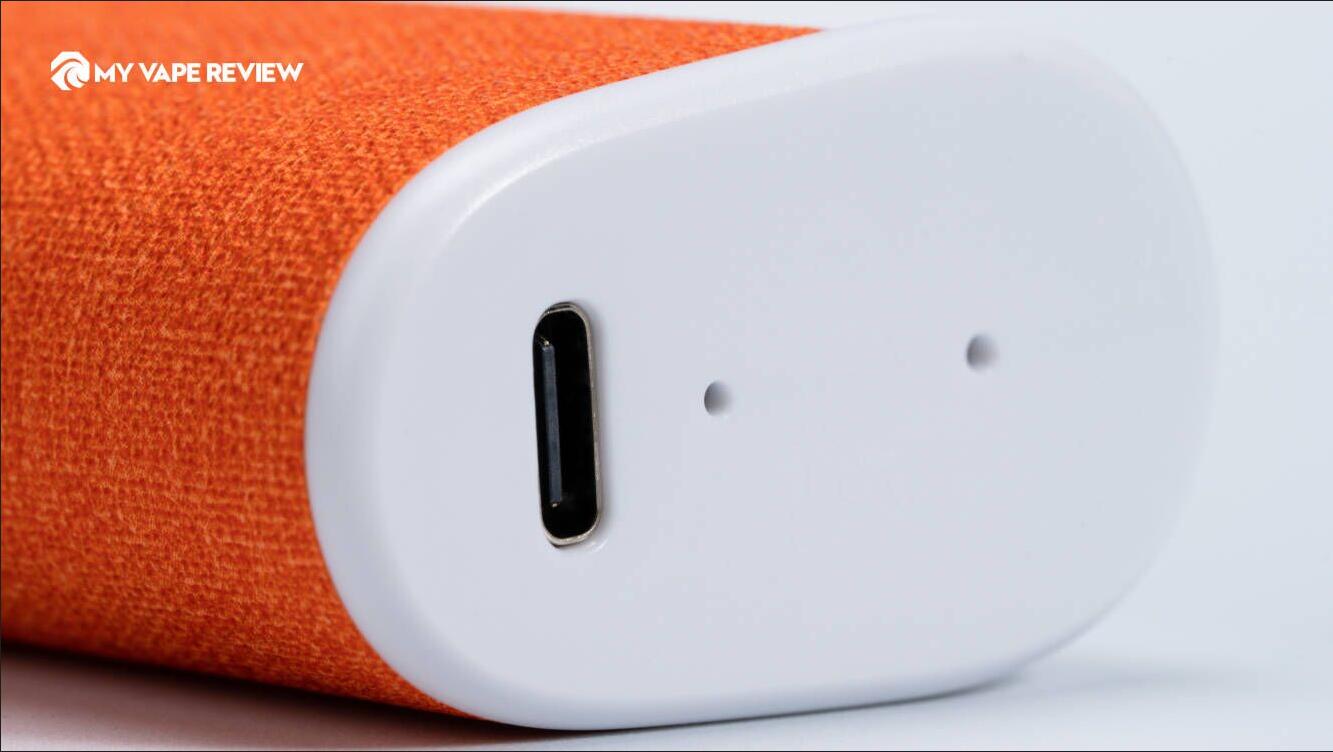 There is no airflow control, battery level indicator, or transparent part. But there is an LED on the bottom of the device that lights up the elegant  body during each inhale. Plus a dual air inlet holes, it looks not that clumsy.
Durability
BECO Plush 8000 is sure a durable device because it is rated to last around 8000 puffs, from our test , the BECO Plush 8000 does not disappoint in this regard. Not easily scratched, the surface is able to withstand any normal drops.
Does the BECO Plush leak?
The BECO Plush 8000 doesn't leak thanks to the long mouthpiece tube design. You can carry this disposable around without worrying about e-juice getting all over your personal items.
Ergonomics
As far as ergonomics go, the BECO Plush 8000 is so comfortable in your hand to hold in any angle. Carrying around the BECO Plush 8000 (or even a few of them) won't bog down your pockets or purse. You can comfortable vape with just two fingers. The mouthpiece is an extension of the slim vape body so you can easily wrap your lips around for a comfortable vaping experience.

4. Battery and Charging
BECO Plush 8000 is rechargeable and it is designed to reach its end of life when the battery dies. The battery is designed to last through 8000 puffs, it is long enough to use up all of the e-juice. It's perfectly normal for there to be some e-juice remaining in the tank when the battery dies. This is intentional on the part of BECO to reduce the change of a dry hit.
Beco Plush is equipped with a powerful 800mAh battery that can be recharged via Type-C up to 2 times until the e-liquid runs out — the official page said. But according to my test, each BECO Plush can be recharged more than 2 times, and of course this suggest from another hint that its battery is powerful for user to finish the vaping until the last drop.
5. Performance
From a performance standpoint, BECO Plush 8000 performed exceptionally well. The core takeaway from the BECO Plush is its smooth hit delivery. Each MTL hit has the perfect level of restriction with a burst of flavor and a great amount of vapor. The new-gen mesh coil delivers extremely small particle size for a buttery smooth throat hit. Unfortunately, the hit is so smooth that it doesn't have the same satisfying throat punch that many vapers enjoy.There was no flavor degradation, even aright before the device died.
The vaping experience is completely silent and there was no spitback or e-juice popping sounds.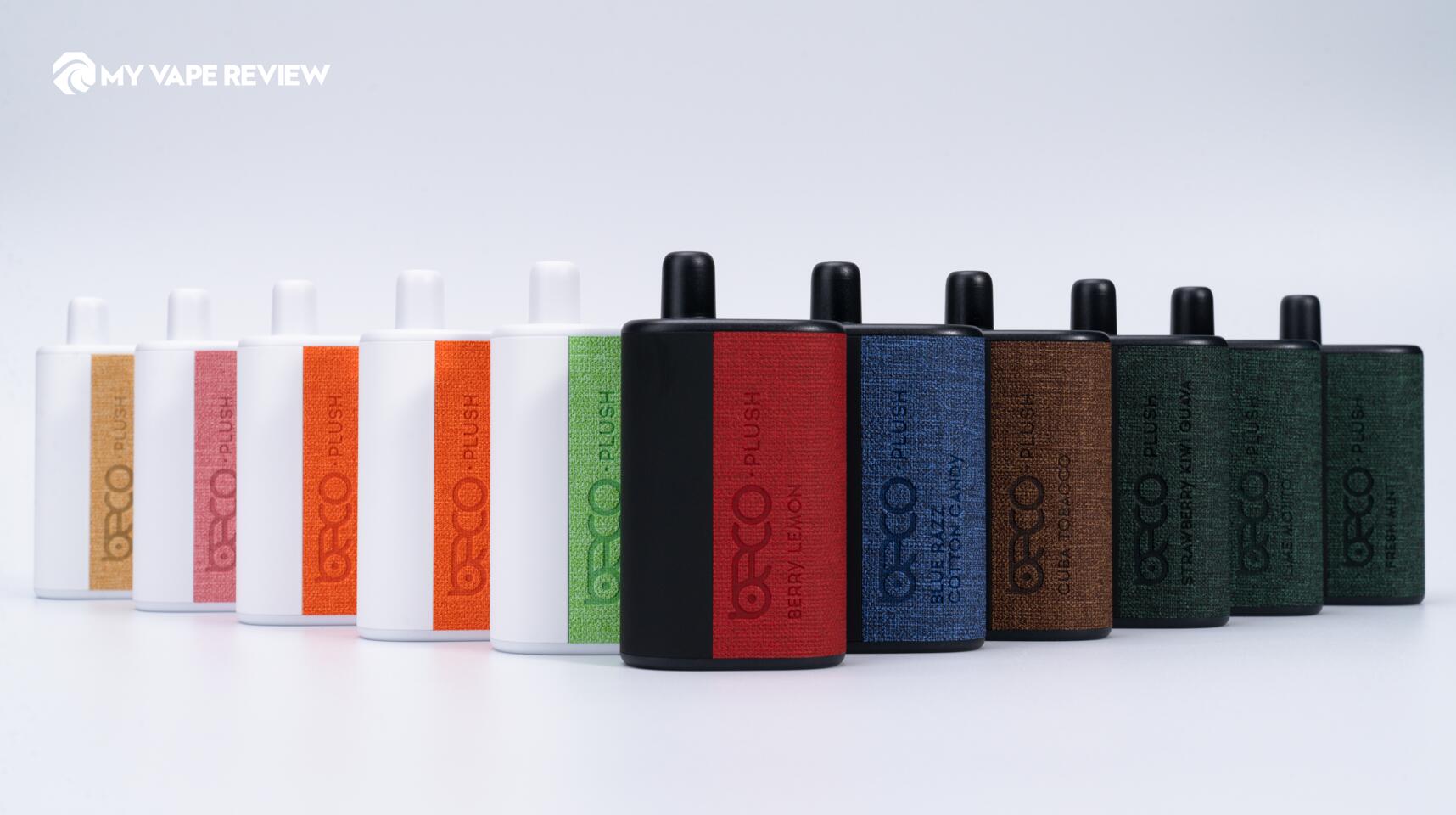 As for the 8000 puffs, I'm not really sure I got a full 8000 puffs out of the vape before it died. It seemed to go super quick. But it's possible I was enjoying it so much and didn't realize how fast I was going through the battery.
6. Price
There is currently a pricing information available on the BECO Plush 8000 official page, it is $29.99, which I consider the best deal vaper can choose from this fierce competition vape market. But we do know that it will be available in a single or double pack. This means you can probably expect to save some money if you like a certain flavor and decide to purchase a two-pack.
Check here for more pricing information.
7. Verdict
BECO Plush 8000 is a highly portable and convenient disposable vape with a super comfortable and lightweight design. We expect it to be available in a wide variety of flavors. We got a chance to try the Mango Peach Pineapple, Strawberry Kiwi Guava, Berry Lemon, Strawberry Watermelon, Fresh Mint, Cuba Tobacco, Peach Ice, and Blue Razz Cotton Candy all theses flavors and enjoyed every one of them. The anti-scratch design of the device makes it easy to carry out without worrying about getting spots on it. The matte coating plastic adds to its attractive design. The BECO Plush 8000 is durable and doesn't leak, making it a reliable option for on-the-go vaping. Each hit is ultra smooth, but at the expense of a strong satisfying throat hit. However, there is no airflow control or battery level indicator, and the device has a unlimited lifespan of more than 8000 puffs. In conclusion, BECO Plush 8000 is a good choice for those looking for an extremely portable, convenient, and flavorful disposable vape. One of the best BECO BAR I have ever tried!