As a special type of mod vapes, squonk mods have come a really long way. By including a squeezable e-liquid bottle within the casing, these creatively-designed devices are able to feed vape liquid from the bottom to an atomizer on the top.
The best part of a squonker is it leaves out the hassle of dripping that bothers many RDA vapers. When squonk mod is used with RDAs, vapers can enjoy both the convenience of a vape tank, and the awesome vibrant flavor they usually get when dripping an RDA.
Read further down the page to learn about the five best squonk mod vapes of this year!
Durable Nylon coating

Ergonomic body

Compatible with 21700, 20700 and 18650
Vandy Vape teams up with Tony B, an influencer vaper, to release the Pulse V2 squonk mod. It's a single battery device with a 95W max output, featuring compact layout and durable chassis. Users can enjoy rather steady power output from the machine. It also has a fully-featured temperature control function to make sure a safe vaping no matter what type of coil you build. As the mod is compatible with Vandy Vape's app, you can complete most set-ups with a phone.
# Dovpo Topside Dual Squonk
Topside Dual is a dual-18650 addition to Dovpo's well-reputed Topside squonk mods. Like other Topside models, it's also designed by the Vapor Chronicles and produced by Dovpo. Topside Dual could fire up to 200W, with a temperature range from 200 to 600F in the TC mode. As the original edition, the squonker also features the convenient top-fill system and the huge 10mL bottle capacity.  If you have vape battery anxiety from time to time, Dovpo Topside will definitely be a solution, since it houses two batteries to make for excellent battery life.
# Lost Vape Centaurus Quest BF
Squonking & dripping both allowed

18650/20700/21700 compatible

Fully-featured chipset
The Lost Vape Centaurus Quest BF is a versatile squonk mod that gives you lots of controls over your vaping experience. Putting out at a maximum of 100W, it's a single battery device compatible with 18650, 20700 and 21700 batteries. Centaurus Quest offers two 9.5mL squonk bottles, which are geared for different purposes. One is a regular squonk bottle, whereas the other has a thin mouth specially designed for dripping. That means you can choose whichever RDA styles you like with this mod, either squonking or dripping.
2-in-1 device (80W or 200W)

Fast charging and ignition

All safety protections ready
The Profile Squonk mod by Wotofo is an innovative dual-purpose vaping device. It can serve as an 80W squonker, or a 200W dual-battery mod when you replace the 7mL squonk bottle with another 18650 battery. Outfitted with WOTOFO's nexCHIP, the 2-in-1 squonk mod has impressive ramp-up time and a full set of built-in protections. Its interface is fairly easy to navigate.
Exquisite and sturdy

Three methods to refill

Able to set a lock for the power button
Vandy Vape's Requiem BF Squonk is a well-put-together compact squonker sized to fit in a hand. Packing in a single battery and 6mL squonk bottle, it's a top-notch mechanical squonker showing no loss in the output power. The mod provides a safety switch to lock the fire button. Hence, you don't need to worry about running into issues like accidental firing when you put the device in a bag. If you're still new to mechanical mods while ready to study the battery safety or ohm's law, the Requiem BF is a cracking piece of kit to start with.
Quick Guide: What is a Squonk Mod and Squonking?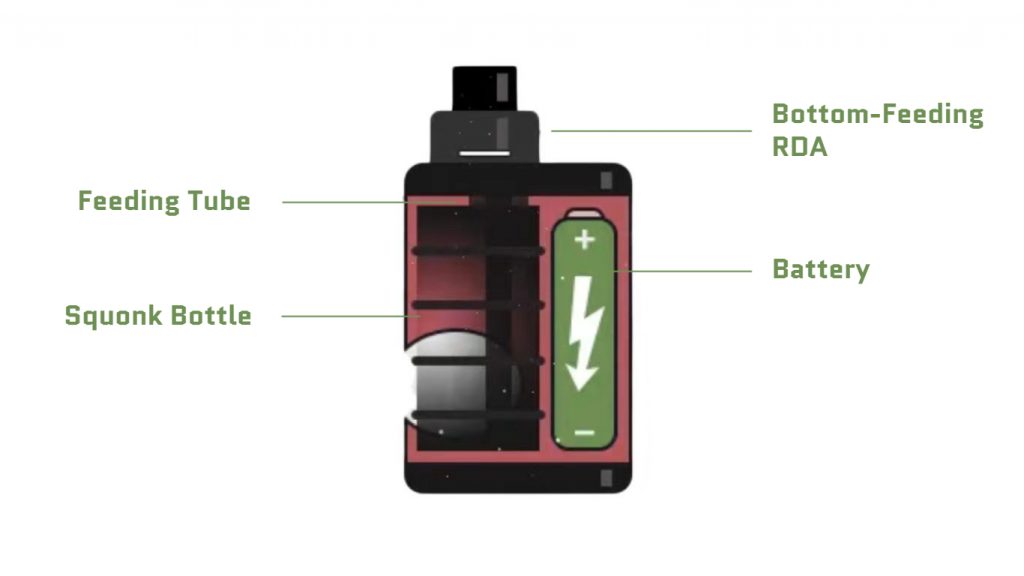 Squonk mod is a special kind of mod vape that packs in a squeeze bottle for feeding e-liquid to the atomizer from the bottom. For this reason, it's also known as bottom-feeding mod. These mods usually interlock with atomizers through a hollow 510 connector, on which a BF pin lies at the center to channel the liquid.
Every time you squeeze the bottle, a small amount of vape juice will quickly make its way upwards to the coil and saturate the wicks. Once you vape off the juice, squeeze again. This vaping style is exactly what vapers call as "squonking."
Squonkers are meant to be paired with rebuildable drip atomizers (RDAs). They save RDA vapers from the continuous hassles of manual dripping, and make the flavor-banging journey really trouble free. No need to drip—just get in deeper with the flavorful vapors!
Why Use a Squonk Mod?
The choice between dripping-system and tank-system atomizers has always been hard to make. Drippers are the optimal flavor machine, while tanks make for maximal convenience. For many years, it's an either-or situation. While the introduction of squonk mods comes to close the gap.
Squonk mods are popular among RDA vapers for lots of reasons (DON'T FORGET TO check our list of the best RDAs this year):
Convenience. You don't have to drip anymore! Just by squeezing the bottle, the e-liquid will be sent into the atomizer on demand.
Superb flavors in the meantime. The hassle-free squonking doesn't sacrifice RDAs' excellent flavor delivery. Since each squeeze sends only a tiny amount of vape juice allowing for a couple of drags, you'll always get the freshest flavor.
Huge e-liquid capacity. Most squonk bottles can load up at least 7mL e-liquid, sometimes as many as 10mL. That alone has outperformed most tanks, and means every refill can last for much longer days.
Low chances of leaking. Squonk bottles won't transport the vape juice unless you squeeze them, so it's much less likely for you to run into leaking issues.
Types of Squonk Mod Kits
In essence, all vape mods are devices used to power up a vape tank or atomizer. Squonk mods are no exception—they just add a built-in liquid bottle on regular mods.
Like other types of mods, squonk mods also fall into two major categories: unregulated and regulated.
Unregulated squonkers, or also mechanical squonkers, have simplest engineering while require most experiences and knowledge to lay your hands on.
They aim to deliver the raw power of the battery to the atomizer, thus reducing the internal components to the barest minimum; otherwise, the resistance would go up and decrease the output you get. In this sense, a mechanical squonk mod always contains no chipset and offers no adjustable wattage, only left with the most basic wires and circuits as well as a fire button.
It's simply a housing for batteries to a certain extent. If you can't decide on a great vape battery to invest in, be sure to check our previous battery buying guide.
As there's no built-in protections or temperature control feature set inside an unregulated squonker, it needs users to master the Ohm's law and battery safety theories to operate safely. It's designed largely for experienced vape hobbyists.
Regulated squonkers are different mainly in the fully-featured chipsets they accommodate. The chip often provides users with a wide array of protections in short circuit, overheat or anything else.
What's more, these mods allow users to change the wattage or voltage to their liking. Hence, they tend to offer wattage adjustment buttons, and a screen with various readings on there.
Basically, regulated squonk mods are the safest mod options in the market. Even though for vapers who have little battery safety knowledge, they're as friendly.
Are Squonkers Safe?
Using mechanical squonkers is safe as long as you grasp the necessary battery safety theories and remember to apply them into your everyday vaping. While if you're totally new to this, mishandling might put you in dangers.
As said above, regulated squonk mods are built with chipsets for all-around protections, which eliminate most of the safety concerns when you use a battery. It goes without saying that it's a far safer option for beginners.