Preface
Speaking of mango, I always recall what my finance professor said in class many years ago: No mango in the states can beat the ones in Philippines and Southeast Asia. They are huge, golden and juicy.
The sweetness and soft pulp are nothing but heaven. His words made me drool for mango immediately. This time, we searched some popular mango e-liquid and bought them to test. We wonder if they can bring us to the sunny and humid tropical land.
FYI
In this review, our criteria of what a good mango flavor e-liquid is the similarity to its name, the sweetness, ice level, and price. The rating range is 0-10.
The device we used for freebase juice is Freemax Marvos 60W and we used 0.25Ω coil at a power range of 30-50W.
The device we used for salt juice is Uwell Caliburn pod kit.
---
Amazing Mngo – Naked 100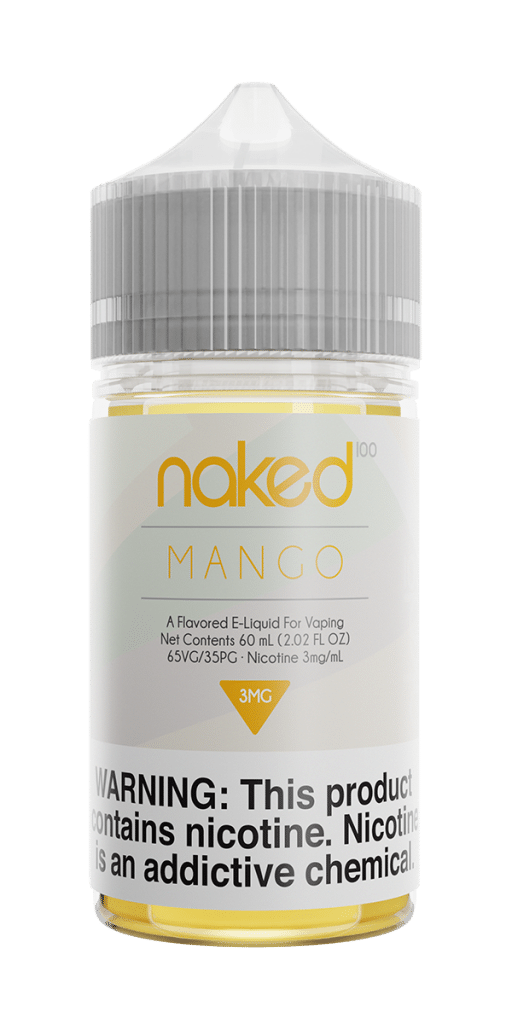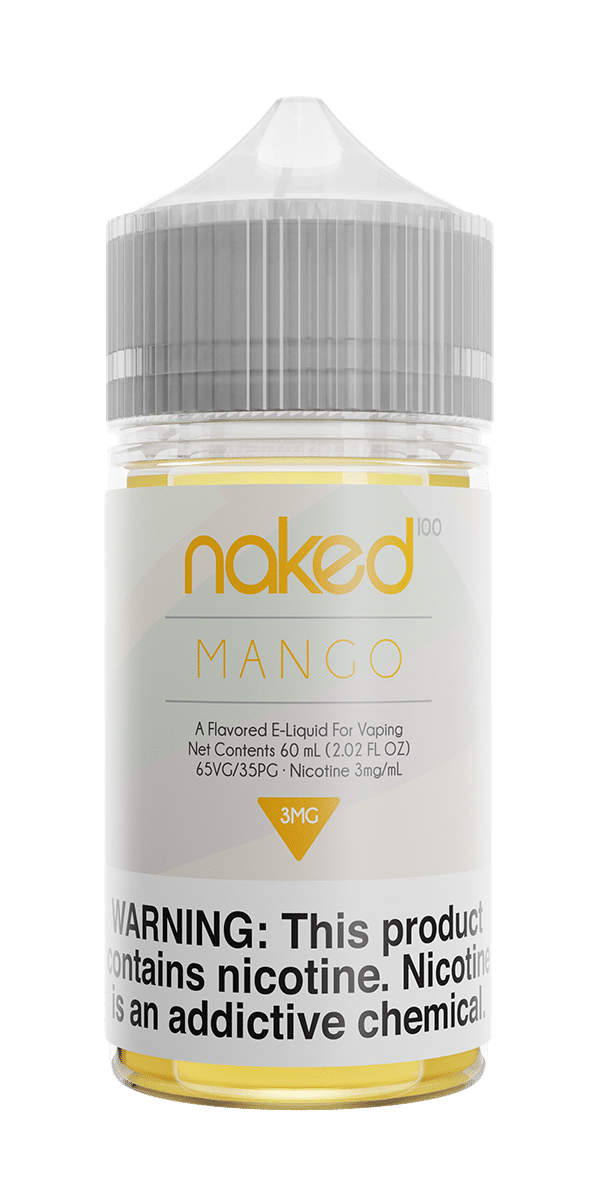 Brand: Naked 100
Flavor: Mango (Amazing Mango)
Flavor profile: mango, peach, cream
VG/PG: 65/35
Nicotine: 0/3/6/12mg
Price: 60mL – $13.75 now at EightVape
Review:
The Amazing Mango is on point! It offers a unique and marvelous blend of fruit and creamy tastes. When we took the first drag on the juice, our taste buds were instantly packed with refreshing sweetness of ripe juicy mangoes and peaches. And some rich custard flavor followed quickly to precede in the mouth on our exhale. It really surprised us that the juice could put us in an exciting adventure of tastes as such.
We felt spectacular aftertaste even after stopping our puffs. And until the last drop, the Naked 100 Amazing Mango delivered superb tastes.
---
Jewel Mango – Pod Juice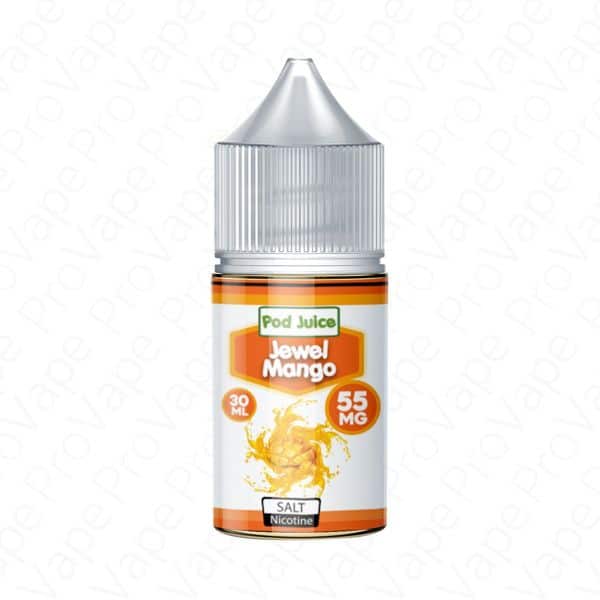 Brand: Pod Juice
Flavor: Jewel Mango (Salt)
VG/PG: 50/50
Nicotine:20/35/55mg
Price: $12.99 now at elementvape.com
Review:
The Jewel Mango of Pod Juice is a top-notch nicotine salt juice with pure luscious mango flavors. The flavor was so smooth and consistent that we appeared to land in a vast tropical farm with endless fruit offerings.
There's a slight difference in how the liquid translates mango flavors on our inhale and exhale. When we took a drag, the liquid tasted like more of a sweet ripe mango; while it changed to a less ripe one with somewhat sour-sweet flavor when we breathed out.
The juice features a nic salt ingredient, enabling the flavor to come through even more strongly. But too strong flavor comes with a disadvantage in our views—we might get bored of it easily. In terms of the throat hit, it's solid. By the way, the liquid does better with lower-power devices, but is not suitable for sub-ohm ones.
---
Mango – Burst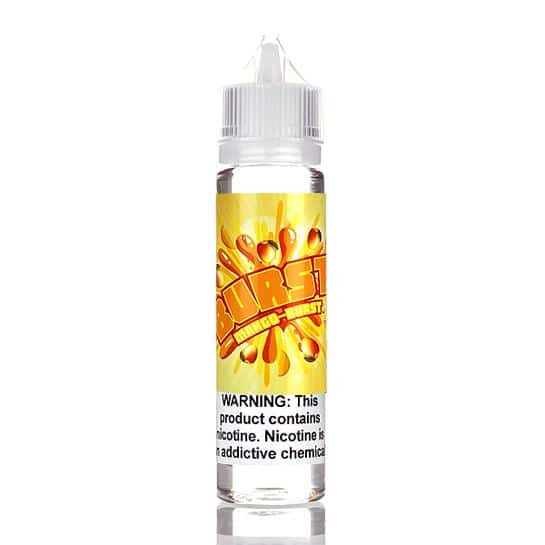 Brand: Burst
Flavor: Mango
VG/PG: 70/30
Nicotine: 0/3/6mg
Price: 60mL $8.00 now at Eightvape
Review:
The e-liquid satisfied us in a way exactly how its name sounds like—the clean flavor of freshly-sliced mangoes was burst in our mouths and nostrils at the moment we took the first puff.
We love the immersive "mango-feast" experience brought by the liquid. More specifically, the flavor it delivers is incredibly authentic, unlike those made of artificial flavorings. The freshness impressed us in an unprecedented way.
For your information, the throat hit from Burst Mango juice is slightly detectable. Personally, I prefer stronger one, but it's not a drawback. The throat hit more or less comes down to personal preference.
---
Fruit Monster- Mango Peach Guava (Salt)- Jam Monster Liquid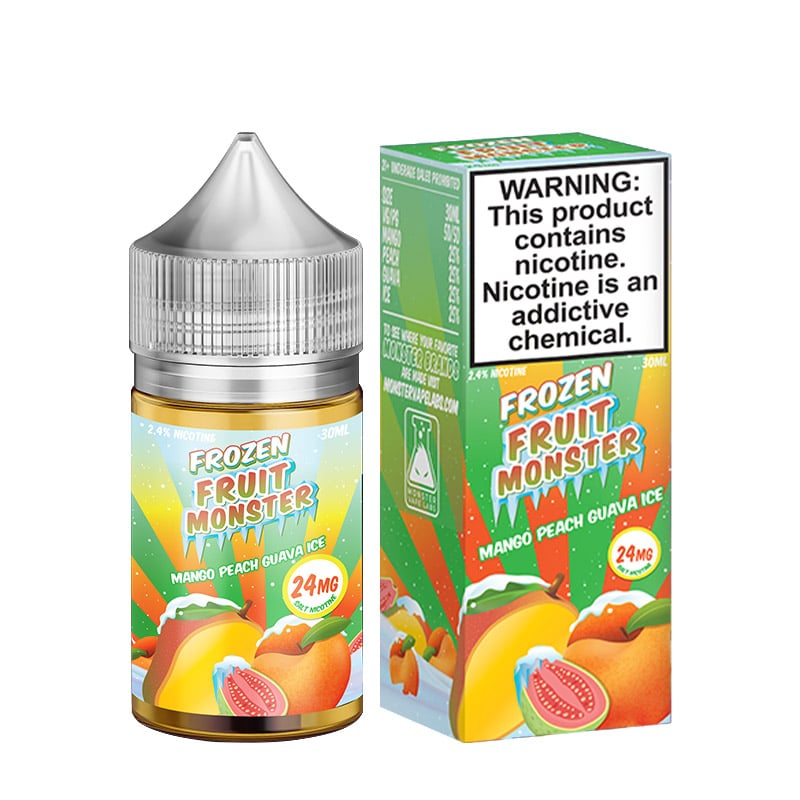 Brand: Jam Monster Liquid
Flavor: Fruit Monster – Mango Peach Guava
VG/PG: 50/50
Nicotine: 24mg/48mg
Price: 30mL $11.99 Elementvape
Review:
The Mango Peach Guava liquid provides a medley of fruit flavors that shower our taste buds with freshness and invigoration on every inhale. In the same breath, the exhale takes us to another level of pleasure with exquisite sweetness. All in all, we really enjoy the mixture of fruit flavors in this e-liquid. The refreshing vividness we felt on the tongue recalled the old days when we took a cold shower at midsummer night.
It's worth mentioning that, the peach and guava stand out much more than mango, but in a good way. If you are a loyal fruit flavor liquid champion, don't miss out; while if you're looking for a liquid with rich mango flavor, maybe others fit better.
---
Cush Man (Salt) – Nasty Juice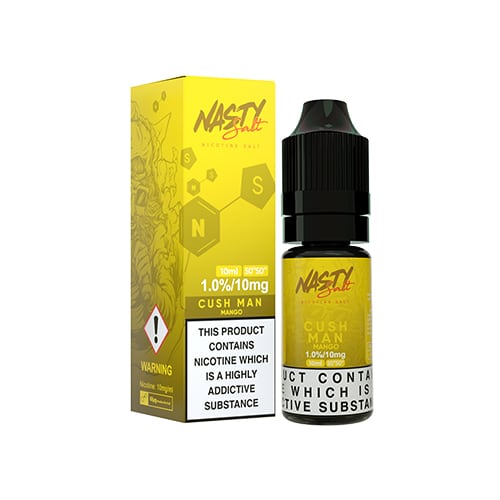 Brand: Nasty Juice
Flavor: Cush Man (Nic Salt)
VG/PG: 50/50
Nicotine: 10/20mg
Price: 10mL £4.95 VapeSuperStore
Review:
Nasty Juice's Cush Man is a liquid characterized by layers of flavor satisfaction. The liquid presents us fruity, succulent tastes of fresh mangoes on exhale, accompanied by a cool, crisp note of mint. And it further pleases the taste buds with another wave of tart aftertaste. We are surprised at such layered blend, and the subtle balance between different flavors as well.
Cush Man is specially designed for sub-ohm vaping. If you have an interest in this liquid, take a right device by your side and enjoy the breezy mango bath!
---
Iced Mango (Salt) -7 Daze SALT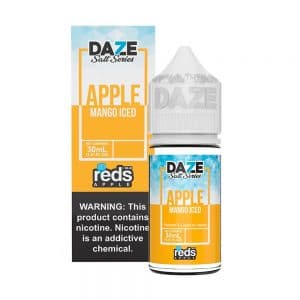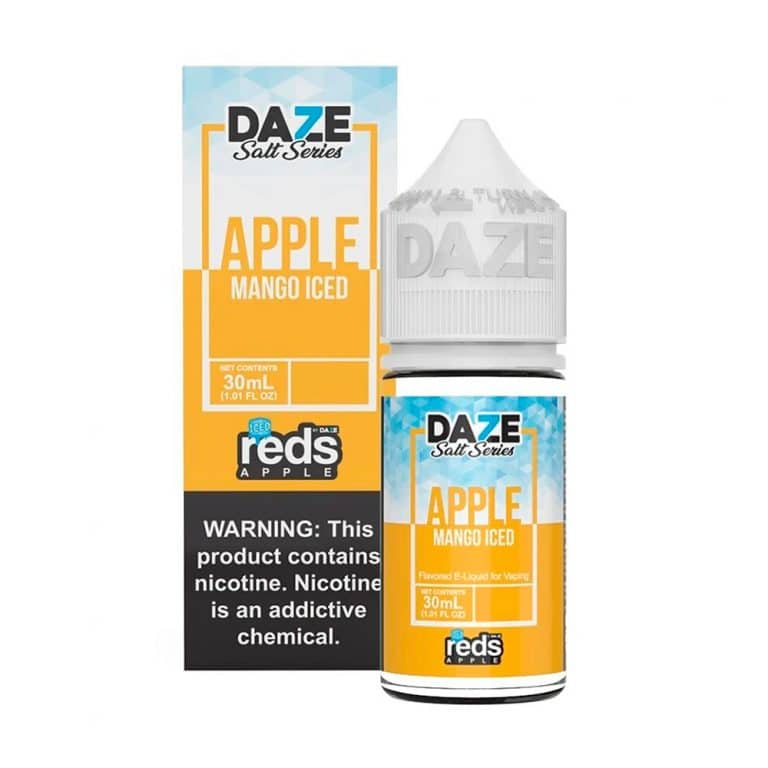 Brand: 7 Daze SALT
Flavor: Iced Mango
VG/PG: 50/50
Nicotine: 30/50mg
Price:  30mL $12.99 Elementvape
Review:
Similar to Cush Man, 7 Daze Salt's Iced Mango also hits us with a layered wave of tropical fruits and icy menthol. Besides, a slight note of apple flavors also comes through, but the mango flavor is obviously predominant.
We love the apple-mango combo, as it's a brilliant idea to balance out fruit flavors. And the flavor it delivers is gentle—we especially like this. Some liquids just overwhelm our mouth with strong tastes in an intolerable way. At last, the touch of mint coolness in the liquid is a superb addition.
When we vaped on the juice, the throat hit was not harsh but quite mild. Generally, we recommend this one to you!
---
Mango Berry – The Finest E-luquid
Brand: The Finest E-liquid
Flavor: Mango Berry – Fruit Edition
VG/PG: 50/50
Nicotine: 30/50mg
Price:  30mL $17.99 The Finest E-liquid
Review:
The last liquid we tested on was the Mango Berry from The Finest E-liquid. We got that distinctive soothing mango taste on the first drag, which was immediately compensated by the sweet and tart strawberries.
The vaping on it makes us feel like we're savoring a cup of intensely fresh cocktail offered by some hospitable tropical islanders. Or it's like we're exactly biting into a fresh mango slice.
In conclusion, the Mango Berry is another wonderful liquid with a duo of our favorite fruits. It offers us a surprisingly flavorful sensation. But our tests found maybe it's not suitable for an all-day vape.
Recap
All in all, we loved all the 7 mango e-juice. If you love creamy flavor, we would recommend Naked 100 – Amazing Mango. If you are also a fan of exotic fusion, you can try the Mango Peach Guava by Fruit Monster
. Though Burst Mango vape juice and Nasty Juice Cush Man are the only two pure mango flavor e-liquids among all, other mixed flavored ones were all delicious.