If you're obsessed with the unmatched flavorsome big clouds produced by RDAs, but wouldn't like to give up the convenience of traditional sub-ohm tanks, RTAs can satisfy you on both counts.

We've put together a list of the best RTA tanks of 2022 here. You can find what suits you best based on your particular needs.
#1 OXVA Arbiter 2 RTA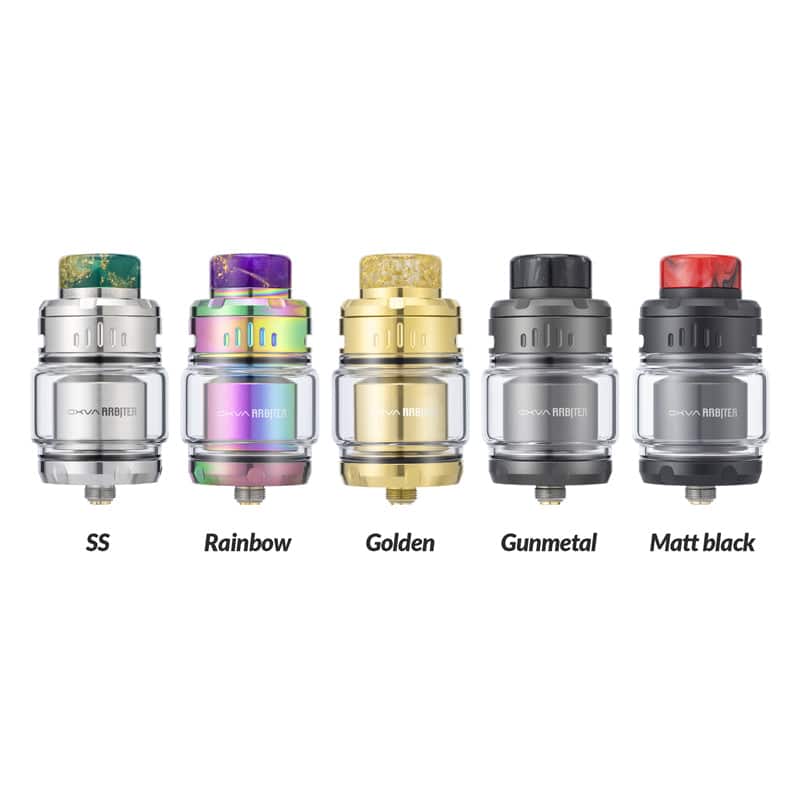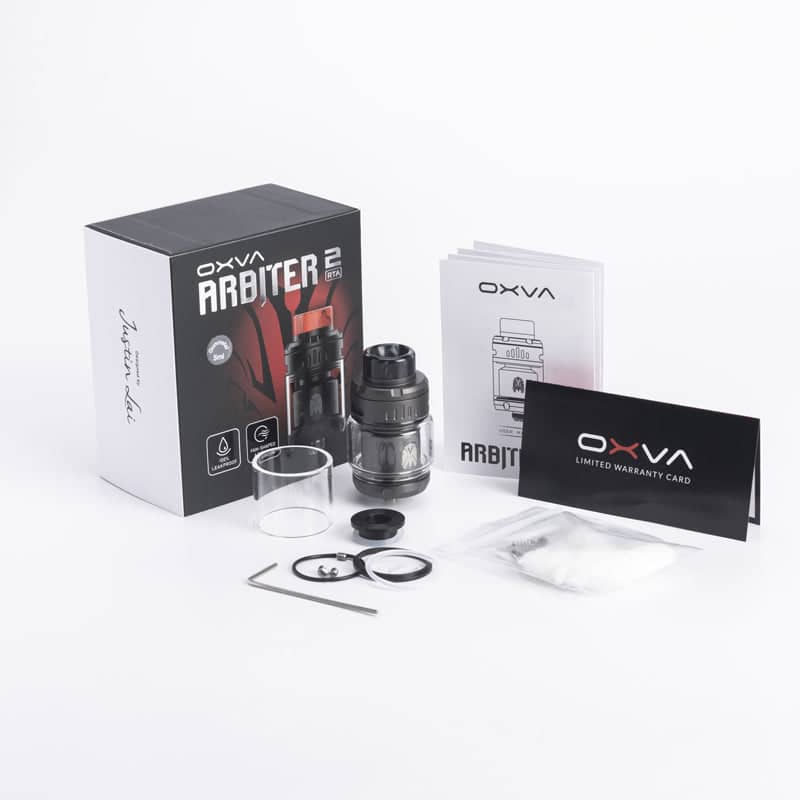 OXVA Arbiter 2 RTA is outfitted with a postless deck designed for both single and dual coil builds. The 26mm body makes it compatible with most of box mods on the market, allowing you to install it to a wide range of devices to explore possibilities. Other than a regular 3.5mL straight glass, it also offers a 5mL bubble glass in the kit. That means it can be an ideal option even if you always vape out of the house.
Arbiter 2 adopts a top-to-bottom airflow system to solve two issues in the same time. One is the leakage, which is really typical for bottom airflow RTAs. The other issue is that vapors get flavorless when airflow holes are a way off the build deck, like what happens in traditional top airflow RTAs. Arbiter 2 RTA places two airflow slots on the top to cut down the chances of leaking. When air is quickly transported downwards to the deck, the eight holes to each side of the coil will push the air to swirl around the coil. That's the key to the massive clouds and intense flavor of OXVA Arbiter 2 RTA.
#2 Hellvape Fat Rabbit Solo RTA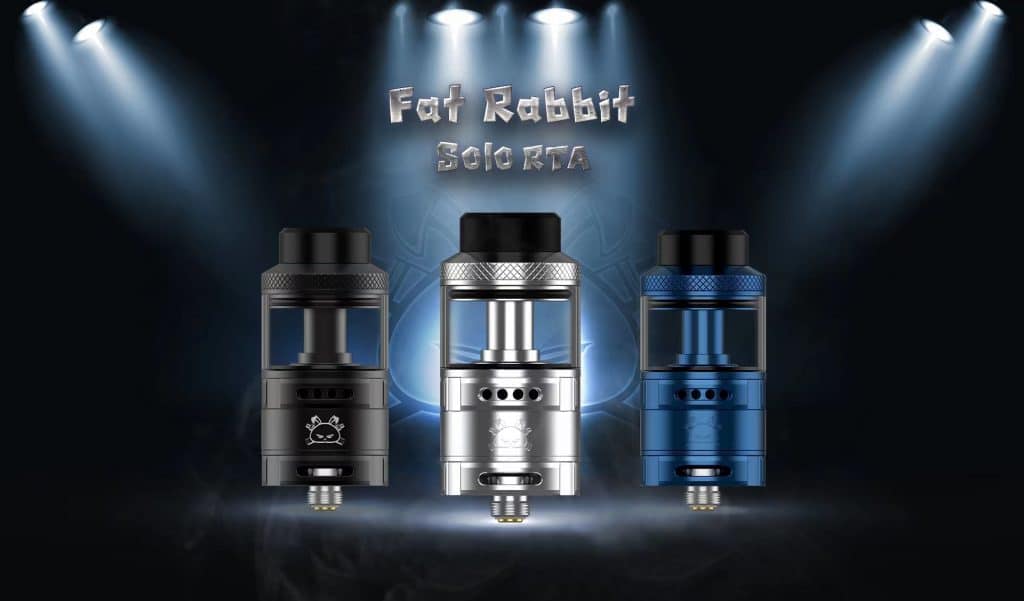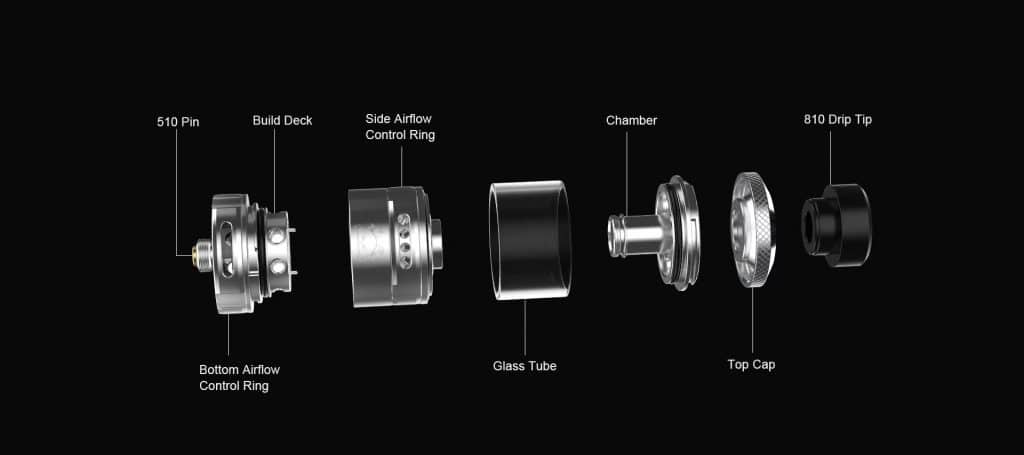 Hellvape Fat Rabbit Solo is a single-coil RTA with a postless deck that is really easy to work with. The deck features four grub screws laid out on both sides. As there're four screws available for the single-coil build, it's safe to say this RTA has higher margin of error in building. With it users are allowed to wind their coils in either direction, or continue to build with little stress even if they've got one screw messed up.
Don't panic if you've yet to build a coil on your own. The Solo kit includes a complete set of tools, like a flat screwdriver and coil cutting tool. It also offers a pre-made 0.37ohm Ni80 coil that would make your first trial easier.
Instead of retaining the 28mm girth of the original version, Hellvape Fat Rabbit Solo goes back to the traditional 25mm size. The slim-down not only gives it a more compact look, but more importantly makes it now compatible with a wider range of mod devices. No worries that you might need more frequent refills. The Solo RTA comes with an additional bubble glass that could load up to 5.5mL e-liquid.
This RTA allows for side and bottom airflow controls. The side one has four individual air holes and the bottom one is a slot for full adjustability, so anyone can tweak the air amount to their liking. If you're crazy about good flavors, Hellvape Fat Rabbit Solo has got you covered. It reaches a sweet spot when running on somewhere between 20 and 40W, a range more suitable for beginners to start from.
#3 WOTOFO Profile M RTA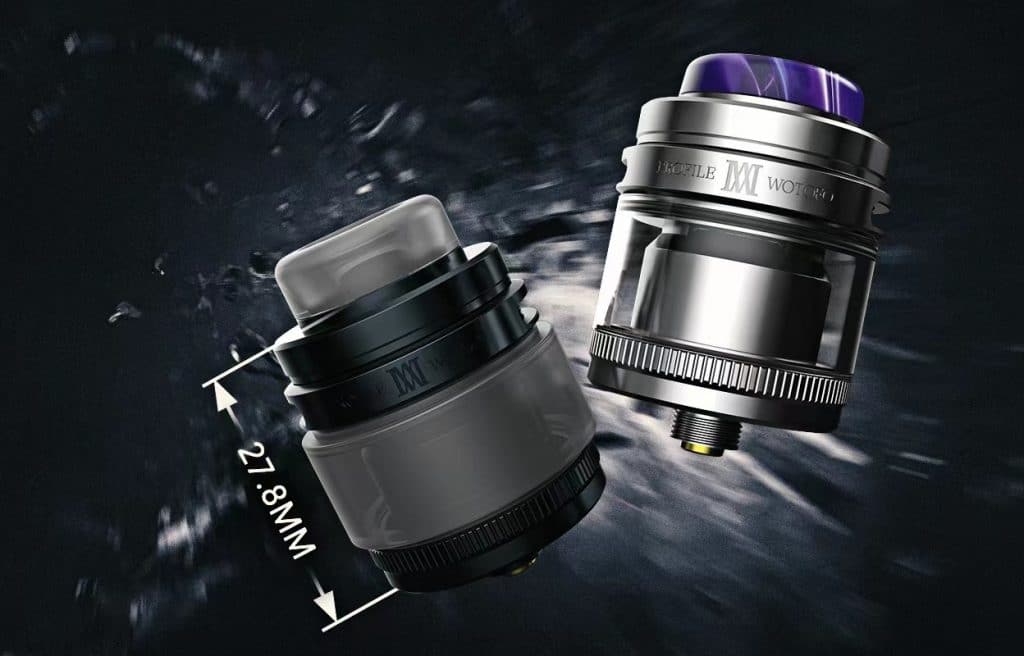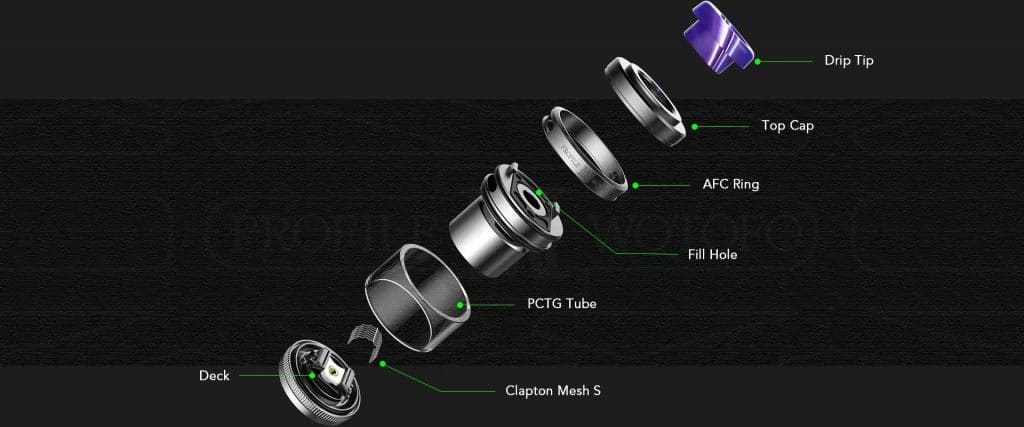 WOTOFO Profile M RTA is the latest and greatest atomizer meant for mesh coil enthusiasts. It packs in a standard mesh-style build deck, with a clamp and Phillips head screw on each side to secure the coil in place. Usually installing a mesh coil requires less expertise than a traditional wound coil. That means the Profile M is overall easier to build—you just bend the mesh strip with the tool included in the kit and put both ends into the clamps to get the coil installed.
Profile M places an airflow ring on the top, which proves to be the best method to avoid e-liquid leaking. It seems that this RTA has to sacrifice lots of flavors carried by the vapor, but WOTOFO has solved this issue cleverly. First it adds a honeycomb airflow system inside to quickly channel airs downwards to hit sides of the coil. In addition, Profile M is shorter than average atomizers, so the vapors it produces will cover less distance before you breathe in. That makes its flavors rise through the ranks instead.
The RTA kit includes in a total of three mesh coils, all of which are made for mas-cloud sub-ohm vaping. Personally the best one in terms of flavor delivery is the 0.18ohm Clapton mesh coil, which goes well together with a 60W-or-so output power.
#4 Hellvape Dead Rabbit RTA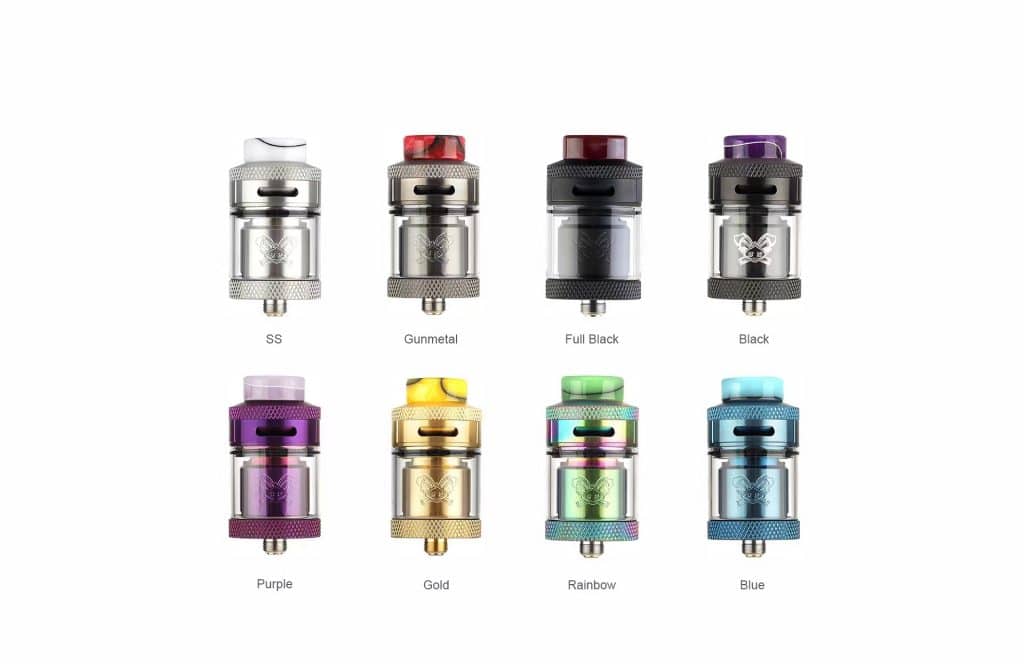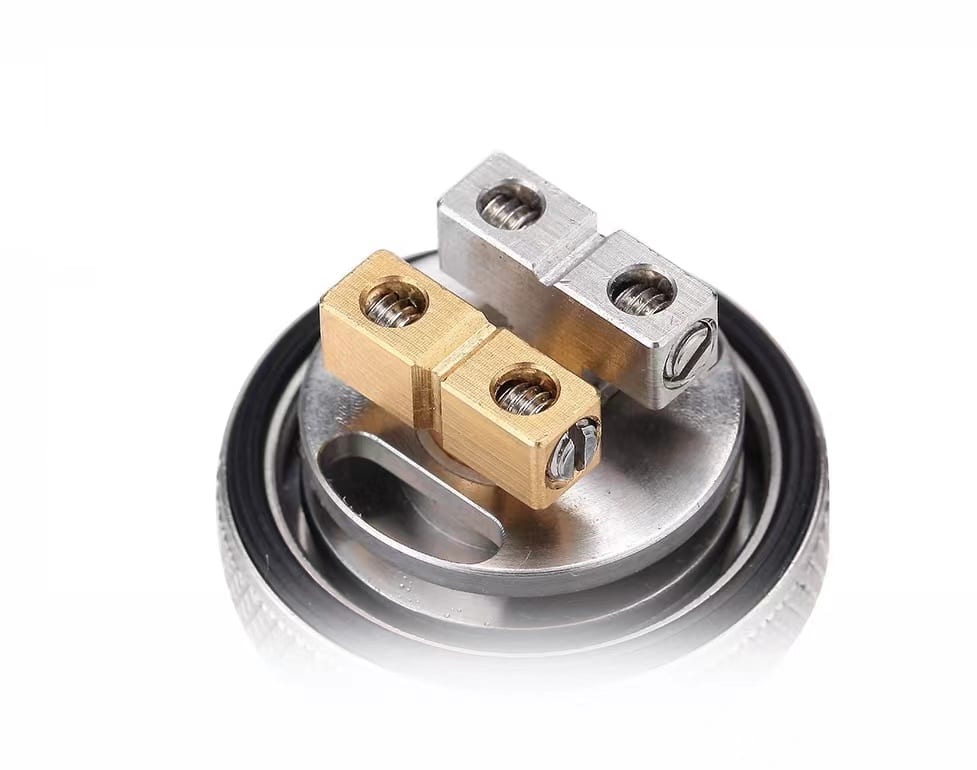 Hellvape Dead Rabbit RTA offers a four-post deck allowing for either dual coils or a large single coil builds. The way you install coils in this RTA would be slightly different from what you used to do. You insert the coils from the top, and secure them in place from the side; while regular RTAs might need you to do the other way around. Advantage of this design is plain to see: it allows you to drop your coils into the post holes, and clip them afterwards whenever you want. That would be a great help when you juggle with multiple coils.
The RTA adopts a top airflow system, so leakage is never an issue here. You have good reasons to doubt its flavor delivery, as in most top-airflow atomizers the flavor couldn't truly be there. However, it's not really an issue in the Dead Rabbit, either. The RTA effectively transports the air downwards to strike out coils with a funnel, and narrows down the chimney to concentrate the vapors. So the flavor is actually satisfying! We found the RTA's performance reaches its pinnacle when the airflow was fully open—the vapor is dense and massive with vibrant flavors.
Overall it's a sturdy device with solid finishes. Its kit includes in a 4.5 mL bubble glass to hoard more e-liquid. You can also find two soft-touch drip tips to swap between.
#5 Vandy Vape Kylin Mini V2 RTA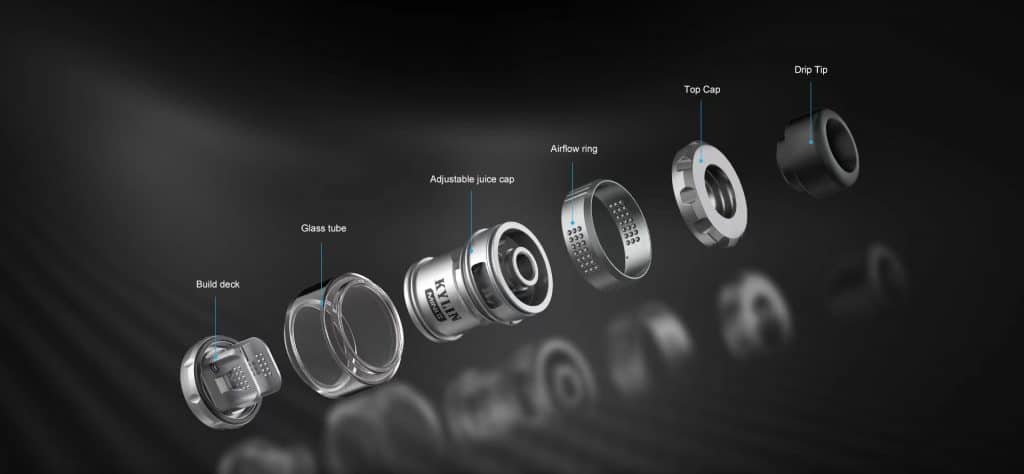 Vandy Vape Kylin Mini V2 designs its build deck to a "U" shape, with two screws on the side and no post. The deck is also a drop-style thing—you can drop your coil in from the top and secure the leads afterwards. And given it's a 24.5mm single-coil RTA, the entire build is just easy-breezy. Its kit includes in an additional 5mL bubble glass, so you have an ample room to load up enough e-liquid on one refill.
Superb flavor delivery is another well-known hallmark of Kylin Mini V2 RTA. Its multi-hole airflow ring on the top first allows smooth air to go down through the chimney. And the chimney is rather narrow so that vapors can concentrate to reduce the loss of flavors. While they're not the only secrets of so good flavor in it. The RTA also places rows of airflow holes beneath and to both sides of the coil, which are well-arranged like a honeycomb hugging your coil from 270 degrees. In this case, your coil will be hit by air from almost all directions and thus takes the flavor to another level.
#6 WOTOFO GEAR V2 RTA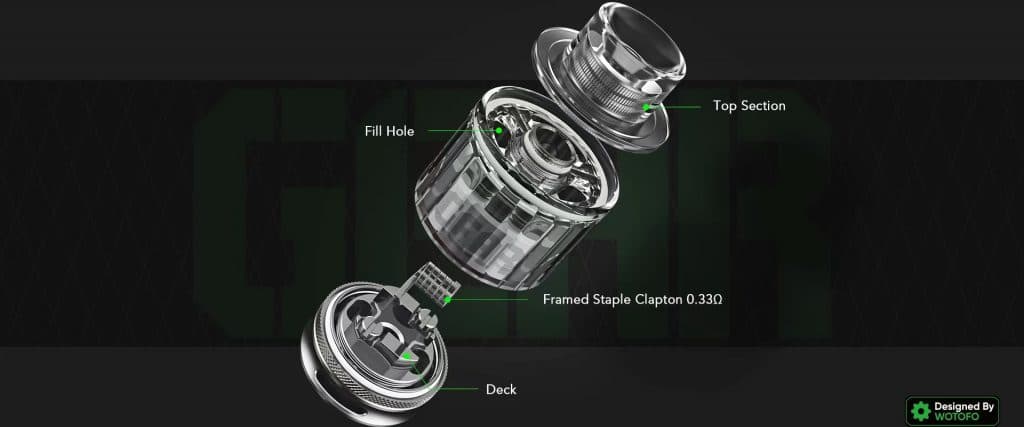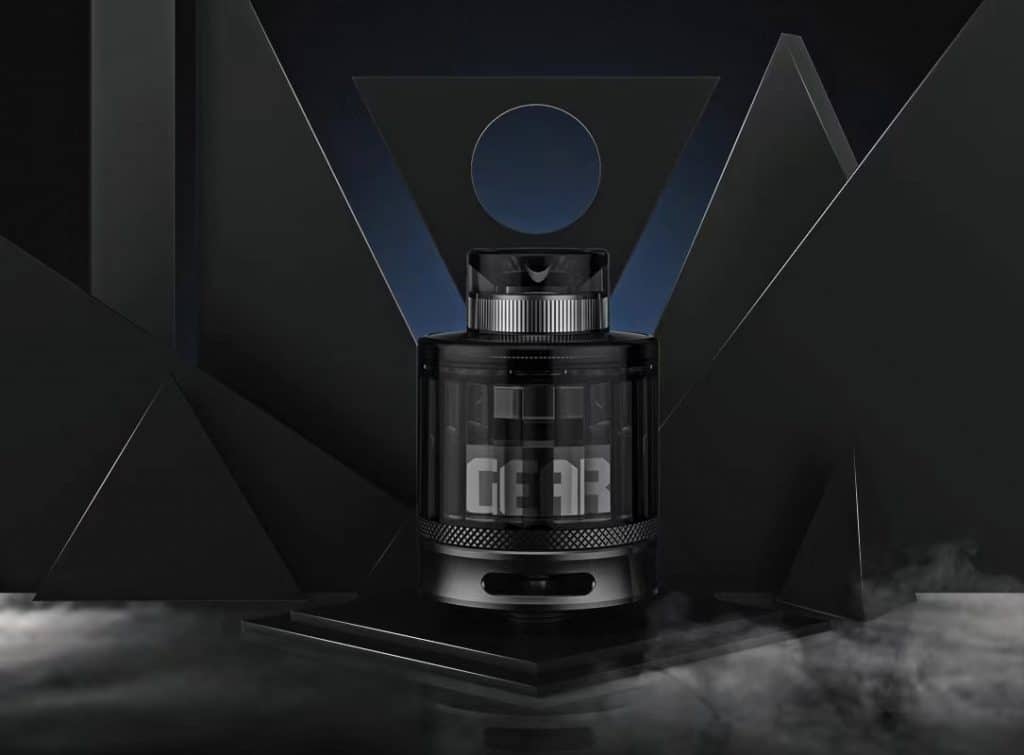 WOTOFO GEAR V2 is another postless single-coil RTA. Its deck offers two flat screws for securing coils in place, with walls around it to trap the coil wires. This one is very easy to build. What's more, the fill port on the top is large. Basically you'll have no difficulty in filling any juice in it.
This RTA is particularly suitable for vapers who always stay outdoors and focus more on portability and convenience. Gear V2 features a 24mm dimension and only 3.5mL capacity. In terms of the light weight, it can beat out most of RTAS. Moreover, it uses a fixed side airflow with no control rings, aiming to give you the ultimate convenience. Meanwhile its vapor performance is still as satisfying, as the air amount is under precise control to hit the coil from both sides.