Quitting smoking overnight is almost out of the question, as harsh cravings can be rather hard to fight. For most smokers, looking to a gradual decrement in nicotine intake with vapes or other nicotine products until a complete cessation might be the best way to go.

This page will cover five best beginner-level vapes tailored to newbies. All of them can offer the similar sensation to what you experience from cigarettes, and be as effective in striking out cravings with only several drags. More importantly, they're super easy to operate that anyone can quickly come to grips with. Read further down the page to check your best match!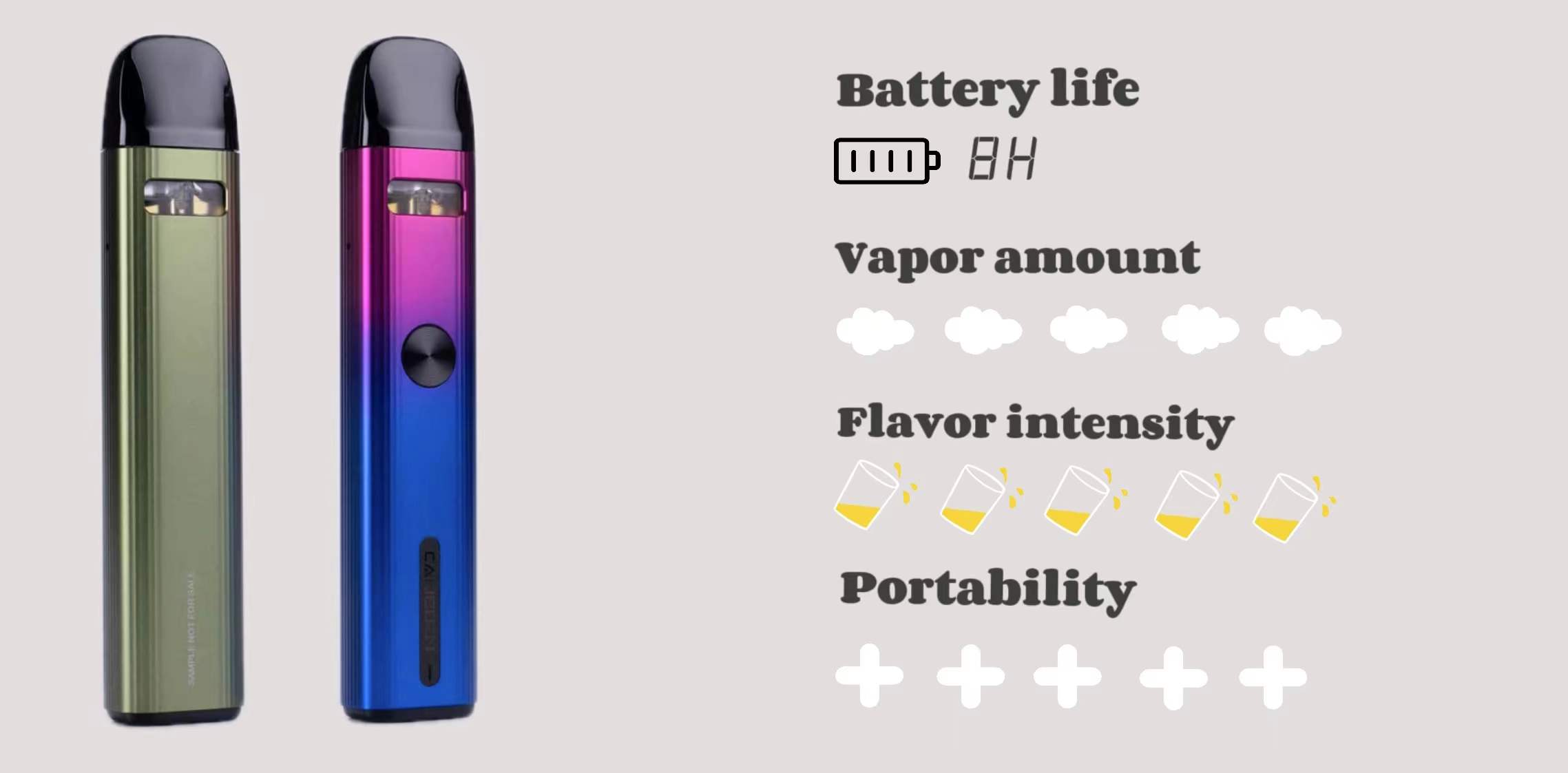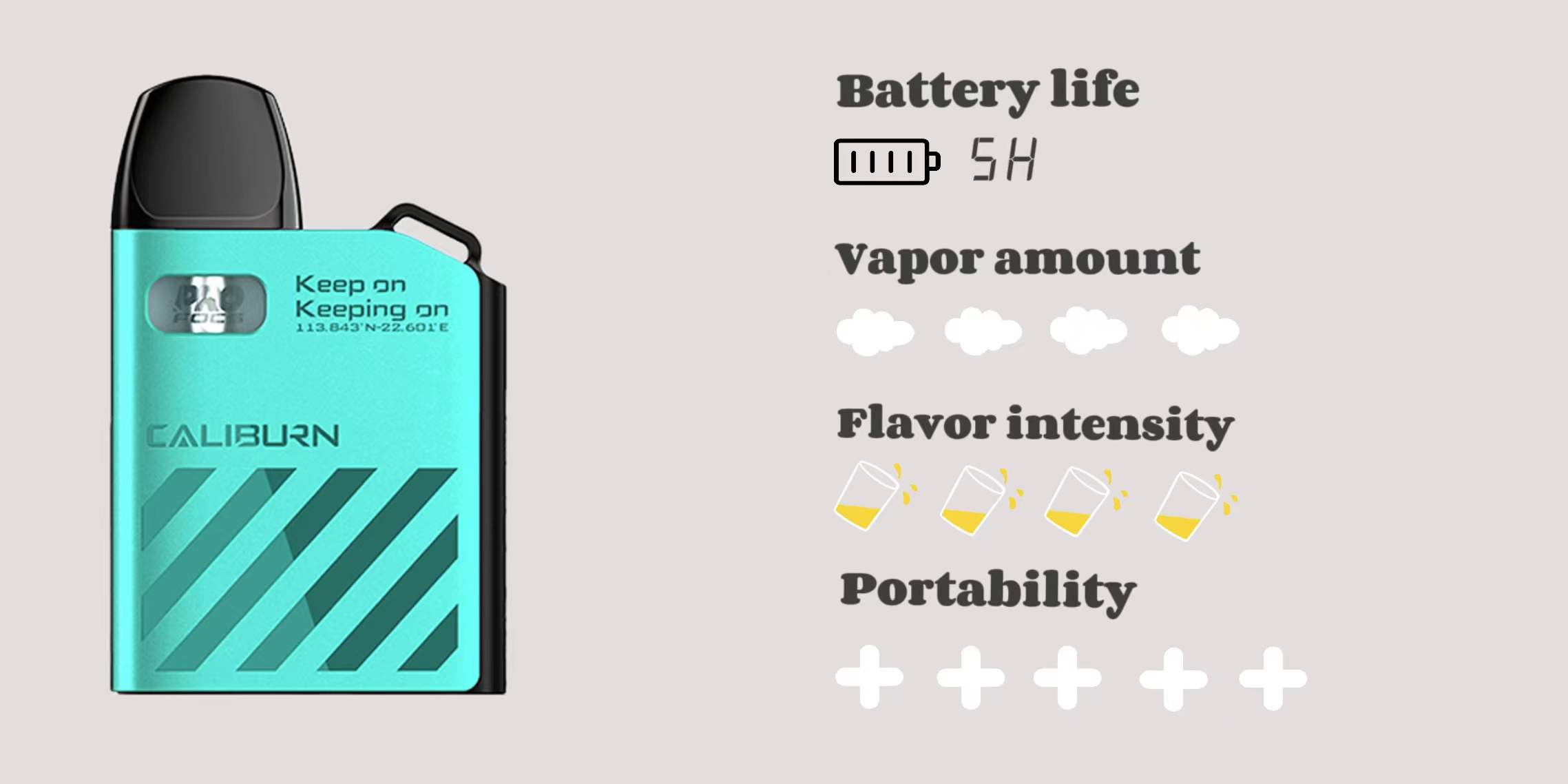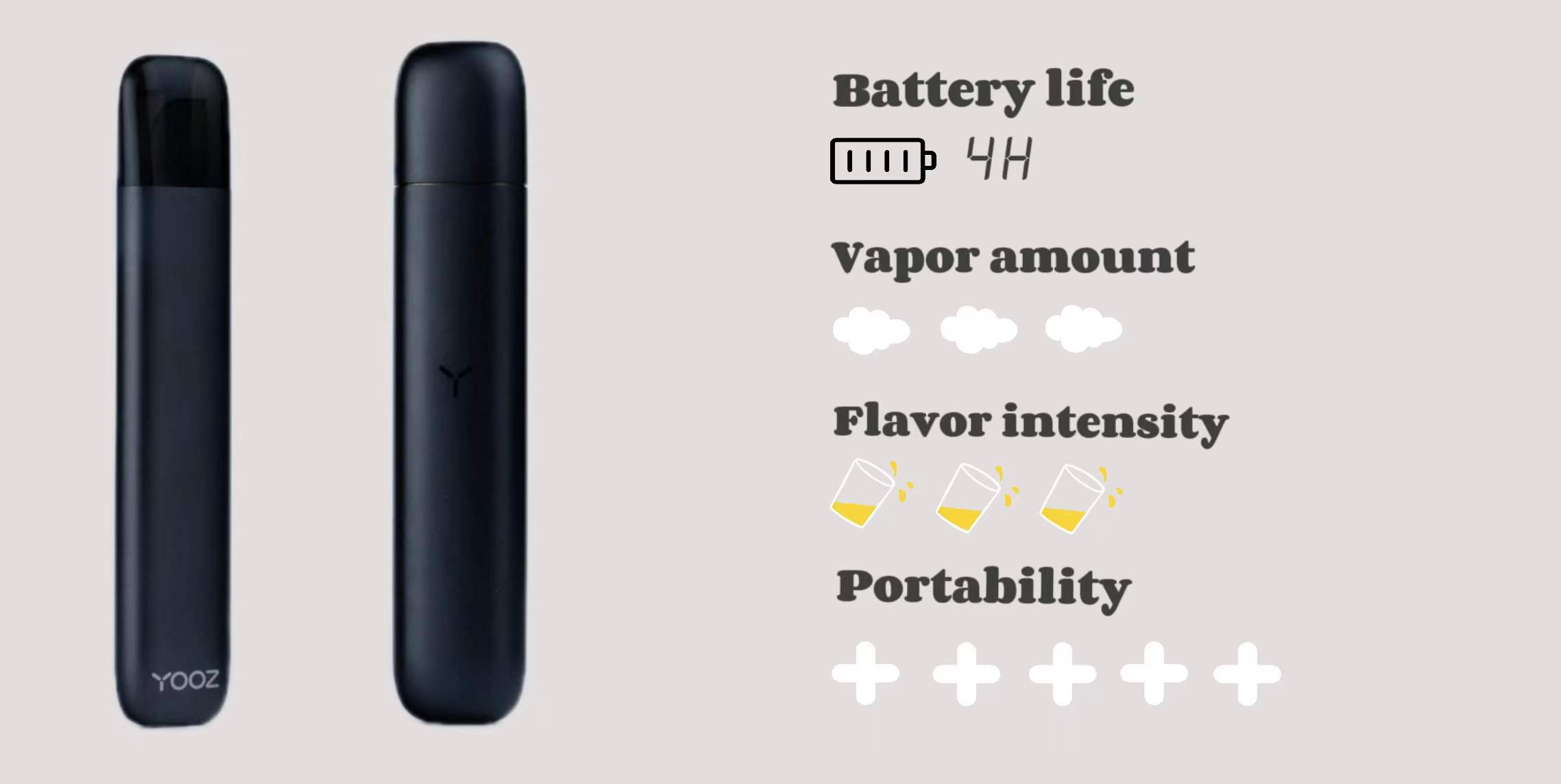 (Only available in certain markets. Contact us for shopping info if you're interested.)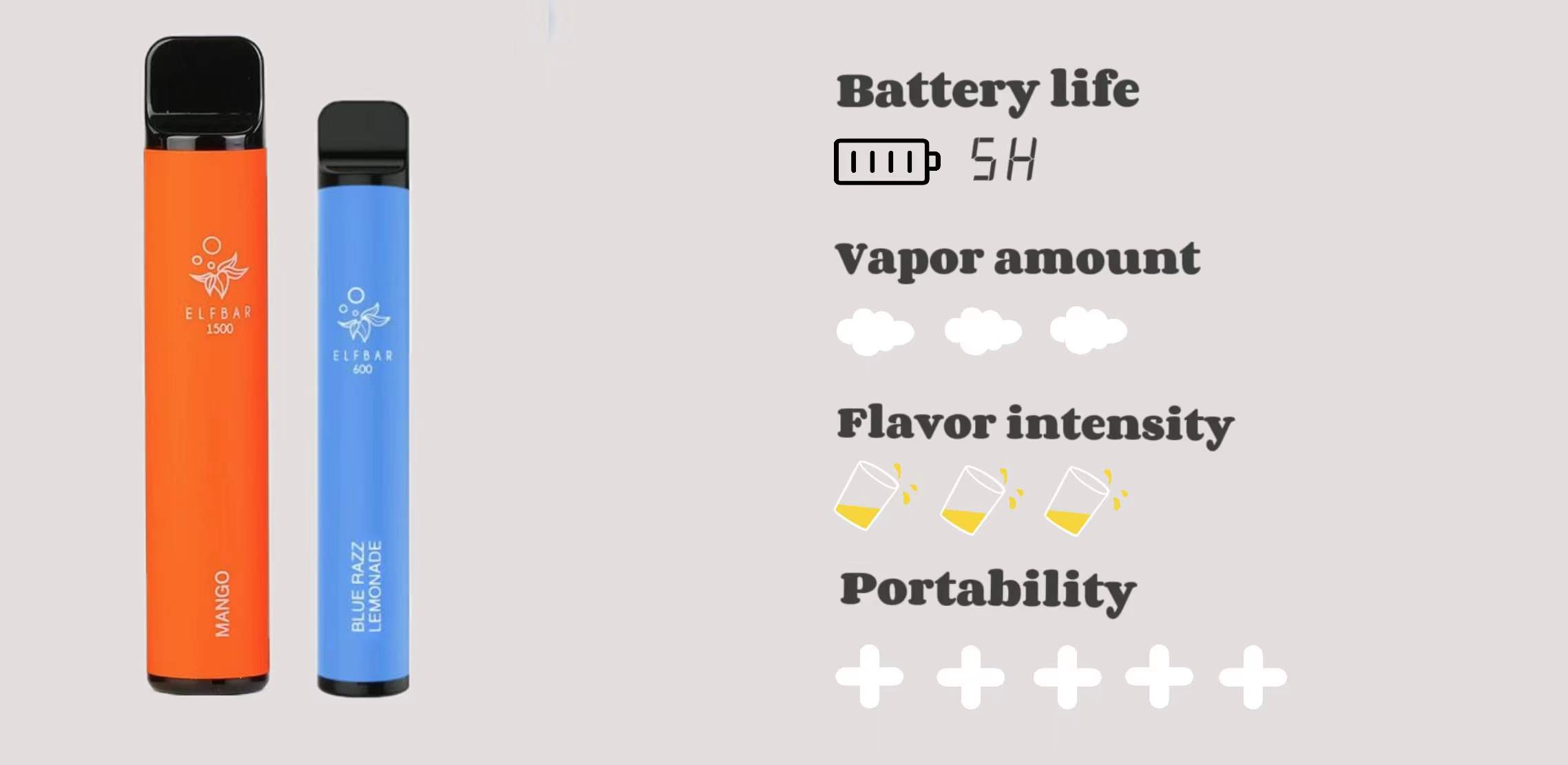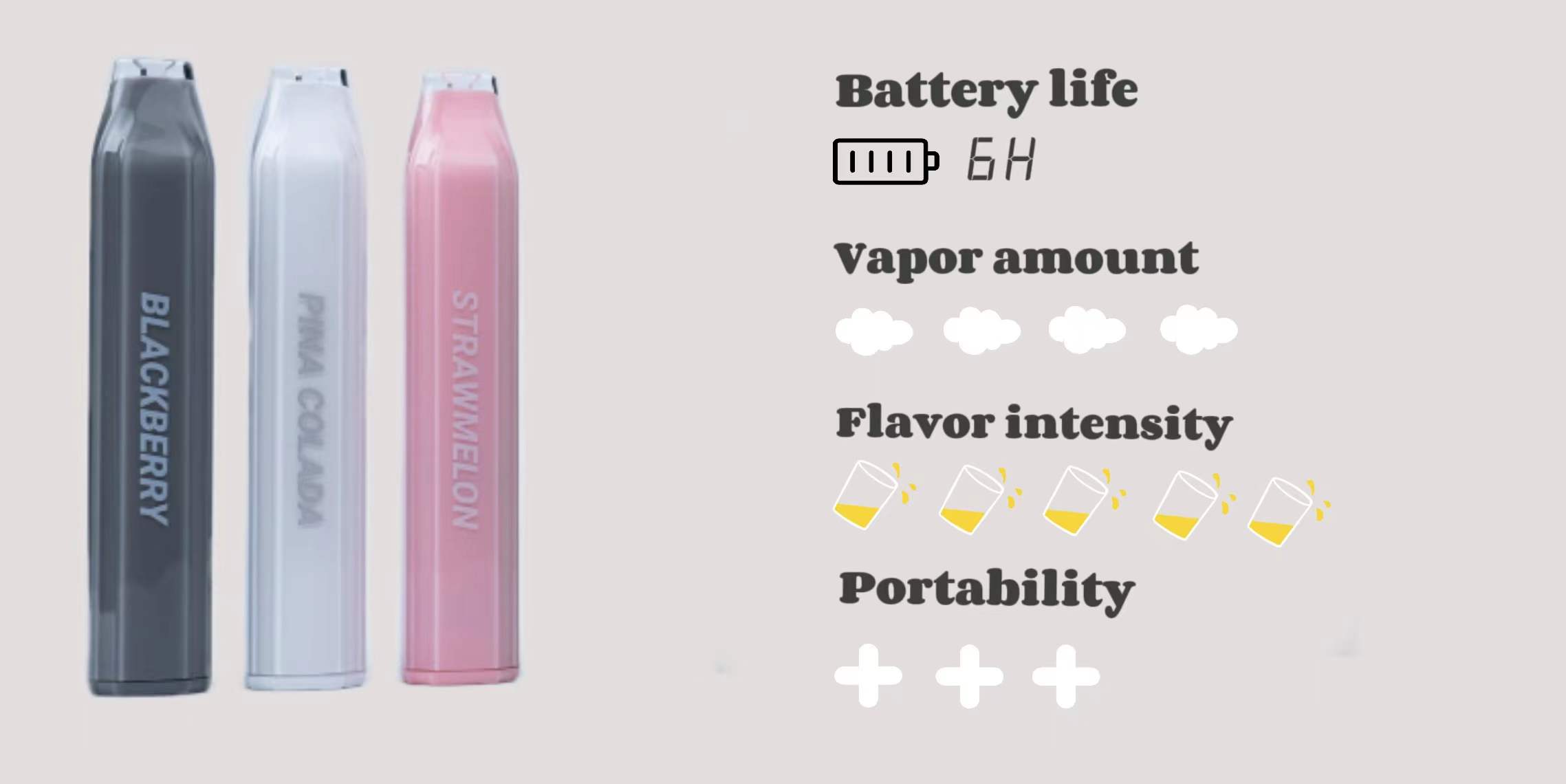 (Only available in certain markets. Contact us for shopping info if you're interested.)
Things You Should Know Before Vaping

Vape, also called as e-cigarette, is a battery-powered device that vaporizes e-liquid into aerosol for users to breathe in. It mainly consists of a cartridge which holds the e-liquid, a coil and a battery that supplies power to the coil to heat up vape liquid. A typical vaping product usually falls into one of the five buckets: mod, pod mod, pod system and disposable vape.
How to use your vape is very much to do with what type of vape it is. Generally, a disposable vape only allows for the most basic operation—taking a drag as you do with cigarettes. When it comes to a pod system, you might have more control over your vape, such as adjusting airflow to decide how many airs are allowed in, as well as refilling and recharging on a regular basis. If you own a pod mod or mod vape, there're always much more setups to customize. You can replace coils to try out various resistances, ramp up (or down) your device's wattage and do a swap among different modes.
Don't vape if you are still under the legal age of vaping/smoking.
There's no universal minimum age of vaping, as it varies between countries. The U.S Tobacco 21 rules that retailers shall not sell any vapes to people under 21, whereas the age limit goes down to 18. You can find more information about how old you have to be to vape in our earlier post.
Choose products (both vape hardware and e-liquid) from big brands.
Although products from bootleg brands sometimes look quite alluring for a bargain price, their quality and safety are a mystery. It's not really worthwhile to put yourself at risks only for a slightly lower price tag. The ingredients of homemade e-liquid can carry more toxins than you imagine. Hence, we recommend you to buy vapes only from reputable brands, for not only safety but more pleasant draws.
Buy products from reliable sources.
It's worth noting that recent vape market is rife with fake products, with no exception to offline convenience stores either. If you're not certain about whether a physical seller is trustworthy, you might rather shop for your vapes in established online stores, including Vaporfi, Vapor DNA and NewVaping. We've also put together a list about best online vape stores, where you can find some more reliable sources.
Start from a low nicotine level.
As the deadly risk of smoking has become sort of a common sense, many people naturally build a link between nicotine and cancer. However, nicotine itself is not toxic. It's only responsible for keeping people so addicted. While breathing in a large dose of nicotine isn't worth a try anyways, since it might cause dizziness or nausea. Especially when if you're new to vaping products, you'd better start from a low nicotine level to achieve a smooth transition.
Nic salt vape juice will provide you with satisfaction faster.
Nicotine in vape liquid usually comes in two forms, either freebase nicotine or nic salt. (Synthetic nicotine juice is not yet as popular) Nic salt has an evident advantage over freebase nicotine, that is it gives you more nicotine bang in a single draw as it's easier to be absorbed in bloodstreams. In most cases, starter vapes run on a lower power, and as a result produce smaller clouds. Hence we'd recommend nic salt juice as a match for starter devices, if you'd like to get through your nicotine withdrawal faster.
A Quick Guide to Nicotine Strength
A fabulous device alone is not enough to see smokers through a transition to less harmful vaping. Another key to it is a right nicotine level. Many smokers who fail to choose the right one for their vapes are very likely to fall victim to a smoking relapse.
As you might have noticed, nicotine level, or strength, is always measured by either mg/mL or percentage. The latter seems to be more common in pre-filled vapes, coming in 2%, 3% or 5%. Actually the two units are interchangeable, let's say 48mg/mL just equals to 4.8%. You only need to divide the former figure by ten to get the correct result.
When you buy e-liquids or pre-filled vapes, pay attention to the numbers. For just-switching vapers, the most common strength to start off is 12mg/mL. After having vaped for a while, you can fine tune the dose to your liking until the nicotine can get you perfectly right.
Wonderful Nic Salt Vape Juices to Look at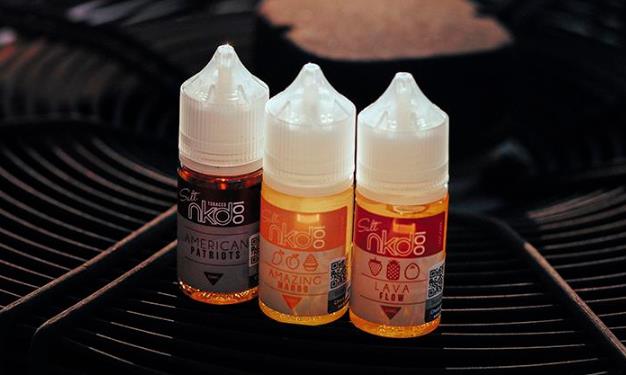 Pre-filled vapes are hassle-free, but in the meantime sacrifices their versatility. If you're longing for something more customized as your first vape, we can't recommend an open system pod enough. While you'll have to cope with refilling on your own. It's not difficult though. Or rather, the real toughie there is actually selecting a quality e-liquid made by reliable manufacturers.
As for reputable e-liquid suppliers, our experts recommend Dinner Lady, Naked 100, Fruit Monster, Large Juice and Just Juice. These brands have provided some of the best nic salt vape juices perfect for your MTL vaping.
---
Best Starter Vapes 2021
Why Vape Starter Kits Matter?
E-cigarettes are known to cause much less harm to human bodies. Many health institutions and medical experts have come together to call for wider use of e-cigarettes to help smokers quit smoking. That explains why recent years have seen a sharply growing need for vape products as a safer alternative to conventional tobacco. Vaping is very effective in taming smokers' nicotine cravings and in turn getting them rid of smoking habits.
However, with sea of vaping products in the market, beginners might have troubles in finding a vape kit that fits them best. In this context, starter kit recommendation means quite a lot. So here we are—we make a shortlist as below for the best vape starter kits in 2021. In this review, starter kits we recommend and mention ranges from pod system to pod mod. Hope you can find the one you like and make a quick and smooth switch to vaping.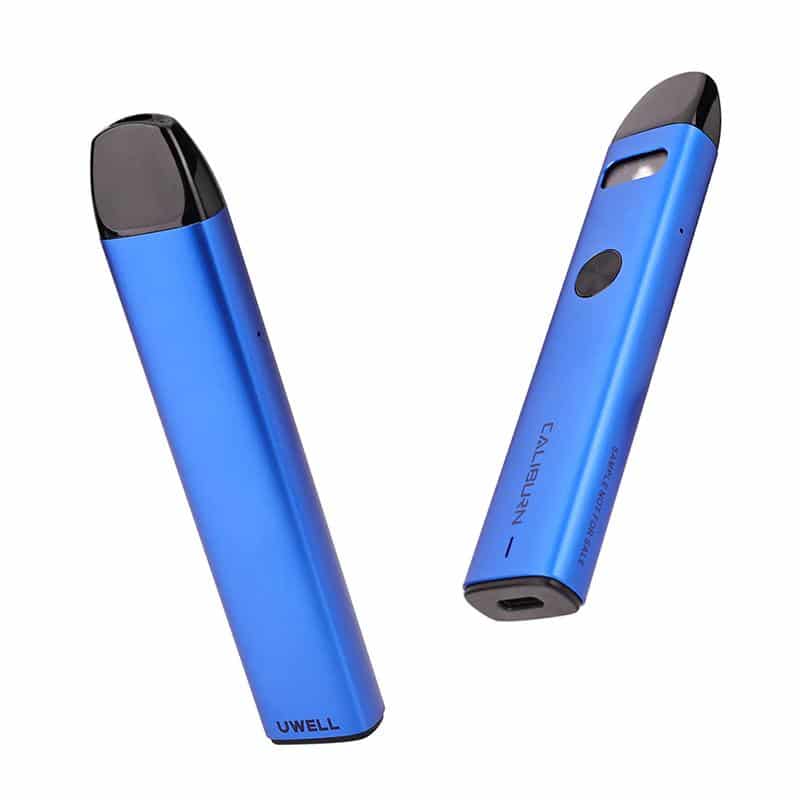 The UWELL Caliburn A2 pod system is an ideal starter kit suitable for those who have little contact with vapes before. The blend of sublime simplicity and splendid performance in this tiny device makes it one of the most representative pods in the year of 2021.
The Caliburn A2 is pre-installed with Uwell's Meshed-H 0.9ohm coil, which excels at producing moist and robust clouds and delivering immaculate flavors. Since its coils are not replaceable, we don't have to invest much energy in accessory replacement. When the coil has come to the end of its life, just toss it out and buy a new one—easy as a pie.
The pod kit doesn't come with a variety of functions. With only one button intended for fire activation and vaping (you can choose to directly draw to use or press the button to vape. It's all up to you), Caliburn A2 doesn't offer any complicated functions that a vape beginner might step back from. Its output level is also fixed at a precisely-calculated 15W that's perfect for mouth-to-lung (MTL) vaping. For experienced vapers, not adjustable wattage might be a headache; however, for beginners it's a really considerate design as they don't need to worry about possible overheat. Its battery features high charging rate, and can support very quick firing. Caliburn A2 can be rated as a frontrunner in easy-to-use vape kits.
SMOK NOVO 2 – 9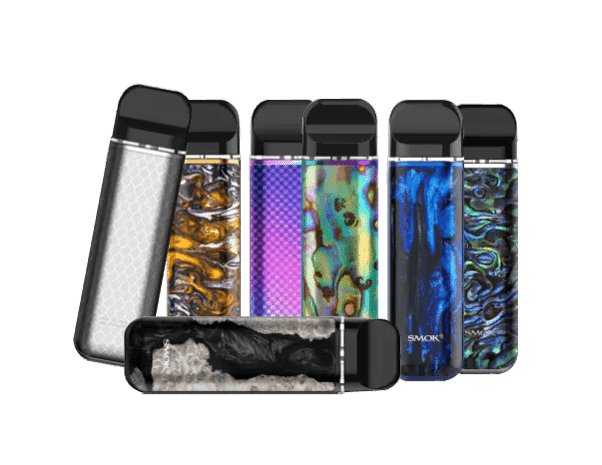 This year, SMOK has impressed us once again with its going back to petite devices with the Novo 2. It takes the original version from the well-known SMOK Novo, but has some updates.
SMOK specially expands the pod's battery capacity to 800mAh, aiming to make our vaping pleasures to last longer. Its wattage range is set between 6 and 25W, perfectly suitable for smooth above-ohm MTL vaping that comes as easier for most beginners to start from. If you care a lot about a device's looking in starter kit selection, SMOK Novo 2 can definitely leave you a superb first impression. Its surface is made of classy resins, which looks quite lively with bold colors and vivid design as a supplement.
The coil that goes with the pod is amazing as well. It creates very dense and flavorsome vapor, remaining just as high-quality as how SMOK coils used to be. SMOK is always the brand that vapers can rely on. If you want a haste switch to a trustworthy starter kit, Novo 2 is that one you can grab and go immediately.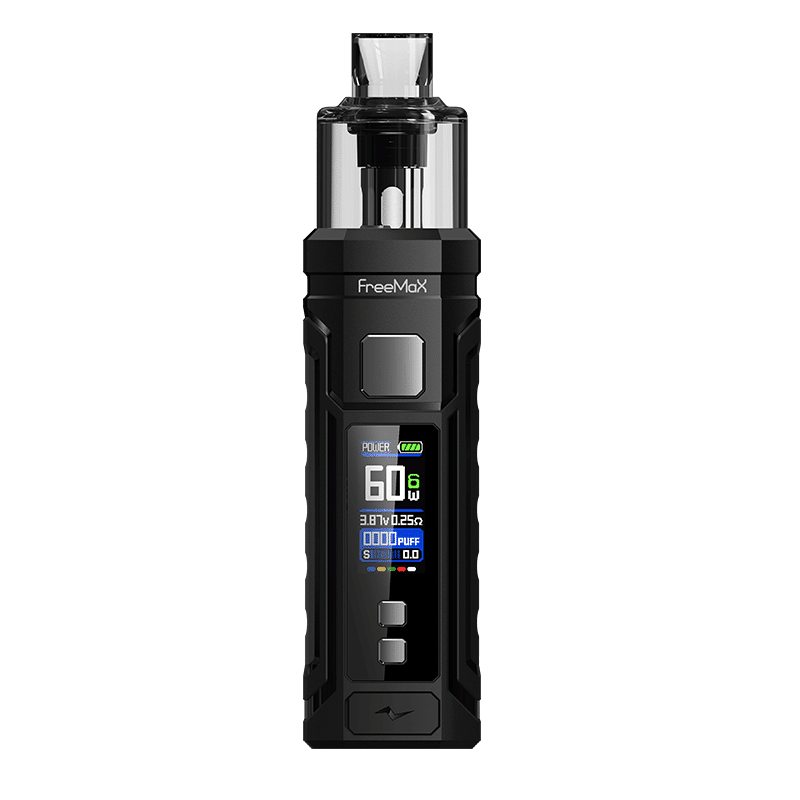 Though as a pod mod kit, Freemax Marvos's ease of use and ergonomics make it so prominent among a bevy of starter vape kits. Marvos has knocked itself out of the park in user-friendly functions.
First of all, its key lock can prevent any accidental firing, which is commonly seen in vape beginners, from happening. In addition, its smart chipset and protective button design have just come together to avoid dry hit. For example, when users press the fire button for multiple times to power off or switch mode, only the first press activates firing. And its screen display is obviously another big appeal to vape beginners.
Freemax Marvos can fire up to 60W, a wattage high enough to make for harsher sub-ohm vaping and bigger clouds. The pod mod features water, dust and shock proof design, and feels quite stout in hand. The build quality is doubtlessly amazing. All in all, this vape kit doesn't require your meticulous treatment; on the contrary, it could take very good care of vape beginners. It's okay if you pursue versatile functions but have very little experience in vaping.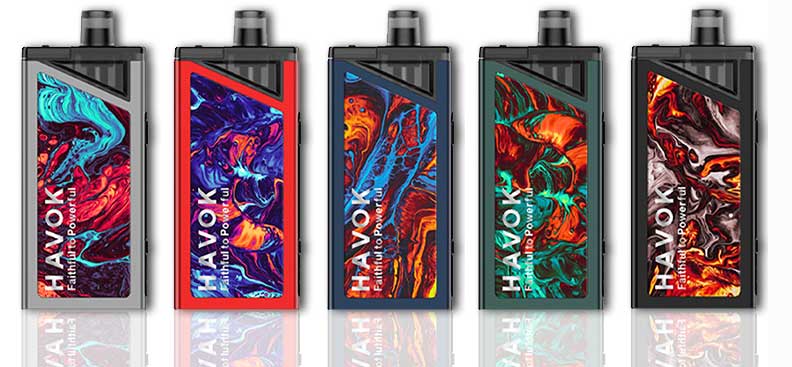 Uwell's Havok V1 is another pod mod kit that fits well with vape beginners. Its ergonomic designs, such as the top fill and pod magnet connection, allow users to immerse in fuss-free vaping pleasures. And Uwell's self-developed coils also lines up to boost its performance beyond most devices. The Havok V1 is compatible with two different coils at 0.25ohm and 0.6 ohm respectively, allowing for an easy switch between a variety of vaping styles.
Havok V1 is listed as a beginner-friendly device also because of its protective functions. Its built-in chip is expert at identifying overheat and would give precautionary warnings like "too hot" to remind users the temperature has gone over 80℃. Vape beginners need protection as such to avoid coil burning, and get deep into vaping effortlessly.
Of course, its vaping is spot-on, as it delivers massive clouds and descent, tasty flavors. The battery is also powerful enough to serve us all day long. Havok V1 is an excellent starter kit which is able to extend all-around satisfaction to beginners through its subtle balance in every tiny detail.
Geekbar Disposable Vape – 8.5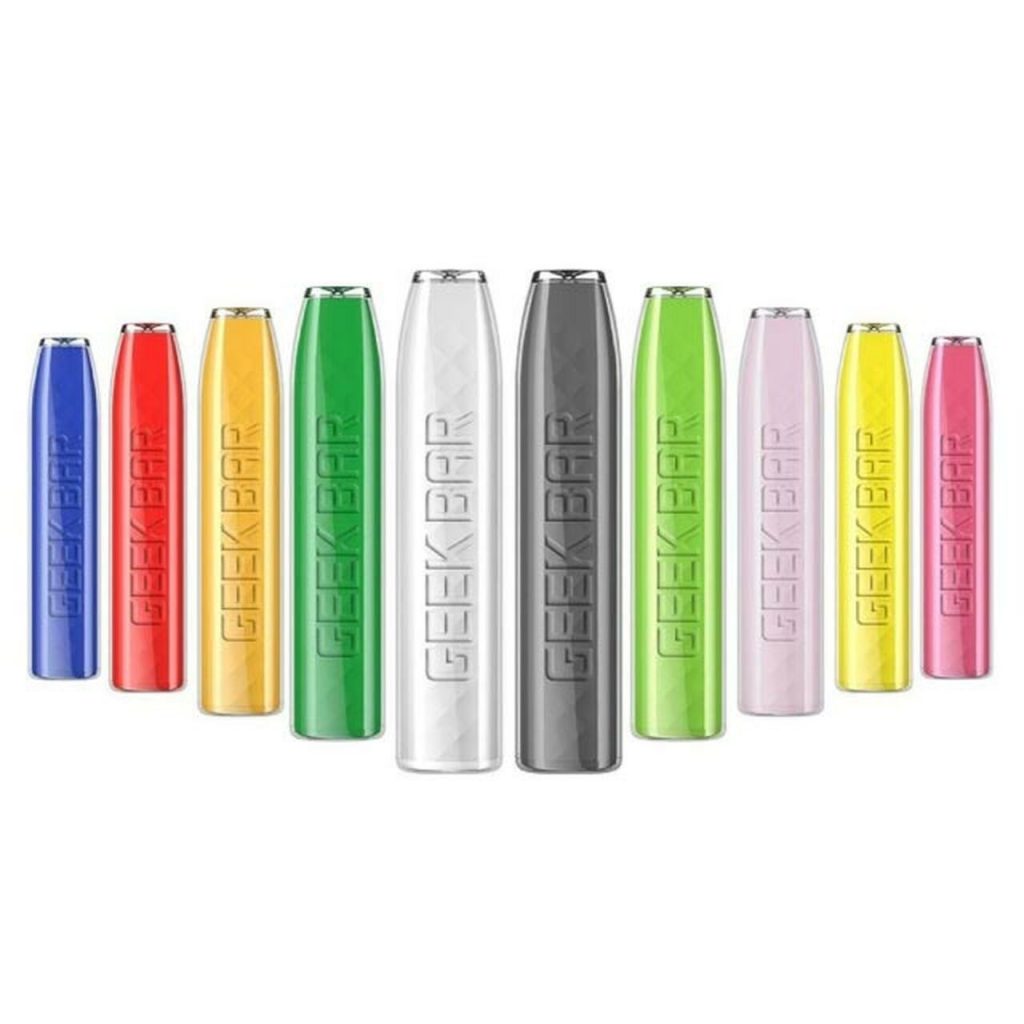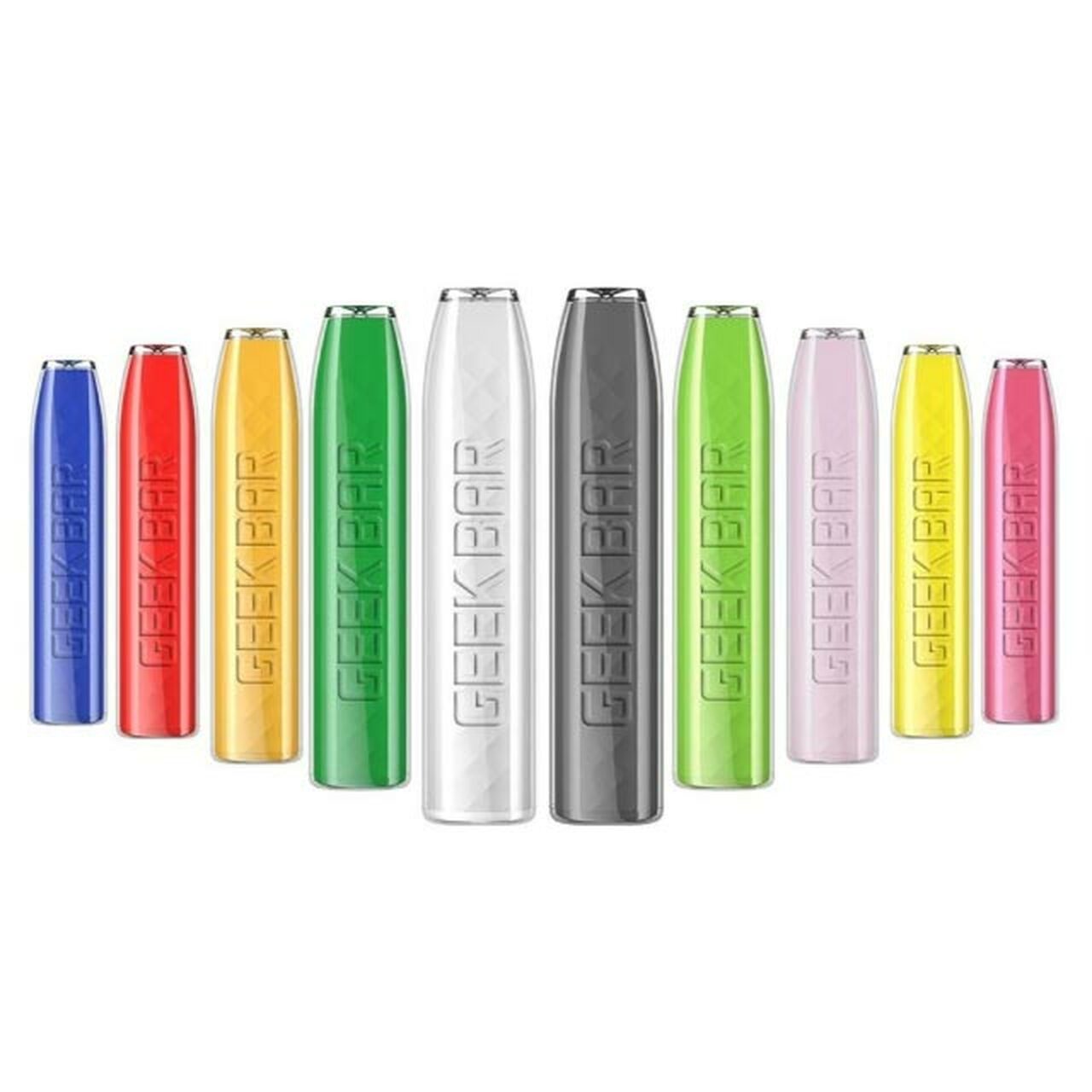 The Geekbar disposable vape is tailor-made for vape beginners who are none the wiser about vapes. New vapers might easily get daunted by a galaxy of vaping products at their first purchase—mod kits, pod systems or vape pens, what's the difference there? Disposable pods have solved this toughie for good.
With the disposable vape from Geekbar, vape-rookies don't have to keep an eye on every small bit of a vape device like coils, batteries and e-liquid. Taking puffs is the one and only effort to make.
When it comes to Geekbar's performance and quality, we just can't recommend it enough. Compared with most regular disposable pods, it produces more vapor that carries very intense flavor. Its build quality is fantastic and feels nice and light in hand. The sensation it takes to our throat is soothing, instead of anything like striking stimulus. Beginners will find no difficulty in taking up such mellow MTL vaping.
Buy Geekbar Disposable 575 puffs Here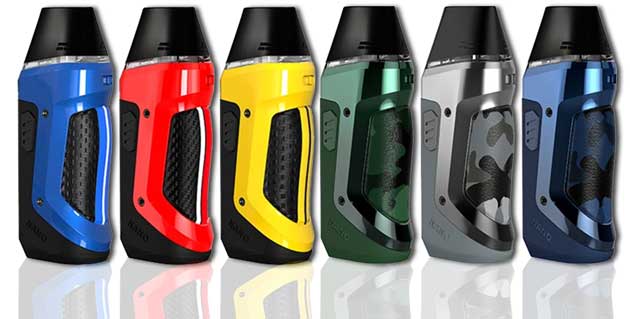 At first glance, you might be wowed by the Aegis Nano's tiny size. It's so compact that you can put it into any place from your bag to a rear pocket. Portable as it is, this pod system from Geekvape doesn't compromise on its performance and variety in functions. It does a great job in creating dense and flavorsome clouds.
Aegis Nano's updated airflow control is another reason why it's suitable for vape beginners. The adjustment wheel has gone, and meanwhile an easy-to-use slide at the back of the device comes to take its place. The airflow is adjustable for restricted-direct-lung (RDL) vaping, a vape style that delivers more vapor and flavor than MTL and consumes less nicotine than direct-to-lung (DTL). In addition, its coil is not replaceable, further reducing the complexity in the pod system.
Beginners who have a preference for small handy starter kits should have a look at the Geekvape Aegis Nano. Especially if you've smoked for long and like harsher throat hit, you can directly fast-forward to RDL vaping with this pod.
SMOK Nord 2 – 8.6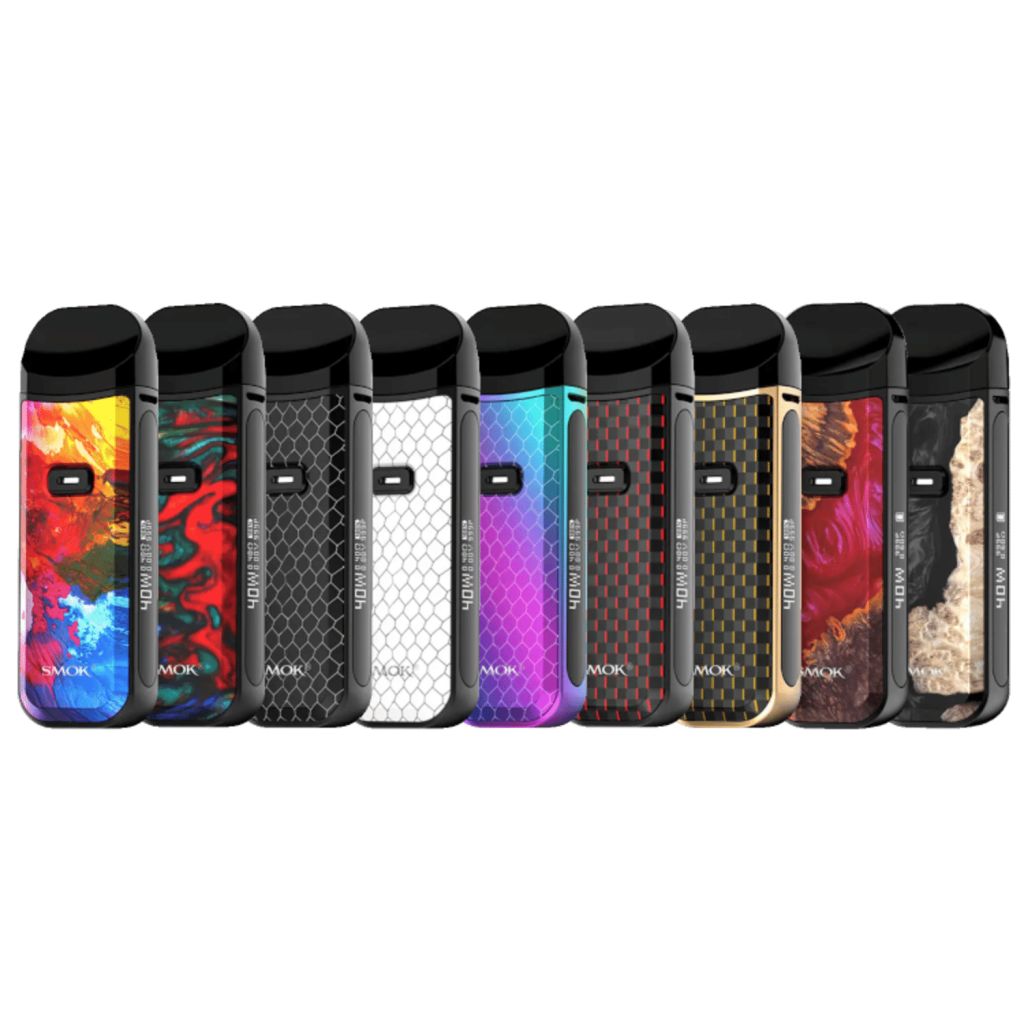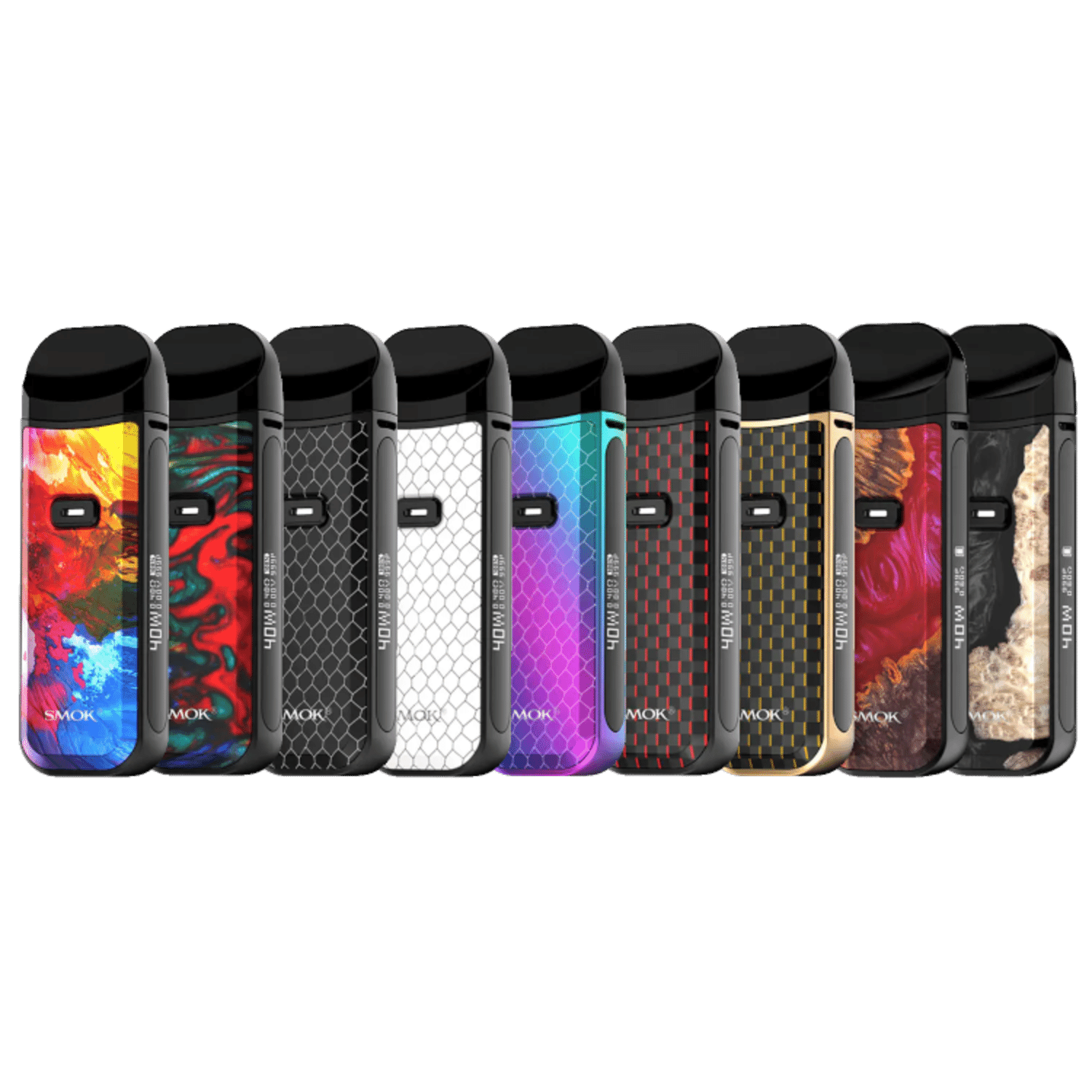 Actually, the SMOK Nord 2 was released last year, but its unmatched performance gives it the seat in the best vape starter kits of 2021. It's an updated version of SMOK's best-selling Nord pod system. With some little tweaks to the original one, Nord 2 has arrived in perfect condition almost from every dimension.
Nord 2 is driven by a new advanced chipset to allow for higher output and bigger clouds. It also adds an OLED screen where you can find almost all information about your vaping habits and preference, such as the puff count and wattage. Some vape beginners might have strong curiosity about their vaping data and hope to track them down, a screen can exactly meet the need. It could fire up to 40W, and features a very wide range of coil resistance from 0.3 to 3ohm. We can have a switch between MTL and DTL vaping by replacing different coils. Generally, it's a pod that allows for various set-up changes.
Obviously, the Nord 2 has more functions to offer than others, but its operations are fairly easy to understand. Vape beginners can enjoy a fun experiment in adjusting all puff parameters to their favorites in an easy-breezy manner.