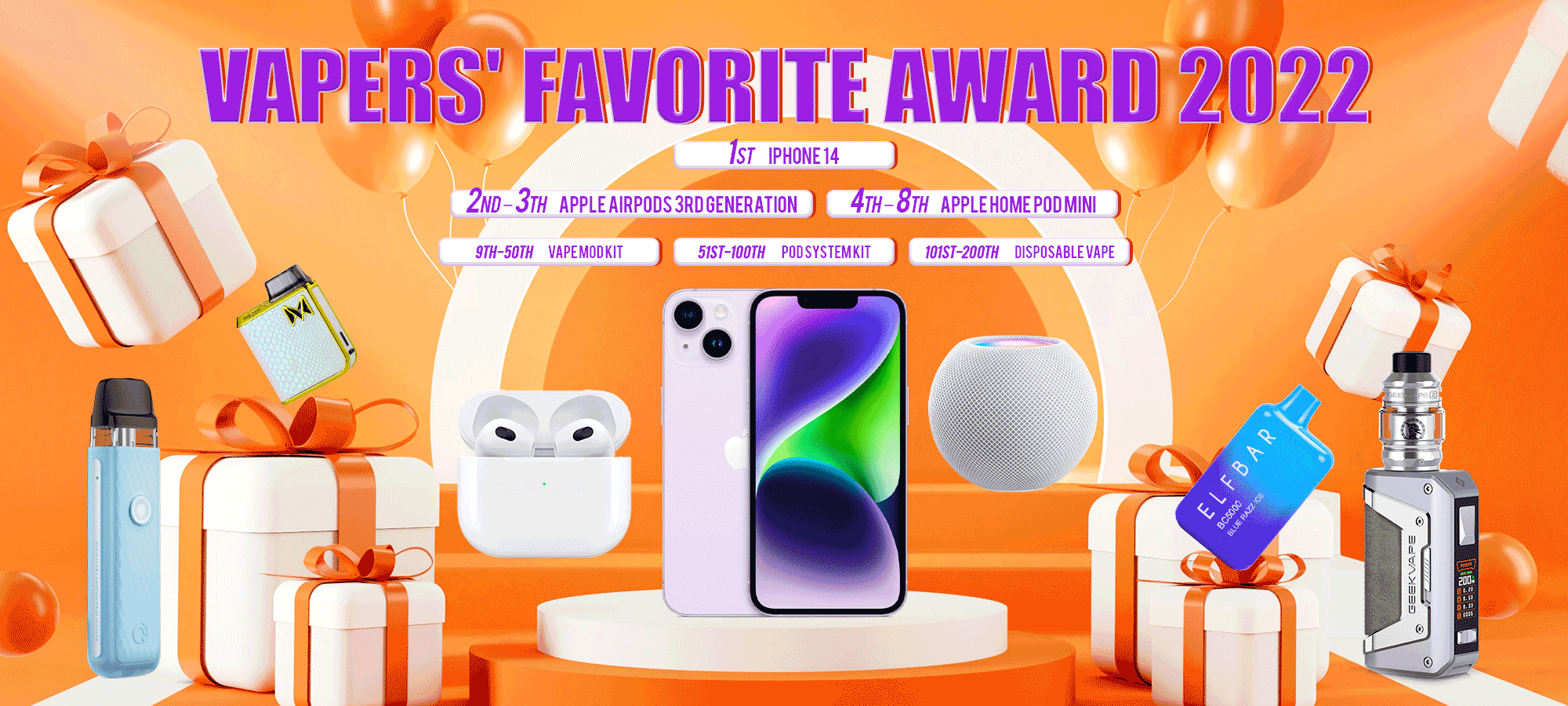 CALLING ALL VAPE ENTHUSIASTS!
VOTE FOR YOUR FAVORITE VAPE BRANDS, STORES AND INFLUENCERS IN OUR 2ND ANNUAL VAPERS' CHOICE AWARDS.
Vapers' Choice Awards 2022, organized by My Vape Review, is inviting you to cast your votes and decide the champions along with a host of vapers!
*Scroll down to the bottom of the page to explore vape coupons sponsored by multiple online vape stores. You might save up to 50% on sitewide shopping!
– DURATION –
SUNDAY, JANUARY 1, 2023, 12AM EST (4AM GMT)
-MONDAY, FEBRUARY 08, 2023, 11:59PM EST (3:59AM GMT)
Best Disposable Vape
Best Influencers on YouTube and Instagram
# VOTE FOR YOUR FAVORITES
How to Vote?
1. Click the "VOTE HERE" button below and vote for your favorite nominee of each award.
2. There are 14 awards in total. You have to vote for at least one award to earn your entry.
3. After submitting your votes, they can't be revised.
4. You can cast a vote for each award once every day.
#DAILY REWARDS
Spin the lucky wheel every day after voting

100% chance to win a variety of prizes, such as coupons, store credits and vape kits.
*Notes: Virtual prizes such as coupons will be given out to you immediately after your spin. Physical prizes, namely vape kits, will be shipped to winner after the event ends.
#GENEROUS GIVEAWAY
1. Prize:
🥇1st Prize: iPhone 14
🥈2nd – 3th Prize: Apple Airpods 3rd generation
🥉4th – 8th Prize: Apple Home Pod Mini
9th – 50th Prize: at least 1 vape mod kit
51th – 100th Prize: at least 1 pod system kit
101th – 200th Prize: at least 1 disposable vape kit
2. 200 winners will be announced within 10 days after the end of the voting event.
3. Each vote counts as 1 entry.
4. Every day you can cast a vote for each award (14 in total), which means you can get up to 14 entries by voting per day during the event.
5. Earn extra entries to get higher chances of winning by referring the event to your friends.
6. All prizes will be shipped to winners after the winner announcing.
We'll announce the final winner list on Feb 15, 2023, and reach out to each winner via Newsletter/social media messaging, depending on the contact detail you offer. Please reply within 7 days to claim the prize. Also follow our Twitter and Facebook, and subscribe to our Newsletter, to know about the latest giveaways going on.
You can find our giveaway, social media or other info directly.
We are strongly considering if you can add it your bookmark.