If you're looking for something a little more unusual from your disposable vape, you might want to take a look at the Flum Gio. These uniquely designed disposables by the incredible brand Flum are certainly eye catching, while their compact dimensions make them a particularly good choice if you want a vape for use on the go.

Add to that the tasty flavors that have been released and there's sure to be something to love about these disposable devices. If we've piqued your interest, read further down the page to learn more about Flum Gio flavors and features.
Flum Gio Specs
E-Liquid Capacity: 8ml
Battery: 800mAh not rechargeable
Puff Counts: 3000
Nicotine Strength: 5%
Flum Gio Flavors
As you can imagine, flavor is always a major factor when choosing between the different disposable vapes on the market. Flum Gio vapes come in 9 exciting options that tantalize the tastebuds. While there are fewer flavors to pick from than offered by its earlier model Flum Float, there's enough variety to satisfy most vapers.
A full list of the available Flum Gio flavors is below:
Berry Fusion
Green Apple
Juicy Apple
Litchi Ice
Peach Ice Tea
Power Bull
Strawberry Pom
Tobacco Cream
Tropical Punch
Let's take a closer look all the Flum Gio flavors ranked from best to worst: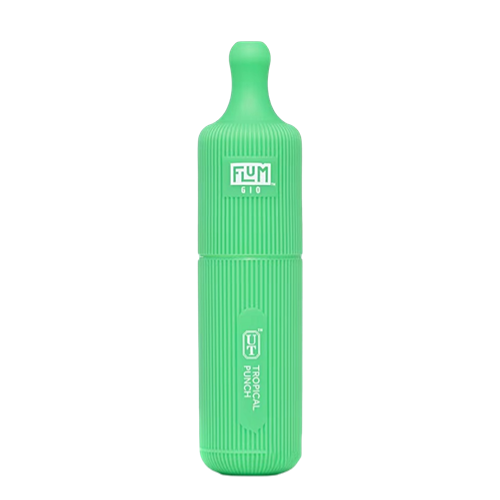 Tropical Punch
 5/5
This exciting combination of flavors recreates your favorite tropical punch in e-juice form. It's summer in a vape and it's sure to make you feel as if you're lying on a beach in the Caribbean!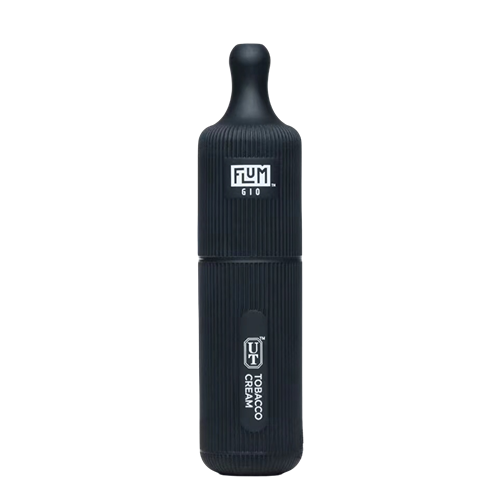 Tobacco Cream
 4.9/5
This flavor is perfect for anyone who's making the switch from smoking to vaping and wants a more authentic taste to smooth the transition process. With its classic tobacco taste, this e-juice has a creaminess about it that feels warm and comforting on the tastebuds.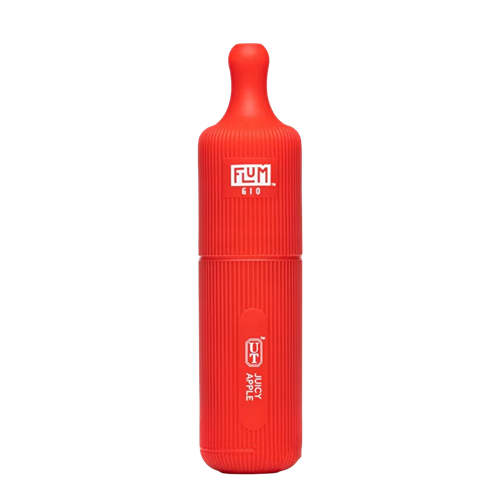 Juicy Apple
 4.8/5
Less sour than the Green Apple vape flavor, this is a sweet taste that's still reminiscent of crunching into a freshly picked apple.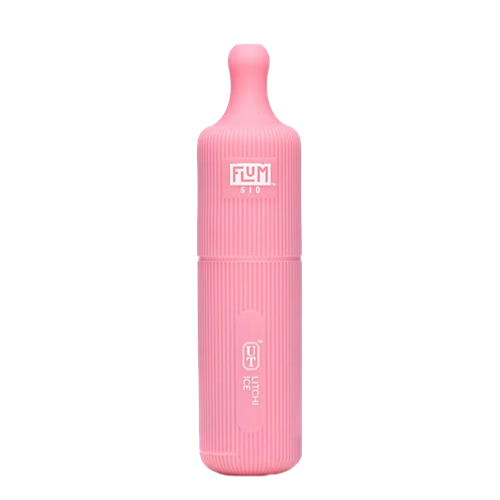 Litchi Ice
 4.7/5
You probably know Litchi as lychee, and this tropical fruit (sometimes called the alligator strawberry) is deliciously fruity. When paired with the coolness of menthol on the exhale, this vape is wonderfully refreshing.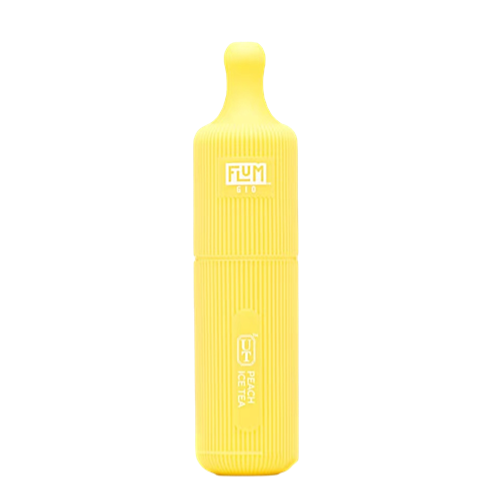 Peach Ice Tea
 4.5/5
Peach ice tea is one of the most popular summer drinks thanks to its refreshing goodness, and you'll enjoy every bit of that refreshing hit from this vape flavor. The juiciness of peaches is combined with the unusual hit of tea on the exhale for an authentic taste.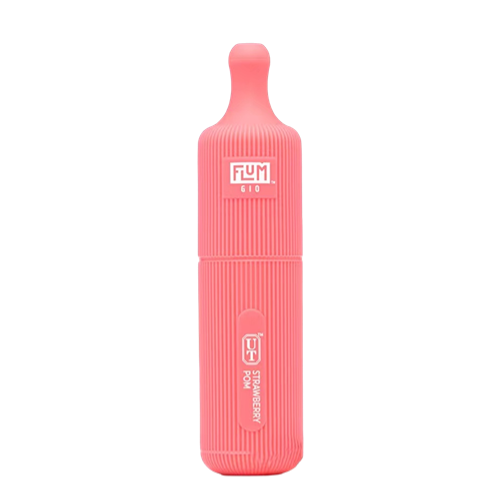 Strawberry Pom
 4.3/5
Strawberry flavored vapes are commonplace, but this flavor adds something a little different – a hint of pomegranate on the exhale that brings an unusual but tasty vibe to each puff.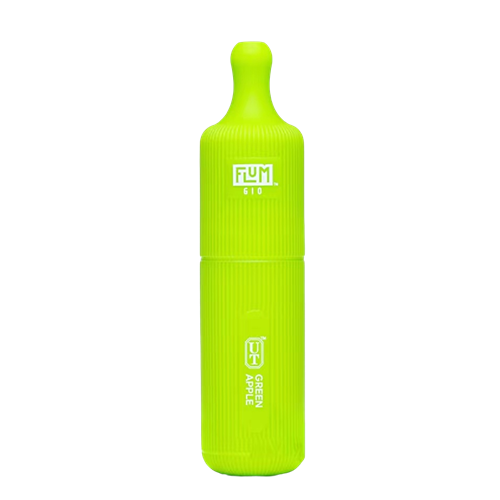 Green Apple
 4.2/5
A classic vape flavor that never disappoints, this green apple vape is wonderfully tangy and sweet. In fact, it's just like biting into a crunchy Granny Smith.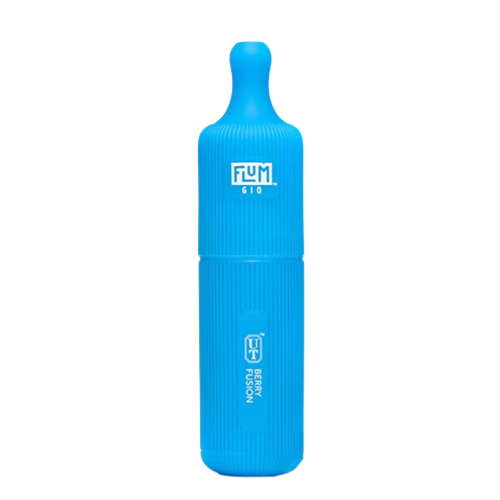 Berry Fusion
 4/5
This thrilling concoction of berry flavors is delicious and tingles on the tongue. Combining raspberries, strawberries, and blueberries in all their juicy goodness, this is a deliciously fruity vape for all occasions.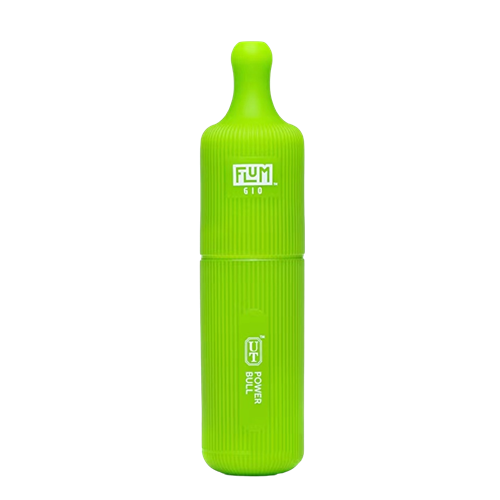 Power Bull
 4.1/5
If you're an energy drink fan, you're definitely going to love this vape flavor. It captures the essence of your favorite energy drink in the form of a vape juice, giving you an energizing hit at any time of the day.
Design & Quality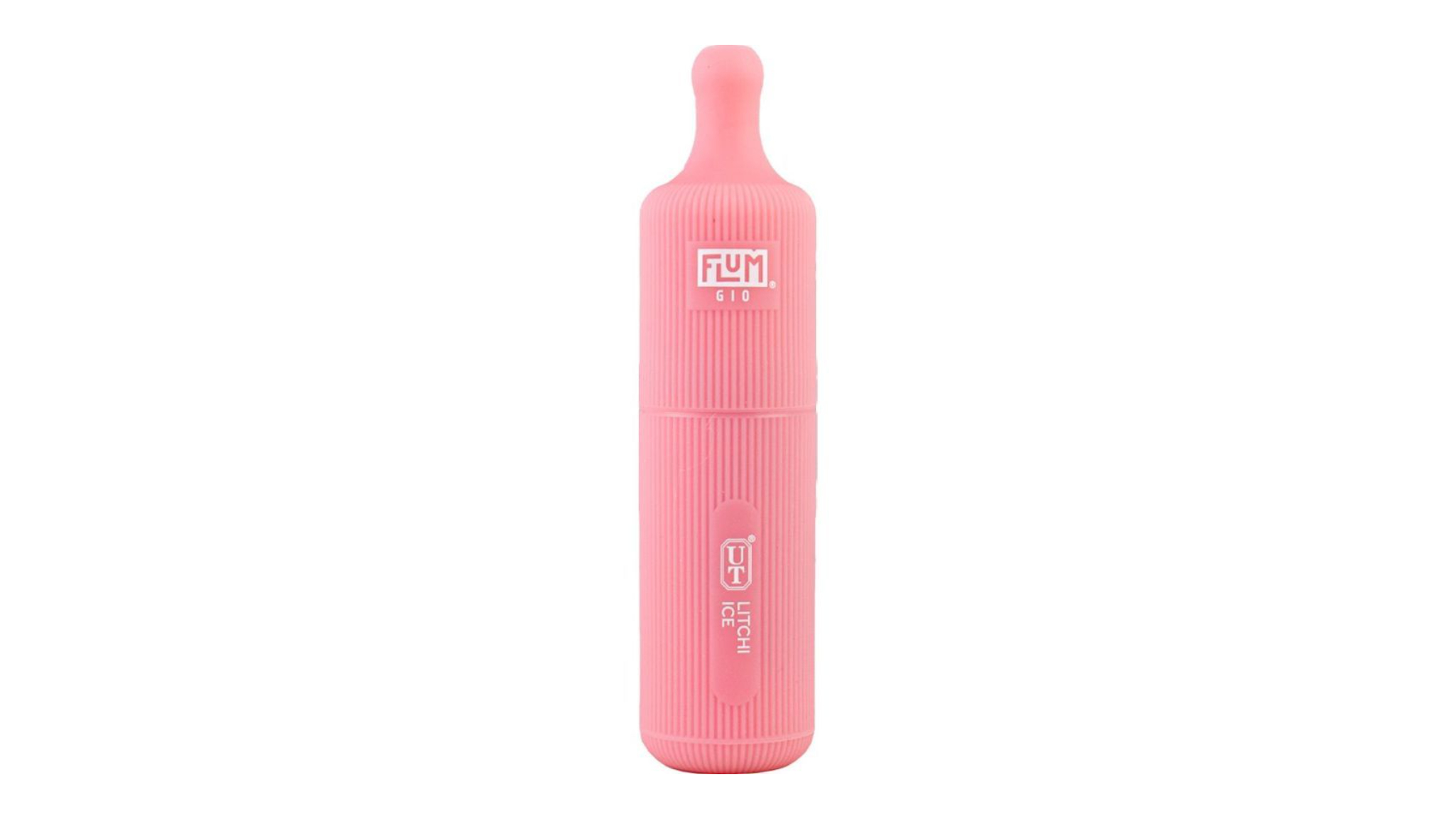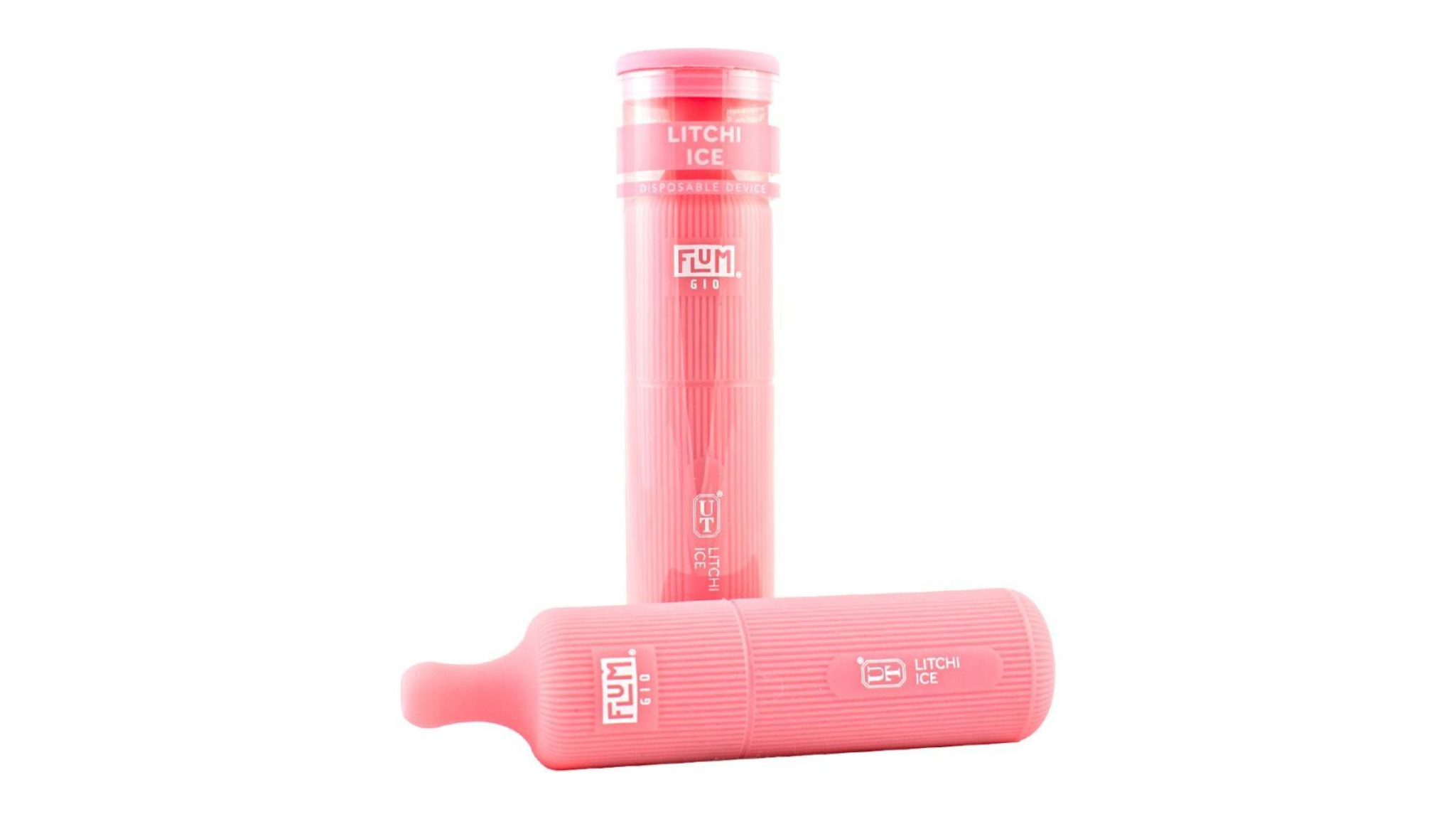 Previous
Next
The true stand out feature of the Flum Gio disposable is its unique design. Unlike most other disposables that have a narrow cylinder-shaped design, these vapes, although cylindrical in shape, are far more squat and compact for easier transportation.
They also have a ridged design rather than a smooth surface, while makes them more grippy and less likely to be accidentally dropped. Resilient, durable, and robust, these vapes are also extremely colorful which makes them eye-catchingly attractive.
Battery
The Flum Gio isn't rechargeable, but since it lasts for around 3000 puffs, it doesn't really need to be. The 800mAh battery is around the middle of the road in terms of power, but it still delivers a strong experience on all fronts.
Performance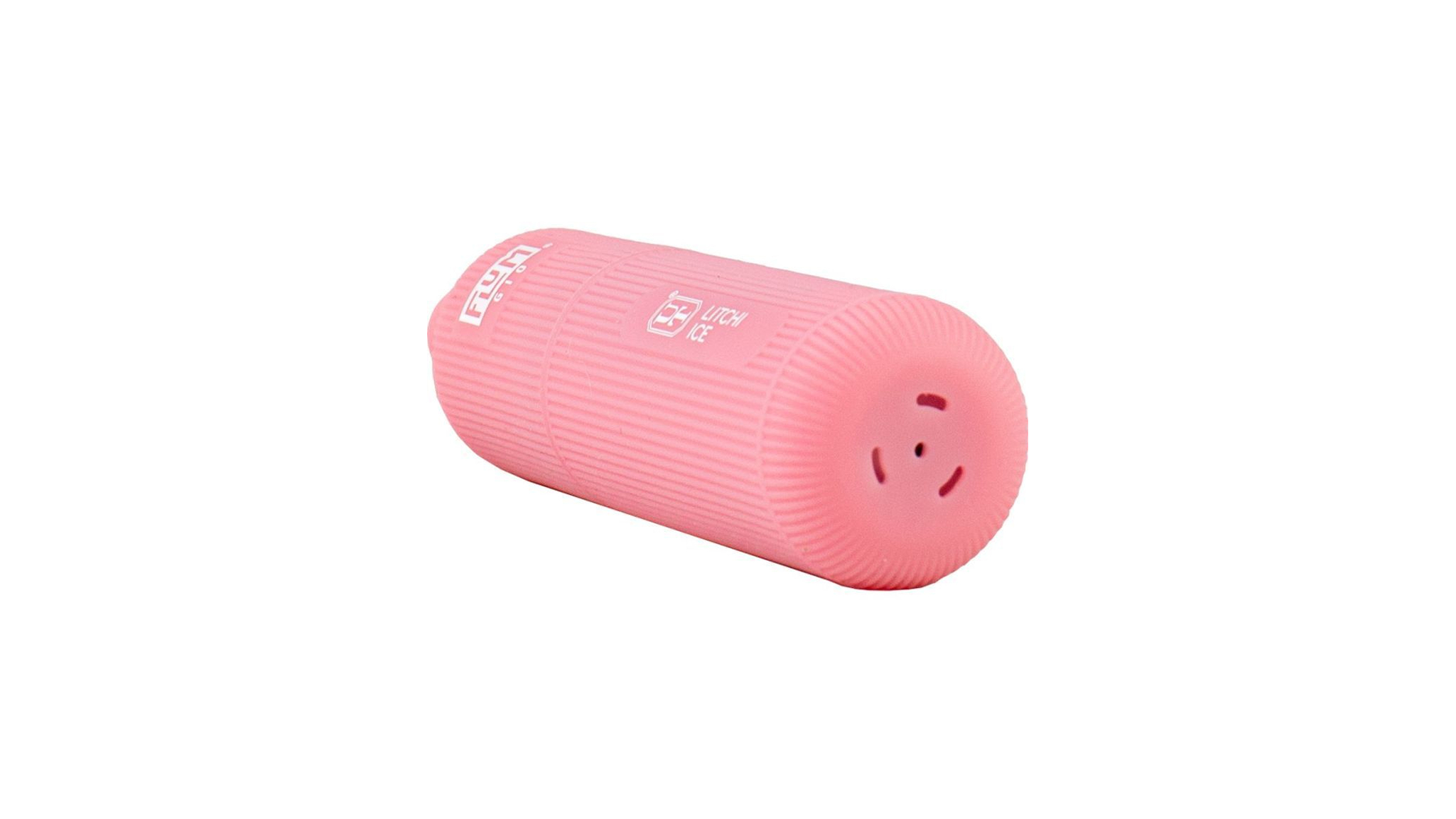 Each Flum Gio disposable boasts a large capacity for e-juice of 8mls which makes them a great choice for use on the go. You won't run out of ejuice partway through your day as these vapes deliver as many as 3000 puffs, far more than some of the rival brands!
With a 5% nicotine strength, you'll also enjoy a pleasant throat hit with each puff and as the design is user-friendly, being draw activated, there's no complex learning curve to understand. Every puff delivers you with plenty of excellent flavor, so you can fully enjoy each vape to the max.
Price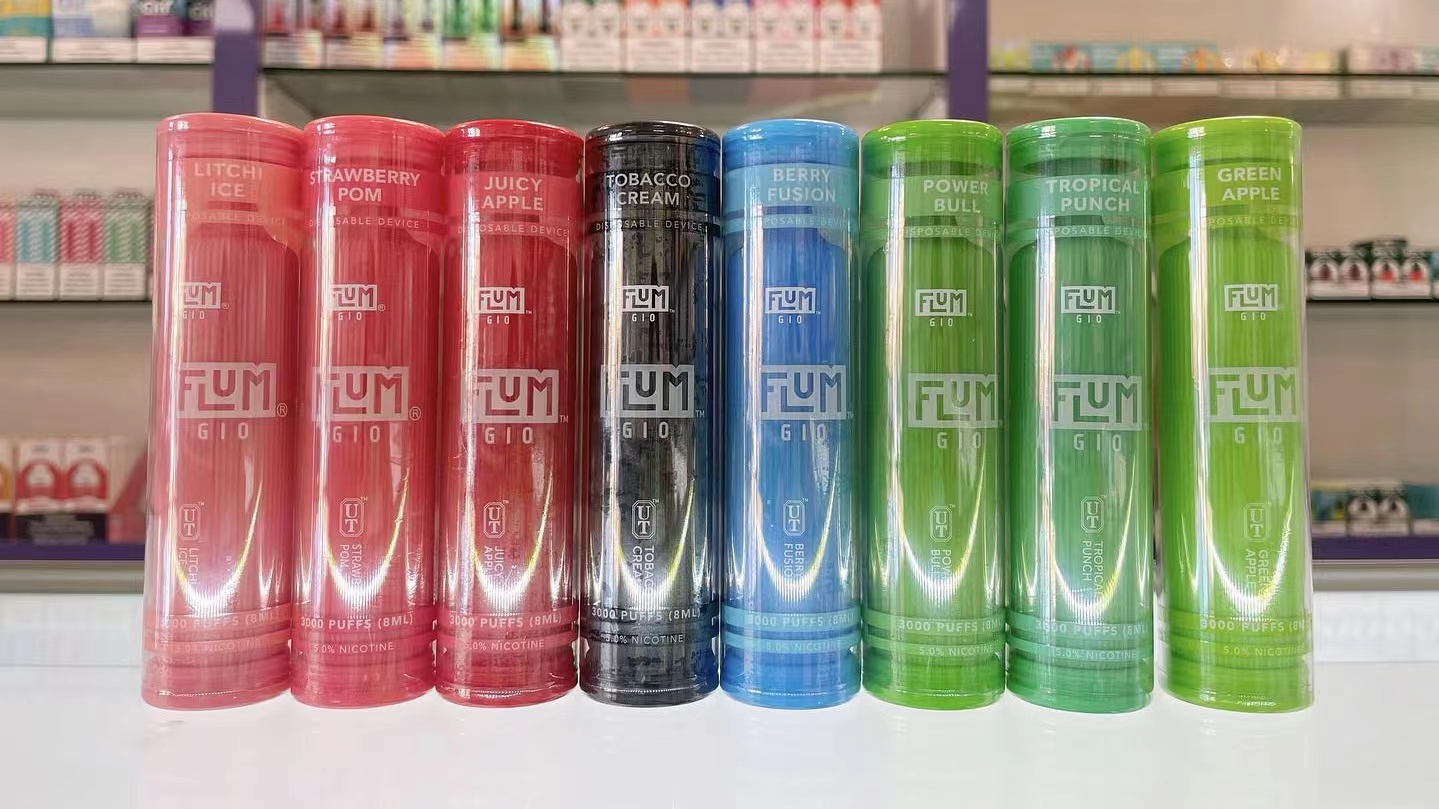 The Flum Gio disposable range is toward the higher end of the disposables market, but remember that you do get an impressive 3000 puffs for your money. You also get some seriously good flavor. Nevertheless, you can enjoy a comparable experience for less from some rival brands and also have a wide range of taste options to pick from.
Yet, the unusual design and the compact dimensions make this brand a winner if you're looking for a disposable for use on the move.
Verdict
The Flum Gio vape is a top choice if you're looking for a vape to use when traveling thanks to its extremely compact dimensions. This vape is the ideal size to pop into your purse or pocket while out and about, and its unusually eye-catching aesthetic is sure to attract attention for all the right reasons.
Although the flavor range isn't quite as impressive as some of the rival brands, you won't be short of choices and there's something to suit most people's preferences, from classic tobacco to menthol hits. If you prefer fruity or candy flavors, this is a great brand for you.
In terms of price, these vapes are a little more costly than those produced by some of their competitors, but it's worth remember that you get 3000 puffs from each vape, which is more than most. That's another reason why the Flum Gio is a good choice for vapers on the go, since you won't run out of e-juice midway through your day!
Overall, these vapes are well worth a try, and they certainly won't disappoint you!