Beco Vape is a manufacturer expert at creating designful disposable vapes. We've seen this with Beco Soft and the Beco Beak 4000. The Beco Slim is no exception.
Beco Slim is a beautiful disposable available in a host of fantastic flavors, with Beco's signature bright and fun styling. If you pick up this product, you can choose from 10 mouthwatering flavors. Its tank is pre-loaded with 9mL of 5% salt nic e-juice. The 1150mAh battery is not rechargeable but is explicitly chosen to last until you reach the end of the pre-filled tank.
Will the Beco Slim surpass the performance of its powerful predecessors? We'll uncover its pros and cons in this review, and provide our first-hand thoughts on it.
Beco Slim Flavors
Beco Vape knows what it's doing when it comes to e-juice flavors. Their proprietary flavor combinations are usually simple, with just two to three flavor notes, but sometimes simple is best.
The Beco Slim is available in 10 different flavors. From the options, eight of the ten flavors are icy, including Grape Ice, Mango Ice, Peach Mango Ice, Peach Ice, Banana Ice, Apple Ice, Bubblegum Ice, and Spearmint. The other two flavors are Blueberry Raspberry and Rainbow. We received all of these flavors for review.
Let's take a look at the experience each flavor provides, so you can find a flavor that would work well for you: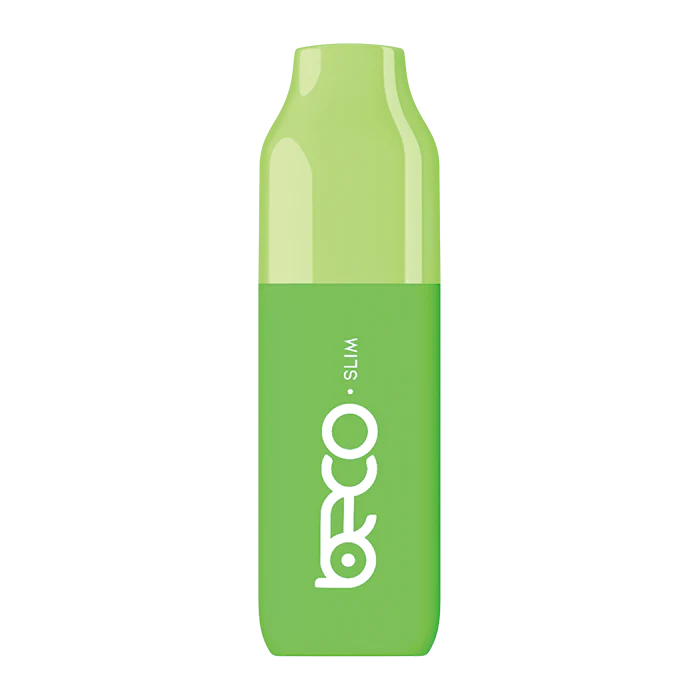 Apple Ice is downright delicious. The green apple flavor is juicy and flavorful, and the icy notes add a nice touch.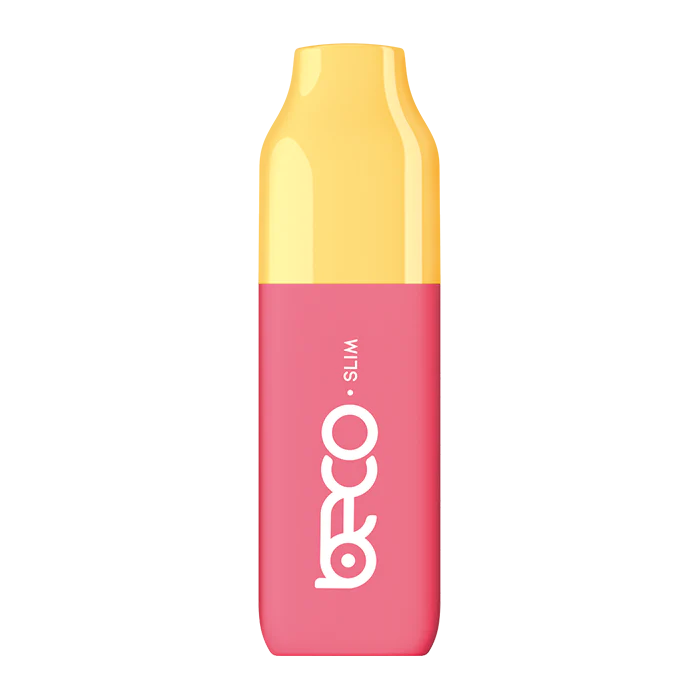 With this Peach Mango Ice flavor, you get a masterful blend of the Mango Ice and Peach Ice flavors. It's even better than the individual flavors, and I truly enjoyed this formulation.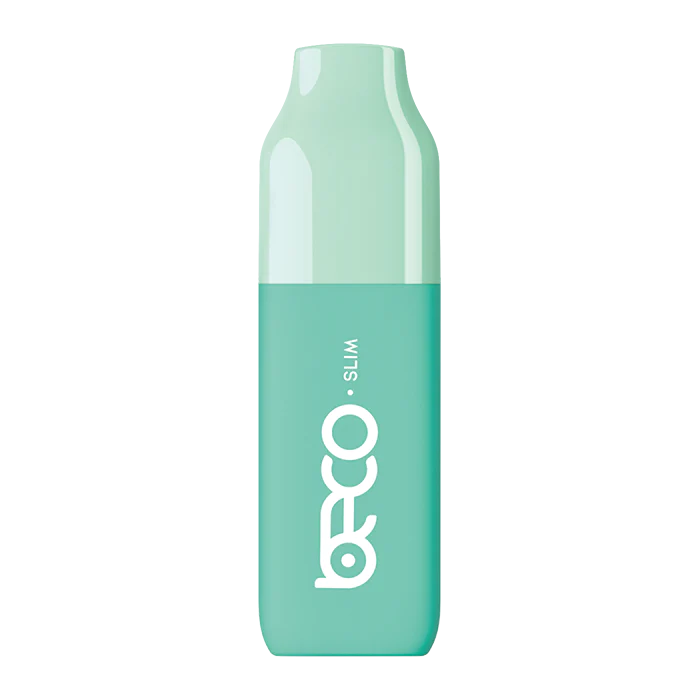 Spearmint is icy on both the inhale and exhale, but the real spearmint sweetness comes in majorly on the backend. It's one of the better Spearmint flavors I've ever tasted. It leaves your mouth feeling refreshed and ready for more.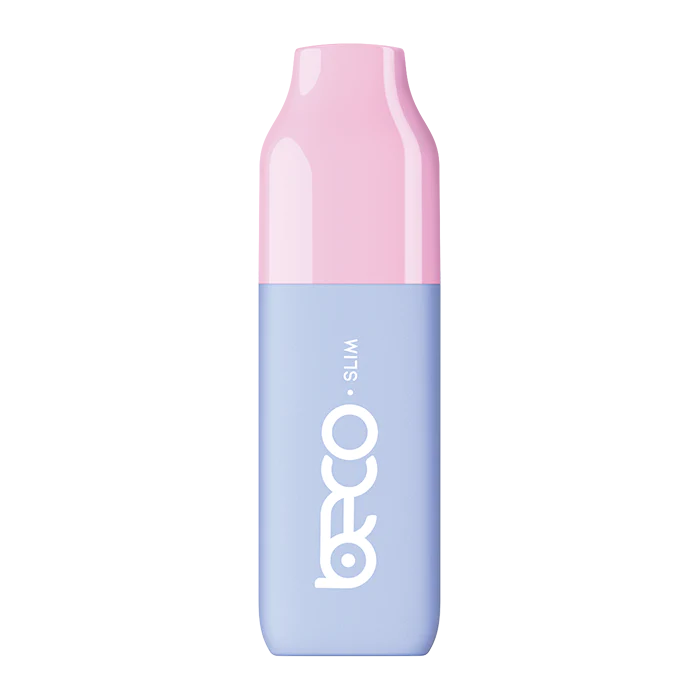 Blueberry Raspberry has a very nice balance of sweetness and tartness. It's a fantastic formulation for vapers that don't enjoy super sweet e-juice flavors.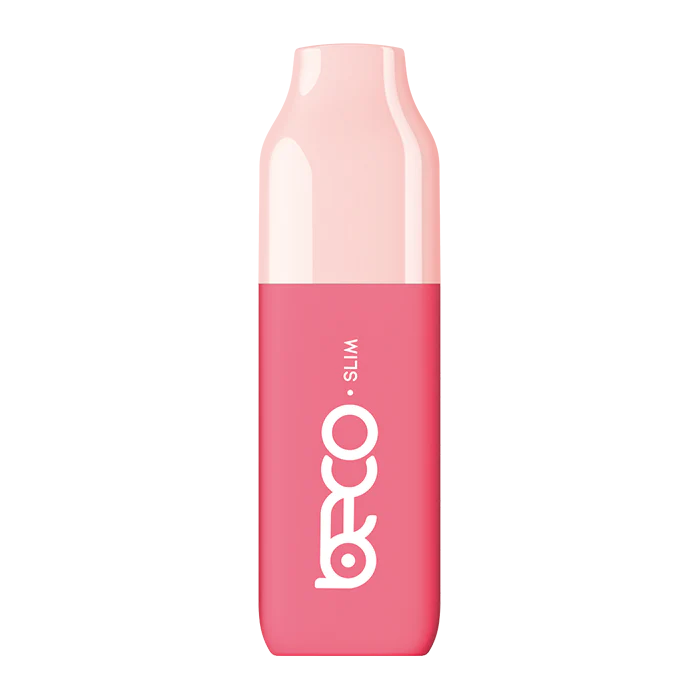 Somehow the Peach Ice flavor is very sweet but doesn't leave that cloyingly sweet taste on your tongue. Instead, it's refreshing and will keep you coming back for more.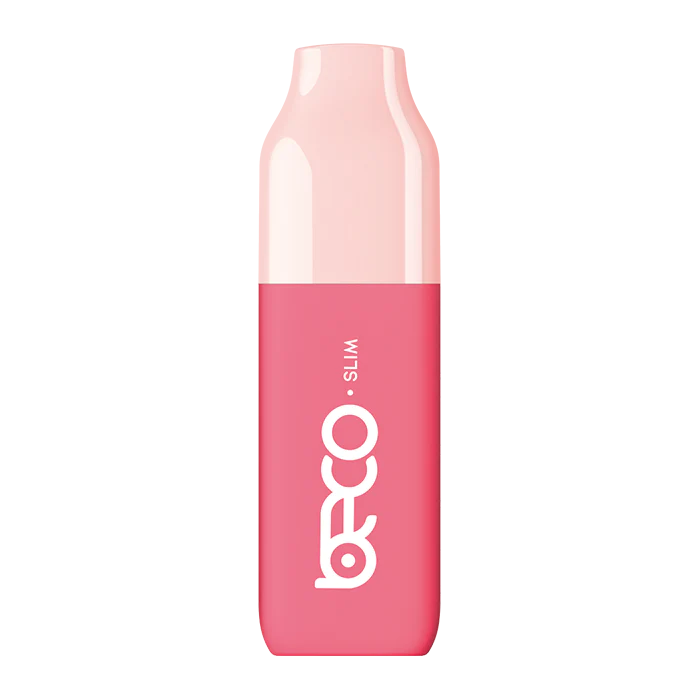 The Bubblegum Ice flavor is a real treat. Gentle ice notes on the frontend and a delicious bubble gum sweetness on the backend. You are sure to love it.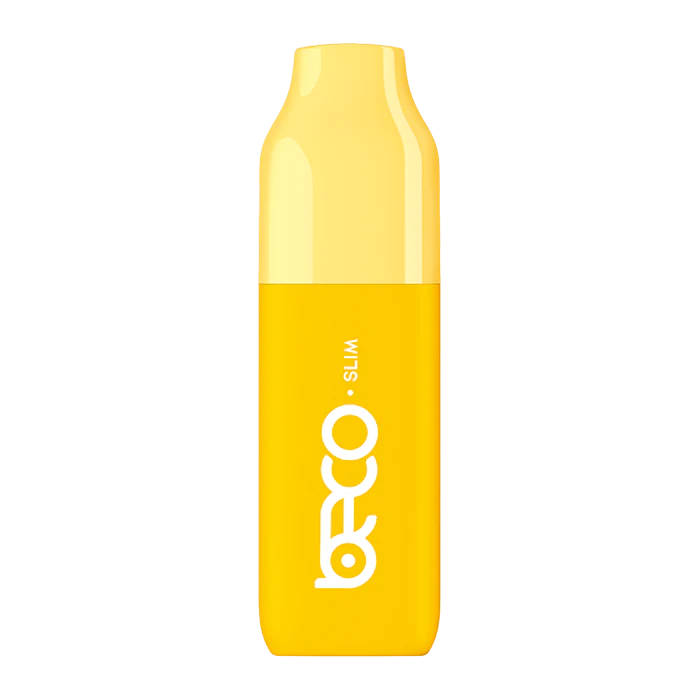 A surprisingly delicious Mango flavor. I usually find mango flavors taste very artificial, but this one tastes cleaner and crisper. It's icy, with just the right amount of sweetness.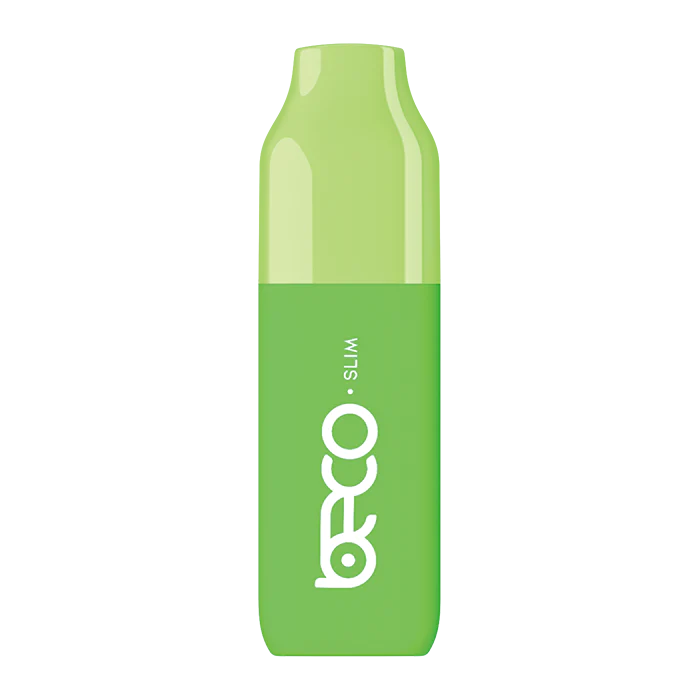 From what I can tell, the grape variety in this flavor is white or green. The inhale is very icy, while the exhale is a mix of bitter and sweet.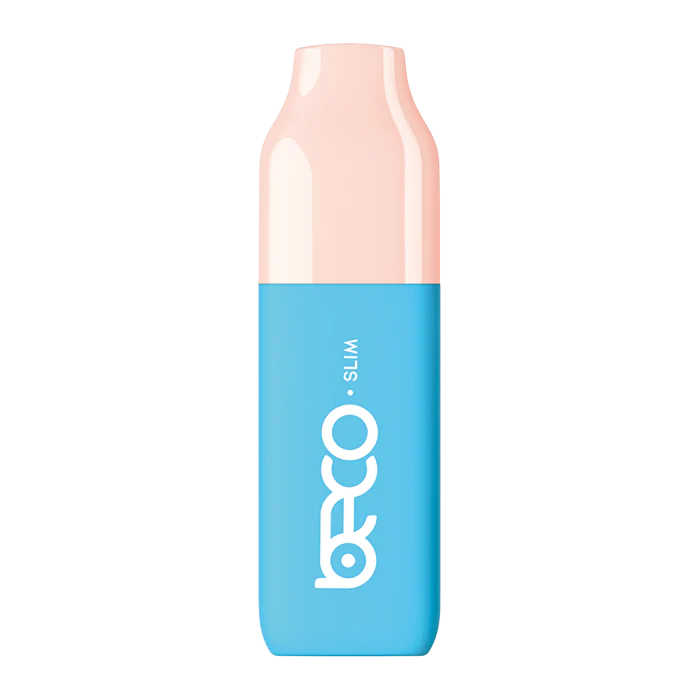 The Rainbow flavor is a bit nondescript, so it's hard to tell the exact flavor profile. The best I can tell, it's a fruity blend reminiscent of hard candy. It's good, but nothing out of this world.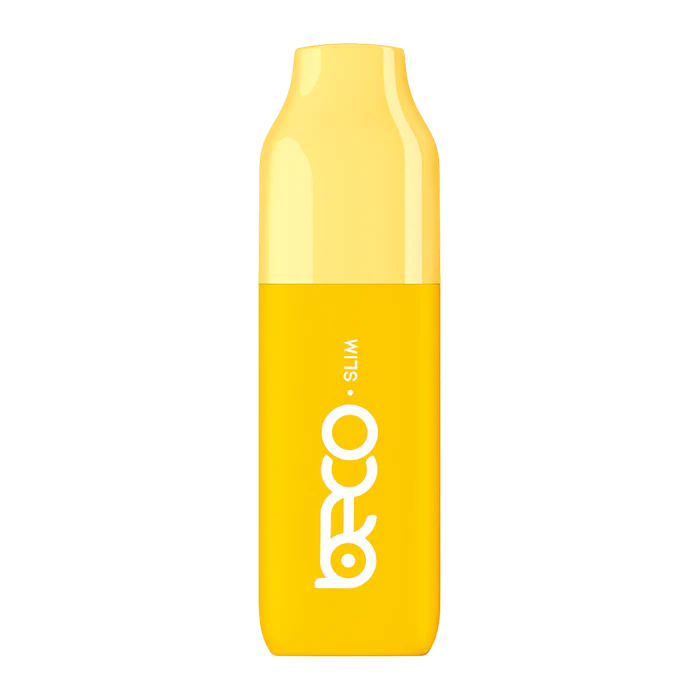 Not of fan of this Banana Ice flavor. The Banana flavor tastes very harsh and artificial. The ice doesn't cover it up well enough.
The Beco Slim is an extremely slender device at only 13.5 mm (½ inch) deep. You'll have no issues tucking the Beco Slim into your pocket or slipping it into your purse. The body is a flattened pen shape with just enough depth to stand upright on the flat bottom. The disposable slightly tapers at the top into the duckbill-styled mouthpiece.
As for the different flavor options, the Beco Slim comes in a kaleidoscope of vibrant colorways that are sure to excite. There are six lower body colors: bright pink, bright green, cheery yellow, teal blue, soft purple, and bright blue.
The lower half of each device is covered in a 'rubber paint' that is incredibly soft and supple. The Beco Slim branding is embossed on the front of the device, while the flavor name can be found on the back. The upper half of the Beco Slim is a lighter colored shiny plastic. While the design is simple, it's completely unique and beautiful.
There is no airflow control, battery level indicator, or charging port. But you will notice a blue LED light that glows on the bottom of the device with each inhale.
Durability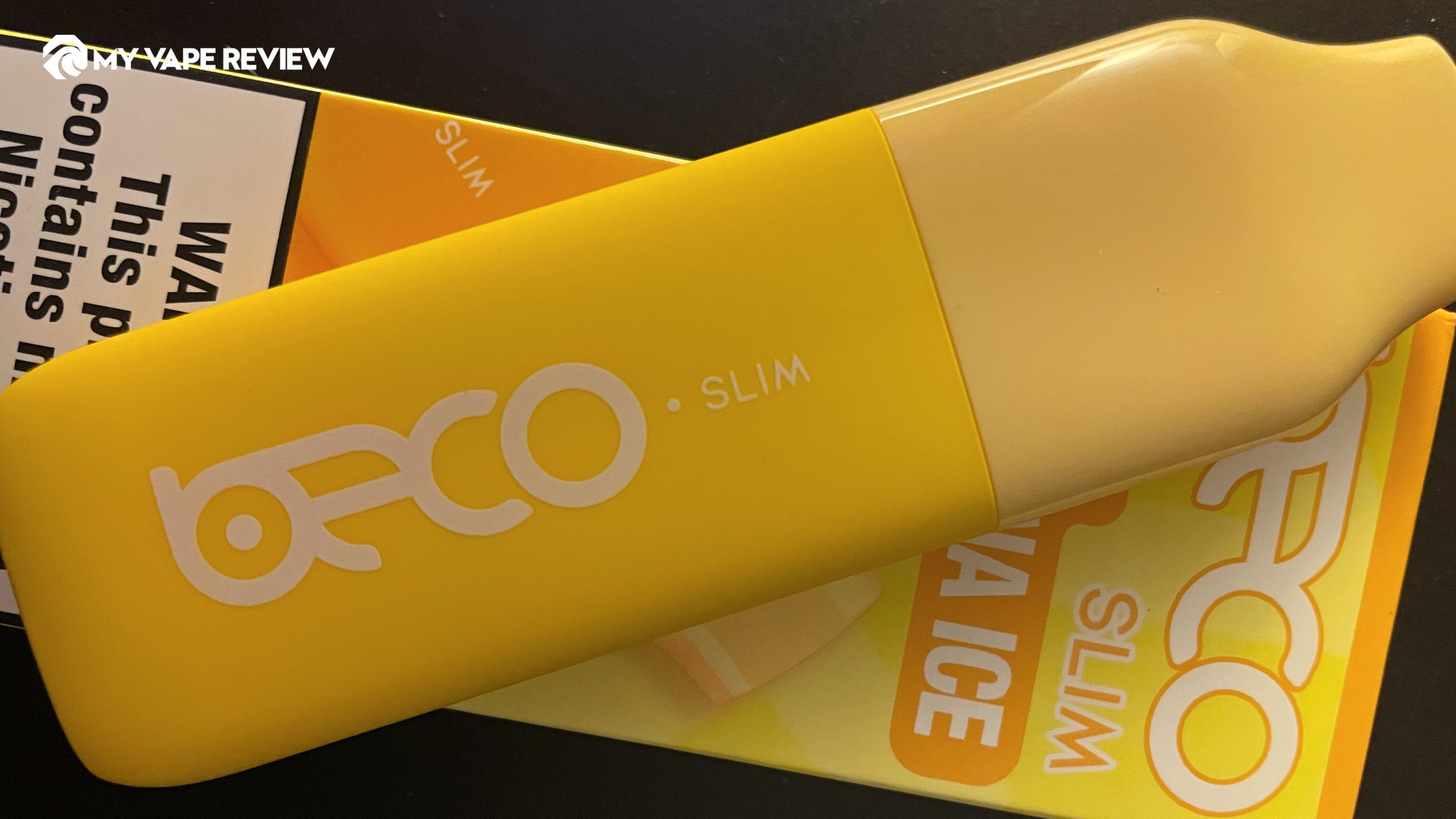 The Beco Slim isn't going to last you for weeks and weeks, so it doesn't need to stand the test of time. Despite that fact, the disposable is quite durable. Its two-piece body is quality manufactured, so you won't accidentally break the device apart when you drop it.
Does the Beco Slim leak?
The Beco Slim did not leak during the review period. The tank seems completely contained within the device, thanks to the narrow airflow opening that extends well into the device. You can carry it with confidence without worrying about e-juice leakage.
Ergonomics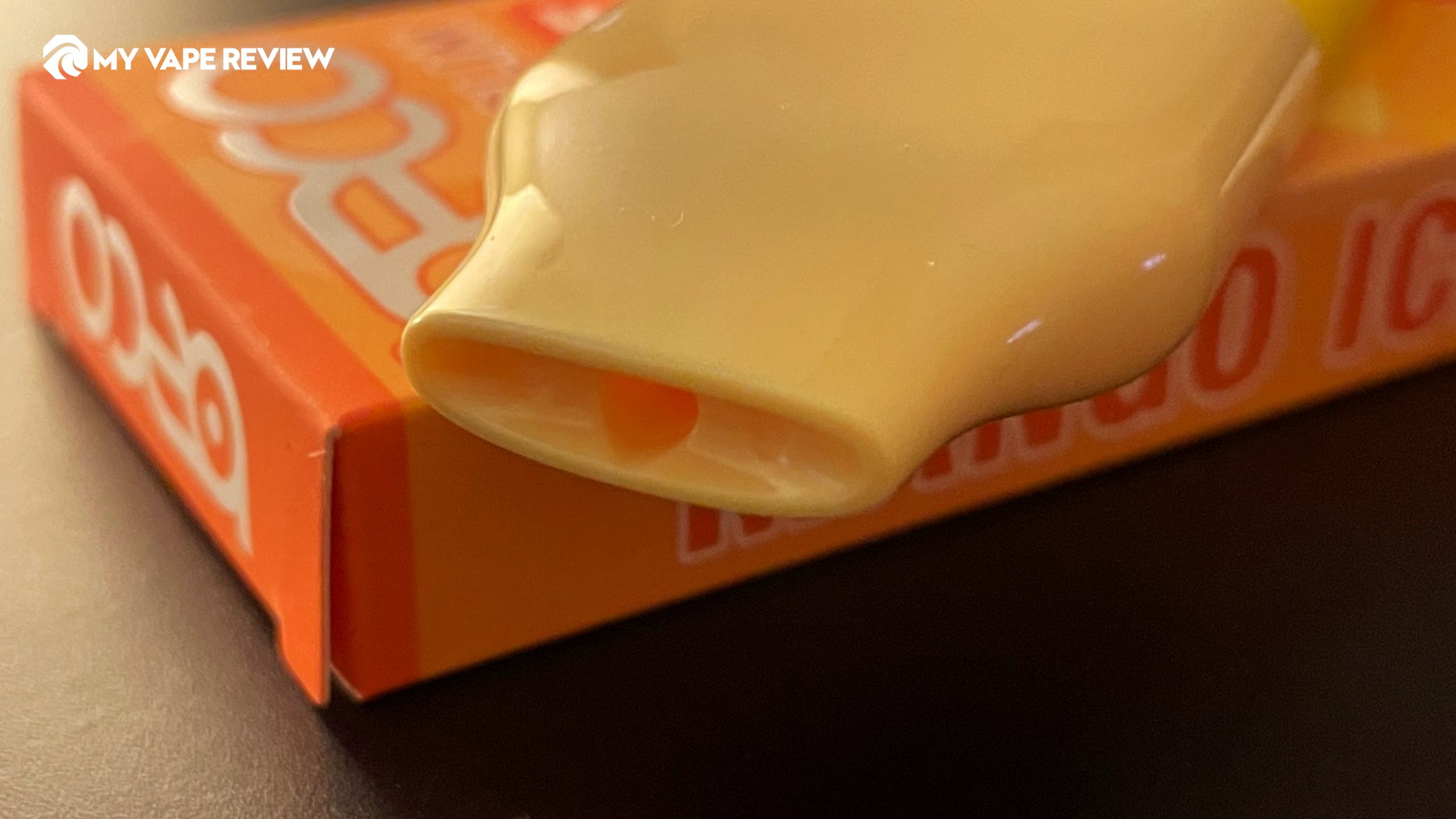 With the Beco Slim's super thin design, you can comfortably hold the device in any orientation. You can easily wrap your entire hand around the disposable. The rubber paint on the lower half of the device offers a fantastically soft touch that feels supple in your hand. It also offers a great deal of grip so that the device won't easily slide out of your hand. The top half of the body is a smooth plastic that helps you create a nice seal around the narrowed mouthpiece.
Battery
The Beco Slim is not a rechargeable device. Thankfully the 1150mAh internal battery lasts long enough to use up most of the 9mL of e-juice in the tank. There is no obvious way to tell how much battery is left, but you'll start to notice the strength of the hits weakens as the battery level drops. The battery life lasted for approximately 12 hours of continuous vaping before the device stopped hitting.
The Beco Slim offers 4500 delicious and smooth hits. The 1.1-ohm mesh and stainless steel coil deliver a superior hit that is both gentle and powerful. The disposable has a quality MTL draw with a sensitive auto-draw that is very quiet on the inhale. The throat hit is nice, and each hit is very consistent. The Beco Slim even performs well with chain vaping, delivering a solid hit every time.
You'll have no issues taking a deep drag because the device stays nice and warm without overheating. The cloud volume is very impressive, and you'll get nice thick clouds with every exhale. This device is well-suited for beginners.
Price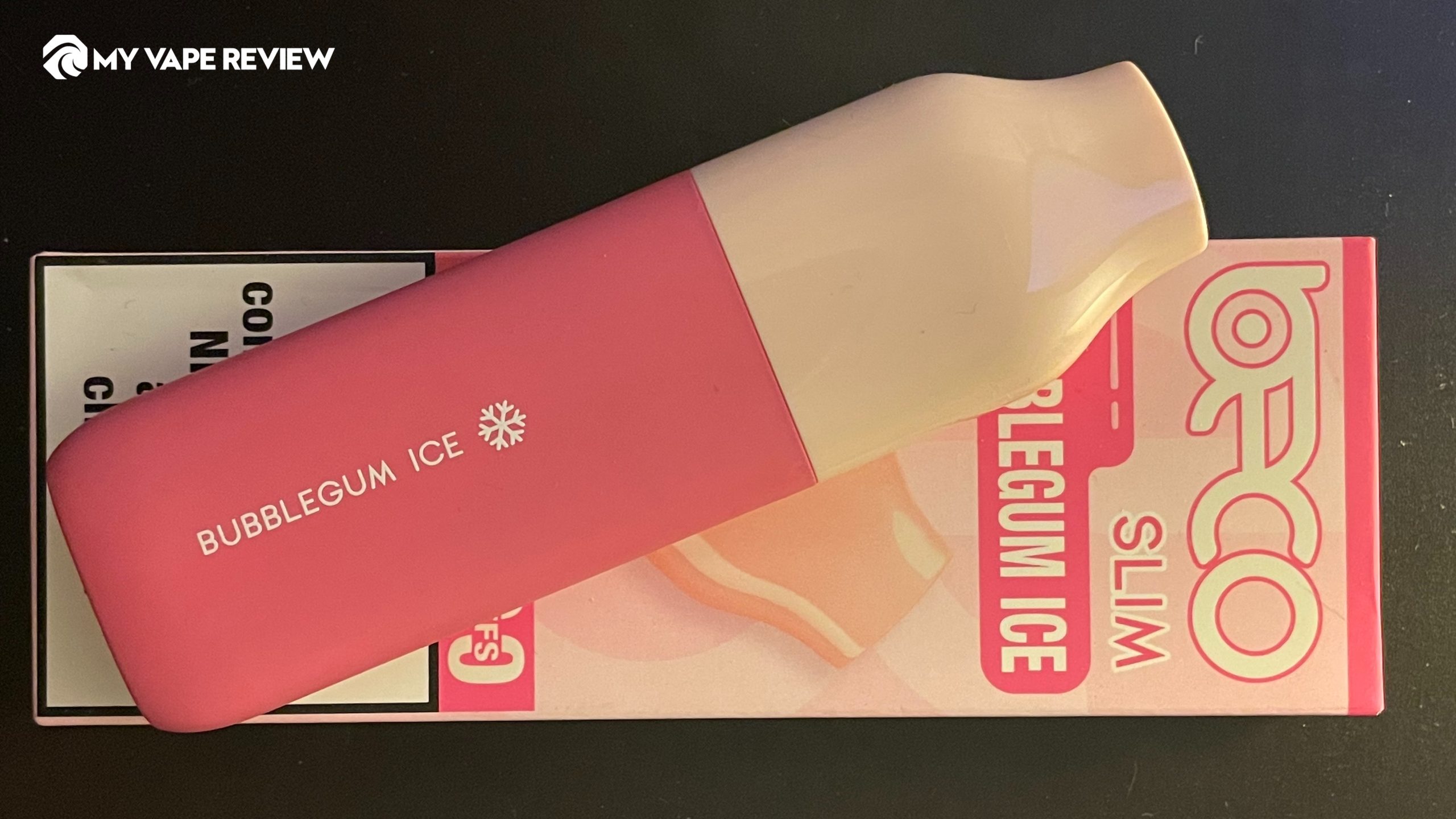 The Beco Slim is currently only available in 10-piece sets. You can only select one flavor per each set, which means Beco is marketing toward vape shops. You can try to talk with your local shop to see if they can order the Beco Slim. At the price of 10 disposables for $180, you can expect to pay roughly $18 to $24 retail.
This pricing is lower than the Beco Soft ($260 for 10 vapes), which is another non-rechargeable disposable offered by Beco Vape. The Slim model is priced lower largely because it has a lower capacity tank, with only 9mL of e-juice, while the Beco Soft has 12mL. Both prices are fair, although the lack of charging capabilities will make this questionable to some customers.
Verdict
The Beco Slim makes a great disposable for anyone trying to quick smoking and looking to start their vaping journey. There are no complicated features to navigate, no charging to worry about, and no airflow control to mess with. You can't get much simpler than the Beco Slim.
But despite its simplicity, the Beco Slim is a great disposable. It offers mouthwatering flavors in a fun and exciting array of colors. It delivers fantastically smooth MTL hits that even the newest vapers can enjoy. And it pours out deliciously thick and satisfying clouds. We confidently recommend this device to anyone looking for a fuss-free pickup-and-go disposable.