The Voopoo Argus XT is a solid vape mod, very similar to its 'sibling' model, the Argus MT. Both have a max power of 100W, have been rated to IP68, a tank that holds a whopping 6.5mL of e-juice, and the new Gene. TT 2.0 chip for smooth bold hits.

But there are a few key differences of note between the two inventions by Voopoo, mainly the safety lock design and use of battery: XT is powered by single 18650 whereas MT by a built-in 3000mAh battery. Additionally, the Voopoo Argus XT kit includes two TPP-DM coils with resistances of 0.2Ω and 0.15Ω, instead of 0.2Ω and 0.3Ω as MT does.
While when it comes down to the design and style, the Argus XT has the same form factor as the MT, with its industrial modern vibe. It has a hexagonal shape with a faux-leather cover on the backside and an OLED screen and necessary buttons on the front. The Argus XT also has a bottom airflow system for maximal flavor intensity.
Continue reading to learn more about the Argus XT's design, function, battery and charging system, pricing, and our overall impressions.
Voopoo Argus XT Product Details
POD TANK PARAMETERS
Name: MAAT TANK NEW
Size: 26*52mm
Capacity: 6.5ml(Standard/US) , 2ml(TPD)
Material: Stainless Steel+Pyrex
Resistance:
0.2Ω(TPP-DM2)
0.15Ω(TPP-DM1)
KIT PARAMETERS
Name: ARGUS XT Kit
Size:148*34.5*37mm
Material: Leather + Zinc Alloy
Output Power: 5-100W
Output Voltage: 0-8.5V
Resistance range: 0.05-3.0Ω
Charging voltage: Type-C 5V/3A
Battery:18650 or 21700*1(Not Included)
IP68 Certificated
100W max power and stable output
QS Lock
Crater leakage proof design
Gene.TT 2.0 chip
Holeless appearance
Easy-to-use top fill system
Turbo mode
1 x Argus XT Device
1 x Maat Tank
1 x TPP-DM1 Coil
1 x TPP-DM2 Coil
1 x Type-C Cable
1 x User Manual
1 x Spare Glass Tube
1 x O-Ring Pack
1 x 18650 Battery Adapter
Design & Quality
Voopoo Argus XT Mod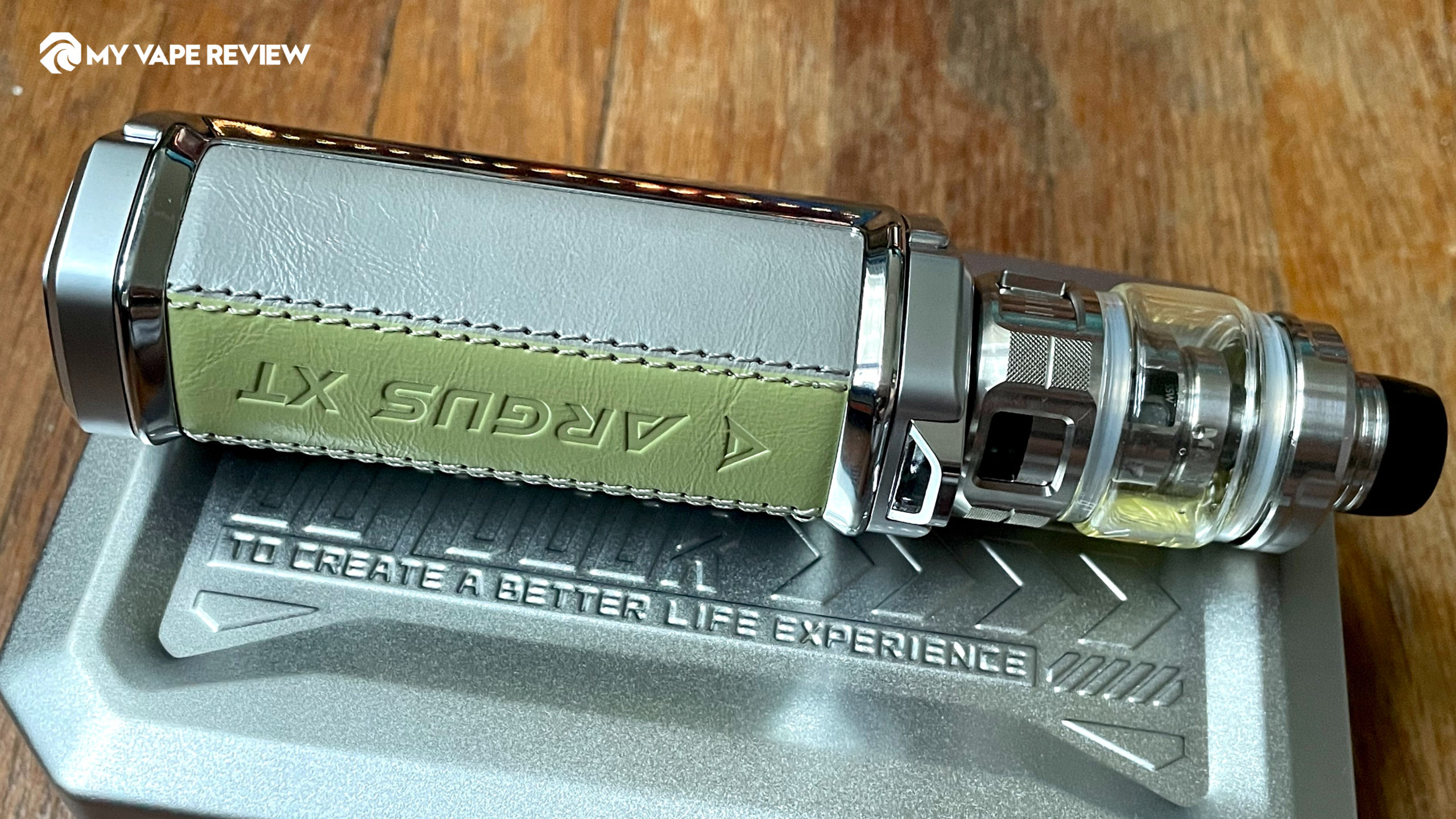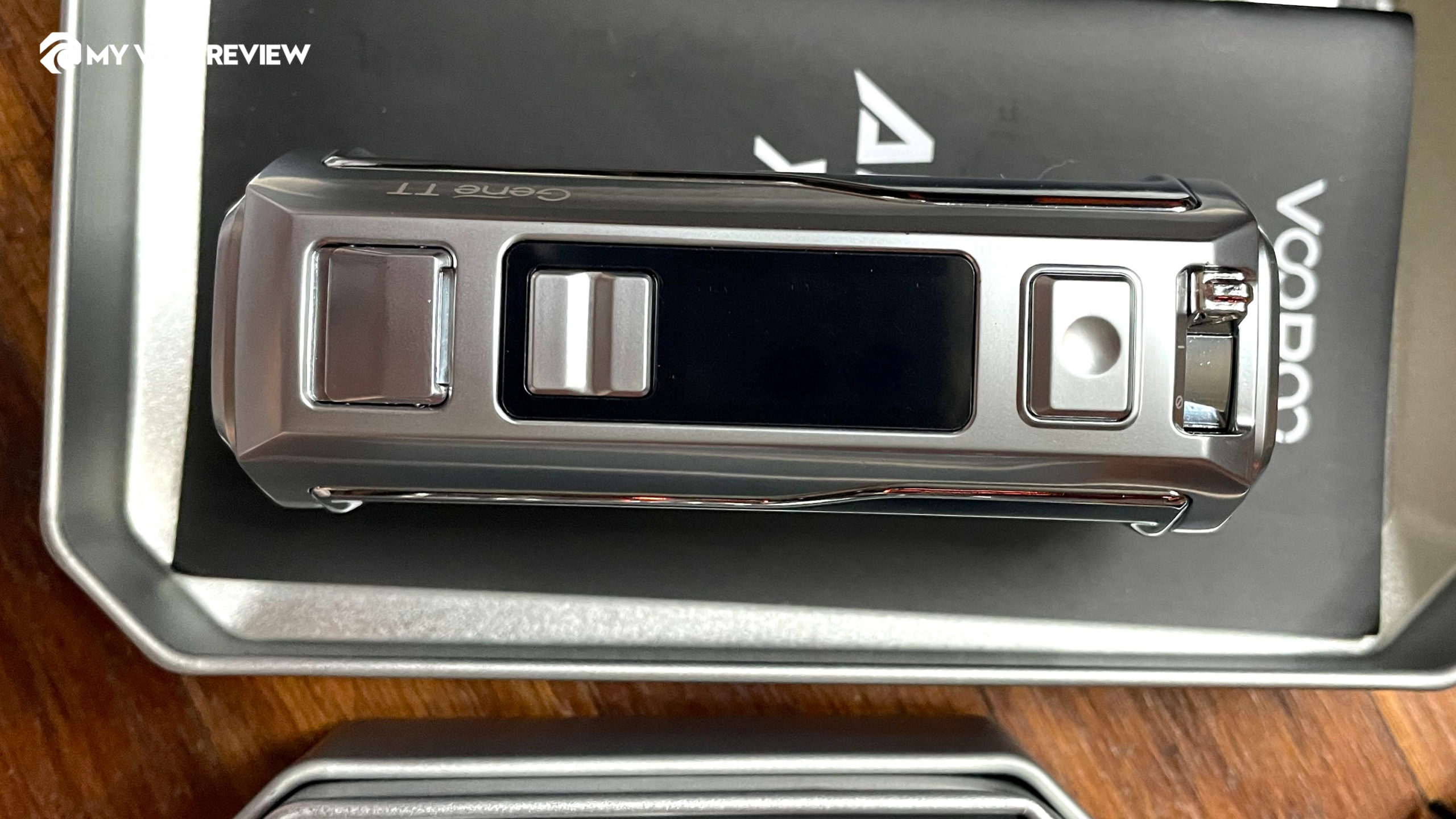 Previous
Next
The Voopoo Argus XT mod is a hexagonal shape with rounded edges, just like the Argus MT. There is a spot to attach a lanyard at the back of the device, but we're not sure how useful that would be with a device of this size and weight. The Argus XT mod can be subdivided into two main sections:
The back side, where your hand rests is covered in faux-leather with beautiful stitching, comfortable padding, and the Argus XT branding. The lanyard connector sits above the leather. The supple leather-like material is two-toned (in the device we received) with pretty grey and sage green colors.
The front side displays the OLED screen encased in a plastic metallic silver shell. The activation button sits just above the screen, and the lockbutton sits above that. At the bottom of the screen are two buttons for adjusting the wattage. And beneath the screen is a cover that can be opened to reveal a Type-C charging port.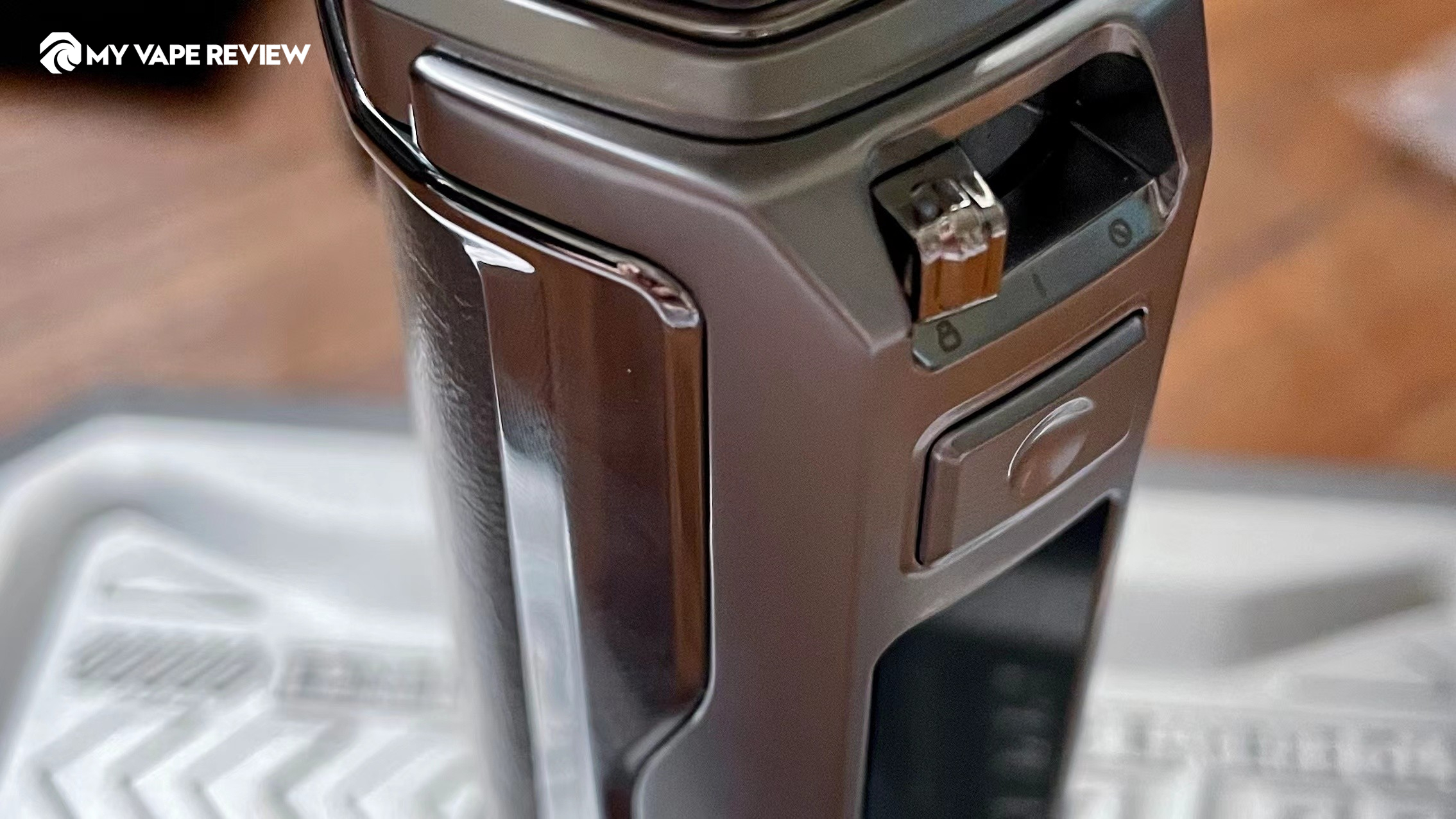 The safety lock mechanism is unique to the Voopoo Argus XT. It's a little switch that can be adjusted to one of three positions: locked, unlocked, or push to unlock. This mechanism differs from the Argus MT, in which the lock is built into the screen, but it works in the same general way, to offer a way to keep the device from activating accidentally.
We received the Silver Grey colorway which has the two-toned leather-like backing and silver airflow component, but you can choose from four other options: Dark Blue, Graphite, Carbon Fiber and Lime Green.
MAAT Tank New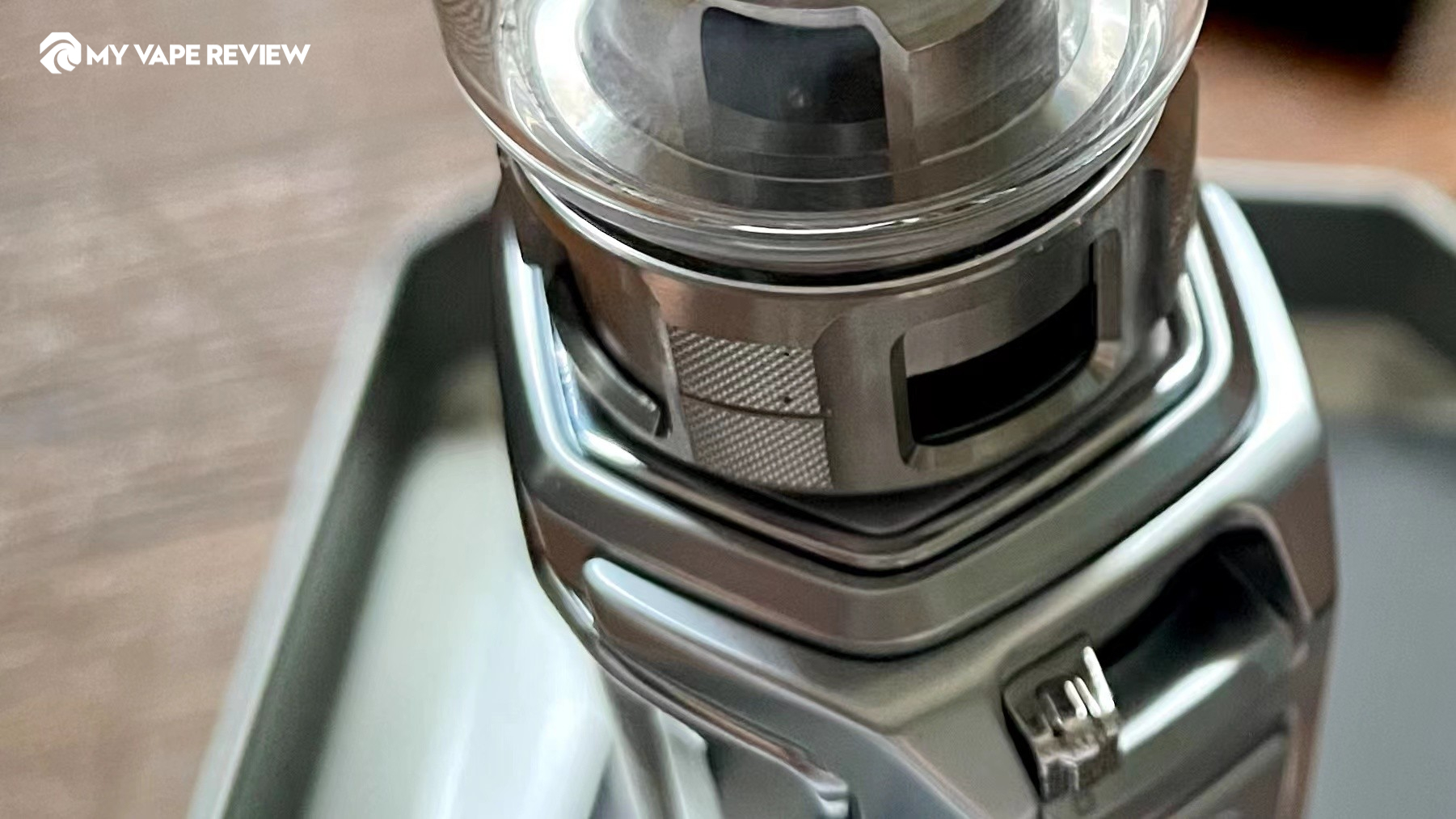 Previous
Next
The Voopoo Argus XT Kit comes with an enormous tank capable of holding 6.5mL of your favorite e-juice. A tank of this size will hold enough e-juice to last most vapers a couple of days.
To get started with the kit, you'll need to install one of the two provided coils into the bottom of the tank. Ensure the coil is securely installed to reduce the change of leakage from the tank.
The tank, via a 510 connector, screws directly onto the mod's airflow section, which can be adjusted using the one of two sliders. This gives you a great degree of fine-tuning, so you can select your exact airflow preference. The mouthpiece attaches to the top of the tank and is removed to refill the tank. With the mouthpiece removed, you can access two silicon fill ports and start hassle-free top refill.
Battery & Charging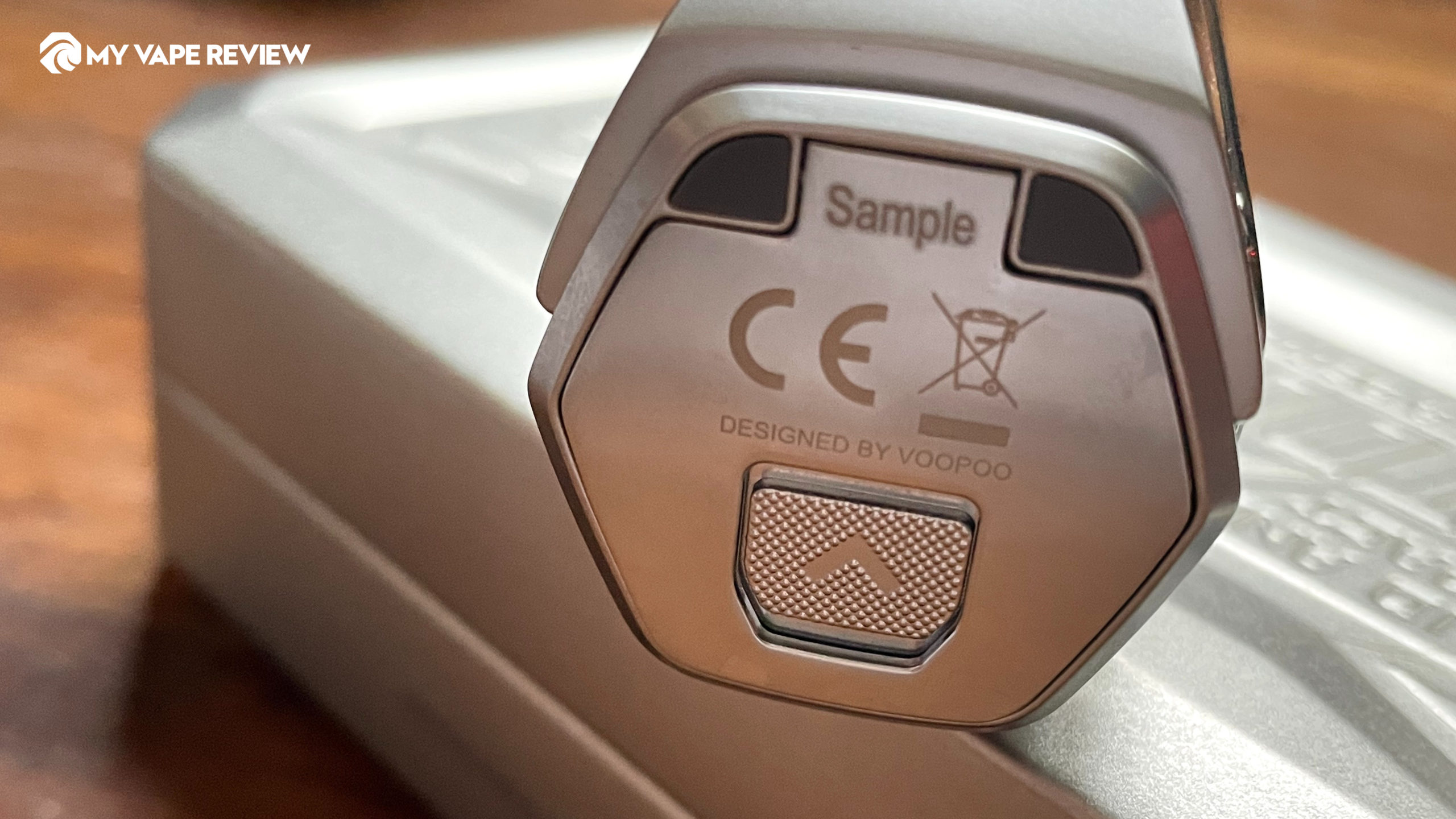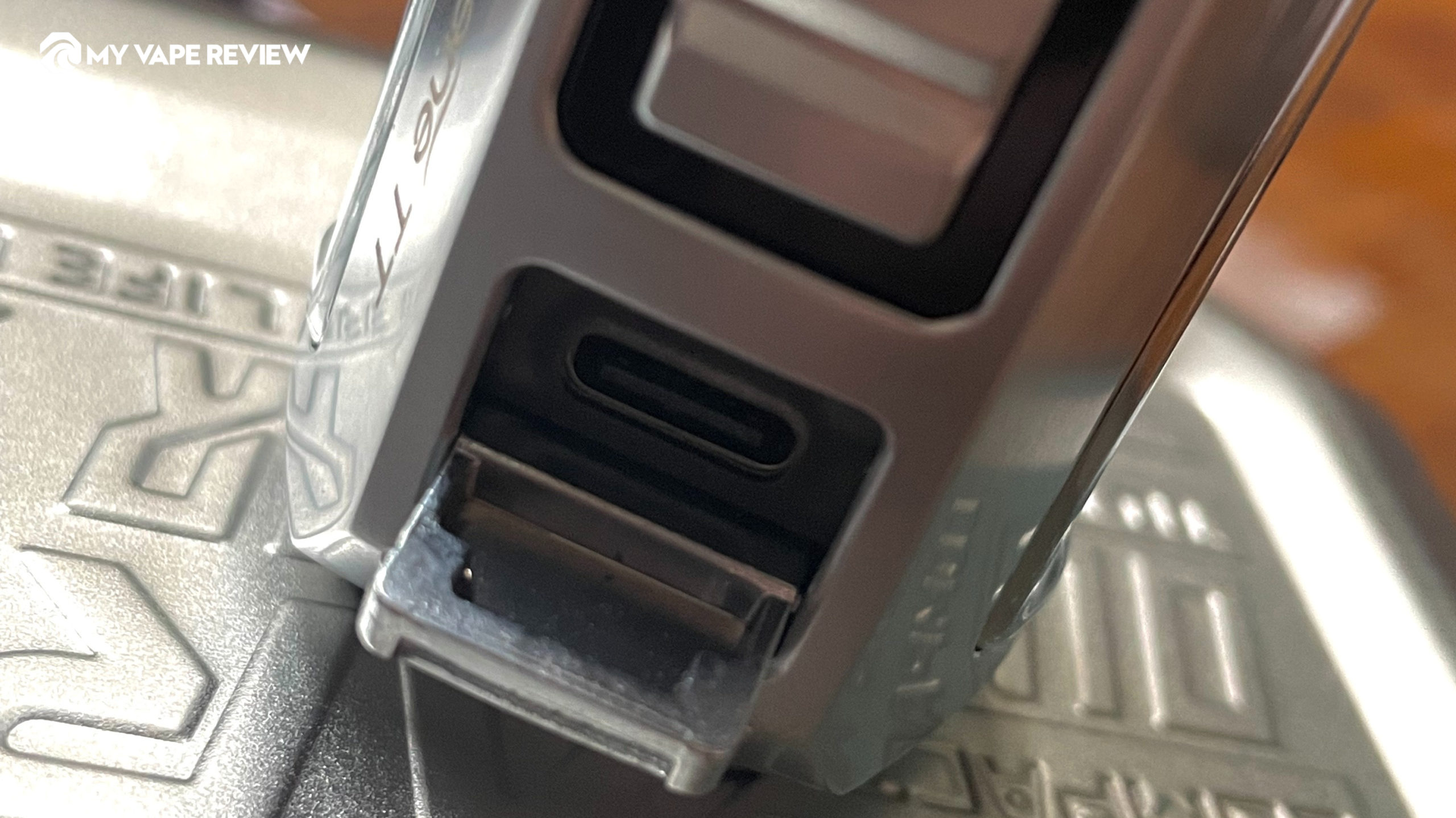 Previous
Next
One of the key ways the Voopoo Argus XT Kit varies from the MT, is the lack of an internal battery. The XT takes a single 18650 lithium-ion battery, which is purchased separately.
Voopoo recommends a high-rate battery with a discharge current greater than or equal to 30A.Your battery life with the Argus XT device will depend on the capacity of the 18650 battery you purchase. When charging with the Type-C port, the screen switches to the charging interface that displays the percentage the current battery has.
Vapes with external batteries are also preferred when traveling. Devices with lithium-ion batteries are no supposed to be brought onto planes. With the Argus XT you can remove the batteries, travel with the device, and then purchase new batteries once you land at your destination.
Durability
The Voopoo Argus XT vape mod was designed to last. The device has received an IP68 rating thanks to its quality components, covered charging port, and other features. This means it's well guarded against dirt and debris and can be submerged for up to 30 minutes in water with a depth of 1.5 meters. The mod kit is ready to go wherever you go and to survive daily use for an extended period of time.
Does the Argus XT leak?
Interestingly the Voopoo Argus XT does not leak, even though the Argus MT does. Maybe the Argus MT leaking was a fluke, like some kind of manufacturing issue, because no leaking was observed with the XT. This is great for vapers that want to carry their device wherever they go without worrying about e-juice leaking all over the place.
Ergonomics
The faux-leather backing, complete with padding, feels luxurious in your hand. The octagonal body allows you to comfortably wrap your hand around the curves of the machine.
The Voopoo Argus XT is also somewhat bulky so it won't easily fit in a pocket or purse. But, honestly speaking, it can rate as a slim device in contrast with other vape mods.
Function
The Voopoo Argus XT mod vape has a slider located just under the tank, for locking the device and preventing the device from unintentionally activating. This slider can be placed in one of three positions: Locked, Push Button to Unlock and Unlocked.
To enter the settings menu, press and hold the plus and minus buttons simultaneously. When the Menu screen appears, use the plus and minus buttons to choose between Mode, Setting, About Device, and Exit. Then press the power button to select.
There are four modes you can choose from when using the Voopoo Argus XT, just like the MT device:
SMART– this mode detects the best power ranges to prevent the coil from burning;
RBA– select a wattage anywhere between 5 and 100 watts;
TURBO – best mode for heavy smokers;
TC– supports three kinds of heating wire and the temperature can be adjusted.
Performance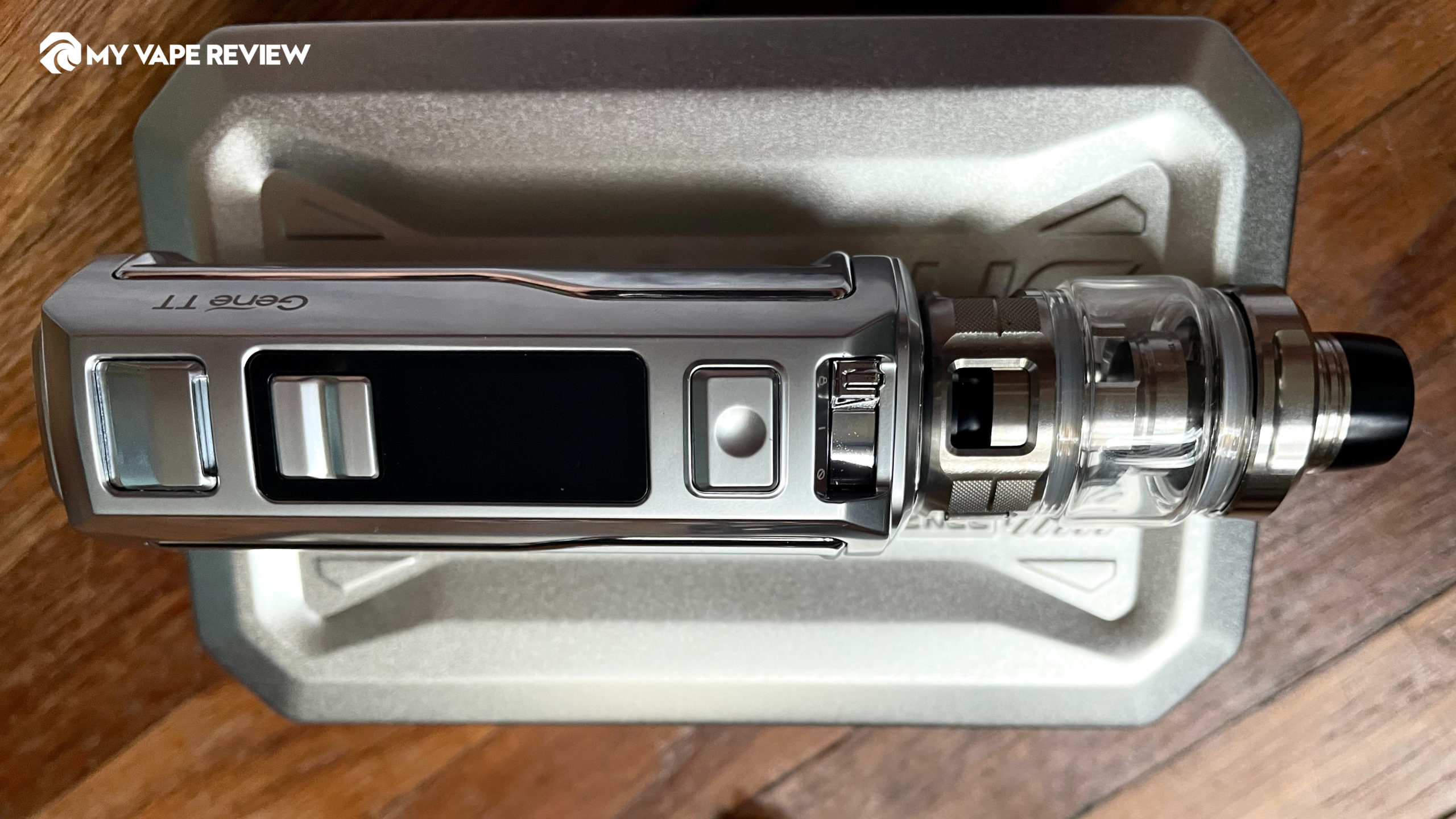 Voopoo Argus XT is a powerhouse device that delivers splendid DTL hits thanks to its great design and mesh coils provided (0.2 or 0.3ohm). Each and every puff offers a wonderful vaping experience, full of warmth and strength and voluminous clouds.
The device performs best at higher wattages, with the smoothest hits around 60-80 watts. Cloud volume and density will impress even the most serious cloud chasers. Open the airflow slider all the way and you'll be able to take an enormous hit and produce the biggest clouds.
Ease of Use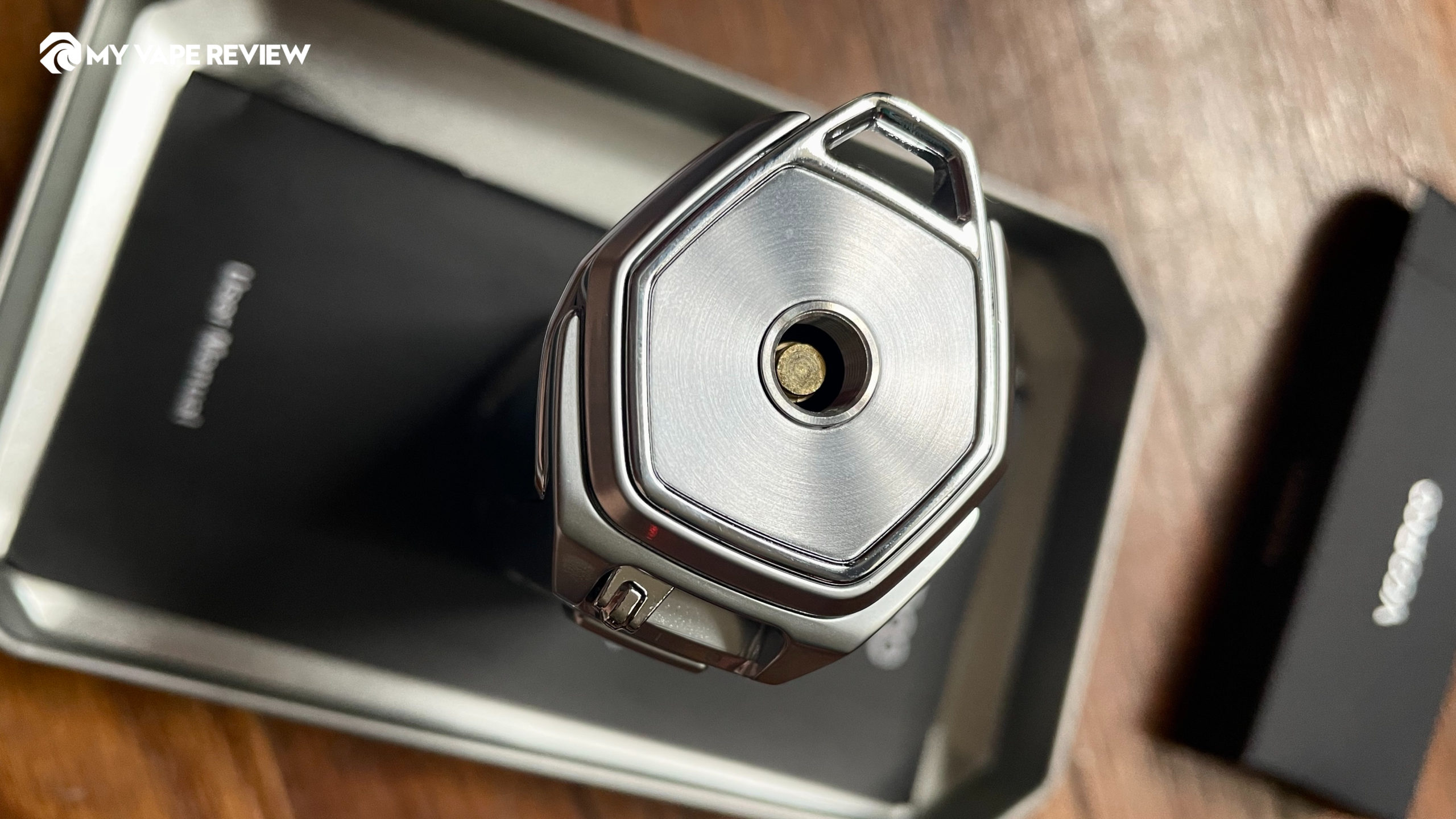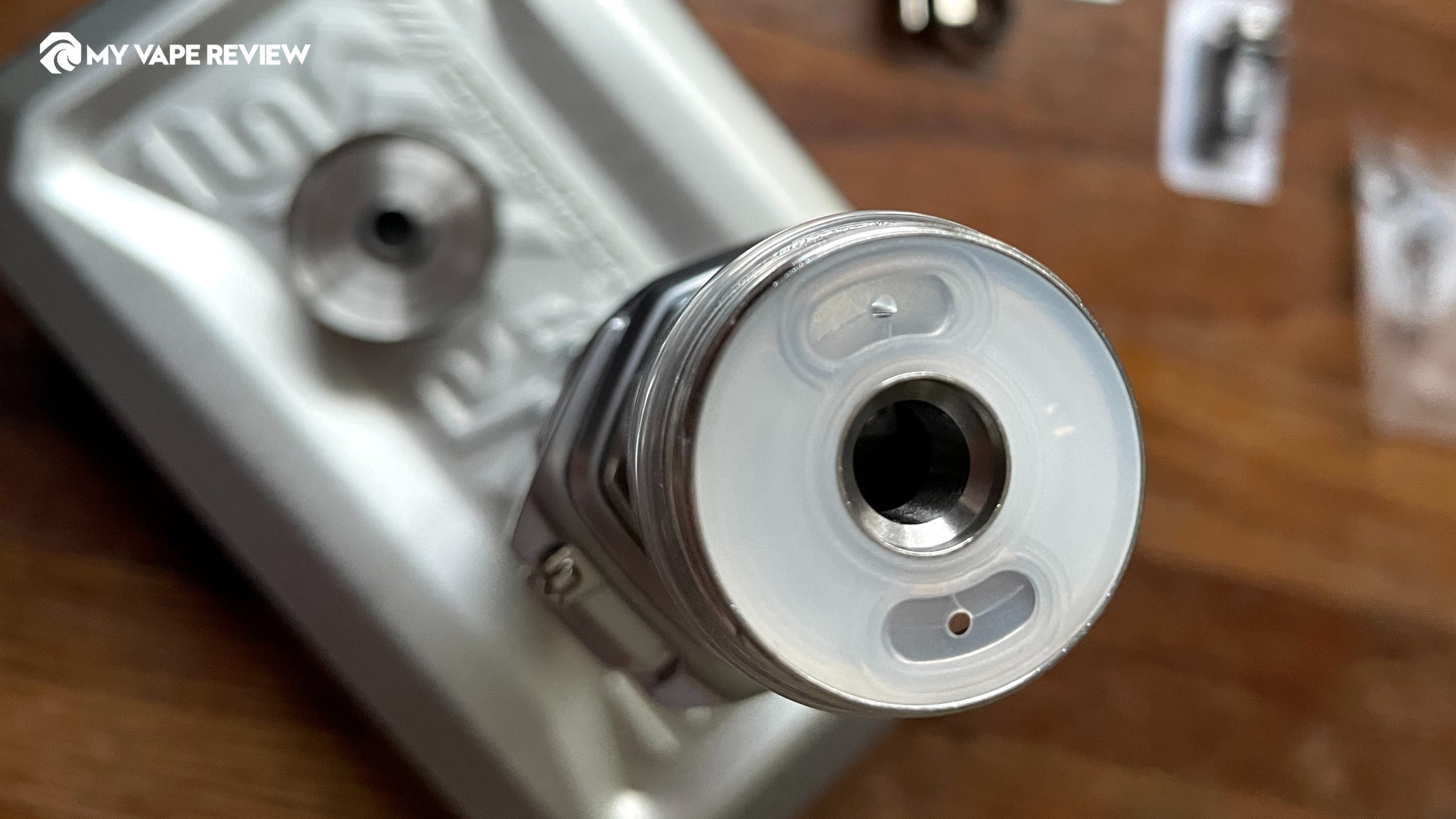 Previous
Next
The Voopoo Argus XT is relatively simple to use, as long as you take the time to read the User Manual and brush up on the basics of 18650 batteries. You'll need to know how to install mesh coils and when to replace them. If you can manage all that, then it's super easy to learn how to use the Argus XT's buttons and menus, even though a mod vape always looks complicated.
When it's time to refill the 6.5 mL pod, all you have to do is unscrew the mouthpiece to access the fill ports. No e-juice spills and leaves the device in a puddle when we refill. We could quickly add our favorite e-juice and we're ready to continue on our day.
Price
The Voopoo Argus XT is available for $79.99 on Voopoo's official website, but the price offered by major vape retailers, such as Vapesourcing, are much lower, at somewhere between $60 and $70. That's a fair pricing point for any advanced vape mod kits as such.
Buying between the Voopoo Argus XT and MT might be a difficulty for some people. But because they are so similar, you're basically deciding whether you want to work with an internal battery or an external battery.
Verdict
The Voopoo Argus XT leaves a lasting impression of luxury, durability, and thoughtful design. The device is sort of heavy, but that's to be expected for a vape that uses an external 18650 battery and has a tank with a 6.5 mL capacity.
It's sleek industrial design is accompanied by a beautiful OLED screen that is easy to navigate and displays all the information you need to know. The Voopoo Argus XT delivers fantastic DTL hits and produces enormous clouds of vapor. Choose from one of the five color options and get started ripping big clouds with the Argus XT!