1. Introduction
In the realm of disposable vapes, most brands tend to follow a standardized art design for each flavor, resulting in a sea of carbon copies. However, CZAR, a fresh brand under the umbrella of Coilart, has dared to break the mold with the CZAR CZ9000. Each individual vape in this line is a unique piece of art.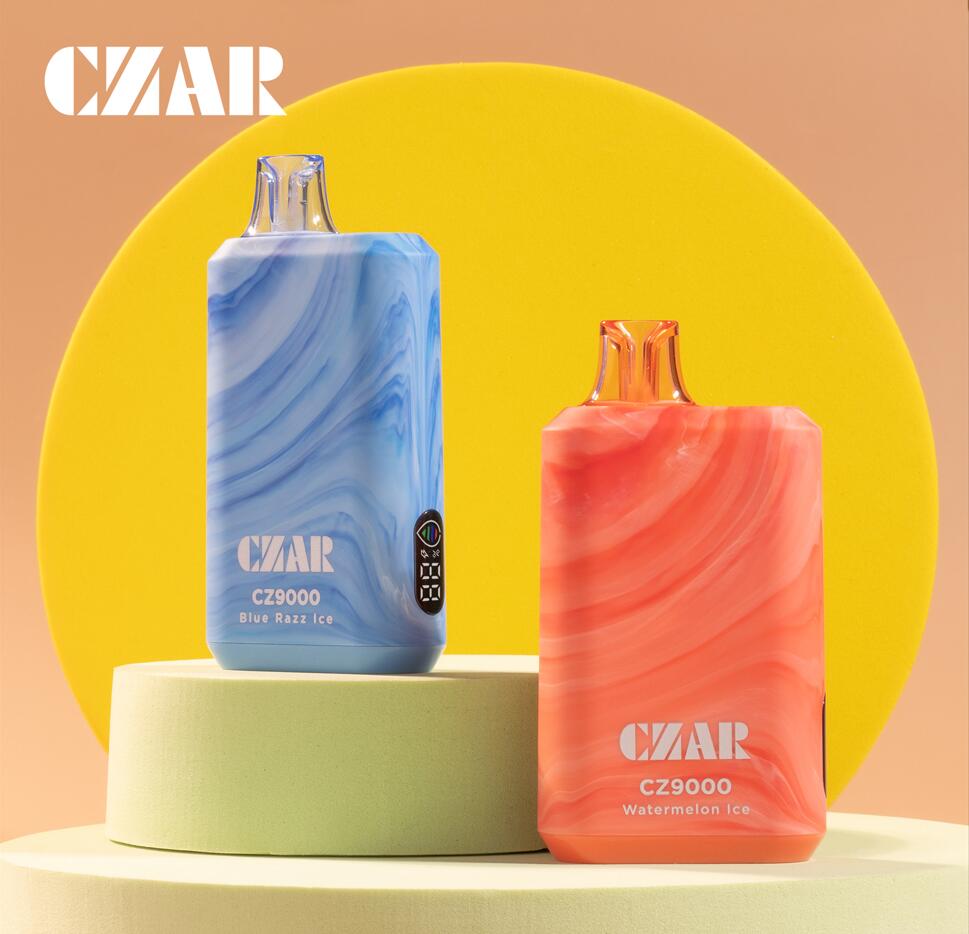 The CZAR CZ9000 boasts a colossal 17 mL tank filled with 5% nicotine. With approximately 9,000 puffs, this device is engineered to serve you for weeks on end. It features an easy-to-read screen and a rechargeable battery, making it a user-friendly choice for vapers of all experience levels. Continue reading to learn more about how CZAR is breaking into the vape world with
2. Flavor
The CZAR CZ9000 comes in a wide range of flavors, covering all of the most popular flavor profiles. There are quite a few Strawberry flavors, 3 of the 10, so it might be nice to see a bit more variety, but across the board, the CZ9000 flavors are very well-blended and vibrant across the board.
Here are the 10 flavors we received for review: Watermelon Ice, Blue Razz Ice, Strawberry Watermelon, Strawberry Kiwi, Cranberry Grape, Fuji Apple, Alaskan Mint, Strawberry Banana, Rainbow, and Clear.
Watermelon Ice – The Watermelon is super juicy and sweet in this flavor, giving me Hubba Bubba Strawberry Watermelon vibes. The ice is noticeable on the inhale, while your mouth is flooded with delicious watermelon flavor on the exhale. In our opinion, this is a top-tier flavor! 5/5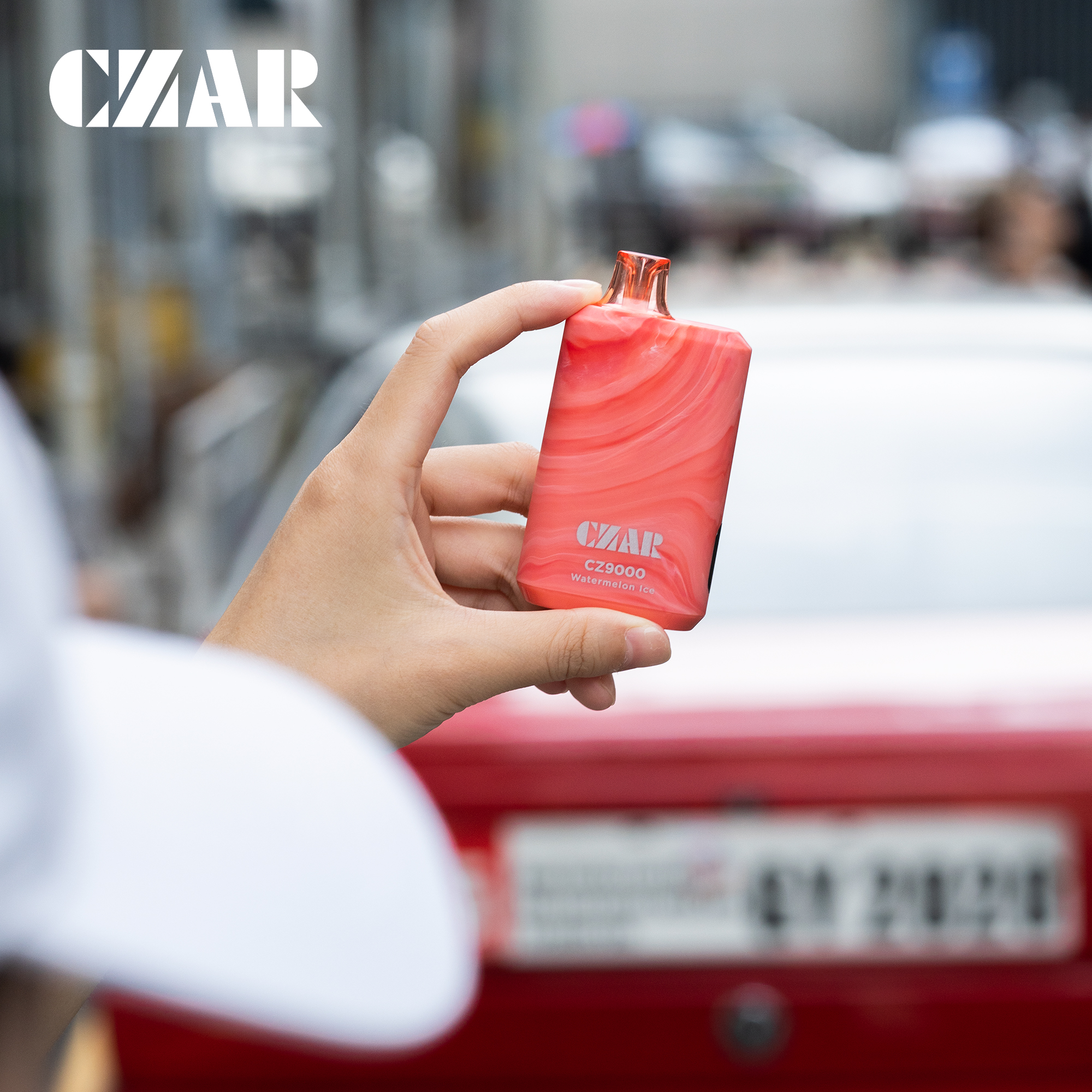 Blue Razz Ice – This rendition of Blue Razz Ice isn't anything groundbreaking compared to other versions on the market, but it is intensely flavored and has a nice tangy bite. 4/5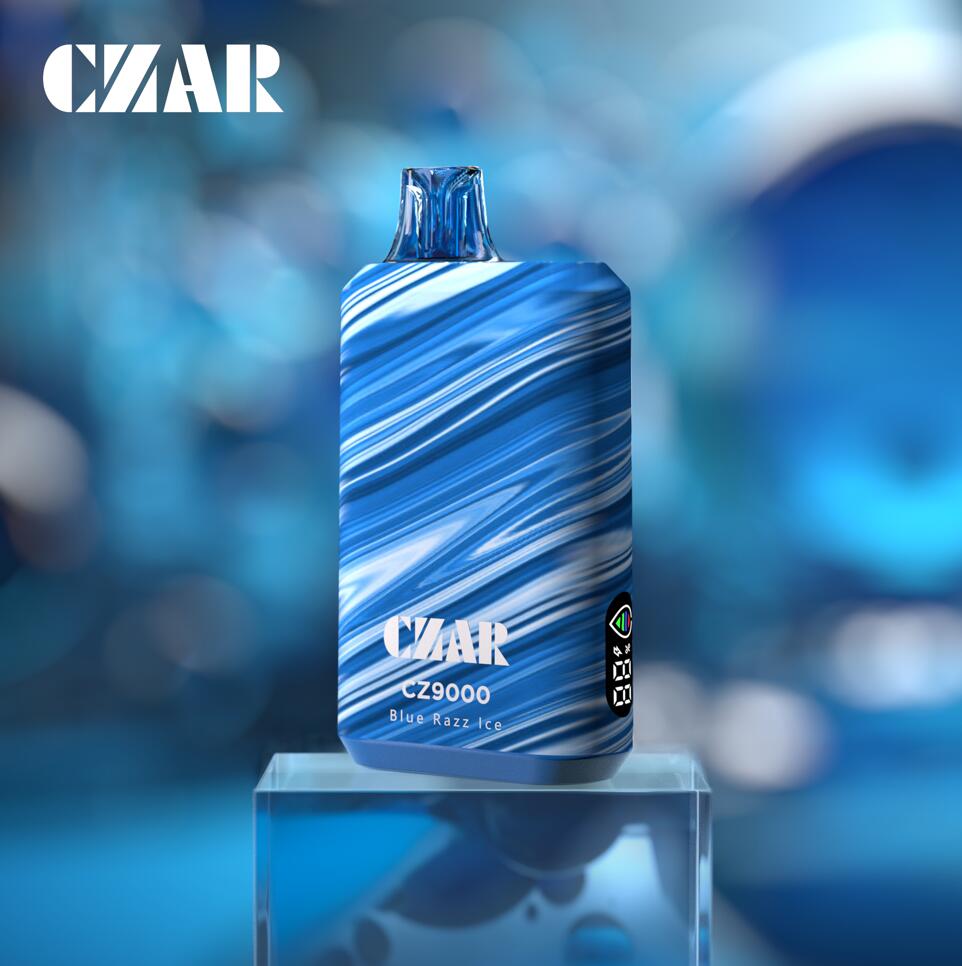 Strawberry Watermelon – The way this flavor is blended makes it hard to tell where the Strawberry ends, and the Watermelon begins, and that's a good thing. On each inhale, the sweetness floods your mouth, and you get that wonderful Strawberry flavor on the exhale. 5/5
Strawberry Kiwi – The Strawberry Kiwi flavor is interesting because the mix of these two flavors almost makes it taste like peach instead. It's juicy and sweet, but the tartness of the kiwi isn't really coming through. 4/5
Cranberry Grape – The addition of cranberry to this predominantly grape flavor was a great move by CZAR. It balances out the sweetness of the grape with the tartness of the cranberry and gives this flavor great depth. 5/5
Fuji Apple – The Fuji Apple flavor is probably the most tart of the bunch. With sweet and subtle Fuji Apple undertones and a powerful, crisp bite, this flavor is pure joy to vape. 5/5
Alaskan Mint – The Alaskan Mint flavor is powerfully refreshing, leaving your mouth icy cool after each puff. The mint flavor adds a nice sweetness, but this flavor is far from being the sweetest in the bunch. This is a big winner for mint lovers! 4/5
Strawberry Banana – With robust banana and strawberry notes, this flavor tastes like a delicious smoothie. The banana flavor still has that artificial banana flavoring based on Gros Michel bananas that are no longer commercially available, but that fakeness is countered by the fresh strawberry sweetness. 3/5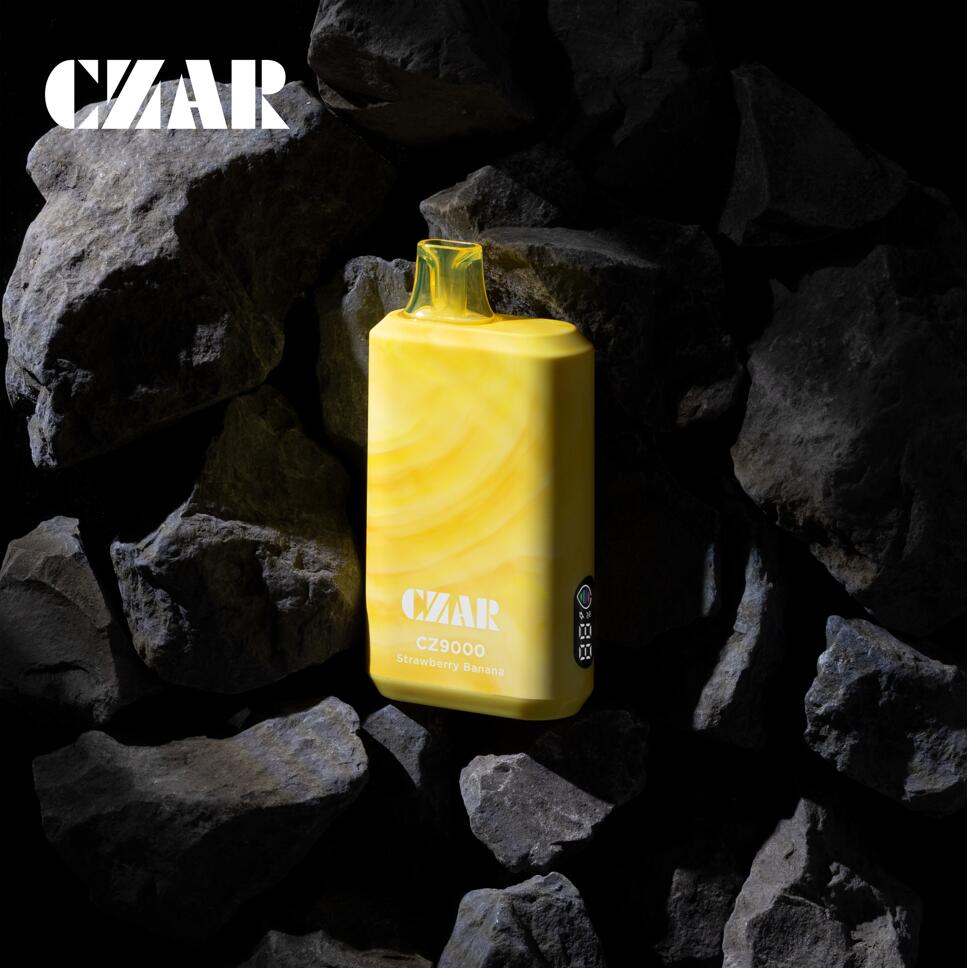 Rainbow – The Rainbow flavor, designed to mimic the taste of hard candy, indeed presents a nondescript flavor profile. It leans heavily on the sweet side, which might appeal to those with a sweet tooth. However, it may not be everyone's cup of tea and lacks a certain depth and complexity. 2/5
Clear – The Clear flavor is an excellent choice for those who prefer a more subtle vaping experience, free from the assertive presence of bold flavors. It carries a certain nondescript sweetness, akin to the Rainbow flavor, but with a more understated profile. Rather than being overly sweet, it offers a gentle, mellow sweetness that is pleasing to the palate. There's also an iciness that adds a bite to each exhale. 4/5
3. Design & Quality
Design
So we alluded to the uniqueness of each CZ9000 vape, but what exactly does that mean? Each vape features an entirely original pattern of mesmerizing swirls. Although the ten flavors are each associated with a specific color scheme, the fluid art technique employed by CZAR ensures that every design is truly unique. The vapes resemble miniature works of art, evoking images of painted granite or swirling water patterns.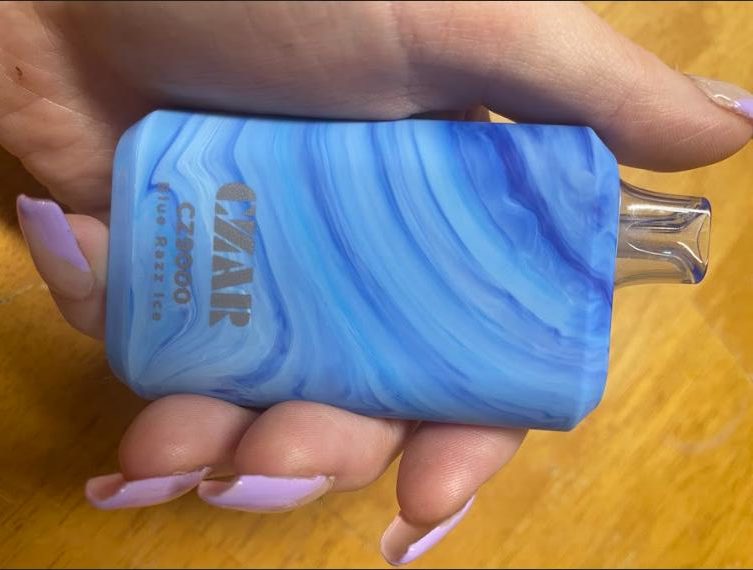 The CZAR CZ9000 vape sports a rectangular body with rounded sides, enveloped in a slim, rubber-like material on which the swirl design is imprinted. The design tapers into a flat top and bottom, lending it a sleek and modern appearance.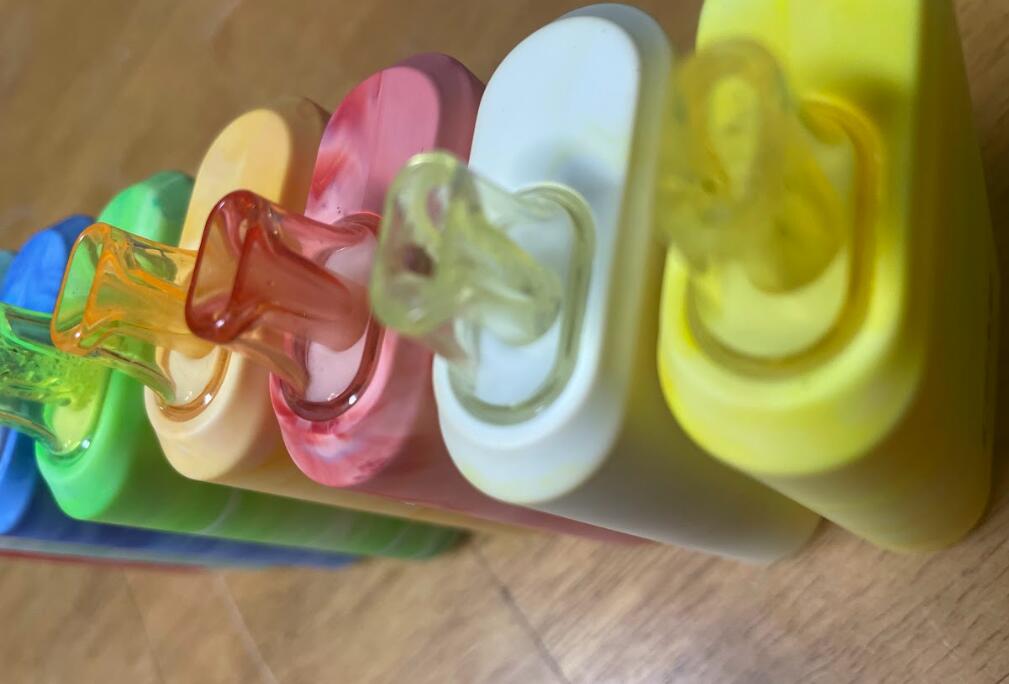 The mouthpiece, positioned offset to one side, is crafted from tinted polycarbonate material. This transparent design allows users to peer into the tank, adding a practical touch to the aesthetic appeal.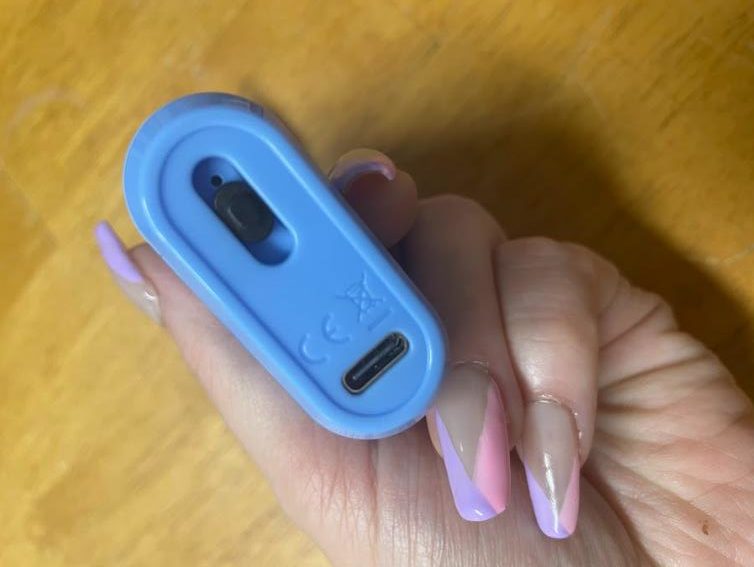 One of the major features of the CZ9000 is the airflow control slider located at the bottom of the device. This adjustable mechanism empowers users to customize their vaping experience by choosing their preferred level of airflow. The options range from fully closed to fully open, revealing two holes or in between. This ensures that the CZ9000 can cater to a wide range of vaping preferences.
Yet the biggest feature is the mini screen located along one of the curved edges. While tiny, this
screen gives real-time information on the battery level and e-juice level of the CZ9000. Aren't sure how much juice is left in the tank? Just glance at the screen after a quick puff. There's a water droplet that represents the tank with 4 different colored lines. As the e-juice is used up, the lines disappear, so you will know when you are nearly out of puffs.
Durability
The CZAR CZ9000 is specifically engineered to last a long time because it has a huge 17 mL tank that is supposed to last for around 9000 puffs. That could take weeks for a more conservative vaper.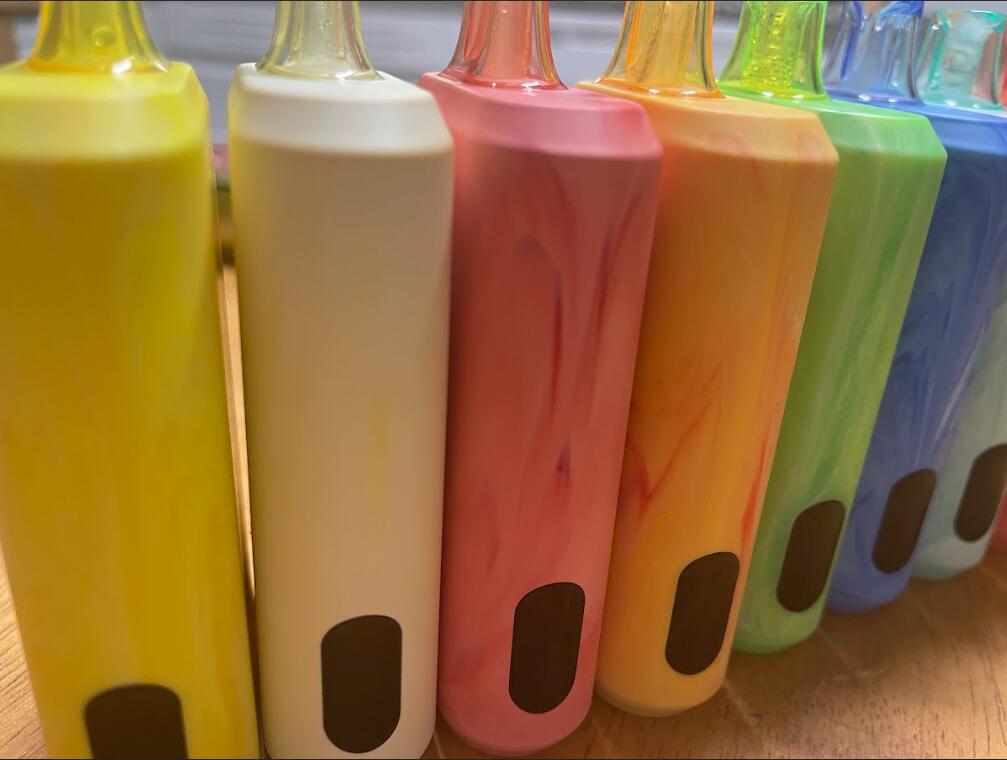 The rubberized body cover resists scratches, and the plastic body and mouthpiece protect against damage in the event of drops or other rough handling. During the review period, there were no indications that the CZ9000 disposable would have trouble lasting throughout its expected lifespan.
Does the CZAR CZ9000 leak?
No, the CZAR CZ9000 does not leak. There were absolutely no issues with leakage or spitback when testing these devices. If you choose the CZ9000, you can rest easy knowing the disposable won't turn into an oily mess in your hand.
Ergonomics
The CZ9000 vape is a testament to the perfect blend of aesthetics and ergonomics. The rectangular body with rounded sides fits comfortably in the hand, making it easy to hold and use for extended periods. The rubberized body wrap offers a velvety surface and a secure grip.

4. Battery and Charging
While the exact specifications for the CZAR CZ9000's battery capacity are not explicitly stated, its performance speaks volumes. The device is equipped with a battery robust enough to power a day of near-constant vaping with ease.
A quick glance at the display provides real-time information about your current battery percentage. This allows you to monitor your device's power level and plan your recharging sessions ahead of time, ensuring that you're never caught off guard by a depleted battery.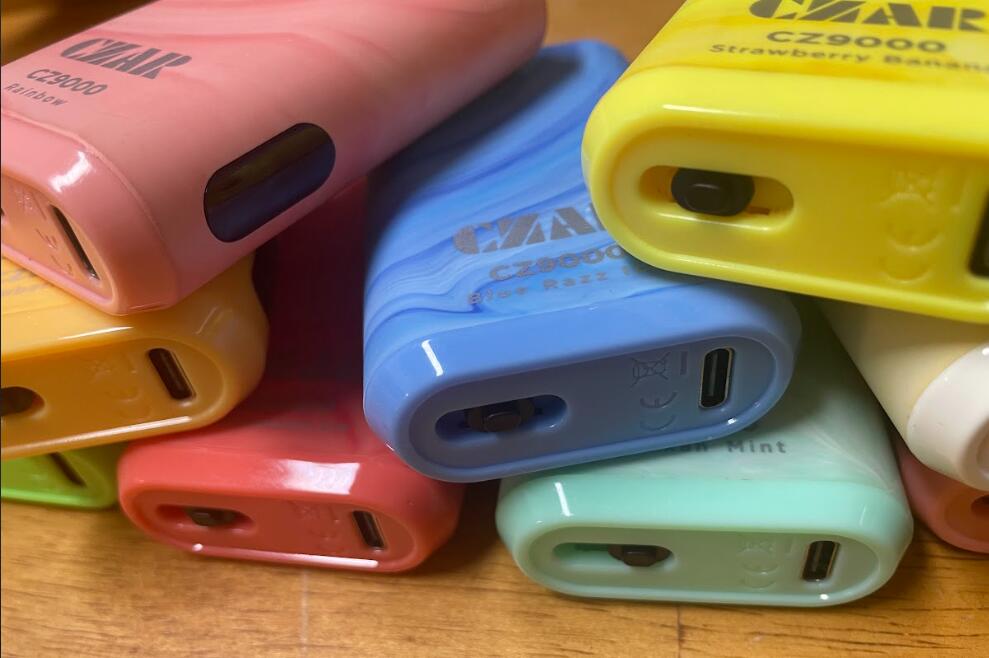 The device is equipped with a USB Type C port located at the bottom for easy access. This modern, fast-charging standard ensures that your device is powered up and ready to go in no time.
5. Performance
The CZAR CZ9000 vape truly shines when it comes to performance. It delivers a powerful and satisfying vaping experience characterized by consistent hits, impressive vapor volume, and bold flavor.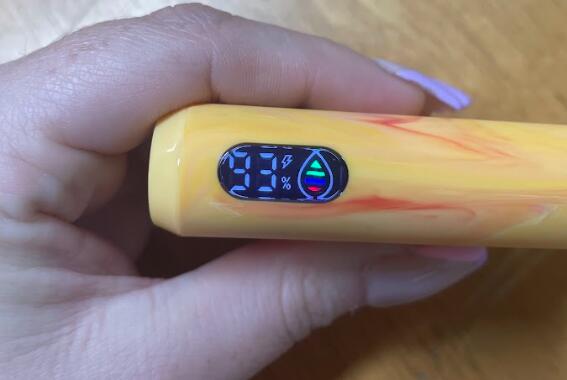 Each hit is perfectly calibrated to deliver a warm, satisfying experience without overheating. And each puff delivers a robust hit, ensuring a satisfying experience for users. Whether you're a casual vaper or a more experienced user, the CZAR CZ9000's power delivery is sure to impress.
The CZ9000 also offers versatility in terms of vaping style. With the adjustable airflow slider, users can easily switch between MTL (mouth to lung) and RDL (restricted direct lung) vaping. This means you can tailor your vaping experience to your preference, whether you prefer a tighter, more concentrated hit or a looser, more airy draw. The experience is in your hands.
When it comes to vapor production, the CZ9000 doesn't disappoint. The device produces a great volume of vapor, making for a visually satisfying experience. Whether chasing clouds or simply enjoying the sensation of a full-bodied hit, the CZ9000 delivers.
6. Price
As of now, we do not have specific pricing details for the CZ9000. However, we encourage you to check back regularly for updates on pricing information.
7. Verdict
The CZ9000 by CZAR is a game-changer in the realm of disposable vapes. It combines a unique aesthetic appeal with high functionality, making it a standout product on the market.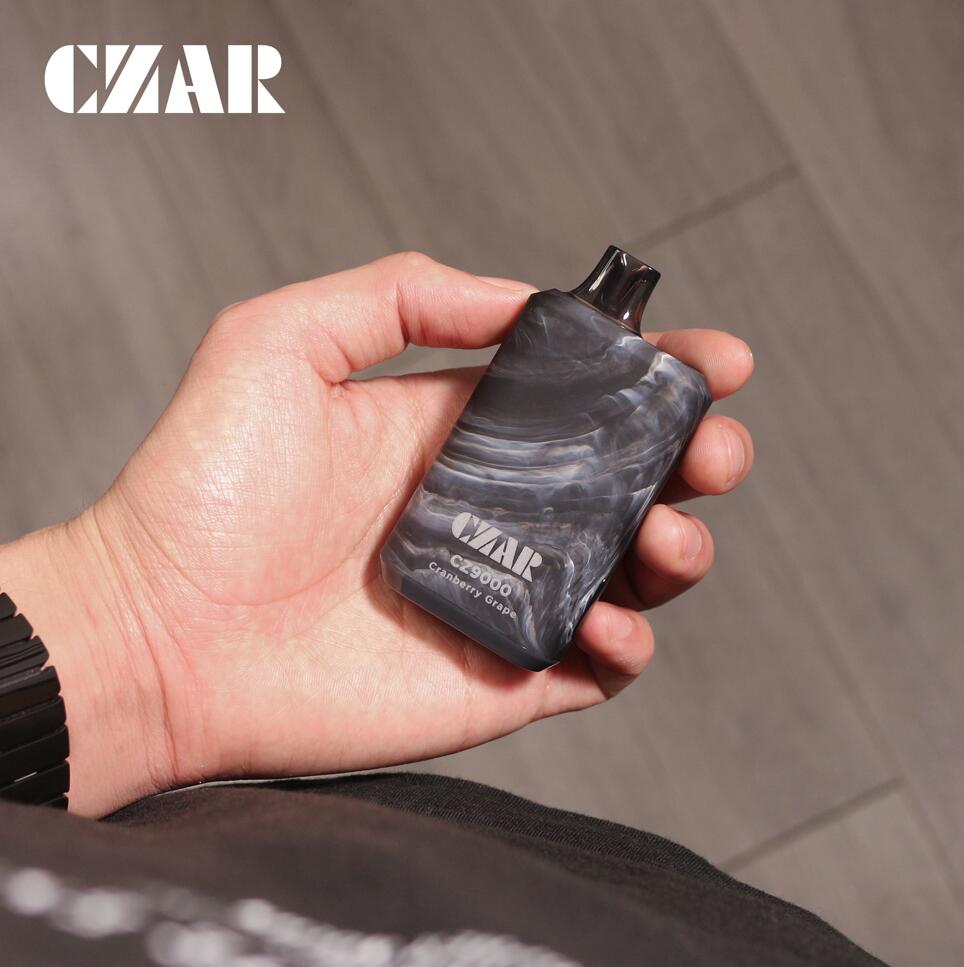 The device's design is a visual treat, with each vape featuring a unique pattern of mesmerizing swirls. The rounded sides and rubberized body cover are ergonomically designed to ensure a comfortable grip. The CZ9000's performance is also exceptionally impressive, delivering consistent hits, impressive vapor volume, and bold flavor.
The adjustable airflow slider allows users to switch between MTL and RDL depending on their preferences. And the device's battery life is commendable, easily powering a day of near-constant vaping.
The CZ9000 significantly enhances user experience thanks to the mini screen found along one of the curved edges of the device. This screen provides real-time information on the battery and e-juice level, so you are never in the dark concerning your vape.
The CZ900 empowers you to vape without interruptions. It's a device that delivers on its promises, offering a vaping experience that is as enjoyable as it is reliable. Whether you're a seasoned vaper or new to the scene, the CZ9000 is very much worth a try.