1. Introduction
The Vozol Star 9000: More and more consumers are classifying themselves as high-volume vapers, but they struggle to find disposable vapes that can hold up to their vaping habits. The Vozol Star 9000 arises as a new contender for those seeking longer-lasting vapes. With 14 mL, the massive tank can support between 9,000 puffs! The Star 9000 has lots to offer, including mouthpiece protection, rapid charging, an innovative display, and 15 different flavor formulations. Continue reading to see if this disposable can keep up with your habits and busy lifestyle!
2. Flavor
The Vozol Star 9000 is available in 15 diverse flavor options. These include Blue Razz Ice, Blueberry Storm, Cool Mint, Grape Ice, Mexica Mango Ice, Miami Mint, Miss Pink, Peach Mango Watermelon, Raspberry Watermelon, Sour Apple Ice, Strawberry Kiwi, Strawberry Watermelon, Triple Berries, Watermelon Bubble Gum, and Watermelon Ice.
You may noticed there are a ton of different watermelon blends, so if that's a flavor you enjoy – the Star 9000 could be a fantastic choice. Besides watermelon, the vape is also available in other popular icey profiles, including Mint, Sour Apple, and Blue Razz.
We received the 5 flavors for testing:
Blueberry Storm – This flavor is a potent berry blend – likely blueberry, elderberry, and maybe raspberry. The inhale induces a 'spicy' tingle on your tongue, while the exhale offers a mix of sweetness and tartness. It's a good flavor but may not be for everyone. 3/5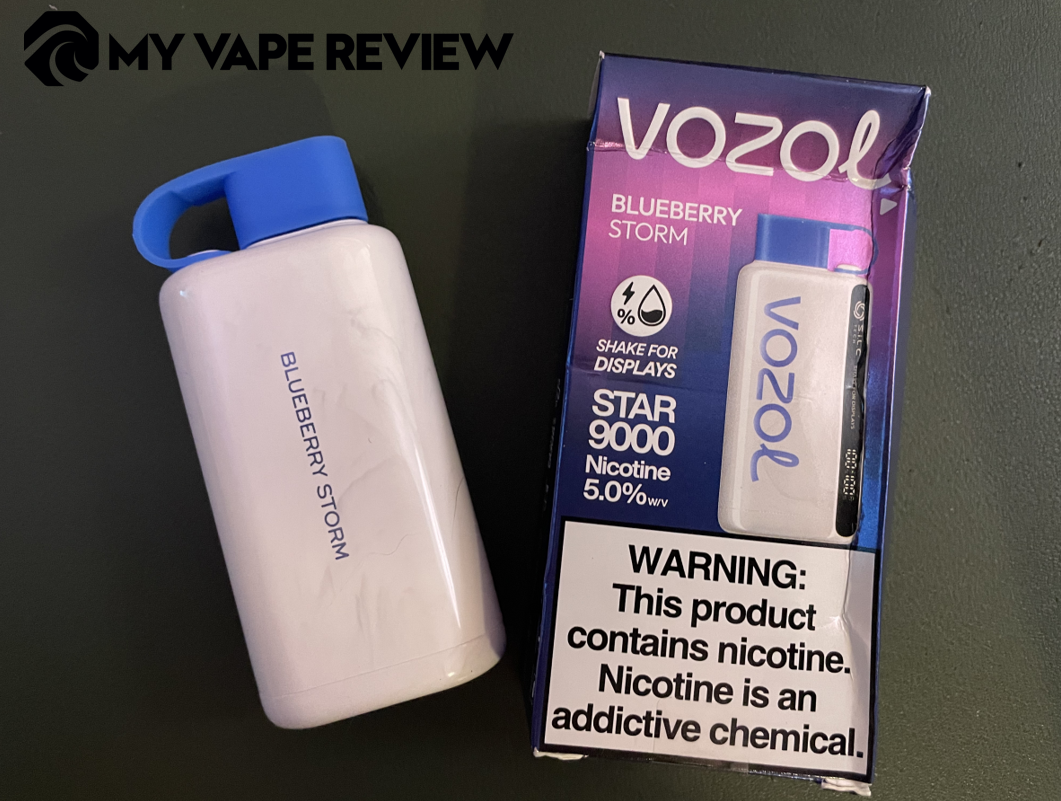 Cool Mint – This mint formulation is delightfully refreshing. Each inhale offers an icy blast while the sweet tones of mint follow on the exhale. 5/5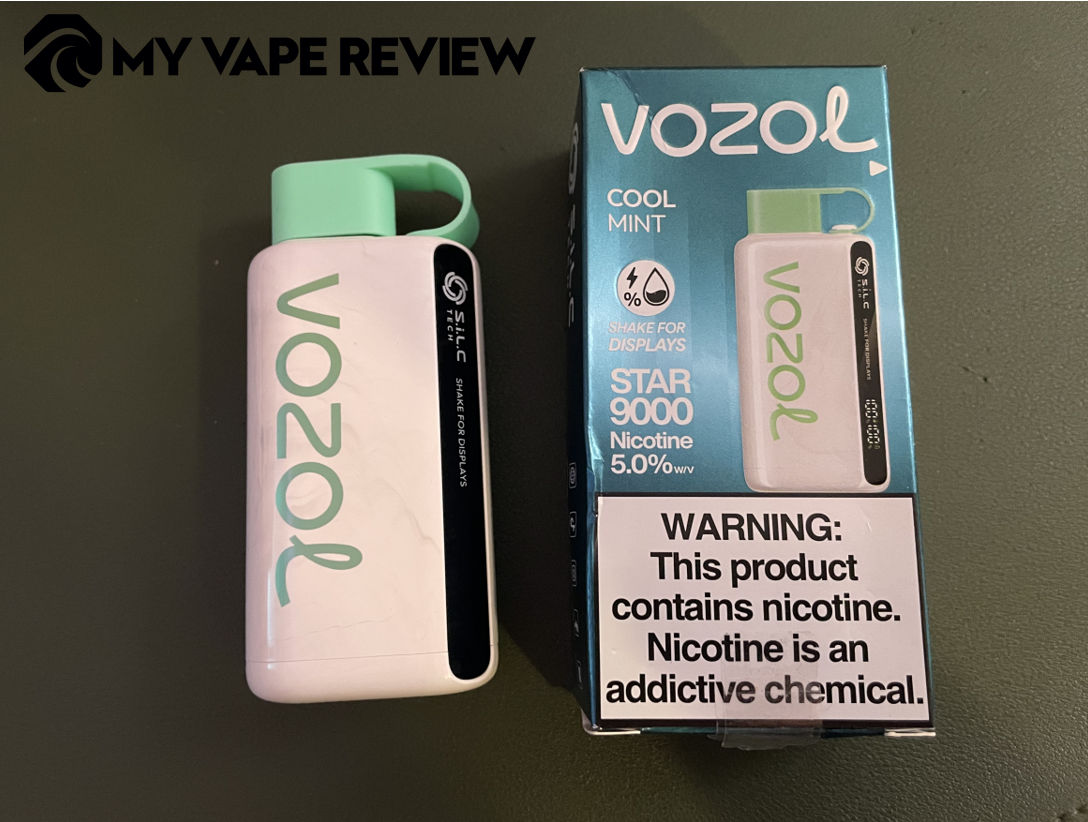 Grape Ice – This grape ice flavor is extremely sweet, flooding your taste buds with sugary grape goodness with each exhale. The icy notes give the flavor a nice balance, so it's sweet but also refreshing. 4/5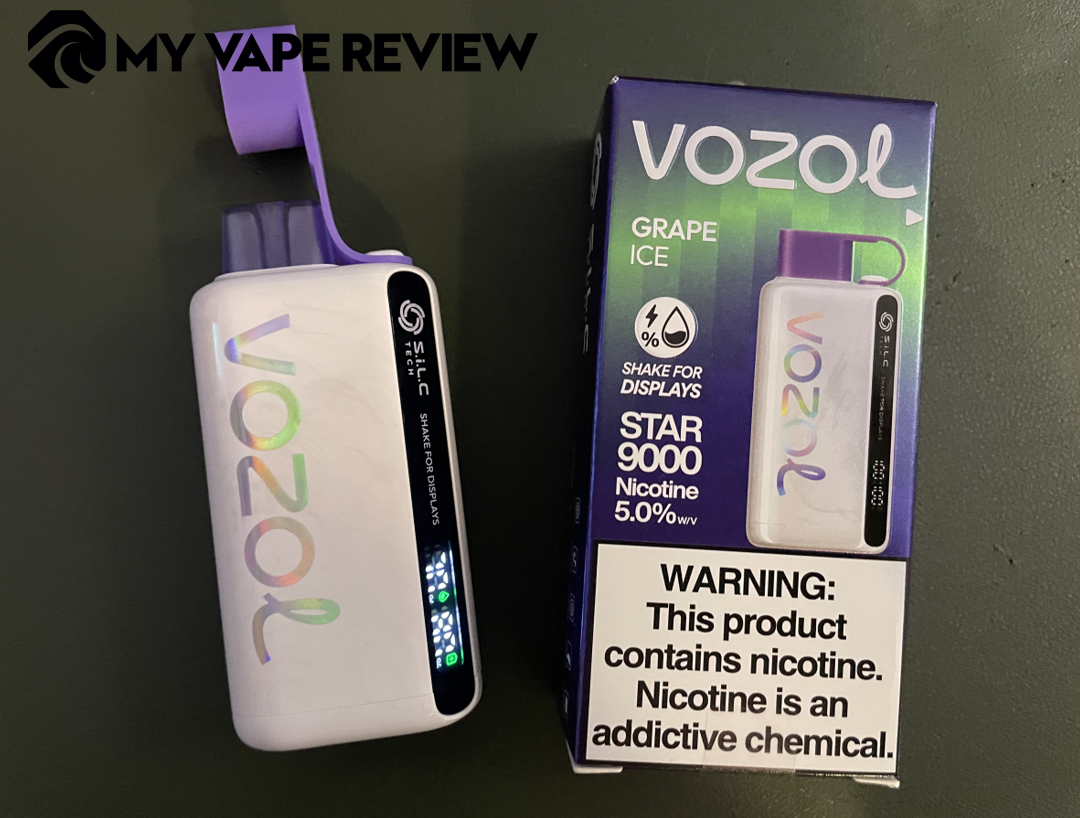 Raspberry Watermelon – When vaping this flavor, the raspberry doesn't really come through as a distinct flavor. Instead, you get more of the fresh watermelon flavor with a bit of tartness. 4/5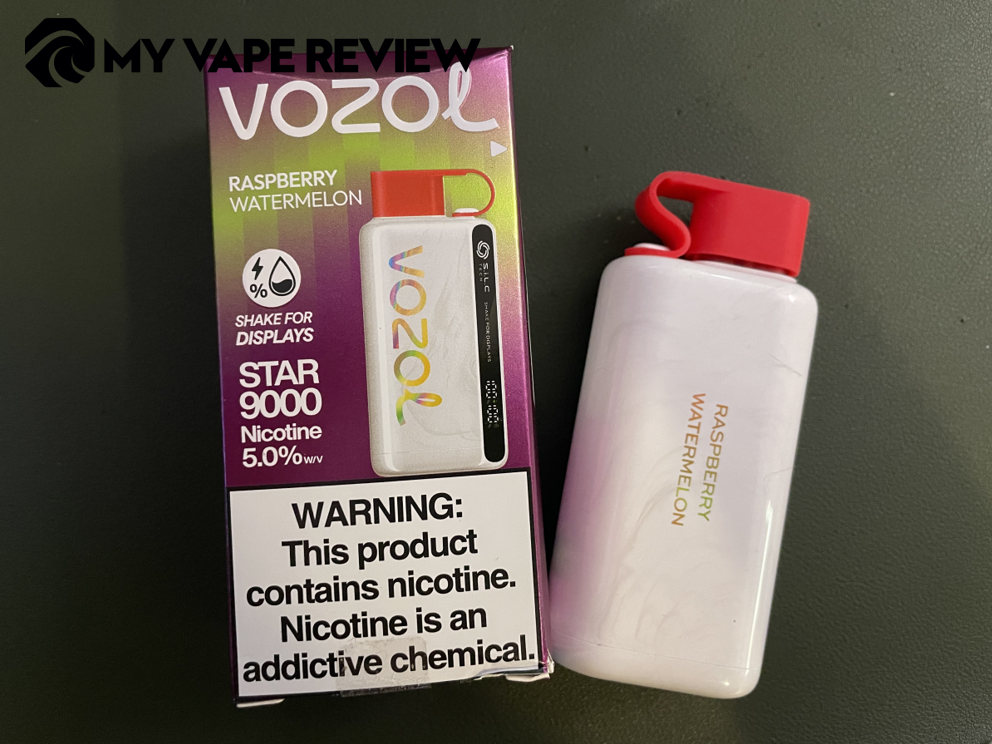 Watermelon Ice – The taste of fresh, juicy watermelon comes through strongly, paired harmoniously with a cool icy undertone. This rendition of the classic favorite, watermelon ice, is well-executed, offering a refreshing experience with each puff. 5/5

3. Design & Quality
The Vozol Star 9000 boasts a sleek design with rounded edges, distinguished from competitors by a flat vertical section on its front right side, which doubles as the screen. On this flat side are the words 'SHAKE FOR DISPLAY.' A shake awakens the device, revealing both the remaining e-juice percentage and battery life. The shake sensor isn't super sensitive, so you may have to pop the Star 9000 against your hand a few times to get these screens to activate. The screen also activates with each puff.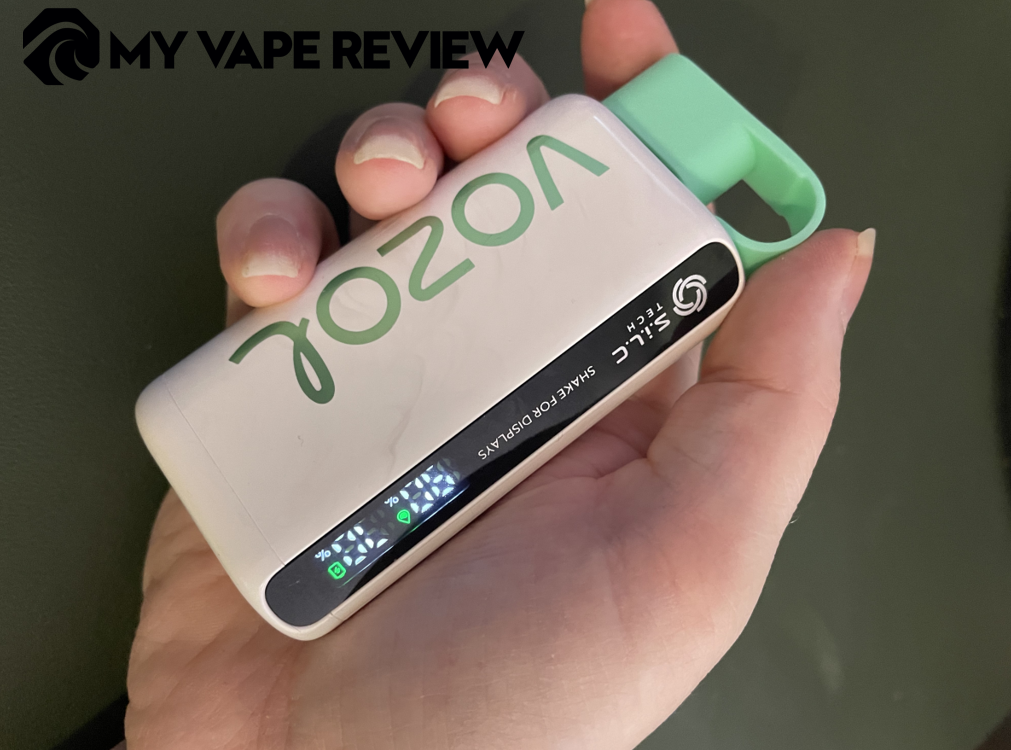 Crafted from white polycarbonate, the body is embellished with subtle gray marbling. Both the shimmering VOZOL logo on the front and the flavor inscription on the back add an elegant, iridescent quality.
The tinted matte plastic mouthpiece comes with a silicone cover. While this cover is removable based on preference, it serves to shield the mouthpiece from dirt and debris, making it perfect for those on the go.
3.1 Durability
The Vozol Star 9000 by VOZOL is designed with practicality in mind. Its static screen and absence of buttons mean fewer parts to wear out or fail. Plus, the mouthpiece cover is a smart touch, keeping it clean and free from daily grime as you use the disposable.
3.2 Does the Vozol Star 9000 leak?
The Vozol Star 9000 does not appear to have any issues with leaking. During the review period, there was no e-juice leakage observed anywhere around the device.
3.3 Ergonomics
The Star 9000 disposable showcases an ergonomic design, evident in its rounded body that fits the curve of your hand, ensuring optimal comfort during prolonged vaping sessions. The mouthpiece has adequate depth, offering a snug fit and airtight seal with your lips.
4. Battery and Charging
In order to make room for all 14 mL of e-juice, VOZOL opted for a lower-capacity battery. The Star 9000 has a 650 mAh rechargeable battery. Even with a smaller capacity, this battery still performs well – offering up to 8 hours of continuous vaping.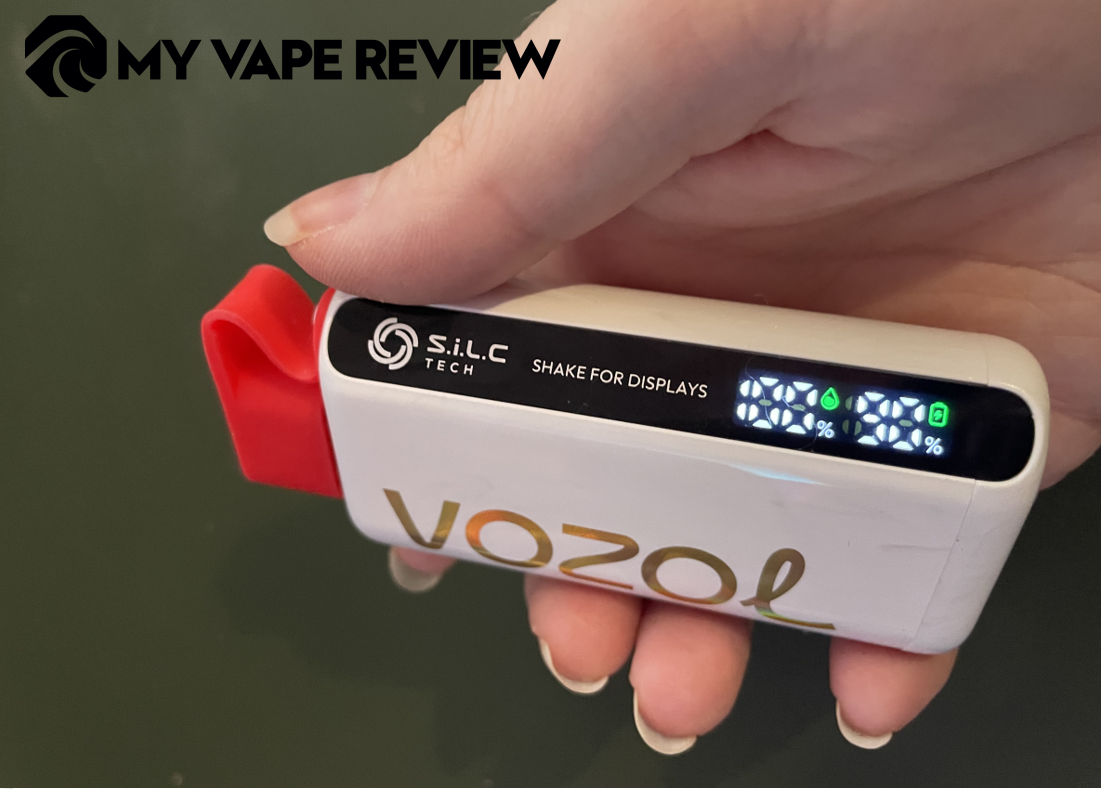 To mitigate the need to charge more frequently, the disposable is equipped with rapid charging capabilities. The USB Type-C port is located on the bottom of the vape. In testing, we were able to recharge the Star 9000 from 0% up to 100% in about 30-35 minutes, multiple times. This consistent recharge time is great news for busy vapers!
5. Performance
The Vozol Star 9000 incorporates VOZOL's S.i.L.C tech, which stands for Smooth, identical, Long-lasting, and Clean. This technology definitely shines through. Each hit is smooth as butter, and the flavor is very consistent. And with each exhale, you are greeted with large voluminous vapor clouds. Like most other disposables, the Star 9000 offers an MTL or mouth-to-lung vaping experience that is popular with most vapers.
As for being long-lasting, that is 100% true. The 14 mL of 5% nicotine e-juice (also available in 0% and 2%) can support up to 9000 puffs. For high-volume vapers, this can last 5-9 days, helping vapers spend less money buying a new disposable every few days.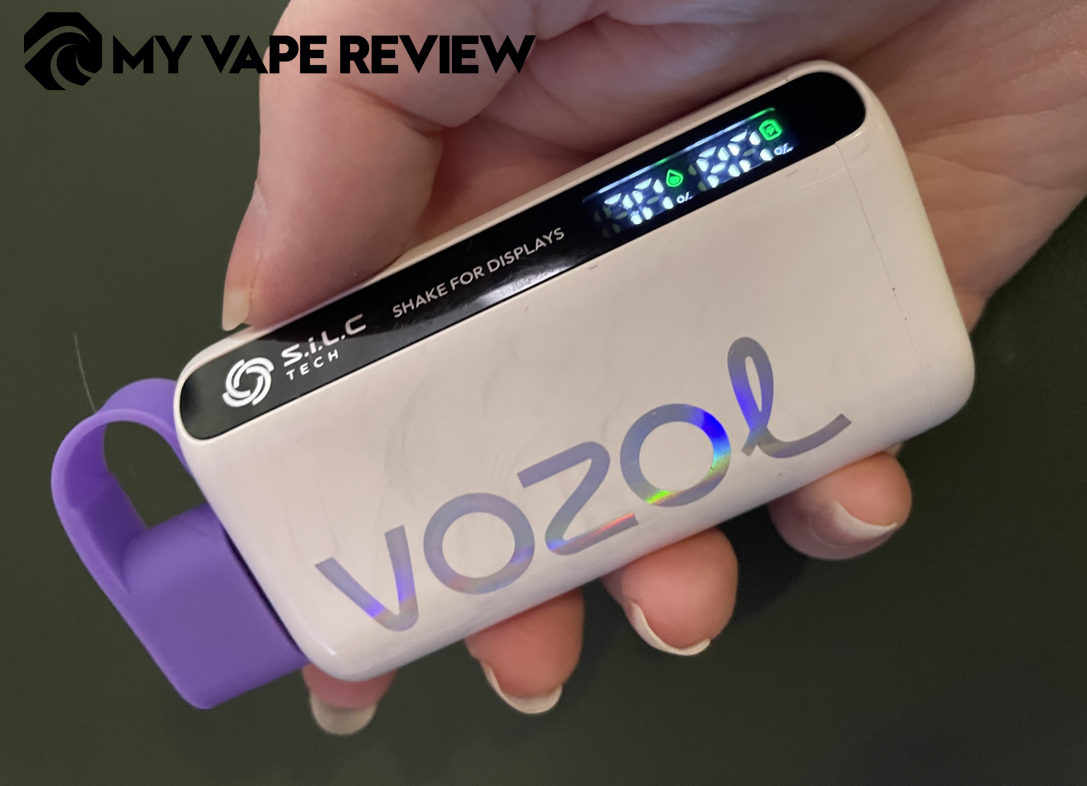 There's no specific information available on what type of coil is used, but based on the flavor delivery and vapor temperature, it's probably a standard mesh coil.
6. Price
The Star 9000 is relatively new to the market, so there aren't that many online retailers currently offering the disposable. But we did find the vape priced at $17.99 from General Vape. At that price point, you are getting roughly 500 puffs of value for each $2 you spend. When comparing this against other disposable, this is very competitive.
7. Verdict
What primarily sets the Star 9000 apart is its phenomenal 9,000-puff capacity, addressing the dire needs of high-volume vapers. The variety it brings with 15 diverse flavors, especially its commendable watermelon blends, ensures that it has something for everyone. From a design perspective, VOZOL demonstrates both innovation and thoughtfulness – the shake-to-display feature is a novel touch, and the protective mouthpiece cover emphasizes the company's attention to practical details.
While its battery might be of lower capacity, the device counters this limitation with its ultra-fast charging capability, a boon for the always-on-the-move user. Performance-wise, the introduction of VOZOL's S.i.L.C tech promises and delivers a consistently smooth vaping experience, both in terms of flavor and vapor production. Finally, the pricing is the cherry on top. At approximately $17.99 and yielding about 500 puffs for every $2 spent, it's a hard bargain to beat in today's market.
If you're in the market for a reliable disposable that offers a bang for your buck, the Star 9000 is undeniably worth considering.