The Nevoks Feelin A1 Pod Kit is Nevoks' flagship new product in 2023. I received it a few weeks before the product was released and so far we have spent a few weeks testing it. In fact, from its design to its performance, Feelin A1 really deserves to be called a "flagship" product. Let me tell you more about Nevoks Feelin A1.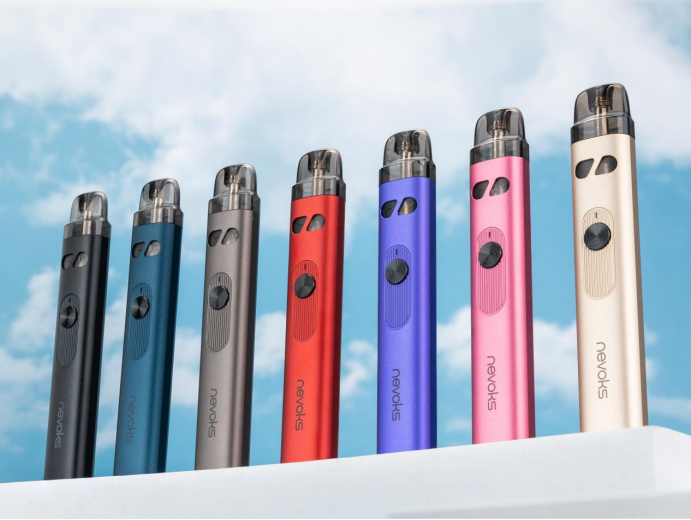 1. Design
The Nevoks Feelin A1 has a simple, slim and elegant appearance. Obviously, the front is the fire button, above is the visual E-juice window, charging port on the side, the back contains the design of adjusting airflow, not at all cumbersome also just to meet our needs.
2. Function
The Nevoks Feelin A1 Pod has a maximum output of 30W. I was vaping the Feelin A1 at close to 30w max power, and in that respect I really felt it was not just an MTL pod, but also a stronger DTL pod system than others.
The innovative leak-proof design gives me great peace of mind that the double bottom shell construction will prevent e-juice from falling out and leaking into the battery. Enjoy the ultimate worry-free vaping experience. No need to worry about getting liquids in your pocket when you're out. I've had the Feelin A1 with me almost every day since I received it and keep it handy on my desk at work and so far I've seen no problems here.
It has a 1000mAh battery capacity and is rechargeable, so the long battery life allows you to enjoy the deliciousness for a long time, I have used it for at least 6 hours and it is still working.
In addition, it has a visual E-juice window, which makes it easy for me to check the capacity of the vape oil at any time to avoid running out of vape oil and damaging the device by direct dry burning.
An interesting point is that the Feelin A1 is different from the usual pull activation of a vape pod in that it support 3 levels of power adjustment, the user can choose any output power according to personal taste and preference. Clicking the fire button 3 times puts the module at 3.6V for the 30W module when using the 0.4-ohm coil, which is my favorite state.
3. POD
Nevoks Feelin A1 Pod can meet your needs for different resistance coils and different flavors of vaping. The package comes with 3ml of 0.4ohm(DTL) and 0.6ohm(RDL) resistance coils, and I use the 0.4ohm resistance to light the battery at 25-30W to get the best vape, which is good for me.
If you want to experience more options, the Feelin A1 is also available with 2ml and 3ml capacity 0.8/1.2-ohm coils with visual E-Juice window and adjust airflow, the whole vape process is under your control, I have to say how much it makes people want to explore the device.
Summary Features:
– 30w Max Power Output
– Innovative Leak Proof Design
– Accurate Airflow Control
– Visible E-juice Window
– 3 Levels Wattage Adjustment
– Long Lasting 1000mAh Built-in Battery
– 4 Types of Adaptable Pods
What will you get when you buy a Nevoks Feelin A1 Pod?
Feelin A1 Device (1000mAh)*1
Nevoks A1 Pod 0.4Ω (3ml)*1
Nevoks A1 Pod 0.6Ω (3ml)*1
Type-C Cable*1
User Manual*1
Size – 21*13.4*120 mm
Weight – 45g
Output Power – 10-30W
Battery Capacity – 1000mAh
Device Material: Aluminum Alloy
Seven Colors:
Grey/Red /Blue/Pink/Gold/Purple/Black
4. Verdict
The Feelin A1 Pod Kit is perfect for those who are looking for high quality vape and convenience. It has a very user-friendly design and features, and is very easy to use. If you are looking for a great vape to use, consider the Feelin A1 Pod Kit.
More Vape Review at MVR