We have many unique designed vapes that blew us away at first sight in 2021. Right now at the beginning of 2022, Suorin Air Pro has made on us the exactly same impression.

The 18W pod vape from Suorin is super thin, roughly 12mm wide only. To compare the device to some other things, what firstly pops into our minds is the handheld game machine going viral back in the millennium. In fact, this is a typical Suorin style. The brand's last two models, Air and Air Plus, just look the same way. Differences among the three models are mainly on the inside. Air Pro makes a leap in both the battery and cartridge capacity, to a higher 930 mAh and 4.9mL respectively.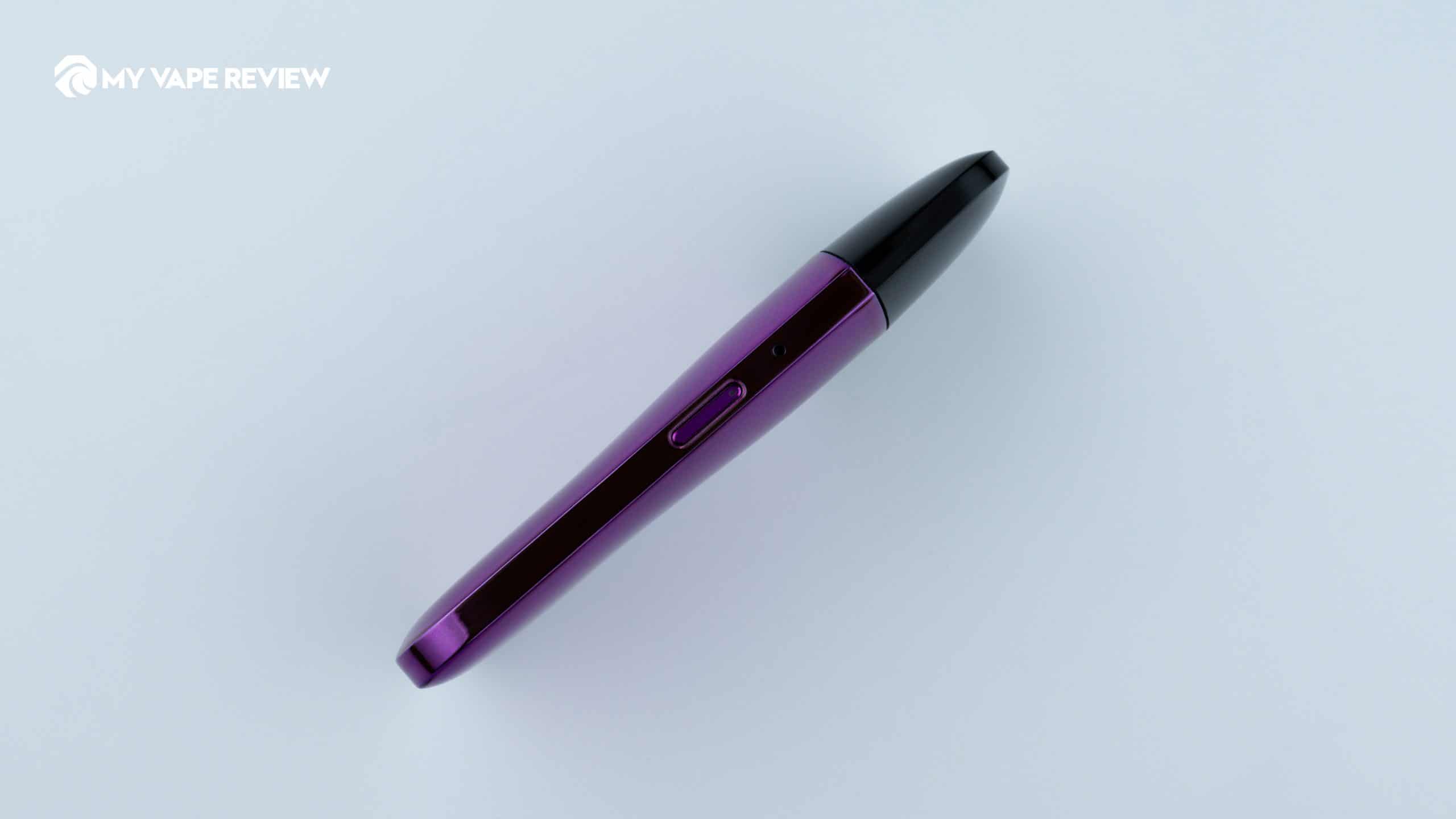 After days of testing on the Suorin Air Pro, we've sorted through all the device's pros and cons in the paragraphs below. By the way, we highlight aspects we like in green, and those we don't in red, to make your reading easier. Let's kick it off!

Product Info
Feature
Thin and light design
Dual activation
LED light and vibration interaction
Zinc alloy shell in color gradients
Pogo charging (charging dock hasn't been released yet)
Specification
Cartridge Capacity: 4.9ml
Coil Resistance: 1.0Ω
Output Power: 18W
Battery Capacity: 930mAh
Charging current: 1000mAh
Material: Zinc Alloy+ PCTG
Charging Port: USB
What's in the Kit?
Suorin Air Pro x 1
USB Cable x 1
User Manual x 1
Cartridge (in a separate package) x 1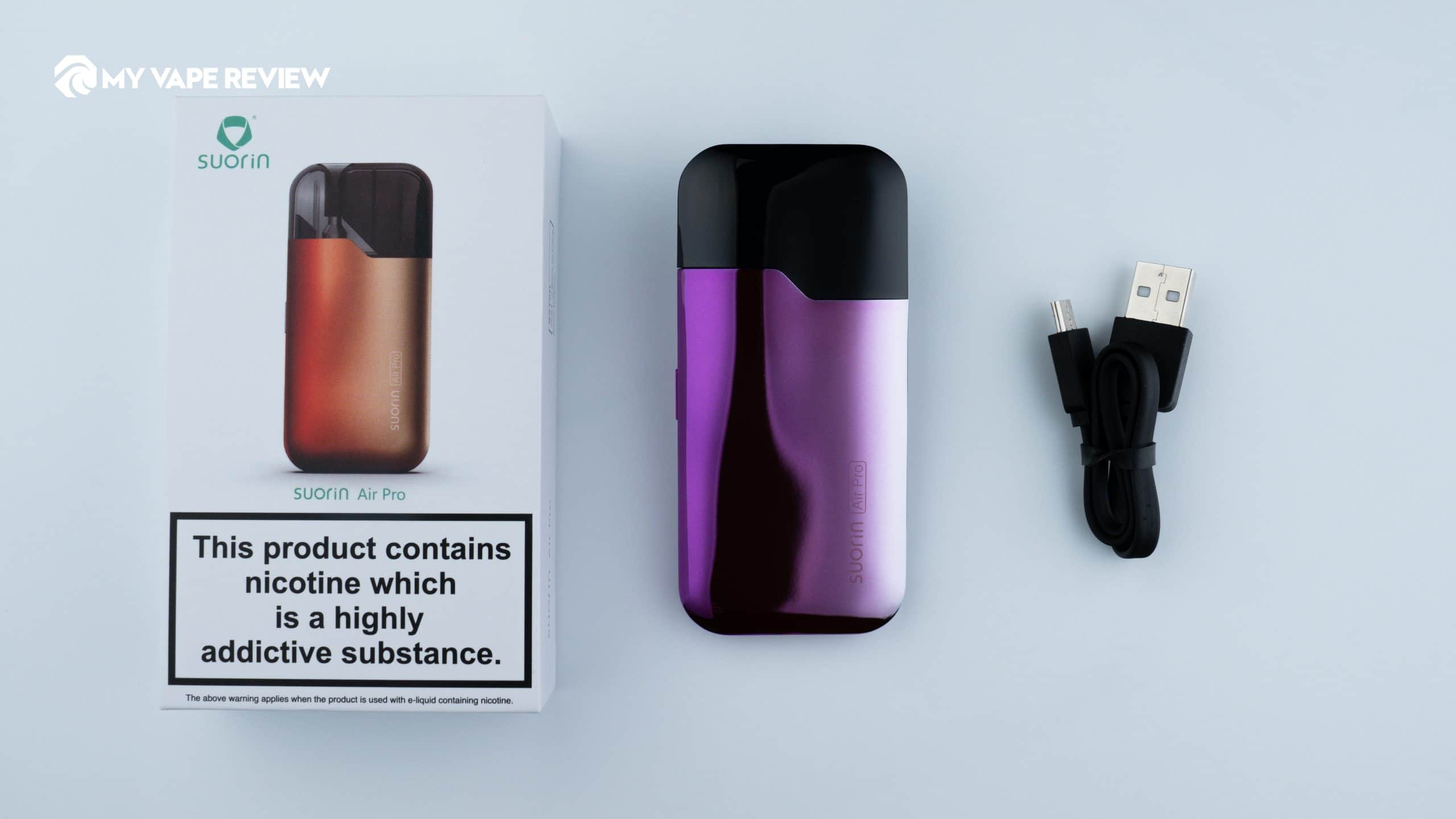 Lab Test
Our test is conducted on fully charged device, and each test is conducted for at least 3-4 times.

We used 1.0Ω coil to test Suorin Air Pro pod kit. The real-time output power was 10.49W. The charging rate was tested at 0.93A with the Micro-USB charger.
Performance – 8.5
Suorin Air Pro runs on a constant 18W. Frankly speaking, the cloud it produces at this power level has really beaten the pants off most of its counterparts. Considering it's just a pod with so many limitations, we can speak to that the clouds are big and thick enough. We have no complaints on this point.
The kit comes only with a single 1Ω mesh coil, which counts as a retreat back from the earlier Air Plus including two coils (pre-installed in the cartridge) in the kit. Fortunately, Air Pro's coil turns out to work really well with the vape juice we used. It could deliver an abundance of flavors, and the good flavor remained until we used up almost a cartridge of juice. The throat hit was a tad harsh, in a lovely way though. The only thing we dislike is the crackling sounds following each of our drags. The noise is not that loud, and doesn't last long either, yet still bothered us sometimes.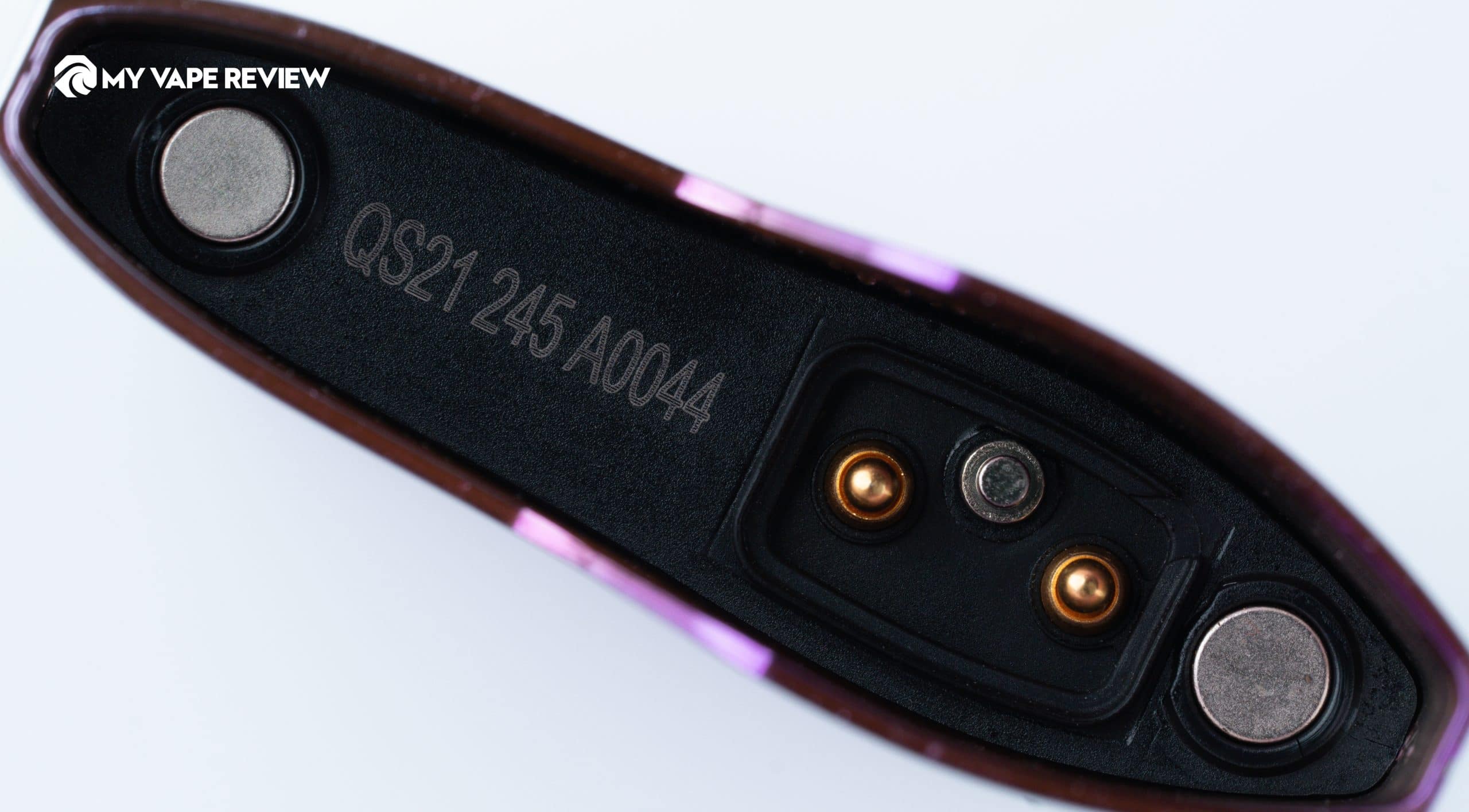 Design – 8
Body – 9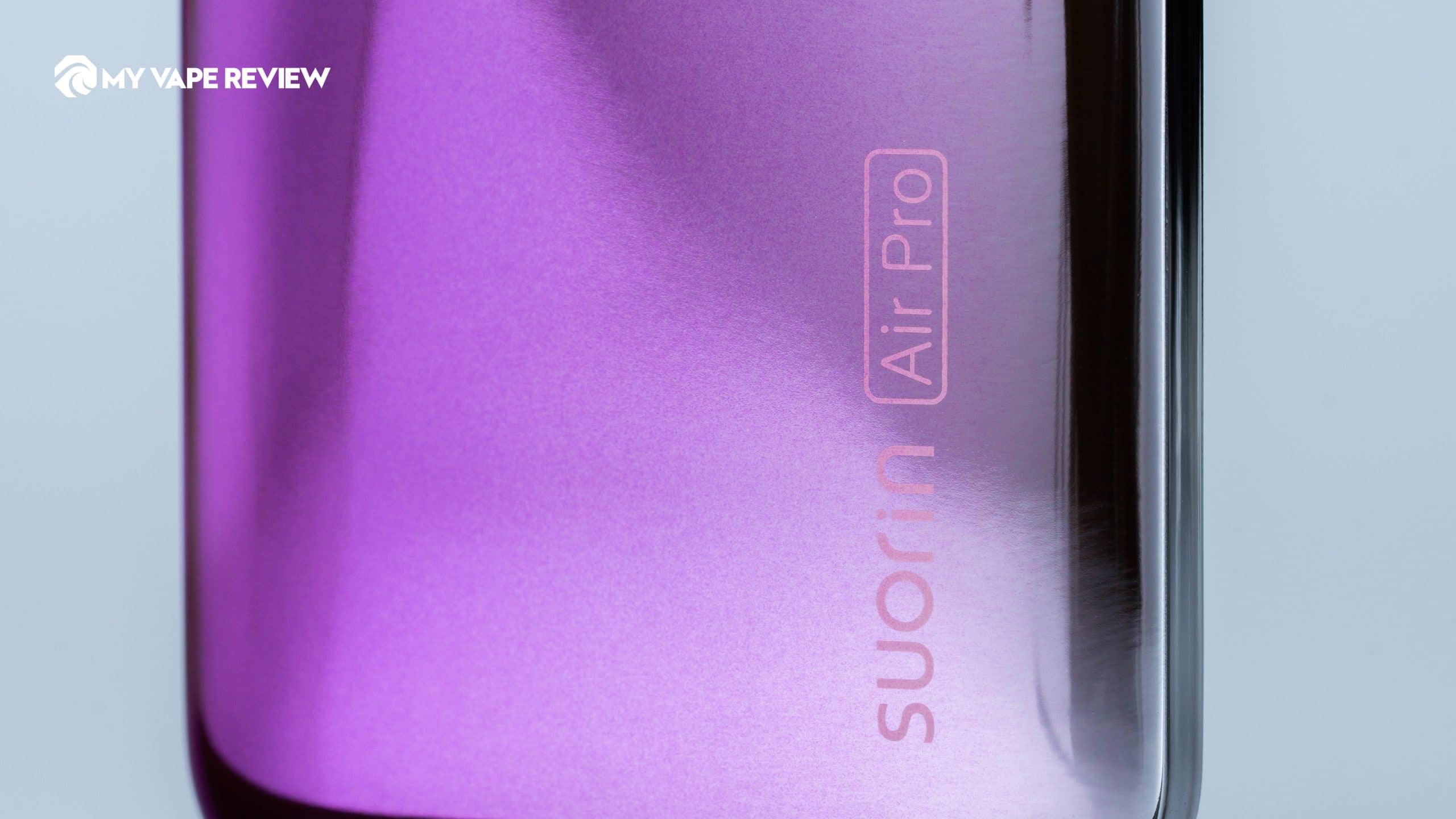 Personally, Suorin Air Pro's design has beaten out its two predecessors. Although the three adopt same zinc alloy coating, the latest one looks most eye-catching and seemingly feels of highest quality.
The one we tested was Lavender Purple. It's free of patterns, but uses color gradients to spruce up the entire body. Air Pro offers 4 more colors in such a gradient style, both clean and simple while having a necessary highlight. There're another 6 colors, among which 3 come in neat dot and line patterns, and 3 in minimalism pure colors. Overall, color options of Air Pro are extensive enough to cover a variety of personal preferences. The thing to pay attention to is coating in this material couldn't be immune to fingerprints and smudges.
Cartridge – 7
The cartridge of Suorin Air Pro is much wider than typical ones, three times wider I suppose. So do the cartridges of the earlier Air and Air Plus. Affected by the greater width, Suorin ditches an air hole at one end of the cartridge, rather than at the middle as usual.
It's rare among pod systems, but not user-friendly actually. Whenever we're about to take a drag, we have to firstly make sure we've pointed the right side (where the air hole sits) to us. We admit this extra step doesn't really cost any great efforts, but we couldn't see any points in making things unnecessarily complicated.
In addition, the cartridge transparency continues to be a bummer like previous Suorin Airs. Suorin doesn't place a see-through window in any of the Air series products, Air Pro included, probably because the entire cartridge is made of translucent PCTG. But it's tricky that the cartridge is in BLACK PCTG. We could see the liquid level vaguely, only if we stared at it for quite some time.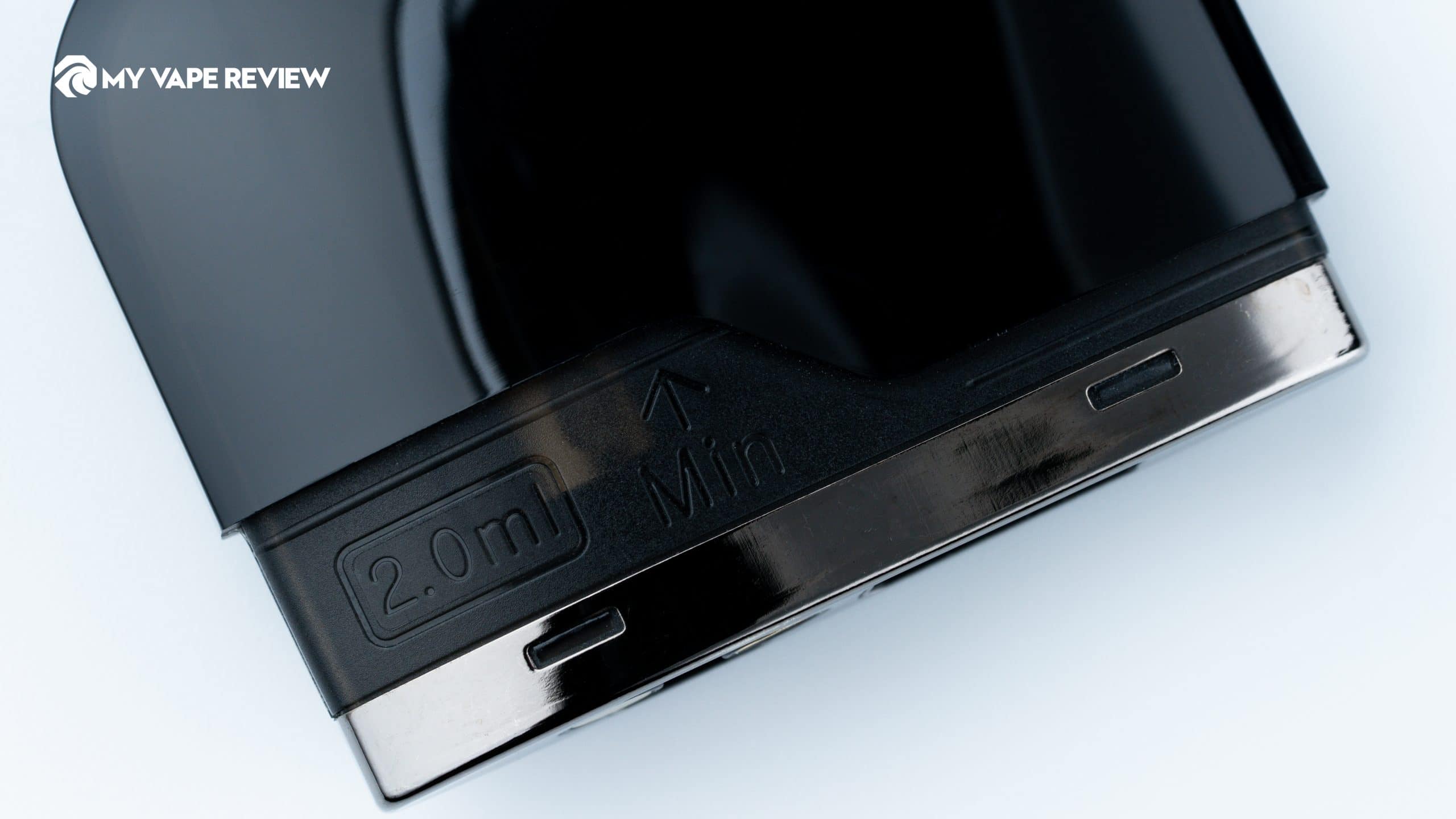 The refill port lies at the bottom of the cartridge, and is covered by a rubber lid. What's special about the port is a "Min" sign resting next to it. The sign is intended to remind us of a minimum refilling level. We do love this sweet indicator. Besides, we have yet to run into any sort of leakage issues in our testing.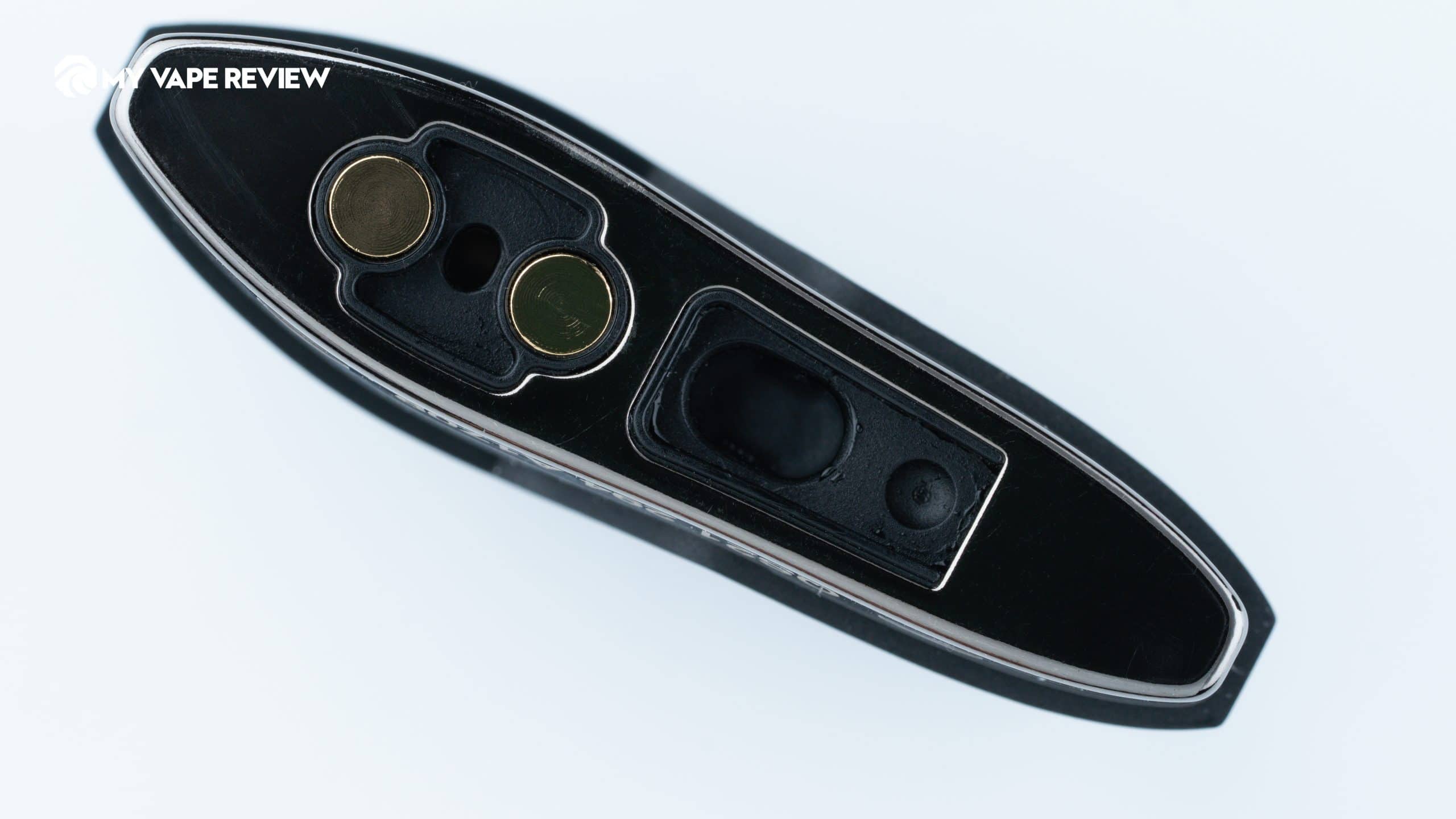 Battery & Charging – 8
Suorin Air Pro has a USB charging port, to which we prefer the more common Type-C port. Its internal battery comes in 930mAh. For a heavy user, it could perhaps last for six or more hours on a single recharge.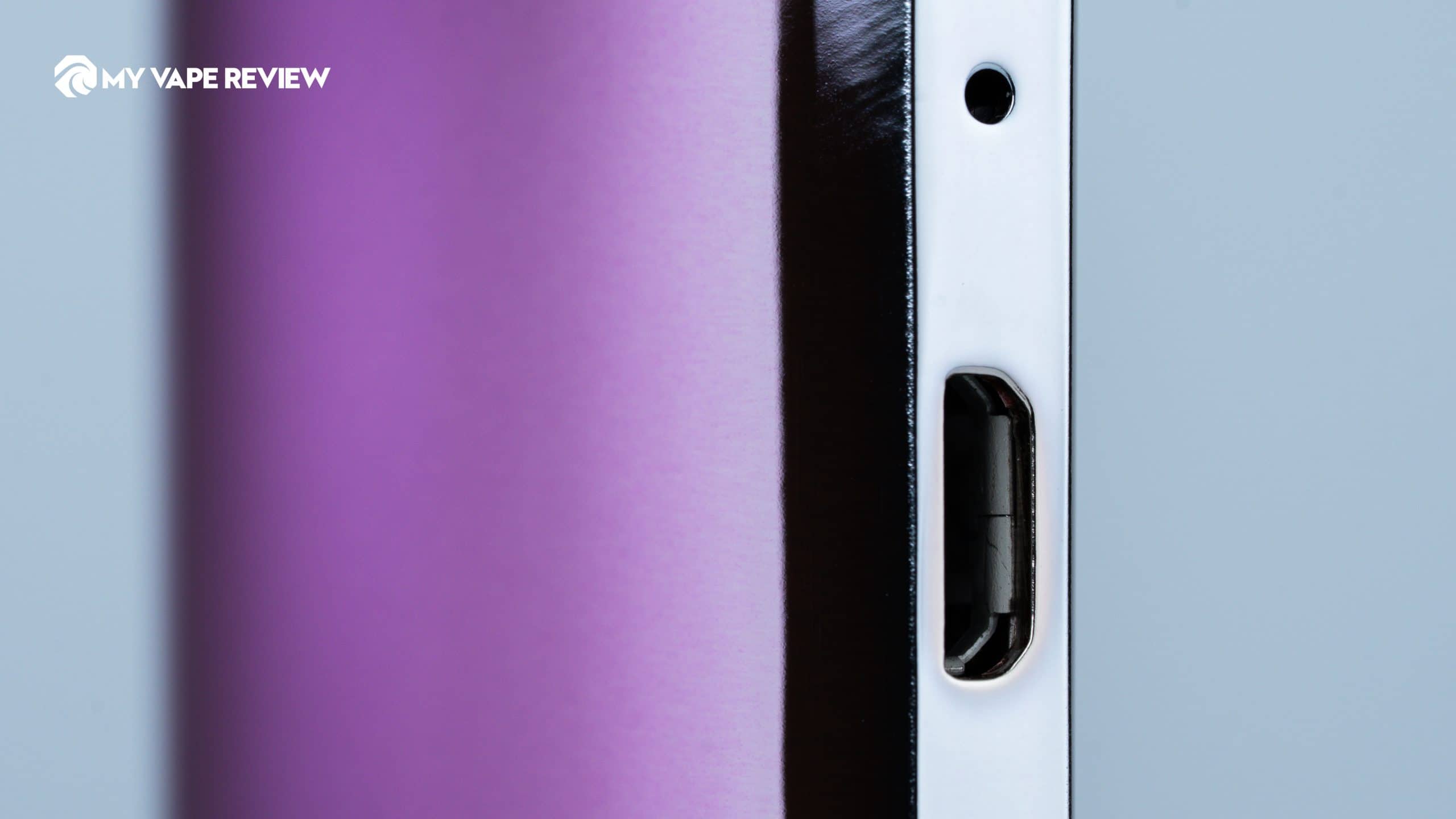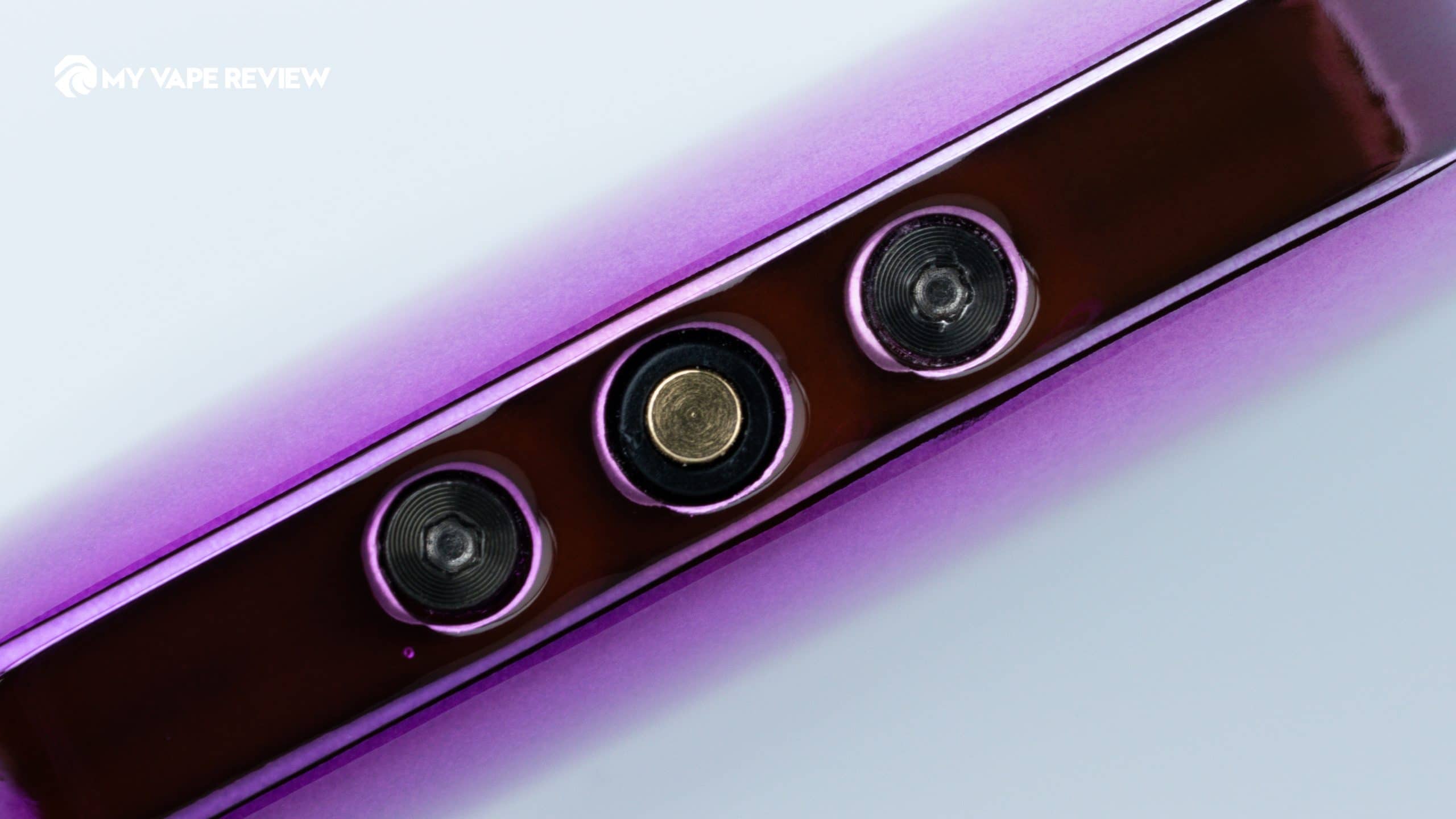 The real highlight of Air Pro's charging, as Suorin claims, is the innovative Pogo charging. Pogo connection is nothing new in the world of electronics, but it's really the first time we see it applied into a vaping product. It's always inspiring to learn about a mixture between latest techs and vapes. By far, Suorin hasn't released its official compatible Pogo dock, which means it's not yet included in the kit. Keep looking forward.
Button – 9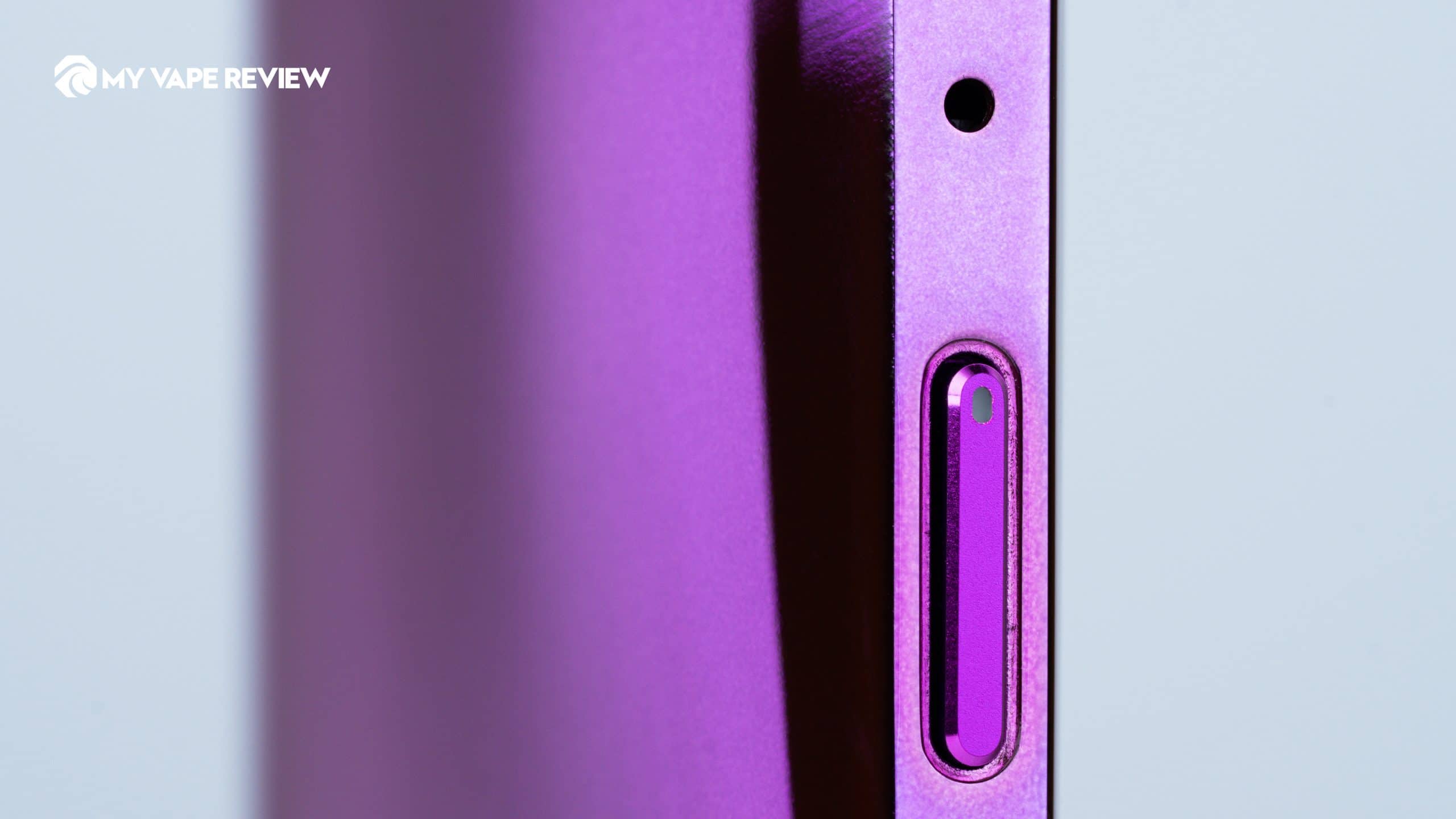 The pod vape's fire button sits on the left side. And at the upper part of the button is an extremely tiny LED light, which would flash red or green when we recharge and power the device on or off. It also flashes when the chip detects issues like a low battery, or a single puff exceeding 5 seconds.
It goes without saying Suorin Air Pro supports dual activation, either by a draw or pressing the button. The ignition response is quick—no delays were found by us at least. The button also helps in other scenarios such as when we want to save battery power. Or we're afraid that we activate the device by accident when it's packed in a bag.
Price – 9
To give you a better understanding about its price, we'll offer the MSRP of all Suorin Air series products.
Suorin Air Pro: $24.99
Suorin Air: $21.99
Suorin Air Plus: $29.99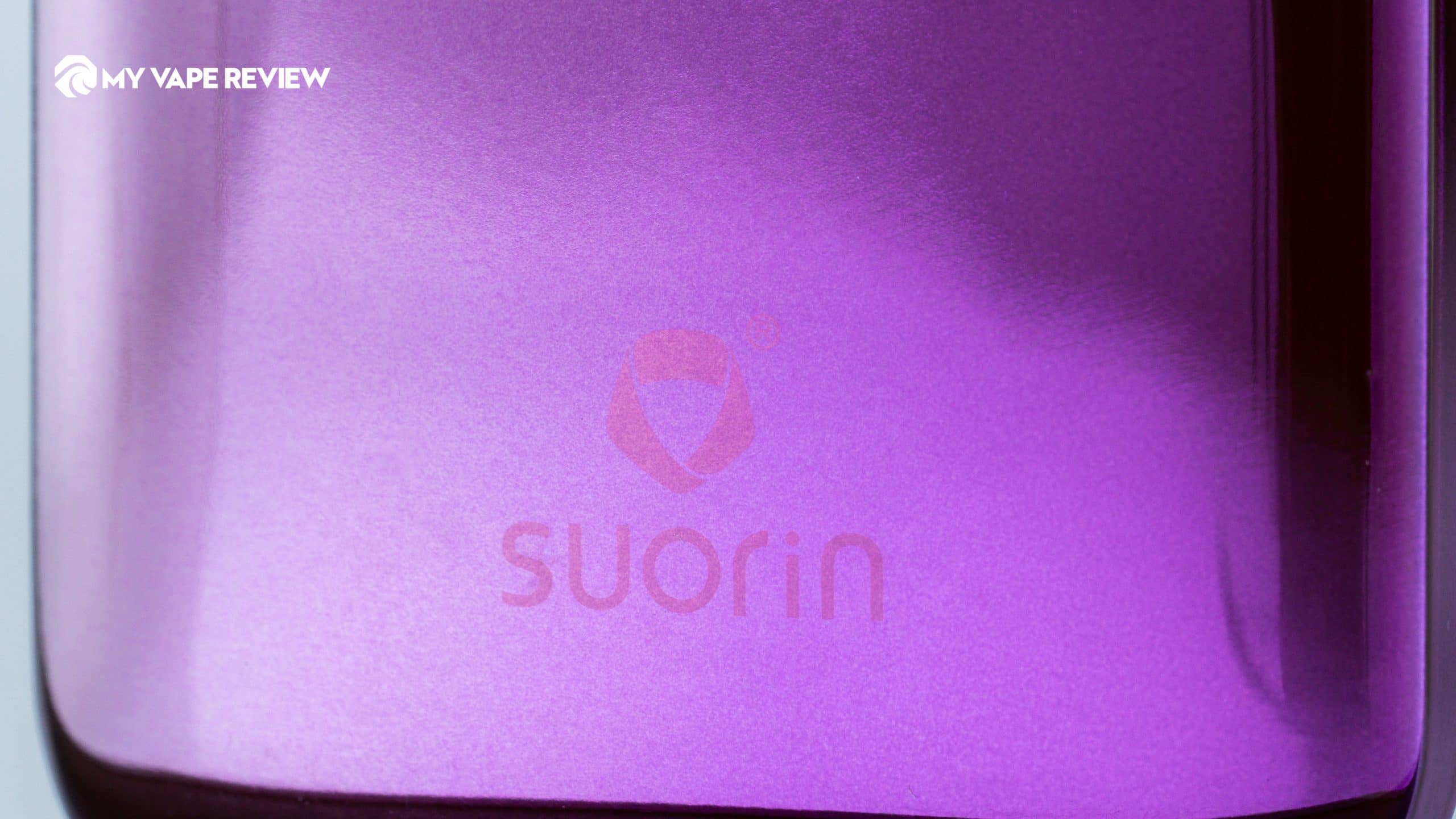 We've mentioned before that Air Pro has enhanced both the cartridge and battery, so no wonder it costs more than the original Air. Air Plus is priced a little higher maybe because it includes two pre-installed coils, one 0.7ohm and the other 1ohm, in its kit.
We can also have a look at the pricing of Suorin Air Pro's competitive products which fall between $29-35, Suorin Air Pro is definitely a winner with a lower price.
In comparison, the pricing of Suorin Air Pro is acceptable at any rates, if not pocket-friendly. If you have interests in the product, we'd like to say it's worth a try.
Verdict
Suorin Air Pro is an ultra thin and lightweight pod system in a cuboid shape. Surprisingly, its fabulous portability doesn't come at the cost of the scaling down of various parameters, which surpass many its fellows instead. The pod's performance and build quality both kick out. While there're indeed several pitfalls in its design we ran into, including the troublesome air hole and the indistinct cartridge that makes checking the liquid level a sheer torture.
Have you tried the Suorin Air Pro yet? If yes, what's your take on the product? If not, maybe you want to have a try now? Leave your comment below! We hope this review is helpful for you.