Introduction
Recently, UWELL has further expanded its pod kit ecosystem with two new products—Caliburn A2 Pod Kit and Caliburn AK2 Pod Kit. The two pods look quite different at first glance, with one in conventional pen design while another shaped like a lighter. However, they have a lot of similarities actually. Take the specifications as an example, both of them feature a fixed power output at 15W, a built-in 520mAh battery and a 2ml pod cartridge.
Uwell Caliburn A2 and AK2 pods both sound appealing but bear quite a few similarities, then which one gains the upper hand? Or which one is your right match? You'll find all the answers in our review. Based on our weeks of tests on Uwell Caliburn A2 and AK2 pods, we summarized their pros and cons in a contrastive form as below, to give you more straightforward information.
In this review, we highlight aspects we like in green, and those we don't in red.

Product Info
Specification
Material: Aluminum Alloy, PA
Size: 110.1mm x 21.3 mm x 11.7 mm
Net Weight: 31g
E-Liquid Capacity: 2ml
Wattage Range: 15W
Battery Capacity: 520mAh
Material: PA, Aluminum Alloy, PC+ABS
Size: 43.5 mm x 11.8 mm x 67.9 mm
Net Weight: 35g
E-Liquid Capacity: 2ml
Wattage Range: 15W
Battery Capacity: 520mAh
Coil Specification
FeCrAI UN2 Meshed-H 0.9Ω coil
Feature
Pro-FOCS flavor testing technology
Top-filling
Draw or button activation
Comfortable grip and portability
Visible window for e-liquid checking
Pro-FOCS flavor testing technology
Top-filling
Lanyard design that makes carrying easier
Visible window for e-liquid checking
Package Content
1 x pod system
2 x Meshed-H 0.9Ω CALIBURN A2 Refillable Pod (one pre-installed and one for replacement)
1 x User's manual
1 x pod system
2 x Meshed-H 0.9Ω CALIBURN A2 Refillable Pod (one pre-installed and one for replacement)
1 x Silicone lanyard
1 x User's manual
Performance
Both Uwell Caliburn A2 and AK2 pods are installed with an irreplaceable Meshed-H 0.9Ω coil. In general, the coil comes up to our standards. First of all, it produces moist and dense vapor, a perfect indication of what an excellent cotton coil should be like. What's more, the coil fits well with almost any liquids. The flavor carried by the vapor was intense and sweet, with no burnt taste or flavor loss at all even after 3rd refills. Lastly, the coil resistance is specially designed for MTL vaping, which is definitely a big plus for MTL lovers.
But the coil comes with slight spit back from time to time. When we took puffs on both Uwell Caliburn A2 and AK2, some e-liquid drops constantly splashed around onto the tongue, really hot sometimes. We believe the coil still has some room for improvement. In addition, the coils are not replaceable. If the coils burn out, we need to throw away the entire pod for replacement, which in my personal view is a drawback. Here're the reasons: first, we're deprived of freedom to use coils of different resistance; second, the cost of replacing an entire pod must be higher than replacing a mere coil.
In terms of liquid leakage, Uwell Caliburn A2 and AK2 pods show some differences. Based on our 10-day test, we must give AK2 pod credit for its anti-leaking tech—there's no leakage at all. Nevertheless, we found liquid constantly leaking out of A2's tank after our 2nd refills. Maybe that's because we uncapped the drip tip. Anyway, Caliburn A2's leakage is kind of troublesome.

Function – 8
Let's start from the advantages. Uwell Caliburn A2 and AK2 pod kits both show quick responses to firing instructions. Even when we took a very slight drag on the two devices, firing can still be activated. By the way, to switch on the two devices, press the fire buttons for 5 times within 2 seconds. Moreover, while their output wattage is fixed at 15W, it's enough for producing big vapor clouds.
But Caliburn A2 and AK2 pods provide too little functions to satisfy various vaping needs. Neither of them have those regular functions commonly seen in recent vape products, such as temperature control, screen display and memory mode. They don't offer many choices in airflow adjustment either.
Speaking of the function, the main difference between Uwell Caliburn A2 and AK2 lies in the fire button. The Caliburn AK2 pod has no fire button and thus only supports drag activation. And it's for this very reason that we don't have to be concerned about any accidental firing.
Uwell Caliburn A2 has a fire button, so we can switch between drag and button activation. But as the key lock function is not available in A2, remember to switch it off to prevent any possible firing by accident if you won't use it temporarily.
Overall Quality and Design – 9
Appearance

The main bodies of Uwell Caliburn AK2 and A2 are both made of aluminum alloy with a rich luster, same as the previous Caliburn G. At the top of their bodies is a window specially for checking the liquid level. We love their creative and vivid design. They also feel nice in hand with comfortable grips.
Caliburn A2 pod offers six colors to choose from, that is blue, green, black, grey, iris purple and orange, and it's designed as traditional long, slim vape pens. Caliburn AK2 distinguishes itself with a lighter-shaped façade. Besides, it's also complete with a lanyard to be worn around the neck, so it would be easier to carry it anywhere.
Pod
Compared with the previous Caliburn-G, the pods of Uwell Caliburn A2 and AK2 show a big advance in the mouthpiece design. The newly improved mouthpieces have been slimmed down to better fit our mouths.
Although Caliburn A2 and AK2 takes prides in their top-filling, the design doesn't really make things a snap as we might expect. First, it's not easy to uncap the drip tip. And liquids always spilled over somehow when we filled the pod.
Yes, we're impressed that Caliburn AK2 didn't leak any liquid during our tests. However, maybe in pursuit of such absolute anti-leaking, UWELL sets a way too tight lid for AK2's fill port. I have to say I've put myself in many troubles just to uncap the lid, like I got my nails cracked. Or for another example, the device has dropped to the ground for many times just because we're forced to remove the cap quite hard. But we surprisingly found Caliburn AK2 was stout. There wasn't any scratch on it even if it was fallen from 1.5 meters high.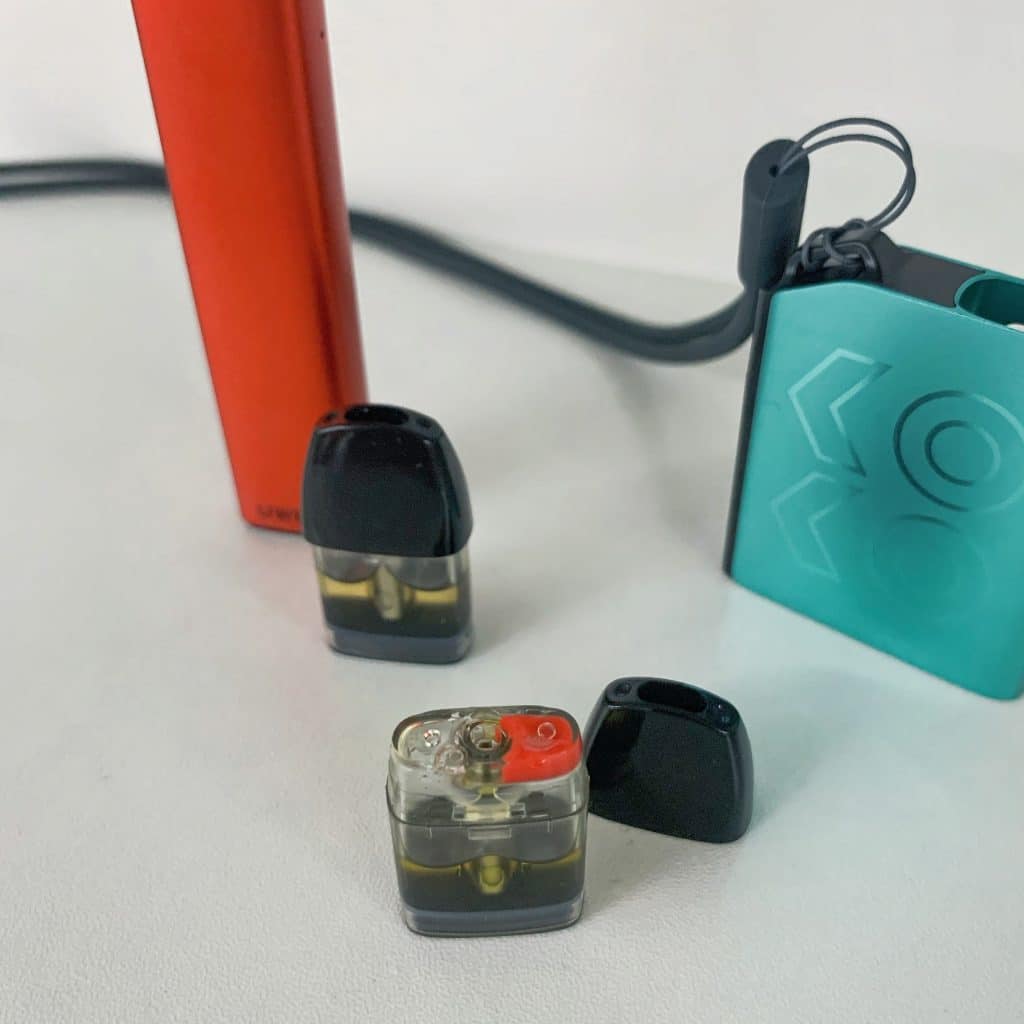 Battery
Uwell Caliburn A2 and AK2 are equipped with an internal 520mAh battery, which is adequate for all-day vaping, and a Type-C charging port. Their fast charging is incredible—we got the two devices fully charged within less than one hour. But the two pod kits don't provide the Type-C cable. If you have interest in them, prepare one in advance.
Differences:
Uwell Caliburn A2 pod kit has a

light indicator to signal the battery level

, so don't worry about any sudden power-off.
Ease of Use – 9
Operation
As we mentioned above, Caliburn A2 and AK2 keep their functions to the minimum. Accordingly, their operations are equally easy as pie, perfectly fitting any vape beginners or people who're just looking for substitutes for cigarettes. A2 and AK2 have no screen or multiple mode selection. We didn't find any difficulty in following the user's manuals to operate the two devices.
Compared with AK2, Uwell Caliburn A2 pod may be a bit more complicated, as it has an extra fire button (it's drag or button activated). But you know the judgment is relative. After all, how could a fire button be regarded as any complicated operation?

Price – 8
UWELL Caliburn A2 Price:
$29.99 at elementvape.com (US) with an original price of $34.99
UWELL Caliburn AK2 Price:
$49.99 at elementvape.com (US) with an original price of $42.99
Uwell Caliburn Pod Price:
$13.99 at elementvape.com (US) with an original price of $15.99
To give you a clearer picture, we put the price of Caliburn's last generation below:
Caliburn G's MSRP is at $39.99, and it's now sold at $23.99 at elementvape.com.
Considering Uwell Caliburn A2 and AK2 have so many similarities, and AK2 doesn't feature any tech or design that makes it outperform A2, A2 is absolutely more worth buying. Even if in contrast with Caliburn G, the latest Caliburn A2 is only a little more expensive.
But as we said before, the coils of Caliburn A2 and AK2 are not replaceable. Replacing a pod inevitably costs more than a coil. If you're searching for a vape product for long-term use, you need to take this factor into account.
Overall Thoughts
There's no doubt that Uwell Caliburn A2 and AK2 are designed for vape beginners. Their limited functions don't allow for various customized vaping experience. The output wattage is fixed, and flexible airflow control is not available. But it's for the same reason that the two pod kits are fairly suitable for people who are about to embark on their first vaping journey with a simple device. Caliburn A2 and AK2 don't require any sweaty operations. We don't even have to think about replacing coils—if there's anything wrong with the coil, just throw the entire pod away and install a new one. When it comes to the price, Caliburn A2's price is more reasonable, nearly $10 cheaper than AK2.
Have you tried UWELL Caliburn A2 or AK2 pod kit yet? If yes, please share your thoughts with us; if not, do you want to have a try now? We hope this review is helpful for you.