VAPORESSO, a leading brand in the vaping industry, is set to bring its latest ARMOUR series to participate in the highly anticipated Intertabac 2023 exhibition at Messe Dortmund from September 14-16. Intertabac is the world's largest trade fair for tobacco products and smoking accessories, allowing trade visitors to meet top decision-makers from the retail, manufacturing, and service sectors.
At the fair, VAPORESSO will unveil this latest ARMOUR series, featuring a unique design and exceptional durability, at booth B12.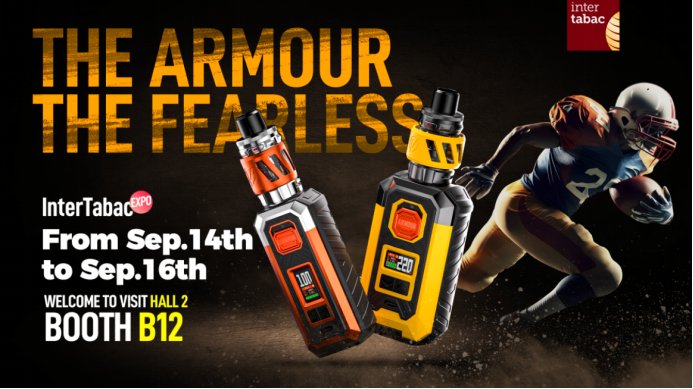 The ARMOUR series, distinguishable from the typical Direct-to-Lung (DTL) style in the market, prioritizes user-centric design and superior quality. Consisting of the ARMOUR MAX and ARMOUR S, the series offers both dual-battery 21700 kits sand single-battery kits.
Leveraging the highly acclaimed iTank 2 and GTi cores, the ARMOUR series ensures the outstanding flavor and an extended lifespan. Additionally, meticulous design enhancements have been made to the tank and mod, providing enhanced protection and aligning with the rugged durability of the ARMOUR line.
In addition to the ARMOUR series, VAPORESSO will also showcase its popular XROS and LUXE collections at dedicated display areas. The recently launched LUXE Q2/SE/X PRO, alongside the classic models, will be on full display, offering visitors a comprehensive experience of VAPORESSO's diverse product range.
Known for its brand DNA centered around innovation, reliability, and style, VAPORESSO has become a trusted name in the industry, offering a wide range of products catering to various vaping styles. By actively participating in events such as the Intertabac 2023, VAPORESSO demonstrates its commitment to staying ahead of the competition and continuously pushing the boundaries of innovation.
Through this leading event for the tobacco industry that brings together international market leaders and industry representatives from all areas, VAPORESSO aims to strengthen its relationships with its user community, while also establishing new connections with more industry experts, fostering a collaborative environment for future growth and development.
Now Experience the ARMOUR Series  Vape Kit 
From September 14-16, visitors are encouraged to visit booth B12 at Messe Dortmund to discover VAPORESSO's latest offerings.
About VAPORESSO
Established in 2015, VAPORESSO is committed to creating a smoke-free world and enhancing the quality of life for its users. Through continuous innovation, stringent quality control, and substantial commitment, VAPORESSO produces products that cater to all levels and styles of vapers. For more information, please visit: https://www.vaporesso.com/ .