The BIFFBAR brand is concerned with more than just creating delicious flavors and a great vaping experience – they want to design beautiful vapes that are fashionable accessories to your life. In other words, if you are going to carry a vape around all day, you might as well look good doing it. The BIFFBAR Lux 5500 is a representation of this philosophy, with its leather-like body with embossed patterning and rich color options.
These disposables come with 13 mL of 5% nicotine e-juice in various fun and exciting flavors. The mesh coil delivers pure and consistent flavor, and a pleasant MTL hit. Continue reading to learn more about the BIFFBAR Lux 5500's features and performance.
E-Juice Capacity: 13ml
Battery: 650mAh
Nicotine Strength: 0~5%
Coil: Mesh
Puff Count: 5500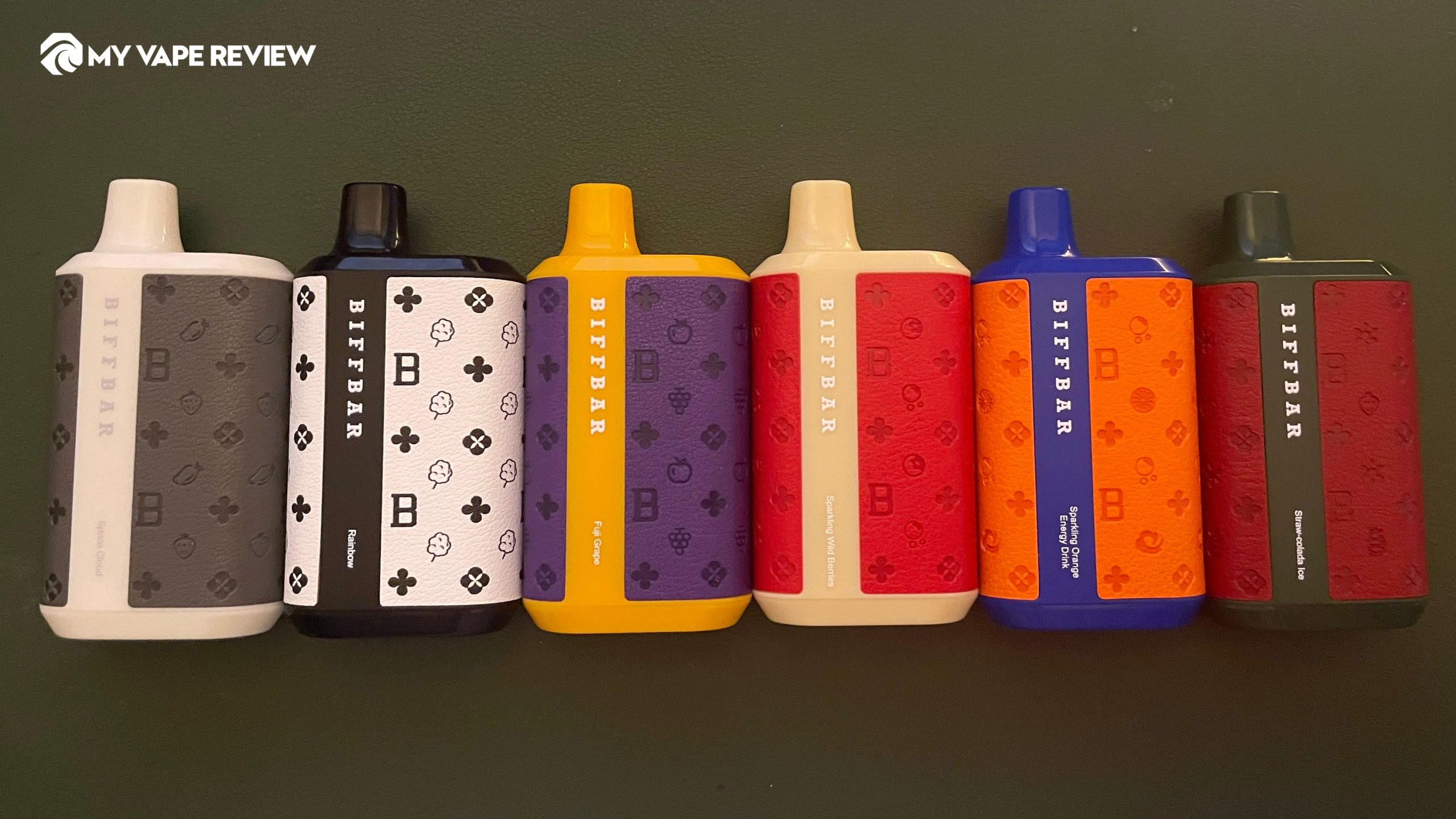 The BIFFBAR Lux 5500 is currently available in 15 flavors! That's a huge range of flavors, so you have many options to choose from. BIFFBAR Lux 5500 comes in the following flavors:
Frozen Chocolate, Sparkling Wild Berries, Fuji Grape, Rainbow, Dragon Paradise, Love Story, Straw-colada Ice, Sparkling Orange Energy Drink, Summer Peach Ice, Space Cloud, Cali Mint, Watermelon Ice, Strawberry Ice, Blue Razz Ice, and Alaska Mint.
You might notice there is a nice balance of icy flavors, fruity flavors, and a few dessert flavors thrown in there. We received 10 of the 15 flavors for review. We won't be able to review Alaska Mint, Strawberry Ice, Cali Mint, Watermelon Ice, Strawberry Ice, and Blue Razz Ice. While that's most of the icy flavors, we'll at least get the change to evaluate their ice flavors with Summer Peach Ice and Straw-colada Ice. Let's take a closer look at some of the BIFFBAR Lux's flavors: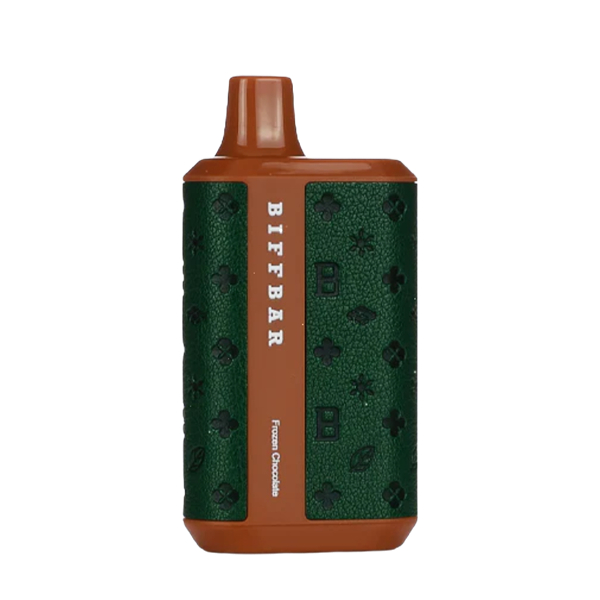 Definitely a unique flavor that I've never seen before. It tastes very much like chocolate mint. The combination of sweet chocolate and icy notes is surprisingly delicious. If you like dessert flavors, you are sure to love this one!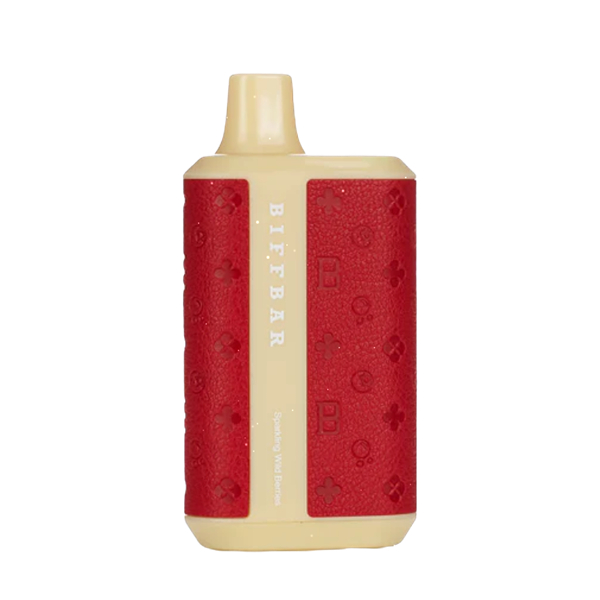 Another flavor that is unlike anything I've seen before in the vaping space. The flavor smells weird, almost like lipstick, but it tastes great. The sweet ripe berry flavor is counterbalanced nicely with a bright, peppery flavor on the backside. I'm sure that's the 'sparkling' part, but I am unsure of the exact flavor.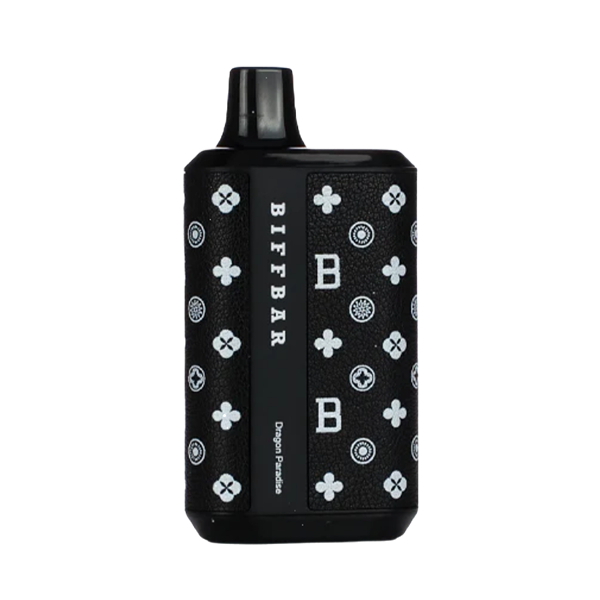 Very interesting mix of fruity flavors. It's hard to discern what exactly is in the blend, but I'm thinking kiwi, lychee, guava, and maybe passion fruit. It's refreshing and not too sweet.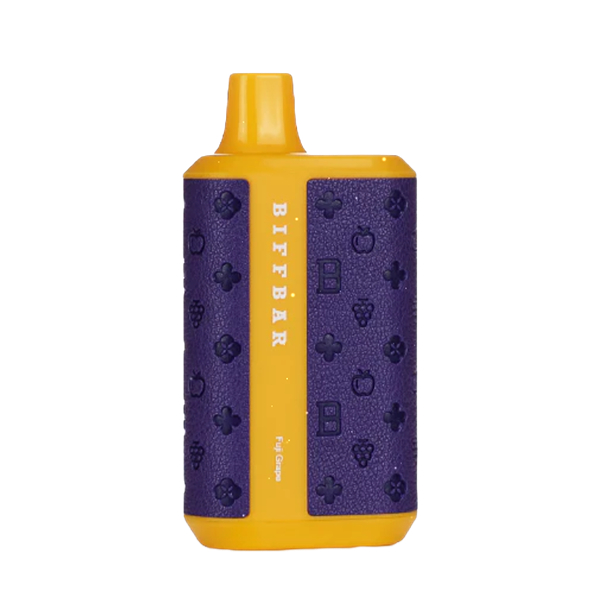 Pretty standard grape flavor, fresh and fruity as it should be.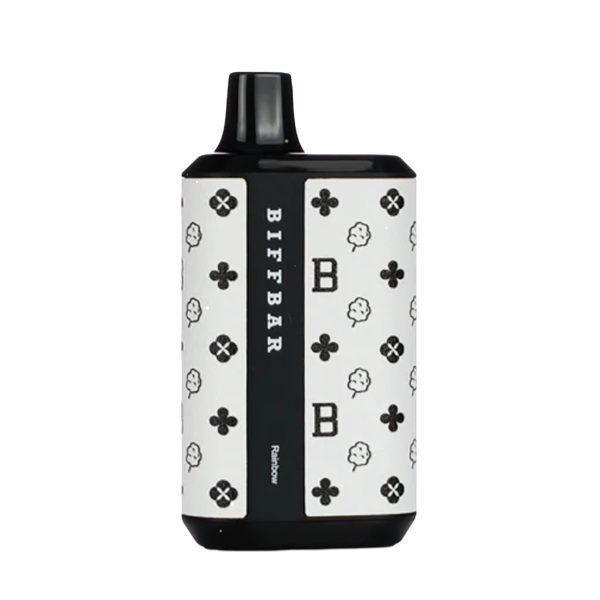 A very yummy flavor that is reminiscent of cotton candy or some other creamy hard candy.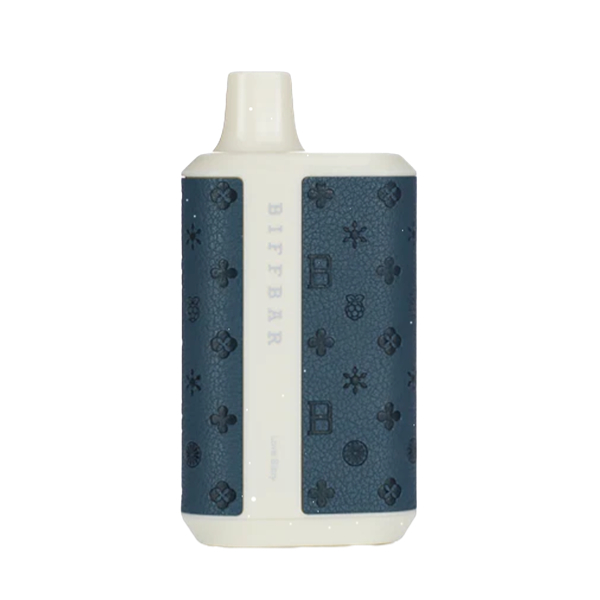 Love Story is basically Blue Razz Lemonade, but with a fun new name. The flavor is very yummy and enjoyable, although the lemonade flavor is a bit weak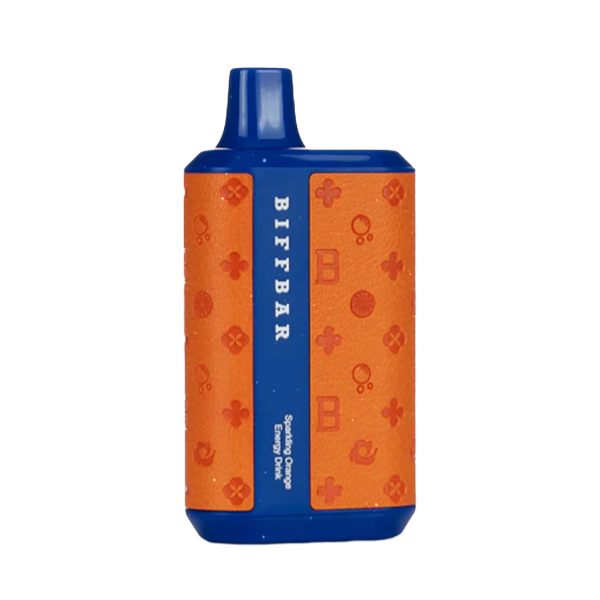 Sparkling Orange Energy Drink
BIFFBAR really pulled off this Orange Energy Drink flavor. It has that sparkling quality that gives the impression the flavor is 'carbonated.' And the orange flavor is not overwhelming.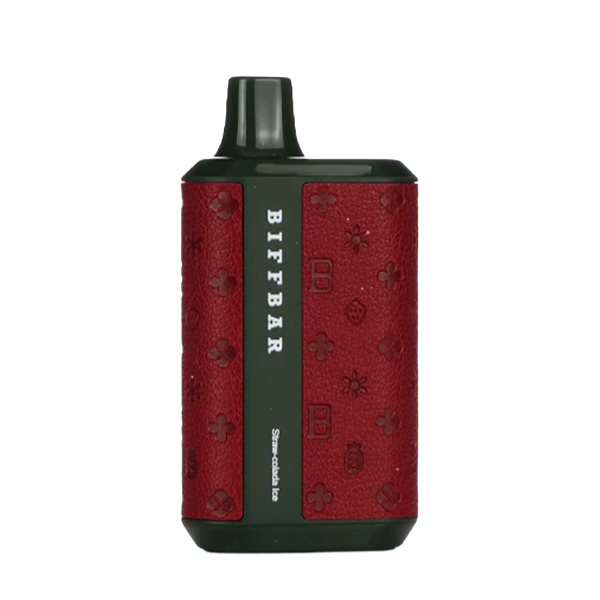 Straw-colada Ice is a strawberry pineapple blend. There is supposed to be ice, but it's really quite muted in this flavor. This is one flavor that I think would really benefit from more ice to mellow out the strong pineapple notes.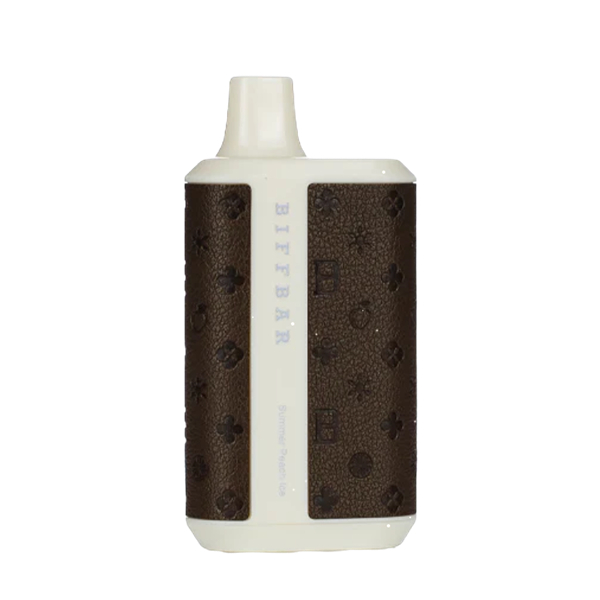 Fresh and juicy peach flavor that is nicely balanced with hints of ice. Again I think the ice could be a bit stronger to really enhance the refreshing notes of this flavor. If that were the case, this flavor would be 5/5.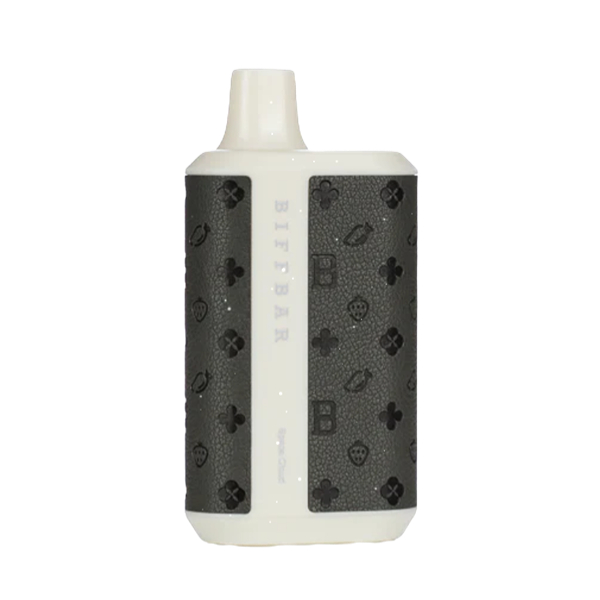 This appears to be a strawberry-mango e-juice flavor. Not a major fan of this one because the mango flavor tastes a bit off, but others might find it fine.
As we mentioned before, the BIFFBAR Lux 5500 was designed with a strong focus on luxury and style. The disposable vape has a standard body shape, like a rounded zippo lighter. The deep mouthpiece, coming from the top of the device, is offset to one side.
Each disposable has a unique two-toned look. The body sports a padded faux leather covering that is embossed with little icons or symbols that match each specific flavor. For example, the Sparkling Wild Berries flavor has the BIFFBAR B and a little rosette (found on all flavors), but it also has berries and bubbles embossed into the faux leather. While the Straw-colada Ice has strawberries, snowflakes (ice), and pineapples. The faux leather is contrasted by the plastic top, bottom, and stripe that runs down the front of the BIFFBAR Lux. This stripe displays the BIFFBAR branding and the flavor name.
Durability
The BIFFBAR Lux 5500 is a highly durable little disposable. The faux leather is hard to scratch, and the plastic top and bottom are securely attached. There's no risk that these pieces or the mouthpiece will break when dropped. This device can definitely stand up to most of the everyday abuses you can throw at it, although it is unlikely to perform well if submerged in water.
Does the BIFFBAR Lux 5500 leak?
The BIFFBAR Lux 5500 does not leak. The 13 mL of 5% nicotine e-juice is securely contained within the tank. There was no leaking or spit-back experience when testing this device.
Ergonomics
The padded faux leather with the embossed pattern is a really nice touch to this vape. It offers a soft feel in your hand, so there's no hand fatigue when carrying the BIFFBAR Lux around all day. This disposable has nice rounded edges, so nothing is uncomfortable.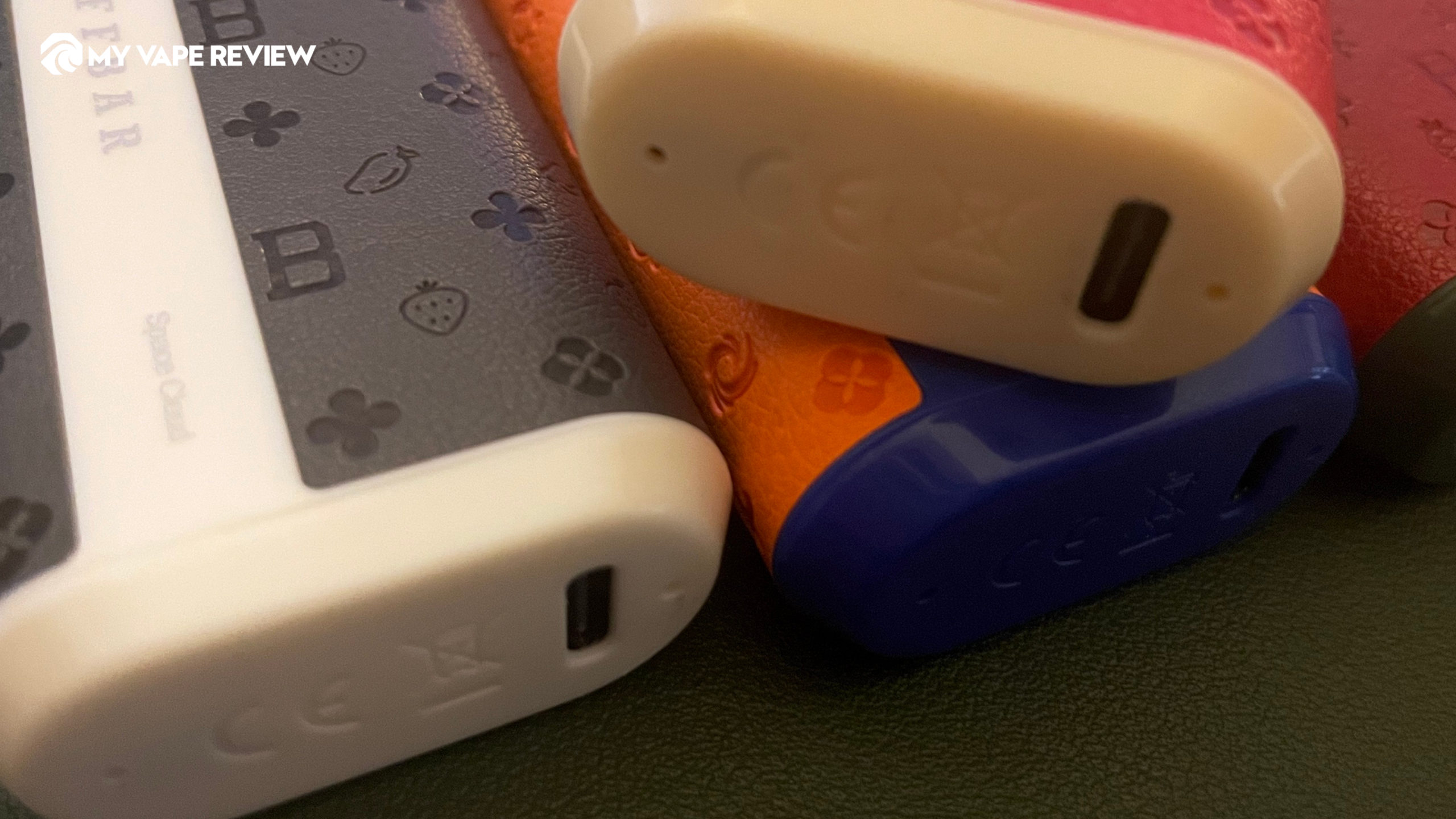 It was not easy to find the BIFFBAR Lux 5500's battery information, but we finally learned that this disposable has a 650mAh battery.. You can use a USB-C cable to recharge your BIFFBAR Lux 5500 from the port on the bottom of the device. It doesn't take more than 45 minutes to charge to full, so you can get back to vaping very quickly.
There is an LED that glows blue on inhale, but this does not translate to a battery level indicator.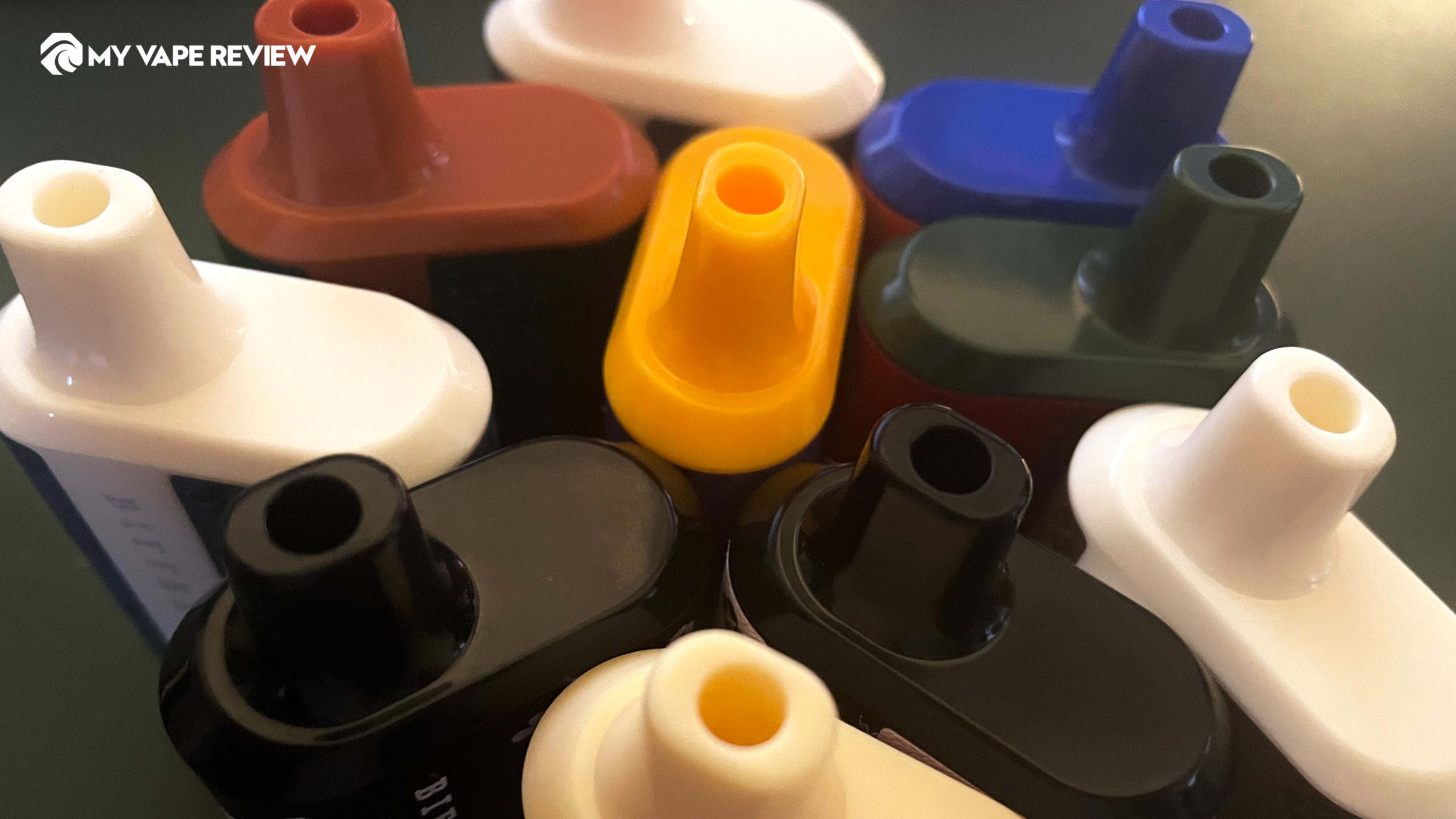 The BIFFBAR Lux 5500 disposable delivers top-tier MTL hits. With its mesh coils and an array of intense flavors, you are sure to enjoy the smooth consistency of each and every puff. There's no airflow control on this device, but the BIFFBAR Lux pulls with a nice open feel. After taking a nice deep hit, you can't help but notice the thick, voluminous clouds.
We experienced no flavor degradation during testing, even after using the devices for almost 4000-5000 puffs. The BIFFBAR Lux 5500 should have no issues reaching 5500 puffs before the 13mL of e-juice runs out.
BIFFBAR Lux 5500 Price: $14.99 at VaporDNA
The longevity and fascinating flavor profiles of the BIFFBAR Lux 5500 are made even better by the pricing of this device. Most of the online pricing we've found for the BIFFBAR Lux falls between $15 to $20. This is not very competitive when compared to many other 5500 puff disposables, but the BIFFBAR has the added element of luxury that other brands don't offer.
Verdict
The BIFFBAR Lux 5500 disposable brings a luxury experience into the hands of vapers everywhere. This device has the longevity, consistency, and performance to compete with other 5500 puff disposables. The BIFFBAR Lux has a fashionable design thanks to the padded faux leather and bold dual-toned color options. The 650mAh battery is quickly rechargeable using a Type-C charging port. The mesh coil offers a consistent heating method, so each MTL hit is deliciously smooth. And with 15 5% nicotine e-juice flavors to choose from (including some very unique flavor blends!), you are certain to find a flavor you'll like.