The Puffmi MeshBox 5500 is a new disposable vape that boasts a solid and stylish design with a shiny aluminum bottom and bright white plastic top and mouthpiece. One of the standout features of the MeshBox 5500 is its impressive puff count, with up to 5500 puffs per device. This large puff count is thanks to its generous 13mL e-liquid tank, allowing you to enjoy the disposable for longer.
It also has a 650mAh rechargeable battery, allowing for long vaping sessions without the need for frequent charging. And when it's time to recharge, you can easily plug in a Type-C charging cable to the port located on the bottom of the device.
The Puffmi brand has already released the MeshBox mini disposable, which is available in dozens of flavors. Continue reading to learn more about all that the MeshBox 5500 has to offer.
Specs
E-Liquid Capacity: 13ml
Battery: 650mAh, Type-C charging
Puff Counts: 5500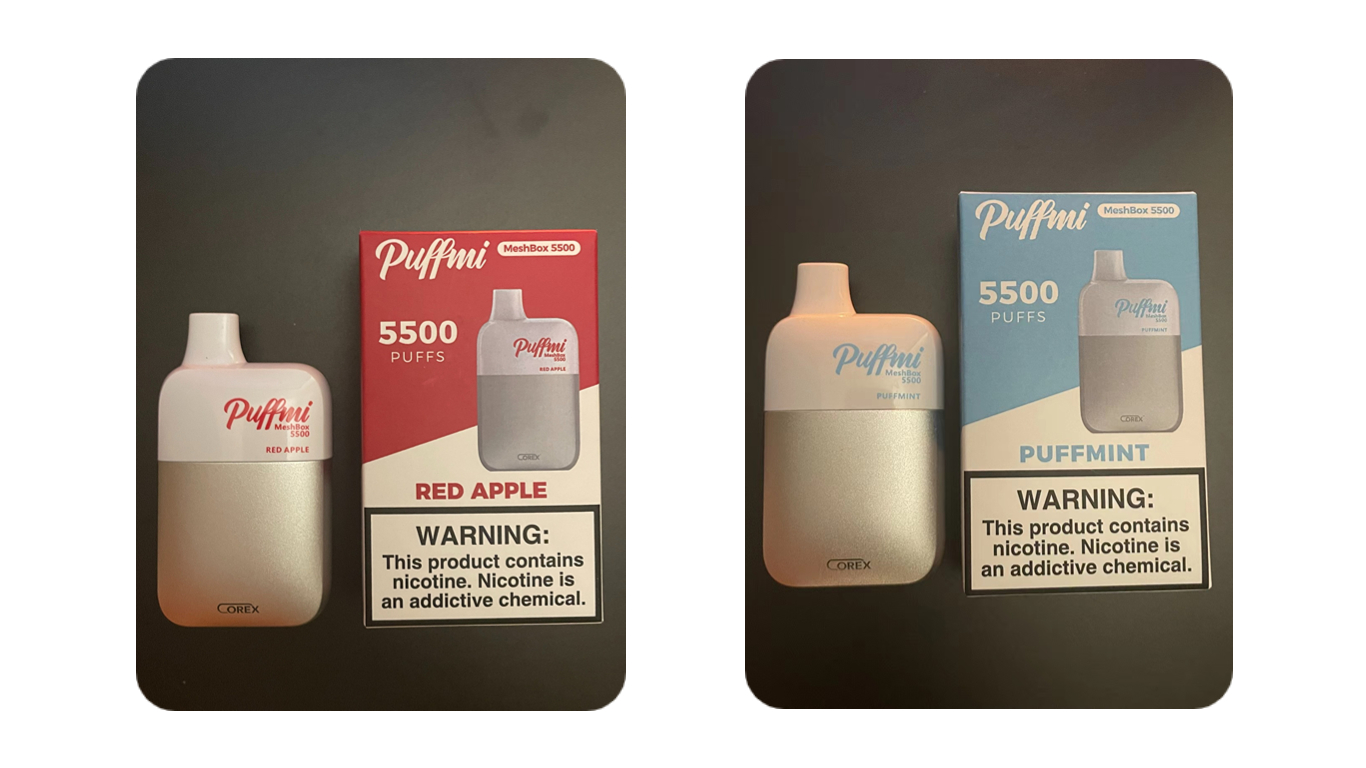 Puffmi MeshBox 5500 Flavor
The Puffmi MeshBox 5500 hasn't fully launched yet, so there is no comprehensive list of available flavors. But considering the MeshBox mini is available in 40 flavors, this is likely to carry over to the MeshBox 5500.
We received four flavors for review:
Puffmint, Red Apple, Kiwi Passion Fruit Guava, Blueberry Raspberry
Let's take a closer look at each of these flavors:
The Puffmint flavor has a bold and sweet minty taste. The flavor is strong and refreshing, making it the perfect choice for a pick-me-up during the day. The sweetness of the mint added an extra layer of flavor to the vape, making it stand out from other minty flavors I've tried. The flavor was consistent throughout the entire vape, with no aftertaste or weird chemical flavors. It was a pleasure to inhale and exhale, and I found myself reaching for it throughout the day.
Red Apple is a vape flavor that authentically delivers apple flavor. It's well-balanced. The overall taste is fruity and enjoyable but not too overpowering.
This flavor is a masterful blend of Kiwi, Passion Fruit, and Guava. It's perfectly balanced, so you get a hit of each fruit at different points of the inhale and exhale. It's sweet on the inhale, with a slight bitterness on the exhale, making it a great option for all-day vaping.
Blueberry Raspberry is a delicious and refreshing blend of sweet blueberries and tangy raspberries. When you inhale, the juicy flavor of ripe blueberries dances across your tongue, and as you exhale, the tart taste of raspberries creates a satisfying and enjoyable vaping experience.
Design & Quality
Design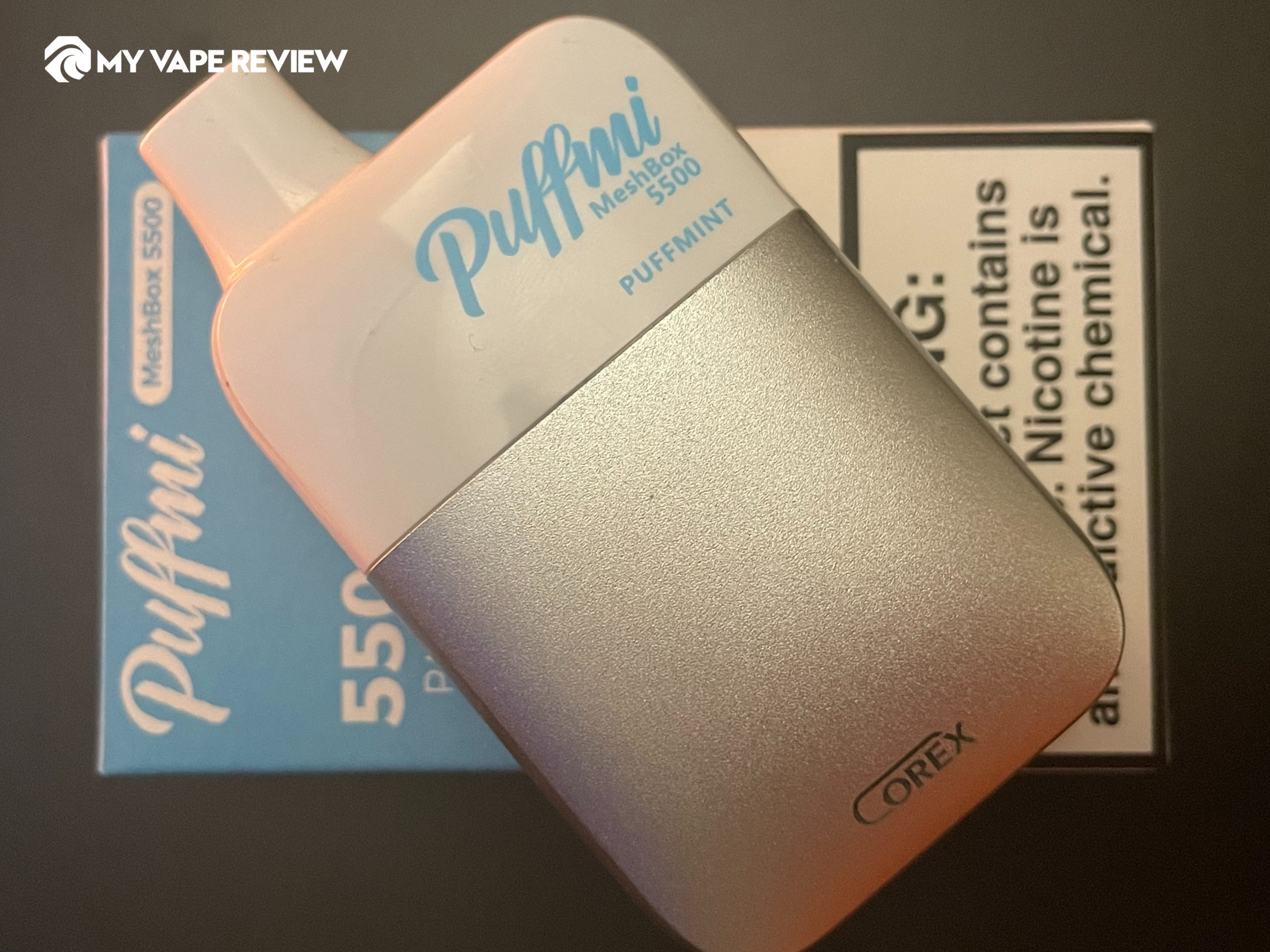 The Puffmi MeshBox 5500 disposable vape has a small matchbox body form but with rounded edges. The lower half of the body is shiny aluminum, while the top section is a bright white plastic that gives the device a modern, clean, and very solid design.
The Puffmi branding, model name, and flavor are embossed on the white plastic section in a color that matches the flavor. The mouthpiece protrudes from the top, set off to the left side. It's a duckbill style with a wide opening to allow for sufficient airflow. On the bottom of the device, you will find a Type-C charging port.
There are no other advanced features found on the Puffmi MeshBox 5500. There is no airflow control, battery indicators, or e-juice tank indicators. This is a simple disposable focusing on solid design, great flavor, and an enjoyable vaping experience.
Durability
The Puffmi MeshBox 5500 is designed with durability in mind. Its aluminum body is not only stylish but also sturdy and able to withstand the wear and tear of everyday use. The mouthpiece, which is molded directly into the device, ensures that the mouthpiece won't become loose or break off.
Does the Puffmi MeshBox 5500 leak?
During testing, there was no leaking with the device. Even when the device was left on its side for an extended period of time. You can rest easy knowing that the Puffmi MeshBox 5500 won't leak all over your hands, pockets, or purse.
Ergonomics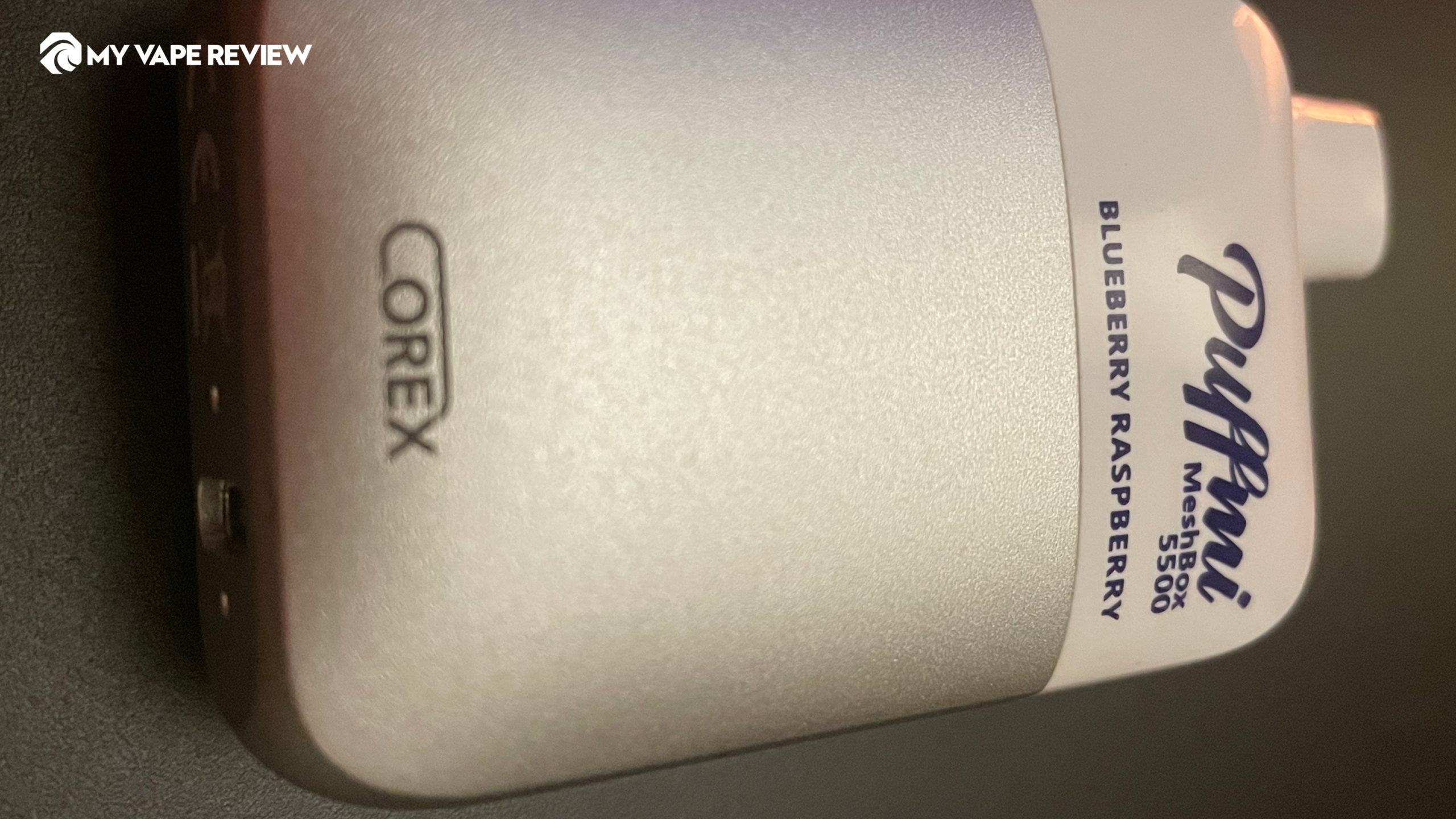 The Puffmi MeshBox 5500's compact size and lightweight design make it easy to hold and carry for long vaping sessions, while its smooth, curved edges ensure a comfortable grip. The aluminum bottom keeps the vape cool in your hand, and the duckbill mouthpiece provides a shape to wrap your lips around.
Battery & Charging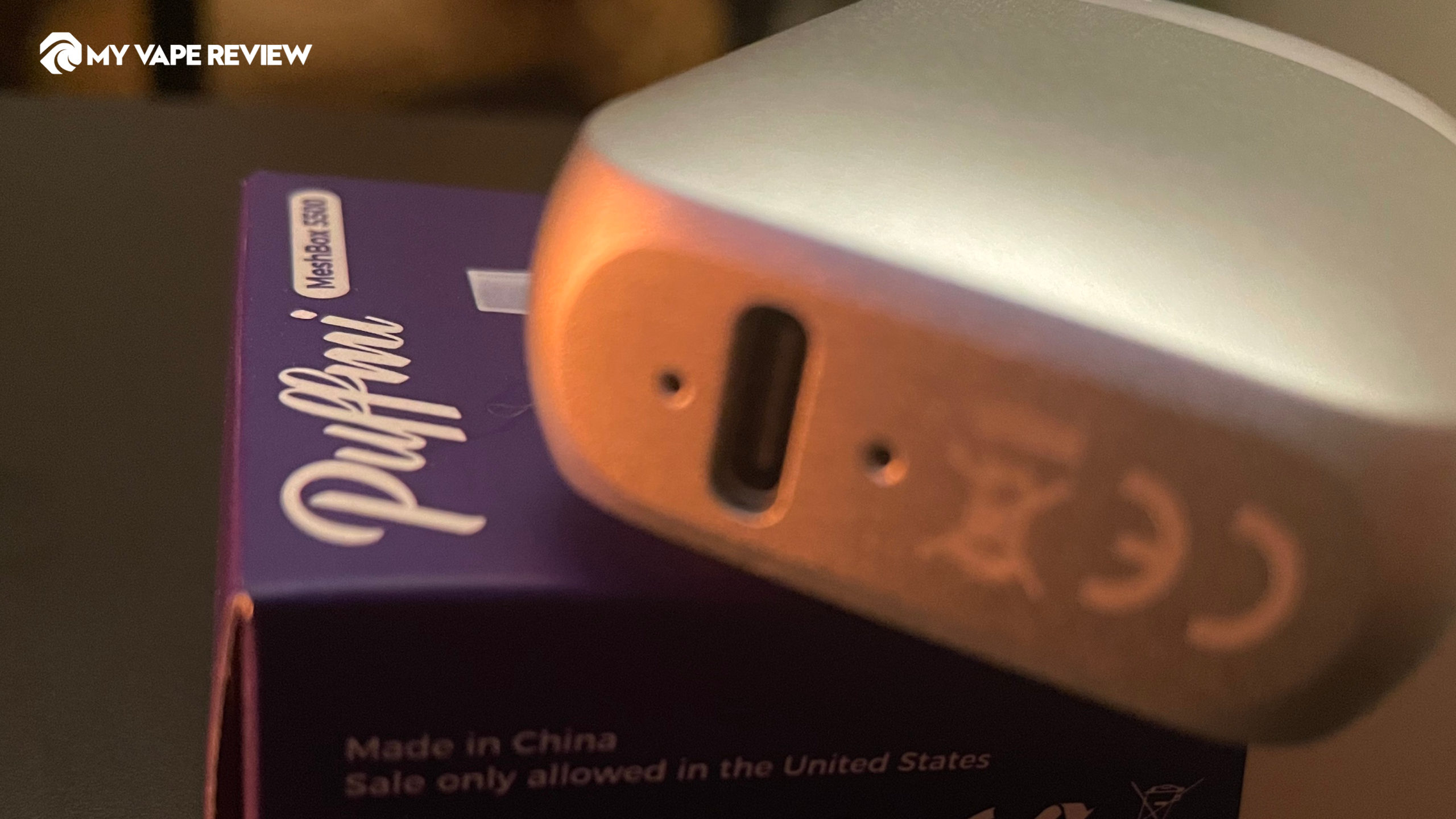 The Puffmi MeshBox 5500 disposable vape features a 650mAh rechargeable battery. The device can last through 5500 puffs, so you will definitely need to recharge the disposable multiple times during its lifetime.
A single charge seems to last roughly 8-10 hours of consistent vaping, which means it's a great contender for a daily vaper. Unfortunately, there is no battery level indicator, but you can definitely tell when the battery is getting low because the cloud volume and flavor start diminishing. When it's time to charge, just plug a Type-C charging cable into the port on the bottom of the device. And you'll be ready to go after about 30-45 minutes of charging.
Performance
The Puffmi MeshBox 5500 disposable vape is a high-performing device that offers smooth, cool hits and great flavor delivery thanks to its mesh coil technology. While we're waiting to learn more about the range of flavors that will be available in the future, it's clear the device will taste great from the first puff to the last.
One of the strongest features of the Puffmi MeshBox 5500 is its impressive puff count. With a life of 5500 puffs, this disposable vape will last you for days or even weeks, depending on your usage habits, thanks to the 13mL e-liquid tank. That's a lot of vaping enjoyment packed into a compact, convenient package
For those who prefer a more open, mouth-to-lung (MTL) draw, the disposable is a perfect device. The hits are open and airy, and the auto draw is sensitive. Simply inhale, and the device will activate, delivering a smooth, satisfying vape experience with minimal effort on your part.
Price
There is currently no pricing information available for the Puffmi MeshBox 5500. Stay tuned and check back for any updates when Puffmi releases more specific information on the retail pricing for the new product.
Verdict
The Puffmi MeshBox 5500 is a great little disposable that any vaper is sure to enjoy. With a 13mL e-juice tank, you can enjoy up to 5500 puffs for a single device. The mesh coil technology delivers a smooth, consistent MTL hit every time. And while we were only able to review 4 flavors, they were all fantastic flavor blends so we expect any future flavor releases to be just as delicious.
The Puffmi MeshBox 5500 has a clean, refreshing design that is plenty durable to last through 5500 puffs. The rounded aluminum body is cooling to the touch and ergonomic, while the white top with colored lettering adds a nice visual touch. You can easily recharge the disposable's 650mAh battery with a Type-C charging cable. There are no advanced features included with it, but that's one of this disposable's greatest things. It is simple enough to pick up with ease for new vapers but performs well enough to wow even veteran vapers.