ELFBAR is one of the most successful entrants into the disposable vapes market. The brand's products have rapidly reached top-seller status due to their high-quality and the excellent vape experiences they offer.
Elfbar has introduced a number of products to the marketplace in recent years including open-system pod vapes, prefilled pod vapes and disposables. The latest Elfbar Cigalike disposable vape is a hark-back to an earlier time, simulating the design of cigarettes, and represents an unusual blast from the past upgraded for today's discerning vaper to enjoy. We put these old-school disposables to the test to see if the interesting upgrades have made them worth the money.
Elfbar's vaping products are renowned for their impressive choice of flavors and, although the Cigalikes aren't as colorful as some of the brand's other options, their flavors are no less exciting. There are 20 options to pick from encompassing fruit, beverage and traditional flavors meaning that there really is something to suit everyone in this line-up.
A full list of the available Elfbar Cigalike flavors is below:
Apple Peach, Blue Razz Lemonade, Blueberry, Blueberry Sour Raspberry, Cappucino, Cola, Cream Tobacco, Elfbull Ice, Grape, Kiwi Passion Fruit Guava, Mango Passion Fruit, Peach Ice, Pink Lemonade, Raspberry Orange Blossom, Red Wine Ice, Spearmint, Strawberry Banana, Strawberry Ice, Strawberry Kiwi, Watermelon Ice
Let's take a closer look at the best Elfbar Cigalike flavors we picked: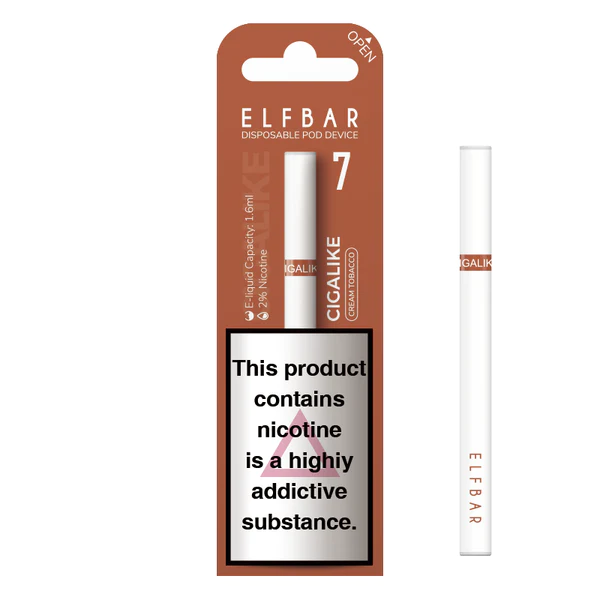 ELFBAR Cigalikes are designed to appeal specifically to those transitioning from smoking, and this creamy and authentic tobacco flavor is ideal for this market.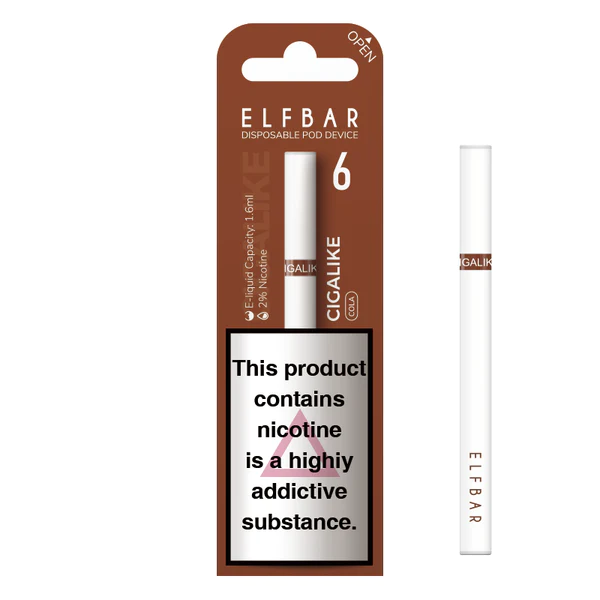 A beverage-inspired classic, cola vapes have been a staple from the earliest days of vaping, so it isn't surprising that they've found their way into this old-school product. Nevertheless, its authentic flavor is refreshing and thirst-quenching.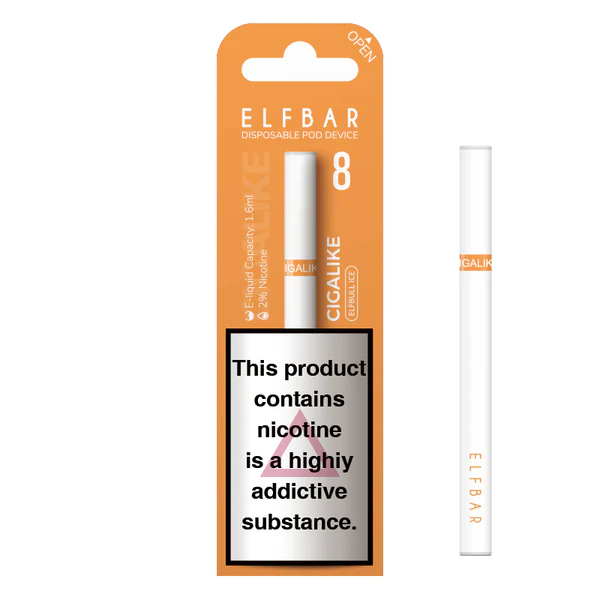 Like your favorite energy drink paired with a menthol kick on the exhale, this is an energizing and refreshing vape.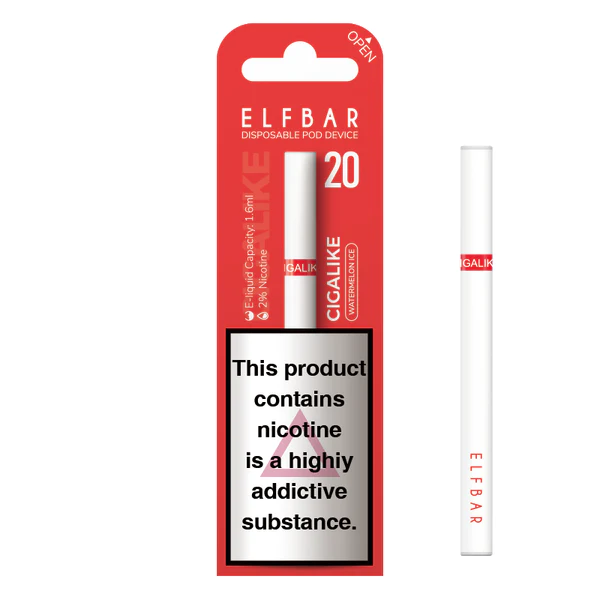 The ideal blend of juicy watermelon and icy menthol, this is a tongue-tingling vape that will refresh you at any time of day.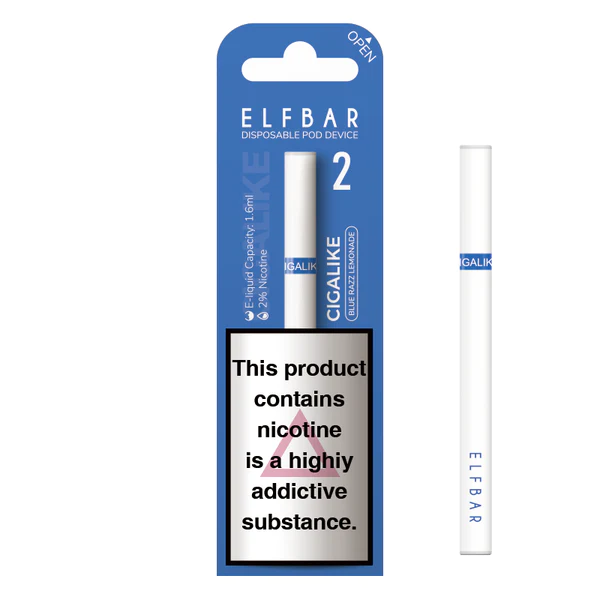 Exactly like your favorite blue raspberry lemonade, this soda inspired vape has plenty of tart and tangy flavor that tingles your tastebuds.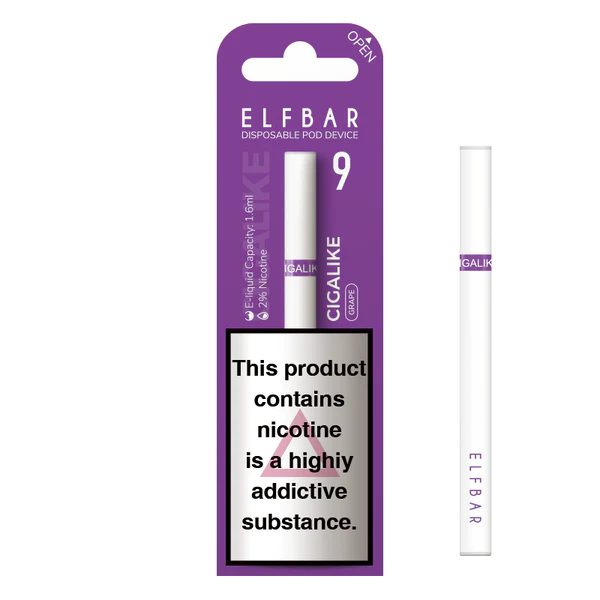 Grape is another classic flavor from the earliest days of vaping, and it has earned its place in this old school line-up. Just like your favorite grape soda, this is a juicy vape.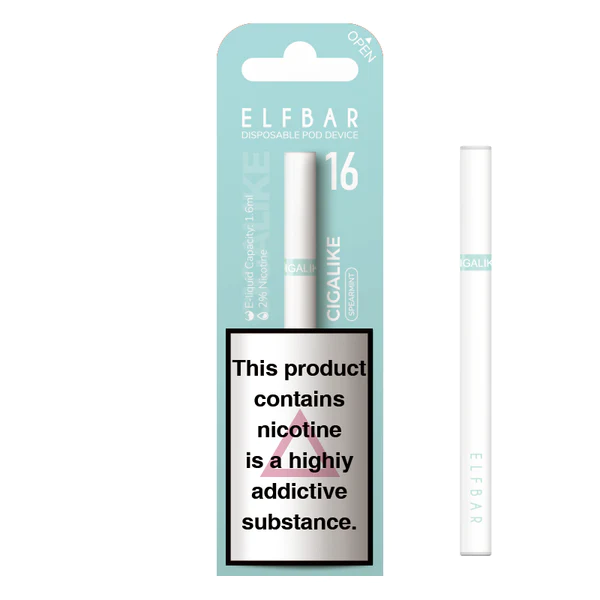 A true pick-me-up, this minty favorite has plenty of icy kick that will wake you up in the morning.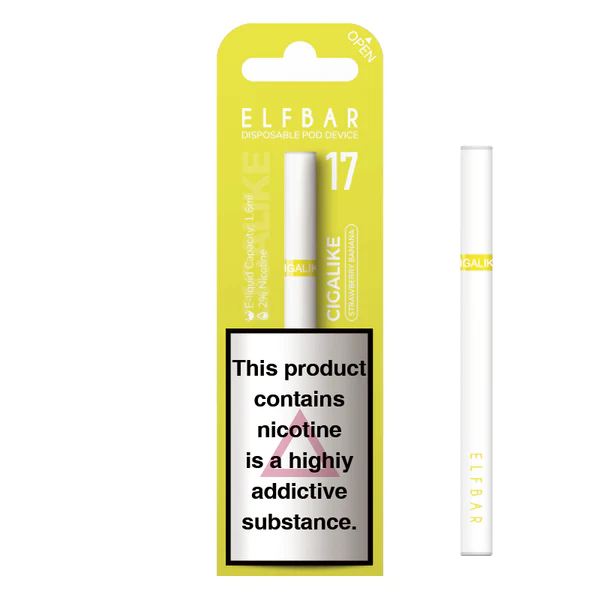 The best of both worlds – the fruitiness of ripe strawberries and the creaminess of ripe banana in one deliciously flavorsome vape.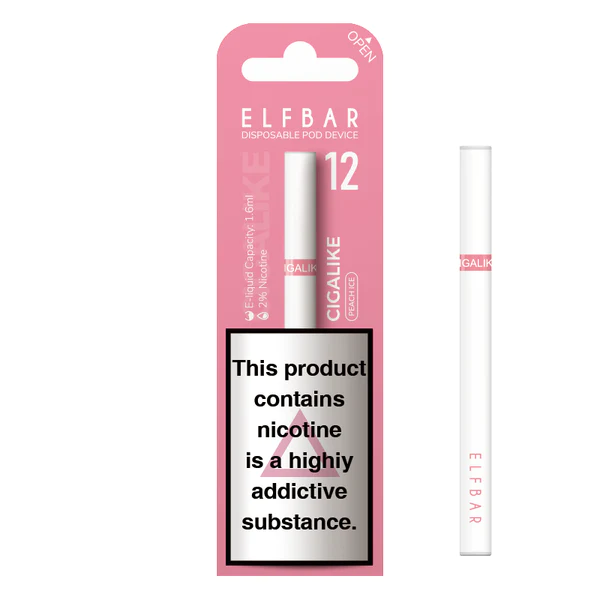 This is a delicious flavor that conjures up summer in a vape. Pairing the sweetness of ripe peaches with the icy blast of menthol, it'll make your mouth water.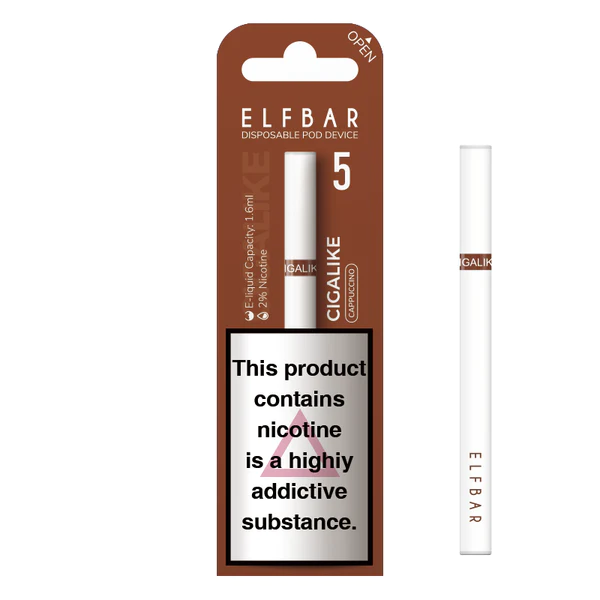 This coffee flavored vape is a perfect after dinner treat. Rich, warming, and flavorsome, its deep flavor is perfect for savoring.
The first thing we noticed about the Elfbar Cigalike is its return to the old school vape design. Like the very earliest e-cigs that looked very similar to an actual tobacco cigarette with a thin, long cylindrical shape, the Elfbar Cigalike is far longer and thinner than most other modern disposables.
Its exterior is made from metal with a smooth texture and a white, glossy finish. There's a single narrow stripe wrapping around the mouthpiece end of the device to look similar to a filter on a regular cigarette. It's only this stripe that indicates which flavor you've chosen as there's no flavor name written on the device, and that can make it a little confusing if you're vaping a few different flavors simultaneously.
Being heavier at the non-mouthpiece end, you have to really hold the Elfbar Cigalike between your lips. Although it doesn't feel exactly the same as a standard cigarette because of its glossy finish and longer length, its shape and feel between the fingers is satisfying enough to please a transitioning smoker.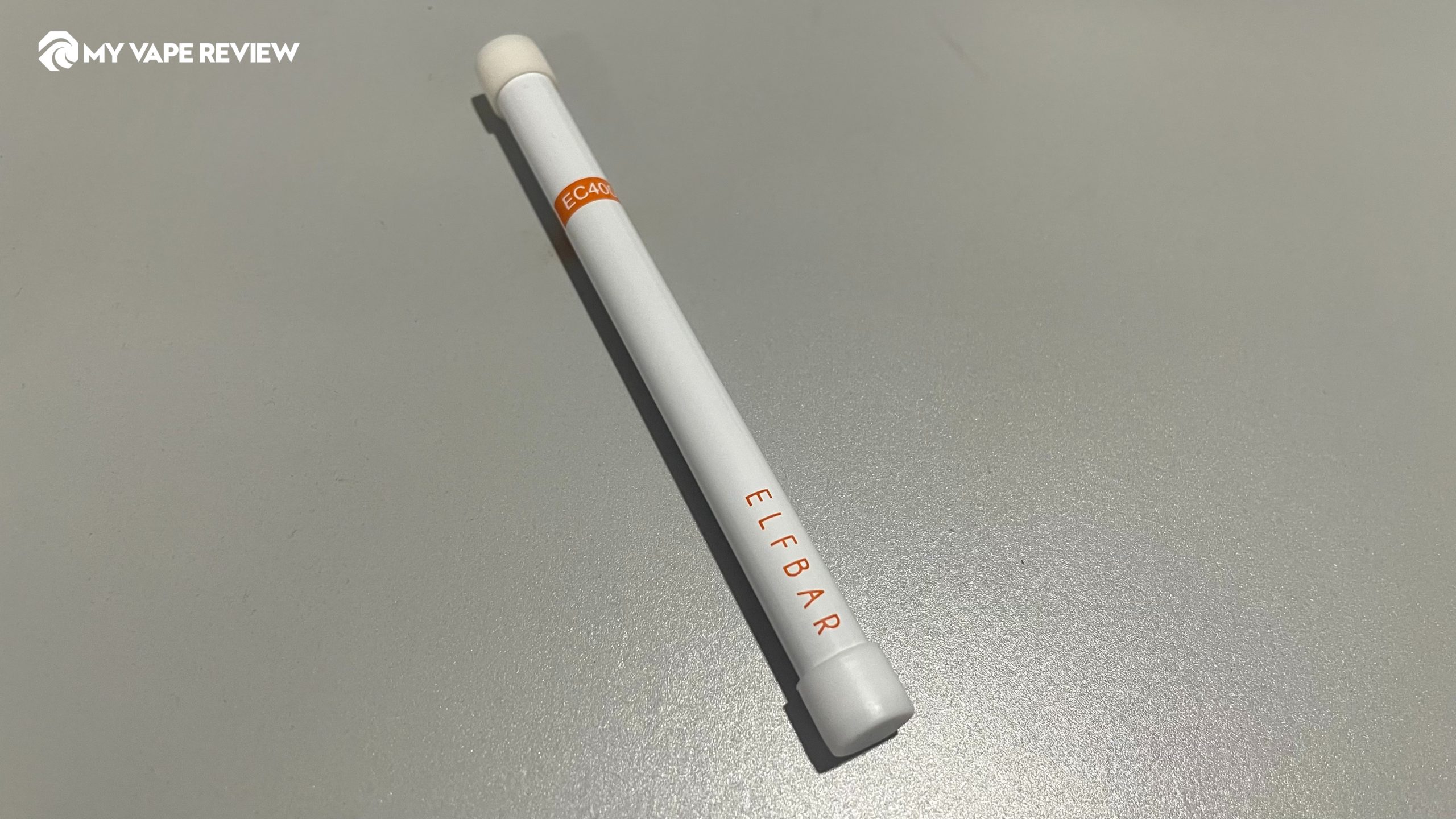 The Elfbar Cigalike is non-rechargeable and only lasts for 400 puffs. Essentially, this device is meant to be a portable solution when on a night out rather than an everyday vape, and it suits this purpose just fine. 400 puffs are enough for one evening out and about. The device is already pre-charged and ready to use right out of the box, so there's no messing about.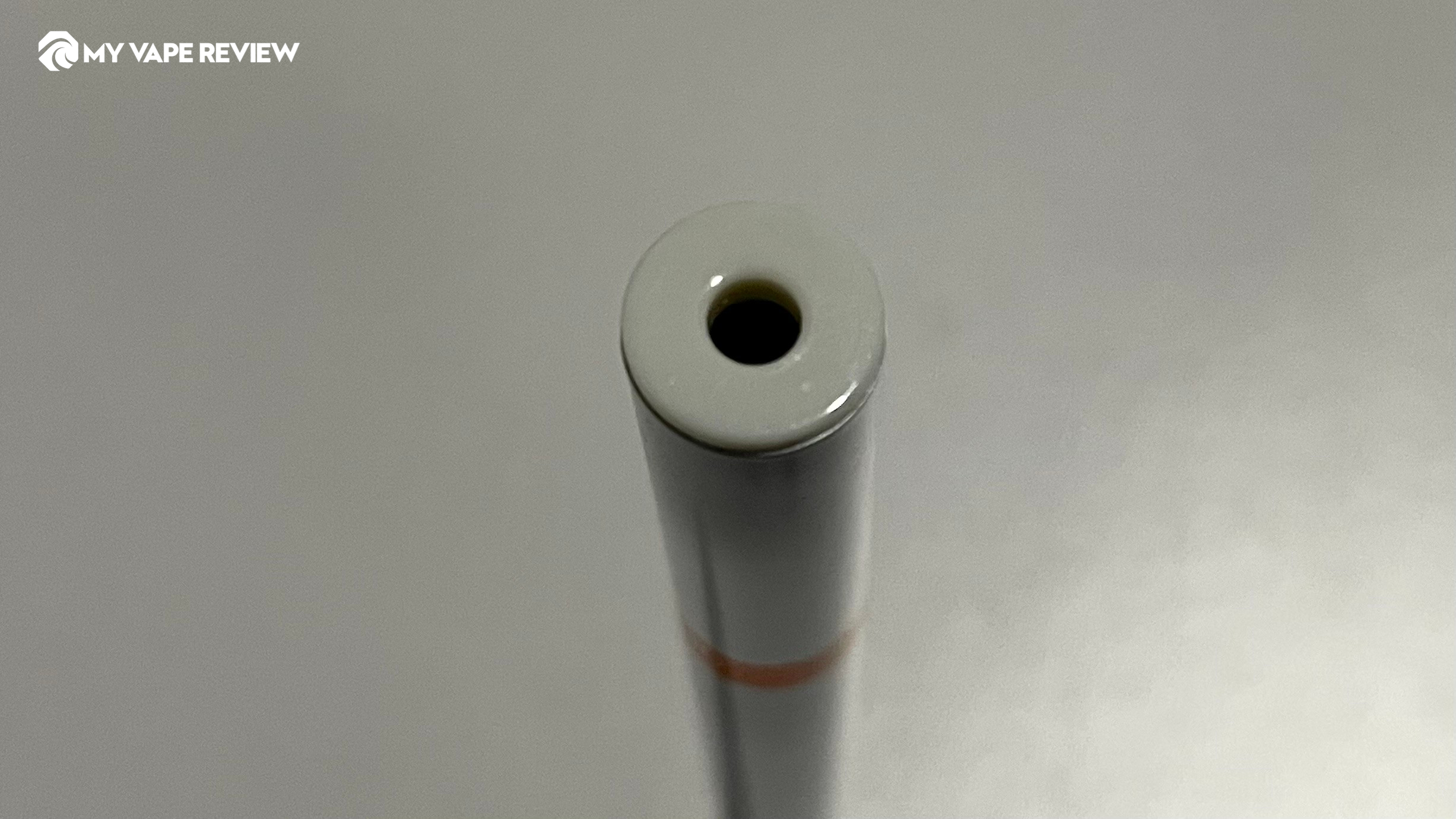 The Elfbar Cigalike is never going to have the kind of high performance you'd expect from a top-quality box mod, but of course, you can't expect that from this type of disposable device. After all, it's designed for a totally different demographic and different purpose. It produces far less vapor for a start, which makes it ideal for more discreet vaping when out and about. And with its restricted, tight, MTL airflow, it's the perfect choice for smokers who are trying to quit their cigarette habit.
Elfbar Cigalike Price: £3.49 at NewVaping (on sale)
Elfbar Cigalike is at the cheaper end of the disposables marketplace, which reflects the smaller number of puffs you get from each device and the non-customizable experience that these devices can offer. Essentially, they're the ideal first step for smokers who are dipping their toes into the waters of vaping, and they've been priced to match.
For only a small amount more, though, you can get the Elfbar 600, which gives you 200 extra puffs with £3.7 to £3.99 at the same online vape store. That's something worth bearing in mind if you can't decide which one is a better choice there for you.
If you're a smoker who wants to try out vaping while hoping to start with an experience that's as close as possible to smoking an actual cigarette, you'll love this Elfbar Cigalike disposable vape. Easy to use with its draw activated design, it has a similar enough look and feel to a cigarette to help you switch to vaping, with the added bonus of a whole lot of delicious flavors for you to try.