SMOK is certainly a well-known vaping brand, and the previous products in its Novo range, including the Novo, Novo X, Novo 2, Novo 2S, Novo 4 and Novo 4 Mini have all been proven to be effective and high-quality devices.

Now, the latest introduction to the product line up is the SMOK Novo 2X, which promises to be the latest incarnation of SMOK's pod kit. Will it hold up to the promise of its predecessors? We tested this new edition out to see if it could offer an even better experience than its older siblings.
Size: 97×24.5×14.5mm
Weight: 45g
Output: 12-20W (lower than 0.7ohm coil) / 4-14W (higher than 0.7ohm coil)
Battery: 800mAh
Resistance range: 0.6-2.5ohm
Charging: Type-C port – 0.7A charge rate
Pods: Refillable, fixed coils – compatible with Novo and Novo 2 pods
Capacity: 2ml
Zinc-Alloy Chassis Construction
Draw-Activated Firing Mechanism
LED Indicator Light
Compatible with Novo, Novo 2, Novo 2S, and Novo 2X Pods
Magnetic Pod Connection
Top Fill System with Mouthpiece Cover
Adjustable Airflow Control Switch
1 * Novo 2X Device
2 * 0.9ohm Novo 2X Mesh Pods (2ml)
1 * Type-C USB Cable
1 * User Manual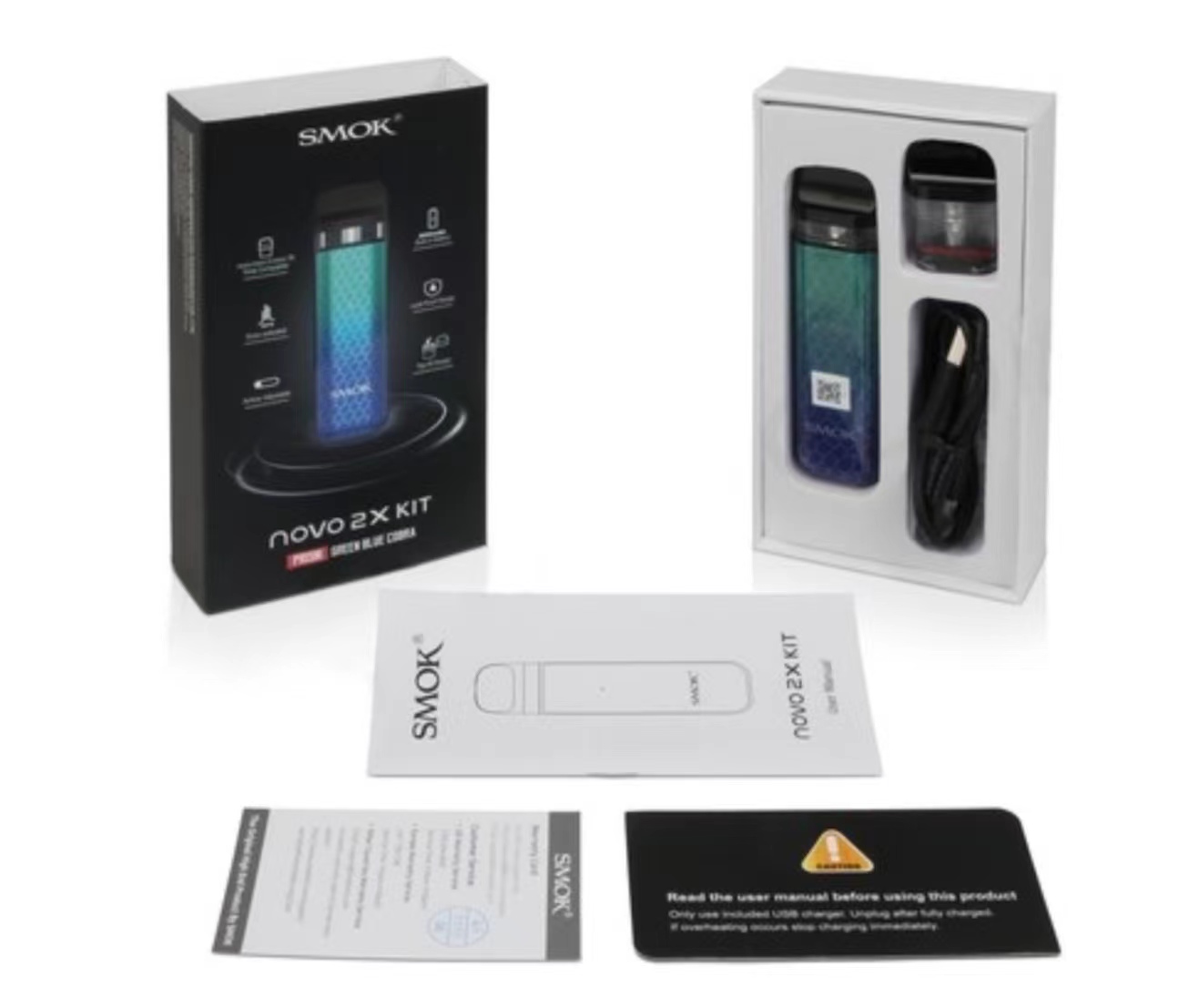 SMOK is known for high quality, reliable vaping products and, as you might imagine, the latest version, the SMOK Novo 2X doesn't disappoint. Its design is on point, and it is made from good quality materials too.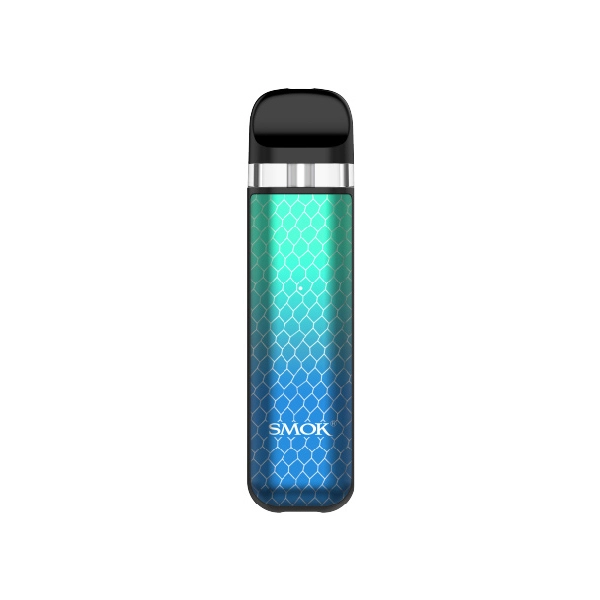 Like the earlier incarnations of SMOK Novo range, the Novo 2X has a stylish, sleek body that feels good in the hand and looks just as fantastic. There are 10 colour options to pick from, from subtle shades to more vibrant colours and patterns.
Seven of the options have a cobra background pattern while the other three options are more highly patterned, including a fluid black grey, a red stabilizing wood and a fluid 7 colour design, ensuring that there's something to suit everybody.
Weighing just 45g, the SMOK Novo 2X is lightweight, and it's compact too, measuring just 97mm x 24.5mm x 14.5mm, allowing you to take it anywhere you want to go without any difficulties. The body of the device features no screen or buttons, only an LED indicator that lets you know how much power you have left before needing a recharge, so it's a minimalistic yet aesthetically pleasing device.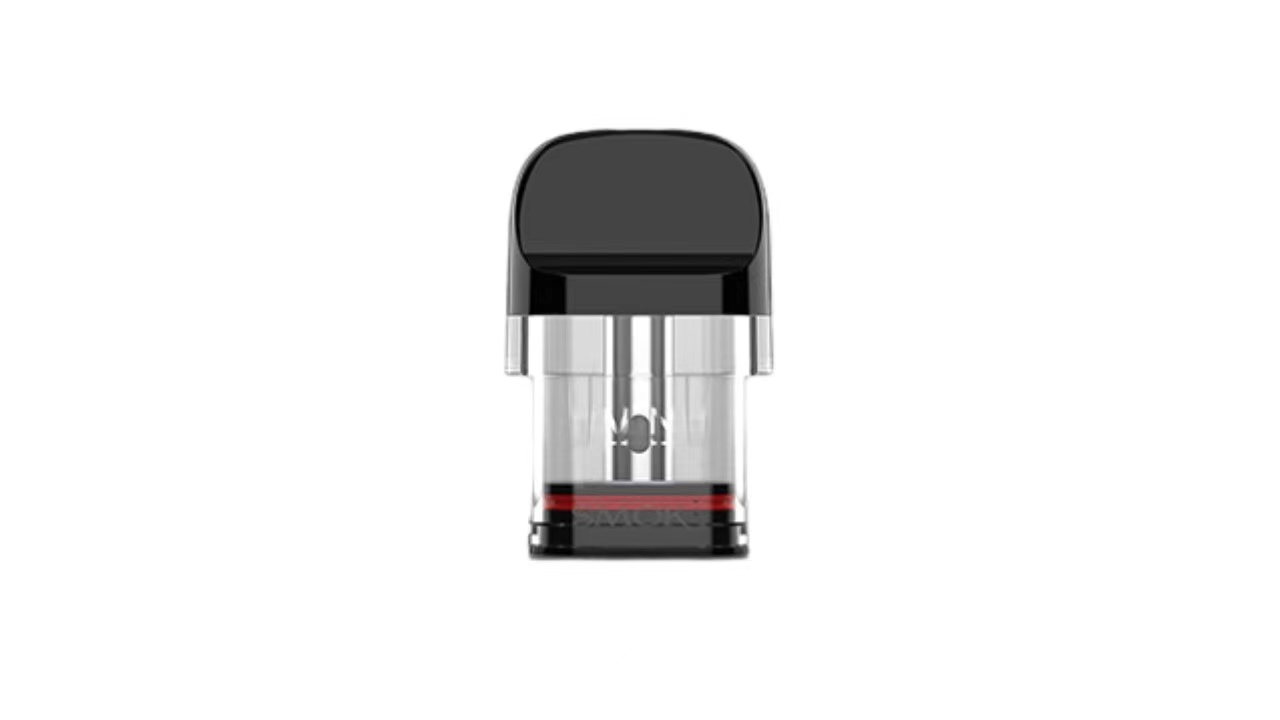 Aside from the NOVO 2X pods, this device is also compatible with previous SMOK Novo 2 and Novo pods, both of which are side-filling. But for extra convenience, the new Novo 2X pods are the best for its top filling. All in all, it adds up to extra versatility and flexibility. The kit comes complete with two new Novo 2X 0.9 ohm pods which allow for a satisfying MTL vape. Their meshed pod design allows for a more balanced heat distribution, so you can enjoy more subtle flavours from your vape.
The Novo 2X comes with an integral 800mAh battery that can be recharged with the included USB Type C charger at a charge rate of 0.7A. You can see at a glance how much battery power is remaining thanks to the LED indicator lights on the side of the device's body.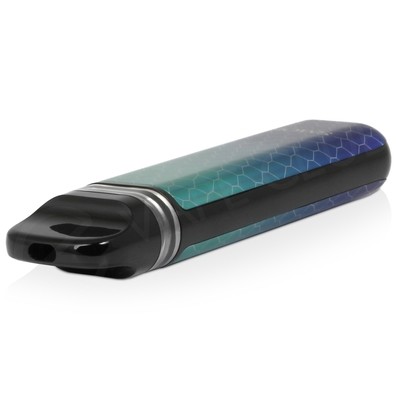 The 0.9 Ohm coil that comes with the Smok Novo 2X is designed to allow the e-juice inside the pod to be vaporized against a wider surface area to boost flavor production. When paired with e-liquids of 50% PG or higher, the coil will last for the maximum length of time while also ensuring the best possible flavor production for MTL vapers.
Alternatively, if you're looking for a denser vapour as well as excellent flavour, the Novo 2 0.9ohm pod is a great choice, and if the biggest possible clouds are your goal the Novo Pod 0.8 ohm coil is right for you. Meanwhile, for the purest taste and smoothest throat hit, the Novo 2 DT 1.4 ohm pod will fit the bill perfectly.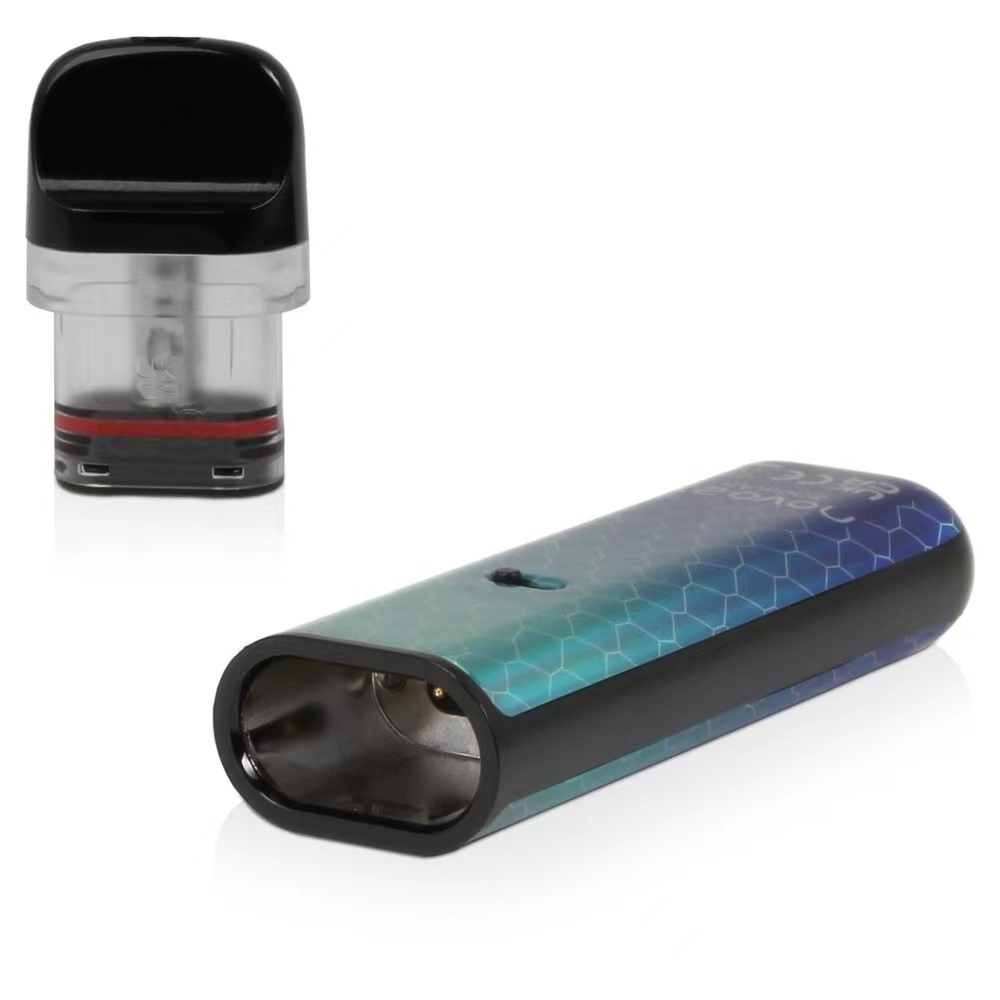 The SMOK Novo 2X is ideal for newcomers to vaping since it couldn't be simpler to use. The device is designed to adjust its output automatically to suit whichever coil is installed in it, from 12W – 20W for pods under 0.7 ohm, or 4W – 14W for pods over 0.7 ohm.
It couldn't be easier to operate this device either, since it has an automatic draw feature that operates as soon as you inhale on its mouthpiece. Even then airflow adjustment is easy thanks to the handy slider that allows you to tailor your vape to suit your preferences.
If you're a new vaper who wants to enjoy a high-quality vaping experience that has no steep learning curve, the SMOK Novo 2X is a cost-effective choice for you. While it certainly isn't the cheapest pod kit on the market, it's also far from being the most expensive, and with the high performance that it offers, its mid price-point represents great value for money for what you're getting in the kit.
If you're trying to quit your smoking habit and want to try vaping as an effective solution, you could do a lot worse than choosing the SMOK Novo 2X pod kit. Designed to meet the needs of newcomers to the world of vaping, this pod device couldn't be simpler to get to grips with.
There are no buttons or settings to fiddle with, and the simple airflow slider makes it easy to customize your vape experience without any complexity. There are so many attractive designs to choose from too, that there's bound to be one that appeals to your sense of style.
Furthermore, you're going to enjoy an excellent vaping experience from this device. As it's compatible with so many different SMOK Novo pods, you can easily select the one that best suits your preferred vape style.
Whether you're trying to achieve enormous clouds, get a satisfying MTL vape that gives you plenty of throat hit to quench your nicotine cravings, or whether you want to enjoy the finest, subtle flavours of ejuice, you'll find that the SMOK Novo 2X works well for you. Even better, as it's a compact kit that's easy to fill without any fuss or mess, you can use it anywhere on the go without any worries.