Introduction
It's been a year since Uwell released the Caliburn G pod. Having built a good reputation for its durability and convenience among sea of choices, the pod system turns out to be a hot seller as we expected. Right now we're fired up to announce the launch of its next generation—the Uwell Caliburn G2 pod!
There're some evident updates in the new launch, such as an added see-through window and a longer flatter mouthpiece. The two's sizes look almost identical, but Caliburn G2 actually locks in a bigger 750mAh battery, compared to the first generation's 650mAh. The output power of Caliburn G2 is also slightly elevated, from 15W to current 18W.
Of course, there would be more surprises in the Uwell Caliburn G2 pod awaiting us. After days of testing on the Caliburn G2, we've sorted through all the device's pros and cons as below. By the way, we highlight aspects we like in green, and those we don't in red, to make your reading easier. Let's kick it off!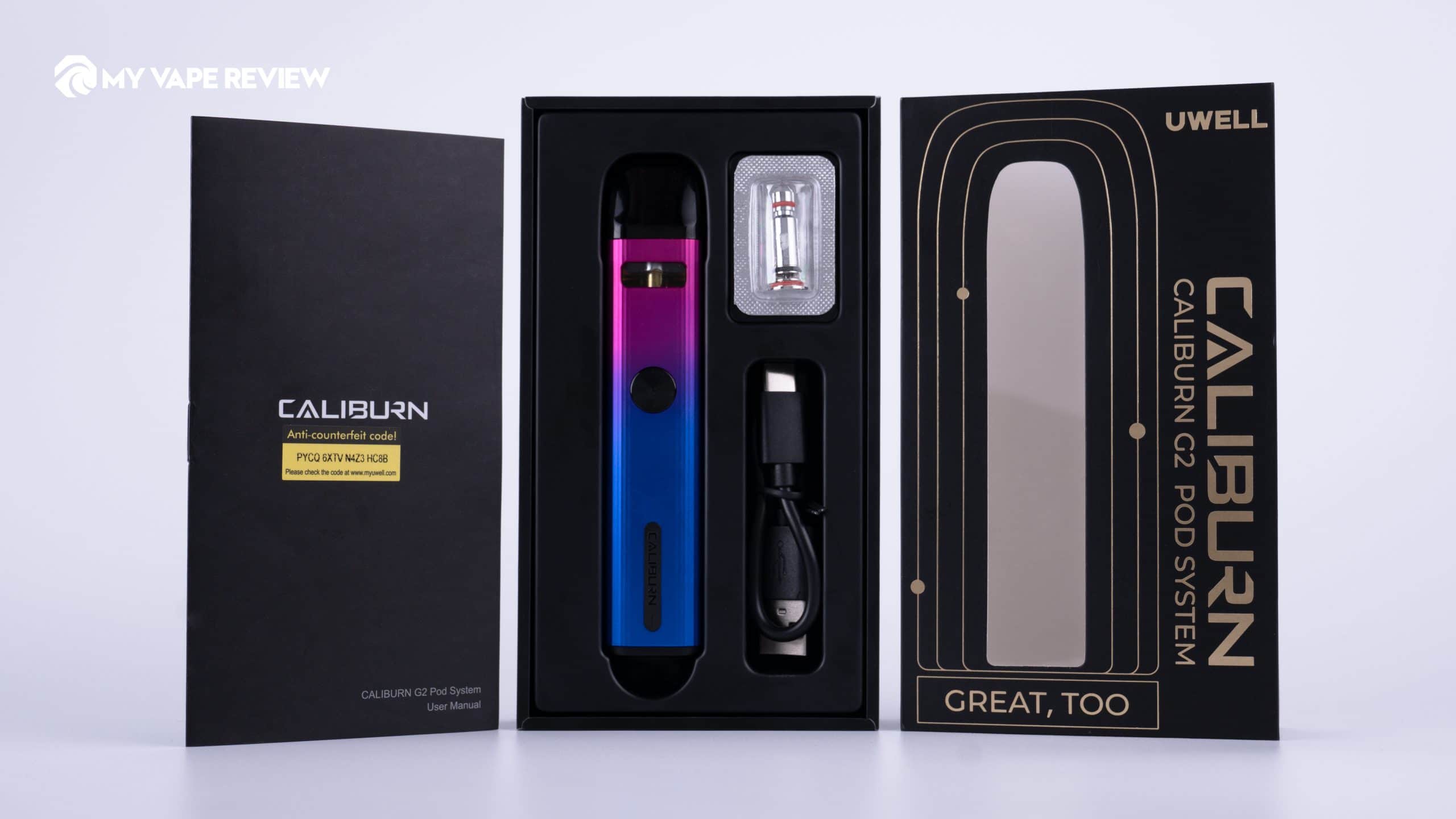 Specification
Material: PA, Aluminum Alloy
Size: 110.5 mm*22.5 mm*13 mm
Net Weight: 36g
Cartridge Capacity: 2ml
Output power: 18W
Battery Capacity: 750 mAh
Coil: FeCrAI UN2 Meshed-H 1.2ohm CALIBURN G2 coil
Lab Test
Uwell Caliburn G2 comes with 2 coils, which respectively is 1.2Ω and 0.8Ω.

Caliburn G2 can go up to 18W. The tested wattage when using the 0.8Ω coil is 15W, which is quite nice. When we were vaping it, the flavor was also richer, and the throat hit is stronger compared to using 1.2Ω coil. The charging rate is 0.6A in our test, which is lower the stated 1A.
Performance – 9.5
Uwell Caliburn G2 pod is pre-installed with a 1.2Ω coil, and has a spare 0.8Ω coil for replacement. Such a coil combo perfectly fits just-switching smokers who prefer MTL or RDL vaping styles. No wonder it has almost risen to be the best-loved coil solution in the pod system cosmos.
We tested the two coils' performance on a grape ice vape juice. The 1.2Ω coil works quite well with the liquid to pump out clean and mellow clouds. And the mixture of sweetness and icy freshness in the vapor is just right up there with my favorite.
There's no sharp contrast between the two coils—the resistance difference is small after all. But in comparison, 0.8Ω coil does deliver apparently stronger throat hit and more vibrant flavor. What's more, a bit of spit-back appeared after the 0.8Ω pod had been left idle for a while.
Overall, both coils are well-crafted. We didn't find glitches like burnt taste or flavor loss that would dampen our mood for vaping. The flavor and vapor smoothness are awesome right up to the end.
We also ran the Uwell Caliburn G2 on different airflows to see how the coils perform. When the air inlet was fully open, we can try some RDL vaping with moderate vapor amount. The only downside for me is that the vapor came out cool but not warm. When we kept the air inlet half open, the device gave us nice tight MTL vaping and meanwhile very small clouds. But somehow it made the cooling effect shine through.
Design and Quality – 9

Pod
Uwell Caliburn G2's pod attaches to its body through a socket-alike connector, rather than more commonly-seen magnets or 510 adapters. Anyway, the two parts interlock very well. The pod could stay put no matter how hard we shook it. After we inserted the pod in, the device would let out a clear snap and vibrate for a few seconds. By the way, according to the manufacturer, the vibration design is an update to increase the product's interaction with users, but it seems not to be a necessity.
The snug fit of Caliburn G2 is really hard to beat. No matter how we placed it, flat or straight up, for a long time, no vape juice leaked out.
Here comes its top-fill system. Needless to say, top filling itself has to be rated as a brilliant design, as it turns complex refilling into a foolproof thing. In addition, Uwell Caliburn G2's filling port sits at the top of the pod. That means we could do a quick refilling rightly after we uncap the mouthpiece on the pod, with no need to remove the entire pod away from the body. After we get filled up, press the mouthpiece back in place—done!
Mouthpiece
One of the most eye-catching changes in the Uwell Caliburn G2 is the shape of its mouthpiece. It gets longer and flatter to get more tailored to users' mouths. That's true. The new generation's mouthpiece gives more comfort than its predecessor.
Although the e-liquid didn't flow over, the mouthpiece might sometimes be dampened with condensation liquid. But it didn't flood to the extent that it would find their way to the mouth.
Body
Another adorable update in Uwell Caliburn G2 is the see-through window added in the upper part of its body. We could now observe the remaining liquid on either side of the device. Almost all Caliburn series products have been carved with a window though, except for the oldest Caliburn G pod.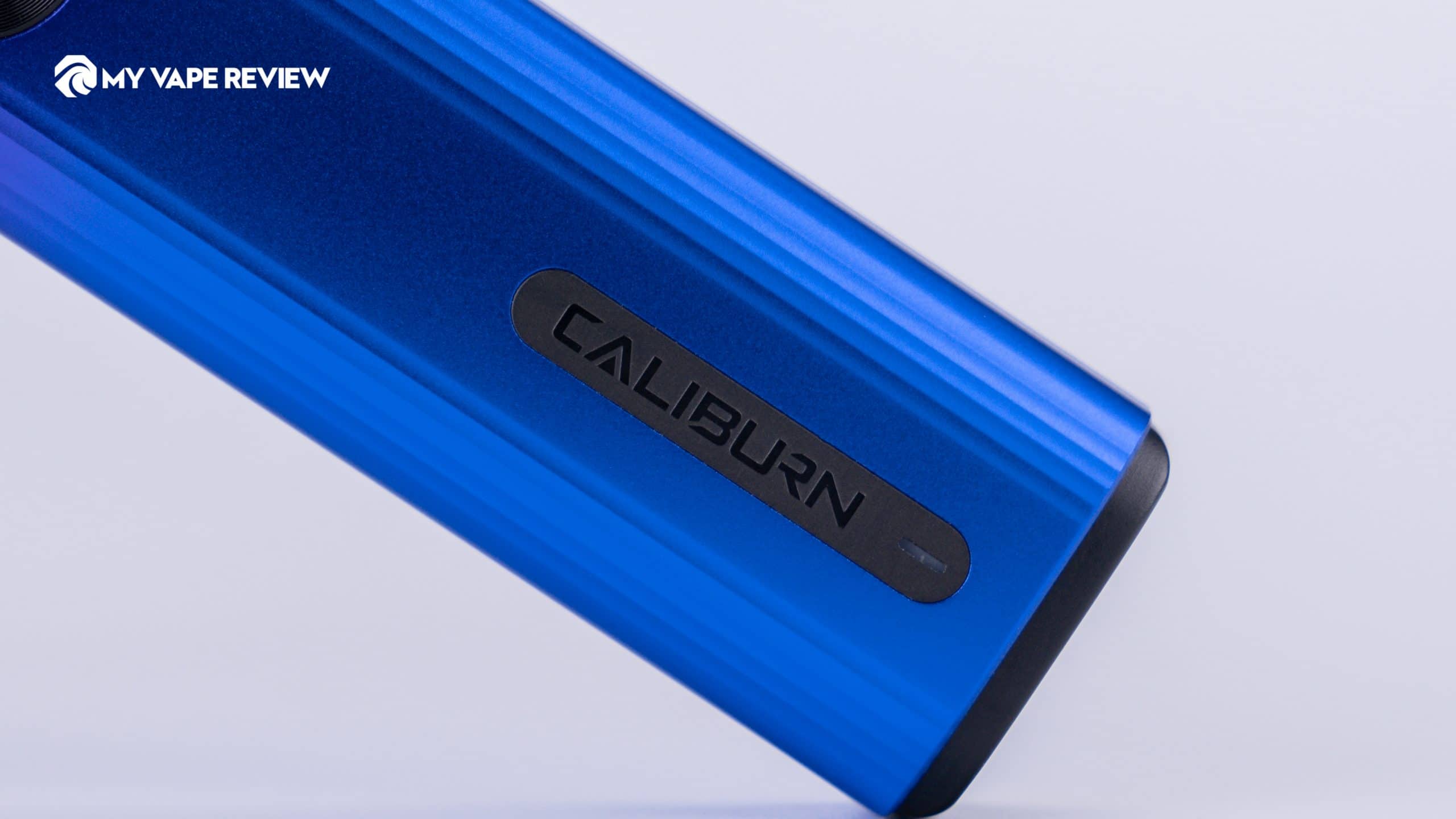 The body of G and G2 look very alike, both featuring understated style plus small form factor. They both utilize uneven aluminium alloy on four sides to ensure the device is slip resistant. That also makes them feel nicer in hand.
Airflow
Uwell Caliburn G2 pod adds an airflow control dial inside its pod, which we can see after taking the mouthpiece off. It's really good to have adjustable airflow in such a small and simple pod system. The addition makes G2 above average in versatility. We can roll the dial to make a switch between tight MTL and RDL vaping.

Function – 9
Uwell Caliburn G2 remains the ignition button we could also find in the first generation. But we don't necessarily have to keep pressing the button to take a drag. G2 pod is meanwhile an intuitive puff-to-vape device, which is closer to our draws on cigarettes. However, it's a pity that the new launch has no key lock function either to protect it from accidental firing.
Ease of Use – 8.5
Although a growing number of manufacturers start to erase all buttons off pod systems, the single-button design of Uwell Caliburn G2 doesn't really lead to any complication. Its button is meant for two purposes, one of which is ignition, despite we can do so by simply taking a drag. The other is to switch on or off the pod system by pressing it for five consecutive times. In the meantime, the LED light lying at the bottom would flash green. If it's the end of the story, Uwell Caliburn G2 would be a perfect no-nonsense product. However, there're two flaws slightly diminishing its ease of use.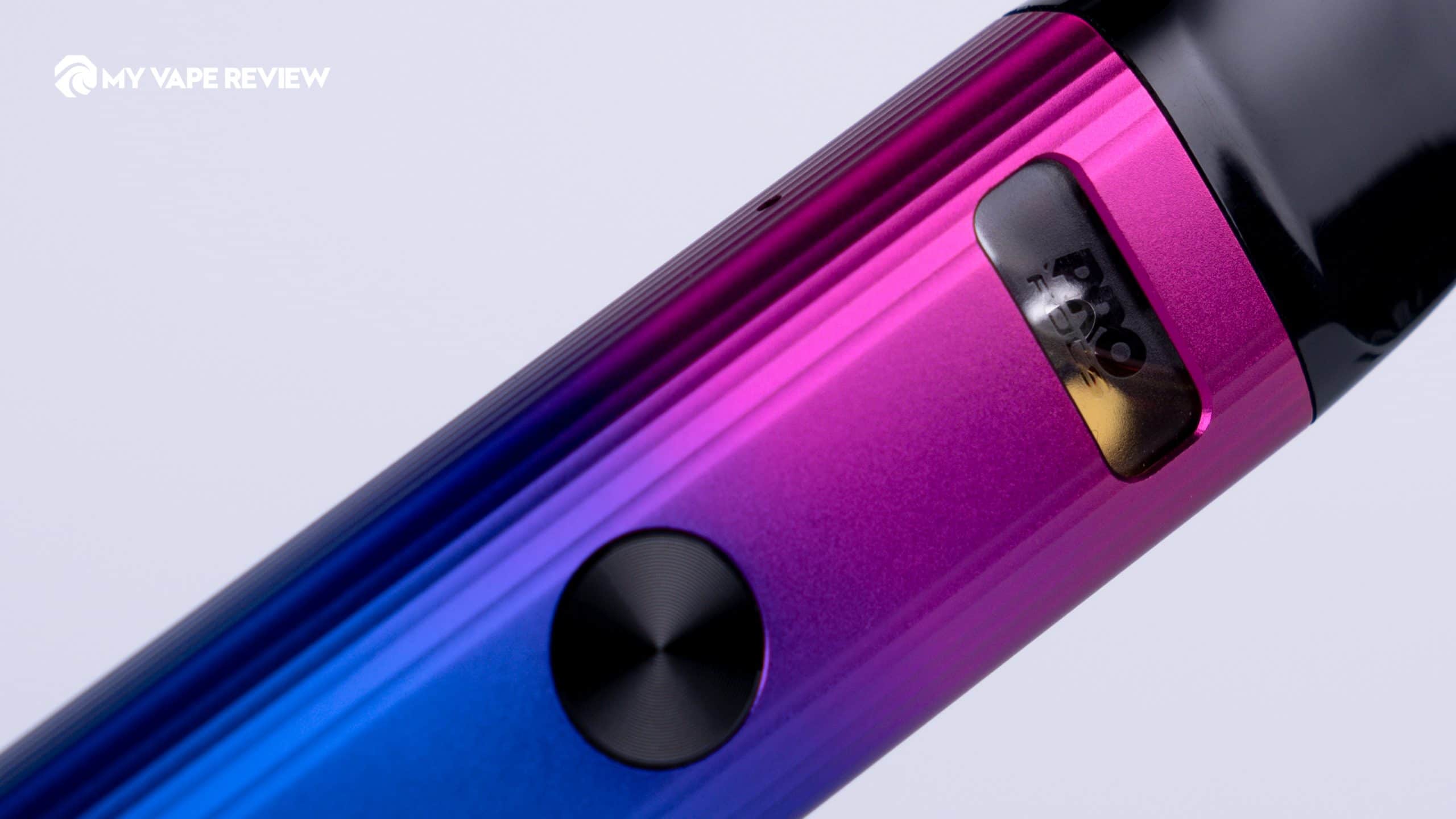 One of them is the location of its airflow control dial, as the dial "hides" inside the pod. We must uncap the mouthpiece first, and then adjust it. At any rate, adjustable airflow in a pod system is something we can't praise highly enough. It's just we'll like it better if it sits outside.
In addition, we've also had a problem with refilling. Actually the filling port lies exactly next to the airflow dial. To feed juice in, we had to prize the mouthpiece open as well. However, the mouthpiece is made of excessively slippery material—quite a struggle to take it away.
Price – 9.5
Uwell Caliburn G2 pod: $29.99 (≈£22)
For your information, Uwell Caliburn G pod:
$23.99 at Elementvape.com with the original price of $39.99
£20.99 at NewVaping.com with the original price of £24.99
The evolved G2 is only about 6 dollars more expensive than the first generation G pod. And compared with the widely popular Caliburn A2 released months ago, the price of G2 pod is only a little bit higher, too (five dollars or so). Make no mistake, Caliburn A2 only runs on a 520mAh battery and constant 15W power.
If we factor in the specification, function and ease of use altogether, Uwell Caliburn G2 pod has almost no rival among pod systems within this price range. It's absolutely more than worth the $29.99 price tag.
Overall Thoughts
Uwell Caliburn G2 is a frontrunner in pushing the boundary of pod systems. Its atomization tech, built quality and design are all up to bar. It's also a simple puff-to-vape device—good for smokers to make a transition. Its airflow control system could even allow for a switch between RDL and MTL vaping styles. Only its mouthpiece might need some improvements to enhance its convenience. All in all, Caliburn G2 is an economical powerful product we do recommend beginners to invest in.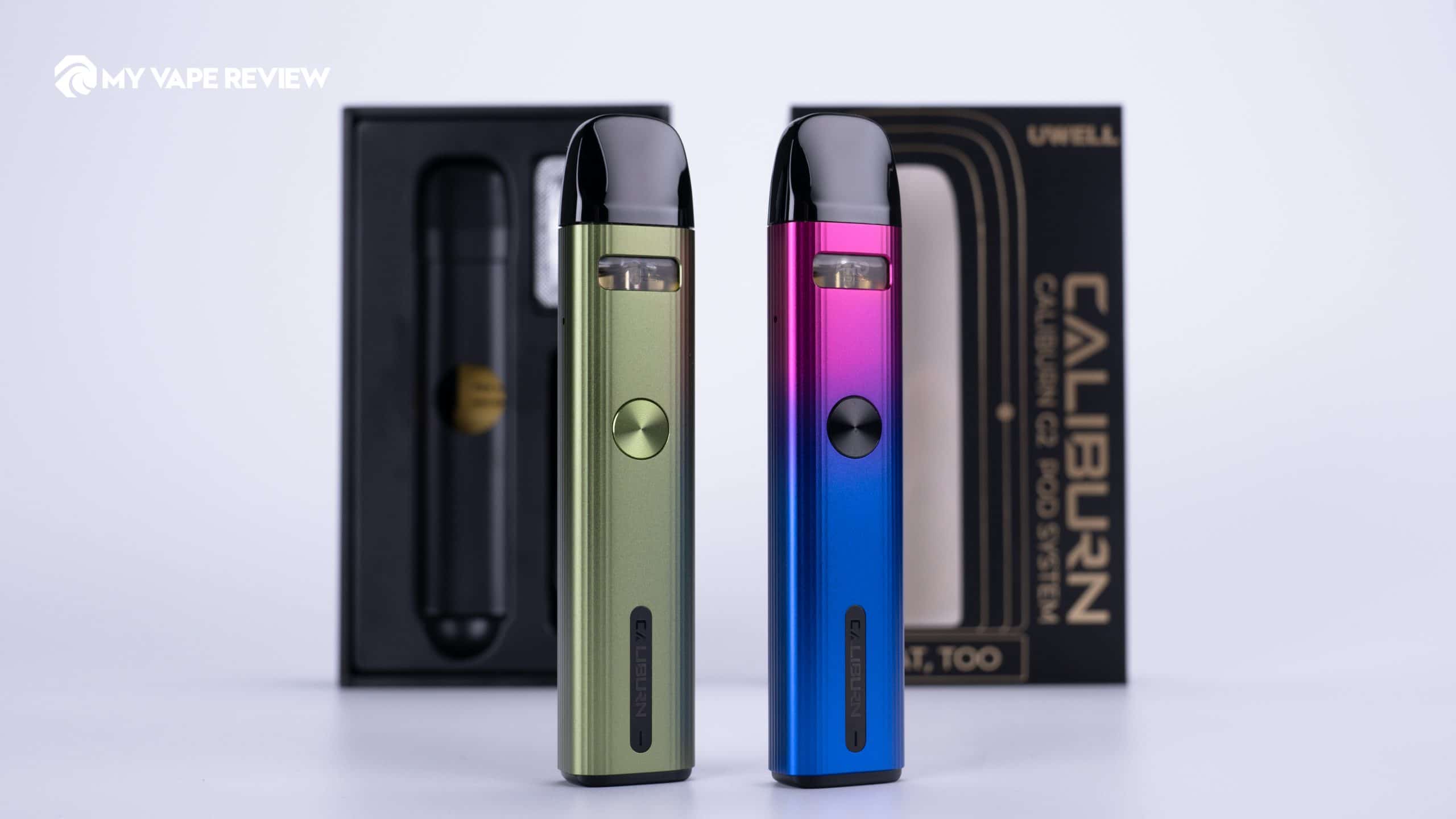 Have you tried the Uwell Caliburn G2 pod yet? If yes, please share your thoughts with us. If not, do you want to have a try now? We hope this review is helpful for you.