Since Uwell launched today's wildly successful Caliburn line, it's been about two and a half years. Step by step, Uwell has built a well-functioning Caliburn pod ecosystem that many of its competitors could barely measure up. So far there's been a total of seven pod vapes born out of the impressive Uwell Caliburn line.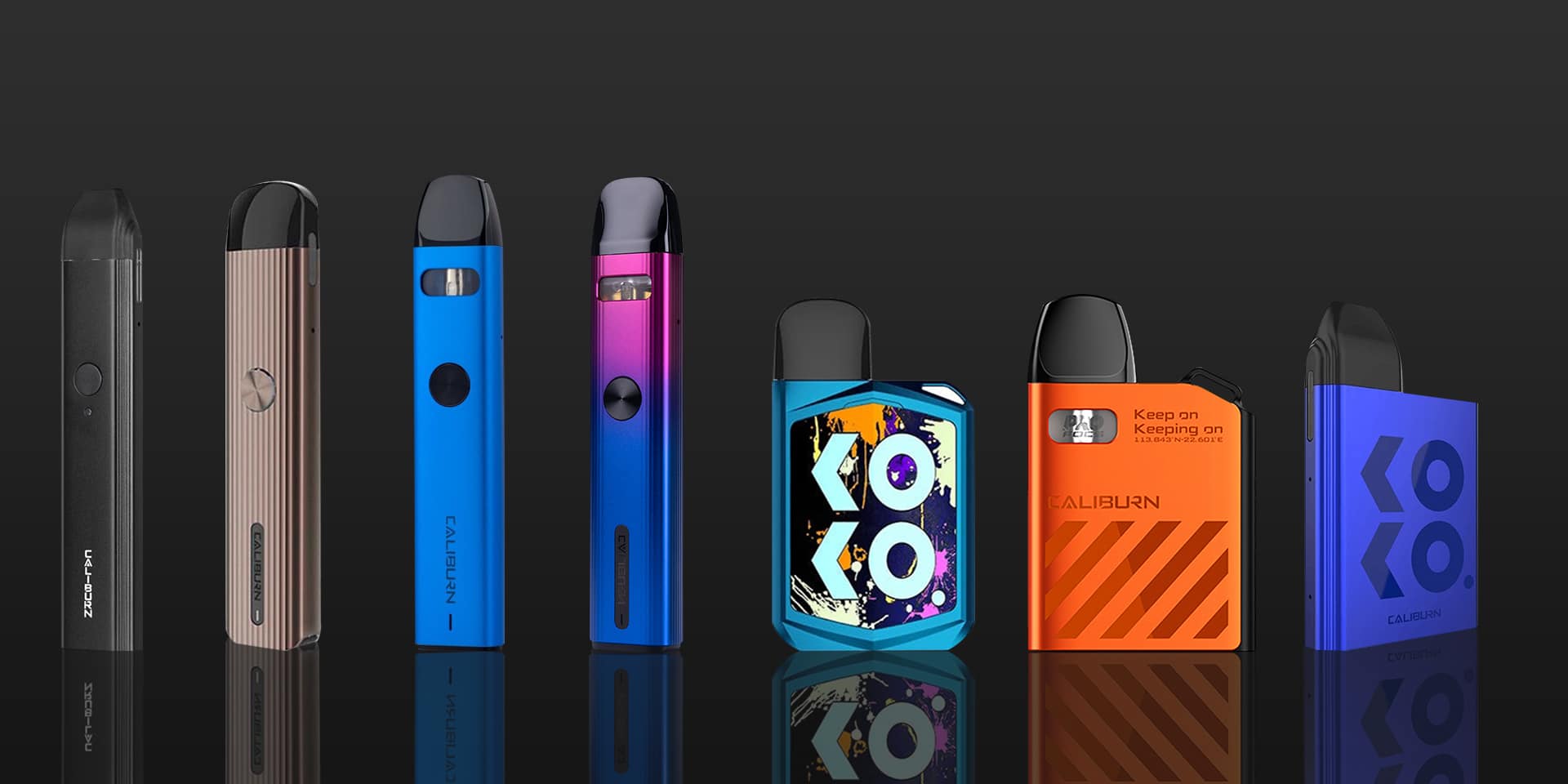 Three of them, G2, A2 and AK2, actually made debuts not long before. Caliburn G2 is especially a new launch, which was not rolled out by Uwell till this month. It's glad to see ever-evolving tech and design are continuing to fuel the Uwell Caliburn line, and incubate these inspiring new products.
Meanwhile, it's time to say our farewells to the first offering from Caliburn series—Caliburn pod kit. Yes, it shares the very name of the product series it falls into. According to Uwell months ago, Caliburn was discontinued permanently. Considering Caliburn pod plays the role of a pathfinder for all successors in this series, we decide to include it in this review anyways.
Before we start…
This Uwell Caliburn line review will focus on differences among the seven products, to help our readers to go over their respective strengths and weaknesses. When you read till the end, you'll more easily decide your best match.
In this case, we'd skip most of the features the 7 vapes share. Nevertheless, we know that might rather pique your curiosity. That's why we comb through all their similarities and put them down here for you.
Similarities of All Uwell Caliburn Line Products:
Convenient top filling system
LED light that could indicate the battery level
2ml pod capacity
Non-adjustable output power
If any of the four goes against your expectation for a pod, the Uwell Caliburn line might not be that one for you. You could check out pod systems from other vape manufacturers as prominent, such as Geekvape and VOOPOO. While if you take all of them, then read on and find out the one fitting you best!
Specifiaction

Verdict:
Best Higher-Watt Caliburn Device
If you prefer higher-watt performance, Caliburn G and G2 could beat others out without any doubt. Their battery capacities rank high as well, and G2 even tops the list with its 750mAh. From our experience of using G2, we could use up three or four pods of juice on a single charge. And it took less than 40 minutes to charge it from flat to full battery.
Best Lower-Watt Caliburn Device
However, going for higher power is not something like gospel truth we must follow. For vapers who prefer smoother vapors or menthol flavor e-liquid, lower-watt pods are much more suitable instead. That's because lower power could magnify vape juices' cooling effect and give us more intense icy freshness. In this case, we'd recommend the 15W KOKO Prime after factoring in the battery capacity.
P.S.: Of course, if you love fruity or custardy-flavored juice, don't hesitate to grab the higher-watt G2.
Which One is Most User-Friendly?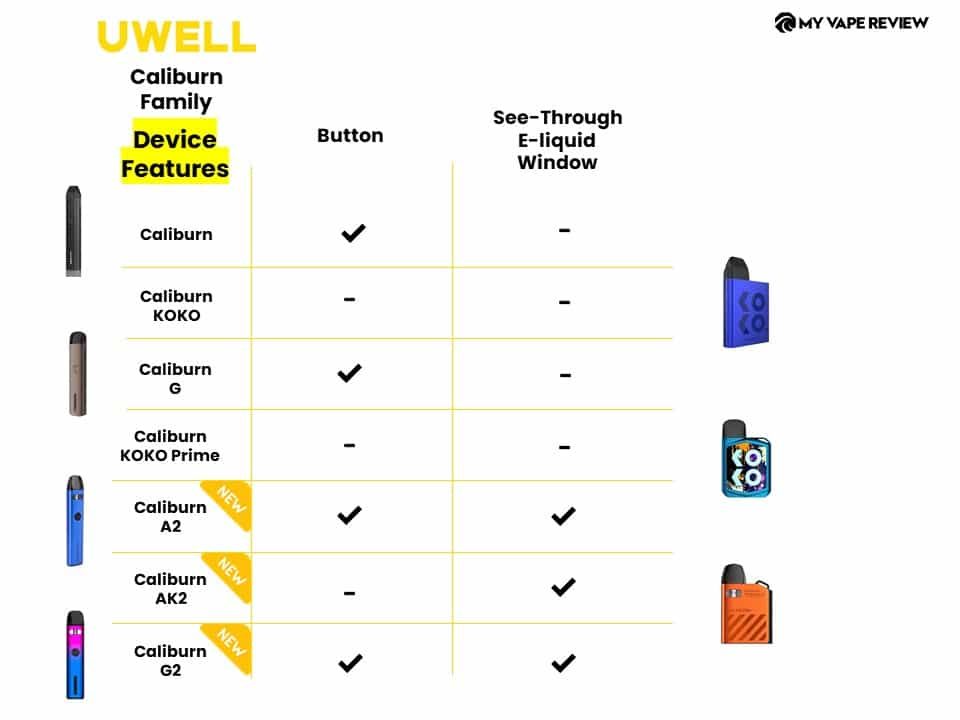 Verdict
Although none of the Uwell Caliburn series pods has a couple of buttons for advanced set-ups like power switching, some have a single button, like the original Caliburn, G, G2 and A2. The button, for one thing, enables both drag and button activation. It could also turn off the device to prevent accidental firing, which is especially helpful for those who have to throw vapes into bags or pockets for a long time. Besides, a vape that could be powered off could definitely save more energy and hold up longer.
Let's move on to the see-through window. The design has increasingly become a must-have for vapes in recent days. The trend has also wielded influences on the evolution of Uwell's Caliburn series. Since the release of KOKO Prime at the end of last year, every subsequent Caliburn product has been outfitted with a visible window enabling us to observe remaining e-liquid.
Speaking of the most user-friendly pod, Caliburn A2 and G2 obviously get the better of others as they have both. They're safer and easier to use, and could last longer if you often vape on and off.
Which Allows for Most Versatility?
Although the Uwell Caliburn series has 7 products on offer, it covers only 3 replacement pods. It's because each of them is compatible with at least two Caliburn products. Here's their compatibility info:
Uwell Caliburn Replacement Pods: Caliburn, KOKO
Uwell Caliburn G Replacement Pods: G, KOKO Prime
Uwell Caliburn A2 Replacement Pods: A2, AK2
Uwell Calibunr G2 Replacement Pods: G2 (the replacement coil is compatble with G's)
If you want to try more coil options with wider resistance range, G, G2 and KOKO Prime are better-suited.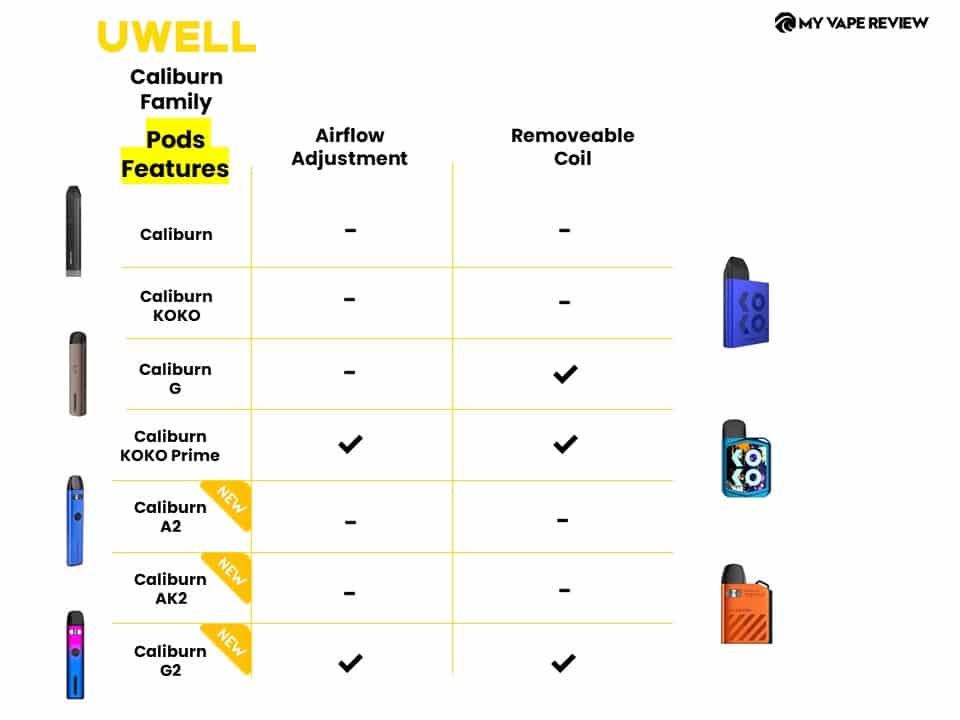 Verdict:
It's not common to find airflow control system in a tiny pod system, but Uwell adds it to two Caliburn products anyway. The two are KOKO Prime and G2 which allow for coil replacement in the meantime. By adjusting the airflow or attaching coils in different resistance, we can have a go at a variety of vaping styles with one single device. Trying to find the most versatile Caliburn product? Go for KOKO Prime and G2!
Whose Design Wins Bigger?
Mouthpiece
Generally, Uwell Caliburn's mouthpiece showcases an evolution of getting rounder and longer. Take the earliest Caliburn and KOKO as an example first. The slopes of their mouthpieces are a little bit steep. The Caliburn G and KOKO Prime that followed fix this glitch up and bring us a mouthpiece with much gentler slope.
Uwell Caliburn KOKO Replacement Pod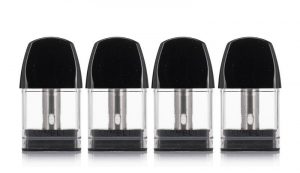 Uwell Caliburn AK2 Replacement Pod
When Uwell came out with A2, AK2 and G2 this year, it further improved the mouthpieces by stretching them a bit, which adds more comfort to our drags.
Body
Caliburn KOKO, KOKO Prime and AK2 are all square-bodied devices in vibrant colors and shaped like classical Zippo lighters. We could find similar charming design in Voopoo's Drag Nano 2. In addition, all the three come with a lanyard in their kits allowing us to wear the pods around the neck. In contrast, the rest are just as long and slender as most typical pod systems. But no matter how these Caliburn products look like, each of them is small enough to slip into our pockets.
Verdict
In our opinions, the latest Caliburn A2, AK2 and G2 have most ergonomic mouthpieces. When we took a puff, their smooth and longer shapes could fit like a glove.
Speaking of Caliburn products' bodies, which one could finally win your heart is actually down to your personal preference. If you want a chic pod kit that distinguishes itself from others, we couldn't recommend KOKO Prime and AK2 enough. You could also consider the special Vision edition of KOKO Prime, which adopts an even more modish fully-transparent body while staying the same in other aspects. If you're fond of more understated styles, perhaps A2 and G2 are the ones who will stay in the game.
Which One is Most Worth Its Price?
This table shows each Caliburn product's MSRP and their average prices at certain US and UK online stores. (You could refer to the table to learn about their general price ranges at online stores. However, the specific value might change over time due to different sales promotion strategies.)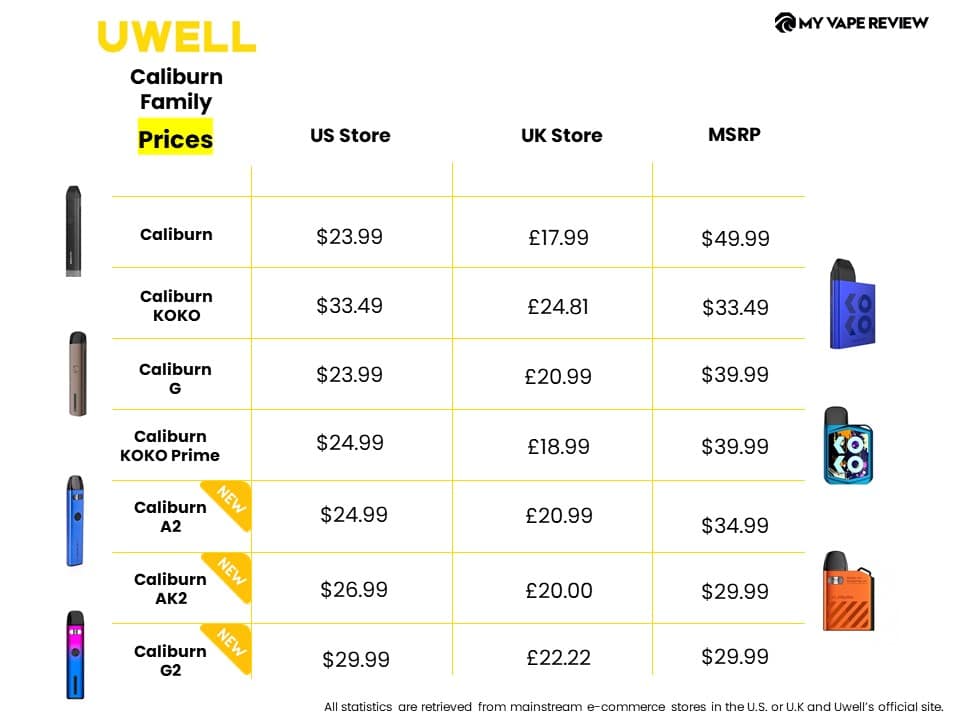 Verdict
Surprisingly, although newer Uwell Caliburn product carries higher price tag at online stores, their official pricing is going down overall. For most worthwhile Caliburn products, we'd like to nominate those new launches (A2, AK2 & G2) anyway. Uwell not only refined their bodies and mouthpieces, but added a visible window. And we could buy such higher level of comfort and convenience by paying at most six more dollars.
Purchase Recommendation
If we take every factor into account, G2 has come out on top hands down. It's most powerful at every dimension we talked about, except for its slightly higher but acceptable price. However, if you hate to replace coils on your own, we'd say A2 is a better option.
That's all for today's Uwell Caliburn series review. I hope it could help you to decide your perfect match. And what's your take on Uwell Caliburn series? I'd like to hear your opinions right below!