Following the release of Vmod series vapes, Vapmod has made quite a name for itself. The 900mAh iPod-alike vaporizers was once a real hit among vapers. On top of that, Vapmod's Quizz disposables have also proved to be a hot seller in the market. That's why we're so much intrigued by the new series, Allspark, that Vapmod has just introduced to broaden its disposable vape lineup.
Vapmod Allspark 5K is a 650mAh rechargeable disposable vape with up to 15ml liquid capacity. It utilizes an updated mesh coil comparing favorably with that of all previous Vapmod products. Needless to say, we could expect fabulous clouds from the new launch.
After days of testing on the Vapmod Allspark 5K, we've sorted through all the device's pros and cons in the paragraphs below. By the way, we highlight aspects we like in green, and those we don't in red, to make your reading easier. Let's kick it off!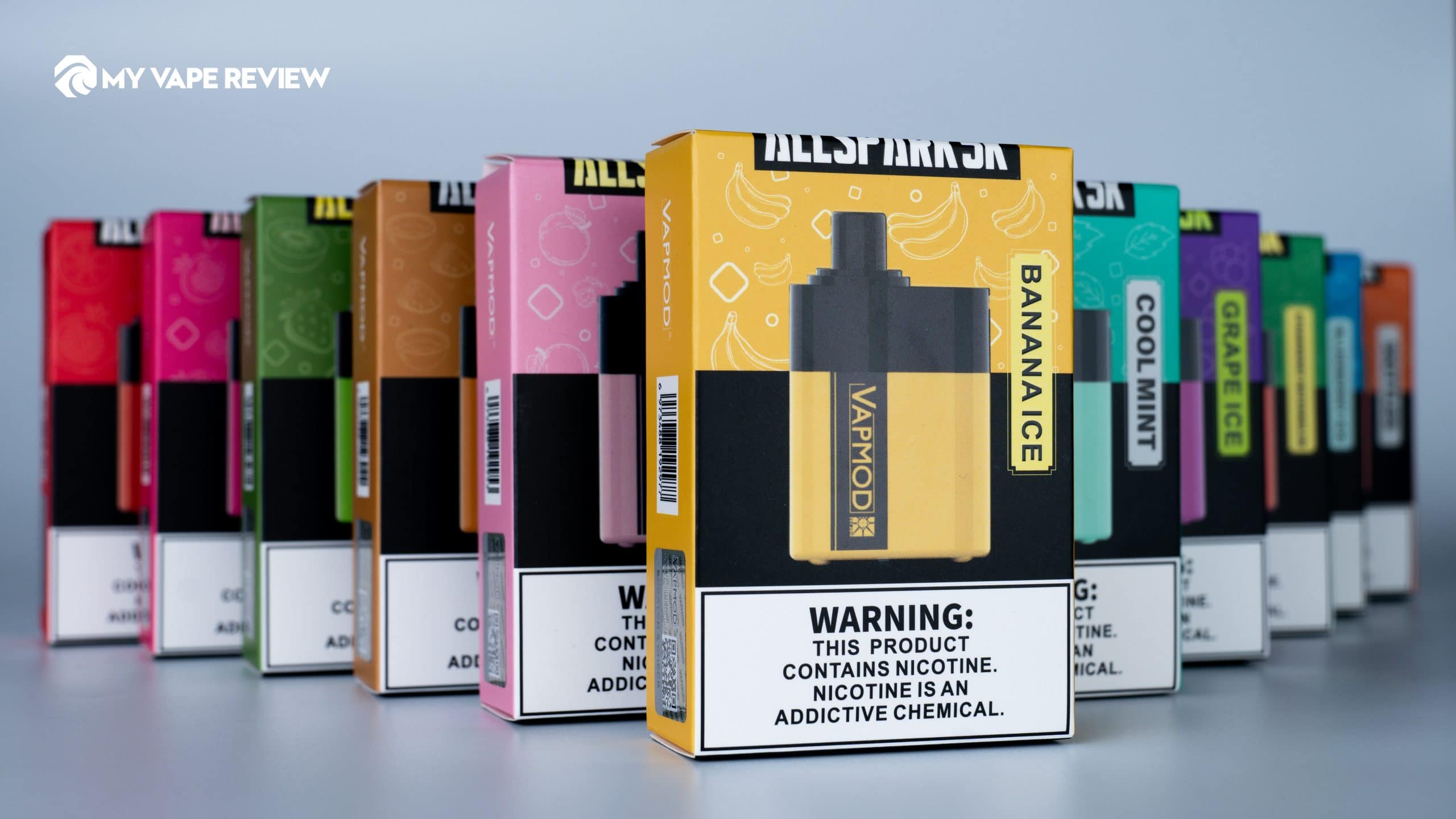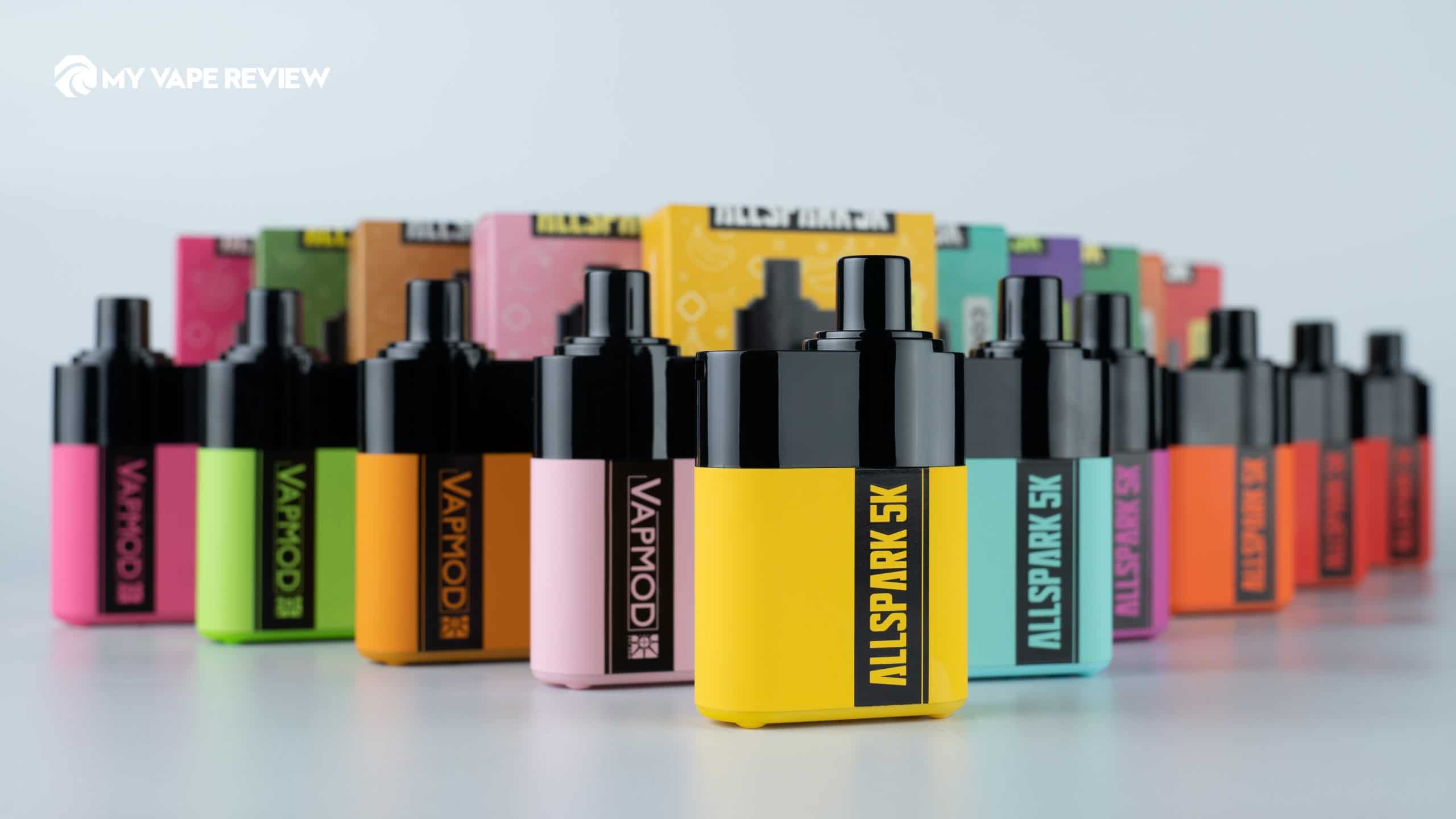 Specification
Nicotine Strength: 5%
E-Liquid Capacity: 15mL
Battery Capacity: 650mAh
Charging Port: Type-C
Vapor Performance
Vapmod Allspark 5K features rather harsh throat hits, which probably come down to the combination of its mesh coil and 5% nic salt recipe. And the sweetness carried by its vapor is second to none. Overall it's a device able to take us to reach the satiation point easily, as every puff we got was accompanied by long-lasting flavors and nicotine buzz.
As Vapmod Allspark 5K has adjustable airflow, we could make a switch between MTL and DTL vaping with this petite gadget. When we got into MTL vaping, the vapor amount was just as small on average—good for stealthy vaping, and we could feel noticeable icy effects from it. In contrast, the device gave stronger throat hit and warmer vapor when we moved to DTL. Generally speaking, the two settings come off as quite different, but both of them are characterized by tight draws.

Flavors
Strawberry Kiwi & Mango Ice: Best fruity liquid option with authentic succulent flavor.

Its sweetness lingered

in the mouth even seconds long after our exhale.
Cool Mint: The

sweetness kind of predominates

over the menthol. I'd recommend you tweak the device to MTL setting to magnify the refreshing cooling sensation.
Banana Ice & Strawberry Watermelon: The former is purely sweet whereas the latter comes with a little sour overtone. But anyways both taste

way too artificial

.
Tropical Fruits & Peach Ice: They're both

appropriately sweet and smooth

, but taste very alike. If we must tell the difference between the two, maybe the Peach Ice is slightly weaker than Tropical Fruits.
Pomegranate Ice: The

proportion of menthol

is spot on, which has a beautiful

counter-point to the sweetness

of pomegranate.
Skillets: Strong berry-flavored liquid featuring a

wonderful intertwining of sweet and savory

tastes.
Grape Ice: The

aroma of grapes

is beyond compare. It pairs better with MTL vaping style.
Vapmod Allspark 5K has over 10 flavors to choose from, in all of which we found the sweet tone prevails. If you're into luscious liquids, they'd suit you quite well.
Design & Quality
Outfitted with a 15ml liquid reservoir and a Type-C charging port lying at the bottom, Vapmod Allspark 5K could last for somewhere between 4,000 and 4,500 puffs at a rough estimate. It kind of amazed us that this tiny gadget, approximately as big as Voopoo Drag Nano 2, could hold so much juice inside.
Vapmod Allspark 5K consists of a black PCTG mouthpiece and a cuboid body with various colors available. Each color option corresponds to a different flavor, but the specific flavor description is only stamped on the package. That's a little bit troublesome—when we couldn't relate the color to its flavor, we have to grab its package to have a check.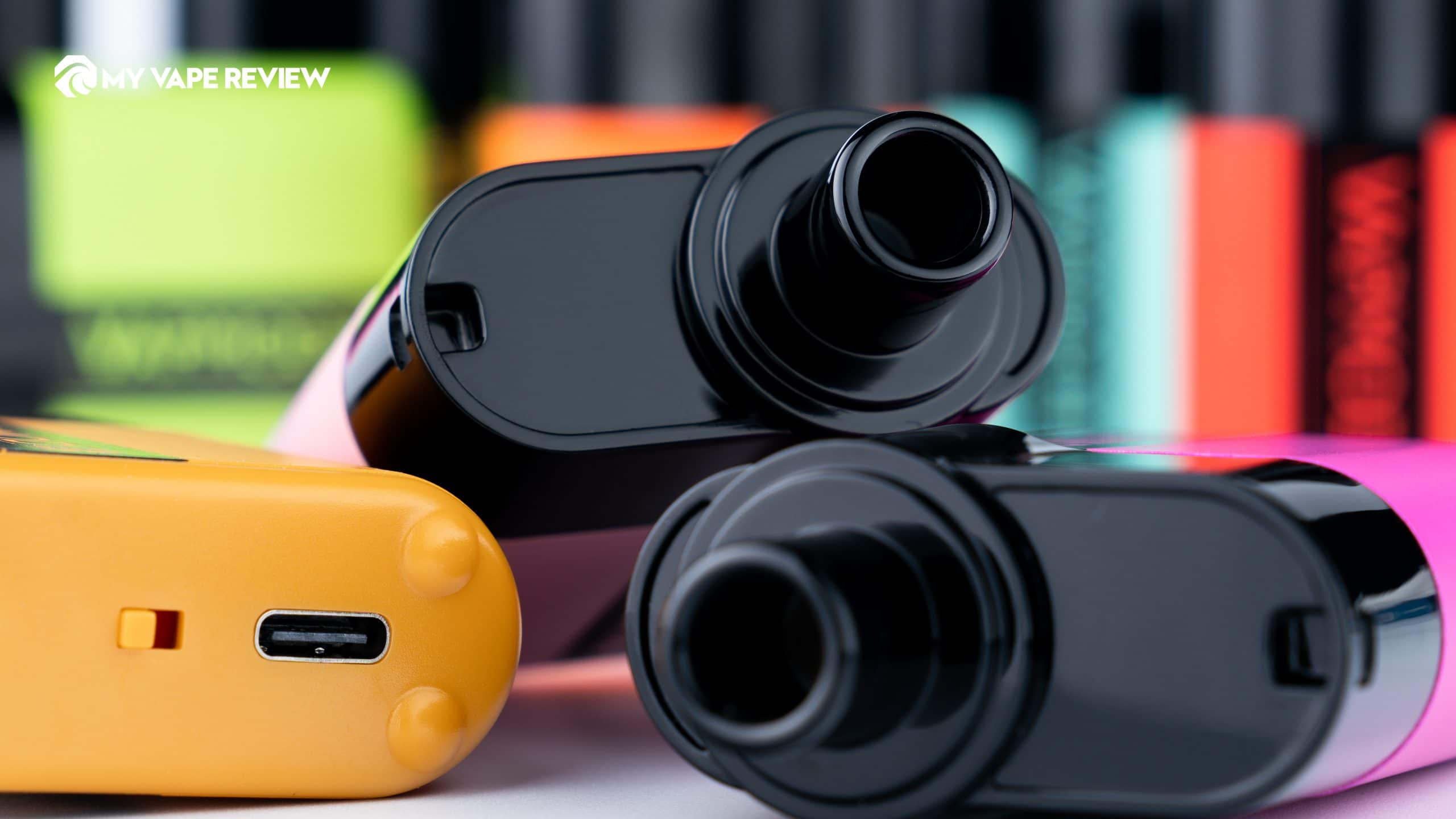 The disposable's body is made of slip-resistant grind materials, which feel really nice in hand. It's just the overhang around the mouthpiece coming off as unnecessary—the grips would be more comfortable without it. In addition, we found liquid leakage in the Mango Ice device, but no such issues bothered us when we vaped on other flavors.

Functions & Ease of Use
Since manufacturers tend to minimize operations in disposable vapes, it's a real surprise to see an airflow control toggle at the bottom of Vapmod Allspark 5K. From our side, we'd say having some freedom to play with a disposable is a definite advantage. And we'll love it more if there's an indicator around the toggle telling us whether we're going through MTL or DTL.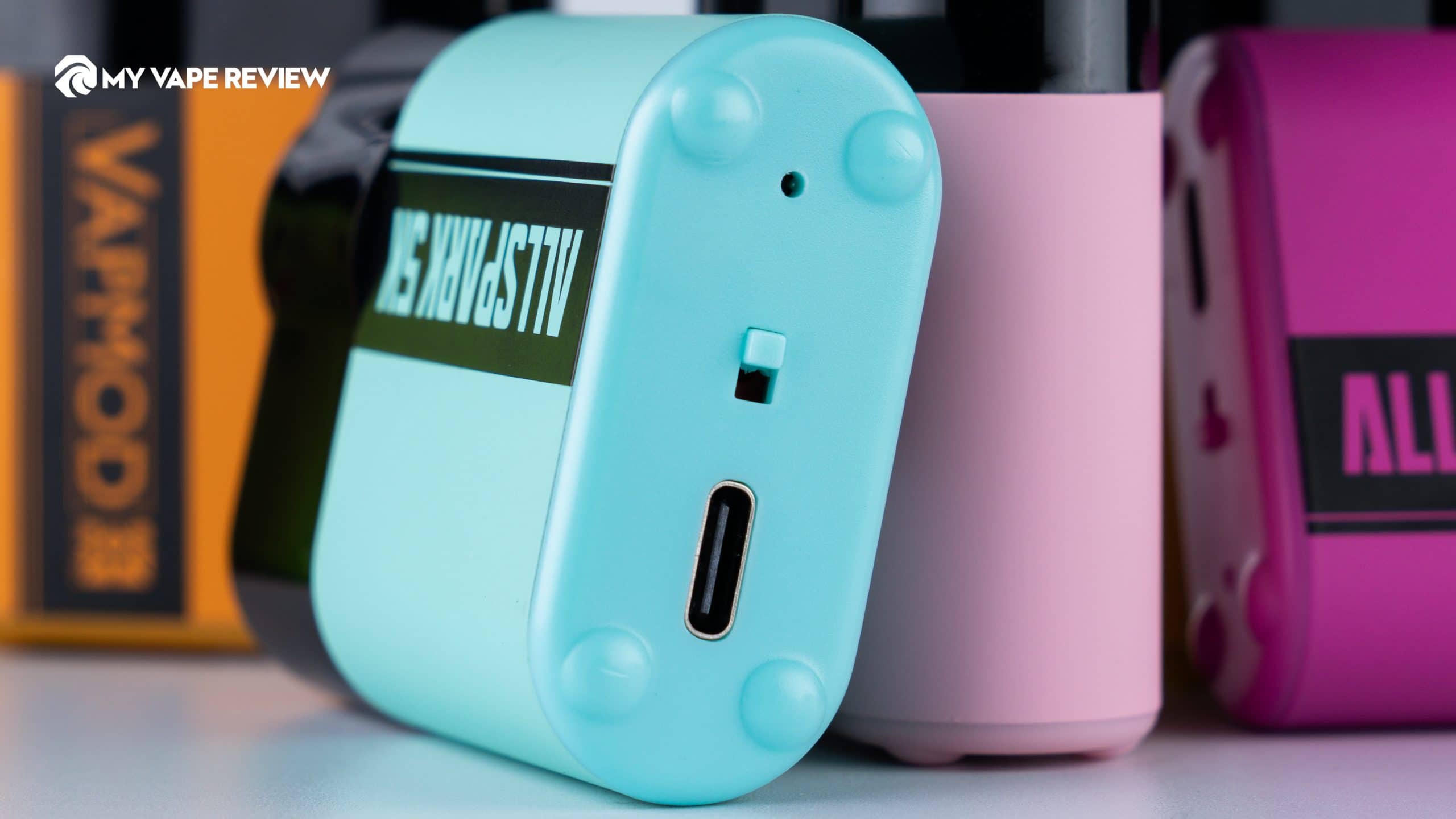 Charging Port and Airflow Adjustment
There's a Type-C charging port sitting on Vapmod Allspark 5K to enable relatively fast charging. But the disposable has neither a see-through window nor a visible pod allowing us to observe the remaining liquid level. That would end up as a toughie for us to know whether the device comes near the end of its life.
Overall Thoughts
Vapmod Allspark 5K is a disposable vape featuring harsh throat hit and enduring sweet aftertaste and nicotine pleasure. Its 15ml liquid capacity and rechargeable batteries combined could satisfy our appetite for nicotine for quite a while. Small as it is, we could still try both MTL&DTL vaping styles with it by sliding a toggle.
Have you tried the Vapmod Allspark 5K yet? If yes, please share your thoughts with us. If not, do you want to have a try now? We hope this review is helpful for you.