Vaporesso XROS Nano is a pod kit. It can house 2mL e-juice. The battery capacity is 1,000mAh. There come in 2 coils of 0.8Ω and 1.0Ω. XROS series have been very popular among vapers. The square shape look alike VOOPOO Drag Nano pod kit. Don't you think so? For some basic information about XROS Nano, you can check out our preview on it.

It has been out in the market over a month so far. We have also tested it for a few weeks.
We highlight aspects we like in green, and those we don't in red, to make your reading easier.

Product Info
Specification
Dimensions: 14.9 x 48.8 x 63.1mm
Battery: 1000mAh
Charging: USB-C
Pod Capacity: 2mL
Feature
Draw Activated
Pulse Mode
Adjustable Airflow
Built-In Coils
Package Content
1 x Vaporesso XROS Nano 1000mAh Device
1 x 0.8 Ohm XROS Refillable Pod
1 x 1.2 Ohm XROS Refillable Pod
1 x USB-C Charging Cable
1 x User Manual
Design, Quality & Ease of Use – 9

Packaging
We would love to mention the packaging in a separate section. The packaging of XROS Nano is convenient and user-friendly. First, we had this easy-to-tear plastic film. Second, we could easily slide the inside out and take the vape out of the box. Sometimes it's just bothersome that we have to open another accessory box: can't get the coil out since it's stuck in the bottom of the box, or hard to get the box itself out of the bigger box. Anyways, we've encountered both situations before.
But for the Vaporesso XROS Nano, the accessory box doesn't hide beneath your device anymore. It's right there next to your device. Just flip the lid, you'll find anything you need. 10 out of 10 for this.
Device
On the top edge of XROS Nano device, there is a lanyard hole. You can find a metal lanyard in the accessary box. It looks like a lanyard has become a must-have for a square pod system. For Uwell KOKO and VOOPOO Drag Nano, we can see the same design on them.
VOOPOO released 6 colors for XROS Nano. They are silver, space grey, black, green, yellow, and pink. You can check out the picture below for colors. The color options are bold and bright-colored. You can tell Vaporesso XROS Nano is designed for the 20s. What we got was the silver one. The vape itself is lightweight. With the indented diagonal lines aligned on the ½ of the front and back surface, we got nice yet comfortable grips.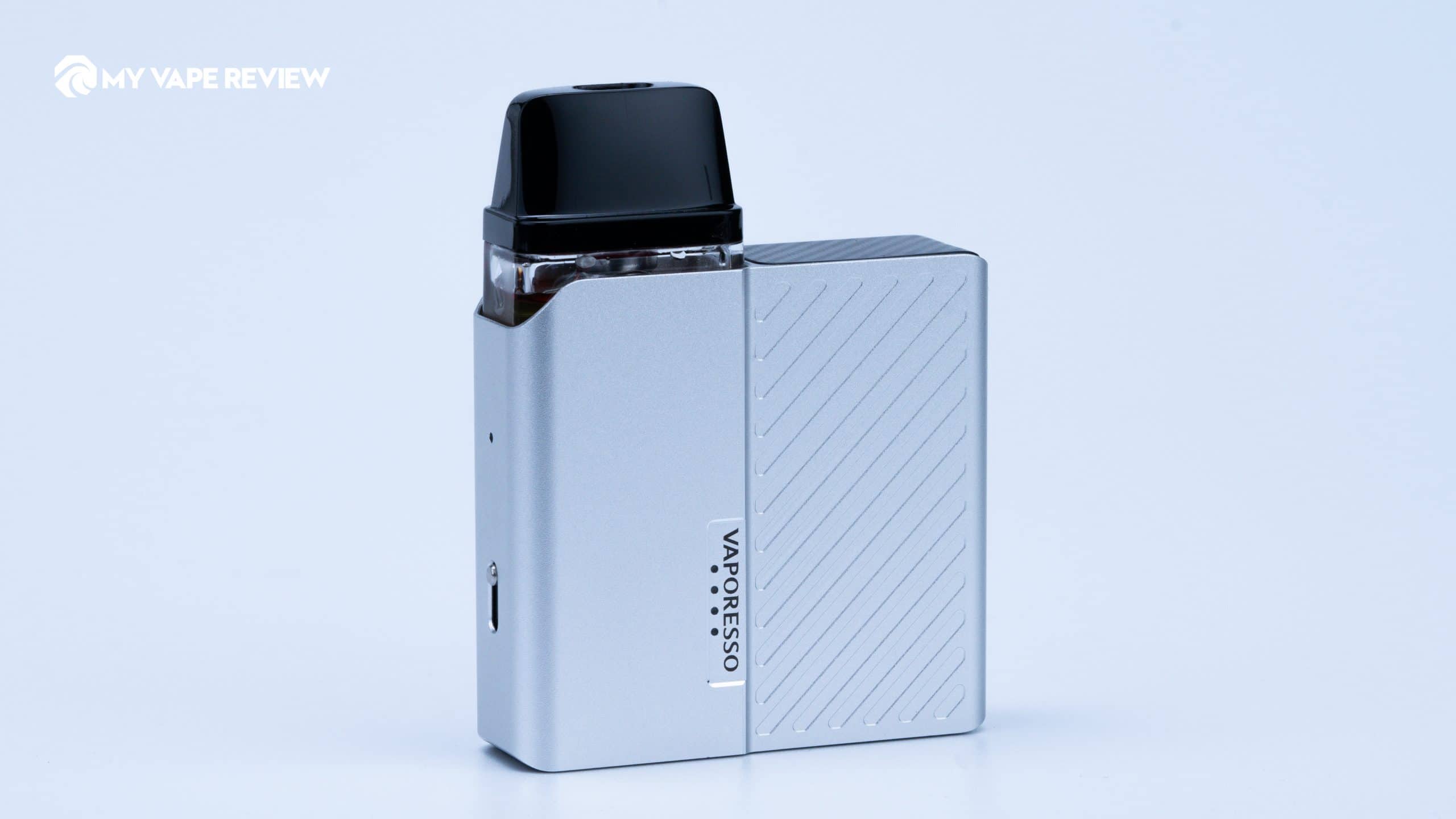 The airflow control system of Vaporesso XROS Nano is a sliding button, which is nice! It's on the side of the device. We could adjust the airflow precisely by sliding it slowly to our preferred level. However, the button is a small round ball and it's so tight. If you don't have long nails, it might be difficult for you to push it with your fingertip.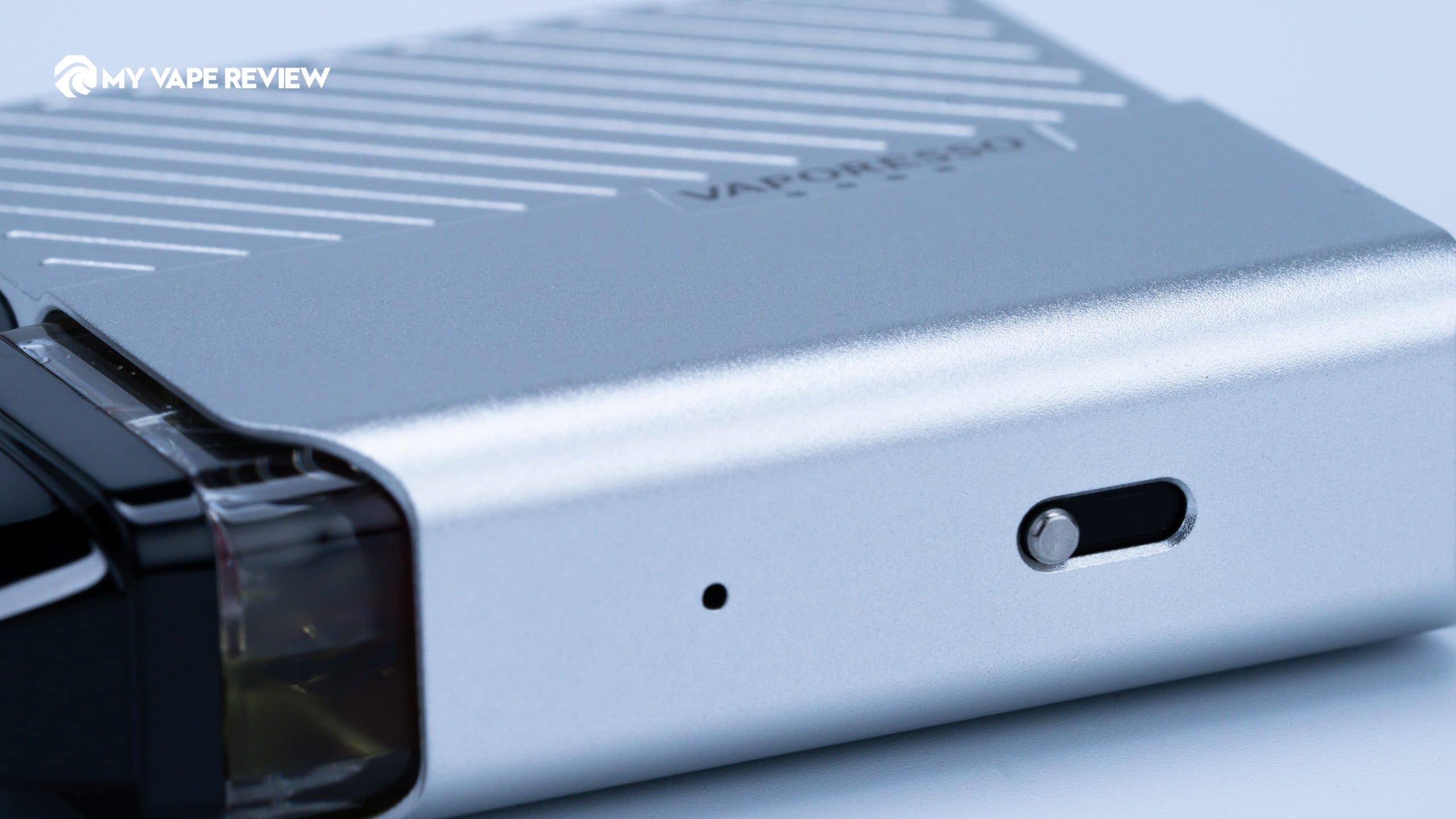 Type-C charging port is on the bottom of the device as usual.

Pod
There are two pods in the package. 0.8Ω mesh coil one is installed on the device, and 1.2Ω coil one is in the accessary box. The pod is compatible with other XROS vapes.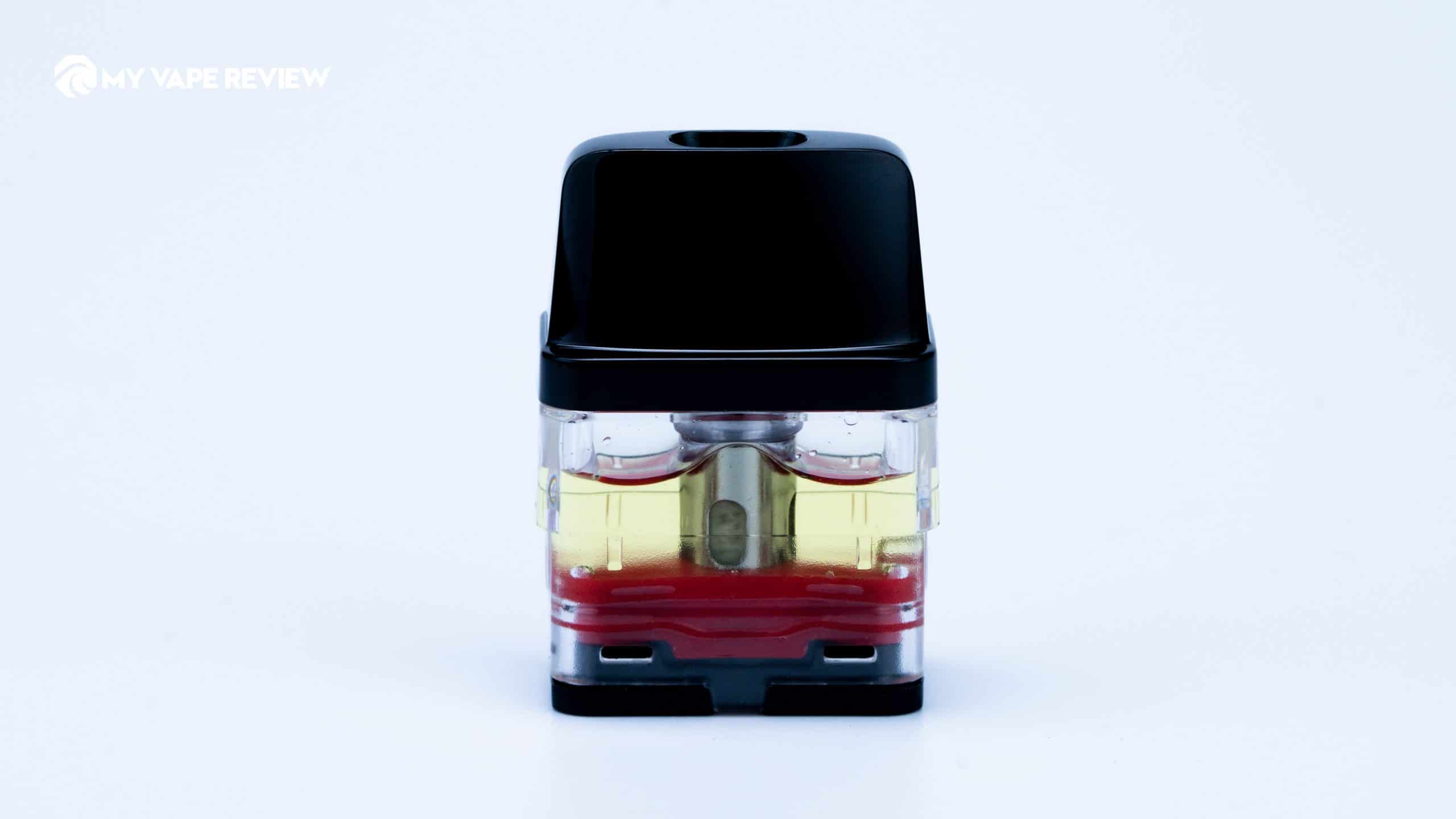 The Vaporesso XROS pod is featured with top filling. We didn't have leaking problem during use. The mouthpiece is also easy to uncap. As we had experienced some difficult to uncap mouthpiece so many times, we were actually surprised at it for being so easy to take off.

Function
Vaporesos XROS Nano's airflow is adjustable. We will explain more about the experiences on airflow below in the performance section.
This kit doesn't have power adjustment feature. The LED indicator will light up when inhaling. It also is the battery indicator.
Performance
We used Fruit Monster's blueberry raspberry lemon ice in their Frozen series for both coils.

0.8Ω Mesh Coil
The flavor on the 0.8Ω mesh coil was great. The cooling sensation in this liquid was delivered nicely. The sweet side was getting better as we kept vaping. With the airflow fully opened, we could have RDL vaping. The vapor was smooth, too. With the airflow fully closed, it felt like a loose MTL vaping.
1.2Ω Coil
The flavor on the 1.2Ω coil was also nice. With the airflow fully opened, you need to draw harder compared to using 0.8Ω coil. The sweetness was weaker than 0.8Ω. With airflow fully closed, we experienced tight MTL. The looseness was appropriate. The coolness also downgraded a little.
Lab Test

Vaporesso didn't provide the set output power range for each coil. We have tested them in our lab to give you a better understanding. As you can see, the output power for 0.8Ω coil is at 13.88W, and 9.57W for 1.2Ω coil. For the charging speed, you can expect to charge it fully within 1 hour and 30 mins.
Price
Vaporesso XROS Nano MSRP: £19.99/$29.99
Vaporesso XROS Nano Cartridge: £5.99/$6.99
Verdict
We have to mention again that we were impressed by the convenient packaging and easy to uncap mouthpiece, even though these two have nothing to do with the product performance itself. We appreciate Vaporesso has made everything easier for users.
In terms of the flavor, we loved Vaporesso XROS Nano. The coils and pods are well made. No leakage found at all. The pods are also compatible with all XROS vapes. We strongly recommend you to get it if you havent used XROS vapes yet. It's easy to use and super portable.
Have you already tried Vaporesso XROS Nano? How did you like it? Tell us about your thoughts in the comment section below!