The Food & Drug Administration has demonstrated continuously put in place mechanisms to prevent smoking and use of nicotine among the underage for years—in particular the 2020 ban on fruity flavors for Juul vapes—however, its efforts to adequately stop Juul Labs from manufacturing as well as distribution of vaping equipment in June is a clear indication of the level of seriousness of the Biden administration's push against electronic cigarette manufacturers. Juul products can be accessed currently—a federal court reversed the FDA ban a day after its pronouncement—but the war is not anywhere closer to its conclusion.

This is not the first time the FDA is targeting the tobacco sector, and eventually the electronic cigarette business. The American Lung Association catalyzed the anti-smoking legislation campaign in individual states between the 1960s and 2000s but succeeded in just a handful of successes in Congress (among them being the 1989 legislation that made it illegal to smoke on all domestic flights). The initial scientific reports during the 1950s that showed that cigarette smoking was linked to cancer triggered three streams of Big Tobacco litigations.
Tobacco manufacturers survived the initial series of lawsuits by successfully opposing liability for negligent manufacturing and marketing; however, the second phase was accelerated with the 1992 historical Supreme Court hearing Cipollone v. Liggett. The case set a precedence that motivated people to open lawsuits against cigarette manufacturers that used "inaccurate" and "fraudulent" statements to advertise their products, or that misinformed the masses about the health implications of smoking.
The third wave of litigations triumphed more. In 1998, the Master Settlement Agreement (MSA) was signed between 52 attorneys in territories and states and four of the giant tobacco manufacturers in the United States—making it the largest civil lawsuit settlement in the history of the U.S. The primary aim of MSA was to salvage billions of dollars that had been spent on taking care of smoke-related diseases and catered to several state litigations. Again, the settlement affirmed regulations on tobacco advertisements and banned marketing to individuals below 18.
The American Cancer Society (alongside the U.S. Department of Justice and various prosecutors) won a court case where nine leading tobacco manufacturers were charged with civil racketeering and intentionally misleading the public for years concerning the health implications of smoking. The accused—among them big-time companies like Altria and Philip Morris——were compelled to share curative statements including the number of deaths resulting from cigarette smoking per day and yearly as well as nicotine addictiveness.
Following the 2009 Tobacco Control Act, the FDA did away with marketing regulations and raised the rate of tax on cigarette packs, becoming the first combined effort fronted by a federal agency to instill stricter scrutiny in the tobacco industry. Equipped with the power to control the manufacture, supply, and advertising of tobacco products, the FDA started to manage the sector by demanding extremely thorough premarket applications and requiring suitable warning labels for smokeless products.
Discussion around smoking among teenagers has provoked the majority of federal countermeasures. The findings by the Tobacco Control Act, published at a time when the legal smoking age was 18 and above, showed that nearly every new tobacco user is below the legal smoking age to buy the products. In a study that was conducted in 2013 courtesy of the Centers for Disease Control and Prevention, it was discovered that the likelihood of teenagers without a high school diploma getting into smoking than any age group.
The development and widespread use of electronic nicotine delivery systems (ENDS) better known as "vaping" or "e-cigarettes" put forward yet an additional stumbling block for the FDA. In 2015, Juul entered the market and during the first three years of its operation, its sales rose to $1.969 billion in 2018 up from $260 million. In the meantime, there was a rise in e-cigarette smoking among children to 20.8% in 2018 up from 11.7%. Worried parents, in 2018, sued Juul for advertising its products in a way that lured children, and investigations were carried out by FDA on Juul following the illegal marketing of its products that were presented as a substitute for cigarettes. By 2021, 2,339 litigations had been filed against Juul for its misleading marketing, and various litigations by parents of teens who experienced lung problems due to vaping. The FDA, in June, came up with a marketing denial order which cited the company's "inadequate and contradictory data" for the products.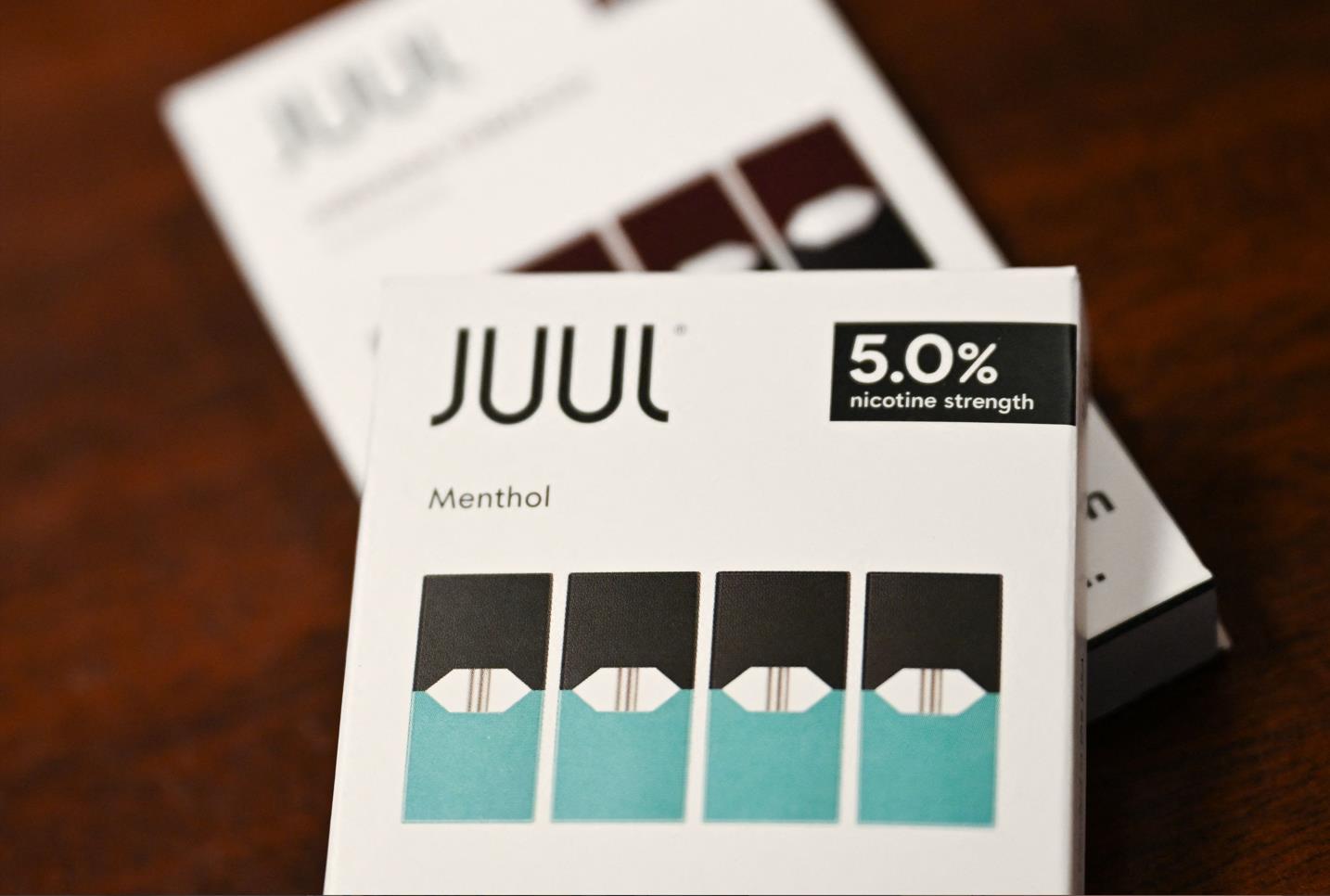 With a steady decline in smoking among adults in the U.S since 2005 (up to 12.5% in 2020 from 20.9%) as well as the smoking rate among teens, professionals have gone ahead to caution against the current high number of underage involved in vaping. A survey by the National Youth Tobacco revealed that the rate of tobacco product usage among high school students declined to 25.6% in 2006 down from 34.5% in 2000. In 2021, the rate dropped to 13.4% of high school students. As per FDA'S report, 7.6% of middle and high school students were reported to use electronic cigarettes more than any other tobacco products.
Initially, while Juul was getting ready to enter the market in 2015, the FDA – in a strive to contain the prevalence of electronic cigarette manufacturing——developed new regulations in 2016. The regulations targeted e-cigarette manufacturers which had their products on the shelves after 8 August 2016, authorizing that across all the "deemed" tobacco products (including nicotine gels, cigars, and e-cigarettes) that complied with the FDA's definition of a "new" product, the manufacturers were required to submit premarket authorization to the FDA latest 9 September 2020 to continue with their operations. By February 2021, 230 had submitted applications for 4.8 products to the FDA for processing. The minimum requirement for approval of vaping products was the efficiency to protect public health, which, according to FDA, translates to having safer cigarette alternatives.
The FDA in 2021 promised to launch a crackdown targeting any ENDS products for manufacturers who failed to submit their applications. Even for manufacturers who had submitted pre-market tobacco product applications (PMTA), it is uncertain if they will secure authorization from the FDA. The FDA turned down applications for over 55,000 product applications of three vaping device manufacturers in August since the companies could not provide evidence of healthier cigarette alternatives. That was the genesis of marketing denial orders (MDOs) within the electronic cigarette sector: The FDA has silently delivered denial orders to over 260 e-cigarette manufacturers.
Dr. Hasmeena Kathuria, a physician and nicotine dependence professional at Boston Medical Center, stated that he was adamant that the FDA should not approve flavored tobacco products, such as menthol products for pre-market authorization since flavors play a great role in influencing the youth toward tobacco use. The FDA report showed that about 85% of underage electronic cigarette enthusiasts had used flavored nicotine products.
Kthuria added that following the youth disaster when determining risk reduction mechanism towards electronic cigarettes among adults, the high rate of e-cigarette consumption among the youth backs a highly restricted regulatory framework. Even though e-cigarettes have been found to be an alternative to smoking, the general public doesn't use electronic cigarettes as a curative intervention to stop smoking.  
Juul's MDO was not the first one given to an e-cigarette manufacturer, but because of its fame and connections to the major tobacco industry, it is probably the most significant. Altria, the proprietor of Marlboro cigarettes, purchased 35% of Juul shares in 2018. The deal amounted to $12.8 billion, raising Juul's value to $38 billion. Juul's valuation fell to a pitiful $1.3 billion in 2022, and Altria's stock is now only worth a small portion of its original investment.
In anticipation of a more thorough examination of the company's application, the FDA administratively suspended the MDO for Juul products on July 5, 2022. Juul claimed that the FDA engaged in "extraordinary and unlawful" behavior by rejecting the 6,000-page application's scientific and health-based data and instead bowing to political pressure. Although it's true that Dr. Robert Califf, the FDA's director, had not previously suggested any policy mandates on the regulation of e-cigarettes, he is also not aligned with the sector. Democrats who have advocated for strict tobacco regulations and who oppose e-cigarettes include Illinois Sen. Dick Durbin along with Rep. Raja Krishnamoorthi. Durbin urged Califf to resign if he wasn't ready to crack down on illegal e-cigarette products just a few weeks before the FDA attempted to remove Juul from the market, claiming that "Dr. Califf clearly fears the fury of Big Tobacco more than the verdict of history."
Although Juul's future is uncertain, it is doubtful that the prohibition will last for an extended period. Over 30 vape manufacturers are suing the FDA on the grounds that their PMTAs were turned down for "arbitrary" and "capricious" reasons, despite the FDA's long history of swiftly rejecting pre-market tobacco product applications (PMTAs). In the past, when lawsuits were filed, the FDA overturned its decision and approved two PMTAs for two different businesses, claiming that they had discovered "important information that was not appropriately examined."
However, due to the lack of long-term data on potential harmful health effects, medical professionals continue to advise against using e-cigarettes. Although short-term research suggests that e-cigarettes may help lifelong smokers stop, there is no conclusive proof that the products are less toxic than normal cigarettes. The FDA has still not certified any e-cigarette as a smoking cessation aid. As a pulmonologist, Kathuria added, "I always advise my patients against inhaling heated or burned items into their lungs, especially if they already have underlying lung illness. I always advise my patients to quit smoking and vaping.