ElfBar better watch out, there's a new vape in town! The Biff Bar 6000 is a nifty hassle-free disposable that delivers delicious smooth hits. Pre-filled with 17 mL of 5% nicotine salt e-juice, it lasts for 6000 puffs to keep you vaping longer. The Biff Bar has a 650 mAh rechargeable battery, packing major power to get you through your day. Don't expect any fancy features, the disposable vape takes the same simplified approach as other popular disposables. It has clearly been designed with the user in mind, the design is great, and the hits are consistent and flavorful.

Learn everything about the Biff Bar 6000 from our review below, and find out your favorite flavor!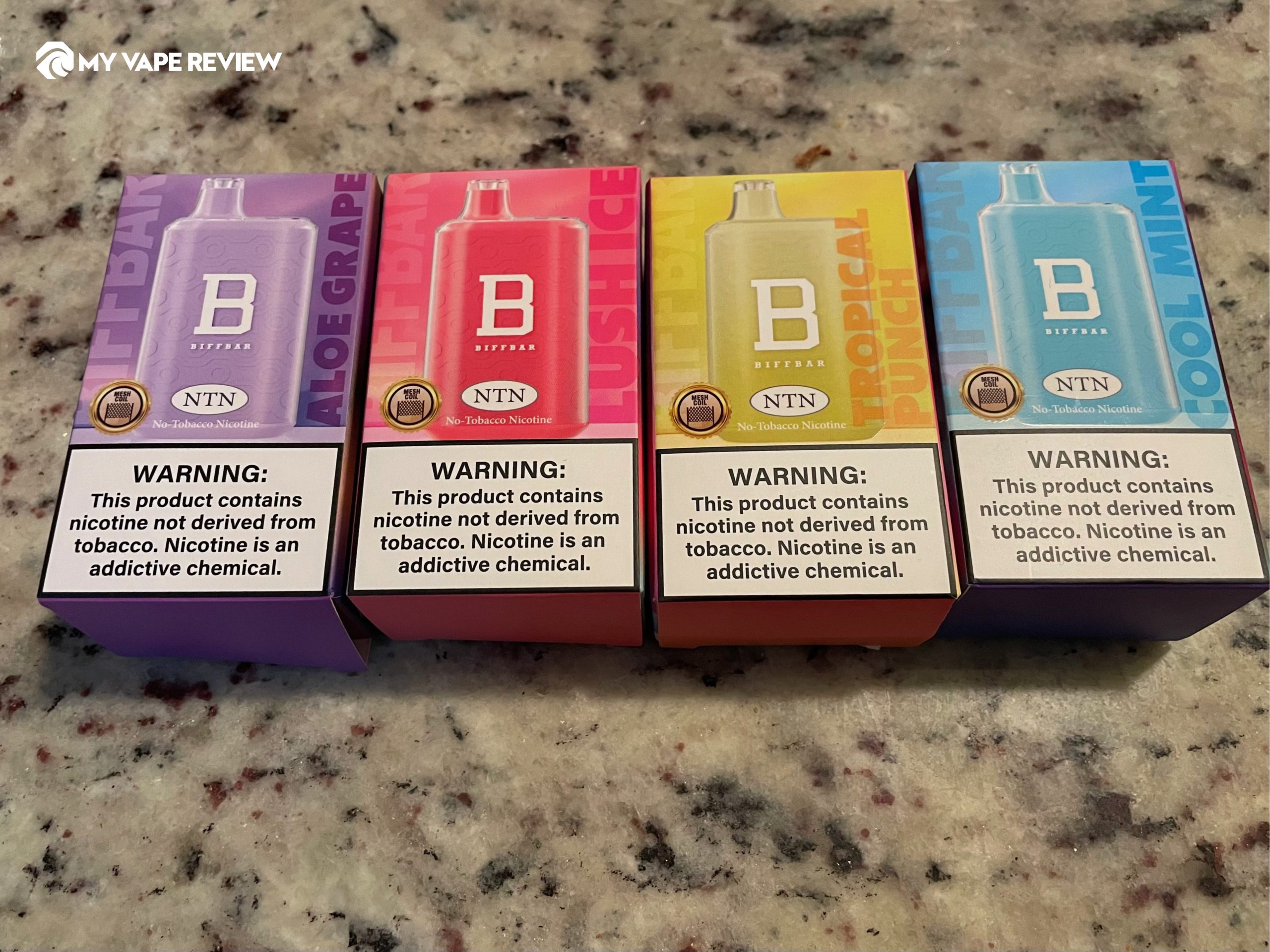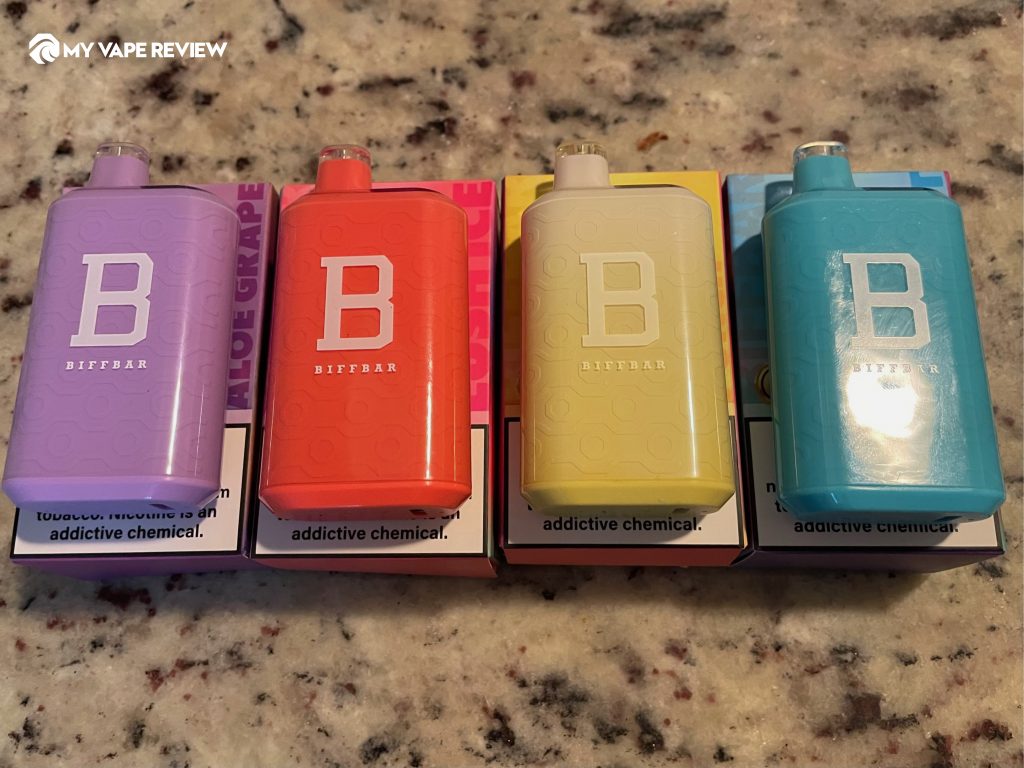 E-Juice Capacity: 17ml
Battery: 650mAh rechargeable
Nicotine Strength: 5%
Coil: Mesh
Puff: 6000
Biff Bar brings its A-game with the flavor options. This disposable comes in 10 delicious mouth-watering flavors, including:
Peach Ice, Aloe Grape, Lush Ice, Strawberry Watermelon, Cool Mint, Tropical Punch, Strawberry Kiwi, Blue Razz Ice, Strawberry Grape, Sour Apple
These flavors are definitely targeting the fruity e-juice lovers, with only Cool Mint breaking that mold. During the review period, we had a chance to test Cool Mint, Lush Ice, Tropical Punch, and Aloe Grape. All four flavors have a slight icy bite on the exhale, so if you love a hint of ice, the Biff Bar has you covered.
This is the best grape-flavored e-juice I've had the joy of tasting, and I don't say that lightly. I have a slight aversion to grape flavors, but the Aloe Grape is simply delicious. It's not overly strong or sweet but is a natural fresh grape flavor. It doesn't have that artificial grape taste at all.
Lush flavors are usually straight watermelon, but this flavor tastes like a 50/50 blend of watermelon and strawberry. It's not too sweet, and you get a super fresh and icy flavor on the exhale. The ice isn't overpowering. This is a wonderful flavor that any fruity e-juice friends will love.
The mint flavor is very pronounced and delicious. And the level of refreshing ice is perfect. It's sweeter than many mint flavors and sweeter than even the Aloe Grape flavor but is nicely balanced with the ice. The aftertaste is spot on for mint gum.
Tropical Punch is a super refreshing mango and pineapple flavor. It seems to be around 80% pineapple and 20% mango, with the pineapple coming across very strongly. It's not too sweet, and the pineapple gives a nice bitter bite. BiffBar doesn't miss – their Tropical Puch flavor is amazing.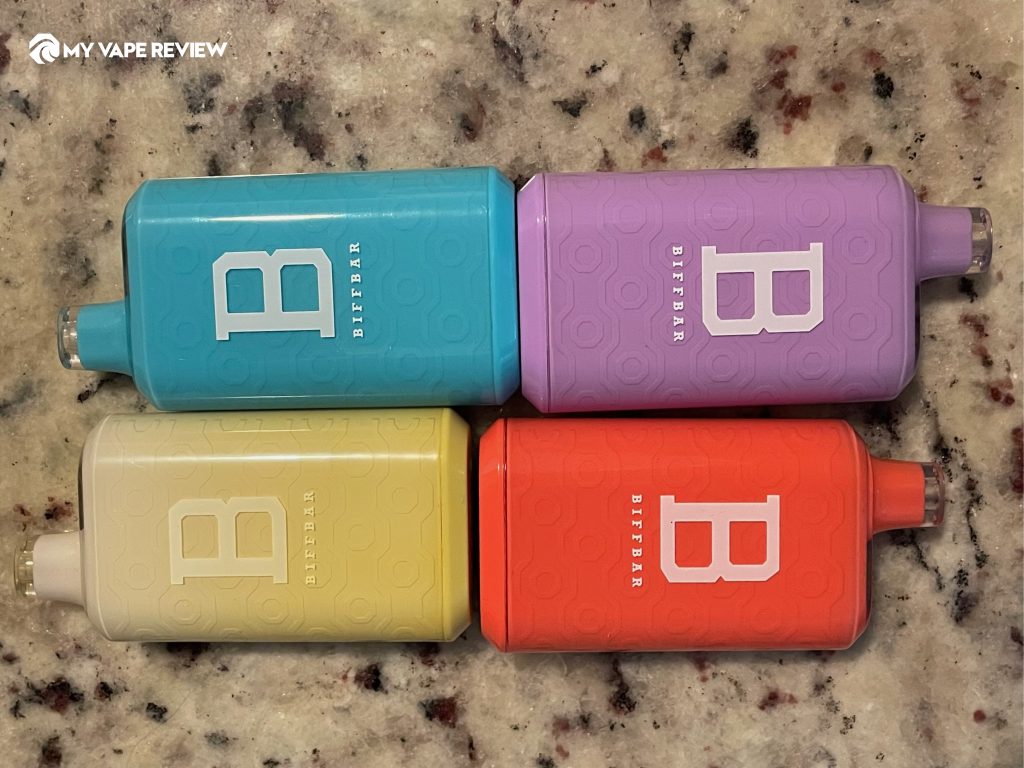 The Biff Bar has a wonderful fun design. The form factor is very similar to the popular Elfbar disposables. The body has the shape of a pack of cards, but smaller and with rounded edges.
It looks a lot like the popular Elf Bar BC line disposables, but has more puffs!
Based on Biff Bar's design and the manufacturer's social media, Biff Bar is definitely marketed towards women, and we can see why. The color pallet is very pretty and soft, with all vibrant pastels. The front of the device is beautifully embossed with a B and the name Biff Bar. And the clear plastic outer layer has a fun geometric design.
The Biff Bar doesn't include any extra features, like airflow control, or wattage adjustment. Like many other disposable options, the Biff Bar goes full for a minimalist approach. There are no unnecessary features. You've got a mesh coil, 17mL of delicious e-juice, a powerful battery, and a USB-C charging port. As long as the design and manufacturing are high quality and that's all you truly need for an enjoyable vaping experience.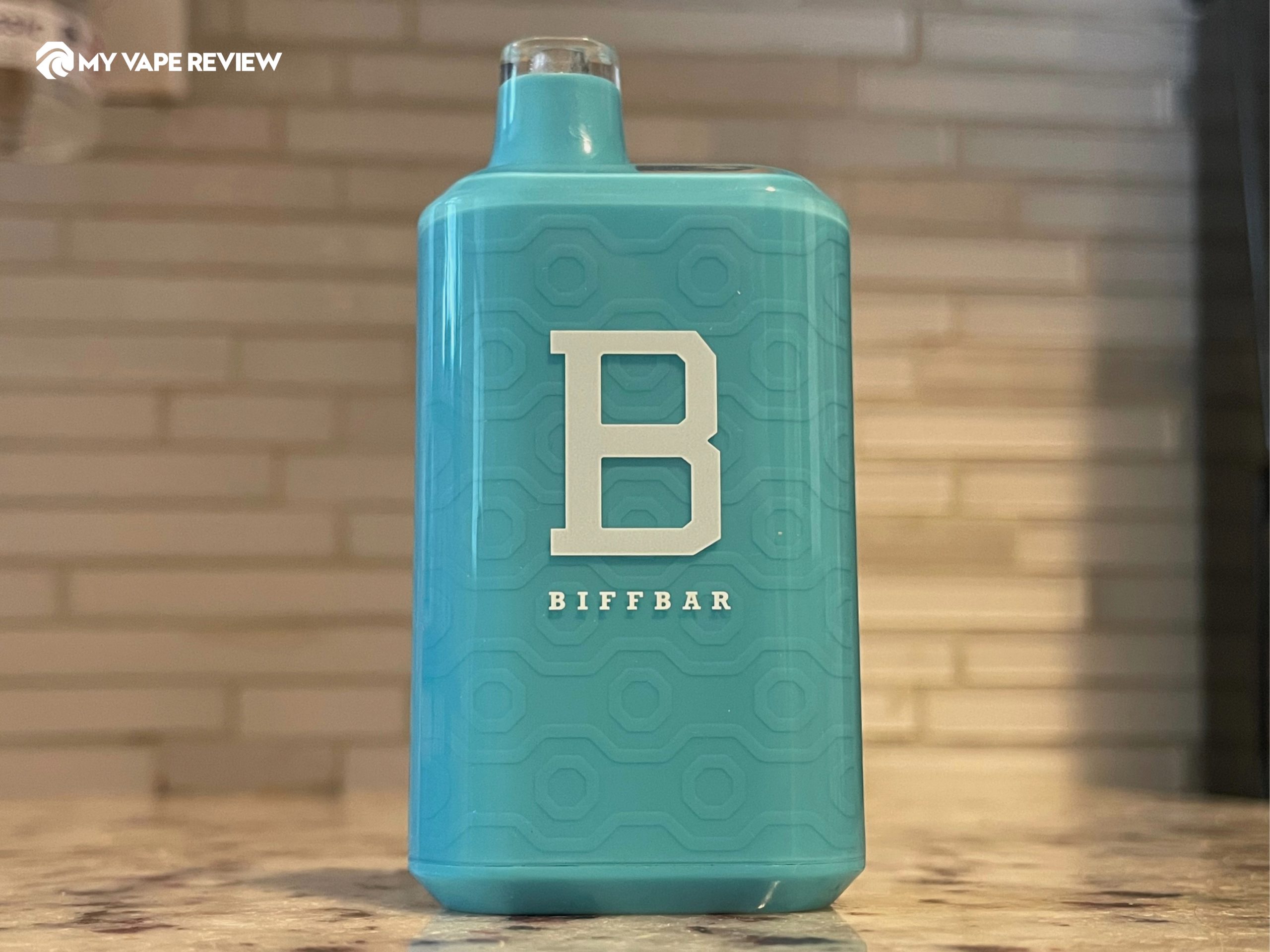 The Biff Bar 6000 was dropped from heights up to 5 feet without suffering any damage. While the disposable is not a single mold design, it seems like quite a durable device. The top and bottom are securely attached to the body, and the body seems resistant to scratching.
The Biff Bar 6000 didn't leak at all during the review period, even when left on its side for an extended period of time. You should be able to keep this disposable in your pocket or purse without worrying about e-juice leaking out.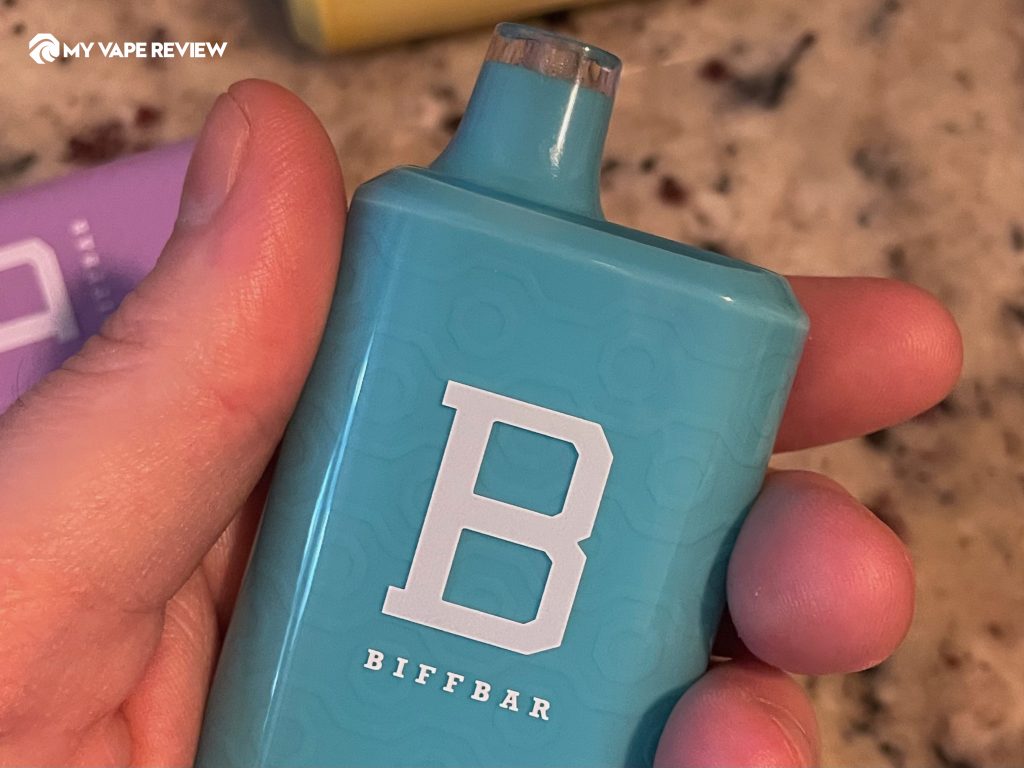 One of the best features of it is the great design, resulting in a comfortable ergonomic device. The plastic is smooth, and there are no sharp edges.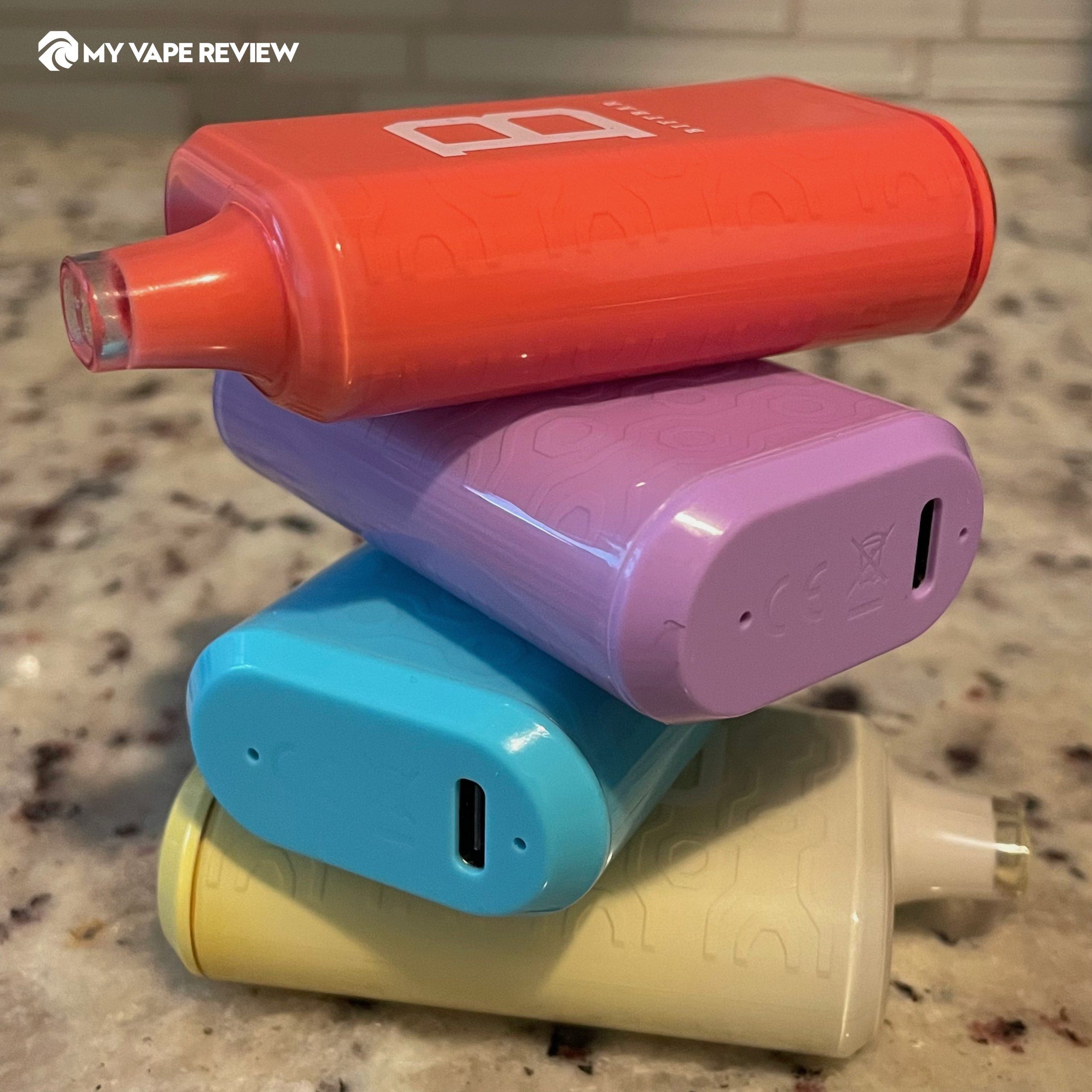 The Biff Bar 6000 has a 650 mAh battery, which isn't enormous, but it certainly gets the job done. The battery performance was great, lasting 8-10 hours before needing a recharge. You shouldn't run out of battery during a busy day. The Biff Bar charges quickly, in about 45 minutes to an hour, once a Type-C charging cable is plugged in.
When inhaling, a blue LED light on the bottom of the device is activated. As the battery gets low, there is no obvious indication, but the inhales become very loose, and the flavor lessens dramatically. When the battery is finally dead, the LED flashes to let you know you need to charge.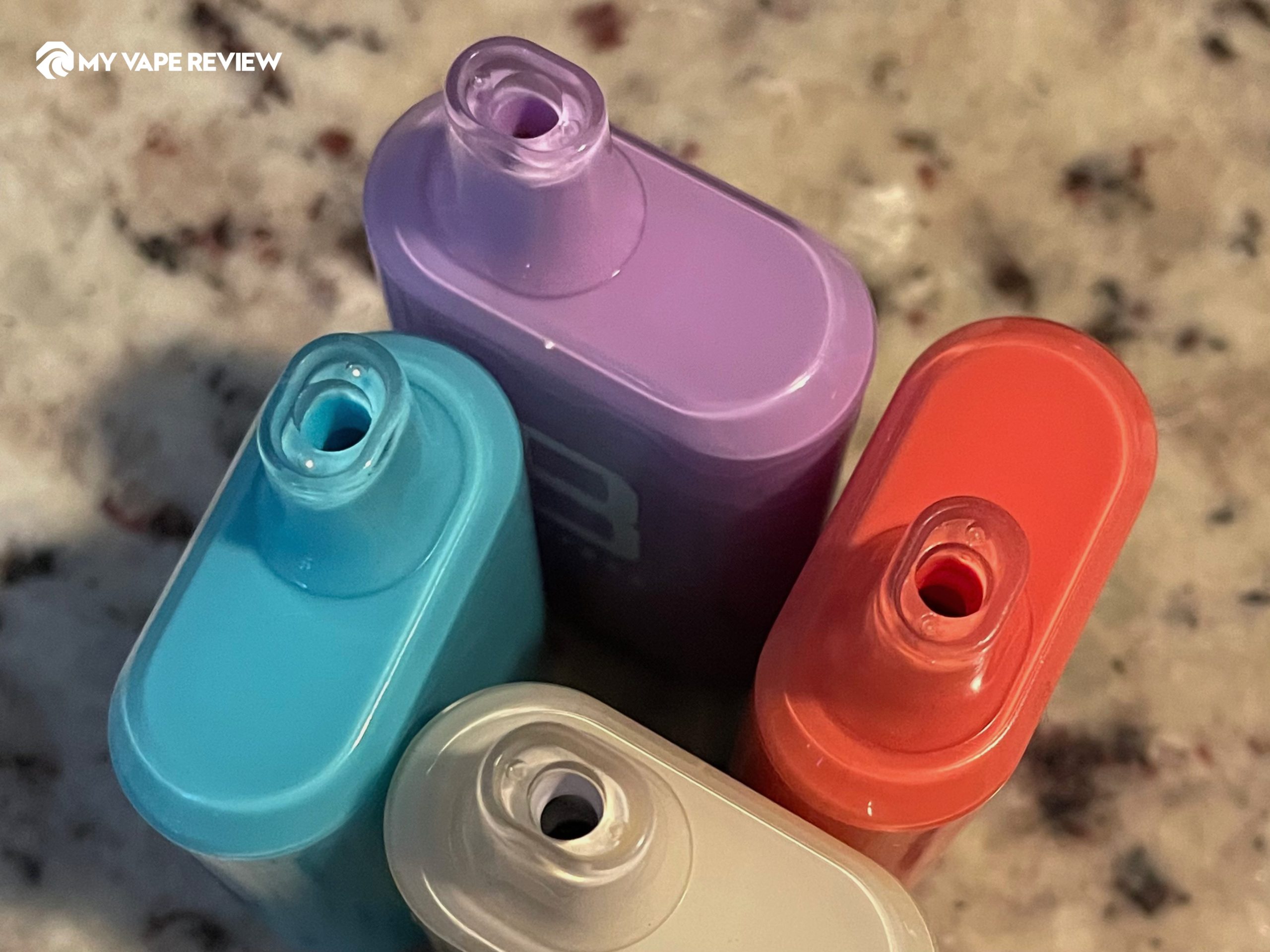 This disposable is an all-around joy to vape. It's a bit surprising that such a small disposable delivers such strong warm hits. Every hit tastes fantastic, and the flavors are spot on. The Biff Bar impresses with its flavor quality, and the mesh coil offers a pleasant draw. The draw sensor is super responsive, so a gentle slow drag still delivers a great hit.
The Biff Bar provides what we would characterize as a medium to tight mouth-to-lung (MTL) draw. Without airflow control, you won't be able to adjust for a looser or tighter draw, but we think Biff Bar landed on a nice middle ground that will make most people happy. This vape is great for new vapers because the MTL draw is easy to pick up. This vape would not be categorized as direct to lung (DTL).
The vapor clouds are also really impressive for such a small device. The cloud volume is great and quite dense. Cloud chasers may enjoy picking up this no-fuss disposable to add to their collection.
The Biff Bar disposable vape is very competitively priced for a rechargeable disposable with 6000 puffs. It is similar to the popular Elfbar, which is normally priced between $15 and $18. We've checked out its price at major vape retailers and it falls somewhere from $12.99 to $16.99.
If you can pick up a Biff Bar at this price range, it's a great value.
The Biff Bar 6000 is a fantastic device, designed exactly what vapers have in mind when looking for a trusty disposable. These vapes are manufactured very well, and it shows. The e-juice flavors are top-notch, and the 650 mAh battery lasts all day without issues. Every throat hit will make you want more, with ten fruity flavors (plus mint!) to choose from. The Biff Bar 6000 recharges quickly and has great cloud volume.
The only negative thing we could think of for the Biff Bar is the lack of airflow control. But the flavors and this are so enjoyable that we haven't even wanted to change the airflow. Retailing at only $12.99 to $16.99, you should pick the Biff Bar 6000 up today and give it a try!