Mi-Pod Pro+ designed by Mi-One is an easy-to-use refillable pod system. At only 2 x 2.5'' (53mm x 64.5mm) the Mi-Pod Pro+ fits comfortably in even the smallest of hands. Each Pro pod tank has a 2mL capacity and can be refilled 5 times, allowing for around 10mL of e-juice consumption before needing to be replaced.

The Mi-Pod Pro+ comes with a powerful 950mAh battery to get you through a full day of vaping. One thing that sets it apart from regular pod vapes is the simplicity and convenience, which avoid the trappings of extra settings and features while delivering a great vaping experience.
Needless to say, Mi-Pro Pro+ is designed for high-strength nic salt juices. In testing this vape, we used the salt e-juice offered by the same brand, VaporLax Salt. This review will cover all pros and cons of Mi-Pod Pro+, so you can weigh it against other pod vapes on the market. Now delve in with us!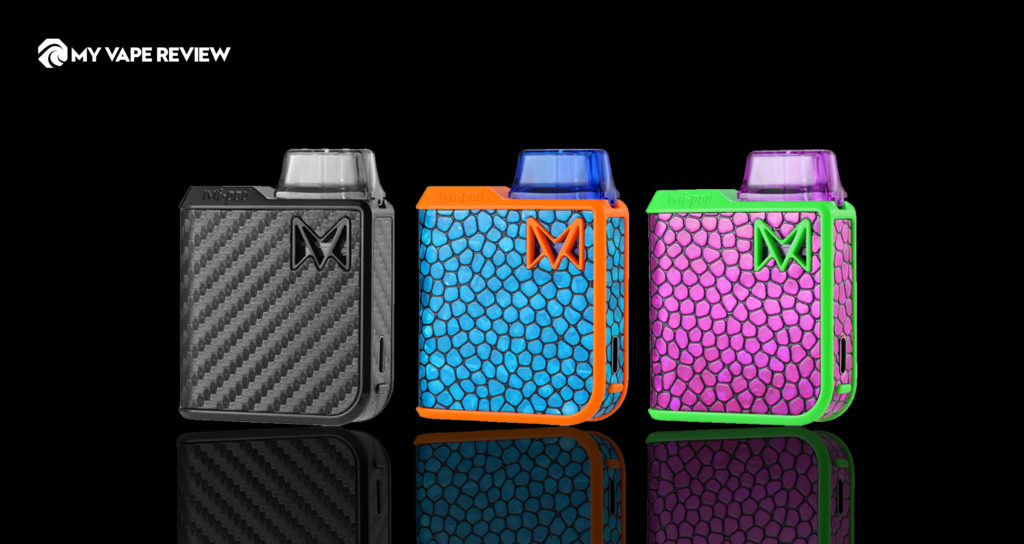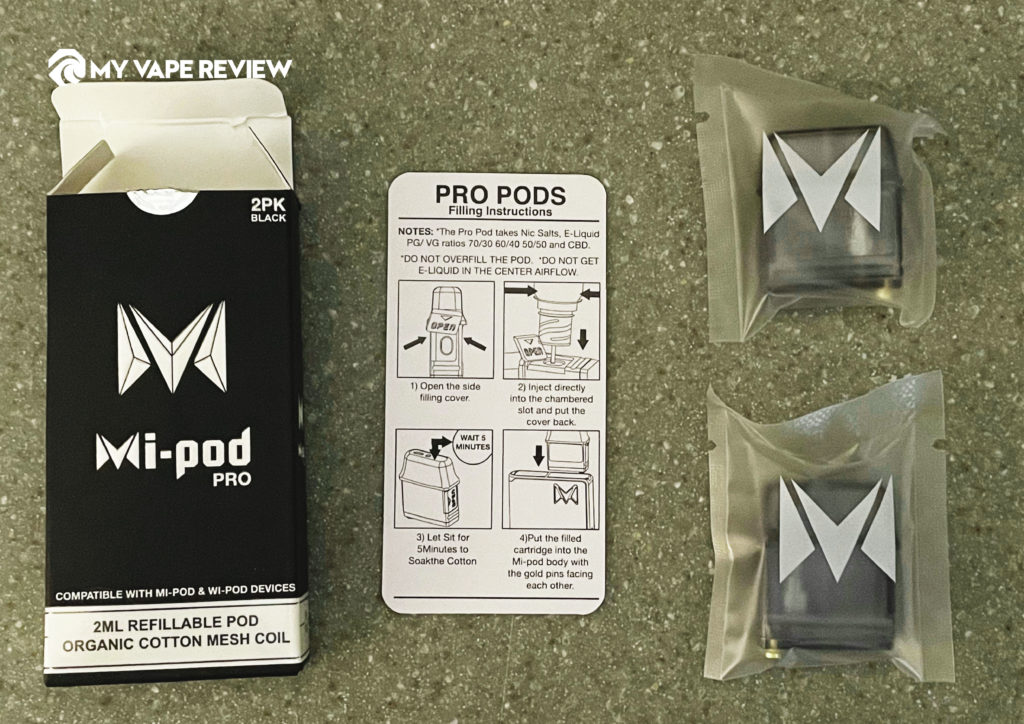 Packaging
The Mi-Pod PRO+ comes packaged in a matte black and white slider box. The cover slides off to reveal a small, yet sleek device. Also packaged in the box is a User Manual, spare 2mL refillable pod, USB to USB-C mini charging cord, and two mini lanyards.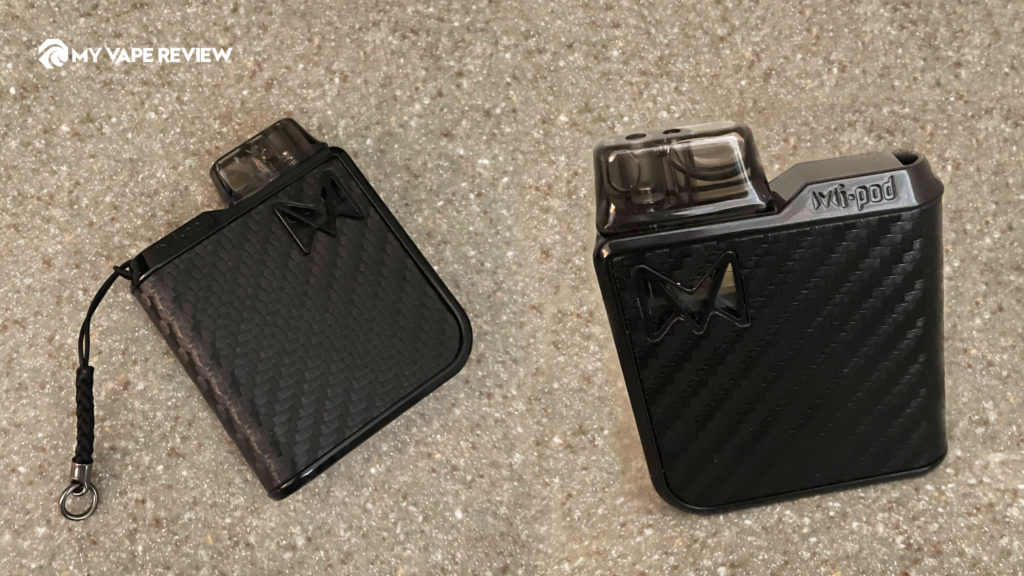 Body Design
The design of the Mi-Pod PRO+ seems inspired by traditional mods. The vape body is square, with a rounded backside to fit in the palm of your hand. The device is small, making it discrete and super convenient to fit in your pocket.
Its mouthpiece is a typical duckbill-style mouthpiece and is positioned to one side of the top of the device.
Mi-Pod PRO+ has a range of colors and body textures to choose from, including leather-like, snake skin, pebbles, and quilted. There're 13 options in total, and the samples we reviewed are called Carbon Fiber and Purple Bubbles. The Carbon Fiber body texture is soft, supple, and slick. The plastic edging is shiny black. While the Purple Pebbles design stands out with its bright shiny purple body texture and even brighter neon-green plastic edging.
Each side of the device sports the Mi-Pod logo, a modern M, that allows for easy checking of your e-juice level. The side of the device has a power button and USB-C charging port. Opposite the mouthpiece is a place for attaching the included lanyard connectors. Easily attached to your keys to keep your device secure on your person, without worrying about losing it.
The ergonomics for the Mi-Pod PRO+ are good. Holding the device while vaping is comfortable and the mini size makes discrete vaping very easy. You will find yourself holding the Mi-Pod PRO+ like you do your cellphone. Your fingers won't wrap all the way around the device, like with a cylindrical vape.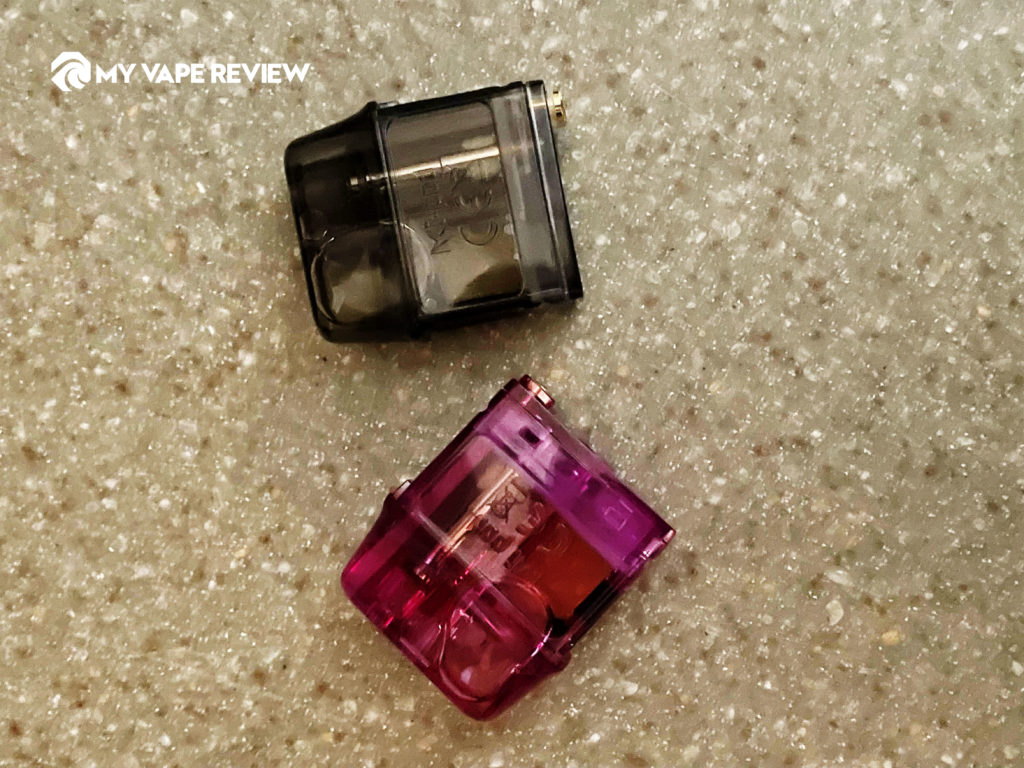 Pod Design
Mi-Pod PRO+ comes with a refillable 2mL pod which contains a sub-ohm organic cotton mesh coil. The side of the device has a small cutout, for the pod airflow. Each pod can be refilled roughly 5x, for a lifetime use of 10mL per pod. There's a silicone cover resting on the side of it—pop it off for easy refilling. When the built-in coil wears out, we have to change to new pods. Mi-One sells replacement pods in packs of two. While we prefer pods with the removable coil, which is relatively more environmentally friendly and cost-saving.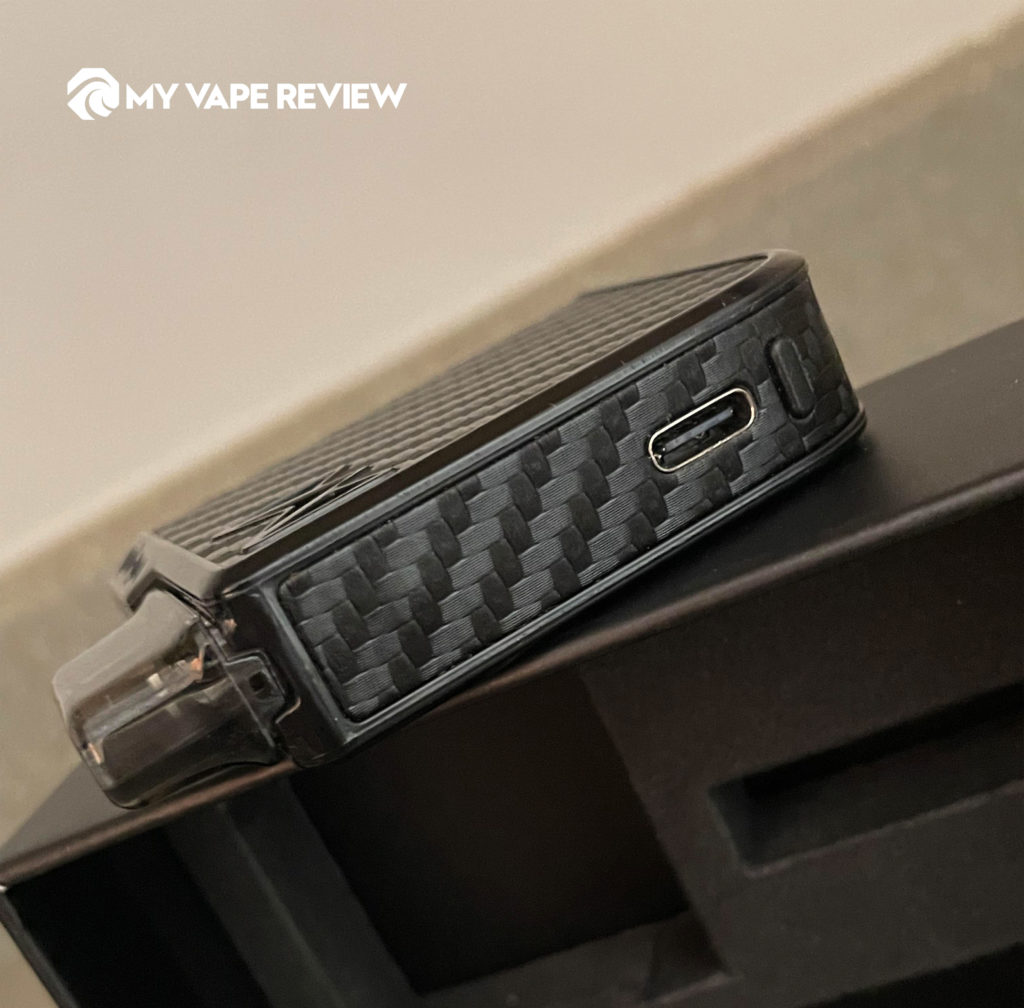 Battery & Charging
The Mi-Pod PRO+ system includes a 950 mAh battery. The battery doesn't make the device overly heavy but offers great long-lasting battery life. We made it through 8-10 hours per day without any issues.
When we vape, a LED flashes at the Mi-Pod logo (right under your nose) to tell you the battery life. A blue LED means the battery life is fully or nearly full. The LED switches to purple at around half battery and switches again to red when the battery is low. Once the LED is red, you will need to charge it very soon.
We made it through about one and a half refills before needing to recharge. Mi-Pod Pro+ has a USB-C charging port on the side, which can't bring fasting charging as Type-C ones. It takes about 60 minutes to be fully charged and ready to continue vaping.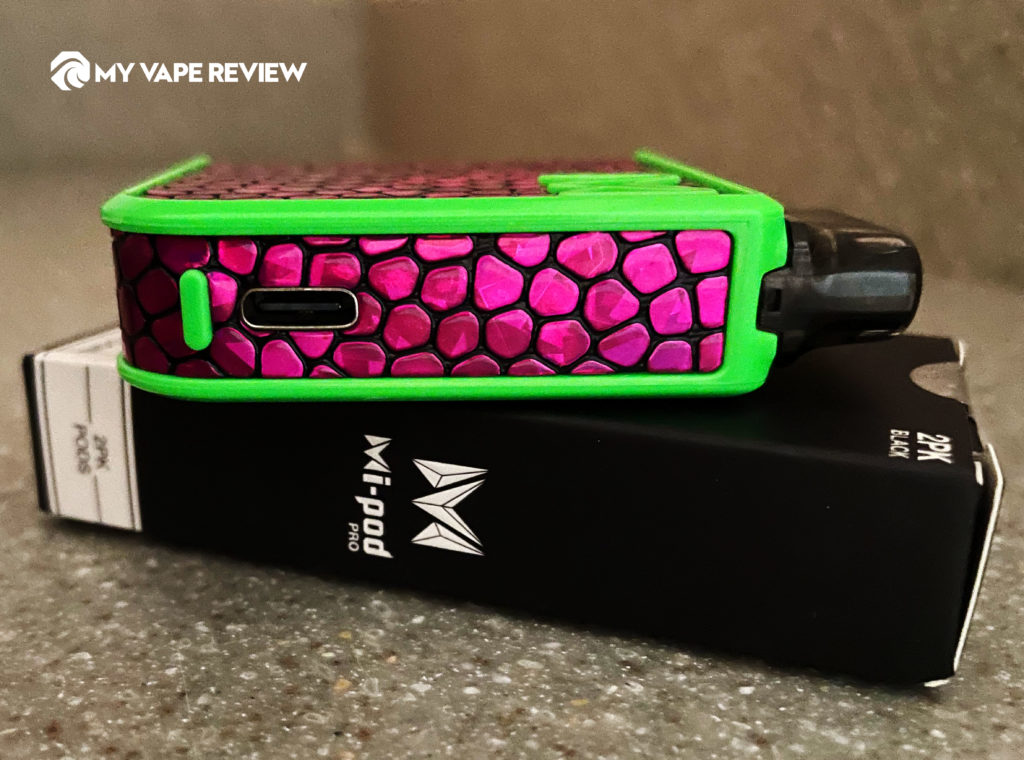 Durability & Leaking
The Mi-Pod PRO+ is not as solid as you would hope for a $40 device. It won't break or crack when dropped but the mouthpiece easily pops out. Sometimes the side plates come a little loose and need to be snapped back into the body when dropped from 4 or more feet. In normal situations, it does great; but maybe it can't handle rough-ups.
We didn't experience any leaking with the Mi-Pod PRO+ system. The silicone cover for refilling the pods is secure. Usually, there will be residue or marginal leaking in these systems, but we kept an eye out and didn't see it once. But still, when you use the device, don't tilt it completely horizontal. The e-liquid will want to travel up the center airflow and into your mouth.
The Mi-Pod PRO+ keeps things simple. Turn the device on by pressing the On/Off button rapidly 5 times. An LED will flash red to let you know the Mi-Pod PRO+ is on and ready to use.
Besides the standard mode, there is only one additional mode available. Stealth Mode allows you to vape discreetly, by turning off the LED battery indicator when vaping. Hold the power button for 5 seconds to turn on Stealth Mode.
The vape doesn't offer any other advanced modes like variable wattage, variable voltage, temperature control, or wattage curve. This device is clearly designed to be simple and easy to use, without additional bells and whistles.
The Mi-Pod PRO+ will cut off after 10 seconds of continuous inhaling. To turn the device back on, press the power button 5 times in quick succession.
Performance
The Mi-Pod PRO+ delivers a pleasant vaping experience with an impressive vapor volume for such a small device. The hits are light and cool, not overly warm. The device's auto-draw firing system is responsive and quiet, simple inhale from the mouthpiece to vape. The separate airflow hole in the pod provides great airflow for big deep hits with tons of volume.
During the review period, I tested the Mi-Pod PRO+ with only VaporLax Salt, a nic salt e-juice with 2.5% nicotine strength. Overall, I was disappointed in the VaporLax Salt flavors, but that is not directly related to the device. The flavors had a weird aftertaste and weren't anywhere near as flavorful or tasty as the flavors of VaporLax disposable vapes.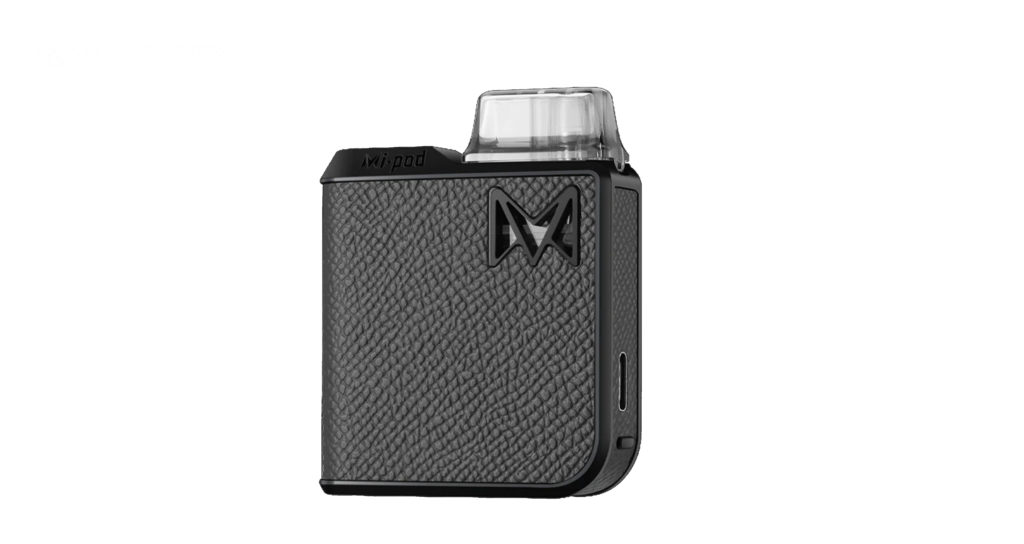 Ease of Use
The Mi-Pod PRO+ is incredibly easy to use, making it a great recommendation for new vapers. There are no advanced settings, special modes, coil changes, or airflow adjustments you need to worry about. Just refill the pods and replace them as needed.
The pod is easy to remove and refilling takes less than 30 seconds. Because the pods don't leak, you can refill on the go without worrying about any e-juice mess or residue. Once the pod is refilled, line up the gold-plated contacts and insert the pod. With 5 refills, you'll probably be replacing a pod every 3 to 4 days. Each pod pack comes with two pods, so expect to need a pack every week or so, with consistent use. The 6-page User Manual is also clear without any unneeded details.  
Price
The Mi-Pod PRO+ is pretty consistently priced across the internet, including on its official page, for about $40. Each Mi-Pod PRO+ kit includes the Mi-Pod PRO+ device of your choice and two Mi-Pod PRO Pods to get started (plus the other box contents outlined above).
I personally think this price is a bit high, but if you like choosing your own e-juice flavors and not being limited by disposables flavors, then this may be a great option. Just remember to factor in the cost of replacing the pods and your e-juice. A 2-pack of Pro Pods is $9.99 on their website. You can buy two VaproLax Draco or VaporLax VaalMax disposables (both of which also come from Mi-One) for the same price as one Mi-Pod PRO+. But the Mi-Pod PRO+ will far outlast the disposables and is completely reusable with new pods and e-juice. 
Verdict
If you're looking for a mini no-fuss device, that offers a pleasant vaping experience with the flexibility to choose your own e-juice flavors, then the Mi-Pod PRO+ might be right for you. The lack of advanced modes may turn away mod users, but the simplicity is great for beginners to vaping. With a massive 950 mAh battery for such a small device, you can vape all day without worrying about running out of charge.
You can swap pods with ease if you like to change flavors frequently. Personally, I'd recommend the Mi-Pod PRO+ to new vapers or the environmentally conscious. Enjoy the benefits and flexibility of a pod device without all the waste and constant purchasing of disposables that just end up in the trash.