WOTOFO makes a real name for RDA and RTA products they skillfully produce over the years. It's also one of the few vape brands that offers plenty of quality atomizers allowing for mesh coil builds, say the WOTOFO Profile M RTA and WOTOFO Profile PS Dual Mesh RDA. Recently the brand is shifting part of focuses to entry-level products, and released the Skuare 6000 disposable vape.

WOTOFO Skuare 6000 is bold and vivid, something that also could be said for the WOTOFO brand itself. The disposable vape has 12 flavors available to satisfy every type of appetite. Read further down the page to find out our first-hand thoughts on its flavors, design and vapor performance!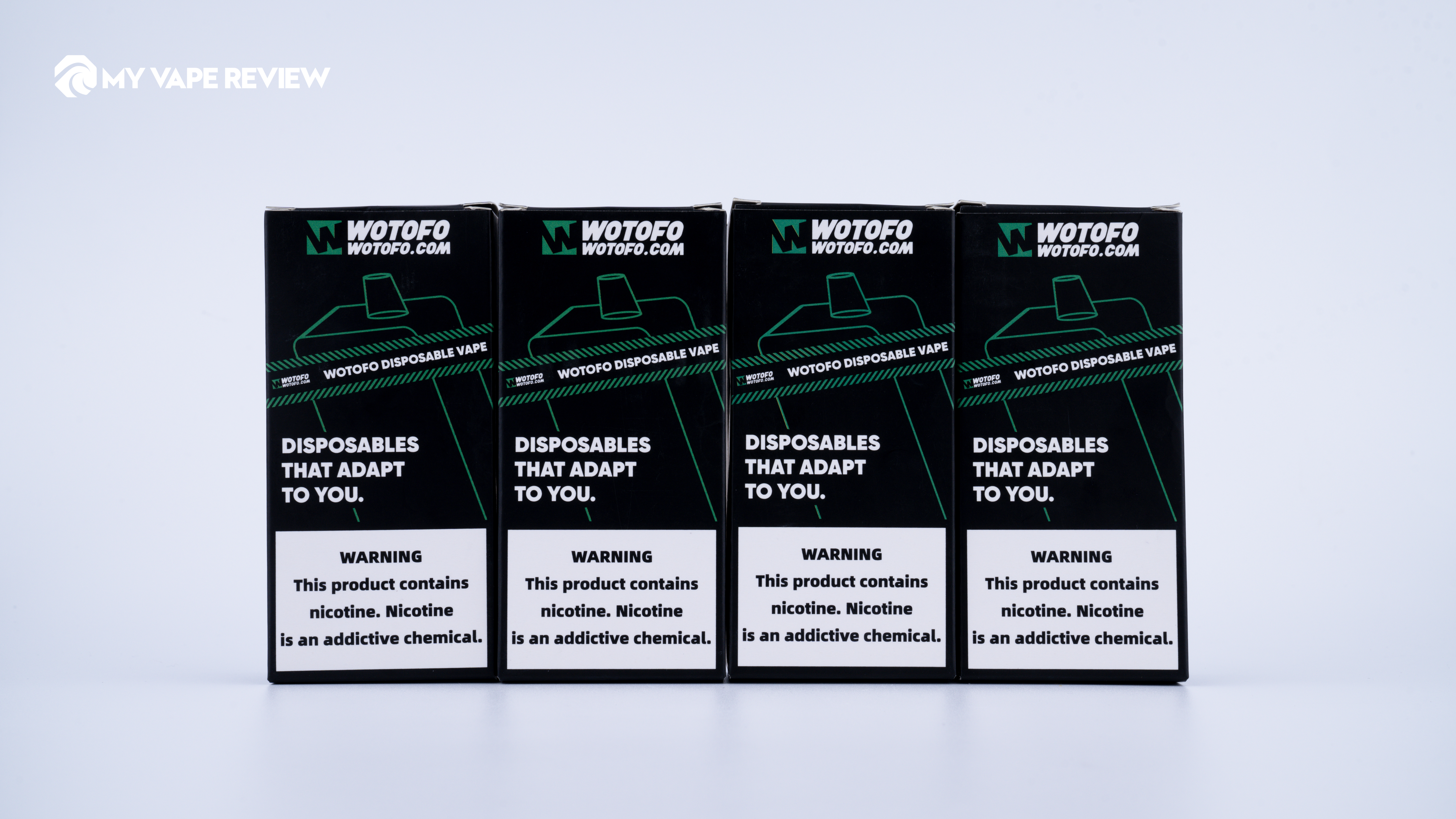 Dimension: 45 mm x 22 mm x 94.2 mm
Battery: External 18650
E-Liquid Capacity: 15 ml
Puff Count: Up to 6000
Heating Core: Mesh Coil by nexMESH Tech
Coil Resistance: 1.2Ω
Nicotine: 50mg / 20mg
Material: Food Grade PC + SS304
Charging Port: Type-C
Mango Ice Cream
Gummy Bear
Strawberry Rum
Strawberry Ice Cream
Blueberry Raspberry Ice
Peach Ice Cream
Energy Cherry
Watermelon Ice Cream
Sour Apple
Guava Kiwi Passion Fruit
Grape Ice
Watermelon Cantaloupe Honeydew
Playful and well-bodied, Strawberry Rum gave us ripe strawberry sweetness on inhale, while a spicy note will linger on the tongue when we breathe that out. Love to savor such balanced and luxurious taste.
It delivers too authentic mango tastes as I'm biting a slice of freshly-picked mango. To be honest, this one tastes more like minty mango mocktail, rather than ice cream, as the menthol rush is fairly refreshing.
Compared to Strawberry Rum, this flavor completely eliminates the pungent spiciness and replace that with mellow custard. It's on the sweeter side, but the sweetness is controlled to a tee. It's not the type of flavor that you get sick of very quickly.
.
Worst flavor of the four. Actually this Sour Apple does a good job in delivering the sour-sweet candied apple tastes—so far so good. While somehow its aftertaste goes foul, sort of like plastic…
In contrast with all other disposable vapes we reviewed before, WOTOFO Skuare Square 6000 absolutely sports the most attention-grabbing style. No matter these flashy fluorescent colors is your type or not, once you catch a glimpse of it, you'll throw a second one. We find it hard to give an overall opinion on these colorful devices: some are not bad, which I believe can get lots of eyes on you if you hold it in hands at an open-air night beach party or something like that. While some (especially the red ones) are too showy to be a bit of dorky. And the plastic shell just makes everything look worse.
Skuare 6000 utilizes plastic all over the body—it's food-grade safe, but might be rather vulnerable. We could even see circuit board and glues under the semi-transparent shell; but strangely, the e-liquid level inside is not visible at all.
While we're fairly satisfied with the oval mouthpiece of WOTOFO Skuare 6000, and nice MTL draw it delivers. Even better, these mouthpieces are removable, so we can regroup mouthpiece and device in different colors for a bit of simple customization.
Equally frustrating is the way how WOTOFO designs Skuare 6000's battery system. WOTOFO said, in order to improve sustainability of disposable vaping products, they get the Skuare 6000 running on removable and reusable 18650 battery, coupled with Type-C charging. We're glad to hear any ideas about integrating environment awareness into product development, but here's the catch: most disposable vape users are actually beginners who want simplest puff-to-vape experience, and don't have 18650 battery at hand. WOTOFO's solution to this is launching another kit that includes a 18650 battery in.
It's also a hassle to swap out different flavors with this Skuare 6000—if you have only one battery, you'll have to remove it from one device and install it to the other again and again; if you have multiple…okay, way easier but not "sustainable". What's more, the disposable vape use a magnetic-connected battery cover, which is a tad loose-fitting. The cover does great most of the time, but falls off as long as we shake the device hard. That might turn out a big fiddle over time.
Performance
Set aside the kooky design, vapor produced by WOTOFO Skuare 6000 kicks out. The vapor is immaculate and extremely mellow; flavor delivery impressed us as well. The disposable comes with 20mg and 50mg strength for every flavor. We do love the harsh throat hit when vaping its 50mg e-liquid.
Such great vapor, honestly, isn't a surprise as we know WOTOFO always excels at coil craftsmanship. Its mesh coil has never let us down. While to be fair, very few disposable vape products can be good like this.
Price
WOTOFO Skuare 6000 disposable vape MSRP: $24.99
As lots of 6000-puff disposable vapes are priced somewhere around 25 dollars, the $24.99 price tag is fairly reasonable. Shell quality of Skuare 6000 isn't really satisfying though, at least its long-lasting life will be worth the pennies.
Verdict
Talking about the appearance alone, WOTOFO Skuare 6000 disposable vape has a really high profile, from the stumpy square body (aligned to the name "Skuare" probably) to its flashy fluorescent colors. Aside from the mouthpiece, most designs in this device are a turn-off for us—say the entire coating and battery system. But in the meantime, its vapor performance has really surpassed any of a typical disposable device.
Is it worth buying? We think it's up to what you really value in selecting a right disposable vape. If vapor is the top one factor you care about, invest in the Skuare 6000 then. It has no rival in smooth vapor production compared to other disposable vapes.
Feel free to tell us your take on the WOTOFO Skuare 6000 disposable vape in the comment section below!