1. Introduction
The VECEE PICO disposable vape is a great solution for those seeking a convenient and no-fuss vaping experience. With its 400 mAh battery and 2% salt nicotine e-juice available in 10 yummy flavors, the PICO delivers a powerful and smooth hit with every puff. The device's innovative Juice Locking System ensures that the e-juice remains fresh and flavorful, while its small cylindrical body and visually striking gradient coloring provide a stylish and compact design. The e-juice tank window allows you to keep an eye on the e-juice level. The device is capable of providing up to 600 puffs. The VECEE PICO is designed to deliver a pleasing Mouth-To-Lung (MTL) experience that is often preferred among new vapers. Let's take a deeper dive into VECEE PICO's offerings to explore if this is the right device for you. 
Specs
E-Liquid Capacity: 2mL
Battery: 400mAh
Puff Counts: 600
Nicotine Strength: 20mg
2. Flavor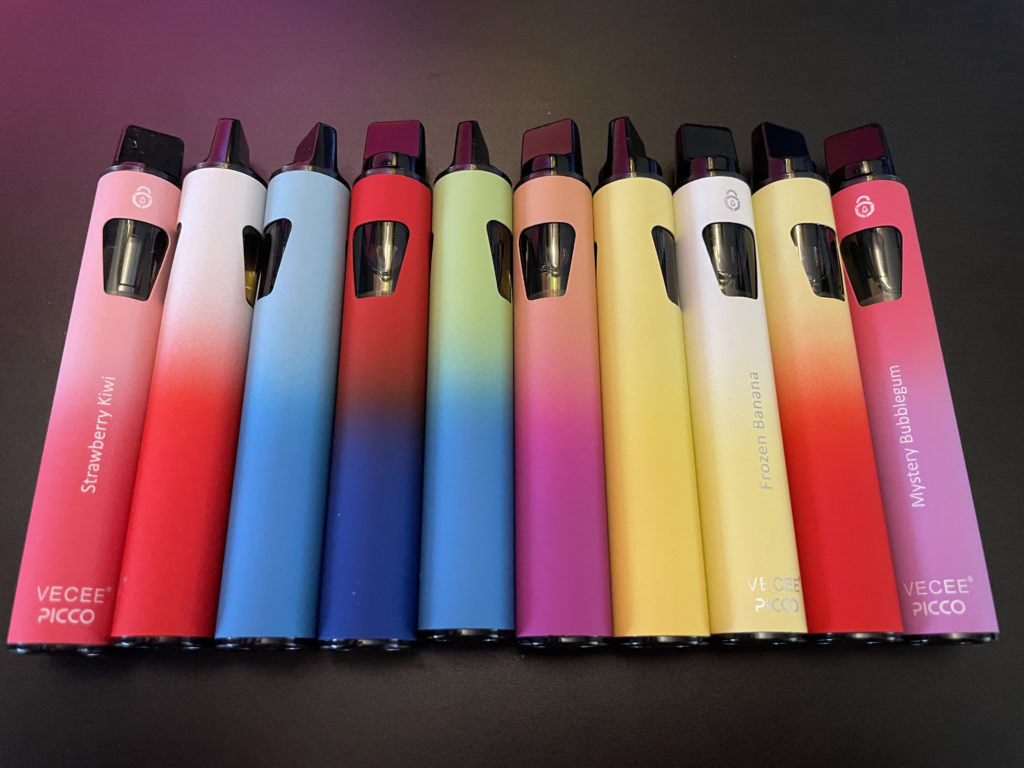 The VECEE PICO disposable vape tantalizes taste buds with its diverse flavor selection, from the familiar fruity favorites to the bold and exotic. Each flavor has been expertly blended to deliver an enjoyable vaping experience, with an indulgent inhale and a satisfying exhale. I was very impressed with the flavor quality and delivery of the PICO disposables. With VECEE PICO, you can choose your adventure. 
I received 10 flavors for review: Frozen Banana, Arctic Melon, Vanilla Fizzle, Berri Lichi Chill, Cran Grape, Strawberry Kiwi, Tropical Breeze, Strawnana Pudding, and Mystery Bubblegum. Let's take a closer look at each of these flavors to help you choose a flavor that sounds right for you: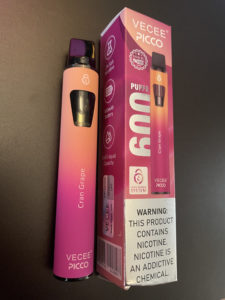 Frozen Banana
The Frozen Banana flavor isn't very 'frozen'. The icy notes are very mild, leaving this to be a very one-dimensional banana flavor. The banana is reminiscent of Bananarama candy, so it's not a bad flavor, but it falls a little flat compared to the other fantastic blends offered by VECEE. 2/5

Arctic Melon
This flavor features the sweet and juicy taste of ripe watermelons, with a hint of menthol for a cool and crisp finish. When compared to other watermelon ice flavors, it's a bit milder while still very refreshing. 3/5

Vanilla Fizzle
Imagine sipping on a cold vanilla coke, and that's what you get with the Vanilla FIzzle flavor. On the inhale, you'll taste the sweet and creamy flavor of vanilla, followed by the carbonated cola taste on the exhale. This is the first vanilla coke flavor I've tried, and it was delicious. 4/5

Blue Fantasy
The Blue Fantasy flavor takes the classic taste of blue raspberries and elevates it with a touch of candy sweetness. On the inhale, you'll taste the tartness of blue raspberries, followed by a sweet candy finish on the backend of the exhale. This flavor is perfect for those with a sweet tooth and a love for candy-flavored 4/5

Berri Lichi Chill
This flavor combines the sweet taste of juicy mixed berries with the tropical notes of lichi, creating a perfect balance of sweet and tangy. On the inhale, you'll experience the fruity sweetness of mixed berries and lichi, followed by a cooling menthol sensation on the exhale. E-liquids with fruity and refreshing berry flavors are ideal for those looking for a unique twist.5/5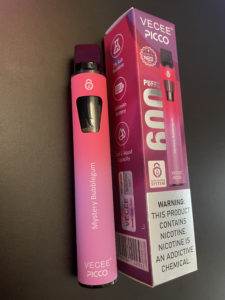 Cran Grape

Cran Grape is a flavor sensation from VECEE PICO, a perfect balance of sweet and tart. Experience the tang of cranberries on the inhale, followed by the juicy sweetness of grapes on the exhale. Perfect for fruit lovers seeking an enticing blend. Grape flavor is more balanced than most other grape flavors I've tasted. 5/5

Strawberry Kiwi 
The Strawberry Kiwi flavor combines the sweet and juicy taste of strawberries with the tangy and tropical notes of kiwi, creating a perfect balance of sweetness and tartness. On the inhale, you'll taste the juicy sweetness of strawberries, followed by the refreshing tang of kiwi on the exhale. 4/5

Tropical Breeze
Tropical Drizzle flavor is a tropical paradise in a puff. Imagine a tropical vacation in your mouth, with the juicy sweetness of pineapples, mangoes, and papayas raining down in every inhale, I get a hint of coconut, creating a blend of tropical sweetness and creamy smoothness. This flavor is ideal for those who love tropical flavors, but just be aware it is a very sweet flavor. 2/5

Strawnana Pudding 
This flavor s a delectable blend of sweet, ripe strawberries and rich, creamy banana pudding. Imagine biting into a juicy, ripe strawberry, followed by a silky, smooth banana pudding. This flavor is perfect for those who love creamy dessert flavors. 3/5

Mystery Bubblegum 
With the Mystery Bubblegum flavor, you can indulge in the classic sweetness of bubblegum. As for the 'Mystery' part of the flavor, I have a difficult time placing what it is. But even if you can't really differentiate the Mystery flavor, the bubblegum stands on its own and is a joy to vape. 4/5
3. Design & Quality

Design
The VECEE PICO disposable vape boasts a visually striking design that's sure to turn heads. Its cylindrical body is wrapped in a velvety matte finish for a comfortable grip, while a gradient of two colors adds a pop of personality. Two identical tank window, cut in a trapezoidal shape, allows you to keep tabs on your e-juice level effortlessly. The device has a flat rectangular mouthpiece that protrudes about 0.5 inches from the top of the disposable. 
The VECEE PICO has no advanced features like airflow control or recharging, making it a breeze to use. But before you can start vaping with the PICO, you must push the mouthpiece to down from its extended position. This is the PICO's Juice Locking System (JLS) which allows the e-juice to enter the mesh coil chamber and saturate the cotton. There are warnings to complete this step before you start vaping (and wait at least 3-5 minutes) because if you don't, you can easily burn up the cotton and get a nasty dry hit. While it's meant to keep the e-juice separated from the cotton until it arrives with the consumer, it can ruin the vape if you don't follow the directions, so I am not a big fan of this design choice.
Durability
The VECEE PICO disposable vape is designed for convenience and ease of use, but it doesn't compromise on durability. Even as a disposable with a relatively short expected lifetime, since the tank only has a 2ml capacity, the PICO feels substantial and durable. The matte body is scratch resistant, and the tank windows feel like a hardy plastic that is capable of withstanding most shocks.
Does the VECEE PICO leak?
The VECEE PICO does not appear to have any leakage issues. The mouthpiece is tapered enough to contain the e-juice within the tank. The locking mechanism also offers a way to keep the e-juice secured within the tank when you are not using the disposable. 
Ergonomics
The PICO 2ml disposable is designed with ergonomics in mind, making it a comfortable and convenient device to use. The cylindrical body nestles comfortably in the palm of your hand, and the flat rectangular mouthpiece provides a secure and comfortable fit, allowing for smooth and satisfying draws.
4. Battery and Charging
The VECEE PICO vape is not rechargeable, so there is no need to keep a charging cable on hand or charge the battery for going out for the day. With only a 2ml tank, the 400 mAh battery is meant to last until the e-juice runs out (roughly 600 puffs). The battery powers the vertical mesh coil to help deliver smooth, comfortable hits.
Most vapers can probably run through the 400 mAh battery in 1 to 2 days, while low-volume vapers can potentially stretch it for a few more days.
5. Performance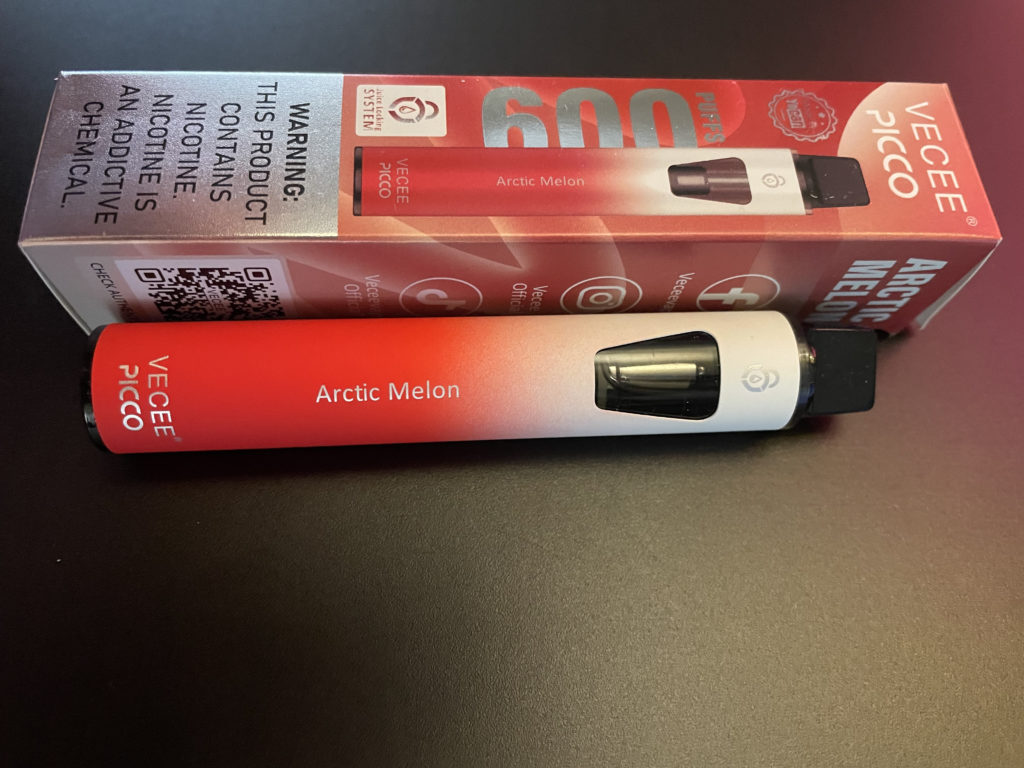 The PICO offers stable performance throughout the 600-puff lifespan of the device. The vertical mesh coil delivers a fantastic MTL hit with just the right amount of restriction. The vapor output is decent for a disposable of this size and is a nice comfortable temperature. Even with a 20 mg (2%) nicotine strength, the VECEE PICO gave me a sufficient nicotine buzz.

This vape would be especially good for new vapers because it's a very unobtrusive yet enjoyable vaping experience. Once you allow the e-juice to flood the cotton, you are good to go. 
6. Price
I could not find any pricing information on the VECEE PICO at this time. This disposable was only recently launched, so you'll need to check back later for more specifics. 
7. Verdict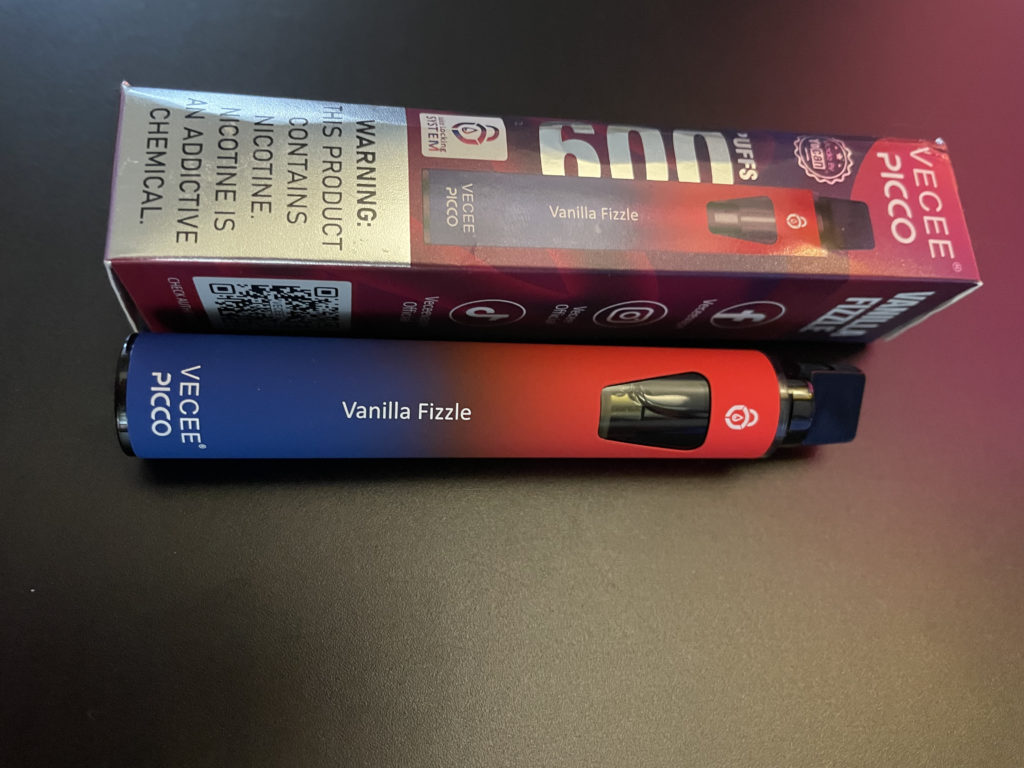 The VECEE PICO disposable vape is a well-designed and convenient device that offers a satisfying vaping experience. Its cylindrical body, matte finish, and gradient colors provide a visually striking design, while the tank window and flat rectangular mouthpiece offer both style and functionality. The device's lack of airflow control or recharging requirements makes it a breeze to use, while its durable construction and an ergonomic design provide both reliability and comfort. The VECEE PICO doesn't really have any downsides as long as you're in the market for a short-term no-fuss disposable available in a range of great flavors. 
Cons
Waiting to learn more about pricing

Only 600 puffs – won't last long for high-volume vapers
Pros
Beautiful gradient coloring

Soft matte body

Delicious flavor combinations

Perfect MTL hit

Beginner-friendly