Intro
The Gen 200 kit is Vaporesso's latest follow-up to its mod vape line. It comprises of an uncluttered box mod running on dual external 18650 batteries, and the well-recognized iTank. The mod can fire up to 220W and house 8ml vape juice on one refill. Powered by the cutting-edge AXON chipset like previous Gen models, it's fully-featured to support a safe and immersive sub-ohm vaping.
This review covers all the pros and cons of the Vaporesso Gen 200 based on our days of testing on the kit. By the way, we highlight aspects we like in green, and those we don't in red, to make your reading easier. Read further down the page to see whether the Gen 200 mod kit is your go-to!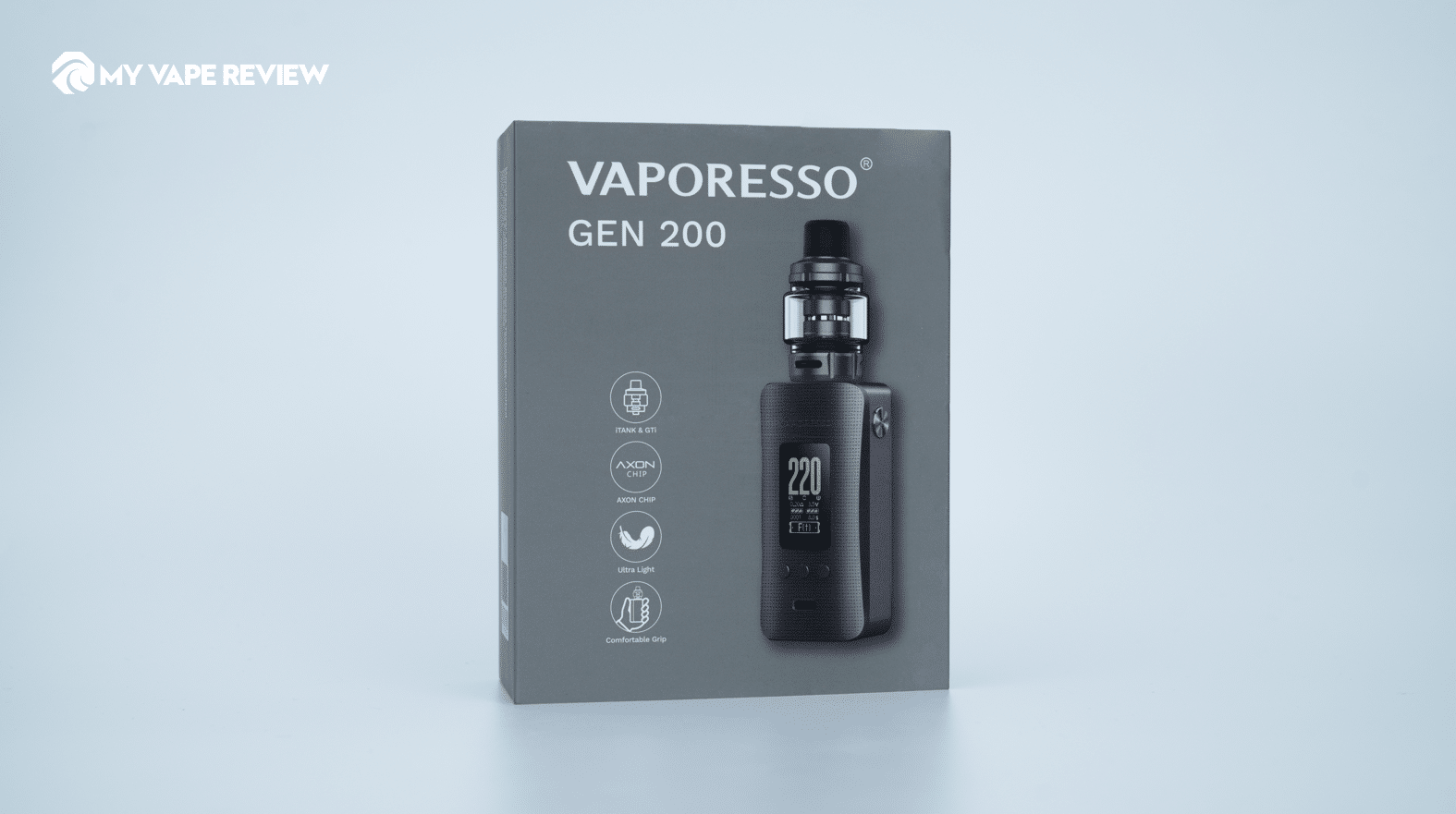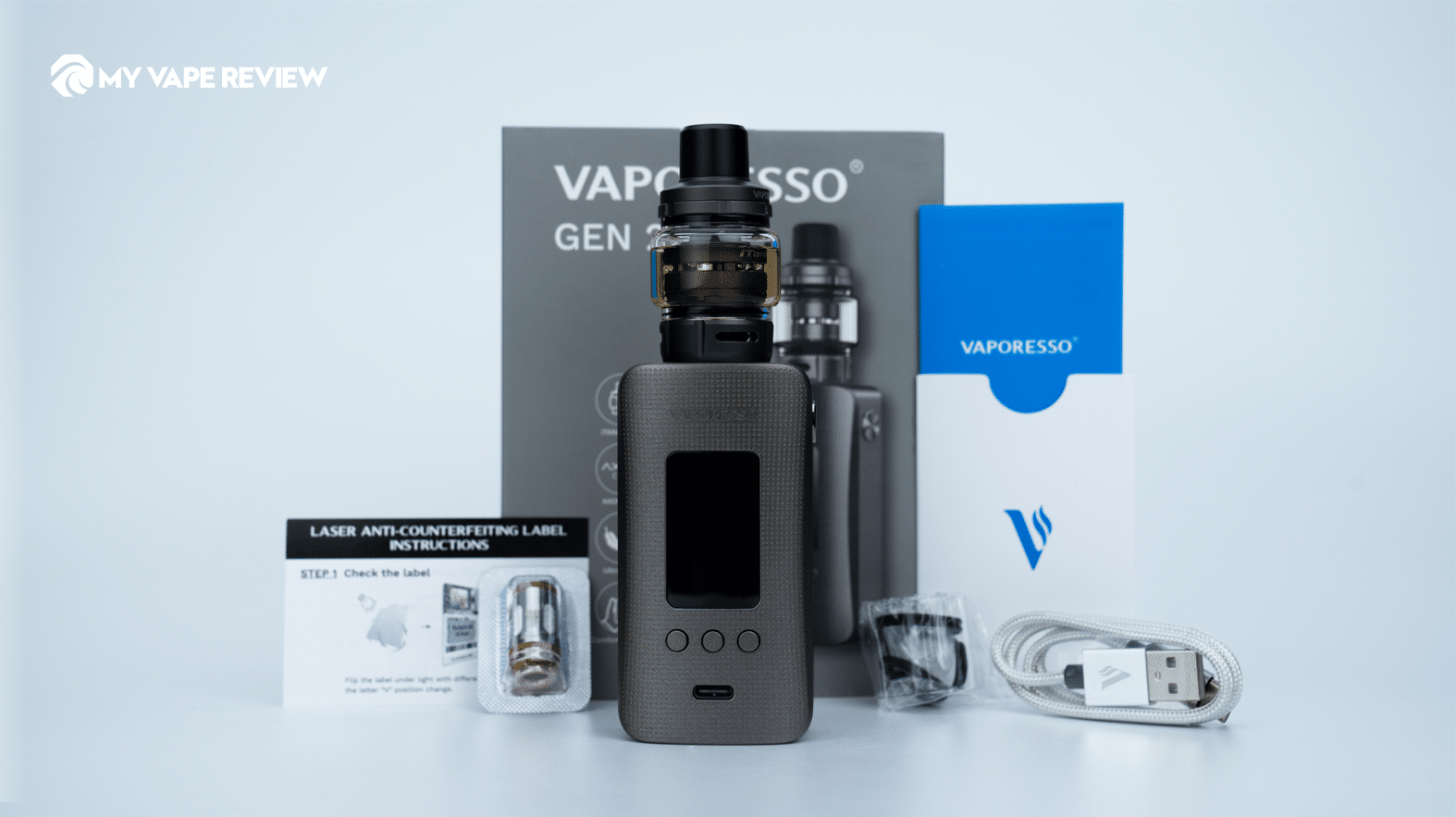 Vaporesso Gen 200 Product Details
Design & Build Quality – 9
Vaporesso Gen 200 Mod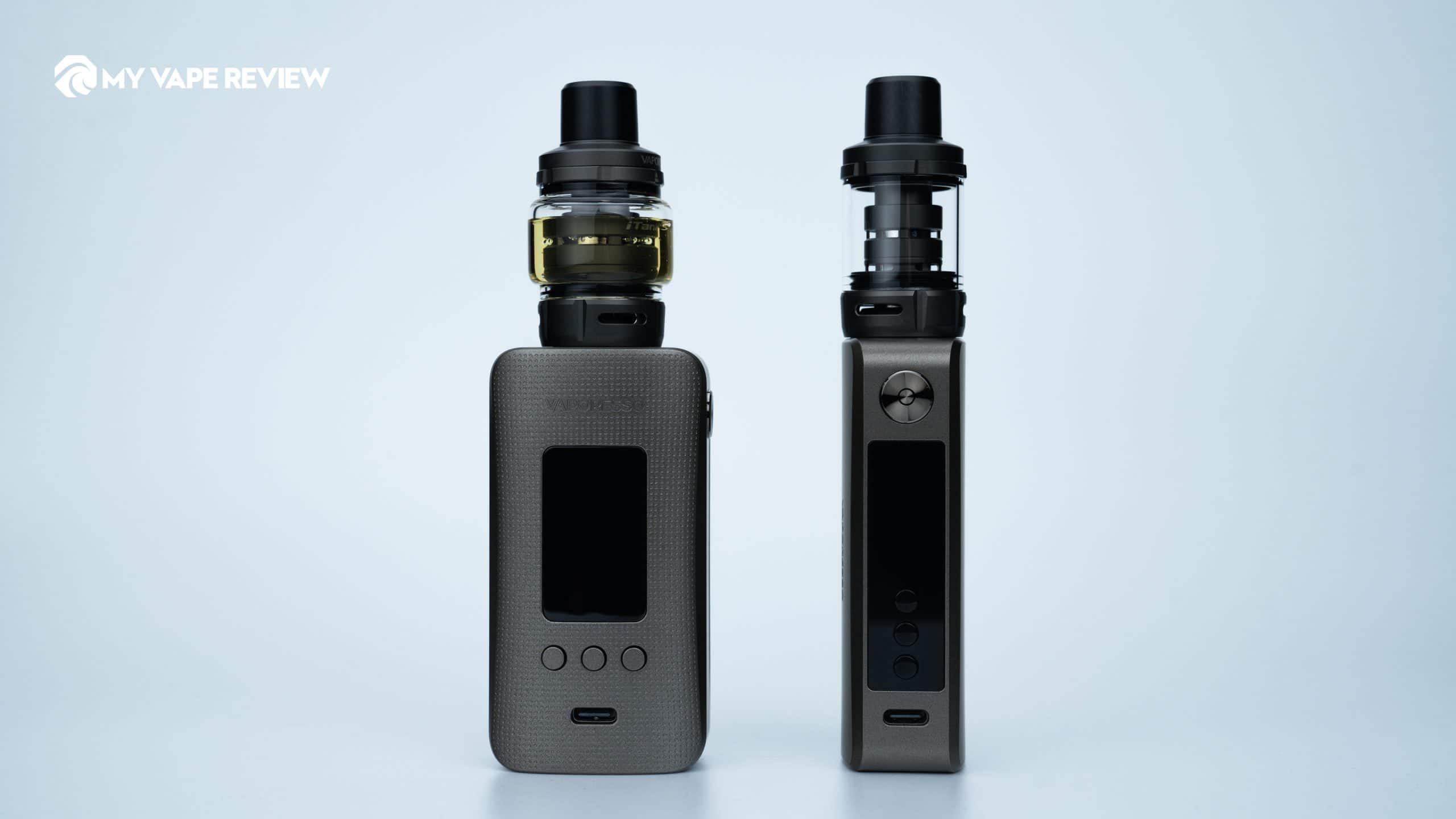 The Vaporesso Gen 200 comes with a typical box mod, which shows its quality manufacturing every time we heft it in the hand. The mod section is sturdy. And the embossed dots covering its bigger faces make sure it's proof against scratches or any rough-up.
The mod continues to use the understated design like all previous Vaporesso Gen models, like the Gen S and Gen Nano. It eliminates any bells and whistles, and neatly places almost all components on the front face, including a display screen, three tiny but solid buttons, and a Type-C charging port. The compact layout makes the overall operation look more clear-cut. Except for there's a fire button separately resting on the thinner side face. We love it though, as Vaporesso Gen 200 doesn't wobble, has a proper size and lies at exactly where we always put our thumb on.
iTANK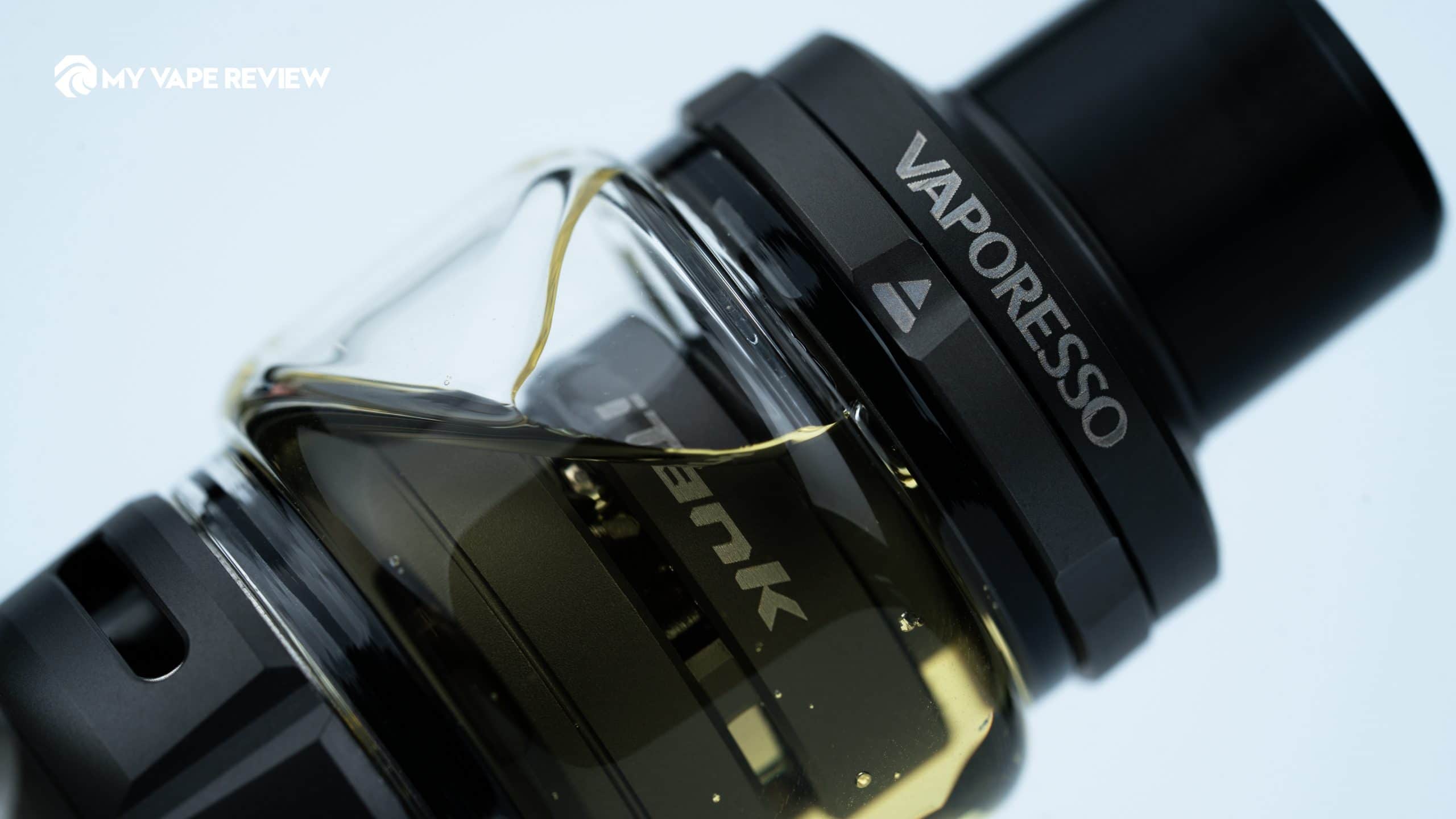 The Vaporesso iTank included in the Gen 200 kit is honestly a big allure, for us at least. It's not the first time we've used this newly-developed vape tank. In our previous review on Target 200, we have been impressed. While it's worth a second try, definitely.
By providing an extra glass tube, iTank gives us dual options in the vape juice capacity. We could go for either the smaller 5ml straight tube for higher portability, or the bigger 8ml bubble tube which requires less refills. Love the pre-installed 8ml tube especially. It's really cavernous and could last for a couple of days with one top-up. Top fill system is also a big pro which makes refilling hassle free.
Aside from the superb convenience, we have to repeat that iTank is also an excellent flavor machine. The flavor intensity is in a class of its own, and it delivers quite long aftertaste. The well-crafted GTi mesh coil, without a doubt, is a major reason for such banging flavor. Besides, this is a bottom airflow system tank. iTank has a fully-adjustable air inlet sitting on the base, which can channel the air to hit a coil directly from the bottom.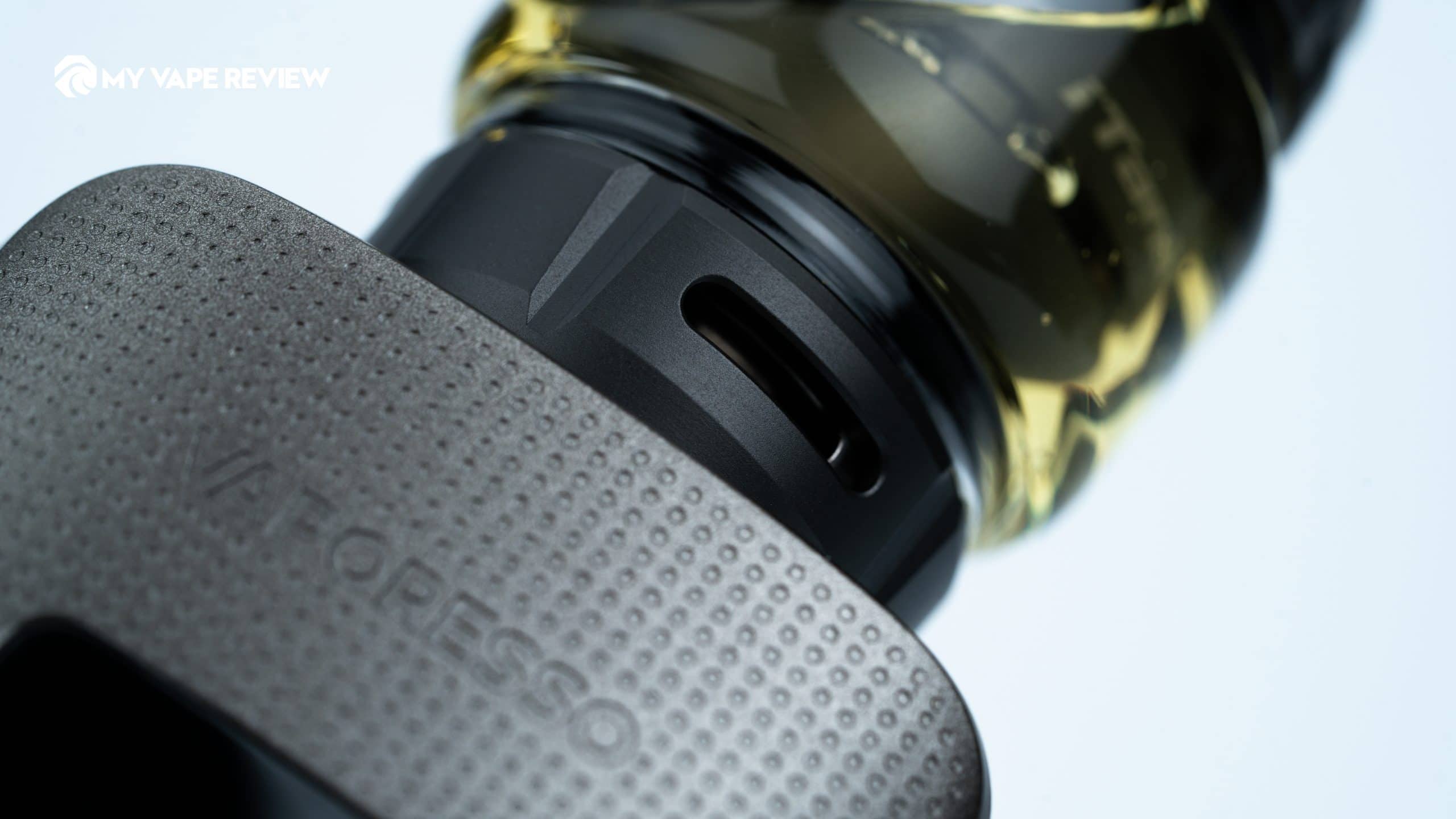 The only bummer about iTank is it leaks. We couldn't complain too much about it because this is quite a common issue in bottom airflow tanks. Just be mindful not to tilt the tank too much when you're enjoying its unparalleled flavor.
Battery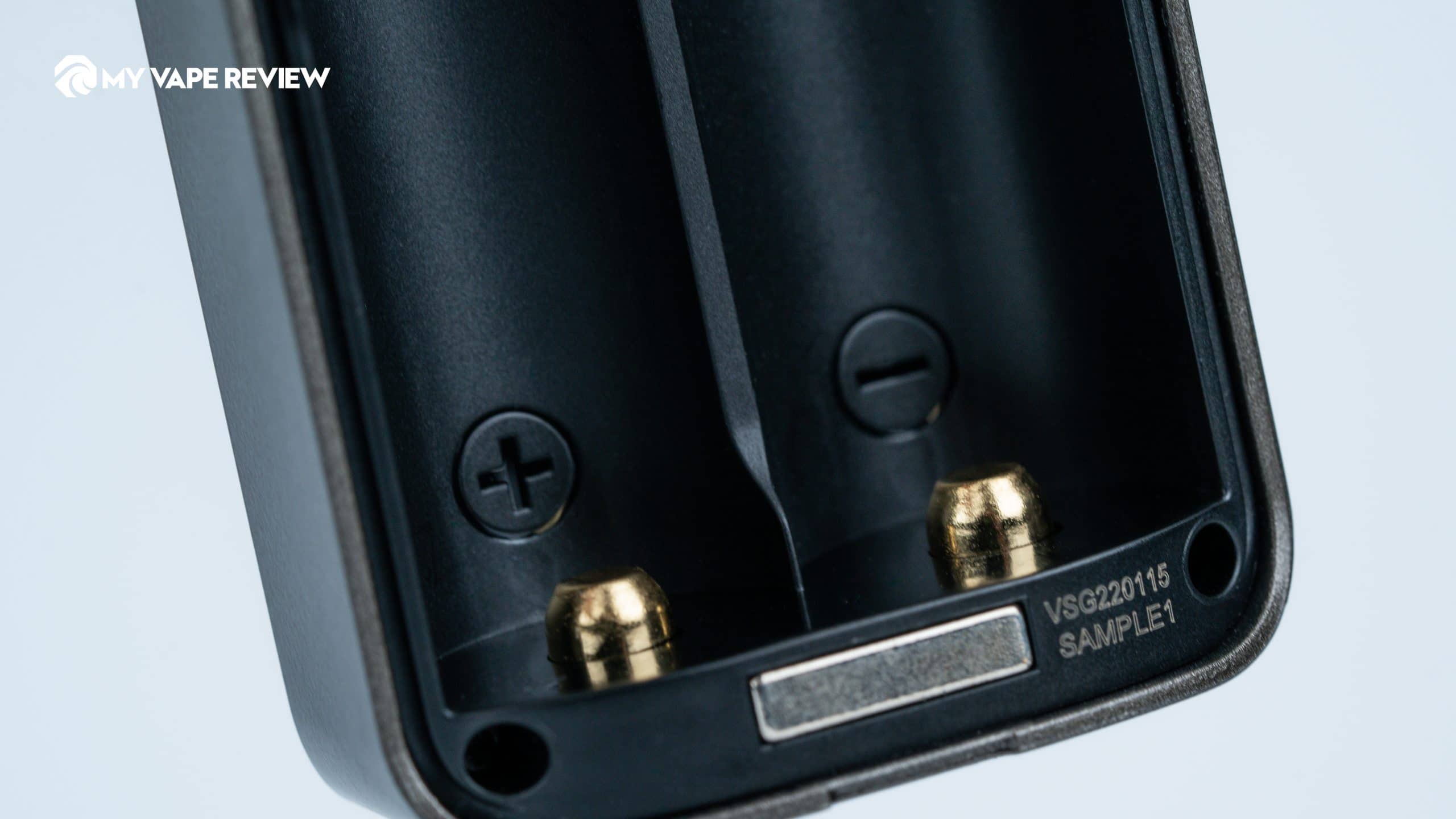 Vaporesso Gen 200 runs on dual 18650 batteries to ensure the device lasts ages. The battery door lies on the back of the box mod through magnetic connection. We've shook the device fiercely a couple of times to check the interlocking. Turned out it has a perfect snug fit. No need to worry that the battery door might fall off.
Function – 8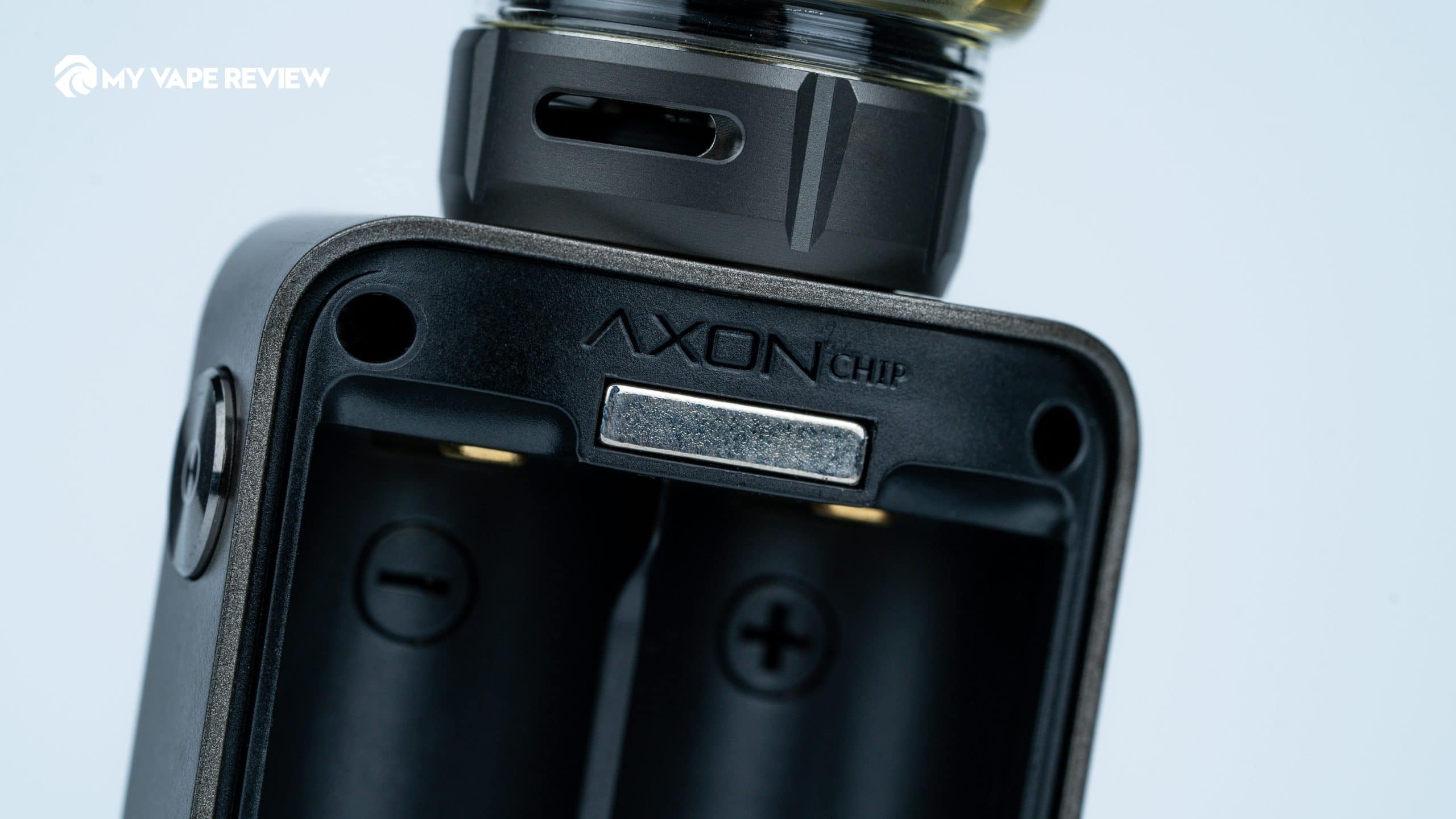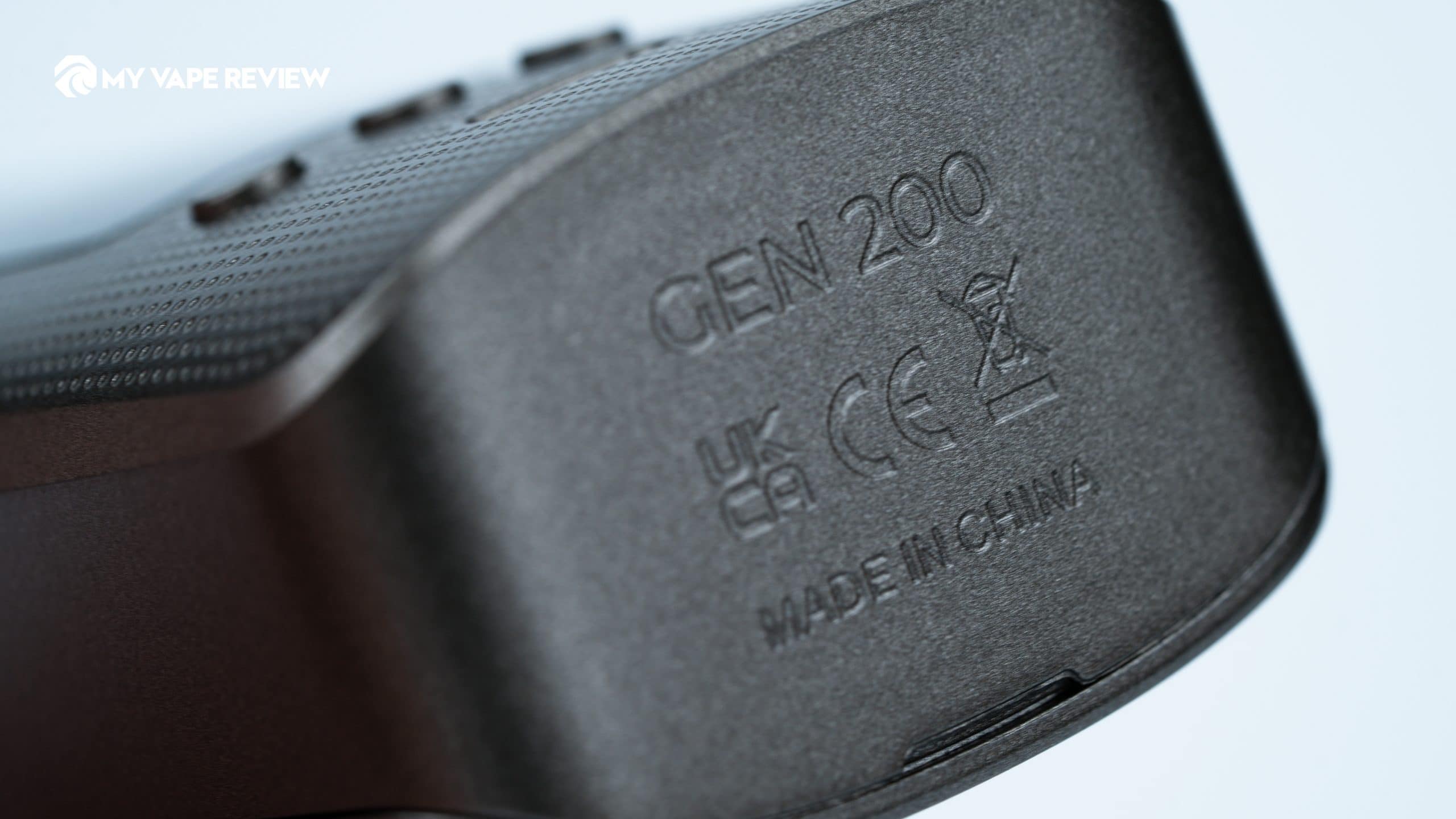 Packing in Vaporesso's formidable AXON chipset, Gen 200 mod offers a rather wide array of functions. We could sort them out quickly before going into details.
The Vaporesso Gen 200 mod has four major modes, that is the F(t) mode, Pulse mode, VWN mode and DIY mode. The DIY mode can be further divided into the variable wattage (VW), variable voltage (VV) and bypass mode. Then the VW mode could also be further broken down, into the VWS, VWN and VWH, with the S, N and H standing for soft, normal and high respectively.
We have to say the overall feature set sounds a tad confusing at the beginning. Luckily, the hierarchy is explicit enough to help us puzzle things out. While it just can't offset the hassles that crop up during the hands-on operations, especially when we switched to the DIY mode which has one deep menu after another. This can be viewed as a trivial downside though if you don't need DIY very often.
Vaporesso Gen 200 has a quite comprehensive suite of features except that it doesn't offer the temperature control (TC). While since its chipset is already programmed to identify and prevent overheat, it's actually unlikely for us to run into these sorts of issues as long as putting out at recommended watts.
Performance – 8.5
Vaporesso Gen 200 comes with two sub-ohm coils geared for high-powered DTL vaping style, one at 0.2Ω and the other at 0.4Ω. The former is rated for 60-75W, and the latter for 50-60W. If you want to put out higher, you can also buy Vaporesso's latest 0.15Ω try out, which is also compatible with the Gen 200 but not included in the kit.
Anyways, for your information, the output power we used throughout the testing was mostly 75W with the 0.2Ω coil. We tried to ramp up a little higher, but ended up with slight burnt tastes when it reached 85W. Alright, let's check out how the Vaporesso Gen 200 performs in different modes!

F(t) mode
F(t) mode is empowered by Vaporesso's self-patented AXON chip to make for a variable output voltage in every short puff. Its goal is to ensure the coil keeps heating up the e-liquid in an optimum temperature, and in turn provides the best flavor delivery. The mode was firstly applied in Vaporesso's pod mod kit Target 80 released last year.
We found compared to other modes, the F(t) indeed creates more vibrant flavor. And aside from the stronger flavor, clouds produced under this mode are also slightly larger and warmer.
VW (VWS, VWN and VWH)
According to Vaporesso's official description, the difference among the three modes is mainly in the start watt. For instance, under the VWH mode, the device would take the start watt a bit higher than our set value, to give a stronger hit in the first few seconds of each drag. While the VWS would reduce the start watt a little, thus making the sensation "softer." VWN means to make a device keep running on the set watt.
The idea sounds cool, but we actually didn't notice an evident difference out there. The vapors produced under the three modes in any same watt are pretty much alike. So for the most part we just stuck to the VWN when using the Vaporesso Gen 200.
When we switched to VWN, the 0.2Ω coil has decent performance all the way between 60W and 80W. The most recommended range is 70-75W, as vapors comes out warmer and smoother. The 0.4Ω coil is as satisfying when the Vaporesso Gen 200 fires between 50W and 60W. Both coils are capable of spilling one hell of a lot of vapor and pumping out intense flavor. Basically a coil can do a great job until you finish up the fourth refills.
Pulse mode
In contrast with the F(t) mode designed to concentrate flavors, the Pulse mode focuses more on providing a consistent hit throughout each drag. Specifically, it manages to put the vapor amount, throat sensation and flavor delivery at a steady level. It's only the difference between it and other modes is quite hard to perceive, except that the vapor seems to get slightly smoother.
Bypass mode
With the battery we used paired with the 0.4Ω coil, the max voltage Gen 200 can fire at is 9.0V. In fact, the flavor production is already quite satisfying at around 4V.
Lab Test on Power Mode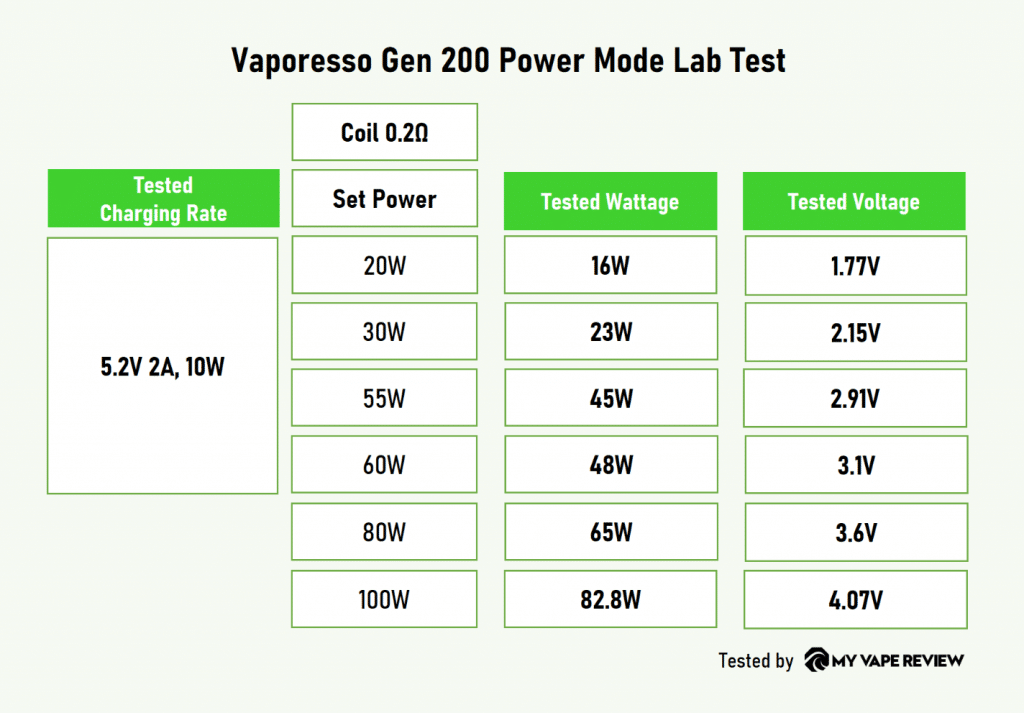 The coil we used in the testing is the 0.2Ω included in the kit. It's obvious that the real-time output of Gen 200 mod is still decent between 20 and 55W, but falls short indeed when it goes to 60W and over. Frankly, with such a low resistance, disparities between listed watt and actual one always exist. The struggle is acceptable. The Gen 200 mod would perform better when running on higher-resistance coils.
Vaporesso lists the device's charging rate at 2A/5V. And our tested result is 2A/4.8V, which is pretty close. Another upside in the Vaporesso Gen 200 is its pass-through vaping, which allows us to vape while it's plugged in. And the mod's display screen can show the RCT, namely the remaining charging time required until full.
Ease of Use – 8.5
Vape Tank
Gen 200 retains the easy-to-operate top fill system with a slide-open fill port. Overall, it works fine, but needs a bit improvements anyways. We found no matter how far we push the top cap away, the port opening is never big enough. Hence using those larger-sized e-juice bottles can always be a bummer.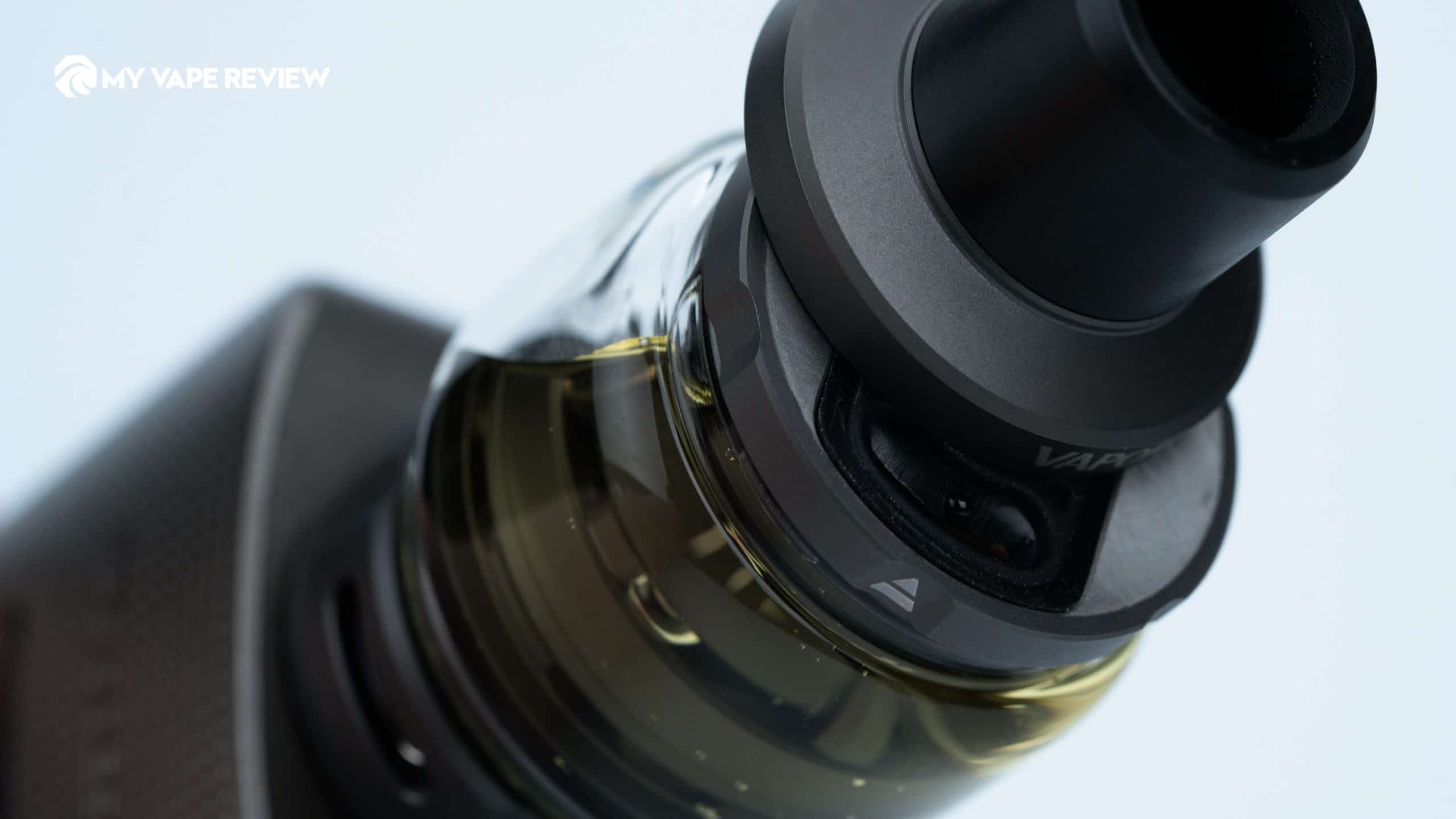 In addition, we ran into some issues when replacing coils. We need to admit it's a breeze to install these coils thanks to the simple press-fit design. But taking them off is another story. With merely bare hands, it's almost impossible to remove its coil; while the Gen 200 kit doesn't include in any tool to get this problem solved.
The airflow control ring is tight enough. We've bumped into some rings before with a loose fit. And they just make it a terrible fiddle to precisely control the air amount.
Buttons & Operations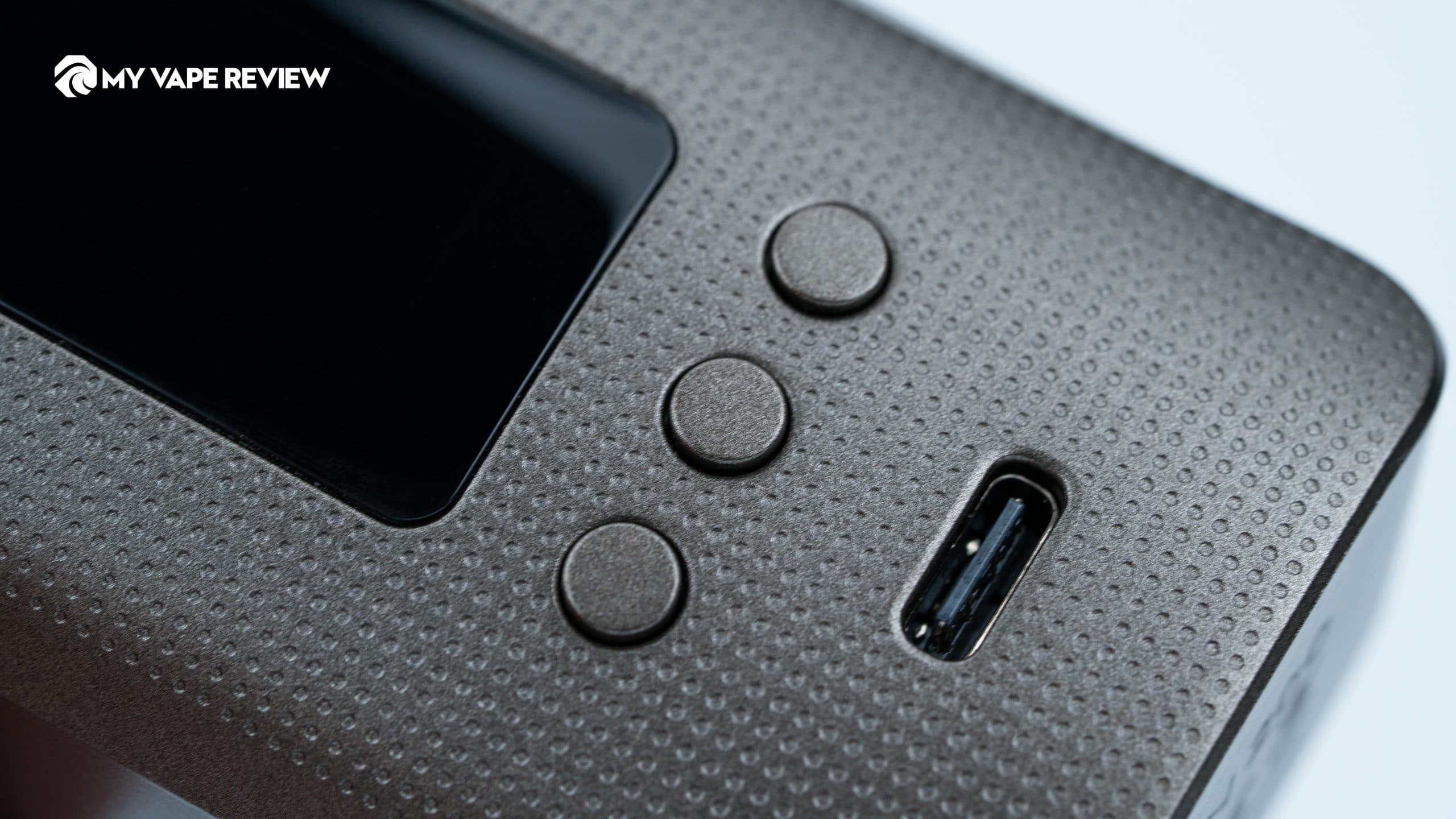 As we said above, the GEN 200 mod lays out its buttons and screen in a clear-cut manner. And we found the actual operations are just as easy as it looks like. Gen 200 is powered by an intuitive menu system to make for its potent feature set, with detailed instructions in the manual that anyone can follow.
By clicking the center button for three times, we could start the menu setting. If you want to switch among different modes, like between the Pulse and F(t), just continue to hold the center button for a while. To make the user interface further explicit, Gen 200 even uses different interface colors to distinguish one mode from the other.
The only disadvantage in the button system is it doesn't have a key lock to protect the device from repeated unnecessary ignition. Anytime we long press the fire button, the device will keep activated for quite a while before the built-in protections start to work. That could be a real bummer if you vape a lot out of the house and need to put the device in bags or pockets.
Price – 9.5
Vaporesso Gen 200 Mod Kit MSRP: $67.9
Vaping on this Vaporesso Gen 200 mod just recalls our previous testing on the Vaporesso Target 200. Both paired with the iTank and topping out at 220W, the two are much alike in terms of the design and performance. Maybe the biggest difference out there is their MSRP, with Target 200 costing a little more at $79.9.
Actually, even though compared with similar box mod kits from other big brands, it's safe to say the less-than-$70 price tag of Gen 200 is too appealing.
Verdict
To compare the Vaporesso Gen 200 with the earlier Gen S, there aren't many updates differentiating the two in fact. The two feature the same 220W max output, 8ml e-juice capacity and dual 18650 batteries. If you don't like overcomplicating things, both are box mods with plain designs. Maybe the biggest difference lies in the new iTank included in the Gen 200 kit, which adopts a Turbo airflow system to further boost flavors. But as Gen 200 is over twenty dollars cheaper than the Gen S, we believe it's absolutely worth the price tag.
Just tell us about your take on the Vaporesso Gen 200 mod kit. Feel free to leave your comments below!