A vape is consisted of a battery, an atomizer, and a juice cartridge. The battery is the power source for a vape. A high-quality battery determines how long you can enjoy your vaping, how powerful you can hit in every puff, and how the flavor will go with the coil you use, and more.

With so many choices including brands, types, and models of batteries out in the market, which one to choose might get vape beginners lost, should I choose 18650 or opt for higher amp with 21700/20700 batteries? You can check out some of the best 18650 batteries. In this article, we have chosen some of the best baterries based on the quality, specification, and performance for you. Let's kick it off!
Hohm Tech Run XL 21700 battery holds 4007mAh capacity. The discharge current is 30.3A, which is high enough for users to ramp up to medium watts with a single battery.
#2 Vapcell INR 21700 4000mAh 30A Battery Gold
Vapcell is a battery manufacture based in China. It has been in this battery industry since 2013. It's a trustworthy and experienced battery brand. This Vapcell INR 21700 battery has 4000mAh capacity with 30A continuous discharge current. Vapcell also specified the charging time (4.5hours) which is very convenient for users.
#3 Molicel 21700 4200Mah 30A Battery
Molicel has been served the battery industry for over 20 years. You can trust the quality of their batteries. The Molicel 21700 battery capacity is 4200mAh. The discharge current is 30A. It is very long-lasting. With the right maintenance and use, you can experience great cost performance form it.
#4 Samsung 21700 40T 30A Battery
We believe you have noticed Samsung 40T 21700 has been recommended by so many professionals,. This purple cell holds 4000mAh capacity with 30A discharge current. You can expect to use it to power you vape up to around 70W.
#5 Lishen 21700 4000mAh 12A Battery
Lishen is the leader in battery industry. For over 20 years, Lishen has been devoted to the lithium ion battery manufacturing. This 12A 21700 battery can satisfy your needs on low wattage vaping. The 4000mAh battery also can last long for weeks.
#6 Molicel INR-20700A 3000mAh 35A Battery
This Molicel P42A 21700 battery holds 3000mAh capacity at discharge current of 35A. It enables you to go up to high wattage with this current. Molicel is a reliable and professional battery brand. You can set assured to buy this 21700 battery for your vapes and get an enduring use.
What are 21700 Batteries?
21700 battery is a type of lithium-ion battery. It is rechargeable with 3000-5100mAh battery capacity varied by each. The voltage range is 3.6V – 3.7V. Compared to 18650 battery, 21700 is larger in size, capacity, voltage and more.
Here is the comparison table for the commonly seen batteries: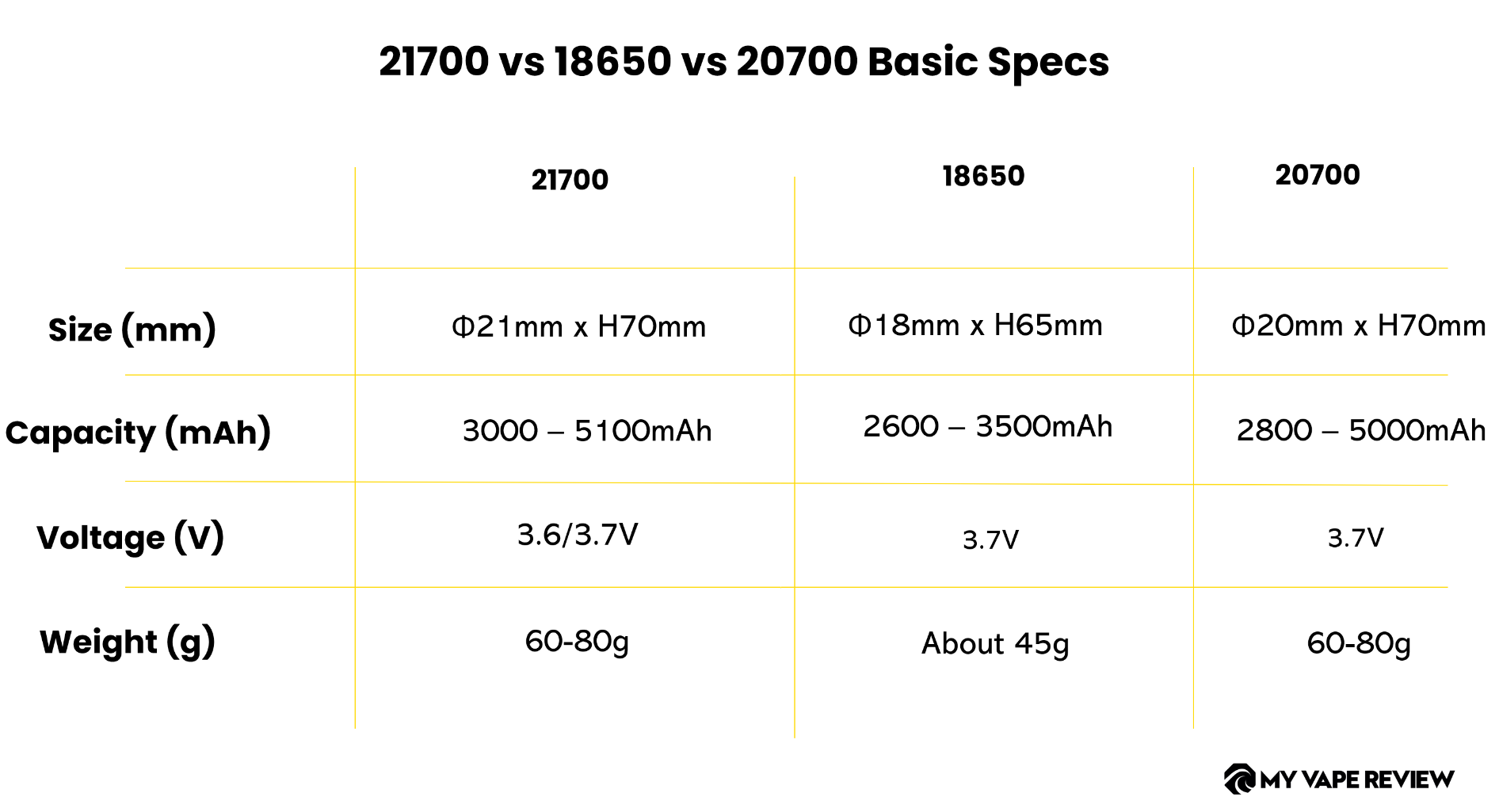 To simply understand the names of these batteries, you can find the size of them are matching their names. 21700 has a diameter of 21mm and a height of 70mm, while 18650 is 18mm wide and 70mm tall.
What Vapes are 21700 Batteries for?
21700 batteries are mainly used for mod vapes. 18650 battery was the main option for vapers in the vaping market for years. With the increasing demand from vapers for higher wattage and DIY needs. The 21700 battery which provides higher amperage and output power can satisfy advanced vapers' needs. Usually, 21700 batteries are used in high-wattage vapes such as mechanical vapes, vapes up to 100W (single 21700 battery), and vapes up to 230W (dual 21700 batteries).
Why Use 21700 Batteries?
21700 batteries have larger capacity than 18650 batteries. For example, if a 21700 battery's discharge rate is 1C, there are more ampere to fully discharge in 1 hour, compared to 18650 with discharge rate of 1C. With 21700 batteries, vapers can reach higher wattage using their sub-ohm coils with more options.
21700 VS 18650
The differences between 21700 and 18650 batteries are mainly reflected in the size, capacity, and weight. 21700 battery is larger and heavier as it contains more capacity. You can also refer the chart we listed above for clearer comparison between these two batteries.
Pros and Cons of 21700 Batteries
How Long Do 21700 Batteries Last?
If you are talking about the life span of a 21700 battery, it can last about 5-10 years and it's also largely depending on the frequency you use and how you maintain it. The recharging number is about 300-500 times per unit.
If you are referring to a single-use time on a fully charged 21700 battery, it also varies from the output power you set. The higher the power you set and use, the faster the battery runs out.
Protected and Unprotected 21700 Battery
The difference between protected and unprotected battery is that protected battery has an electronic circuit board added. In this case, using protected battery can prevent you from many battery safety issues, such as overcharge, short circuit, temperature is too high/low, and over discharge. Therefore, for unprotected battery, users should be extra cautious about any danger that might be caused by misuse.
The 21700 batteries for vapes are mostly unprotected. When using a regulated box mod vape, since the mod has an electric circuit board for protection, it's relatively safer when using an unprotected battery than using mech mods. However, it's still fairly important to know the battery safety measures and ohm's law in advance.