RBA has long been a trend among sub-ohm vapers. Knowing how to get your hands on the gadget is not only fun and pocket-friendly, but opens the door to chase bigger-than-ever clouds and a maximum of flavors.
RBA is a perfect match for mod vapes, whose high power output could always take the full advantage of it. In our earlier reviews on WOTOFO Mdura box mod, we put aside the regular atomizer originally included in the kit and installed an RBA instead. The result is just unexpectedly satisfying.
This guide covers all the basics of RBA and its different types, including RTA, RDA and RDTA, to share their similarities, differences and benefits. If you feel like vaping with more advanced RBAs while having not a single clue, proceed with your reading!
What is RBA?
RBA is short for a Re-Buildable Atomizer, which requires users to build and wick coils on their own. You can regard vaping on a rebuildable atomizer as sort a DIY project, opposite to the fuss-free experience you always get from regular pre-built atomizers.
Generally, vapers shift their eyes towards RBAs for more personalized controls over their vaping. RBAs allow us to fine-tune multiple settings to our liking, and in turn decide the size and density of clouds we get. Also, atomizers of this type could always boost flavors to the max.
Although RBAs consist of a couple of sections, it's the build deck that makes them distinct from regular atomizers. Specifically, we could see any atomizers with a build deck as an RBA, no matter how they differ in other aspects.
What is a Build Deck?
Sitting at the base of atomizers, a build deck is right where we build wicks and coils. When you look at it, what you notice would be a flat metal platform with posts sticking out of it. Two or three-post build deck are the most popular options in the market, while non-post and four-post decks are also available out there.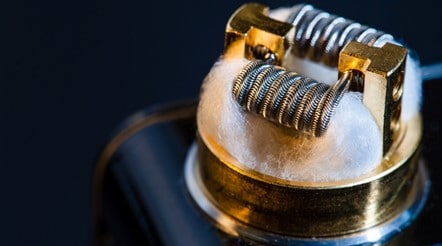 Some RBAs feature a build deck that allows for dual coils. Compared with single coil, dual coils usually provide more power and improve the vapor performance. However, dual coil build accordingly requires more techniques, so you have to go through some trials and errors until getting the complete hang of it. Remember to keep the two in the same size and aligned with each other to prevent uneven heating.
How to Build a Simple Coil?
To build coils on the deck, you need to wrap coils first and unscrew the posts to put coils in. When you've screwed the posts tight, the next step is to dry heat your coil for a while. The purpose is to clean smudges off and examine whether there're hot spots. Next you can move to thread the wicking materials, generally cottons, through your coils. Then everything is set to go!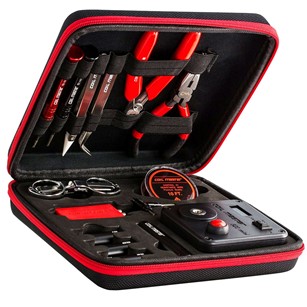 Rebuildable Dripping Atomizer (RDA)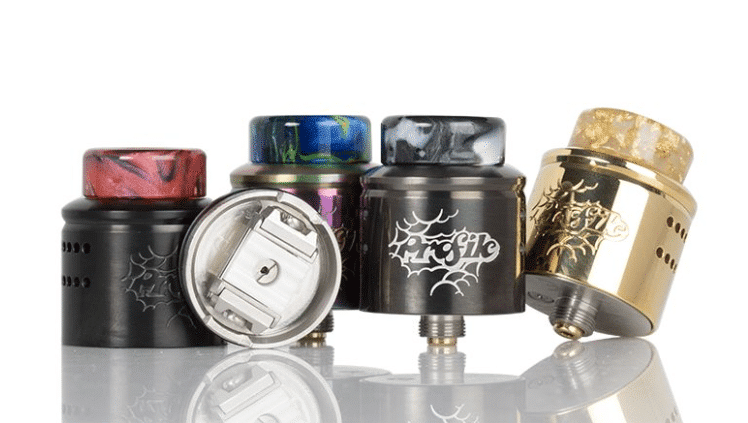 An RDA basically consists of a build deck, outer covering and drip tip, yet without a tank to hold vape juice. Instead, you store juice directly in the cotton. Specifically, to refill an RDA, you drip only drops of liquid onto the cotton, and wrap it up once the cotton is sufficiently saturated. In general, a single dripping only allows for a couple of drags. When you drain the vape liquid off, repeat the dripping work to resume your puff. However, using a squonk mod can make your life easier when using the RDA. You can squonk the juice up to your deck directly and won't need to uncap to drip every time you need to refill.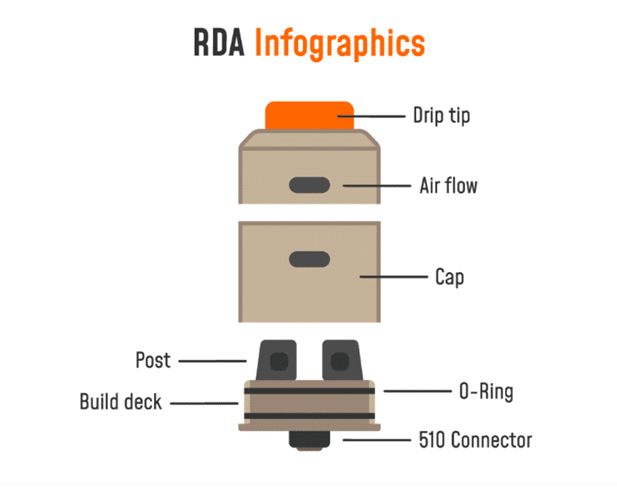 Building a coil by yourself in RDAs might sound to you a real tough grind. While today's RDA building has improved to be a much easier craft to complete than past days. A typical RDA kit always comes with a coil tool and adequate cotton strips to serve as an assist. You can also start off your cloud-chasing journey with our guide to RDA vaping specially for beginners.
Pros:
If you don't like the flavor, you can switch to another one easily.
Cons:
You need to repeat drop, drop, and drop your juice on the cotton to vape.
Rebuildable Tank Atomizer (RTA)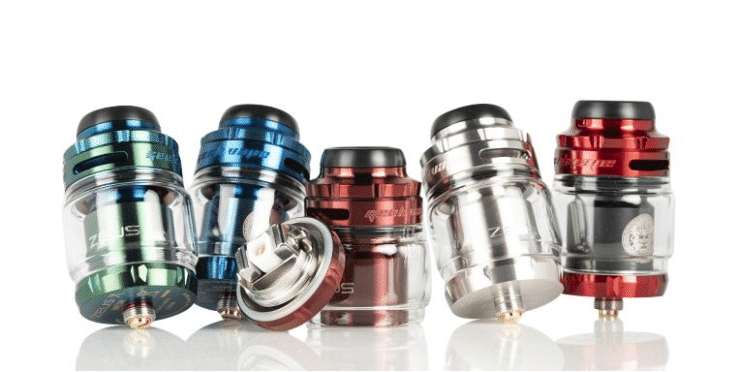 RTA keeps much the same components as an RDA, while adds a tank to accommodate vape juice. You refill an RTA exactly the way how you do to any regular tanks, that is placing the nozzle of your liquid bottle through the fill port into the inside. A typical RTA can hold vape juice anywhere between 2 and 5 millimeters.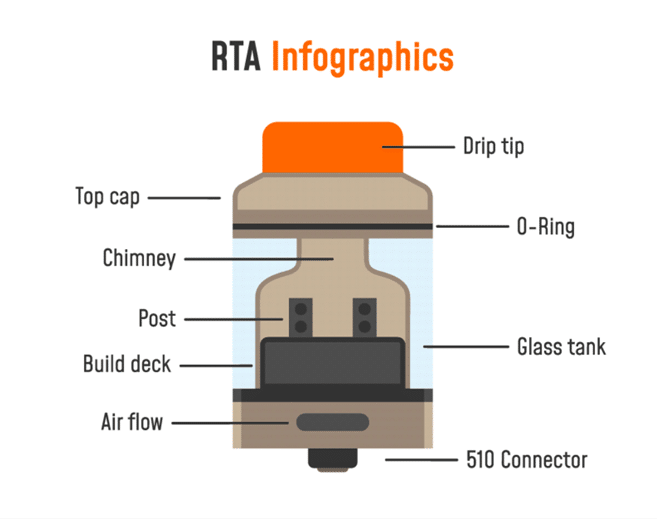 Technically, we build an RTA the same way we build coils in RDAs. After all, in spite of all the differences, the build deck sections of RDA and RTA are alike. Of course, you can also refer to our previous video unboxing the Profile M RTA to have more clues on building an RTA.
Pros:
The tank can usually store 2-5mL e-juice. You can enjoy your vaping without interruption.
Cons:
RTA is consisted of more parts than RDA, which requires more steps to assemble.
Rebuildable Drip Tank Atomizer (RDTA)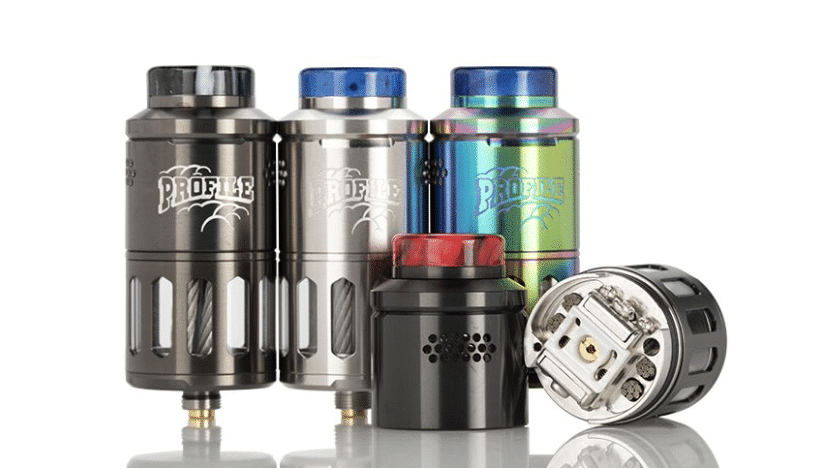 RDTA was only invented recently but has gained much popularity. It, just as the name suggests, is a fusion of RDA and RTA. An RDTA kit always comes with one or more optional tanks, allowing users either to drip only limited liquids or hoard lots of juice by installing the tank on. The high versatility of RDTA makes it the most customized option among the three.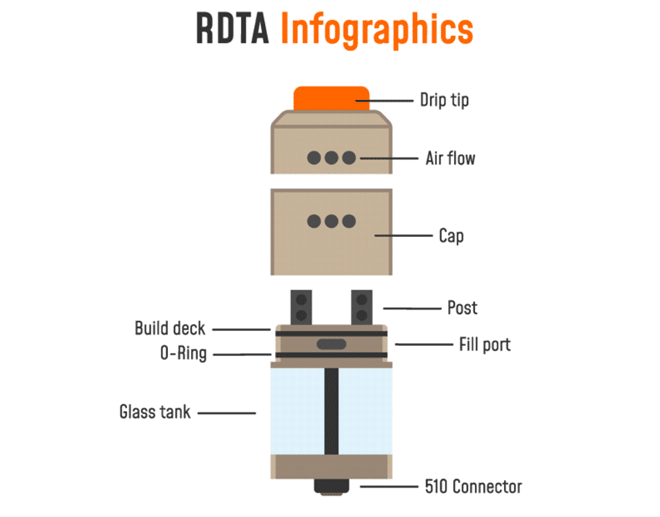 Pros:
You can choose to house your e-liquid in the tank or drip your juice like an RDA
Cons:
Larger in size, contains more parts than RDA and RTA.
Major Differences Between RTA and RDA
If you're someone who always vapes out of the house, RDAs can be quite a bothersome machine giving you lots of hassles. Or rather, wherever you are, they're likely to end up as a same bummer. To do the dripping, you have to repeatedly take the cap off and put it back in place. What's worse is you'll need to carry a bottle of vape juice along with you all the time, as each dripping only makes for several puffs. While RTAs can save you from continuous hassles as such, since they have a tank to accommodate adequate juices that could serve you for quite long.
In this case, you should try squonk mod. In this type of mod, you can see a special squeezable bottle which stores vape liquid. When you press the bottle, the liquid inside will move upwards from the bottom to feed the wicked coil above immediately. Squonking has turned out to be the best pairing with RDAs.
Convenience of Changing Flavors
It takes longer time to change e-liquid with an RTA vape, since you need to empty and clean your tank before every swap. The long procedures just make some vapers refrain from trying out as many flavors as possible. Whilst RDAs wouldn't land you in such a bummer. You feed the cottons with only a few drops of e-liquid when it's a dripper and drain them off quickly. In this case, you can jump to whatever flavors as fast as you want.
No matter how well-crafted an RTA is, it cannot exceed an average RDA in releasing vibrant flavors. That more or less comes down to the few extra distance that vapors must cover in the chimney of RTAs. And it's the subtle disparity that results in a world of differences. All in all, RDA is always the best gear to go for if you goal is to acquire the most intense flavors.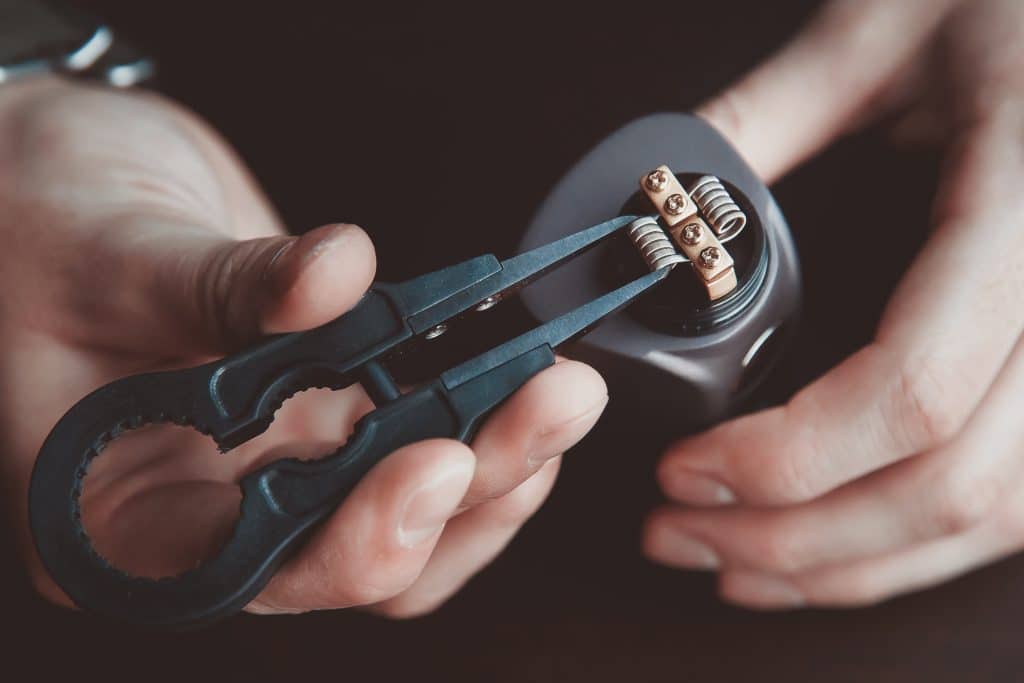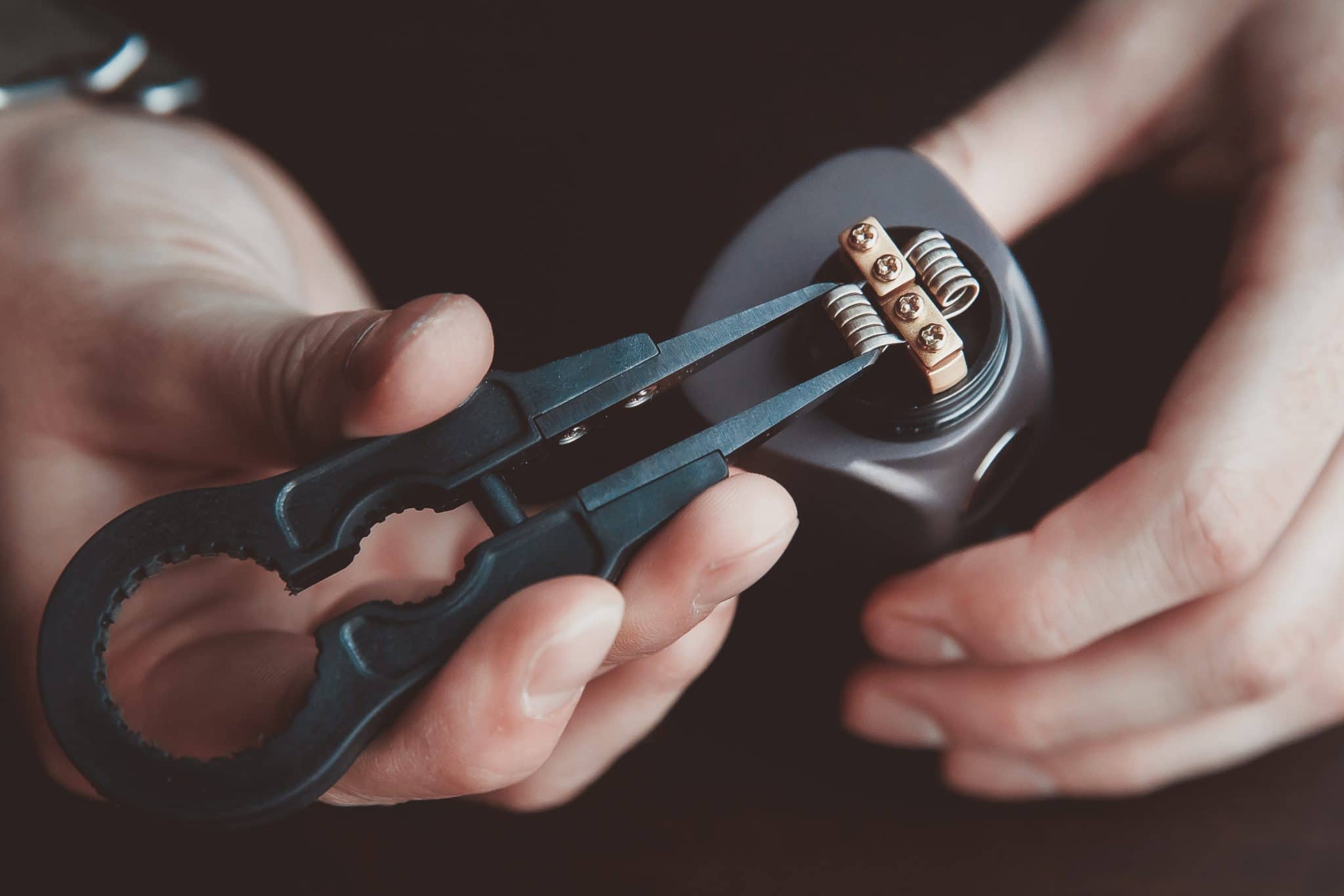 Benefit of Using RTAs and RDAs
First of all, no matter what specific type they fall into, all rebuildable atomizers aim for a same goal, that is passing a maximum of control over vaping on to you. By allowing you to have dominance on various parameter, they leave it up to you to decide how and in what amount you'll inhale vapors in.
For flavor chasers, a rebuildable atomizer is the best way to go. When you start to make your own coils, it means you've had the chance of maxing out flavors from your e-liquid. That's an advantage you can't get with any other devices.
Another biggest allure of RBAs is they're more economical than regular atomizers. Building your own coil is not only about mastering a new skill, but will save you lots of money in reality compared with buying pre-built ones. With only a few bucks, you can get a bunch of cottons enough for a lifetime use.
Bottom Line
Once you figure out how RBAs work out, you'll be enchanted by their high level of customization and fabulous vapor and flavor production. You wouldn't regret the decision to delve into the world of rebuildable atomizers. Have you got yourself ready to build your own coils with them? Give it a go now!