Introducing VECEE LUKE, the newest disposable vape by VECEE on the market. With its innovative juice-locking system, you can enjoy up to 600 puffs from the 2mL of e-juice in each disposable without any fear of leakage. The 400mAh battery ensures a strong and long-lasting vape experience.
The VECEE LUKE is available in 10 tasty flavors, so you can pick and choose which flavors suit your preferences. The slim pen design, with a soft, supple body, makes it easy to take with you wherever you go. The device is the perfect choice for those looking for convenience and flavor in one compact package.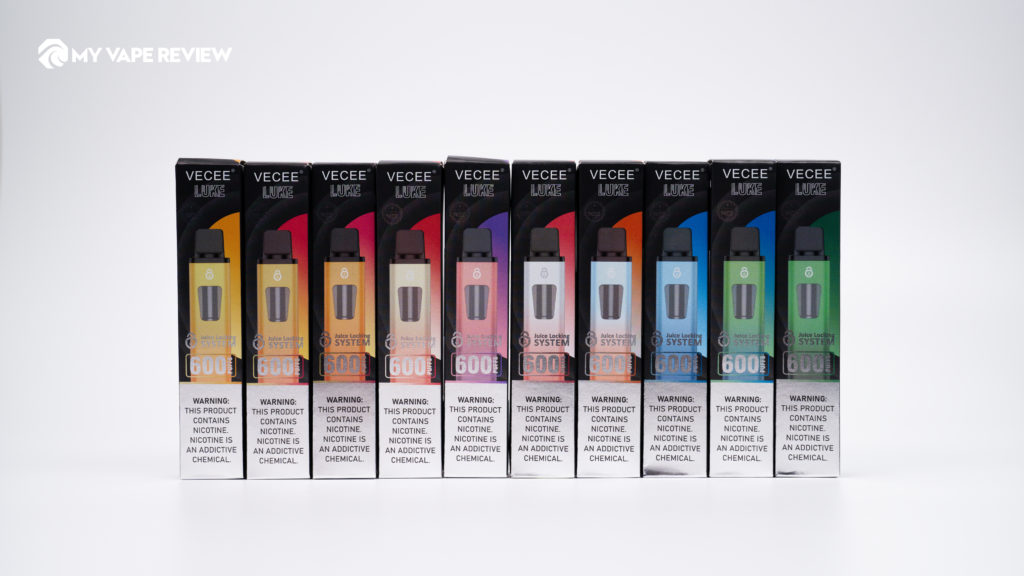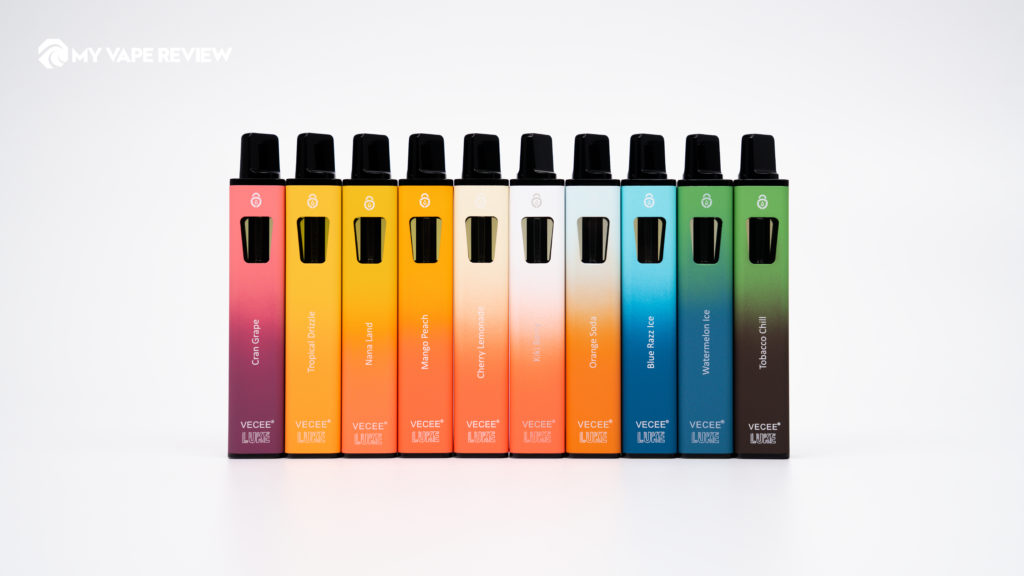 With VECEE LUKE, you can choose from Mango Peach, Kiki Berry, Cran Grape, Tropical Drizzle, Nana Land, Blue Razz Ice, Tobacco Chill, Cherry Lemonade, Watermelon Ice, or Orange Soda to find your perfect flavor match. Whether you prefer fruity or refreshing, sweet or tangy, there's a flavor for everyone.
One of the standout features of the VECEE LUKE disposable vape is its excellent flavor blends. These blends combine multiple flavors in a way that complements and enhances each individual flavor, creating a truly unique and delicious vaping experience.
Let's take a closer look at each of the 10 VECEE LUKE flavors: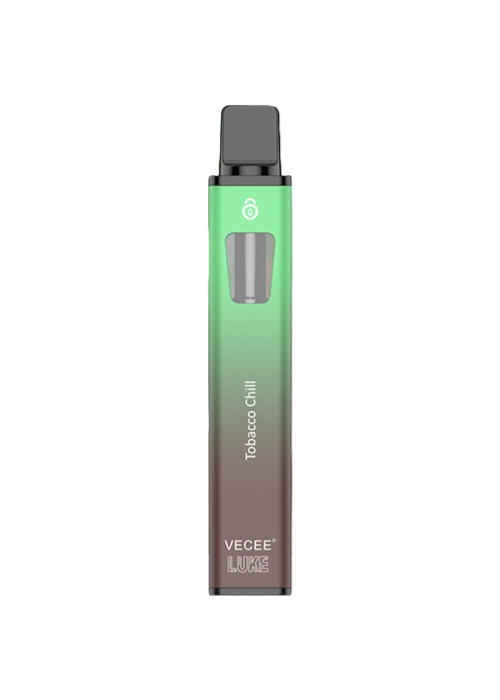 The perfect blend of classic tobacco flavor and a refreshing burst of menthol. This vape flavor will transport you to a cool, calm state of mind as you savor the bold and smooth taste of tobacco with a hint of minty coolness. Whether you're a seasoned tobacco lover or looking for a unique twist on a classic flavor, Tobacco Chill is sure to satisfy.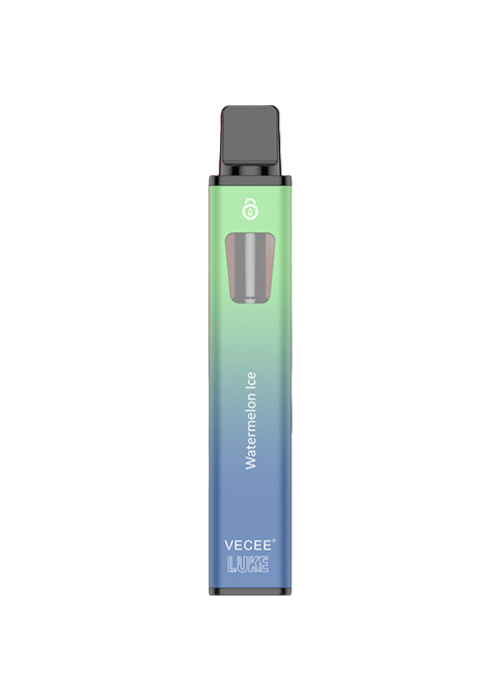 This flavor is a treat. You'll enjoy the burst of juicy watermelon on the inhale and a cool, ice-cold finish on the exhale. It's the perfect balance of sweet and refreshing, making it the perfect choice for all-day vaping.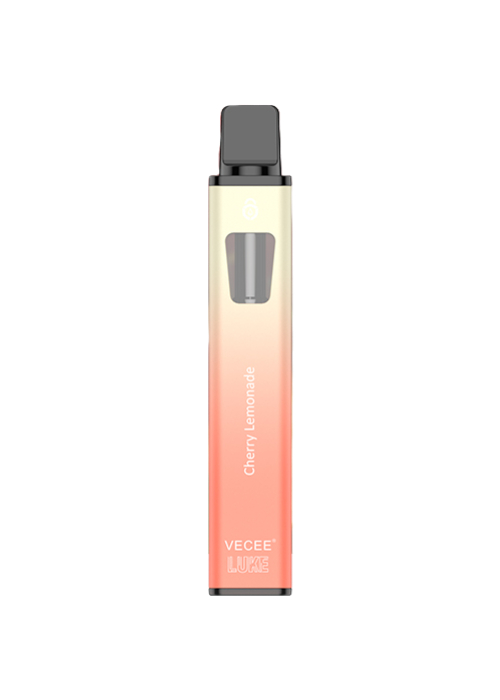 This refreshing blend combines the juicy sweetness of cherries with the tart zing of lemonade. Imagine sipping on a tall glass of ice-cold cherry lemonade on a hot summer day. That's exactly what you'll get with each puff of the Cherry Lemonade flavor. The juicy cherry notes hit first, followed by a burst of tart lemonade that balances out the sweetness perfectly.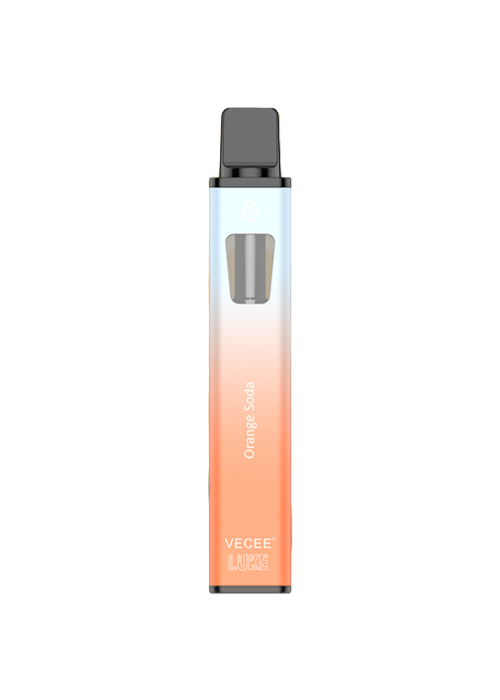 This refreshing vape bursts with the sweet and tangy taste of your favorite orange soda. Whether you're craving a fruity hit or just need a break from the ordinary, Orange Soda is a great choice. With a smooth, satisfying vapor and a hint of carbonation, it's like drinking a cold, bubbly orange soda without the calories!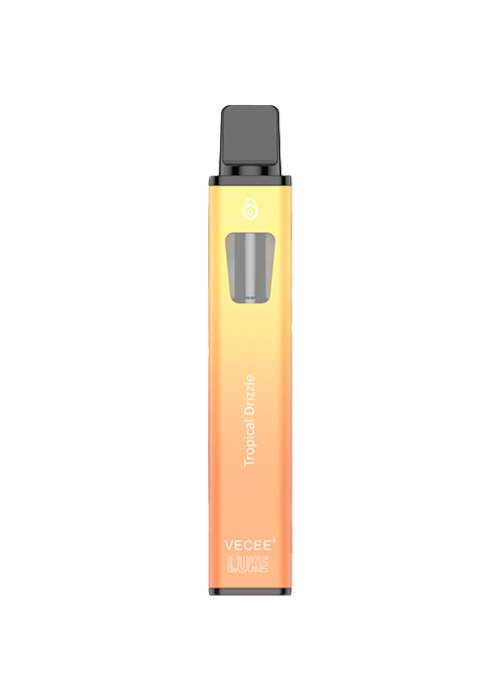 Pleasantly surprised by the bold and juicy pineapple and orange flavors of Tropical Drizzle. The pineapple taste is strong and ripe, which is really set apart from other pineapple flavors I've tried. The orange flavor is bright and refreshing, adding a nice citrus kick to the overall flavor profile.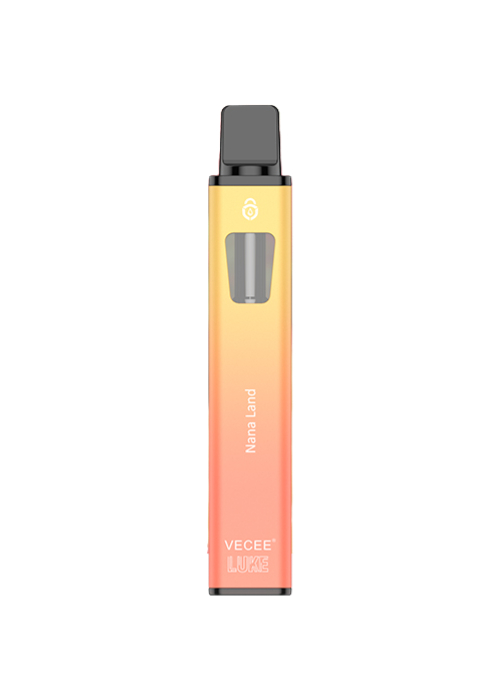 The banana flavor is spot on, and it tastes like it was freshly picked from the tree and is very nicely balanced with hints of fresh strawberries. Nana Land is a delicious and refreshing vape flavor that is perfect for anyone looking for a fruity, tropical experience.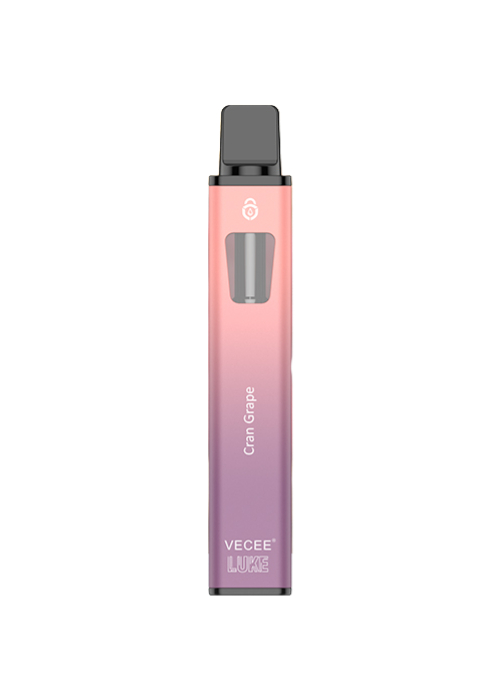 The cranberry flavor was tart and slightly sweet, while the grape added a juicy and slightly fruity note. The overall flavor was very refreshing and had a nice balance between sweet and tart. One thing I really appreciated about this flavor was the fact that it wasn't too overpowering or artificial tasting. It had a natural taste that was easy to vape all day long.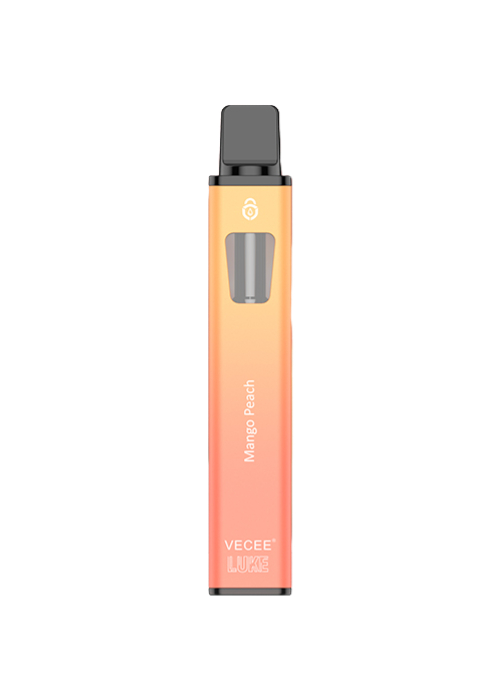 The mango peach vape flavor is a decent option for those who enjoy fruity e-liquids. The mango taste is strong, and the peach adds a nice balance to the flavor. However, it is not the most unique or memorable flavor I have tried. It is a solid choice for a daily vape, but it may not be the best choice for those looking for something more unique.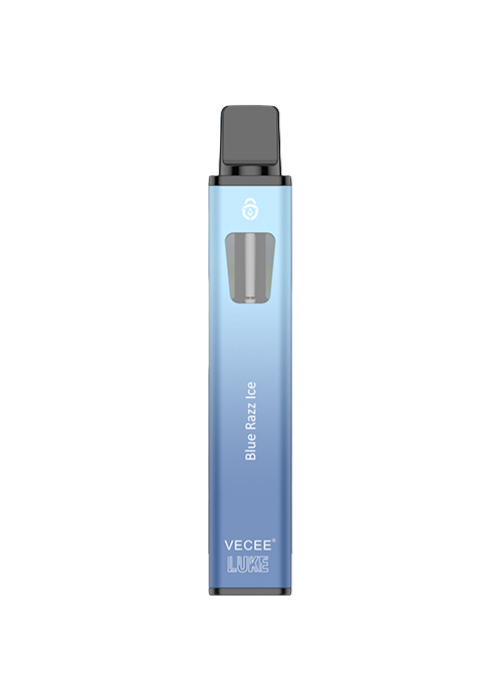 This tantalizing blend combines the sweet, tangy taste of blue raspberry with a hint of icy menthol. The blue raspberry flavor was bold and sweet but not too overpowering. The added touch of icy menthol really gave the flavor a refreshing kick that I really enjoyed.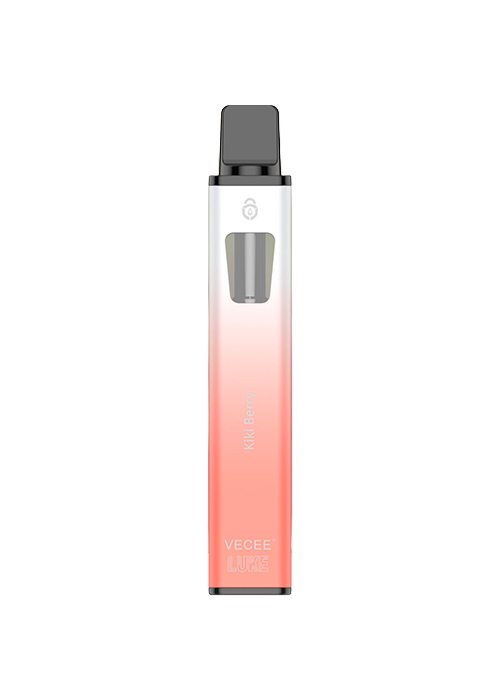 Kiki Berry is a vape flavor that combines the tastes of kiwi, strawberry, and raspberry. The flavors are well-balanced and complement each other nicely. The kiwi adds a refreshing burst of sweetness, while the strawberry and raspberry add a slight tartness. The overall taste is fruity and enjoyable but not too overpowering.
The VECEE LUKE disposable vape has a sleek, slim square pen design with rounded sides for a comfortable grip. It is wrapped in a soft silicone cover for added protection and a better feel in your hand. The 2mL of 5% e-juice tank has the ability to reach up to 600 puffs, and it's for the same reason that the disposable has a small form factor and lightweight design that makes it extremely portable and convenient to use. But apparently it's not a long-lasting option; if you prefer disposable vapes with more hits, the 6000-puff VECEE AREX from the same brand can definitely suit your needs.
The e-juice tank window is a great addition, as it allows you to check the level of e-juice remaining easily, so you know when it's almost time to dispose of the device.
The front of the device features the VECEE LUKE branding and the flavor, so you know exactly what you're vaping. The color gradient of the device matches the flavor blend, giving it a cohesive and visually appealing look.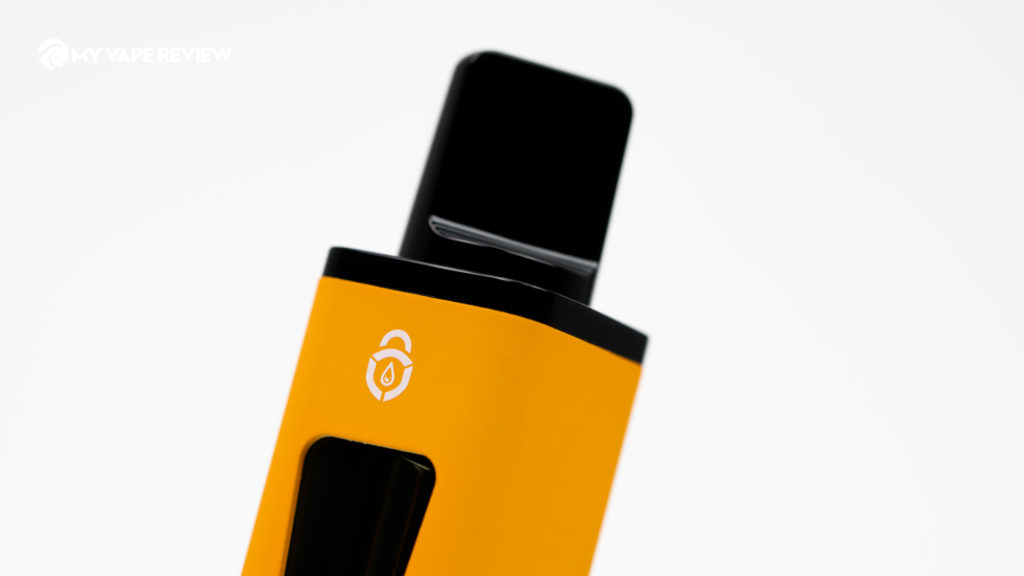 One unique feature of the VECEE LUKE disposable vape is the very thin plastic mouthpiece. This allows for a smoother and more comfortable vaping experience. You can easily hold the vape with just your teeth for situations where you need hands-free vaping. The mouthpiece also rotates to lock the e-juice into the tank, preventing any leaking or spills.
When you first receive the vape, you must unlock the mouthpiece and wait at least 2 minutes (coil priming) before you can start vaping.
Overall, the VECEE LUKE is a disposable vape, so it's not built to last for an extended period of time due to its small non-refillable e-juice tank. However, the body design is sturdy and can withstand some wear and tear. The silicone cover will resist most scratching. The e-juice tank window may be the weakest point, as it is made of plastic and could potentially crack if the device is dropped or mishandled.
Does the VECEE LUKE leak?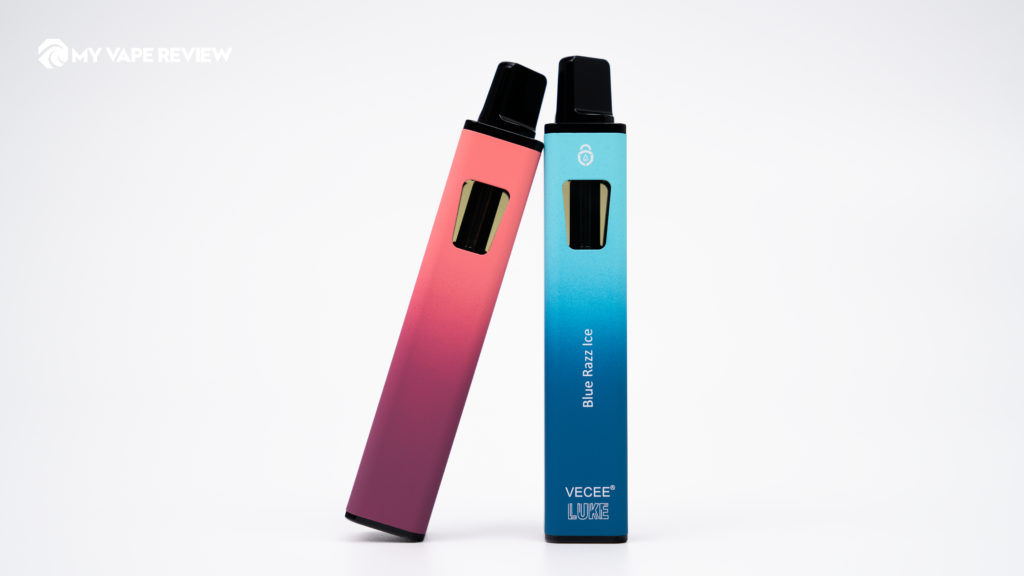 The VECEE LUKE disposable vape features a built-in juice-locking system that helps to keep the e-juice securely contained within the tank. This means that you can enjoy your vape without the worry of e-juice spilling out or causing any mess.
The VECEE LUKE is designed with ergonomics in mind, featuring a soft silicone cover and rounded body edges for a comfortable grip. Its small form factor allows it to fit easily in the palm of your hand, making it great for carrying on the go. The device is also designed with a thin mouthpiece that can be easily grasped with your lips or between your teeth for hands-free vaping.
The VECEE LUKE disposable vape features a 400mAh battery, which is capable of providing about 600 puffs before needing to be disposed of. This is a decent amount of usage for a small disposable vape, making it a convenient option for those who are looking for a quick and easy way to get their nicotine fix.
In terms of charging, the VECEE LUKE does not require any charging as it lasts for only 600 hits. Simply open the packaging and start using it right out of the box. This makes this disposable a very viable option for those who are on the go and don't want to worry about keeping their vape charged.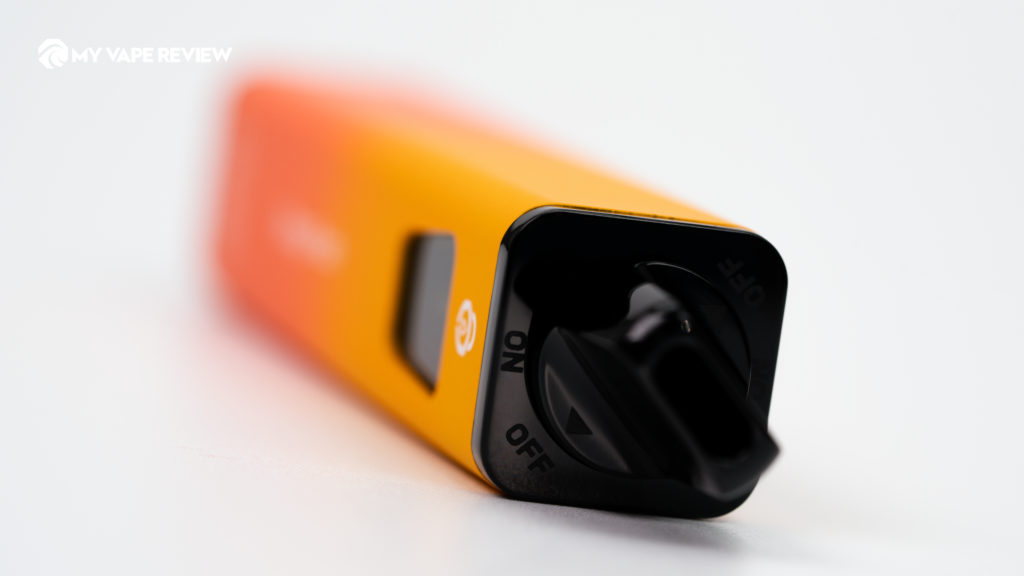 The VECEE LUKE vape is a reliable and high-performing device that is great for those new to vaping. The disposable vape delivers a rich and full flavor experience with each puff. The mesh coil used in this vape is specifically designed to provide a more evenly distributed heat, which allows for smoother and more consistent flavor delivery.
In terms of its performance, the VECEE LUKE provides smooth and gentle hits that are perfect for those looking for a mouth-to-lung (MTL) vaping experience. While it may not produce a ton of vapor, it still provides an enjoyable vaping experience that is perfect for those looking to switch from traditional cigarettes. One of the best things about the device is how easy it is to use. With its simple and intuitive design, with no complicated or confusing features, even those who are new to vaping will have no problem getting the hang of it in no time.
It was difficult to find retail pricing information for the VECEE LUKE disposable vape online. It seems that the product is not yet available for retail consumers.
VECEE LUKE is a new disposable vape with a juice-locking system to prevent leakage and a 400mAh battery to offer approximately 600 hits. It comes in 10 flavors, and the flavors are described as well-balanced, refreshing, fruity, and natural tasting.
The VECEE LUKE disposable vape is its thin plastic mouthpiece that provides a comfortable vaping experience. The mouthpiece can also rotate to lock in the e-juice and can be easily held in the teeth for hands-free vaping. The VECEE LUKE vape is a high-performing and reliable device that is great for those new to vaping.
It delivers a full and rich flavor experience with each puff, thanks to its mesh coil that evenly distributes heat for a smooth and consistent flavor delivery. This disposable is ideal for those who prefer a mouth-to-lung (MTL) vaping experience. While it may not produce a lot of vapor, it still offers an enjoyable vaping experience that is suitable for those looking to switch from traditional cigarettes.