Vape manufacturer Voopoo is about to launch a new pod mod, the Drag E60, available for pre-order today. Voopoo Drag E60 is a sleek device with a well-crafted LED screen displaying all the necessary information. The vape has a massive battery, 2550mAh, yet remains compact and comfortably fits in your hand.

Featuring a max output of 60W, the pod mod kit comes with two PNP-TW coils with resistances of 0.2 and 0.3-ohms for immersive sub-ohm vaping. You'll also get VOOPOO's newly-designed pod, PNP POD II, which holds 4.5 mL of e-juice.
Overall, the Voopoo Drag E60's design is beautiful but a bit masculine, aligned with the tone of the entire Voopoo Drag line. Having been impressed by a string of its predecessors, like Drag 3 and Drag Nano, we can't wait to see whether Voopoo will continue to bring its A-game with its new launch.
Pocket-Sized Device
Substantial 2550 mAh battery paired with fast charging
ECO Mode designed for low battery level
Unique basin-shaped airway
Easy top fill
Simple airflow adjustment by rotating the pod cartridge
Gene TT 2.0 Chip
Material: Zinc Alloy, Leather, Aluminium Alloy, PC
Output Power: 5-60W
Output Voltage: 3.2-4.2V
Resistance: 0.1-3Ω
Battery Capacity: 2550mAh
Capacity: 4.5ml / 2ml (TPD)
Material: PCTG
Coils: PnP-TW20 0.2Ω (40-55W); PnP-TW30 0.3Ω (28-36W)
Voopoo Drag E60 Device * 1
PnP Pod II (4.5ml) * 1
PnP-TW20 0.2ohm coil * 1
PnP-TW30 0.3ohm coil * 1
Type-C cable * 1
User manual * 1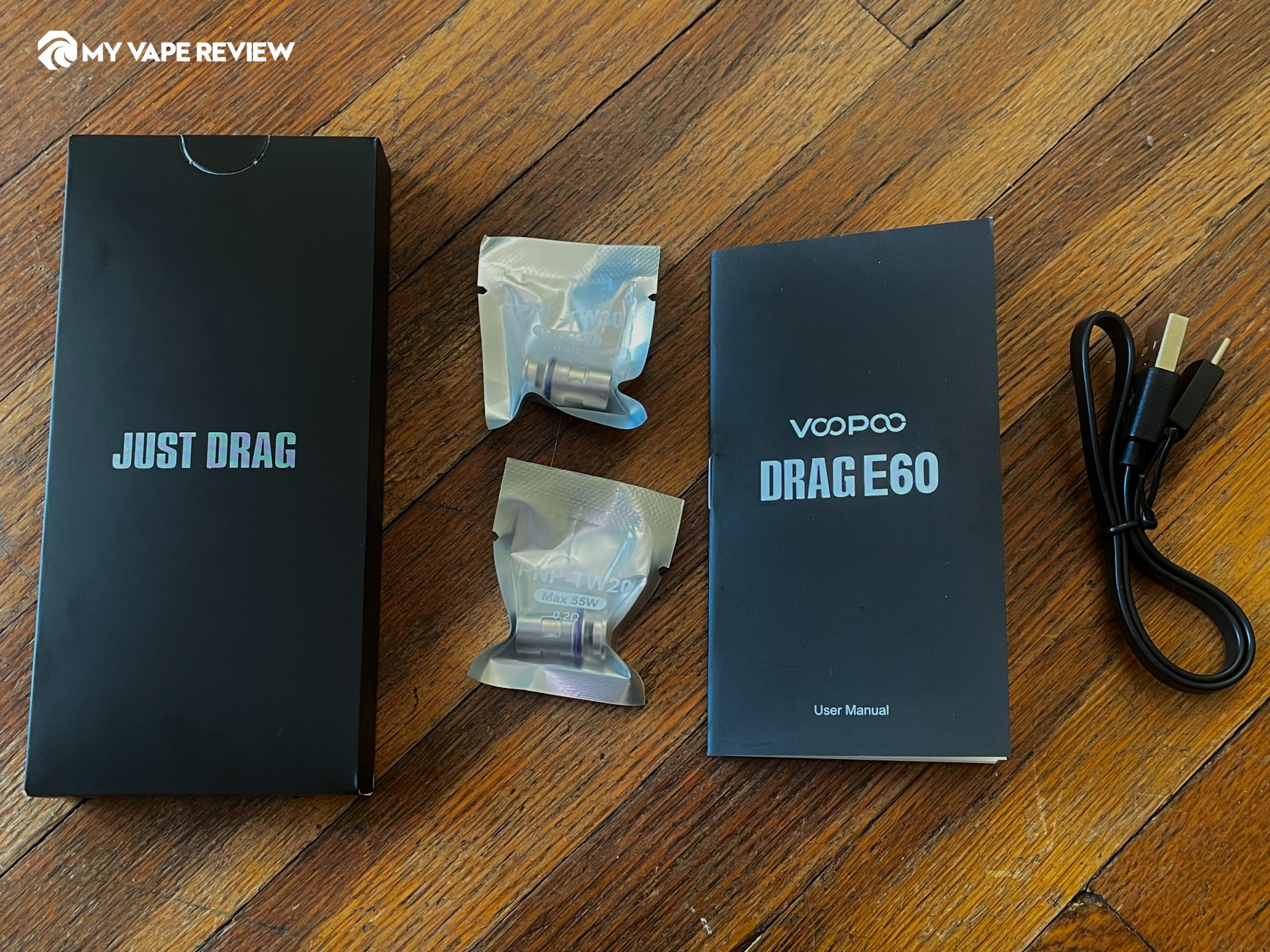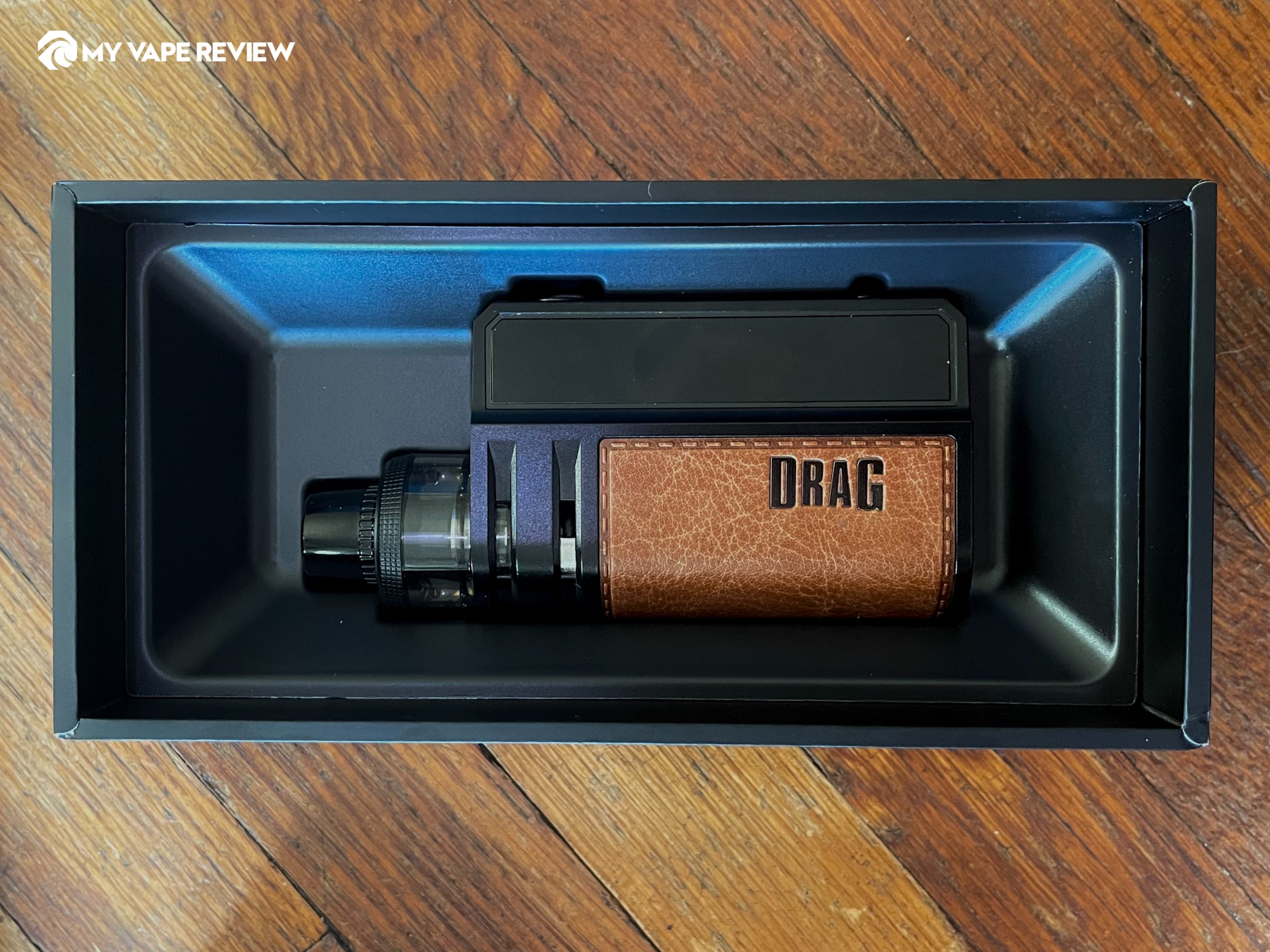 The Voopoo Drag E60 is packaged in a slider box with a removable sleeve. Inside is a smaller box containing the two coils, a Type-C charging cable, and a User Manual. Once this box of accessories is removed, you will find the Voopoo Drag E60 securely nestled into molded plastic at the bottom of the box.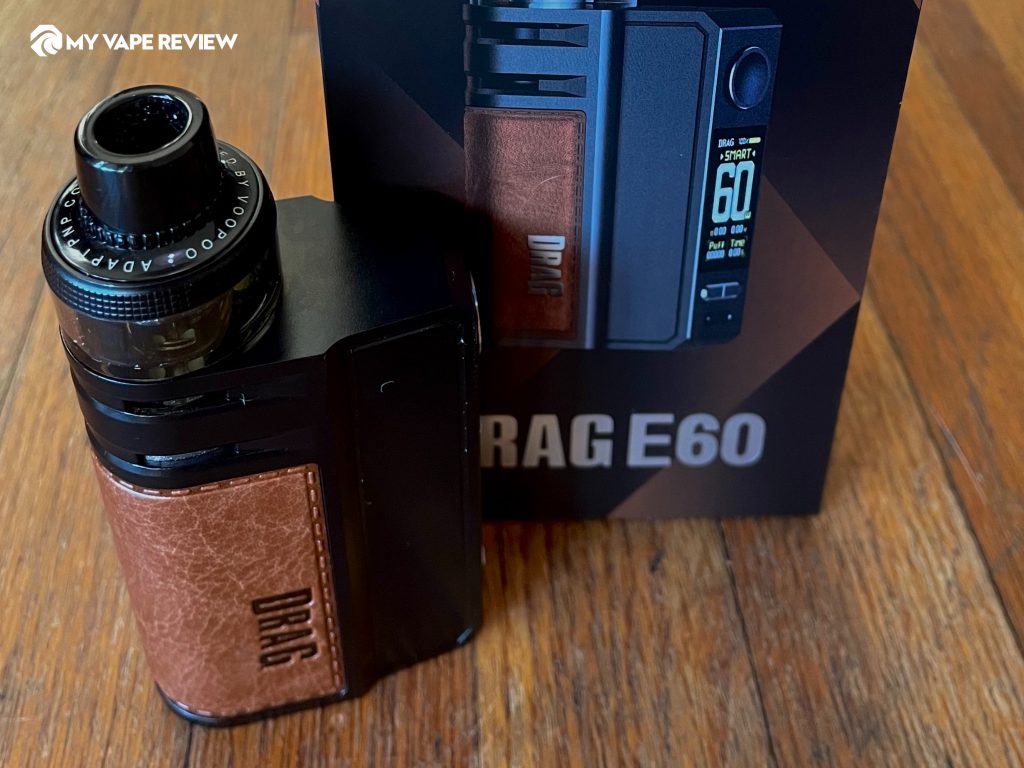 The Voopoo Drag E60 has a familiar boxy form factor, but with one side rounded. The flat side contains the OLED screen, fire button, plus and minus buttons, and Type-C charging port, while the back rounded side has a faux leather covering complete with an imprint of the Drag name. Most of the body is a sleek, shiny black, with a few silver accents. The buttons have a nice tactile feel, and the fire button especially has a nice concave design for your finger to rest.
Overall the design is very appealing. It's sleek and modern, but the black and brown color scheme of the sample (color: Coffee) we got will appeal to a predominantly male customer base. Thankfully VooPoo has 5 more color variants to offer: Pink, Golden, Gray, Black, and Carbon Fiber. Note that the Pink and Golden options look quite soft and elegant, which is rarely seen in earlier Drag models. We'll interpret it as an adorable attempt by Voopoo to capture more diversifying potential customers.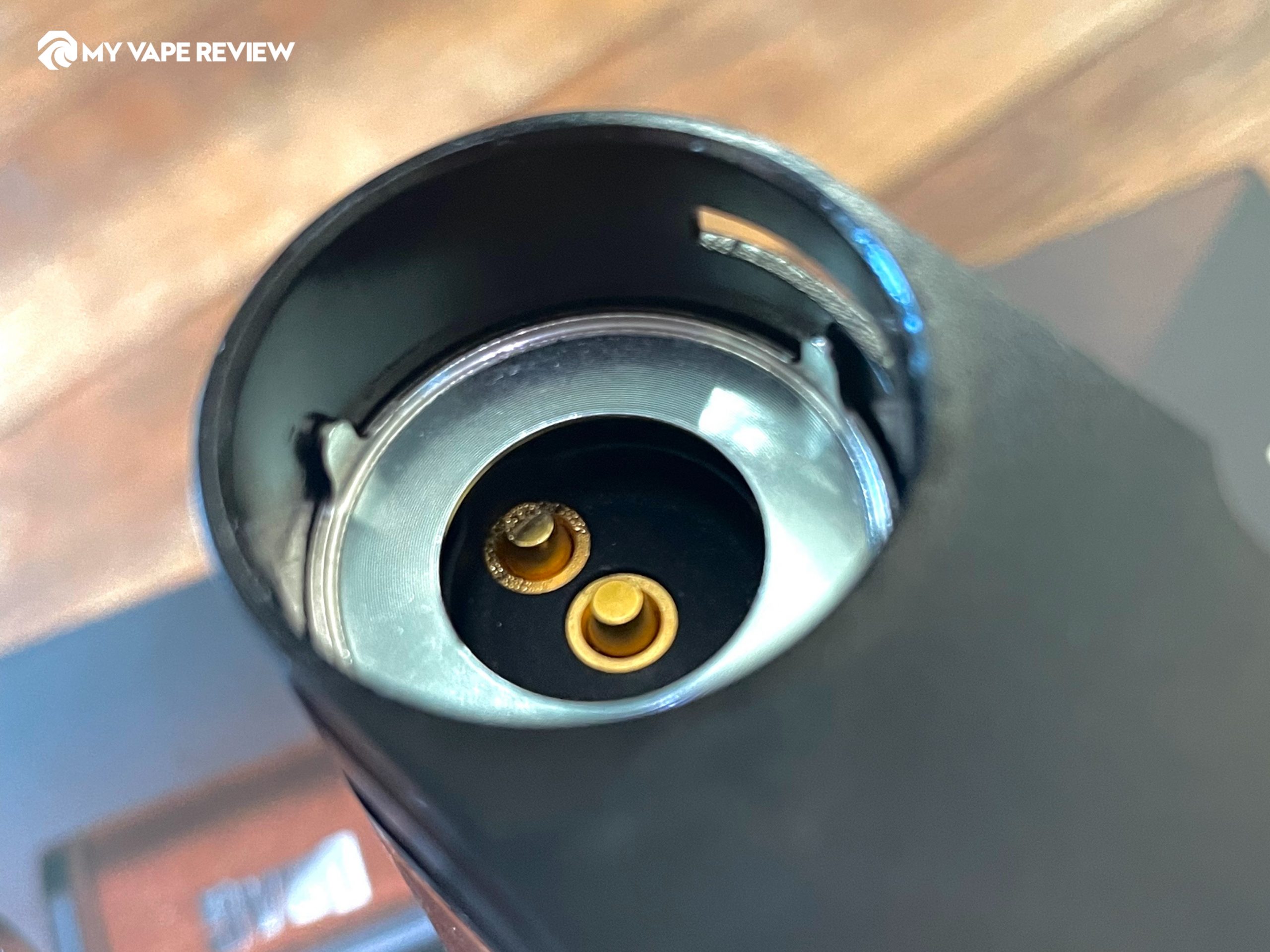 The mod has a solid magnetic ring that the pod's three smaller magnets grab onto very well to hold the pod securely. The two sections interlock perfectly even though we shake it hard. In addition, the mod part of the Voopoo Drag E60 is very durable. It can take a decent beating without receiving too much damage.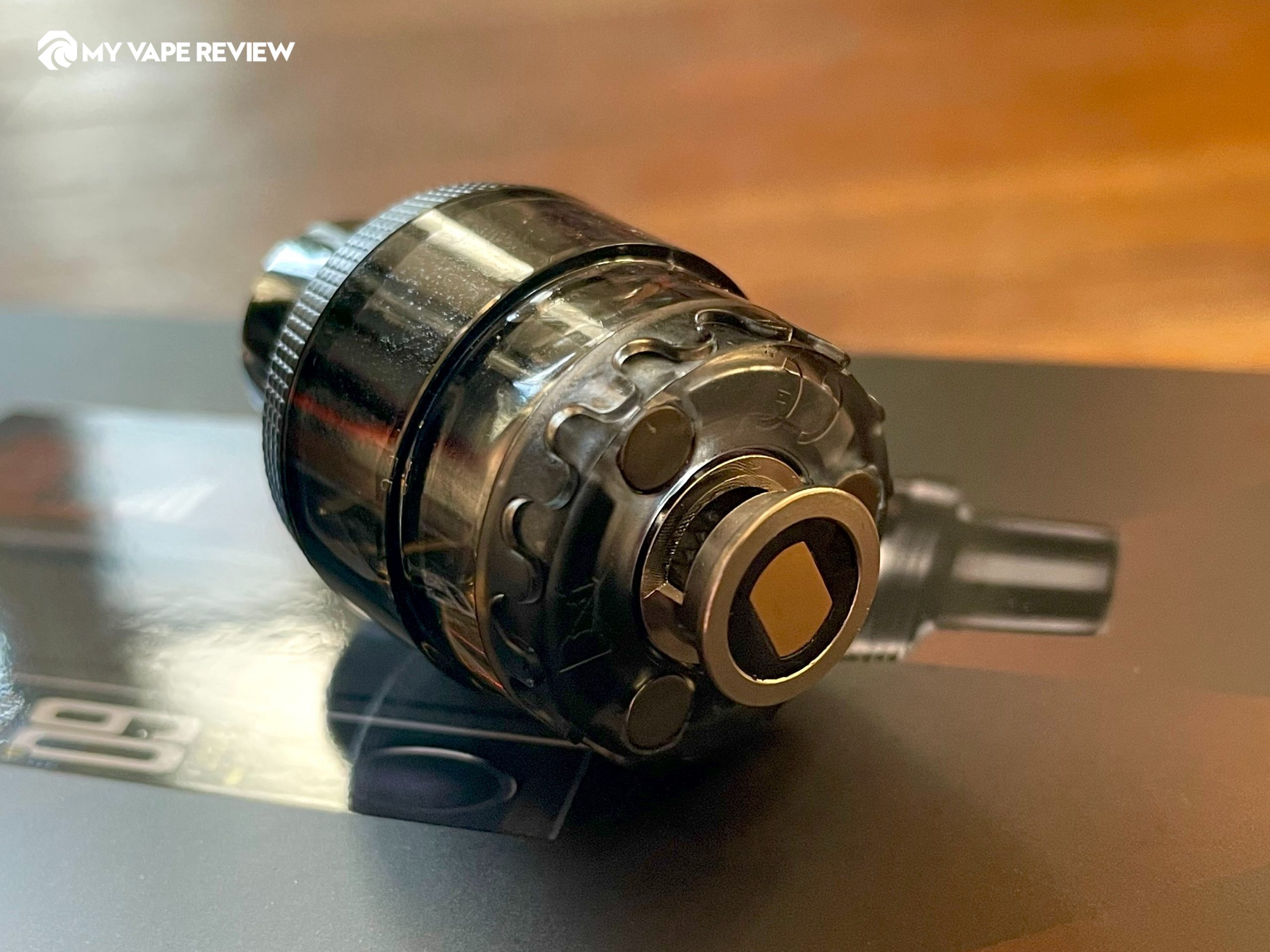 The pod provided by the Voopoo Drag E60 kit comes with a see-through window to check e-juice level. Its mouthpiece is a cylindrical shape and decently wide for RDL or DL draws.
The refillable pod hold between 4.5 mL of e-juice, enough to last high-volume vapers for at least a few days before refilling. You'll need to install one of the two provided coils (0.2ohm and 0.3ohm) into the bottom of the tank. Actually the highlight of the PNP POD II is its compatibility with coils. It can work with all 12 PnP coils by Voopoo (you can buy the rest of them separately), ranging from 0.15Ω to 1.2Ω, meant for every vaping style. The pod is honestly a one-size-fits-all solution that we can't recommend enough if you love to try out vapors of different size and density.
The bottom edge of the pod is scalloped so that three metal prongs slide into these cutouts when the pod has been seated in the device. This design helps keep the pod secure in the device and functions in airflow control. When you turn the pod, the pod moves the metal prong, which slides the airflow window open and closed. It's a novel approach to airflow control, and proves to work wonderfully during our testing.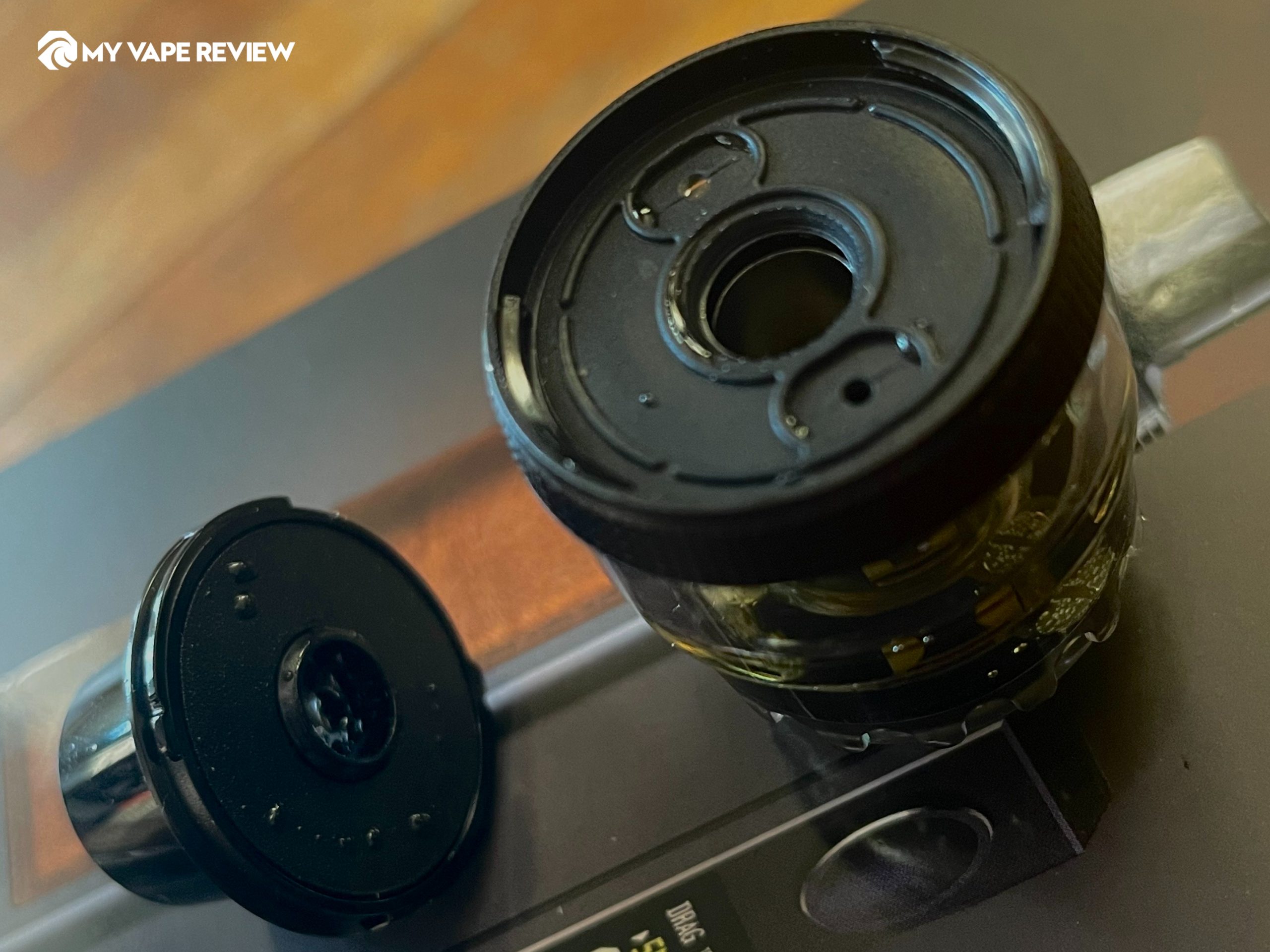 To fill the tank, you simply unscrew the back mouthpiece. With the mouthpiece removed, you can access two fill ports, where you can insert the tip of an e-juice bottle and add your favorite flavor. It's recommended only to fill the pod 2/3rds full.
With a 2550mAh built-in battery, the Voopoo Drag E60 has a nice heft to it without being too much. The weight is concentrated in the front of the device (looking at the screen), giving a slightly off-balance feeling when holding the E60 in your hand. This enormous 2550mAh battery is near the top range available for vaping. The highest we can find currently is 3500mAh.
The Voopoo Drag E60 can last roughly 12-16 hours of continuous use. For most people, this means they only need to charge every 2-3 days. With the pod mod, the days of being chained to the charger are gone.
The device can be recharged through a Type-C port underneath the screen. By the way screen will display the percentage of charge, which is great. The device charges super quickly, even with its large battery capacity. We go from empty to full in just about 45 minutes—amazing.
Does the Voopoo Drag E60 leak?
Pod mods placing the airflow holes at the lower part often leak. But the Voopoo Drag E60 appears to prevent leakage. During the review period, we didn't experience any leaking. The tight sealing makes sure no e-juice leaks out.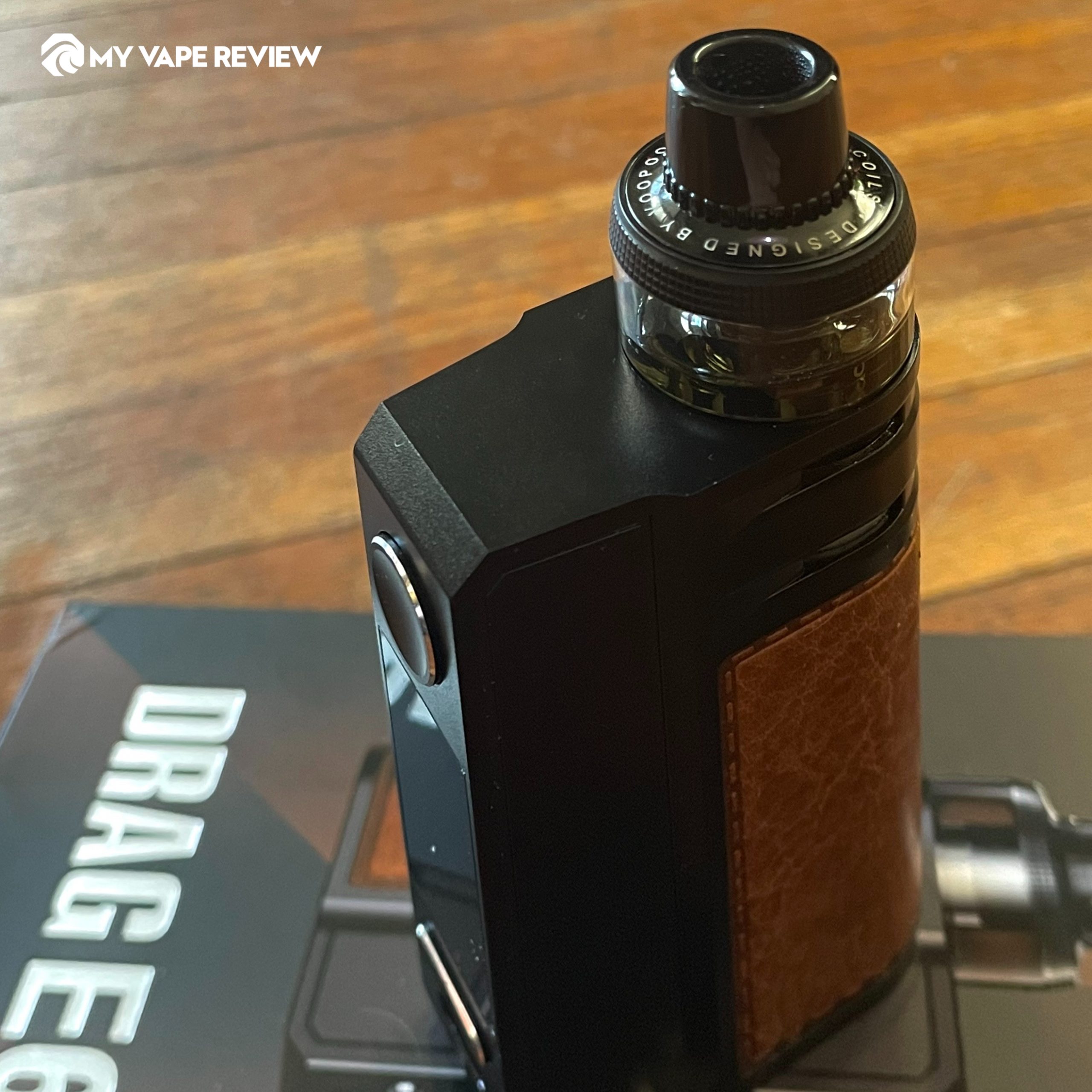 The Voopoo Drag E60 isn't a very large device based on its form factor, but it has a decent weight. This weight may not be an issue for some people, but it will be for others. If you prefer a very lightweight system, then a disposable or slim pod system is probably more your style.
The E60 fits nicely in hand, but the battery appears to be seated in the front of the device, giving it an off-balance feel. And the front edges of the vape are a bit sharp for our liking.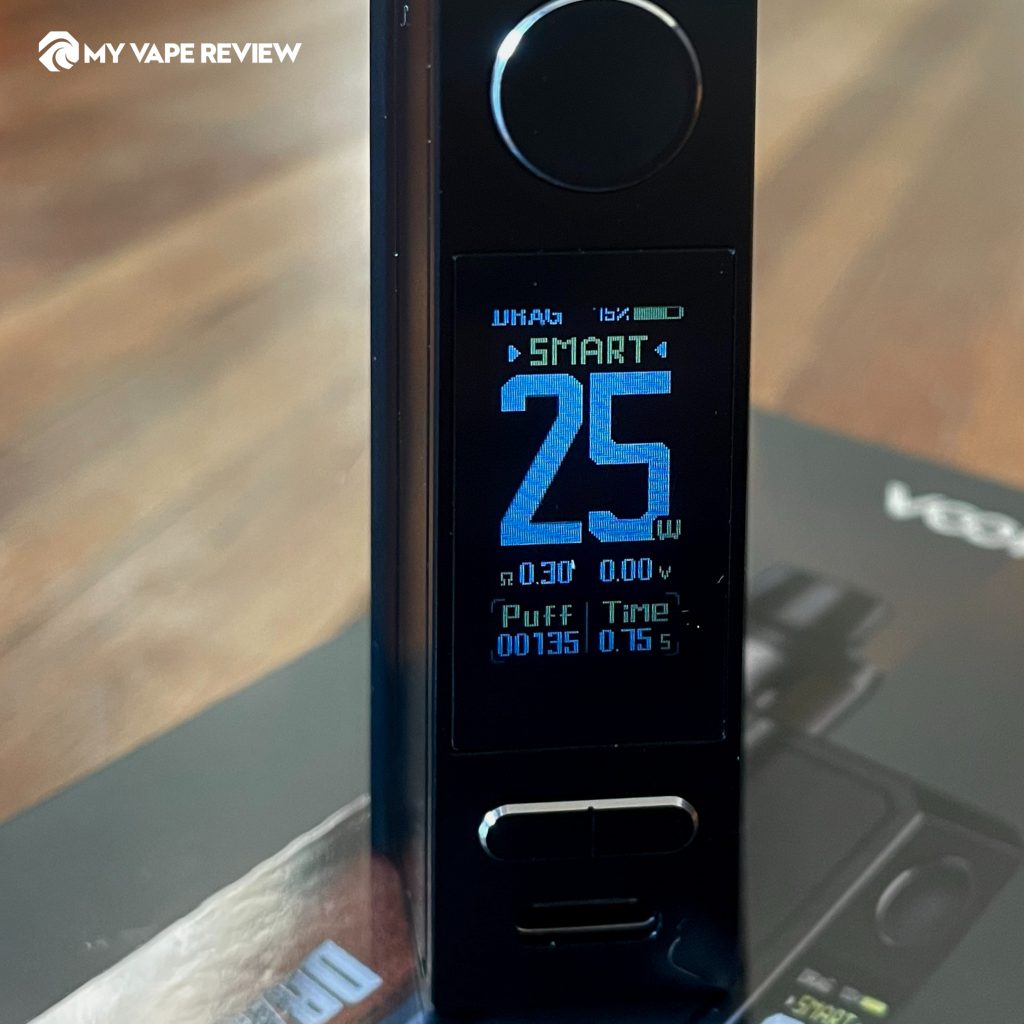 The Voopoo Drag E60's larger top button is pressed in quick succession 5x to turn the device on and off. This same button is the primary activation button when you want to vape. There is no draw sensor in the device. Other setups are basically the same as what you see in most pod mod devices:
Lock/Unlock the device: Press the power button and plus button simultaneously;
Enter the settings menu: Press and hold the plus and minus buttons simultaneously;
Choose modes: Use the plus/minus buttons when the Menu screen appears;
Enter modes: Press the power button.
There are three modes you can choose from when using the Drag E60:
SMART: When a PNP coil is used, this mode detects the best power ranges to prevent the coil from burning;
ECO: The device enters a battery-saving mode—also a creative and practical mode;
RBA: We're free to select a wattage anywhere between 5 and 60 watts. It's just another name for VW mode.
The OLED screen provides just the right amount of information in an elegant format. The settings menu is easy to navigate.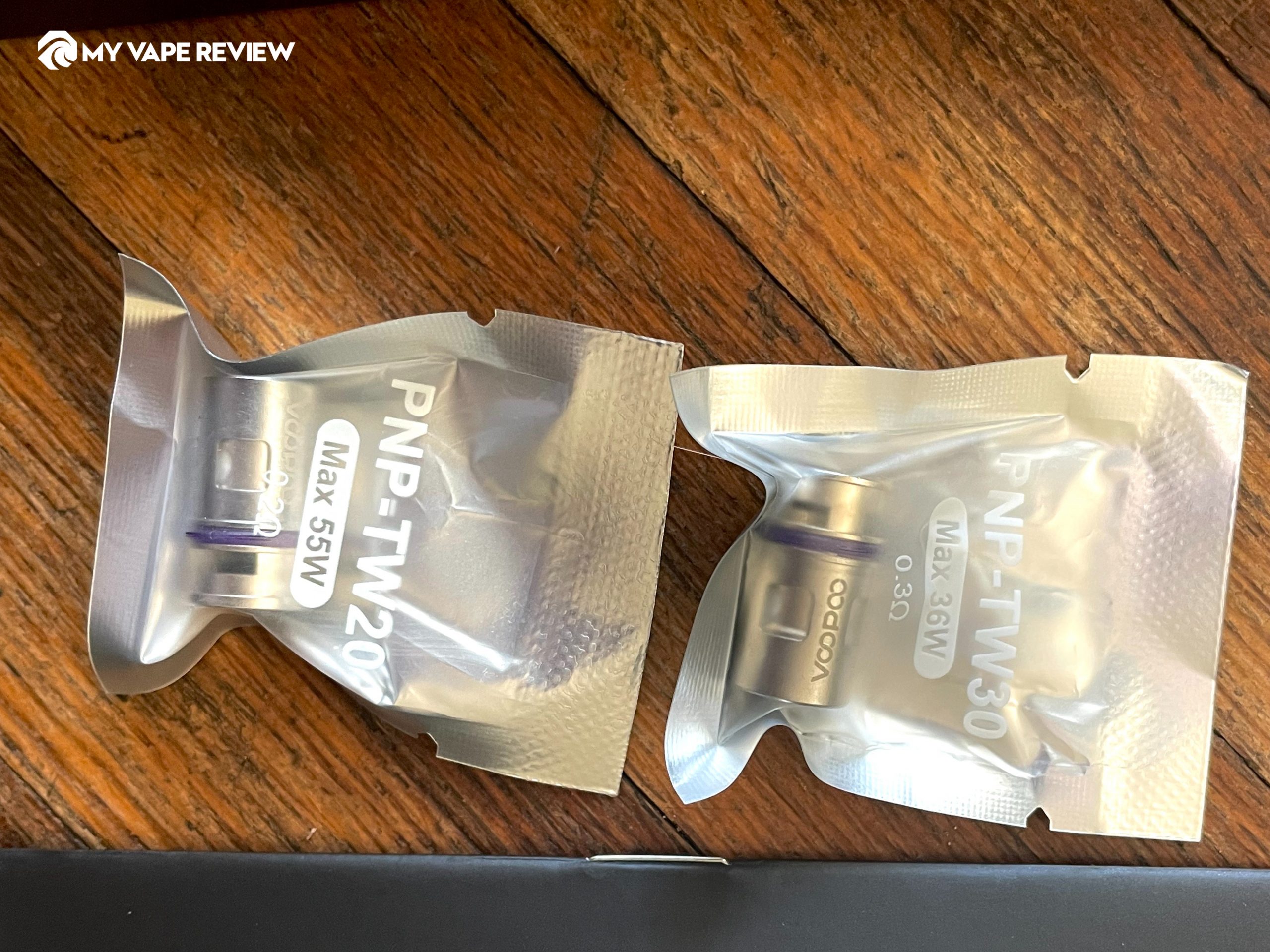 Each and every hit delivered by the Voopoo Drag E60 is a wonderful experience. The 0.2ohm and 0.3ohm mesh coils deliver a strong and pleasant throat hit with such consistency. While we couldn't perceive apparent differences when vaping the two, perhaps because their resistance levels are too close, and the mod can't go higher than 60W. We'd prefer more versatile experience.
The hits are warm but don't get too hot. The DTL delivery is spot on and very smooth. Cloud volume is fantastic for a mid-powered device as such. Serious cloud chasers might crave for a more robust machine, but if you're just about to start sub-ohm vaping, the clouds of Voopoo Drag E60 are satisfying enough. Open that airflow up, take a big hit, and let it rip to see what I mean.
The Voopoo Drag E60 is remarkably easy to use, with a very low barrier to entry. The user manual is clear and provides all necessary information, so even new vapers can pick up this device with no issues and learn to install coils and use the LED screen without issues. The coil changes will be the biggest hurdle for new vapers because it takes a little practice to learn when to change your coil for the best vaping experience.
But refilling the pod is super easy and takes less than 60 seconds. The pods don't leak, so you can go about your day without fussing over e-juice residue all over your hands or in your pockets.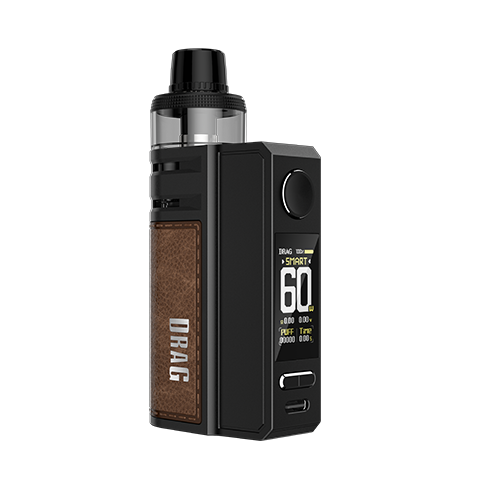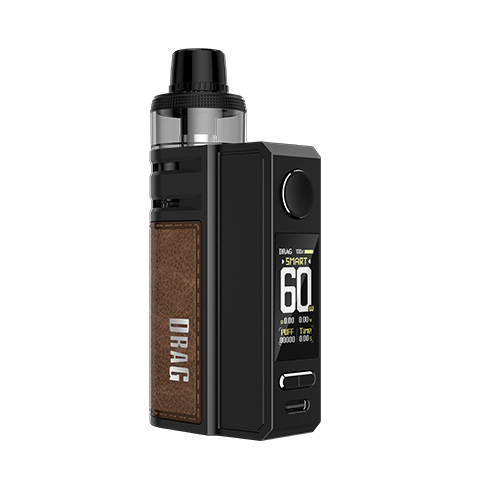 The VooPoo Drag E60 has not yet been officially launched but is available for pre-order. VooPoo expects to start shipping out devices after October 8th. You can currently pre-order it from their website for $49.49, or less at some online vape stores like Vape Sourcing.
This seems to be a very fair price for the quality and performance of the Drag E60. We didn't find any glaring flaws with the device, so if you're looking for a long-term device to use your e-juice and adjust the wattage, then the Voopoo Drag E60 would make a great device at this price point. Just don't forget to factor in the cost of coil replacements.
The Voopoo Drag E60 is a fabulous device, just as its earlier models. We're impressed by the airflow and pod designs, fantastic battery life, and delicious warm hits. With a 2550mAh battery, you'll be able to vape for what feels like forever before you need to charge the device.
The Voopoo Drag E60's design is modern and appealing. The clear OLED screen is well-designed and easy to navigate within the menu. The cotton mesh coils produce strong throat hits and voluminous clouds. If you're looking for a new pod mod with a compact form that doesn't compromise on flavor delivery or other features, then the Voopoo Drag E60 might be the device for you.