From your local pub to the clubs or bars, you've probably seen several people with compact, colorful vaping devices. Like other disposable vapes, Elf bars have become a staple choice for beginners and experienced vapers. Also, they are not fading anytime soon, as vapers still love them.
By January 2022, Elf bar and Geek bar have been the two top-performing disposable vape brands in terms of the sales volume.
Take Elf bars as example, they've taken the market by storm thanks to their convenience, portability, and, more importantly, a wide assortment of flavors available from icy menthol to mixes of fruits. Plus, with their prices sometimes as low as $4, it's easy to see why it's a people's go-to choice. Even better, by providing nicotine-free options, the disposables reach a wider customer base.
However, despite the popularity, the nagging question on vapers' lips remains "are Elf bar disposable vapes dangerous?"
Several reports have been published on the safety and long-term effects of using these disposable vaping products. Naturally, this has led to many vapers wondering if Elf bars are bad for them. This article discusses the safety of them and shares helpful information to help you decide if this product is right for you.
What Are Elf Bars?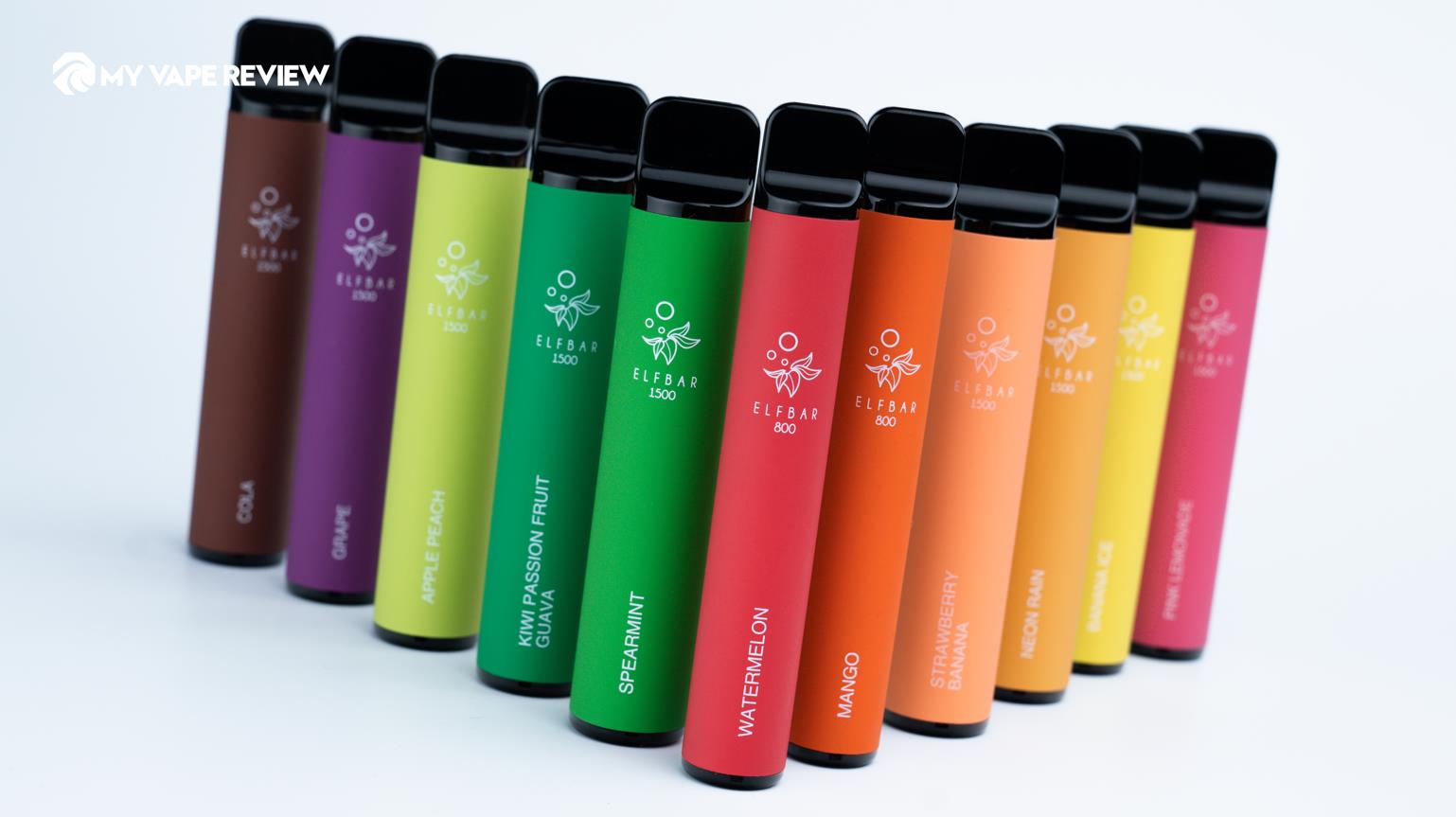 Elf bars are disposable electronic cigarettes developed to provide a safer alternative to smoking. They allow you to inhale nicotine in the form of vapor rather than smoke. Small as they are, these devices deliver stellar vapor performance through their internal single-use battery and unique coil technology.
The first-gen Elf bars are pre-filled with 2ml of e-liquid that can produce up to 600 puffs.  You can also get from the same brand longer-lasting models, such as those on the Elf Bar BC line, that last for 3,000 or 5,000 puffs.
Elf bars have over 28 unique flavors. In addition, their sleek design, nice hits provided and impressive build quality are also key to the success.
Advantages of Elf Bars and Other Disposables
Disposable vapes like Elf Bars have some apparent edges over other types of vapes:
Come with prefilled e-juice with an array of tasty flavors to cater to different preferences;
Stylish and portable;
Easy to use as they're designed for one-time use. You don't need to order liquid separately or worry about setups, refills and sometimes even recharging. The straightforward design has made them an ideal vape starter kit for vapers looking to quit smoking;
Perfect choice if you're looking for a cheap way to start off vaping.
What Does an Elf Bar Contain?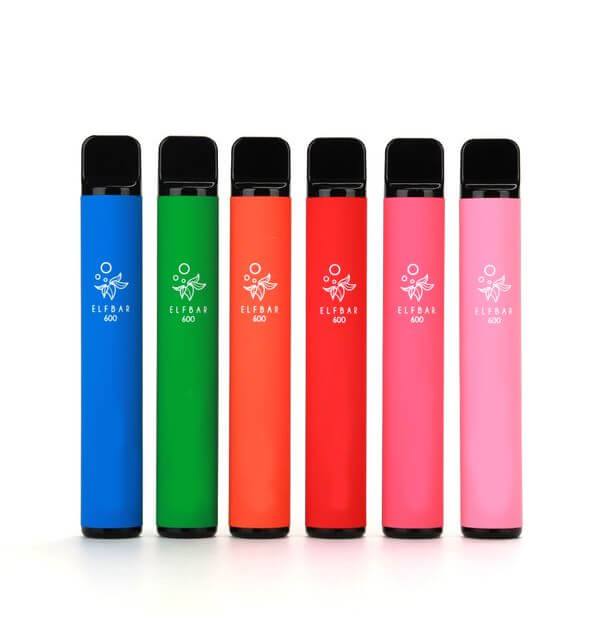 Like any disposables, Elf Bars consist of a battery, a coil, and a tank where e-juice is filled in. The lightweight battery powers the heating coil and allows the e-liquid to vaporize in a smooth and controlled manner, ready for inhalation.
The e-liquid used in Elf bars contains 20 milligrams (mg) of nicotine salt, which is the maximum limit in the UK. That equates to a little above 48 normal cigarettes. By the way, there're 0mg nicotine version Elf Bars on offer—check them out if you wish to quit nicotine.
The nicotine salt contains benzoic acid, providing smooth and instant nicotine hits and flavor at high concentrations. It is a perfect choice for those who want to quit smoking and is a far less harmful way of getting that nicotine hit.
Are Elf Bars Dangerous?
No, Elf bars are not dangerous.
However, vaping has risks, regardless of what types of vapes you use. Although many health experts have raised concerns about how addictive and risky disposable vapes can be, a recent study published by Public Health England (PHE) concluded that e-cigarettes on the whole are 95% less harmful to health than tobacco.
E-cigarettes do not burn tobacco, thus not producing tar and carbon monoxide, the two chemicals that have great damages to human health. Also, it is opined that e-cigarettes have the potential to help smokers quit smoking.
Furthermore, nicotine replacement therapy (NRP) has been widely used as a safe treatment for smoking cessation. Elf bars can help you manage your nicotine cravings.
Furthermore, these disposables are safe as they are tightly regulated for safety and quality in the UK. They are subject to the European Tobacco Product Directive (TPD) approval and the Medicine and Healthcare products Regulatory Agency (MHRA).
However, vaping is not completely risk-free. The e-liquid and vapor produced contain some potentially harmful chemicals found in conventional cigarettes but at a much lower level.
Also, e-cigarettes may cause minor side effects, but less than the damage caused by smoking. Some vapers may not even experience them throughout their vaping journey. From this, we can say that Elf bars are a safe alternative to smoking.
Side Effects of Vaping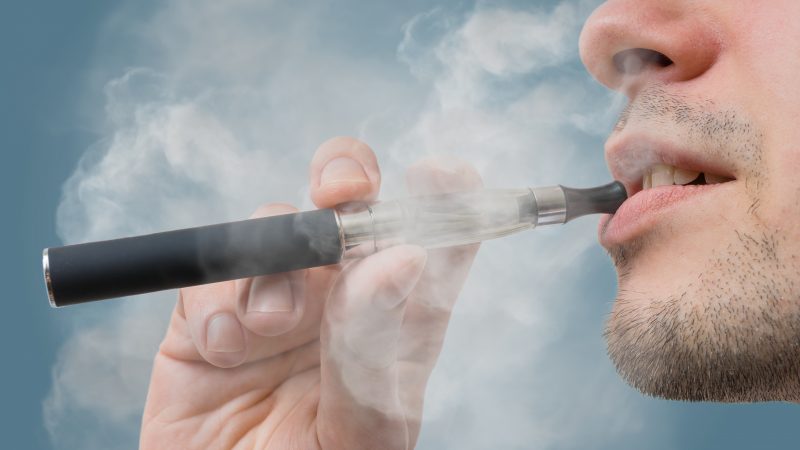 While vaping may be less harmful than smoking, it may still cause mild side effects. Common side effects include the following:
Mouth and throat irritation
Nausea
Cough
Dehydration
Shortness of breath
Headaches
Fatigue, etc.
However, to minimize the side effects, you can do the following:
First, ask for a list of ingredients from the manufacturer.
Then, avoid flavored vape juice as they are more likely to contain toxic flavoring agents.
You can also transition to nicotine-free vaping to reduce the side effects.
Finally, drink plenty of fluids and brush your teeth after to prevent dehydration and oral side effects.
Conclusion
From the above, it's safe to conclude that Elf bars are significantly less harmful than smoking. However, visit a licensed physician immediately if you experience any adverse health-related side effects from vaping.