A corner building, formerly home to SuperStar Tickets, is welcoming a new business –"Tobacco Vape Cigars".The changing face of retail is evident everywhere, with each transformation reflecting broader shifts in society. One such transformation can be seen at 2305 Wilson Blvd, at the intersection of Wilson Blvd and N. Wayne Street. The strikingly distinct white, red, and yellow signage, contrasting the previous black text of SuperStar Tickets, symbolizes the change of guard in the retail landscape.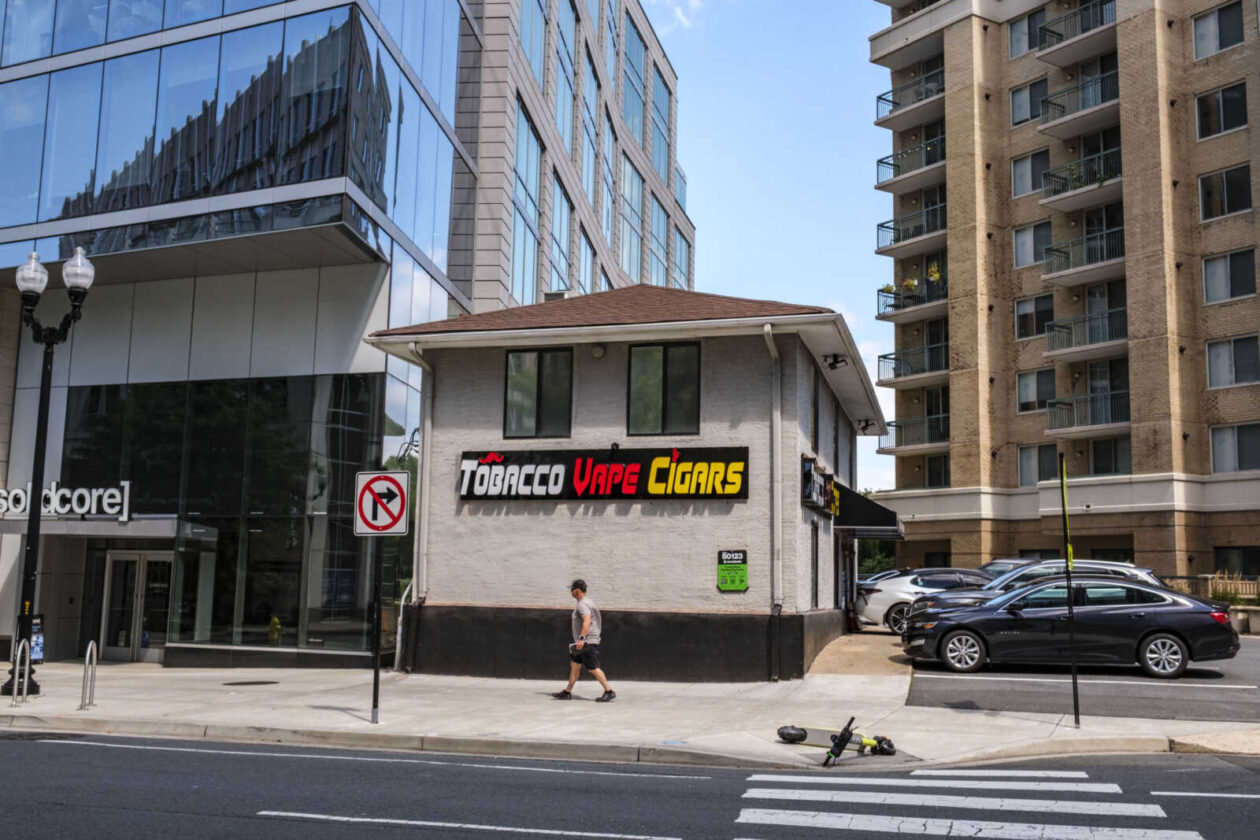 Evolving Business Dynamics
SuperStar Tickets, which once enjoyed the prominence of a physical storefront, has shifted its operational strategy. Like many businesses in the post-Covid world, the ticket-selling venture has moved to remote operations. This change doesn't reflect a decline in its business; in fact, the opposite seems true. Live events, as described by building owner Omar Sider, are witnessing unprecedented popularity. The pandemic-induced pause allowed businesses and entertainment venues to rethink their strategies, and the resurgence in live events seems to be a direct result of this reset.
Despite the flourishing state of his ticket business, Omar Sider, who not only owns the building but also SuperStar Tickets, saw the potential for the prominent corner building to be repurposed. A vacant building, irrespective of the reason, is a missed opportunity for generating revenue. This perspective led to the decision to lease out the space.
Here is "Tobacco Vape Cigars"
While there were several contenders interested in the space, "Tobacco Vape Cigars" emerged as the immediate choice. The shop is currently gearing up for its launch in the upcoming months. Its presence speaks to the growing popularity and acceptance of vaping as an alternative to traditional tobacco smoking.
The choice of "Tobacco Vape Cigars" for this location isn't merely a business transaction; it's reflective of a larger societal trend. Over recent years, vaping has evolved from a niche hobby to a mainstream alternative to traditional smoking. For a vast section of society, it offers a seemingly healthier transition, acting as a bridge away from the well-documented detrimental effects of conventional cigarettes. This transition is not just about cutting down on tar and other carcinogens but also offers users a plethora of flavor choices and a sense of belonging to a global community that shares similar values.
The masterminds behind "Tobacco Vape Cigars" are evidently astute readers of this market trend. With a portfolio boasting ownership of an impressive "60 or 70" businesses of a similar nature nationwide, they come armed with extensive industry knowledge and experience. This vast network speaks volumes about their capability to gauge consumer demands and cater to them effectively.
The robustness of their vision for "Tobacco Vape Cigars" is further highlighted by their initial intent to commit to a lease period even beyond the finalized three years. Such confidence not only hints at their commitment to the Arlington community but also offers a glimpse into their long-term vision for the vaping industry's prominence.
Community Perspectives and Future Possibilities
Omar Sider, an Arlington native, has deep roots in the community. Having owned the building since 2010, he even considered selling it in 2017. His connection to the area gives him an understanding of the diverse opinions residents may have. While some might prefer a different kind of business gracing the iconic storefront, it's essential to recognize the economic practicality behind the decision.
Sider emphasizes the importance of having a cash flow from the building, especially given that it remained largely unused for the past three years. And while the vaping shop is the current choice, there's always the potential for evolution down the line. Depending on the community's needs and the changing landscape of retail and consumer behavior, the space could see another transformation in the coming years.
As vaping continues to rise in popularity, offering a perceived healthier alternative to smoking, it's no surprise that prominent spaces are being occupied by such businesses. The future might be unpredictable, but for now, Wilson Blvd will be filled with the wafting scent of various vape flavors, marking yet another chapter in its rich history.