1. Introduction
It's been an exciting journey following Lost Vape's growth in the vaping industry.  Known for its innovation and quality, Lost Vape offers a comprehensive range of devices that cater to every kind of vaper out there. Whether you're a fan of mods, pod systems, or even disposables, Lost Vape has something in its arsenal for you.
About a year ago, we had the pleasure of reviewing one of their standout devices, the Orion Bar 7500. The device set a high bar for what a disposable could offer in terms of flavor, longevity, and overall user experience.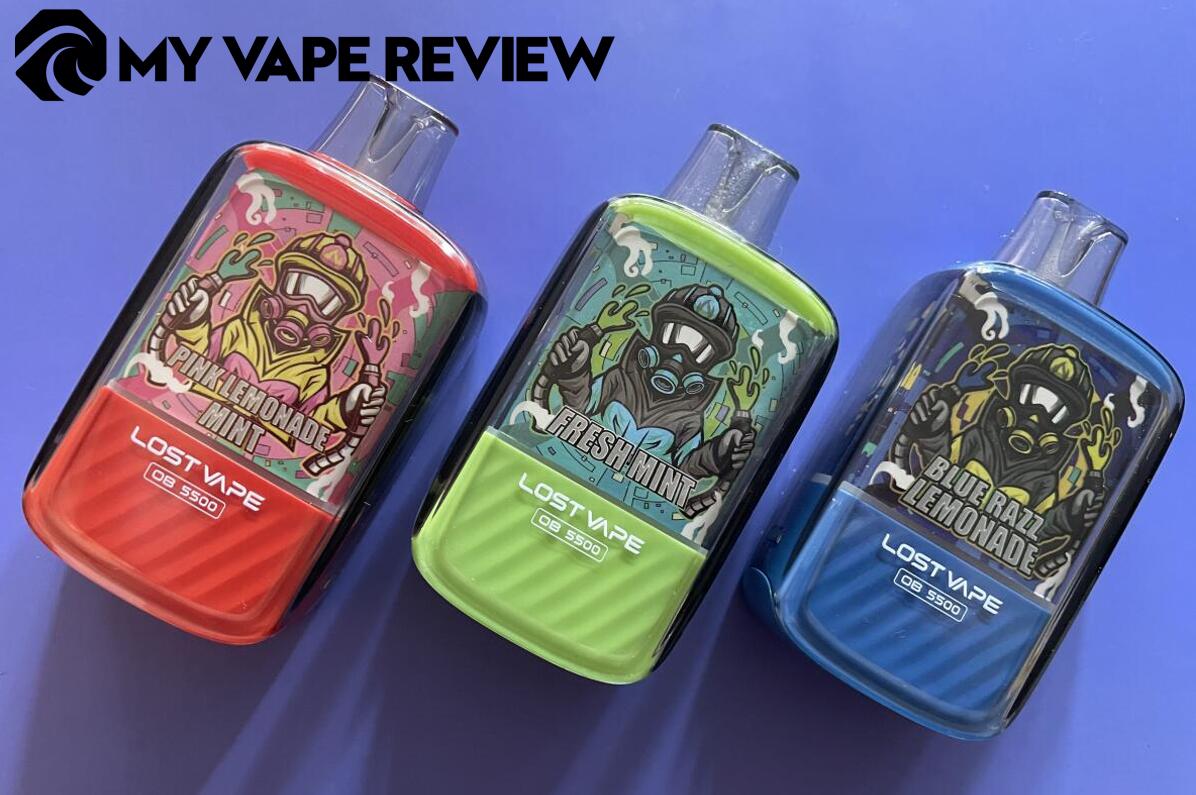 Today, we are looking at a new sister device to the Orion Bar 7500, the Lost Vape OB5500 disposable. As you might think, OB stands for Orion Bar. This vape comes pre-filled with 14 mL of 5% nicotine e-juice and is powered by a 500 mAh battery. But what's especially familiar about this disposable is the same bold graphic art style encased in a thick plastic shell. If you'd like to learn more about the OB5500 from Lost Vape, keep reading because we are going to cover it all!
Specs
Battery – 400mAh, Type-C rechargeable
Coil– Mesh coil with 1.0-ohm resistance
2. Flavor
The Lost Vape OB5500 is available in a range of 10 yummy flavors:
Tripple Berry
Blue Razz Lemonade
Pineapple Coconut
Kiwi Passion Fruit Guava
Pink Lemonade Mint
Kiwi Berry
Strawberry Dragon Fruit
Creamy Candy
Fresh Mint
Strawberry Watermelon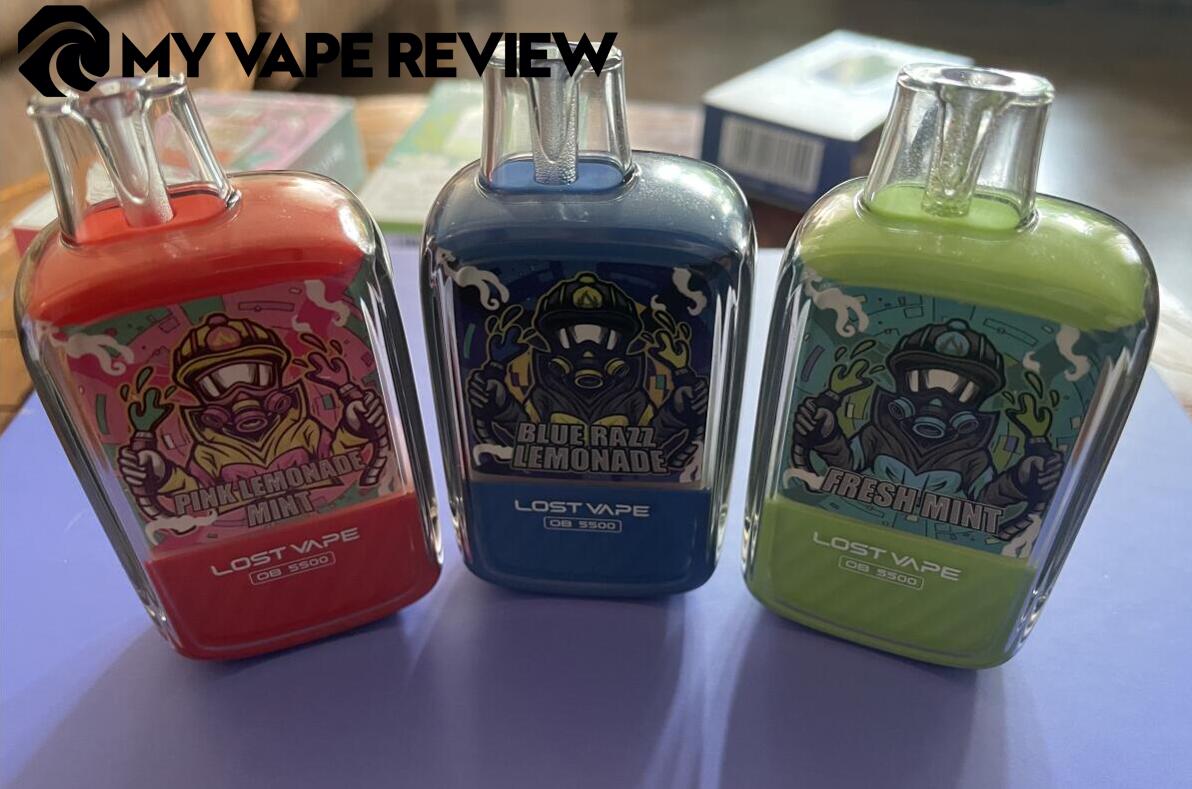 These flavors cover a nice array of popular flavor profiles. From fruits and berries to creamy confections and refreshing mints, there's something for everyone to enjoy.
We were fortunate enough to receive three flavors from the Lost Vape OB5500 line for in-depth testing and review – Pink Lemonade Mint, Fresh Mint, and Blue Razz Lemonade. Our reviews on these flavors offer some useful insight into the blending techniques and flavor profiles curated by Lost Vapes.
Pink Lemonade Mint – This is a rather interesting flavor. It's a combination of sweet, tangy, and icy, which creates a complex experience for your taste buds. The pink lemonade flavor definitely comes through on each exhale, but it's not overpowering. And the mint flavor is vibrant and fresh. 4/5
Fresh Mint – Each puff of this flavor gives a refreshing rush of icy vapor. The mint flavor is on the sweeter side but has a nice mellowness to it, so it's not overwhelming. Overall very enjoyable. 4/5
Blue Razz Lemonade – This blend is a classic rendition of Blue Razz Lemonade and is delicious with no artificial aftertaste. The balance between tangy and sweet is perfect. The lemonade flavor is authentic and keeps you coming back for more. 5/5
3. Design & Quality
Design
The OB5500 takes design cues from its predecessor, the Orion Bar 7500, sporting a similar vibe but with its own unique flair. The entire body is encased in a plastic shell, meant to protect the graphic art and add durability to the disposable. The mouthpiece, molded from the same material, is thoughtfully positioned off-center on the compact, matchbox-sized body.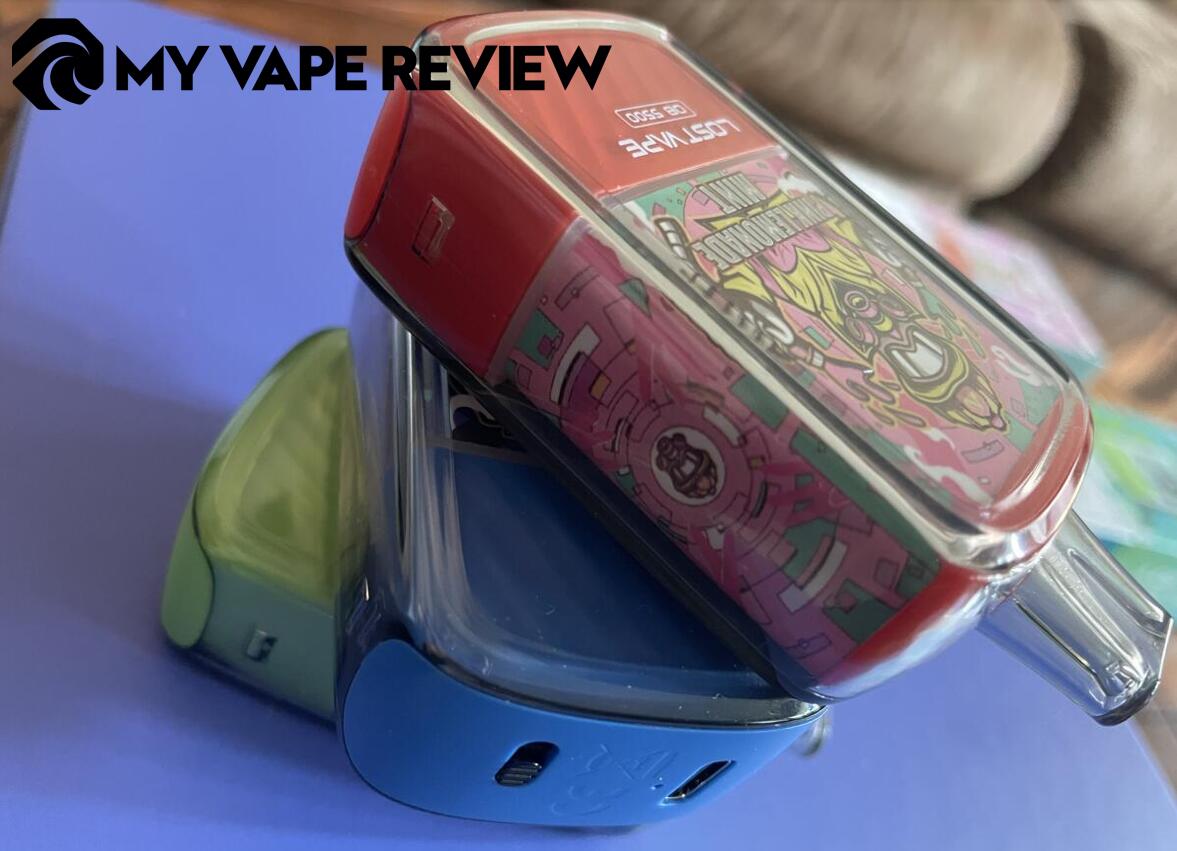 Beneath the shell, the body is visually subdivided into two parts. The bottom half features a vibrant, solid hue, accented by a diagonal scalloped pattern. Above that, the flavor's name takes center stage, set against a backdrop of edgy artwork. Picture a guy in a gas mask, gripping two hoses that spray liquid in a graffiti-esque fashion. He's surrounded by a swirl of colors meant to represent the blend of flavors.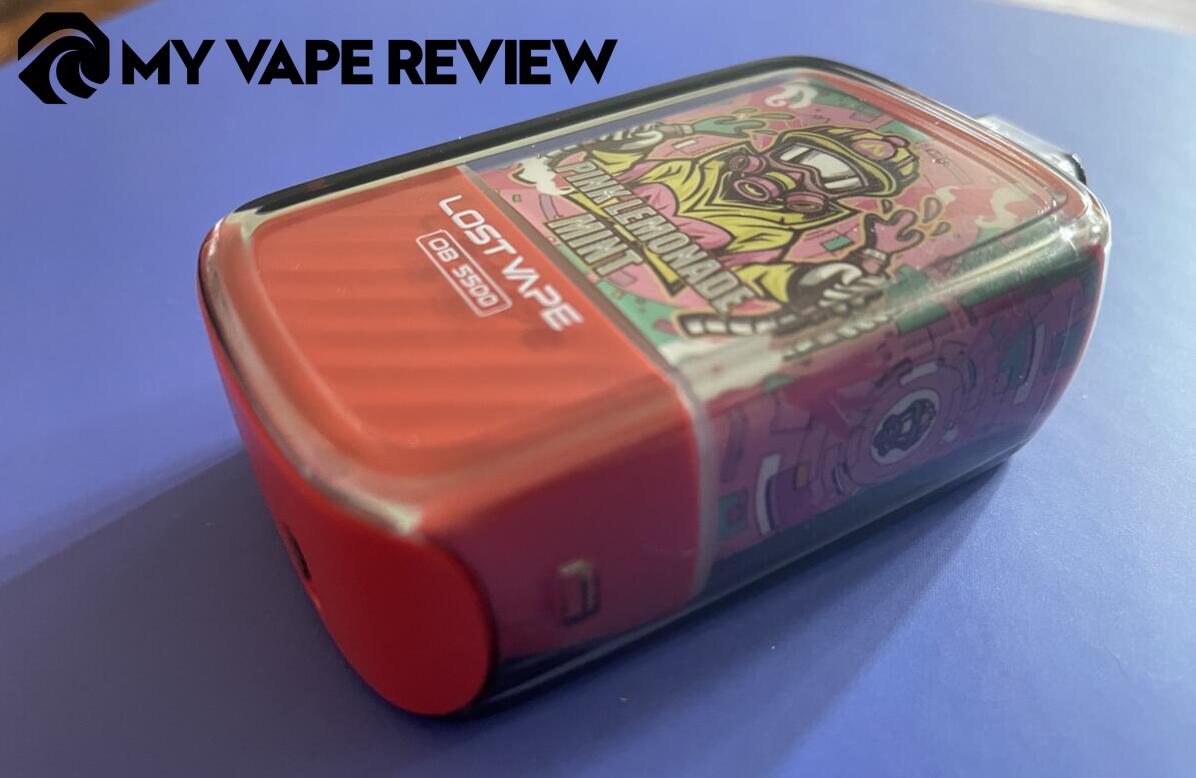 One nifty feature that caught my eye is the rounded base. Give it a nudge, and it wobbles back and forth instead of tipping over—something I haven't seen in other vapes and a cool touch, to say the least.
As for functionality, the device comes equipped with a USB Type-C charging port and an airflow control slider on the bottom. A heads-up, though—the slider can be a bit finicky. It sits almost flush with the body and offers a fair amount of resistance, making it a bit challenging to adjust without resorting to your fingernail.
Durability
The Lost Vape OB5500's heavy-duty casing is designed to withstand the wear and tear of daily use. Whether it's bouncing around in your bag or taking an accidental tumble off the table, the plastic shell acts like an arm, protecting your disposables. It's this level of durability that sets the OB5500 apart, making it a reliable choice for vapers on the go.

Does the Lost Vape OB5500 leak?
The OB5500 from Lost Vape is rock solid when it comes to keeping the e-juice contained. There was no leakage from the device during testing, and I didn't experience any e-juice spit back into my mouth when vaping.
Ergonomics
The Lost Vape OB5500 is very boxy, which can make it kind of awkward to hold, but at least the vape is small enough that it doesn't dig into your hand. While the smooth plastic shell doesn't provide much grip, it does have a silver lining—it keeps your hand pleasantly cool during marathon vaping sessions. All in all, it's a design that melds practicality with comfort, making it a solid pick for daily vaping.

4. Battery and Charging
The Lost Vape OB5500 comes equipped with a 400 mAh rechargeable battery, which might seem modest compared to other vape batteries on the market. However, it's clear that Lost Vape made a calculated decision to opt for a smaller battery in order to keep the device at a compact size while still offering a generous tank capacity.
The battery fully charges in just about 30 minutes, which is a game-changer for those on the go. And while you may find yourself recharging a bit more often—typically after 6-8 hours of continuous use—the device's quick charging feature is a great part of the quality of life for users.

5. Performance
If you're the kind of vaper who enjoys switching between Restricted Direct Lung (RDL) and Mouth-to-Lung (MTL) hits, the OB5500 has got you covered. With the airflow slider fully open, you'll get a light and airy draw that still packs a decent vapor cloud.
On the flip side, closing off the airflow transforms your vaping experience, delivering a deeply satisfying pull accompanied by an even denser vapor. It's this versatility in airflow control that makes the OB5500 a fantastic choice for those who like to customize their vaping experience on the fly.
The 1.0-ohm mesh coil strikes a nice balance between higher voltage (sub-ohm) and lower voltages (above 1.0-ohm resistance). This means the hits are at just the right temperature, produce a good amount of vapor, don't drain the battery too badly, and use a moderate amount of e-juice.
6. Price
Surprisingly, you'll find that the OB5500 is priced a bit higher than its predecessor, the Orion Bar 7500, at some online retailers. However, with a market price ranging from $11 to $14, it remains an affordable choice that's accessible to vapers of all budgets.
This moderate pricing, coupled with its versatile features, makes the OB5500 a value-for-money option that's hard to overlook.
7. Verdict
Lost Vape's OB5500 is a well-rounded device that offers a lot for its price point. Its versatility in airflow settings, a wide range of flavors, and durable design make it a strong contender in the disposable vape market.
While it has a few minor drawbacks, such as the slightly finicky airflow slider and its boxy shape, these are easily overshadowed by its many strengths. If you're looking for a reliable, versatile, and affordable vaping experience, the OB5500 is definitely worth considering.