1. Introduction
While many vape producers cater to consumers seeking nicotine-enriched vaping experiences, Melody has carved a unique niche for itself – aiding vapers to overcome their nicotine dependency. Boasting an impressive range of zero-nicotine vapes, Melody offers products in a diverse array of colors and flavors.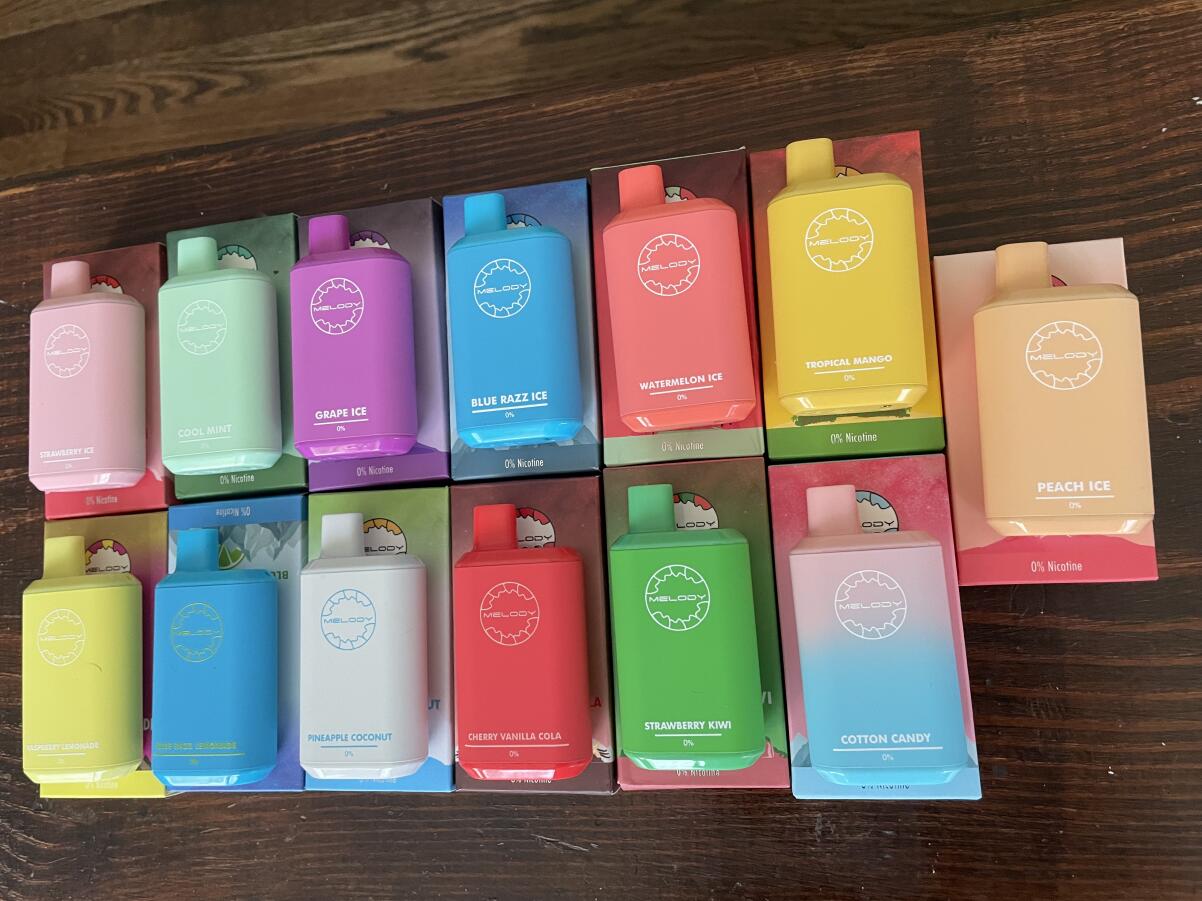 In this review, we take a closer look at one of their latest offerings, the Melody Max Pro. These vibrant and rechargeable vapes promise up to 5,000 puffs per device. Keep reading as we delve deeper into the Melody Max Pro and evaluate whether it aligns with your vaping preferences!
2. Flavor
The Melody Max Pro comes in an extensive selection of 13 distinct flavors, guaranteeing a taste that caters to every palate. The available flavors include Blue Razz Ice, Cool Mint, Watermelon Ice, Tropical Mango, Grape Ice, Peach Ice, Raspberry Lemonade, Strawberry Kiwi, Strawberry Ice, Pineapple Coconut, Blue Razz Lemonade, Cherry Vanilla Cola, and Cotton Candy.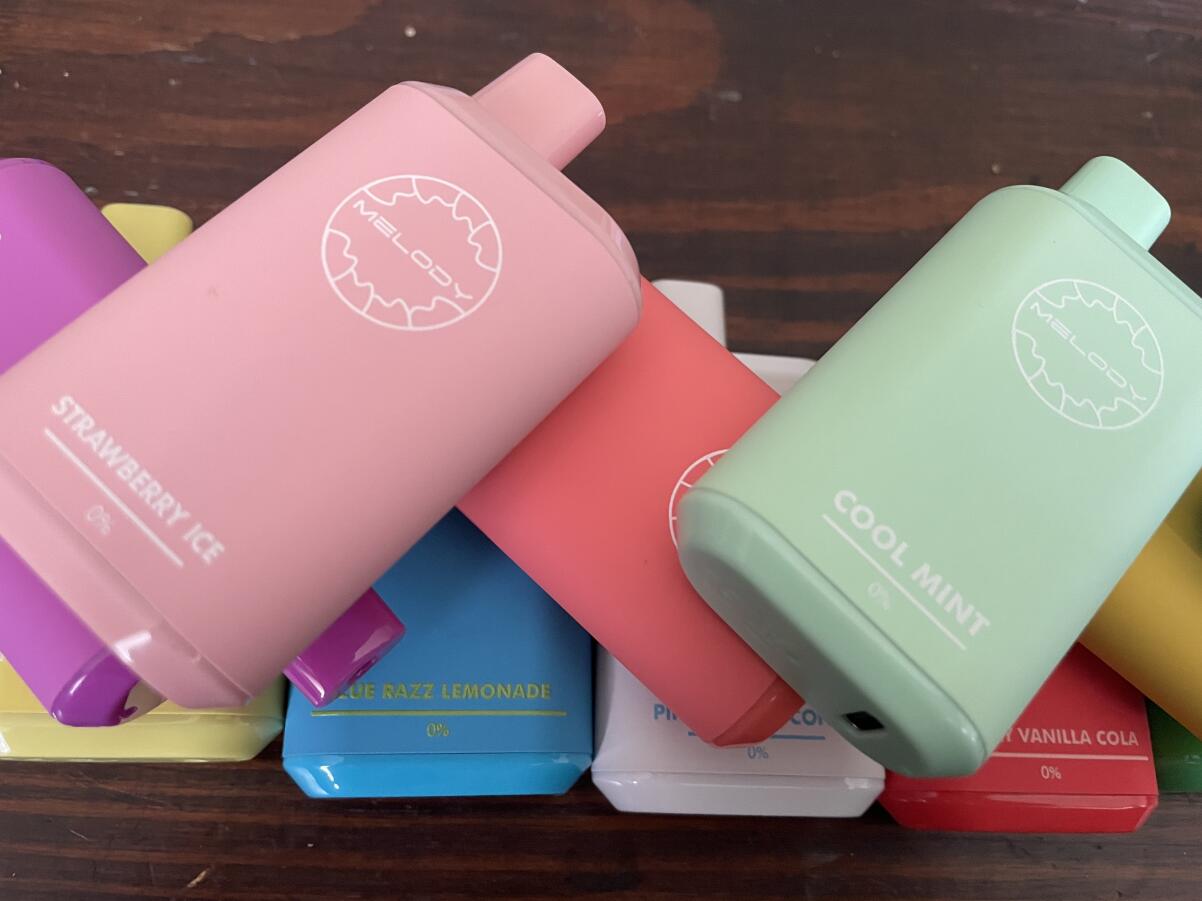 Blue Razz Ice – The Blue Razz delivers a sweet yet tangy experience, very reminiscent of Blue Raspberry candies. However, it leaves a bit to be desired as the cooling sensation is quite subtle. 3/5
Cool Mint – Cool Mint offers a rejuvenating burst of mint that leaves your mouth feeling fresh and clean. It's very sweet and just 'spicy' enough to keep you coming back for more. 5/5
Watermelon Ice – The Watermelon Ice flavor is very bold and in your face, with a super juicy watermelon flavor, although the ice is a bit lacking. Didn't get much of a cooling sensation from this flavor either. 4/5
Tropical Mango – Packed with a strong, fruity flavor, Tropical Mango truly lives up to its name, making you feel like you're indulging in a ripe mango on a tropical island. The sweetness is not too overwhelming, but this slightly bitter note at the end reminds me of an underripe mango. 3/5
Grape Ice – Grape Ice offers a familiar grape taste paired with a nice, chilly undertone. A delightful choice for grape enthusiasts, this flavor has a surprising level of complexity. 4/5
Peach Ice – The Peach Ice flavor is kind of lacking. It's neither very peachy nor very icy. Instead, it's got this somewhat artificial one-dimensional peach-ish flavor. Definitely not my favorite of the bunch, and I was expecting more based on the other flavors. 2/5
Raspberry Lemonade – With a wonderful blend of sweet raspberries and tangy lemonade, Raspberry Lemonade offers a flavorful puff reminiscent of a refreshing summer drink. This flavor strikes a nice balance between sweetness and tangy, but I'd have liked to see the lemonade flavor come through more clearly. 3/5
Strawberry Kiwi – Strawberry Kiwi harmoniously combines the sweetness of strawberries with the slight tartness of kiwi. This flavor is bold and smacks you in the tastebuds whether you are ready or not. If you like juicy, sweet, and bold, then you'll love this flavor. 5/5
Strawberry Ice – This Strawberry Ice flavor has the best icy bite of all of the Melody Ice flavors. The sweet taste of fresh strawberries is counterbalanced with this refreshing blast straight to your tastebuds. 5/5
Pineapple Coconut – Pineapple Coconut is absolutely delicious. If you enjoy coconut desserts of any kind or pina colada, then you will love this flavor. It transports you straight to a tropical beach with its perfect balance of juicy pineapple and sweet coconut. 5/5
Blue Razz Lemonade – The double zing from the Blue Razz and Lemonade flavors makes this flavor the tartest of the bunch. Blue Razz Lemonade might strike the right balance to pique your interest if you are a sour candy lover or avoid overly sweet flavors. 4/5
Cherry Vanilla Cola – The Cherry Vanilla Cola flavor feels like a trip down memory lane, exactly mimicking the taste of fizzy cherry cola with a smooth hint of vanilla on each exhale. It's almost as if you forget you are vaping and thing you are sipping on a Coke instead. Truly wonderful. 5/5
Cotton Candy – Unfortunately, the Cotton Candy flavor fails to replicate the fun and sweetness of the fairground favorite. Instead it's got an artificial flavor that was very disagreeable and tasted more creamy than sweet.  1/5
3. Design & Quality
Design
Despite its impressive puff capacity of 5,000, the Melody Max Pro is a compact little device designed to complement an on-the-go lifestyle. Barely larger than a Zippo lighter, the Max Pro is sheathed in a smooth, tactile body cover.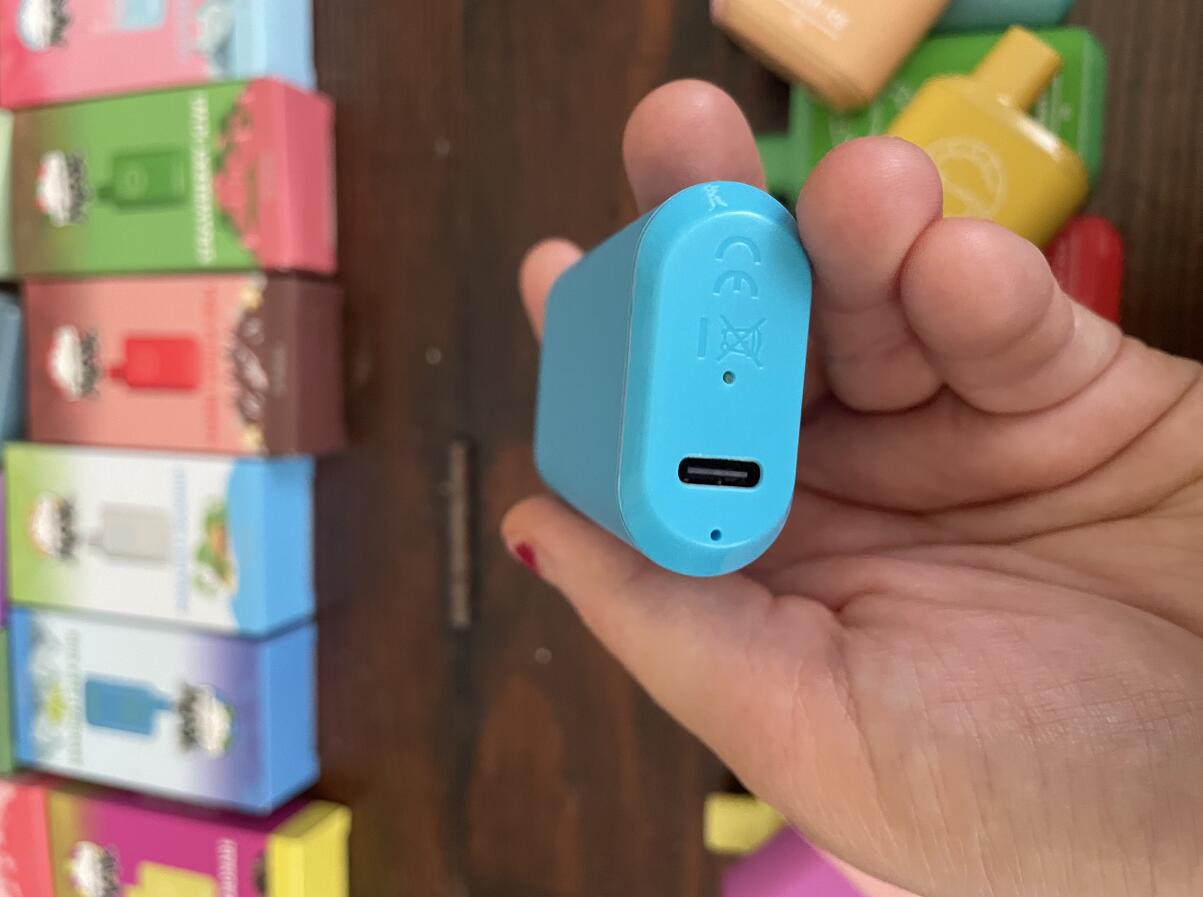 The underlying body is crafted from durable polycarbonate plastic, visible at the top and base of the device where there is no body cover. The Melody logo and flavor imprint proudly adorn the front of the vape, ensuring easy flavor identification. Each flavor is assigned its unique color scheme, offering a wide spectrum from watermelon red and deep purple to light pink and vibrant yellow, among others – the Melody Max Pro certainly doesn't lack in aesthetic appeal.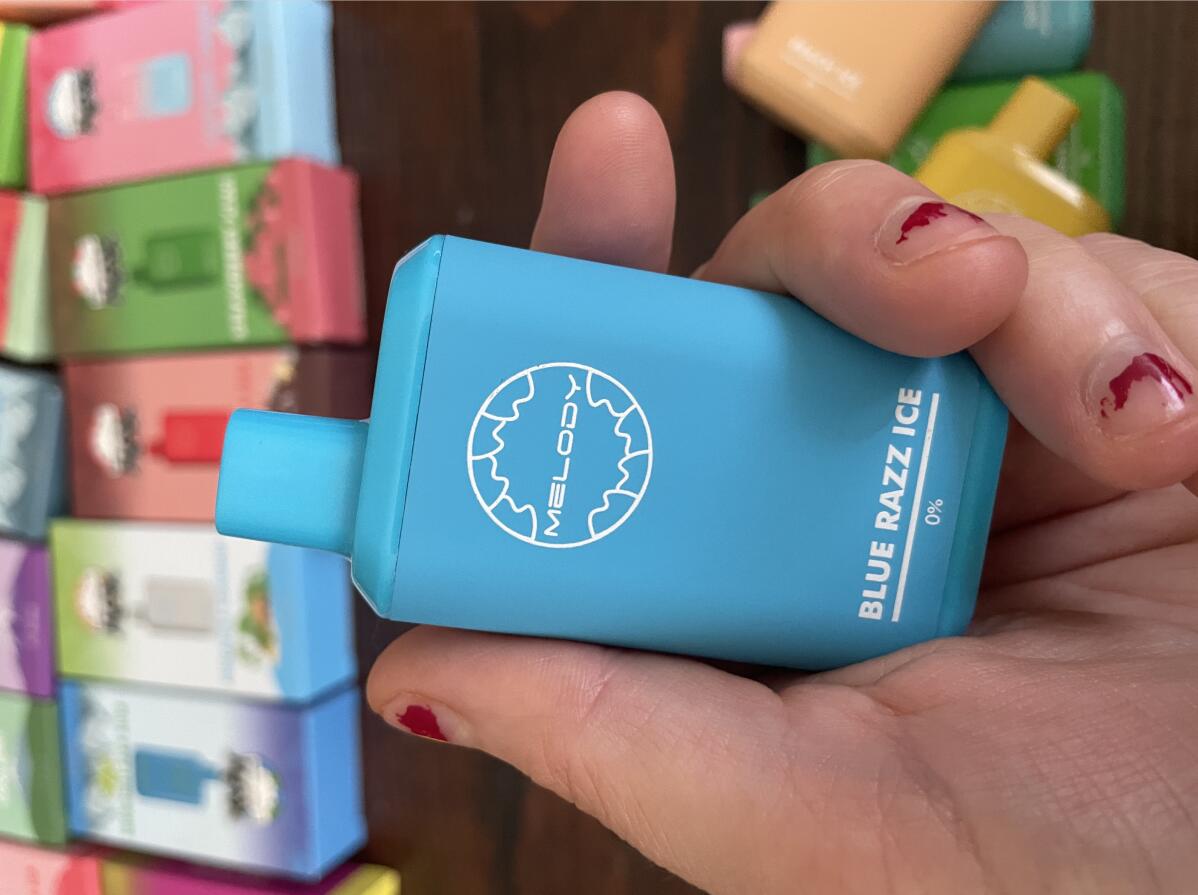 In a thoughtful design addition, there's a conveniently placed lanyard connector at the top right of the device, allowing users to thread a lanyard through for effortless, hands-free carrying. The USB Type C charging port is located at the bottom of the device, paired with a standard LED battery and inhalation indicator.
Durability
The body cover of the Melody Max Pro is highly scratch-resistant, ensuring the device can withstand substantial wear and tear. Coupled with the sturdy polycarbonate body, which is designed to resist cracking or breakage when dropped, this device exudes durability. Hence, you can carry the Melody Max Pro around with no concerns about its longevity. Built to accommodate an active lifestyle, this vape promises to stand up to daily demands and endure until its last puff.
Does the Melody Max Pro leak?
While the Melody Max Pro's opaque body design prevents direct visibility into the tank, rest assured, throughout the review, there were no leakage issues with this disposable vape. The 0% nicotine e-juice remains securely contained within the tank. Additionally, the design ensures there's no unpleasant spitback reaching your lips when vaping.
Ergonomics
The Melody Max Pro is ergonomically designed for comfort and convenience. The body of the device is rounded on the sides, ensuring a snug and comfortable fit in your hand. The mouthpiece echoes the flattened cylindrical shape of the body, facilitating a satisfying and comfortable inhale with each puff. Additionally, the soft body cover adds a gentle touch, allowing the vape to sit softly in your hand.
4. Battery and Charging
The Melody Max Pro is a rechargeable disposable. Equipped with a conveniently positioned USB Type-C charging port, this device offers quick recharging times – once the battery is depleted, a full recharge takes as little as 30 minutes.
While Melody doesn't provide specific details about the battery capacity for the Melody Max Pro or its other models, based on the vape's size and battery longevity, we can make an educated guess that the battery likely falls in the range of 600 to 900 mAh.
5. Performance
The Max Pro excels in delivering a satisfying and flavorful vaping experience. The puffs are potent and have a pleasing airy feel to them. The device provides an abundant volume of vapor and maintains an optimal temperature throughout your vaping session. The Melody Max Pro offers a mouth-to-lung (MTL) draw, making it approachable for a wide range of vapers.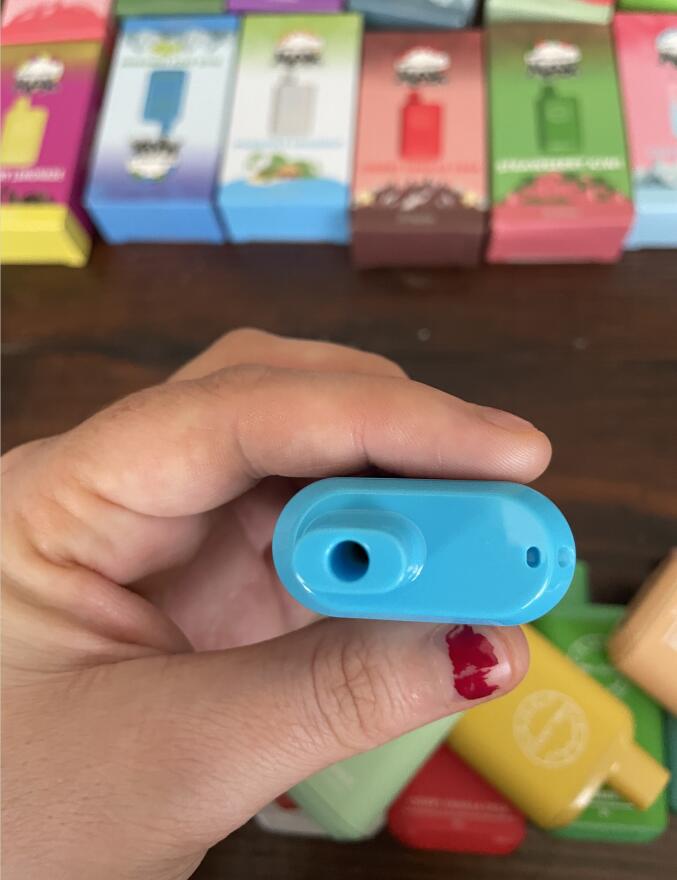 An MTL vaping experience closely mimics the sensation of cigarette smoking, making it an excellent choice for those aiming to quit their cigarette habit. And for seasoned vapers who have been accustomed to 5% or 2% nicotine devices, this 0% nicotine disposable presents an attractive option for those keen to transition away from nicotine altogether.
6. Price
The Melody Max Pro can currently be purchased at www.trymelody.com for a discounted price of $22.99, down from the usual $27.99. Given its 5,000-puff capacity and rechargeability, this price is quite reasonable for those looking to reduce their nicotine dependency with a device designed to help them achieve this goal. Although it may not be the most budget-friendly option on the market, Melody caters to a specific group of customers who have limited choices in this space, making the price justifiable.
7. Verdict
The Melody Max Pro offers an impressive and unique vaping experience for those seeking to overcome nicotine dependency. Standing out with a niche focus on nicotine-free vaping, Melody's innovative product line, including this device, is designed to serve a significant yet underserved market.
A key positive of the Melody Max Pro is its wide array of 13 delectable flavors. The design and build quality of the disposable also deserve commendation. Despite the high puff capacity, the device's compact form factor is perfect for an active lifestyle. The polycarbonate plastic body ensures durability, and the scratch-resistant body cover adds to the longevity of the device.
In terms of comfort, the Melody Max Pro scores highly. Its rounded sides and flattened cylindrical mouthpiece provide a comfortable hand and mouthfeel. Battery performance is also notable, with fast recharging times and decent longevity. However, it would be beneficial if Melody could provide specific information regarding the battery capacity in their devices.
The device performs admirably, delivering a satisfying and flavorful vaping experience with a plentiful vapor volume and optimal temperature. The mouth-to-lung draw makes it a suitable choice for a range of users, particularly those seeking to quit smoking or transition from nicotine-based vapes.
At a current discounted price of $22.99, the device might not be the most affordable option on the market, but considering its puff capacity, rechargeability, and target demographic, the price is justifiable.
Overall, the Melody Max Pro offers a unique, reliable, and enjoyable nicotine-free vaping experience that is lacking across much of the vaping market. Despite minor drawbacks, its broad range of flavors, impressive design, and reliable performance make it a worthwhile option for those looking to quit nicotine.