1. Introduction
The OVNS MESH08 II is the next-generation disposable vape pen designed to elevate your vaping experience. Building on the success of its predecessor, the best-selling OVNS MESH08, this upgraded version offers an impressive 2,500 puffs. Its advanced mesh coil technology not only enhances vapor production but also extends the device's longevity.
Powered by a robust 1150 mAh battery, the MESH08 II is engineered to last through all 8 mL of its e-juice. To cater to individual preferences, it comes in a diverse range of 14 flavors and offers two nicotine strengths—2% and 5%. Let's take a closer look at the OVNS MESH08 II to see why it's a great option for fans of disposable vapes!
2. Flavor
The MESH08 II really stands out when it comes to flavor. Each puff delivers a strong and delicious taste, making vaping a real treat. With a range of 14 diverse flavors, it caters to various taste preferences, ensuring that it remains an exciting choice for your vaping needs.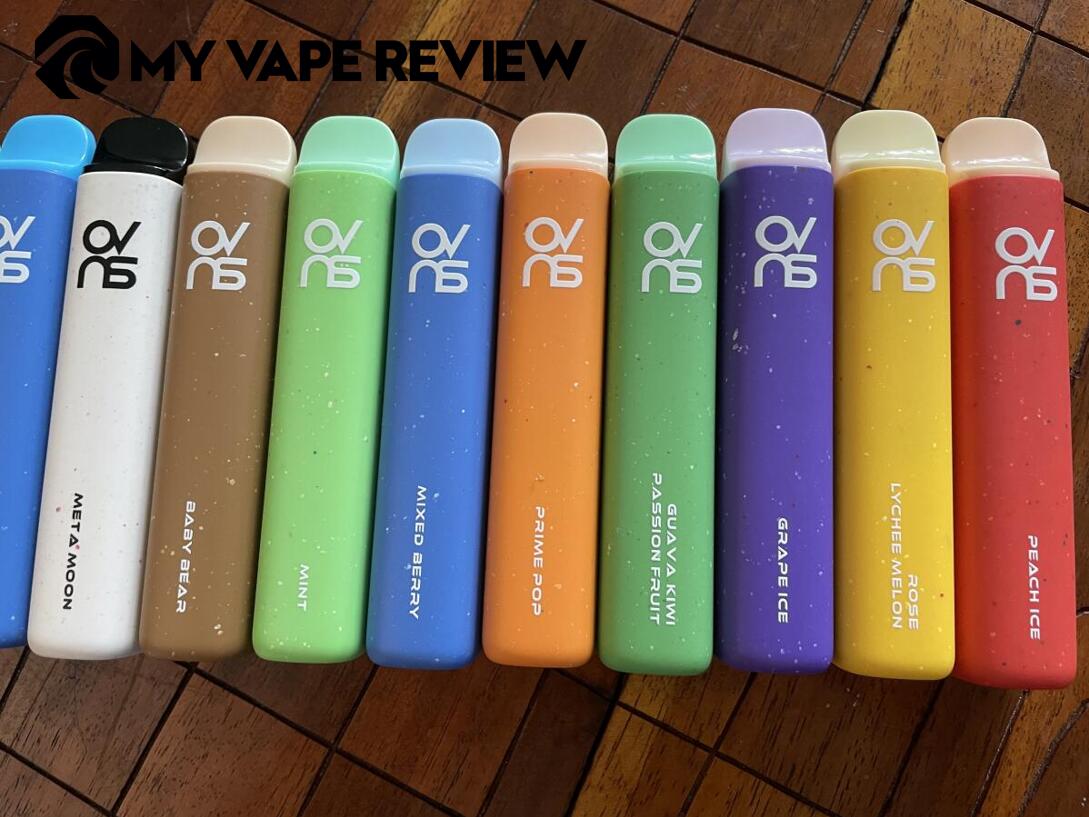 Here is the list of all 14 flavors:
Peach Ice
Mixed Berry
Blue Sour Raspberry
Lush Ice
Rose Lychee Melon
Skittles Ice
Baby Bear
Grape Ice
Apple Peach
Meta Moon
Guava Kiwi Passion Fruit
Prime POP
Strawberry Watermelon Ice
Mint
Thankfully, we are able to dive into every one of these flavors, providing a detailed breakdown to help you find the perfect match for your taste buds.
Peach Ice – This flavor offers a light and refreshing peach taste that's not too sweet, complemented by a cool menthol finish. It's an ideal pick for hot summer days when you're in the mood for something subtly fruity and revitalizing. 4/5
Mixed Berry – This flavor presents a robust blend of strawberries, blueberries, and raspberries. The raspberry notes are particularly prominent, adding a strong tartness that's beautifully balanced by a pleasing sweetness. A must-try for anyone who loves a good berry mix! 5/5
Blue Sour Raspberry – Blue Sour Raspberry packs a tangy punch that's sure to awaken your taste buds. The sour notes are perfectly complemented by the sweet undertones, making it a unique and exciting choice. 3/5
Lush Ice – Lush Ice is a harmonious mix of watermelon and menthol. The juicy watermelon flavor is elevated by a cool menthol breeze, offering a truly lush vaping experience. One of the best flavors of the bunch. I couldn't put it down! 5/5
Rose Lychee Melon – Rose Lychee Melon is an exotic blend that combines the floral notes of rose with the sweetness of lychee and melon. It's a sophisticated flavor for those looking to try something different, and definitely worth picking up! 5/5
Skittles Ice – Skittles Ice captures the essence of the classic candy, complete with a menthol kick. It's a fruity, sweet, and nostalgic flavor that will make you feel like you are indulging in a nice candy treat. 4/5
Baby Bear – Baby Bear is my least favorite of the bunch. Based on the branding I assume the flavor is supposed to taste like gummy bears. But instead, it is just this non-descript sweetness that doesn't make much of an impression. 2/5
Grape Ice – Grape Ice offers a burst of grape goodness with a frosty finish. The grape flavor is authentic and rich, with a pleasing zing on the exhale, making it a go-to for grape enthusiasts. 3/5
Apple Peach – Apple Peach combines the crispness of apples with the juiciness of peaches. It's a well-rounded flavor that's perfect for those who appreciate classic fruit combinations. 5/5
Meta Moon – Meta Moon is a cola-inspired vape flavor that delivers a delightful combination of cola taste, subtle sweetness, and a hint of fruity notes. The effervescence of fizziness adds an extra layer of authenticity to the experience. 3/5
Guava Kiwi Passion Fruit – Guava Kiwi Passion Fruit is a tropical paradise in a vape. The guava's sweetness, the kiwi's tartness, and the passion fruit's exotic flair come together in a harmonious blend. The kiwi is very present so if you like a tart vape – this is the one for you. 4/5
Prime POP – This flavor gives the refreshing vibes of an orange soda. Enjoy the perfect blend of sweetness and that satisfying zing of citrus. Prime POP is a lively and addictive mix that you'll keep reaching for. 4/5
Strawberry Watermelon Ice – This flavor is a delicious concoction that combines the juicy sweetness of ripe strawberries with the perfect blend of watermelon, all rounded off with a cool menthol kick. Ideal for hot days or whenever you crave a burst of refreshing fruitiness. 5/5
Mint – The flavor is distinctly spearmint, offering a smooth and nuanced vaping experience. Its subtle sweetness complements the minty notes without being overwhelming, resulting in a refreshing and frosty finish. 5/5
3. Design & Quality
Design
The MESH08 II by OVNS presents a disposable pen vape with a distinctive design aimed at both functionality and style. Its rectangular body, complemented by rounded edges, embodies a contemporary look.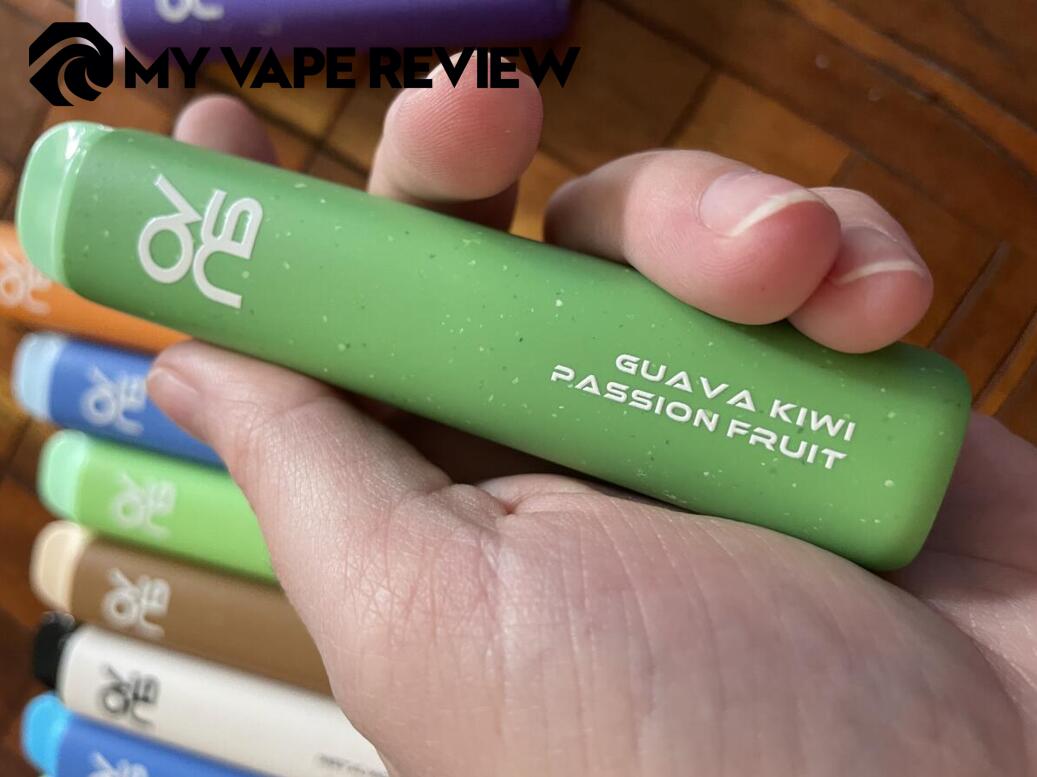 Adding a touch of personalization, each flavor variant features a unique two-tone color scheme. The vape body itself boasts a matte finish, adorned with a subtle speckled pattern that adds visual interest. On the front side, the OVNS logo and flavor name are tastefully embossed. The mouthpiece, adopting a wide duckbill style, introduces an element of shine through its glossy plastic construction.
Notably, the OVNS MESH08 II introduces an innovative airflow control mechanism that can be found on the bottom. Diverging from the traditional linear sliders, this vape incorporates a circular rotating slider.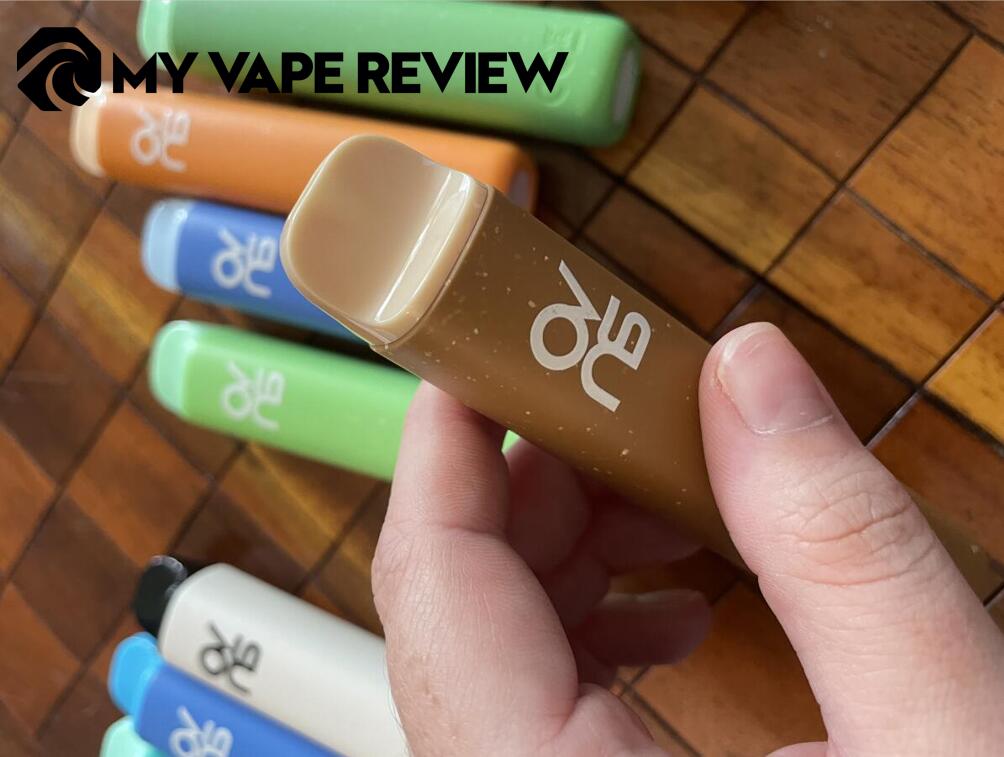 By giving it a simple twist, you can effortlessly fine-tune the airflow to match your preferences. The vape includes three airflow holes, so you can transition from complete closure (zero airflow) achieved by shutting all three holes to expansive open airflow by leaving all three holes accessible.
Durability
Despite its featherweight design, the OVNS MESH08 II doesn't compromise on quality or construction. Even after enduring drops from a height of 5 feet, this device remains unscathed and continues to work flawlessly.

Does the OVNS MESH08 II leak?
Rest assured, the OVNS MESH08 II is designed to be leak-free. The 8mL of e-juice remains fully contained within the tank. Additionally, it's worth highlighting that I encountered no issues with spit back, a concern that occasionally arises with higher wattage disposables – a category that the MESH08 II doesn't fall into.
Ergonomics
The MESH08 II comes in a rectangular pen shape, but the edges have all been rounded. This makes holding the disposable in your hand for long periods comfortable. You can vape for hours without your hand getting tired. The wide mouthpiece is great – it feels natural on your lips when you vape. Plus, the matte body adds a bit of grip, so the device won't slip from your hand.
4. Battery and Charging
The MESH08 II features a hefty 1150 mAh battery, which is larger than what you'd find in most rechargeable disposables. This helps it maintain its 2500-puff capacity. With its low-power mesh coil, the battery keeps going and going. I was able to vape with the MESH08 II for what seemed like forever! Even after using it non-stop for 10 hours, the disposable was still going strong.
5. Performance
I was impressed by the MESH08 II, not just because of its battery life but also how consistently awesome the vaping experience was. The innovative airflow control is a fantastic feature. Easy to use and offers a customizable vaping experience. When you close it off, it feels like you're using a device meant for direct lung hits. But as you open up the airflow, it gets airier, giving a mouth-to-lung experience. This flexibility makes the MESH08 II perfect for different kinds of vapers.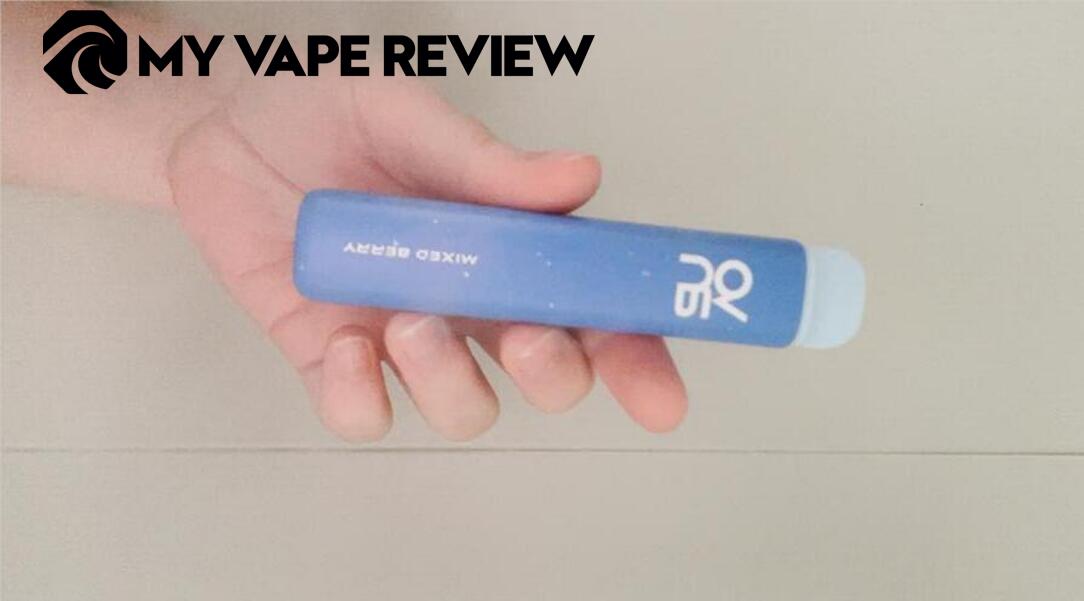 The mesh coil keeps the vapor at a comfy temperature, giving you nice, big clouds with every puff. If you open up the airflow all the way, the clouds are seriously impressive – great for folks who love blowing big clouds. The 5% nicotine can be a bit harsh on the throat sometimes, but if that's not your thing, you can go for the 2% nicotine version for a smoother hit.
6. Price
The MESH08 II is available for purchase, it's mainly sold in bulk to vape distributors and shops. Vapers who are interested in this product can go to major stores to buy and enjoy it.
7. Verdict
The OVNS MESH08 II stands out as a promising disposable vape pen option. It excels in key areas that make it a solid choice for vapers. The flavor experience is a highlight, with each puff consistently delivering a satisfying taste that enhances the overall enjoyment. With a diverse selection of 14 flavors, there's something to suit everyone's preferences, ensuring a dynamic vaping experience.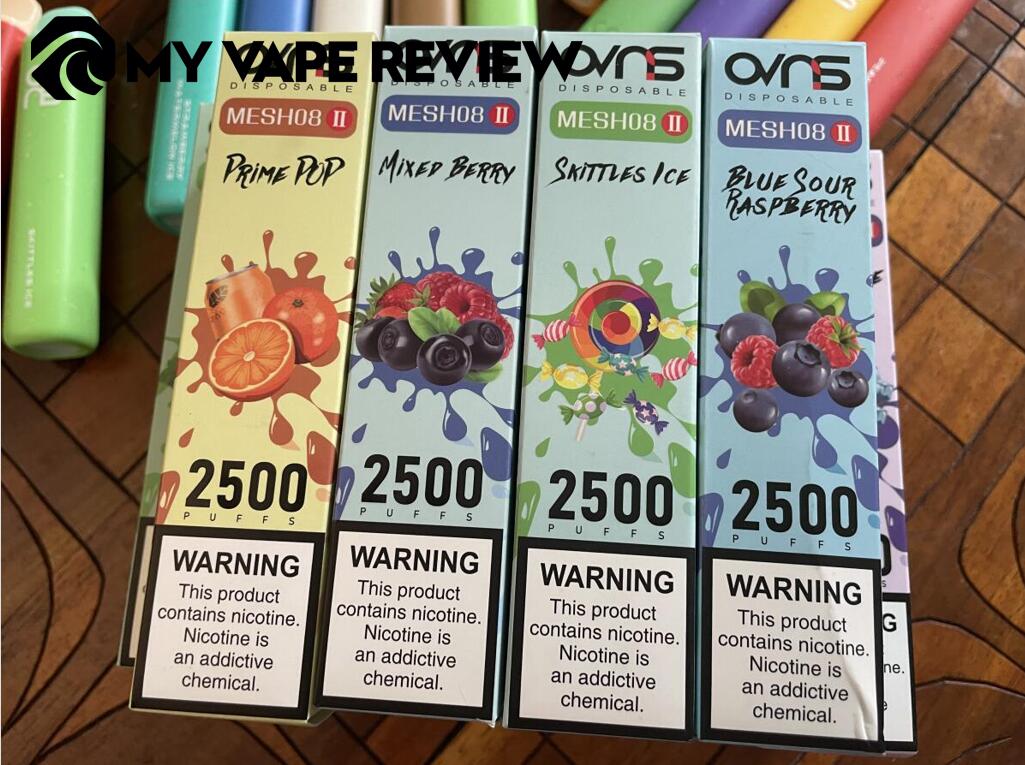 The OVNS MESH08 II's battery capacity is impressive, allowing for an extensive 2500 puffs. This is thanks to the mesh coil technology that helps conserve energy. The device's design also shines with its comfortable build – the rounded edges make it easy to hold during long vaping sessions. One of its best features is the adjustable airflow mechanism that caters to different vaping styles. The ability to switch between direct lung and mouth-to-lung draws adds versatility and accommodates all kinds of vapers.
On the downside, the lack of transparent pricing information might pose a challenge for those interested in its value.
The OVNS MESH08 II offers a compelling package with its strong flavor delivery, extended battery life, and user-friendly design. While the pricing aspect remains a mystery, the overall features and performance make it a vape worth considering for those seeking a satisfying and versatile disposable option.