Elux, one of the fastest-growing brand on the disposable vape market, has always kept humble. What sets it apart from the rest is the level of care they put into their product development and design. That explains why the Elux Legend and Elux Bar series have been widely sought after.
ELUX is also always on the road to renewal, not only for presenting a better product but attracting more loyal users as well as new ones to become ELUX disposable vape enthusiasts.
Next up for you is three of their newly launched products, all of which offer around 600 puffs. So what features will they impress us with? It's worth delving into.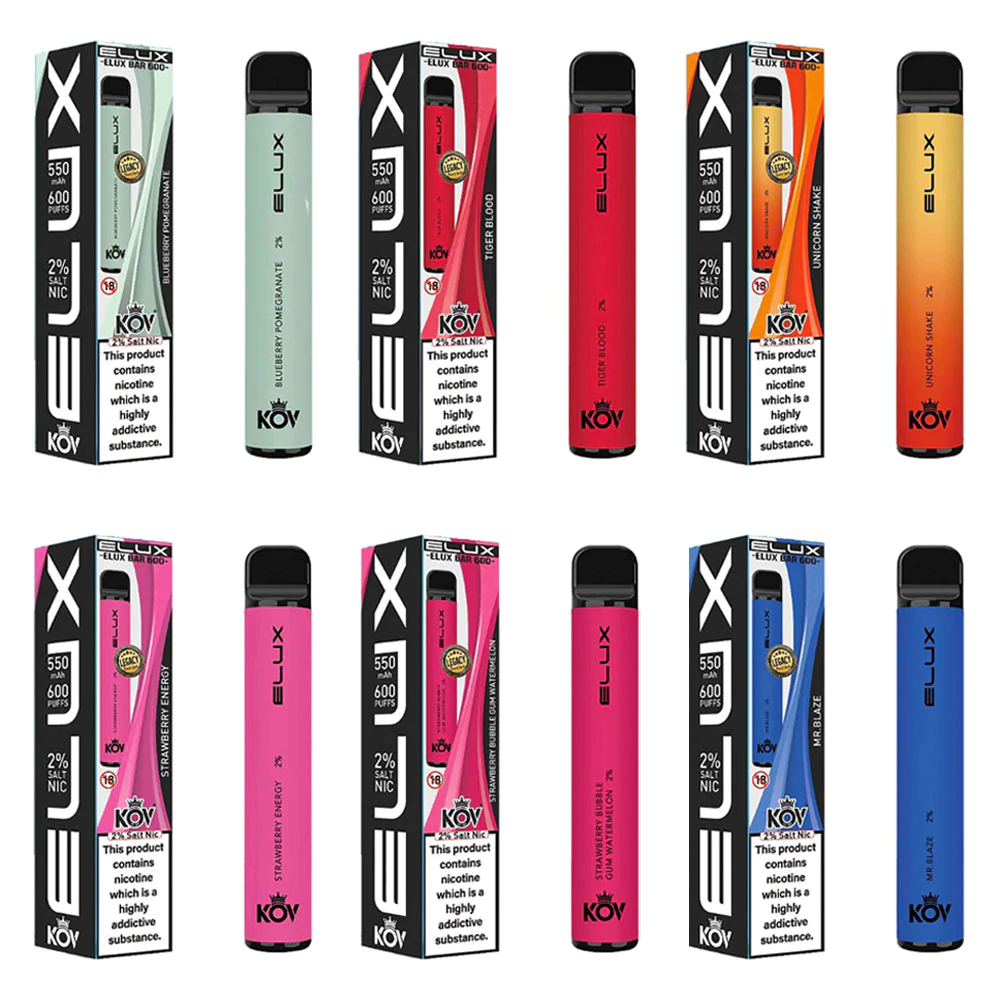 Elux KOV Bar Disposable is relatively simple and straightforward in appearance, and it is not a burden to carry in your hand or pocket.
The most convenient part is that there is no need for recharges and refills. Another important reason is the awesome taste provided.
We'll list a few of the most distinctive flavours of Elux KOV Bar.
Blueberry Blackberry Lemonade
Easy to see from the name that it is sweet and juicy blueberries plus blackberries with a tart lemonade note. The blend of flavours is just right, to say the least. If you are a fan of fruit flavours, then this one is not to be missed.
For candy flavours, I would like to introduce you to Grape Candy, which is actually grape-flavoured candy that you feel coming to your nose as you inhale through the mouthpiece. There is also a hint of sweetness that lingers on the tip of your tongue for a long time.
Strawberry Watermelon ICE
Strawberry Watermelon ICE is a brilliant mixture of fruit and ice, with the freshness of strawberries and the sweetness of watermelon, they work in perfect harmony and you will feel a slight chill on the spit. It's the perfect summer flavour, when you feel irritable or bored, vape till the end and it'll all go away.
Cola is also one of the more common drink flavours and you will feel particularly carbonated when inhaling with it.
Elux Slush Puff Disposable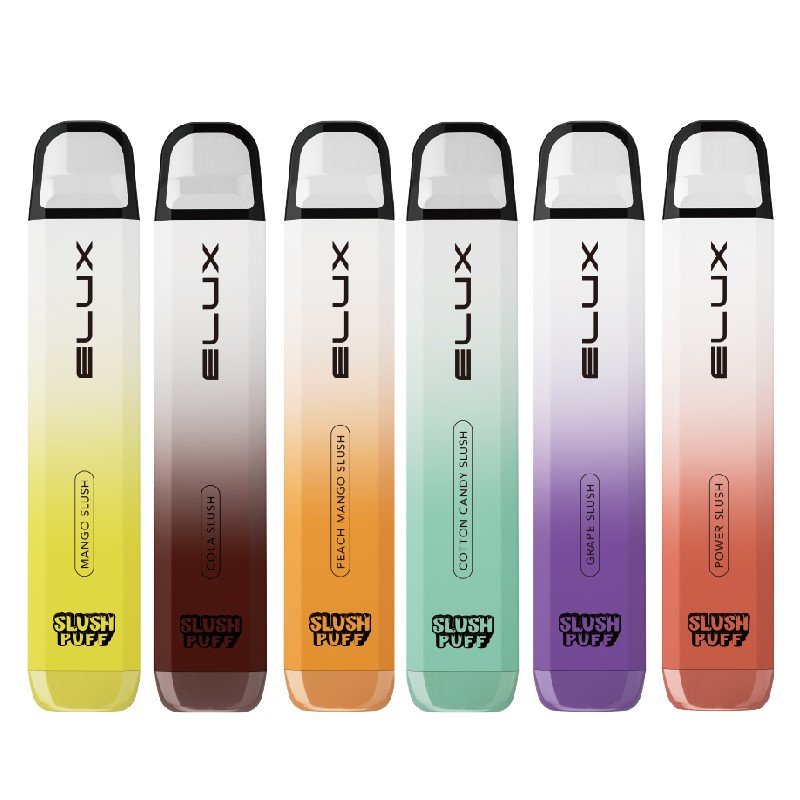 It's evident to see that Elux Slush Puff disposable vape focuses on packing tasty slushie flavors. Coming pre-filled with 2ml vape juice, powered by a 500mAh battery, this device lasts for around 600 hits on average. Up to now Elux Slush Puff has a total of 20 flavours available:
Blackcurrant Slush, Blue Bubble Slush, Blue Razz Slush, Blue Slush, Blue Sour Rass, Cherry Slush, Cola Slush, Cotton Candy Slush, Energy Slush, Fanta Slush, Frooty Slush, Grape Slush, Lush Slush, Mango Slush, Minty Slush, Peach Mango Slush, Pink Slush, Power Slush, Vimto Slush, Watermelon Slush

Blue Slush is a sweet and icy blend of blueberries and ice, with a very pleasant aftertaste. It clears your head instantly.
Peach Mango Slush starts with a rich, tangy mango flavour on the inhale, and then a hint of peach on the aftertaste in your mouth. I'm sure those who have purchased ELUX disposable cigarettes are no stranger to this flavour.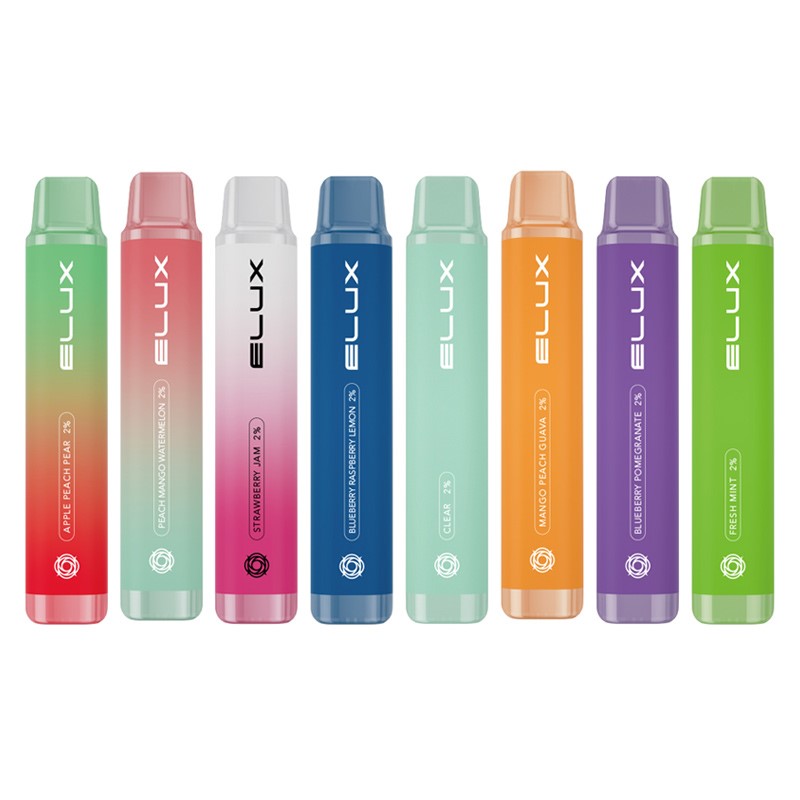 Elux Pro 600 also offers a dazzling array of flavours, with twenty five different choices that feature a tasty blend of fruits, menthol, desserts and beverage.
From the design and style, this Elux vape may also remind you of the popular ELUX Legend line-ups, but the two vary greatly in flavours available.
Elux Pro 600 Flavors:
Peach Mango Watermelon, Red Apple Ice, Cotton Candy, White Peach Razz, Tiger Blood, Peach Blueberry Candy, Mixed Berry, Passionfruit Orange Guava, Blueberry Pomegranate, Strawberry Ice Cream, Blueberry Sour Raspberry, Blueberry Raspberry Lemon, Cherry Peach Lemonade, Clear, Watermelon Ice, Blackcurrant Menthol, Icy Cola, Pink Lemonade, Sour Apple Ice, Strawberry Jam, Fresh Mint, Mango Peach Guava, Unicorn Shake, Apple Peach Pear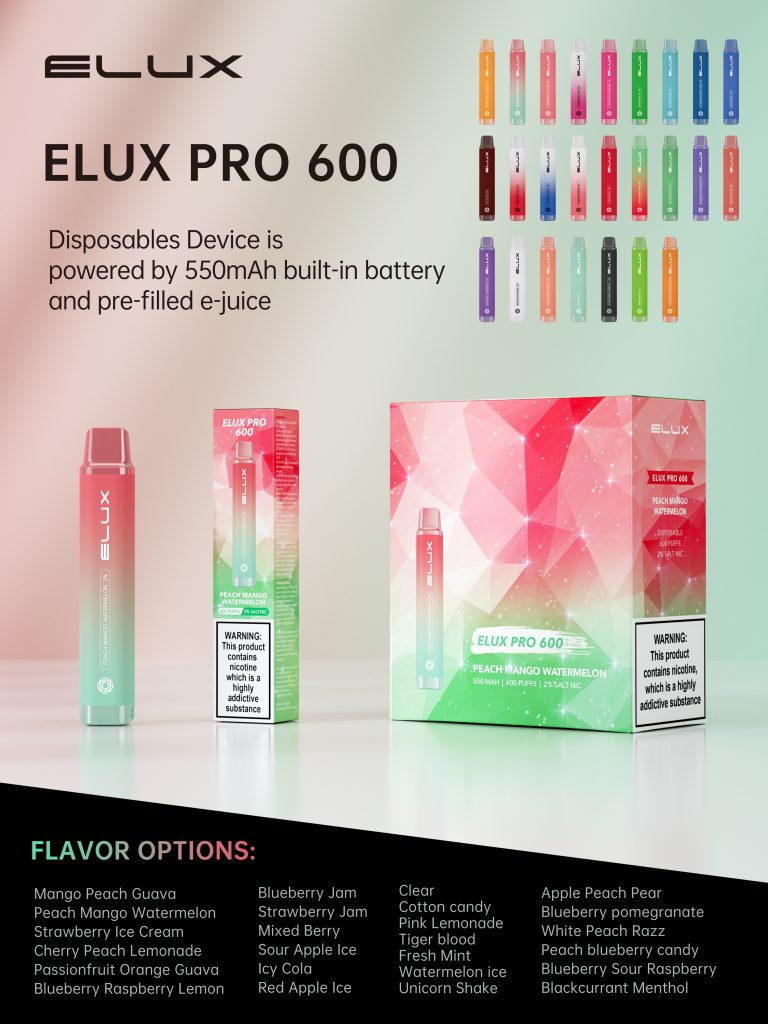 Apple Peach Pear is a blend of fruit flavours, infused with crisp apples and fragrant peach, paired with juicy pears, they can create the most enjoyable way to vape.
Cherry Peach Lemonade bursts with the sweet and sour taste of lemonade the moment you inhale, and the finish is accompanied by sweet cherries for a refreshing, non-greasy finish.
The Unicorn Shake is a rich, fruity milkshake flavour that is silky yet invigorating.
Final Thoughts on Elux Disposable Vapes
On the whole, each of Elux's disposable vapes exudes a unique charm and taste diversity in order to give the user more surprise and freshness. If you're fascinated by this simple and flavorful vaping device, try one or two first—it won't empty your pockets at all.
At vapesourcing.uk you can get these value-for-money products with the best discounts and the most pleasant customer service, grab your ideal product and go!