Vapeverse brings an affordable yet a quality experience for vape lovers with the hot-seller Eth Crystal Bling 6000 Puffs Disposable vape that is rechargeable. The Eth Bling 6000 comes with a pre-filled 14ml of 20mg nic salt e-liquid besides The 20 luscious flavors will enhance your experience like never before moreover It comes in handy even if you're on the go.
THE SPECIFICATIONS OF THE ETH CRYSTAL BLING 6000 DISPOSABLE VAPE
6000+ puffs
20 Luscious Flavors
20 mg Nicotine Strength
Rechargeable battery
Easy to carry & portable device
Trendy design with different color variations.
Pricing of Eth Crystal Bling 6000 single/ bundles.
The Eth crystal bling 6000 retails for 9.99£ Only.
a pack of two costs 17.99£, and a bundle of 5 costs 39.99£ And, as a Vapeverse exclusive, step up the vaping game with a bundle of 10 for as low as 69.99£.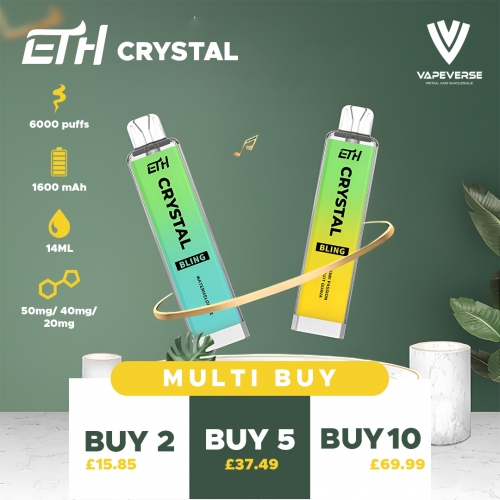 Let us get right into the hyped-up flavors of Eth Crystal Bling 6000 disposable vape.
The unique blends of our flavors gives the perfect amount of  juiciness you need in life. Get a greater range of 20 flavors at such cheaper rates than others.
The exciting flavors are as below:
BLUEBERRY CHERRY CRANBERRY
PINK LEMONADE
WILD BERRIES
BLUE SOUR RASPBERRY
WATERMELON ICE
CHERRY COLA
FIZZY CHERRY
LEMON & LIME
GRAPE APPLE REDBULL
MAD BLUE
GUMMY BEAR
BLUE RASPBERRY
SWEET MINT
STRAWBERRY RASPBERRY ICE
ORANGE BLUEBERRY
KIWI PASSION FRUIT GUAVA
SKITTLES
COLA LIME
BLACKCURRANT STRAWBERRY
Eth Crystal Bling 6000 is an experience one can always remember
However, Vapeverse is all about providing the unstoppable vaping experience this 6000 puffs disposable vape is surely a gem in all the collections of disposable vapes with their huge puff count. It's not an ordinary choice for vaping as the other disposable vapes in town have lesser puffs that make your vaping experience unsatisfied. The Eth Crystal Bling 6000 provides the best vaping journey of all time.
Eth Crystal Bling Gives The Ultimate Hit
With a strength of 20mg nic salt e-liquid, The ETH Crystal Bling disposable vape delivers the right nicotine hit to keep your craving satisfied. The 14 ml of e-liquid capacity provides plenty of juice, which is enough for several vaping sessions
PERKS OF DISPOSABLE VAPES
They are beginner friendly as they require absolutely no maintenance, no need for changing tanks, and coils or even endure the hassle of refilling the E-liquids again and again. The device has no buttons that's why it is extremely easy to use. The vast variety of 20 flavors ensures that it fits into the group of different preferences of different occasions and moods. The pre-filled E-liquid avoid any of the hard work. It is the right choice for people who loves doing cloudy tricks. You'll get the fluffiest clouds with a luscious juicy taste.
The Eth Crystal Bling 6000 offers a rechargeable battery / comes in handy.
The Eth Crystal Bling is a rechargeable device that gives the user to avoid any flavor from going to waste apart from this The light-weighted sleek design with different colors makes you keep up with the trends. The portable easy-to-carry device fits in your pocket.
VAPEVERSE HAS A STRONG COMMITMENT.
Vapeverse builds relationships of trust, so you can be sure you're getting authentic products that meet the highest standards of quality and safety because Indeed we're committed to authenticity Unlike Others, We believe that everyone deserves the greatest vaping experience without costing you an arm and a leg. Vapeverse introduces the cheapest rates as compared to the other competitors.
SO WHAT ARE YOU WAITING FOR? UNLOCK THE FLUFFIEST EXPERIENCE BY GETTING YOUR HANDS ON THE HYPED-UP ETH CRYSTAL BLING 6000 PUFFS DISPOSABLE VAPE NOW!!!
Let's get into the section of most frequently asked questions about the ETH crystal bling disposable vape
FAQS
Q-1: IS ETH CRYSTAL BLING 6000 THE RIGHT CHOICE FOR A BEGINNER?
A: The ETH crystal bling has 20 exciting flavors for every tastebud although beginner has a variety to choose from. It requires no maintenance which gives a hassle-free experience which is perfect and beginners-friendly.
Q-2: WHY IS Eth Crystal Bling 6000  SO POPULAR?
A: When it comes to disposable vapes with more puffs, this device is rechargeable and gives an approximate amount of 6000+ puffs which makes it unique. The market-beating price attracts buyers.
Q3: IS ETH CRYSTAL BLING DIFFICULT TO USE?
A: SURELY A BIG NO! The Eth Crystal crystal bling is undoubtedly an easy-to-use device Thanks to its suction mechanism, you only need to inhale to start pumping However There are no buttons or settings to adjust, once the device runs out of juice then you can discard it.