If you're into disposable vapes, you might have heard of VECEE. VECEE is known for its simplicity and beginner-friendly vape devices and constantly releases new products into the market. In addition, the company recently launched another new and innovative vape device named VECEE FINO.
The VECEE FINO is one of the new-generation vapes from VECEE. It has an attractive and sparkling body design and excellent features and specifications. In addition, FINO has delicious flavor blends that any new or advanced vaper will enjoy.
VECEE FINO is affordable and has enough e-juice to deliver strong hits. Moreover, each FINO has an inbuilt 500 mAH battery that's easily rechargeable. Below is a preview of its main features, specifications, and flavor ranges.
Preview
Like most of its newly released products, VECEE delivers quality and a flavorful imagination with VECEE FINO. It has a 2ml e-liquid, less than the 5ml of VECEE MAZE. However, vapers can still get enough throat hits as this vape device delivers up to 800 puffs.
Under the bottle, there is a top-notch vertical mesh coil that increases the effect of the puffs. Also, vertical mesh coils have a larger surface area and give better wick-to-wire contact, which produces bigger clouds and better flavor delivery. This makes FINO ideal for vapers who like tricks.
When it comes to power, this vape device does not disappoint. It also has a lasting rechargeable battery of up to 500 mAh that you can easily recharge using a USB Type-C charging interface.
Regarding design, we love the compact shape of the VECEE FINO. It is a slender and portable vaporizer that you can easily carry around, unlike other vaping devices that are more suitable for use at home. Moreover, VECEE promises that despite FINO's ultra-slim body, it strikes a perfect balance between dimension and unparalleled performance.
The VECEE FINO also uses convection heating which means the e-juice is heated by the hot air that passes through the device. Convection heating produces thicker clouds, unlike conduction heating, which gives you better flavors.
Like other VECEE vape devices, FINO has ten (10) delectable range of flavors, from Juicy Peach Ice to Mystery Bubblegum. These flavors combine fruity and earthy tastes that will take you into a savory world. So there is something for everyone, regardless of preference. Also, each vaping device is color-coded to match the flavor it contains.
The VECEE FINO is entirely TPD Compliant. This means it follows the Tobacco Products Directive for selling and manufacturing e-cigarettes and e-liquids for the European market. Ultimately, although you get fewer puffs than VECEE MAZE and VECEE GALA, FINO is a great product that delivers quality and enhances the vaping experience.
Specs
E-liquid Capacity: 2ml
Battery: 500 mAh
Puff Counts: Up to 800 puffs
Flavors: 10
Nicotine Strength: 2%/20mg
Coil Type: Vertical mesh coil
Charging: USB Type C 5V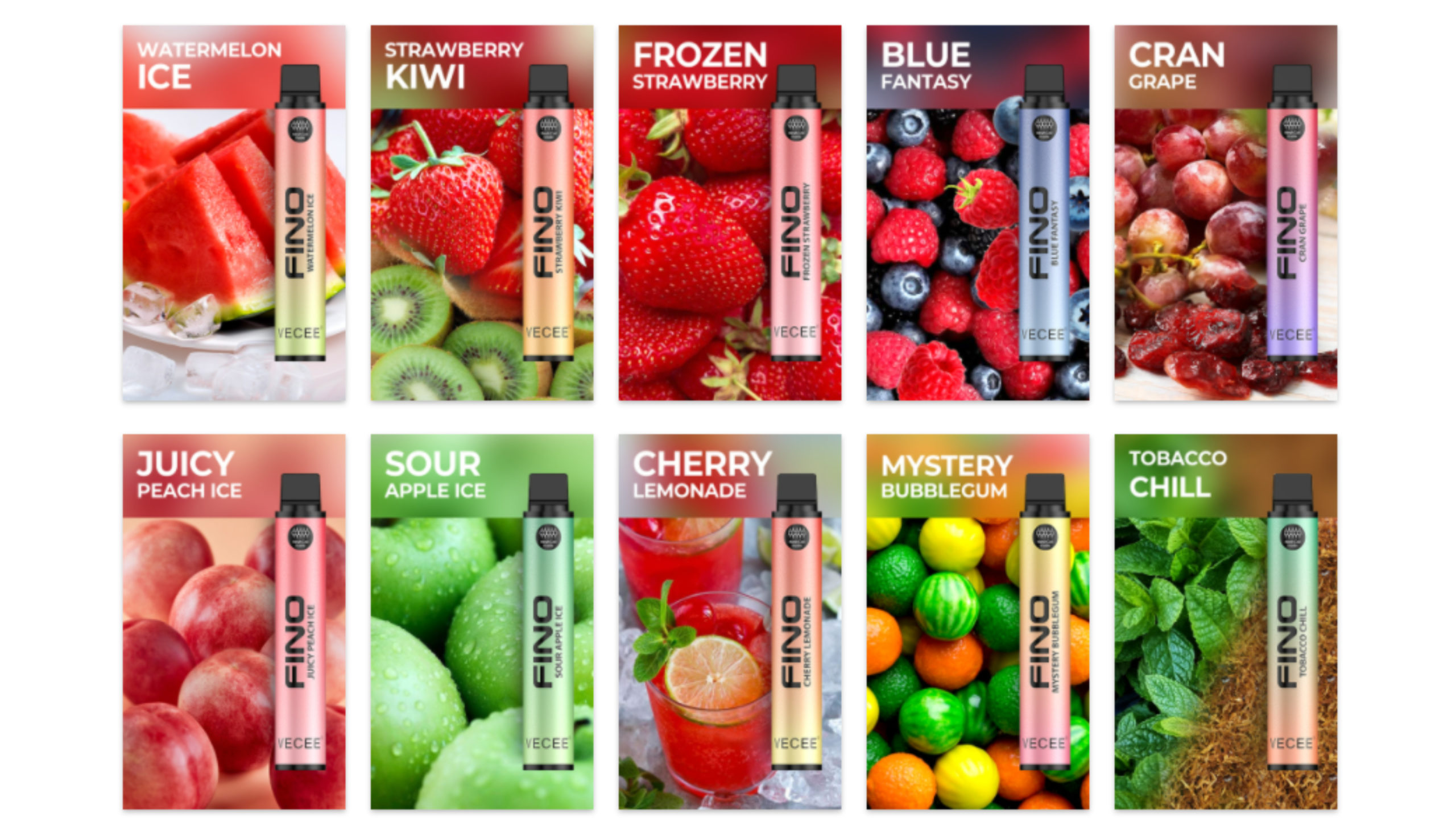 The VECEE FINO offers ten distinctive and unique flavors that are both sweet and sour. The flavors include:
Tobacco Chill
Cherry Lemonade
Watermelon Ice
Strawberry Kiwi
Froze Strawberry
Cran Grape
Blue Fantasy
Juicy Peach Ice
Sour Apple Ice
Mystery Bubble Gum
A delightful surprise awaits you with these flavors, and the sweetness and sourness offer a vaping experience like no other.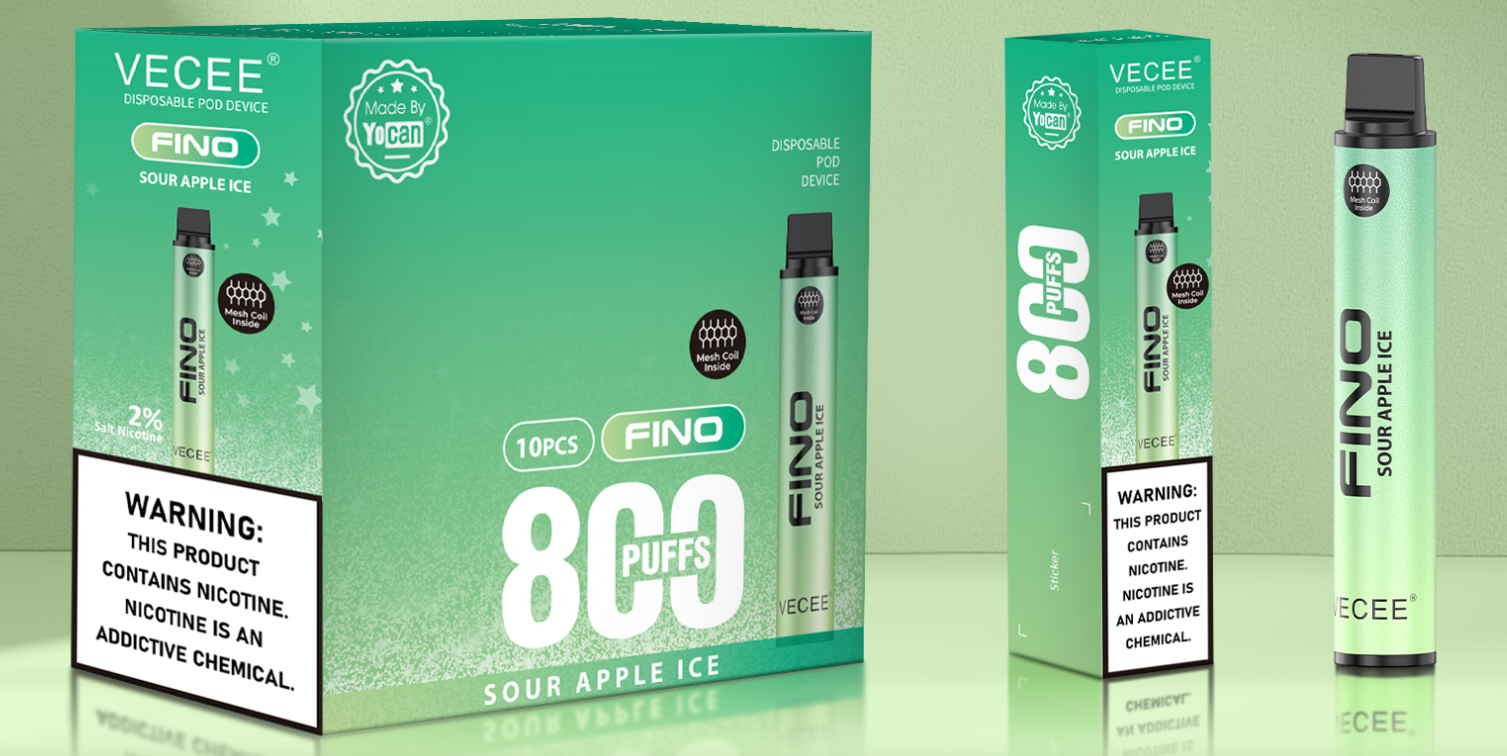 ● The VECEE FINO Disposable Pod
● User manual
● 2ml e-juice
Final Verdict
The VECEE FINO vape device is convenient and ready to use. In addition, its portable exterior design makes it easy to carry, and you can take more than one with you. Overall, it is a great vape device that'll offer vapers an unparalleled performance at all times.