Voopoo just added a new member to its Argus family, the Voopoo Argus Pod kit with 20W max power. If you've been following Voopoo for a while, you might know the Argus series has covered 3 pod mods, 2 box mods and a pod system Argus Air, which came out two years ago. This new launch can be viewed as an effort to extend this series' product range, or also a move to further set foot in the fairly lucrative pod system market. Let's check out what's different in the Voopoo Argus Pod!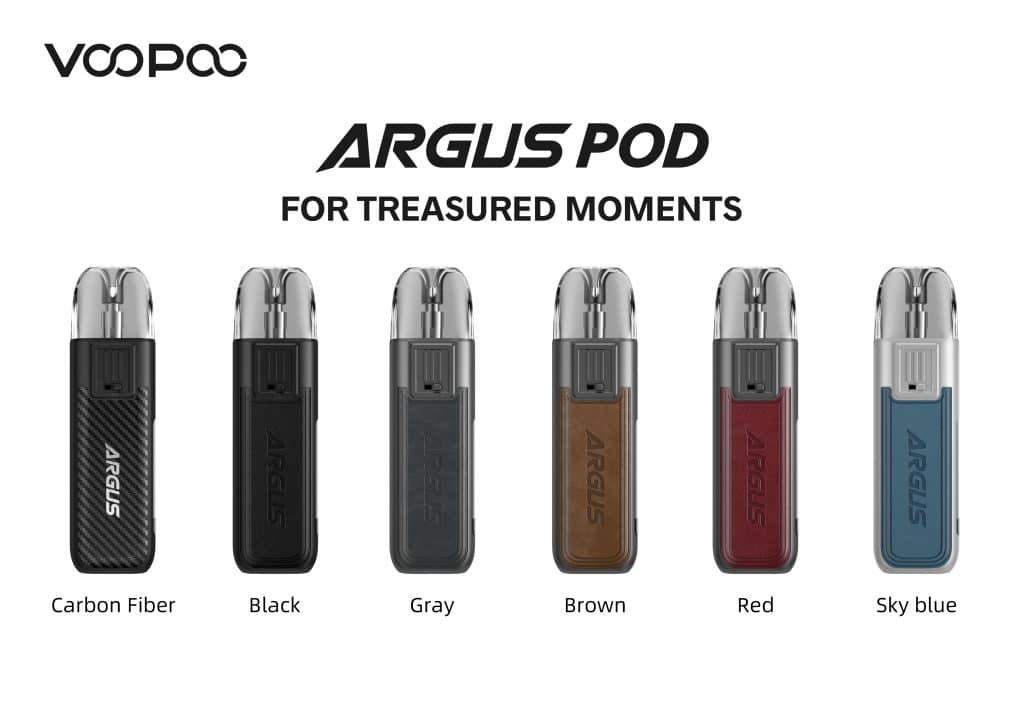 Quick Look
VOOPOO Argus Pod is a 20W pod system powered by 800mAh built-in battery. It comes with a 2ml top-fill pod cartridge, with 0.7Ω and 1.2Ω coils in the kit to choose from. Like the original Argus Air pod system, the new model offers two levels of air amount as well, to satisfy both MTL and DTL vaping styles. Of course, that means less customization compared to those fully-adjustable AFC systems. While the good part is Argus Pod simplifies the way you adjust the air allowed in—just by sliding a toggle. The previous Argus Air needs users to turn the cartridge 180 degrees.
Argus Pod also furthers the ergonomics of its mouthpiece. The updated one is flatter, and more smoothly curved than any other mouthpieces we've seen. Not sure whether it will actually fit better with our lips, but it's worth a try.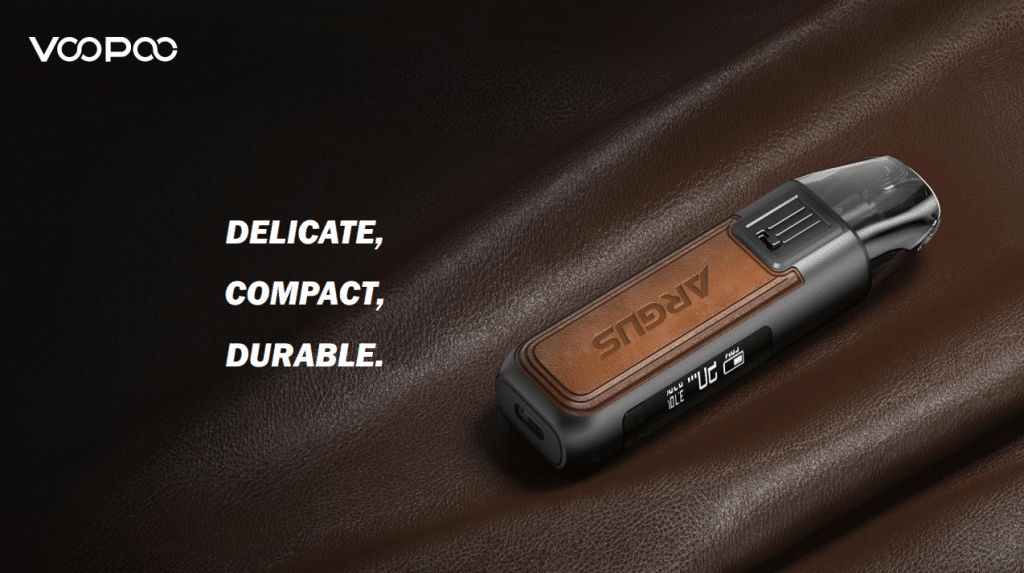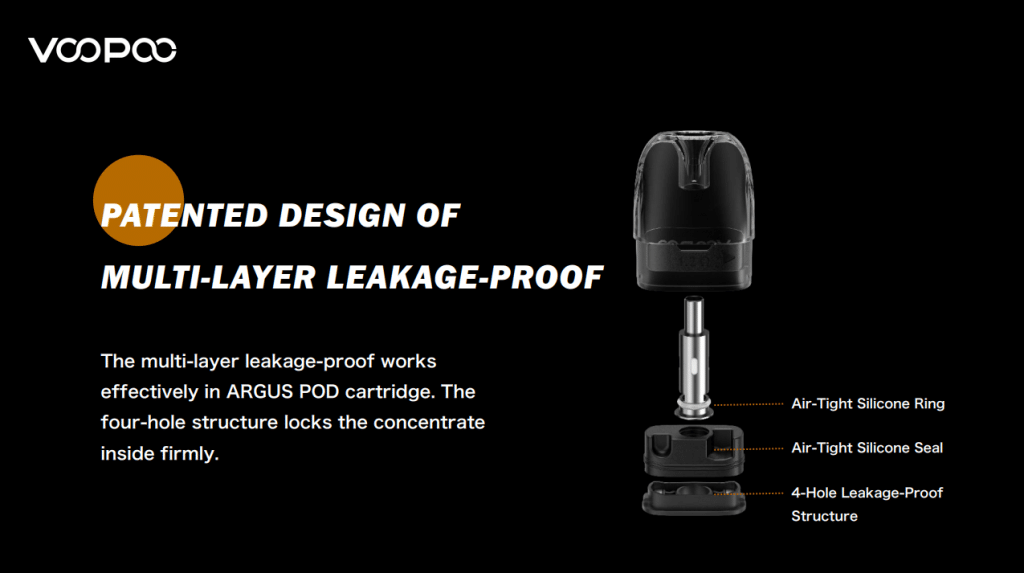 Although it's merely a pod system, Argus Pod is outfitted with a 0.69'' inch LED screen, which rests on its slender side face. It's not the first pod vape on the market featuring a display screen, let's say the SMOK NOVO 4. But as for completely free power adjustment? That's really rare among recent pod systems, and VOOPOO Argus Pod makes it. You'll see two adjustment buttons lying right below its screen, to support a true VW mode ranging from 5-20W. Besides, Argus Pod also has some other user-friendly features, such as puff counter and child lock.
Voopoo also mentioned they improved their leak-proof ability in the Argus Pod through a newly self-patented design. In a nutshell, they build four layers of shells around soaked-up coil to eliminate leaking issues. But does it really work? We'll see in our future reviews.
Specs
Capacity: 2.0ml
Material: PCTG
Resistance: 0.7Ω/1.2Ω
Recommended E-liquid: Nicotine≤50mg
Name: ARGUS POD
Material: Zinc Alloy + Leather/PC
Output Power: 5-20W
Output Voltage: 3.2-4.2V
Resistance: 0.5-3.0Ω
Battery Capacity: 800mAh Built-in Battery
What's in the Box? (Standard Ver.)
Argus Pod * 1
Argus Pod Cartridge 0.7ohm * 1
Argus Pod Cartridge 1.2ohm * 1
User Manual * 1
Type-C Cable * 1
Price and When You Can Get It?
Voopoo Argus Pod MSRP: $33.99
Voopoo Argus empty pod cartridge MSRP: $5.17
It's estimated the kit will come available in mainstream online e-cig stores on around June 6th. Pre-order is already open in some of them. Don't miss out on our hand-picked vape coupons for this Voopoo Argus Pod kit if you have interests.