Disposable vapes have become increasingly popular, so the quality of your vaping experience is bound to change. Today, our spotlight rests on the impressive Vaal Glaz 6500 rechargeable disposable vape. The Vaal brand is relatively new in the vape scene, yet it has become a worthy competitor with its closed-system pod vapes and disposables. From its impressive collection comes the Vaal Glaz 6500.
Retailing at $19.99, this rechargeable disposable vape features a vibrant, graffiti art design and is power packed with a 650 mAh internal rechargeable battery and 13ml e-juice capacity. Are you looking to get your hands on the Vaal Glaz 6500 disposable vape? This preview covers all you need to know about it.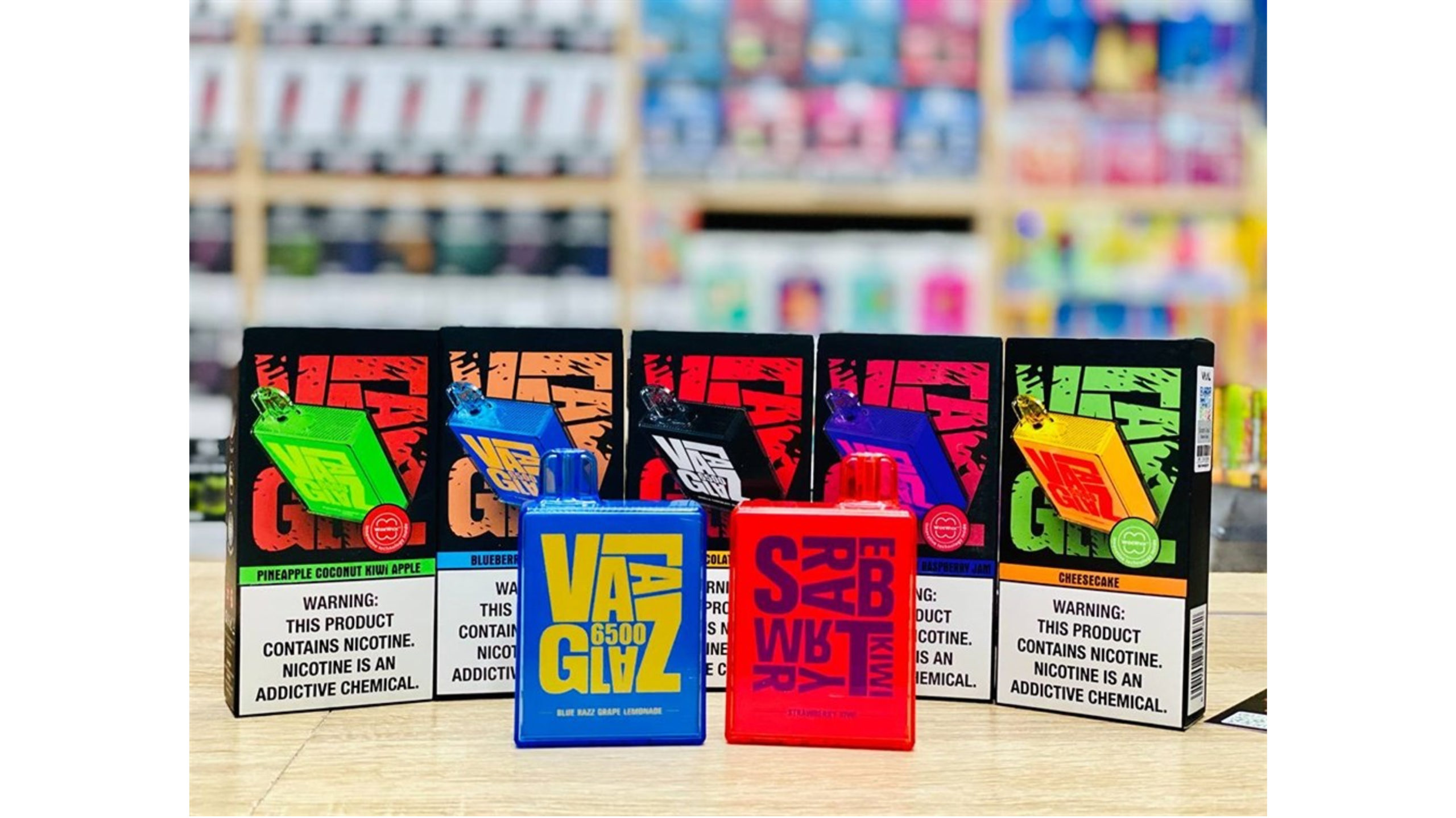 Vaal Glaz 6500 has an exquisite design and appearance. It is box-shaped and made of translucent polycarbonate plastic, which gives it a lightweight feel and some durability. Measuring 78mm in height, 51mm in width, and 19mm in depth, this small disposable vape also features a funky graffiti art design that makes it unique.
Each Vaal Glaz 6500 is color coded to match the flavor inside, and the flavor's name is printed in bold font. The colors of the device are bright and eye-catching. Besides that, it doesn't have much else in its appearance. Additionally, it has a comfortable contoured mouthpiece that fits perfectly in your mouth.
For its compact and featherweight feel, it's impressive the amount of e-juice Vaal Glaz 6500 contains. Packed with 13ml flavored e-juice capacity and 5% nicotine strength, you will have a mouthful cloud experience with satisfying throat kicks. It is rich with 29 mouth-watering unique flavors that will satiate your palate. From mint, double apple, and forest berry pine menthol to red wine, you will find one that suits you.
To further please your tastebuds, the device is equipped with an internal 1.2ohm mesh coil to increase the flavor intensity from start to finish. There are no complicated settings, as it is an auto-draw device. Puff on the mouthpiece to activate the coil. So if you are new to or prefer hassle-free vaping, this is your go-to choice.
Vaal Glaz 6500 uses wick technology, and it has an impressive 650 mAh rechargeable battery that can last days between charges. Below the device are a Type-C USB charging port, an LED light, and a hole to provide airflow to the coil. You will recharge it a few times till you consume all the liquid inside.
Furthermore, Vaal Glaz 6500 offers a clean mouth-to-lung (MTL) experience with up to 6500 puffs. On the downside, the placement of the airflow hole can cause your e-juice to leak. This can also affect the airflow and auto-draw response, but besides that, it is a worthy buy.
Specs
Dimension: 51mm x 19mm x 78mm
E-Liquid Capacity: 13ml
Battery: 650mAh
Puff Counts:6500 puffs
Nicotine Salt Strength: 5% (50mg), 2% (20mg)
Charging:USB-C (DC 5V/0.5A)
Coil: 1.2ohm (mesh)
Firing Mechanism:Draw Activated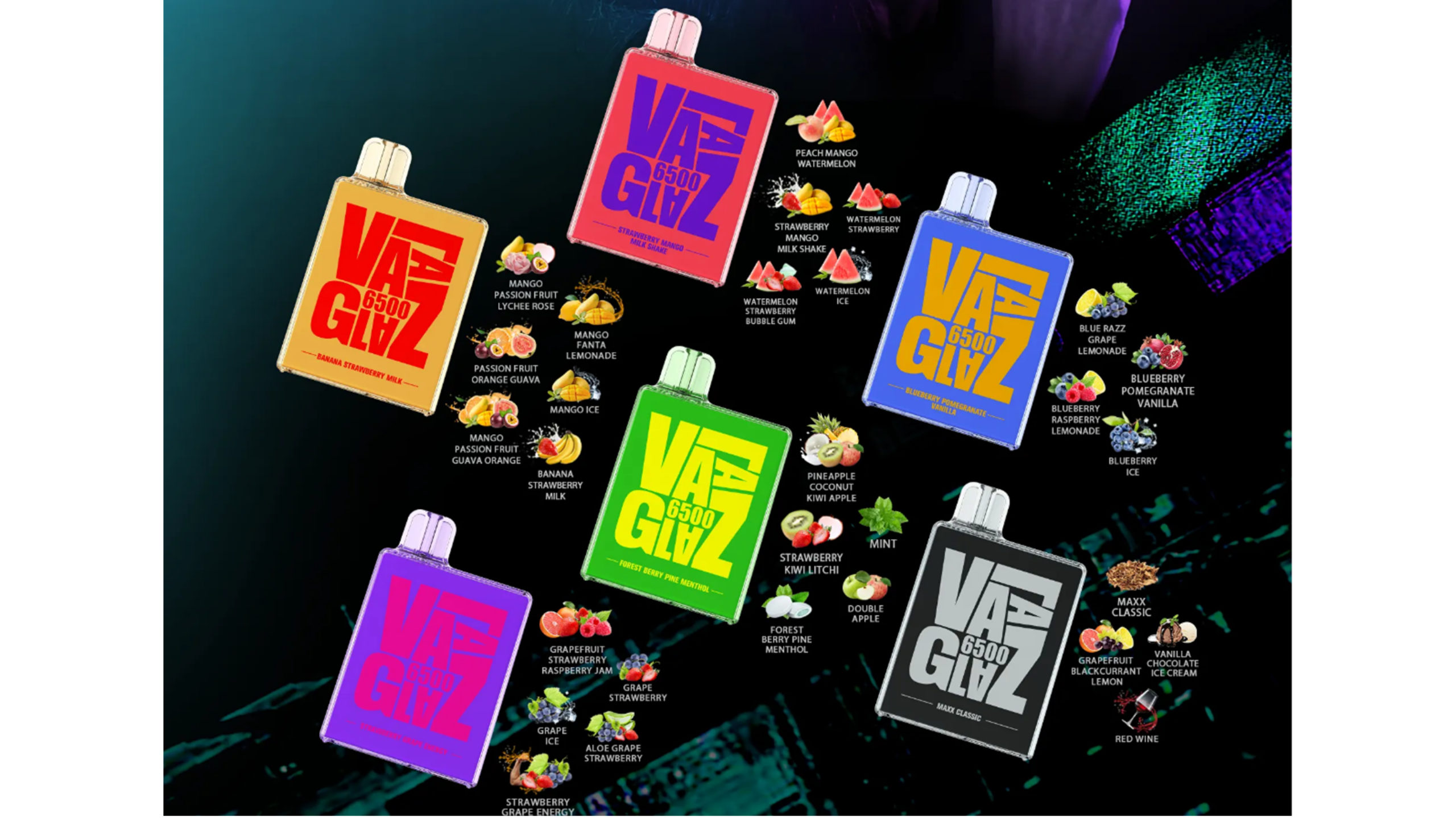 Some of the available flavors are:
Blue Razz Grape Lemonade
Grapefruit Strawberry Raspberry Jam
Mango Fanta Lemonade,
Peach Mango Watermelon
Pineapple Coconut Kiwi Apple
Strawberry Kiwi Litchi
Vanilla Chocolate Ice Cream
Mango Passion Fruit Lychee Rose
Passion Fruit Orange Guava, Mango Ice
Banana Strawberry Milk
Mango Passion Fruit Guava Orange
Strawberry Mango Milkshake
What's in the Kit?
1 x Vaal Glaz 6500 Disposable Pod
Final Verdict
The Vaal Glaz is an excellent option for a disposable vape. So, if you are looking for a disposable vape with excellent vapor production, crisp flavor delivery, and a fair price, then we recommend the Vaal Glaz 6500.