The MAZE is a VECEE pod vape designed in a symmetrical box style. The VECEE MAZE is equipped with a mesh coil, 5% nicotine salt strength, and ten incredible flavors to choose from. Again, similar to the VECEE LUKE, the VECEE MAZE holds a substantial load of juice at 10 mL and 500mAh battery to give you a long-lasting vaping experience with up to 6000 puffs.
If you are a lover of pre-filled pod vapes with unique flavors and strong nicotine strength, you can trust VECEE to provide you with different options. VECEE keeps bringing unique and different collections of devices with exciting fruit-flavored blends. The latest VECEE MAZE is uniquely designed to give you an adventurous vaping experience.
VECEE is taking advantage of being a startup and building a strong portfolio with a collection of appealing and incredible fruit-flavored disposable vapes. In addition, VECEE has also increased the vape count in this new addition, providing more vape puffs than what is obtainable in VECEE LUKE, VECEE PICCO, and VECEE AREX.
The latest VECEE MAZE also incorporates an exceptional and strong magnetic connection that ensures a flexible combination with different colors to choose from and enjoy savory puffs.
Let's see if the VECEE MAZE has exciting features compared to its predecessors.
Preview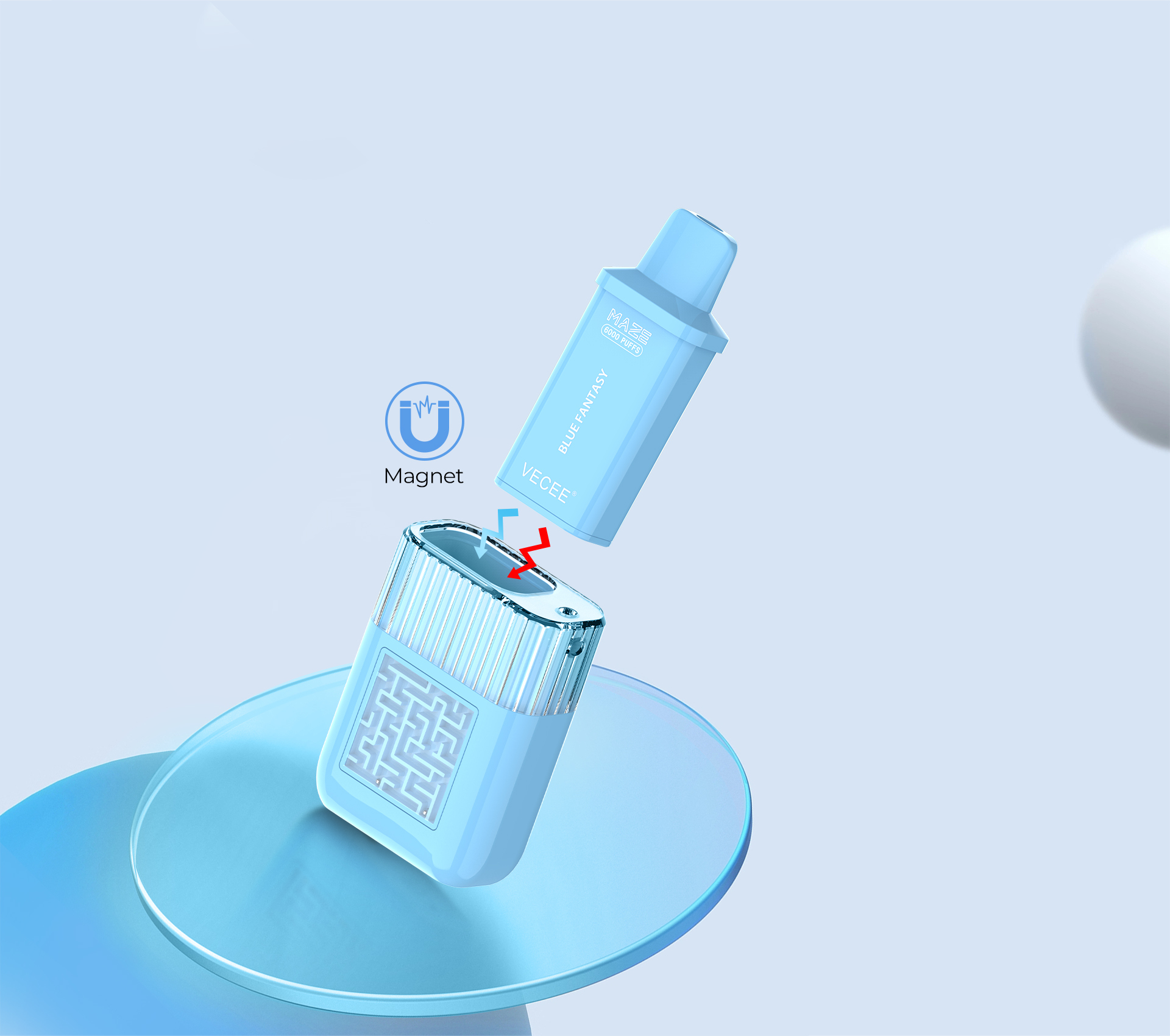 The VECEE MAZE is described as being compact, palm friendly, and extremely cute. All these are true facts. The pre-filled pod vape is designed to give a nice hand feels and maximum with its smoothed edges and finish. The VECEE MAZE design is symmetric, just like the VECEE LUKE, as they both have their mouthpiece on the top of the vape case.
The VECEE MAZE is a square-shaped vaping device with smooth ends looking a lot like other higher-end pod vapes in the market. However, it is like a thick, short device with a tank prefilled with 10ml of e-liquid connected to the battery. The Type-C port is located just at the bottom of the device, and the shape of the device makes it possible for a 10 ml e-liquid capacity.
VECEE MAZE is designed and improved for a better vaping experience and functionality. The device is not as slim as the VECEE LUKE OR AREX but is a stylish and exceptionally crafted disposable vape with 10ml vape juice. VECEE MAZE has a flexible combination of enjoyable flavors and 5% nicotine strength.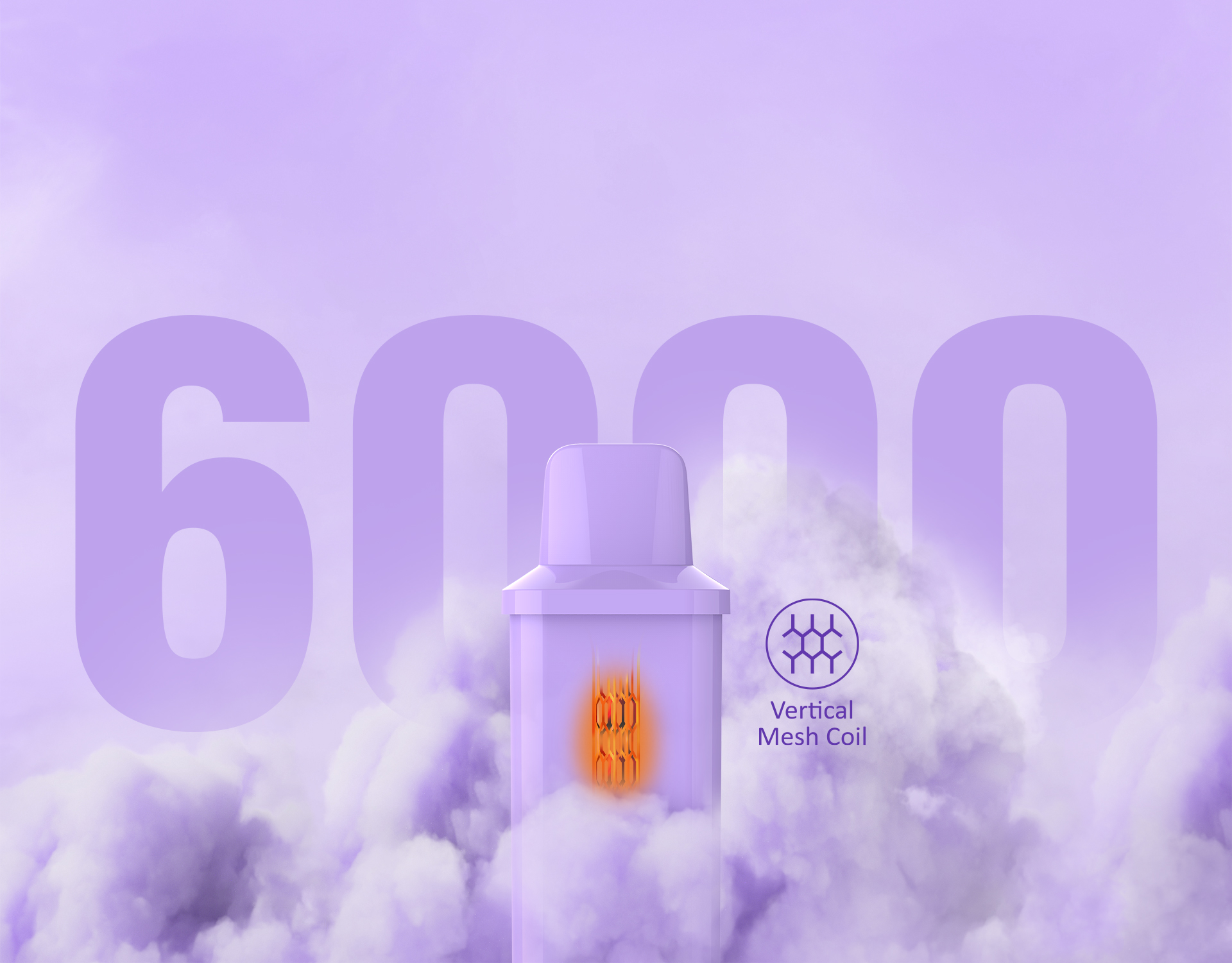 What sets VECEE MAZE from other VECEE offerings is its capability of providing up to 6000 savory puffs. As a result of these incredible features, VECEE MAZE disposable vape is the perfect option for vape lovers to enjoy different fruity flavors in a convenient, portable, long-lasting, and easy-to-use device.
It is very portable, and despite the relatively big battery, it still fits very comfortably in the palm of your hand and will slip easily into your pocket or bag. It is also very comfortable to use as the design makes it natural to hold, and the mouthpiece is designed such that your lips sit comfortably as you vape.
Advanced Vertical Mesh Coils
These incredible features don't end here.
VECEE MAZE also has a vertical mesh coil, giving it better wick-to-wire contact and a more significant surface area. In addition, the devices also have an advanced juice-locking system, so you don't have to worry about your vape juice leaking, and your e-liquid always stays fresh.
With the innovative juice-locking system and the vertical mesh coil partnering together, vape lovers get to enjoy all the greatness of vape juice. Although the VECEE MAZE is quite creative compared to other VECEE disposable vapes, the flavor blend is another exciting appeal you can experience as there are different and vibrant fruit mixes.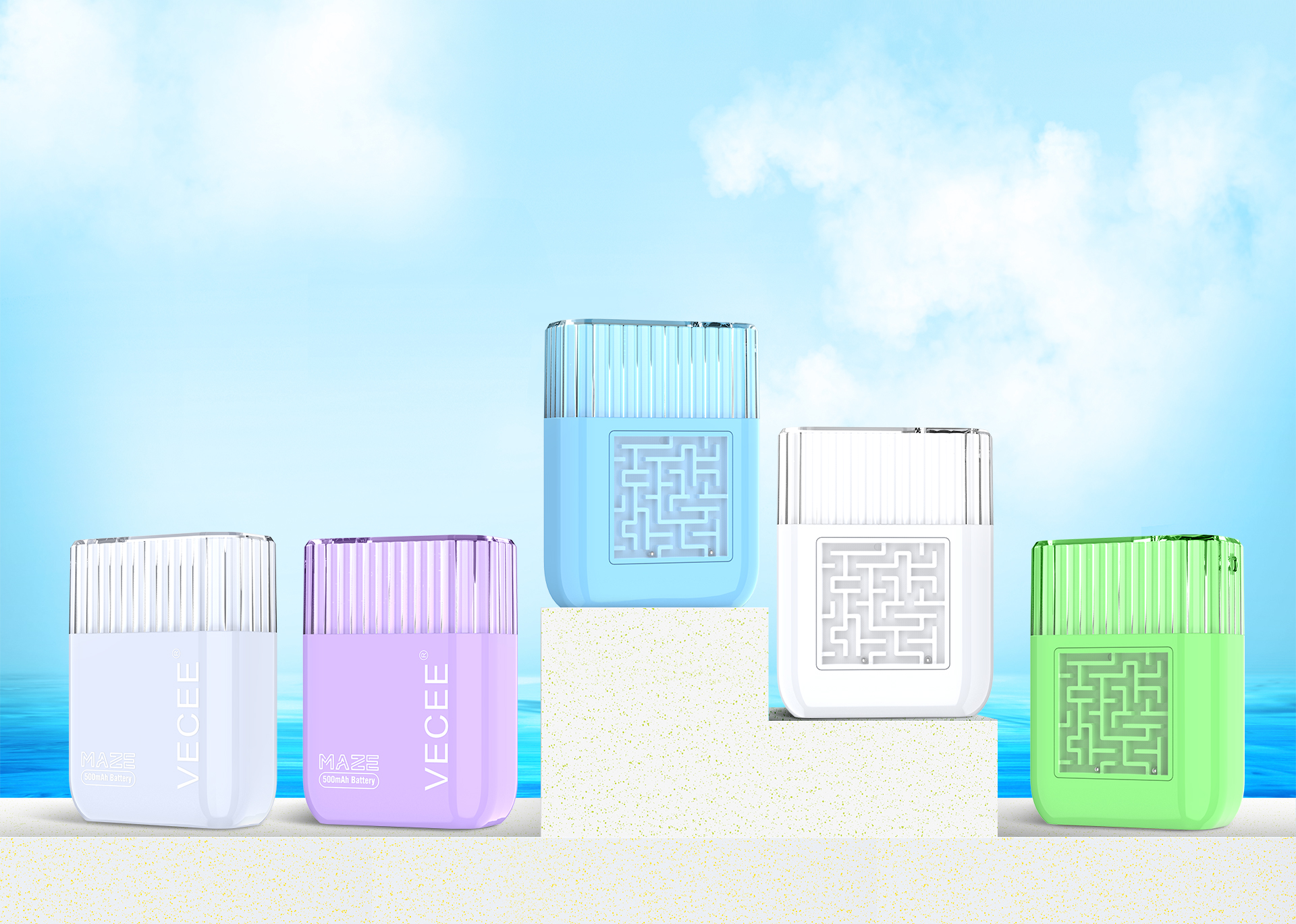 Although the VECEE AREX offers the same 6000 puffs as the VECEE MAZE, VECEE AREX has a smaller battery capacity compared to VECEE MAZE. In addition, the device is wider compared to other VECEE devices, but it doesn't make it any less pocketable.
That being said, the colors of the disposable vape are beautiful, captivating, and unique. The VECEE MAZE comes in five different captivating colors, and the design is glossy, adding a subtle contrast in texture. The design quality is well executed, the flavors are incredibly satisfying, and the vape juice gives a long-lasting savory puff.
Overall, the VECEE MAZE looks pretty attractive and perfectly represents the brand's motto.
Specs
E-liquid capacity: 10ml
Battery capacity: 500 mAH
Puff counts: up to 6000
Strength: 5% nicotine
Coil type: Vertical mesh coil
Charging: Type C
Colors available: Green, Blue, White, Metallic grey, Purple
Flavors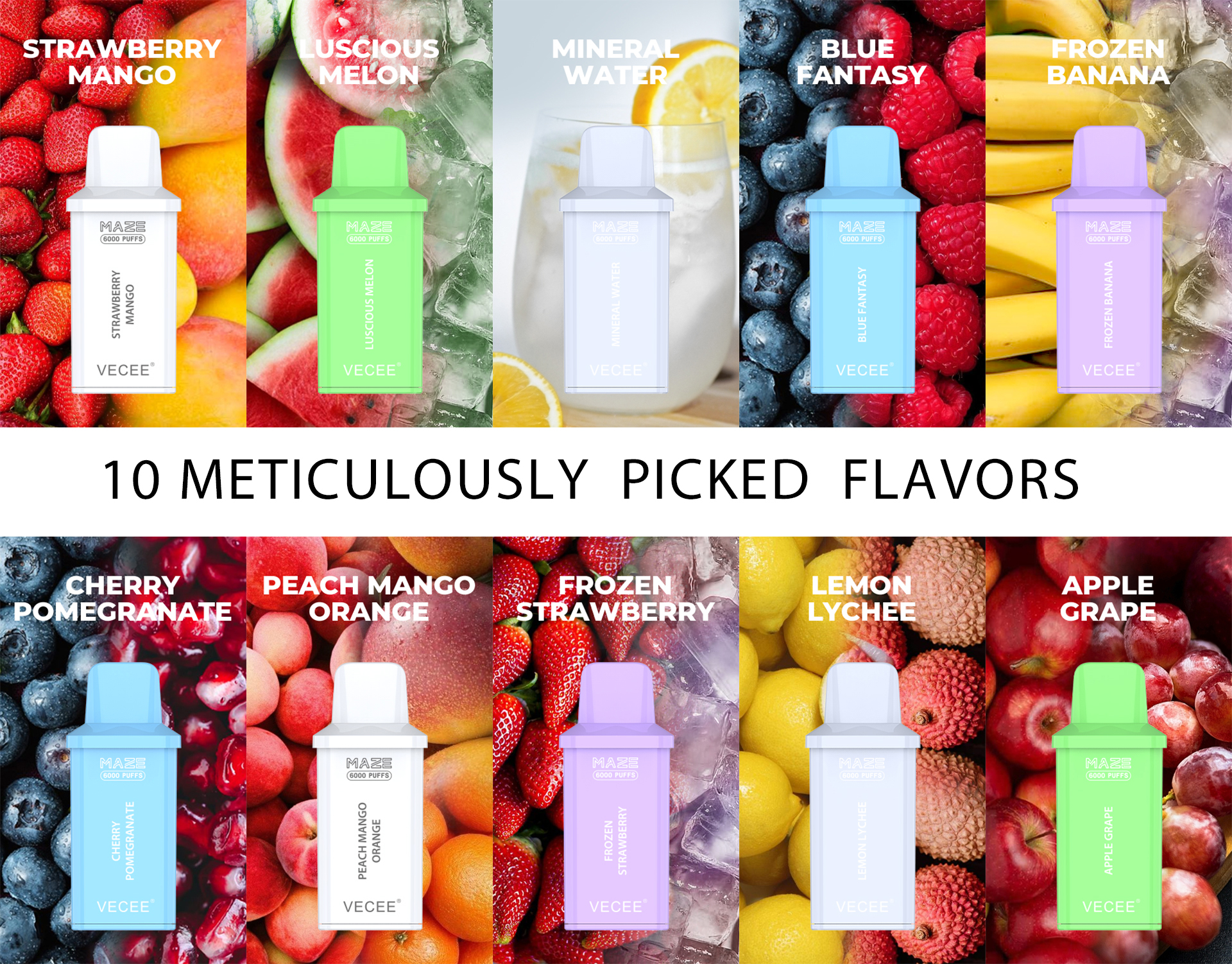 VECEE MAZE flavors are good and give the best experience in disposable vapes. To a large extent, the flavors are a mixture of fruits and are natural tasting, without any off tastes. Some VECEE MAZE flavors have a cooling sensation to ensure you have the best vaping experience, but none are very icy to cause a brain freeze.
VECEE MAZE has ten meticulously incredible and tasty flavors to choose from, and they include the following;
Blue Fantasy
Strawberry Mango
Apple Grape
Frozen Strawberry
Lemon Lychee
Cherry Pomegranate
Peach Mango Orange
Luscious Melon
Frozen Banana
Mineral Water
However, it's always best to go with your gut when choosing the flavor. These ten flavors are incredible and will take your vaping experience to the next level.

What's in the Kit?
VECEE disposable pod
10ml vape juice
User manual
Final Verdict
The VECEE MAZE is an excellent vaping device, whether you are new to vaping or being in the system for a while. It is quite easy to use, the long-lasting battery allows you to vape for a long time, and the coils are well-designed. The design of the vaping device is simple but quite effective. It's in line with other vaping options, yet still has a few innovations, such as the vertical mesh core, battery capacity, and appealing flavors and colors to set it apart from other vaping devices.