The Aroma King brand was first launched in 2019, and since then it has become known for its range of disposable vaping devices which are well-designed and quality manufactured.
Aroma King Classic, the first-gen product delivered by the brand, are created to be practical, user-friendly, affordable and, above all, great tasting. It's pre-filled with 2ml vape juice and can last for approximately 600 hits.
Could the Aroma King 600 live up to expectations? Our expert team decided to give this 600 puff non-rechargeable compact gadget a try to find out whether or not it's worth buying, so that you don't have to waste any money. Let's kick-start!
Aroma King Flavors
Aroma King has pulled out all the stops when it comes to flavor choices, and there are almost 30 different options for you to choose from, including some of the most popular fruit and beverage inspired flavors meaning there's something for everybody in the product range.
A full list of the available Aroma King flavors is below:
Banana Ice

Berry Peach

Blue Razz Cherry

Blue Sour Raspberry

Blueberry Bubblegum

Blueberry Ice

Blueberry Pomegranate

Cherry Ice

Cola

Cool Mango

Energy Drink

Grape Energy

Grape Ice

Green Apple
Hawaii Pog
Ice Skittles
Lychee Ice
Mango Apple Pear
Mixed Berry
Monster
Peach Ice
Pink Lemonade
Strawberry Guava
Strawberry Ice
Strawberry Ice Cream
Unicorn Shake
Watermelon Ice
Let's take a closer look at some of the mouth-watering flavors by Aroma King: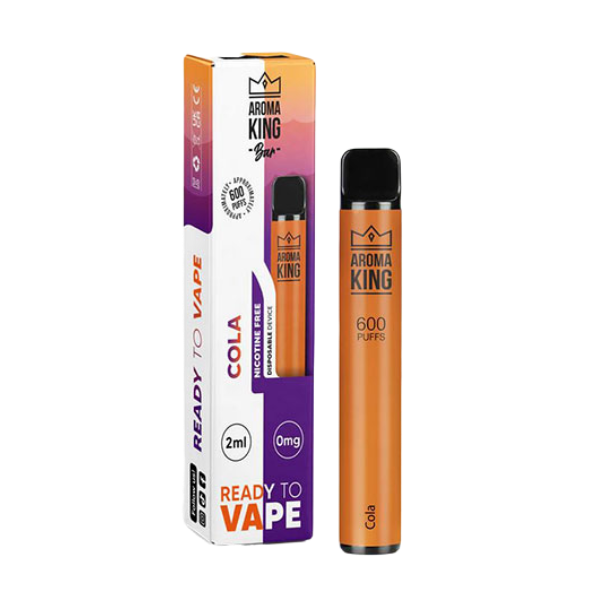 This beverage-inspired classic is an old-school staple from the early days of vaping with an authentic flavor that is both refreshing and thirst-quenching.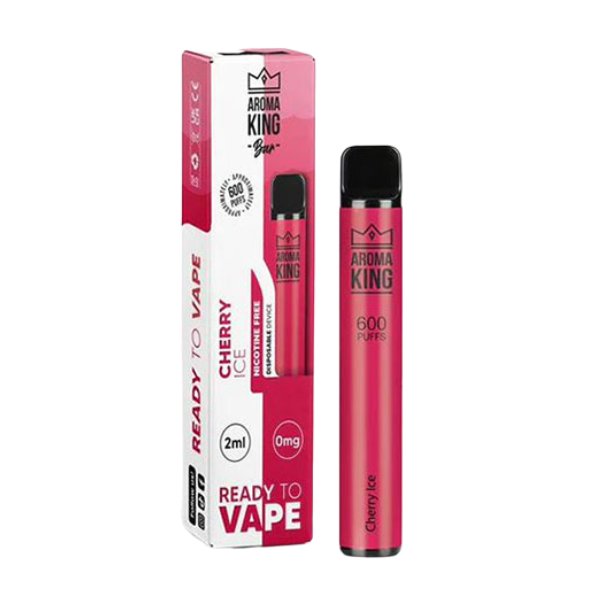 Cherry is one of the most popular vape flavors of all time, but this one has something a little different with a menthol kick on the exhale after a fruity and juicy inhale.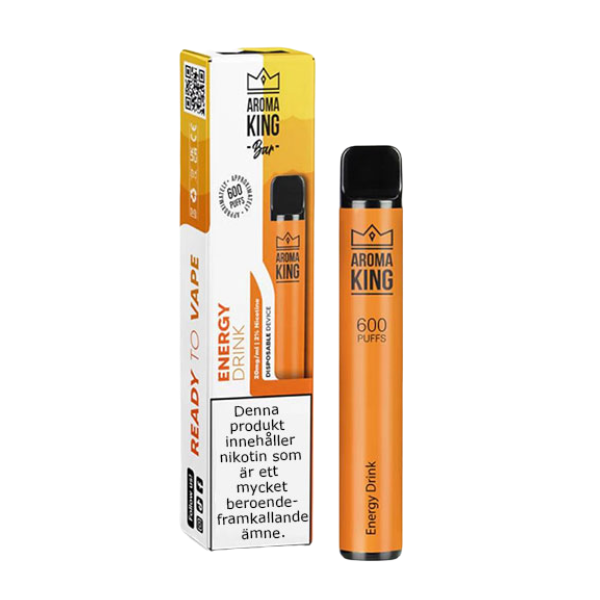 As you'd imagine from the name, this flavor is just like you favorite energy drink for an energizing, refreshing vape.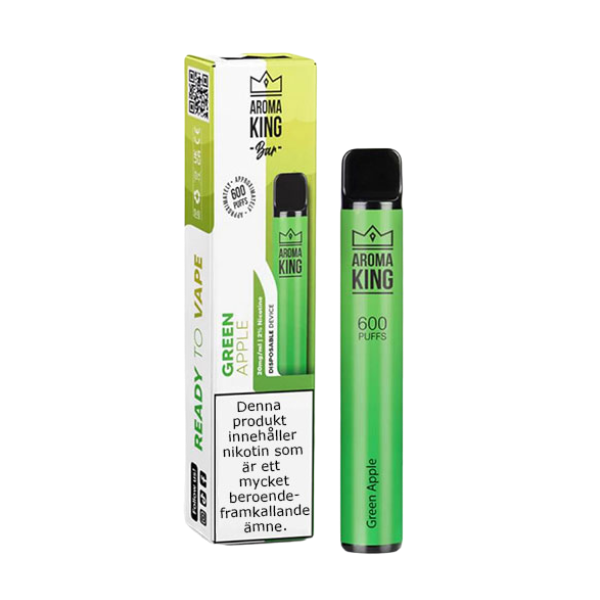 This is another popular flavor thanks to the tart tanginess of the sharp apple flavor on your tongue. A wonderfully juicy choice.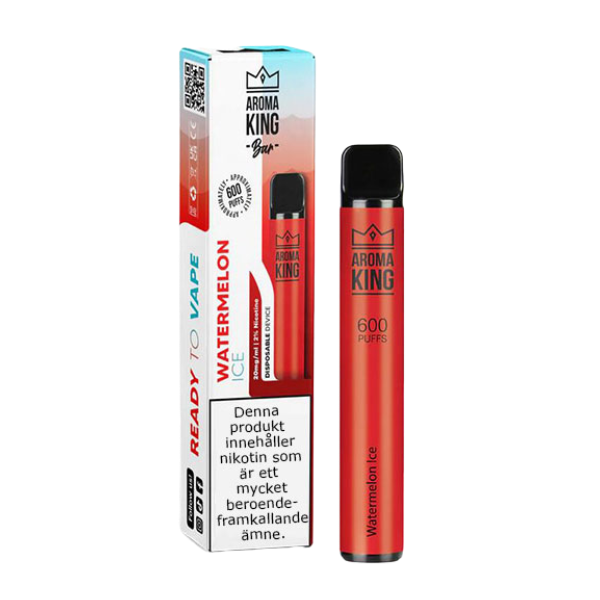 The perfect blend of icy menthol and juicy watermelon, this tongue-tingling vape will refresh you any time of the day.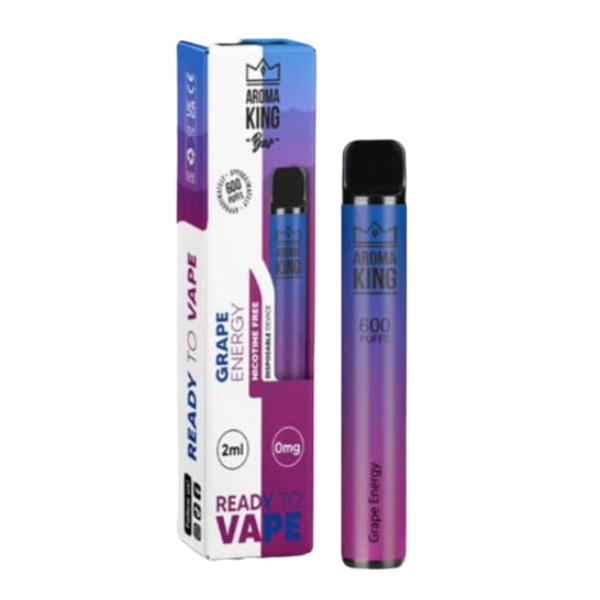 Another classic flavor that has its origins in the earliest vaping days, grape's juicy goodness conjures up your favorite grape soda. However, this one has a menthol hit on the exhale to refresh you even more.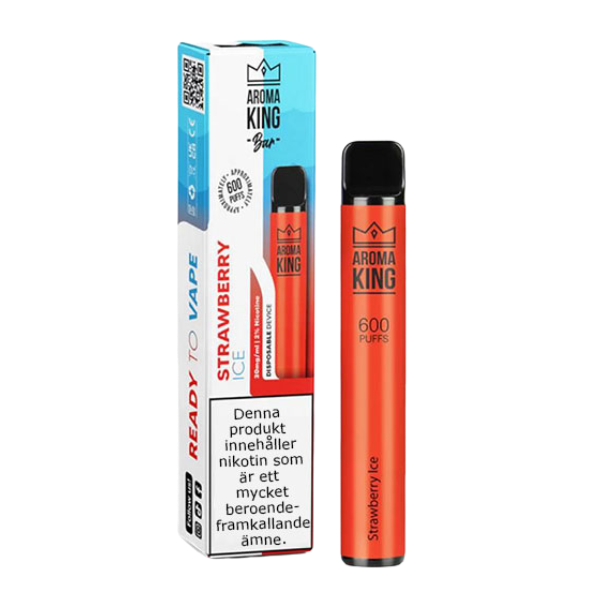 The best of both worlds – the juiciness of ripe strawberries paired with the cold creaminess of vanilla ice cream for the taste of summer.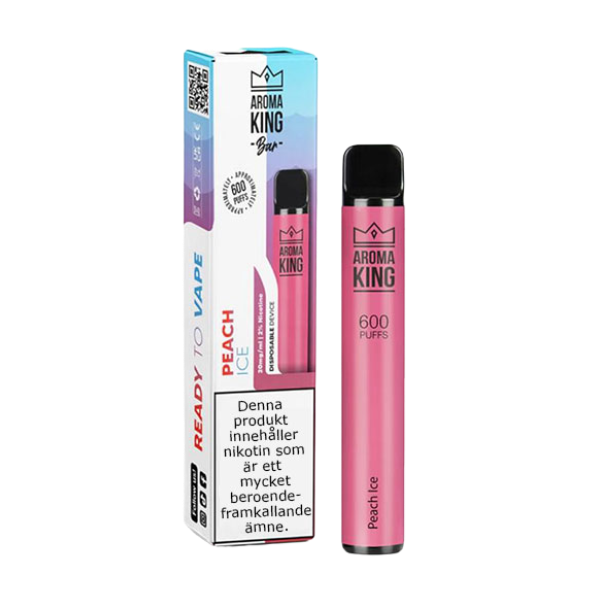 This delicious flavor conjures up summer in a single vape. Combining the sweet juiciness of ripe peaches with an icy menthol blast, it's sure to make your mouth water.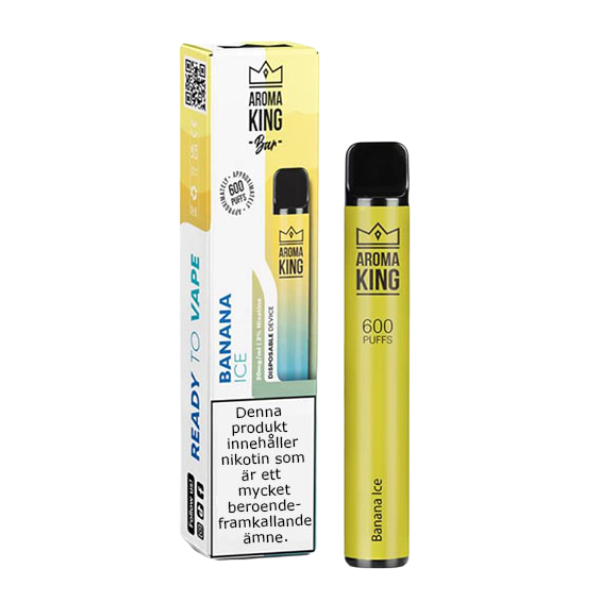 A lovely creamy banana flavored inhale with a minty and refreshing blast on the exhale – this is a complex but delicious flavor.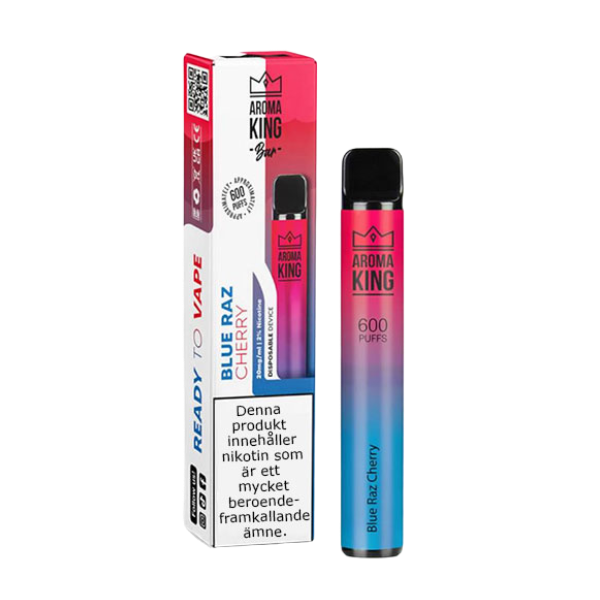 Exactly like your favorite blue raspberry lemonade paired with juicy, freshly picked cherries, this soda inspired vape boasts a tart, tangy flavor that will tingle your taste-buds.
Design & Quality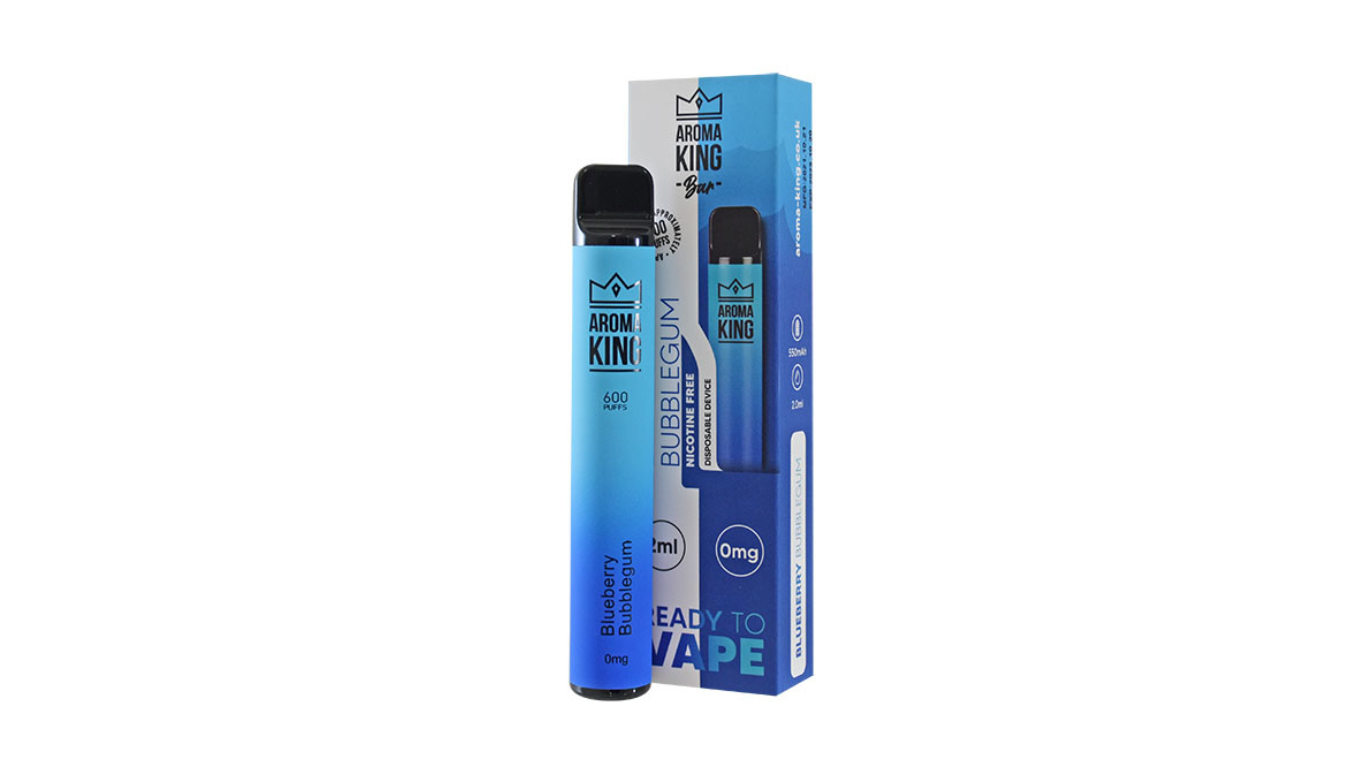 The Aroma King 600 has a classic cylindrical appearance with a colored body that matches the flavor you've chosen. It has an ergonomically designed black mouthpiece that is comfortable to use. Prefilled with only 2ml e-juice and powered by a 550mAh battery, the whole device is small and light enough to take anywhere which is, of course, the point of a disposable. While it surely sacrifices the feature of a long lifespan.
Its sleek good looks make it an attractive device to take anywhere, and it also features an LED indicator that will flash once the battery has depleted to let you know it's time to dispose of the device.
Aroma King is designed with ease of use in mind and even a complete beginner will have no difficulty in getting to grips with this device since it's draw activated. All you have to do is draw on the mouthpiece and the LED light will light up as the device activates and produces vapor for you to inhale.
Battery
Powered with a 550mAh battery, the Aroma King Classic disposable cannot be recharged, much the same as other disposables in its class. However, it's capable of providing as many as 600 puffs from each device before the battery runs out of power which equates to around two packs of regular cigarettes, making this a great option if you're trying to transition from standard cigarette smoking to vaping. All you need to do is take it out of the packaging and it's ready to use – perfect!
Performance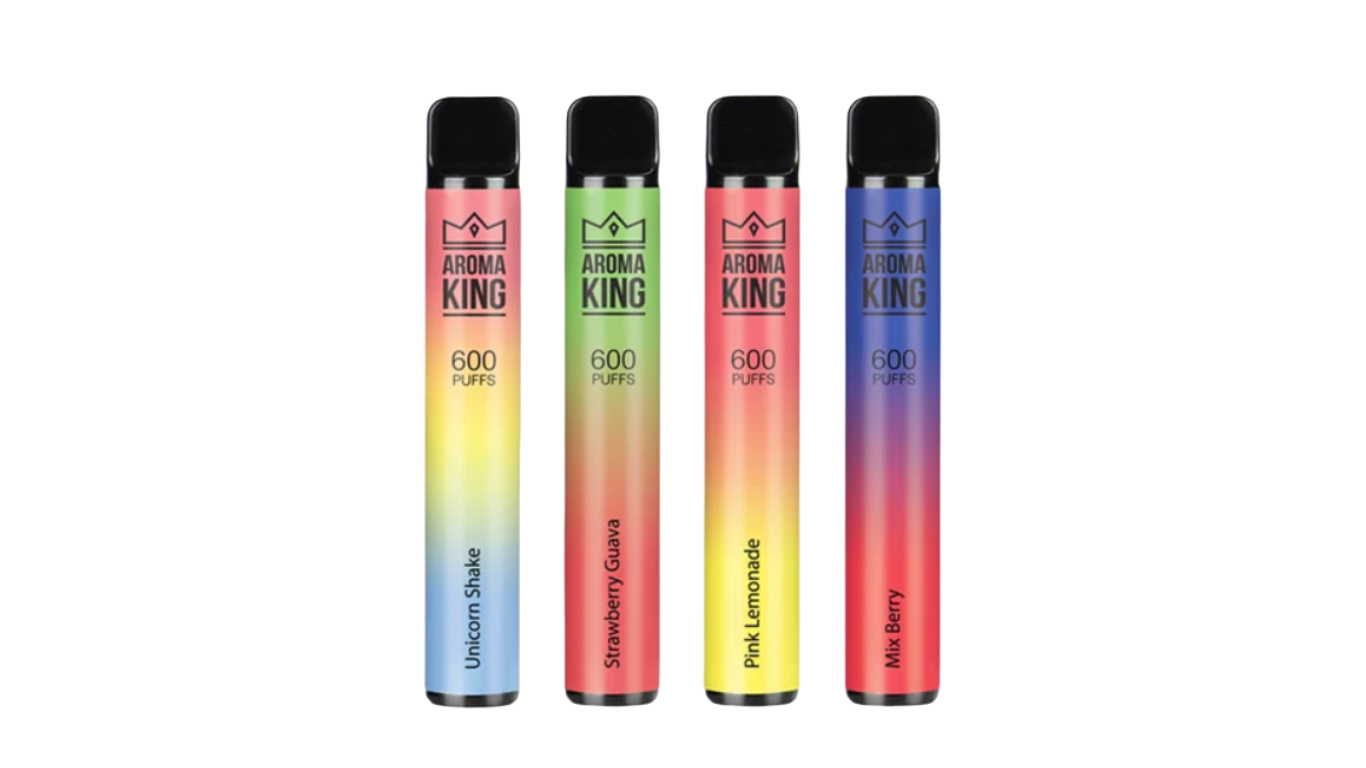 As the Aroma King Classic has been designed with the needs of transitioning smokers in mind, it delivers an MTL vape experience which is extremely satisfying. Its sufficient throat hit could definitely please former smokers. And plenty of its enjoyable flavor allows you to really get the most from the e-juice before it runs out.
There's also a choice of 3 different nicotine strengths provided by Aroma King Classic 600 puffs – 0mg, 10mg, and 20mg, which again makes this a brilliant choice of disposable for newbie vapers. If you want to get rid of the dependence on nicotine through vaping, then start out with the 20mg of nicotine and gradually work toward a nicotine-free vape over time while still enjoying the same amazing flavors and quality performance.
Price
The Aroma King 600 puffs disposable vape has been priced to be in line with other similar products from rival brands like the Elf Bar 600 and IVG Bar. Although it costs a little more than some other competitors' products, such as the Elf Bar Cigalike, it's worth remembering that this device offers 600 puffs which is 200 more than the Cigalike, which makes it worth the extra money.
Verdict
If you're trying to quit your smoking habit and are ready to try vaping for the first time, the Aroma King Classic 600 puffs disposable vape represents a good choice for you. Thanks to the three different nicotine strength options (0, 10 and 20mg/ml) that you can choose from, this device allows you to easily reduce the amount of nicotine you consume over time while still enjoying the same satisfying vaping experience and the same delicious flavors.
Representing good value for money for newcomers to vaping and for experienced vapers who are looking for a satisfying vape experience while out and about or on the go, the Aroma King Classic is definitely worth trying.