Geekvape rolled out a new pod mod kit, Geekvape Aegis Boost 2 (B60), as a follow-up to its advanced Aegis line. It's been over a year since Geekvape discontinued the original Aegis Boost and released another two line-ups, Aegis Boost Plus and Pro.

Over years Geekvape Aegis series has achieved cult status, then why actually? What makes the series keep topping the list of best pod mods to buy? Is Geekvape Aegis just overhyped?
Answers to these questions will be revealed one by one in our review on the Geekvape Aegis Boost 2 pod mod. We'll also compare it to its earlier iterations Aegis Boost Plus and Pro from head to toe, to find out which one is most worthy going for. Let's kick it off!
Top Airflow Leak-proof Design
Smart/Boost Working Modes
IP68 Rating
0.96″ LED Curved Display
Brand-new UI
2000mAh Built-in Battery
Safety Lock
Dimension: 25.9* 71.6 m
Output Power: 5W~60W
Maximum Output Current: 20A
Maximum Output Voltage: 7.5V
Charging Port: Type-C Port
Resistance Range: 0.2ohm – 2ohm
Battery: Built-in 2000mAh Battery
Display Screen: 0.96 inch, TFT Color Screen
Mod * 1
Pod (5ml) * 1
Coil Tool * 1
USB Cable (Type-C) * 1
Geekvape B Series Coil * 2 (Pre-installed: 0.2Ω 50~58W, Spare Coil: 0.6Ω 15~25W)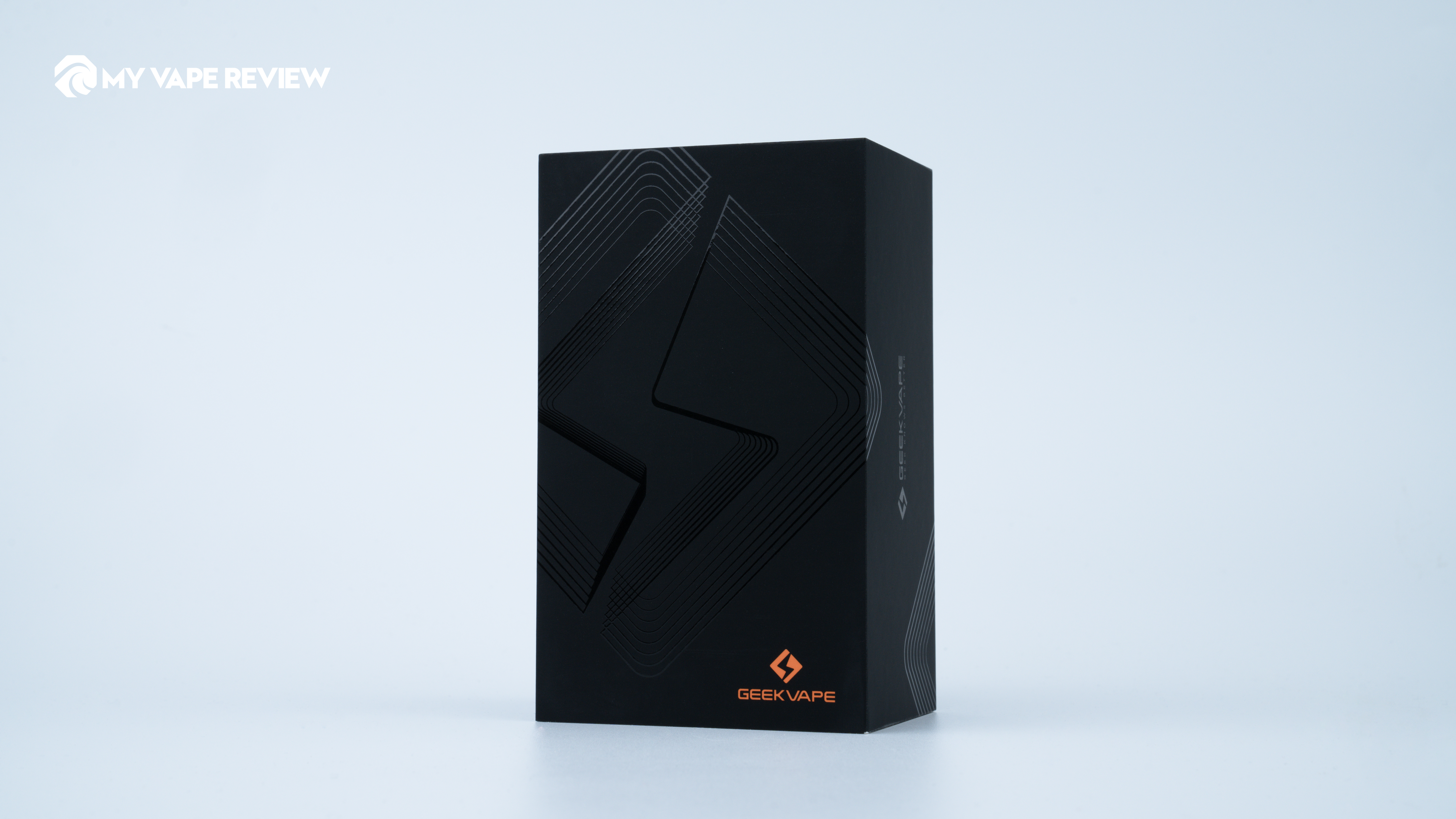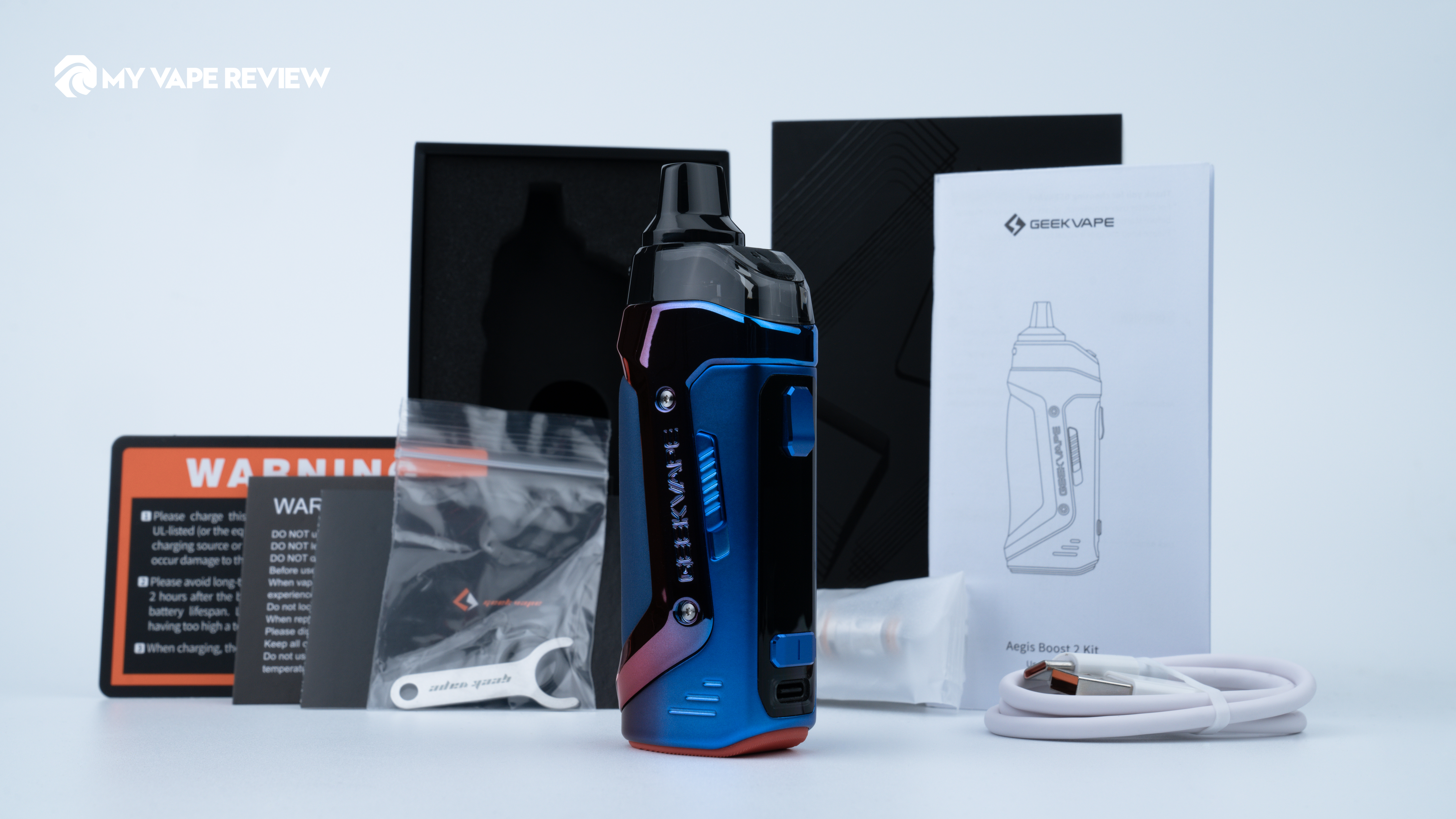 Geekvape Aegis Boost 2 has seven colors on offer. Samples we got are in Silver and Blue Red. Both of them look elegantly-crafted (signature Geekvape style); while we prefer the Blue Red one a bit because of the futuristic vibe shining through from its sleek gradient-color shell. Grey one is attractive as well, in an underrated way tho.
Mod section of Aegis Boost 2 hangs onto the layout of previous Aegis Boost products: solid metallic chassis coupled with leather patch covering all over the heel, a combo that delivers far more comfortable grips than pure metal coating. The pod mod has a big footprint, and its entire base is made of anti-slippery rubber. Whenever we leave off vaping, like putting it aside for charges, the machine is able to stand straight up. It's a truly big pro in our view because we hate cleaning up a puddle of gunky mess after a vape lies down by accident, just as you do.
Control panel of Geekvape Aegis Boost 2 rests on the side face. We love the big fire key that makes our pressing easier. Screen is the same great, featuring awesome brightness, refreshing rate and a clear-cut menu. The Type-C charging port is underneath watt adjustment buttons, so again we don't have to put the device down to recharge its battery.
There's a fairly useful update in the Aegis Boost 2—a separate key lock. It's designed like a toggle switch. To lock or unlock this pod mod, slide it. That's way easier than traditional means of pressing fire button for three times, and prevents unnecessary ignition.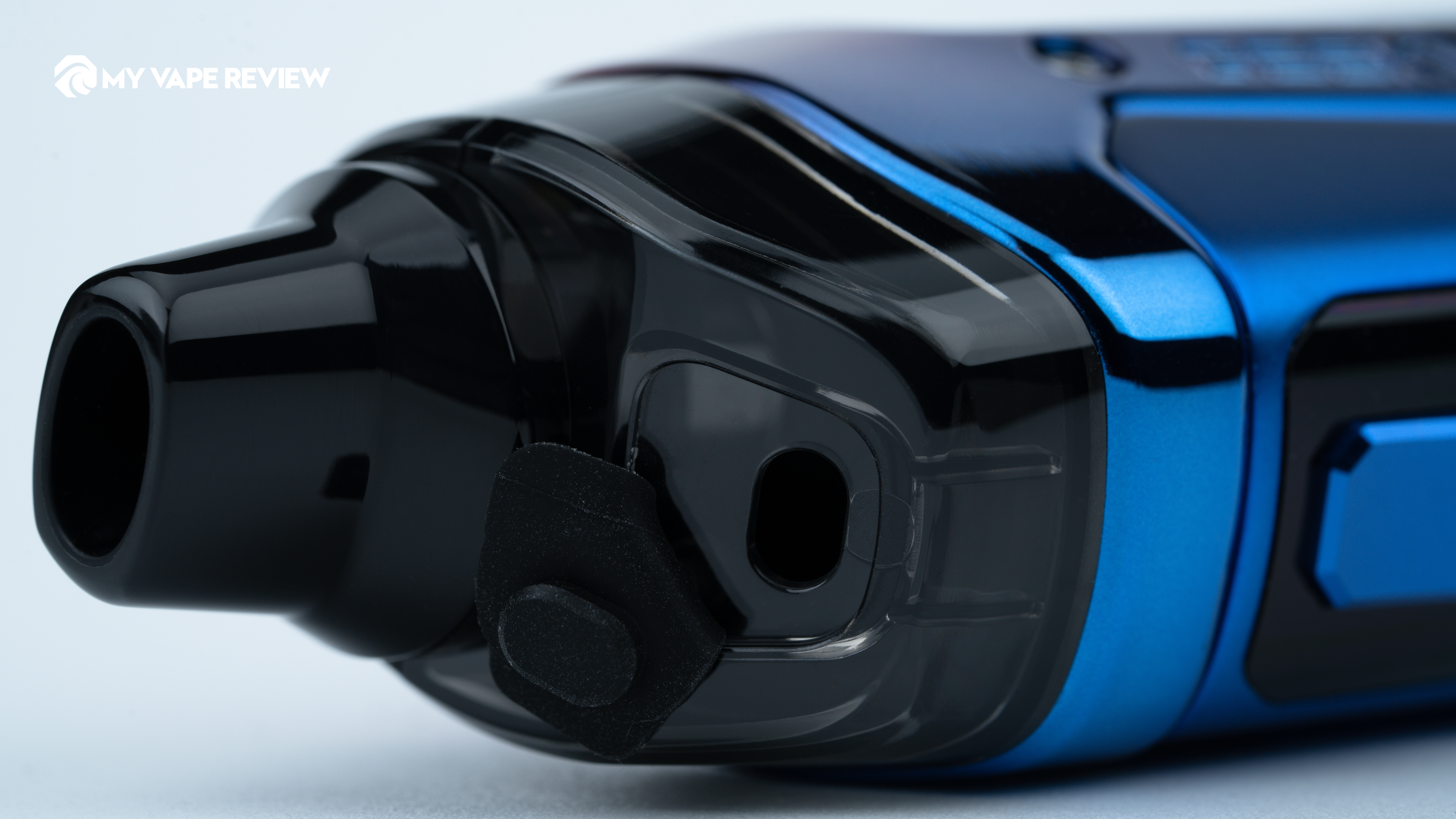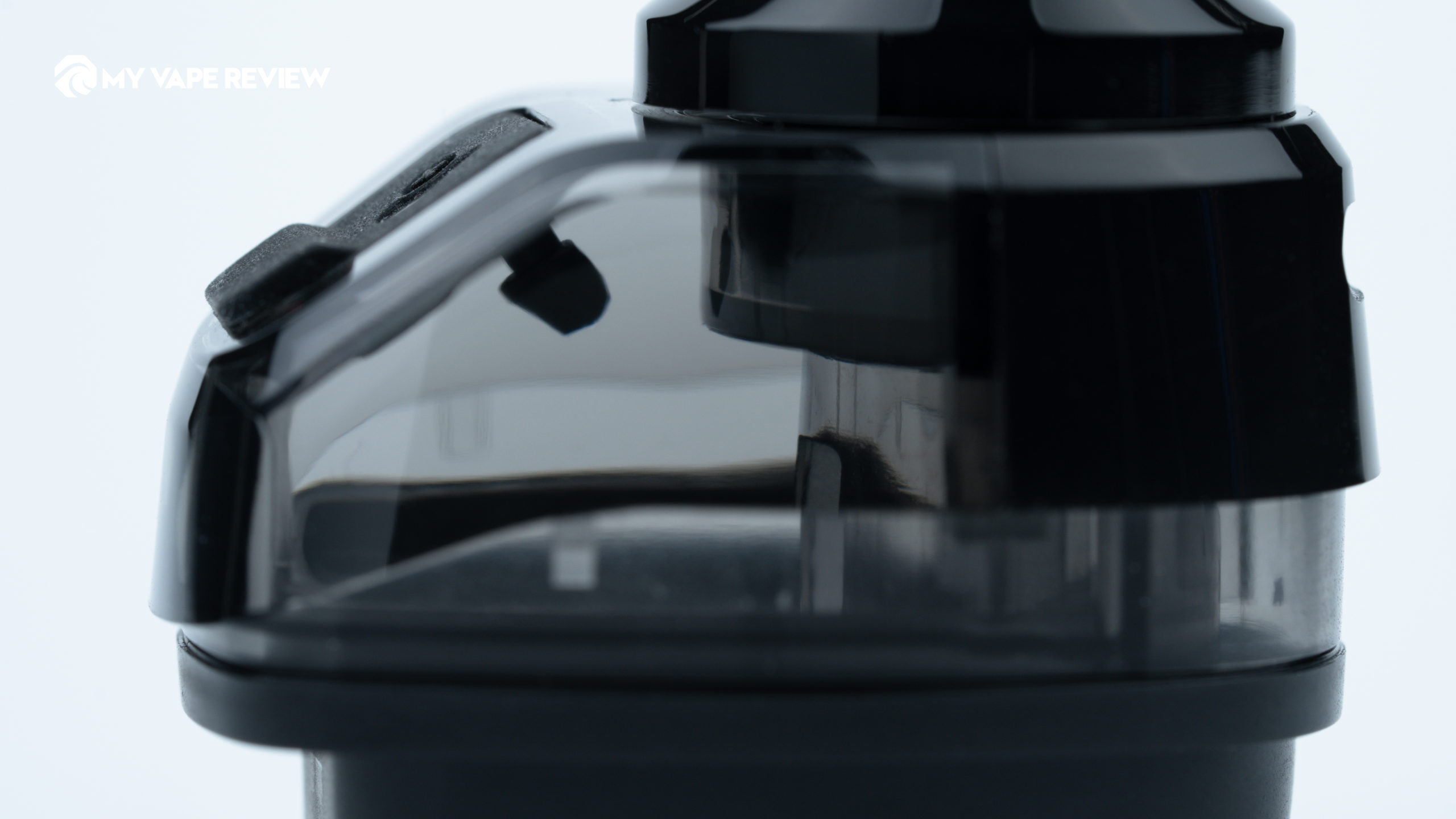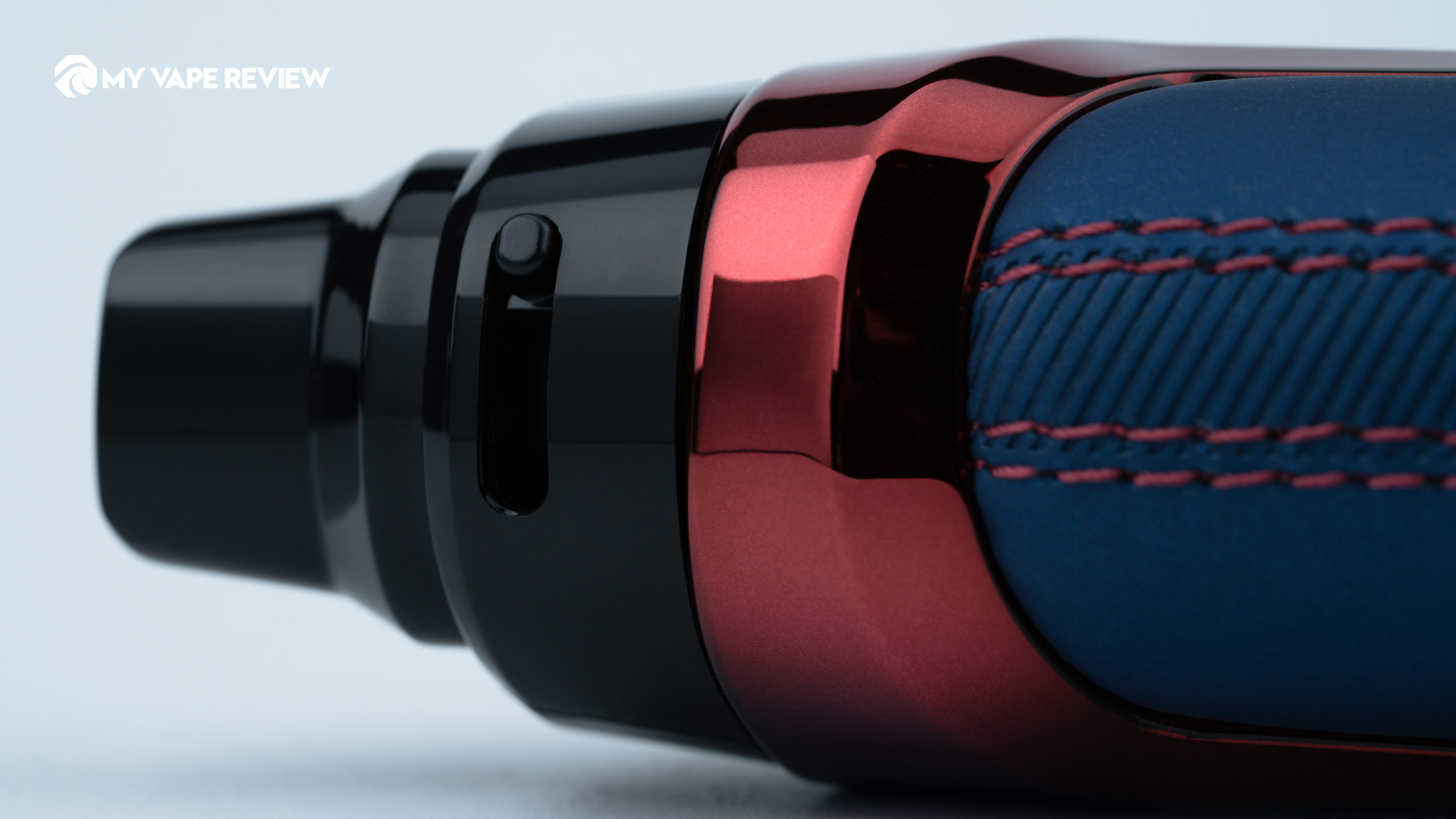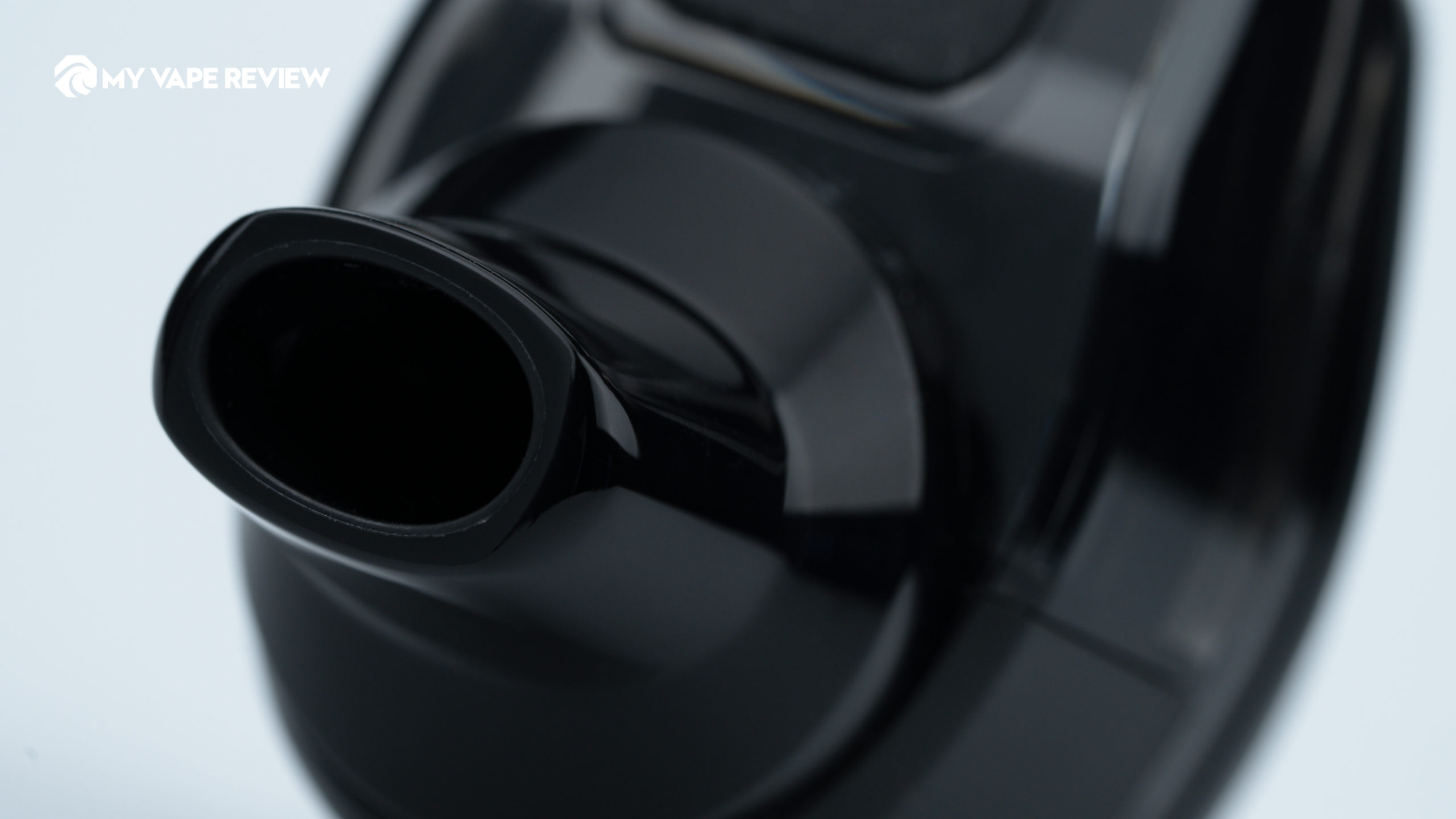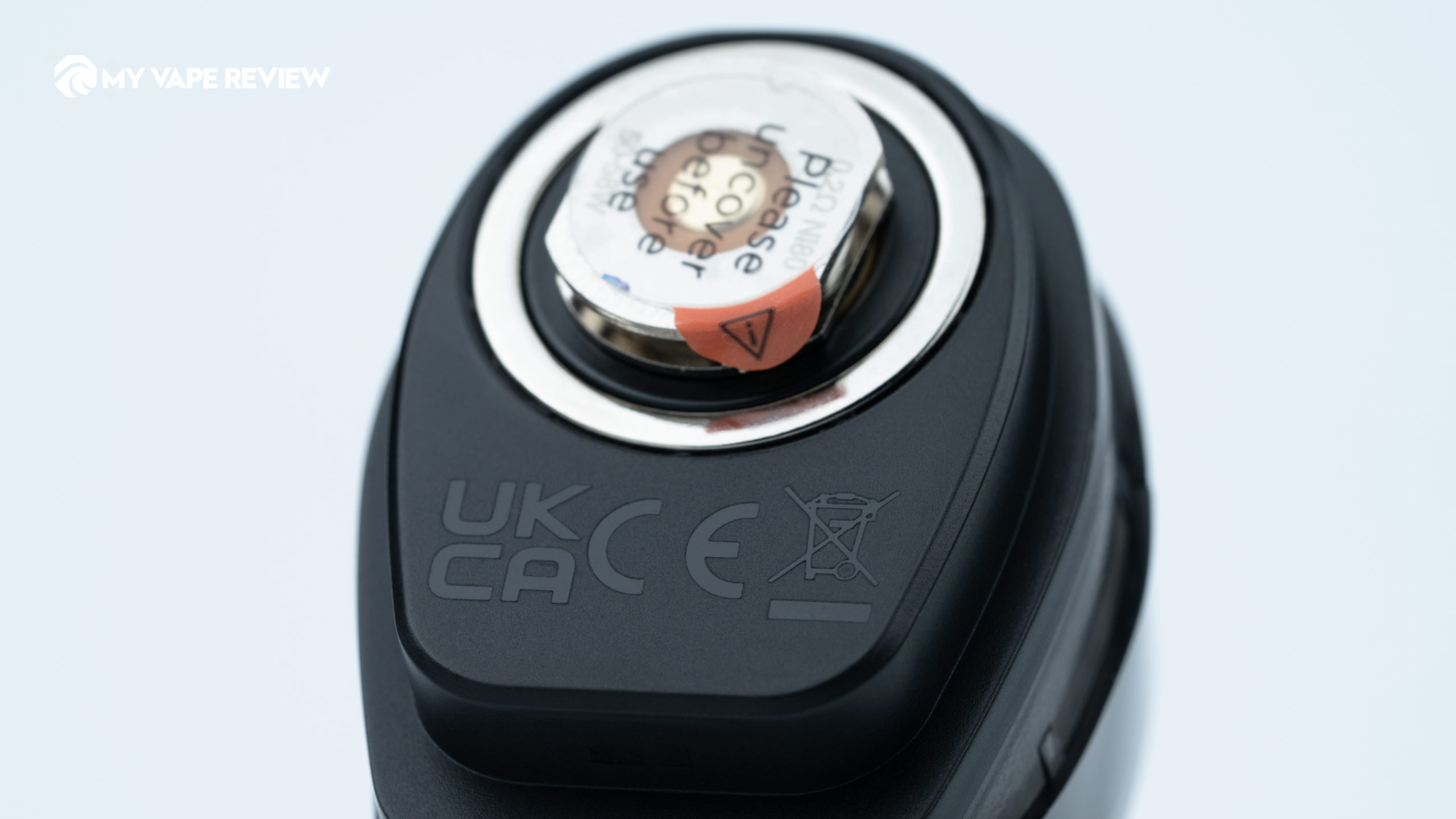 In contrast to the mod section, pod cartridge of Geekvape Aegis Boost 2 has less special things to offer, largely retaining the same old design like those of Aegis Boost Plus and Pro. The pod uses the most common top fill system, with a rubber lid covering the fill port. The port is wide wide open for very easy filling; that seems to increase the risk of leakage, but on the contrary, no e-liquid flew out of the port at all in our test, as the rubber lid is amazingly tight-fitting.
For a very long time, even up till this minute, we believe Geekvape products have no rival in leak-proof. Aside from the quality manufacturing, top airflow is another key. Aegis Boost 2 pod mod also uses top airflow, and we control the air amount by sliding a toggle. Such AFC system is very common this time around, but anyways it's tried and true. Most importantly, as long as we don't flip the pod over, it never leaks.
The pod is in half-visible black. 100% visibility is absolutely better, but checking e-liquid level in this one is also simple—so no complaints here. Aegis Boost 2 is pre-installed with a 0.2ohm coil. It's impossible to pull it out with bare hands as the coil is fitted too tight. That's more or less a fiddle. The good part is Aegis Boost 2 kit includes in a wrench-like coil tool specially for prizing coils off. Thanks you anyways, Geekvape.
Geekvape Aegis Boost 2 vs Plus vs Pro
Geekvape Aegis Boost 2 is the most portable option among the three. Its relatively small girth and nice grips make it a better option to grab and go when you're getting out and about. But if you need one for longer trips, we'd vote up for Aegis Boost Pro for its bigger e-juice capacity and longer battery life. Operations of the three devices are pretty much alike—no matter it's about refills or coil replacement. While in contrast, Geekvape Aegis Plus's screen menu is a bit less readable. Aegis Boost 2 looks most attractive, offering more stylish delicate embellishment than the others.
Geekvape Aegis Boost 2 vs Plus vs Pro
Geekvape Aegis Boost 2 pod mod is powered by a 2000mAh built-in battery. After fully charged, it lasts us three to four days in our test. Both Aegis Boost Pro and Plus run on external single 18650 battery. I can't speak to that which lasts longer between every charge as our 18650 vape battery also features roughly 2000mAh capacity, and the three's battery life is pretty much alike.
But we're certain that Aegis Boost 2 needs less time for charging, thanks to its more efficient Type-C charging port perhaps. Last time it took us 50 minutes or so to finish charging. While Aegis Boost Pro and Plus need at least one hour. Also note that Aegis Boost Pro and Plus both have a rubber cover over their charging ports for dust-proof purpose I guess, but the latest Boost 2 eliminates it. Personally I like the previous design.
Geekvape Aegis Boost 2 vs Plus vs Pro
Among others, Geekvape Aegis Boost Pro has highest max power output at 100W, whereas Boost Plus tops out at only 40W. Although using the same P series coils as Aegis Boost 2, Boost Plus's coils are rated between only 15-35W, while the rated wattage range of Boost 2 is 15-58W. That's much wider. All these factors have direct impacts on the final performance of the three machines.
Geekvape Aegis Boost Plus creates smaller and looser vapor; its flavor intensity is decent, but not as great as the other two. This one is best for nic salt juice and MTL draws. Or you can also try out RDL vaping in it by fully opening the airflow hole. Aegis Boost Pro chucks out biggest dense clouds. It's designed exactly for DTL vapers. But we didn't notice evident difference in the flavor delivered by Aegis Boost Pro and 2—both bang out quite vibrant and even flavor.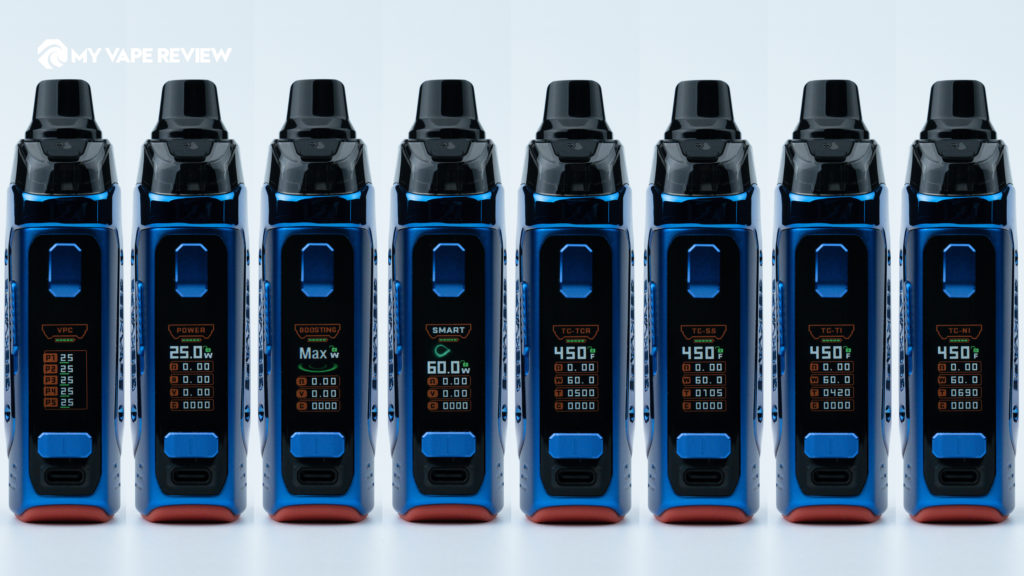 By pressing the fire key three times, we can flick between 8 modes in Geekvape Aegis Boost 2. But strictly speaking there're only 5 major modes, as those TC sub-modes shouldn't be counted in.
But as Aegis Boost 2 is not really a device for DIY vaping, I just don't see the point of wrapping in such all-around advanced temp control features. If vapers want to avoid a burnt coil, the Smart mode has completely got the need covered. At bottom, when it comes to functions, Smart mode is the only update in Aegis Boost 2. All other modes has long since been available in Aegis Boost Pro and Plus, and Boosting mode is in essence a different name for Bypass.
Geekvape Aegis Boost 2 vs Plus vs Pro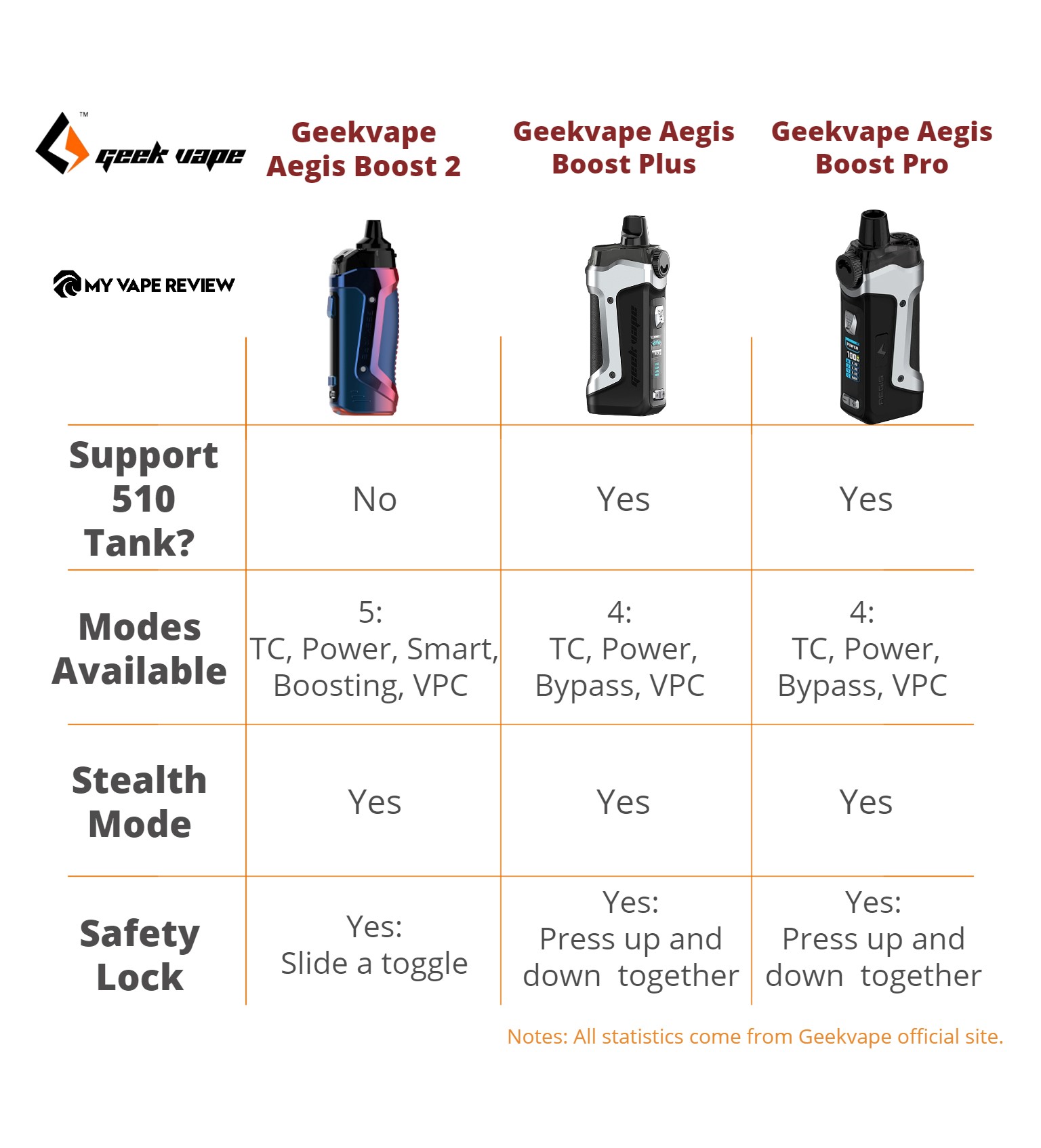 All the three Geekvape Aegis Boost gadgets have in-depth, sophisticated feature set: at least 4 working modes and fully-featured temperature control. Plus, Aegis Boost Pro and Plus kits even offer a 510 adapter to allow users to replace the original cartridge with any 510 tanks. But it seems that the capability of swapping out different tanks is not really necessary in a lower-powered device as Aegis Boost Plus. This feature turns out more sensible and practical in Aegis Boost Pro, as some vapers, us included, might want to install RBAs on the 100W mod vape to chase clouds. We can enjoy really versatile vaping experience from Boost Pro.
In contrast, functions of Geekvape Aegis Boost 2 fit better with beginners. It adds a foolproof Smart mode that automatically sets your device at the optimum power after identifying coil resistance, so beginners don't need to bother figuring out the Ohm's law in advance. Besides, although all the three allow for device locking and unlocking, Aegis Boost 2 makes everything easier. You set or remove a lock simply by sliding a toggle switch on its larger face.
Geekvape Aegis Boost 2 vs Plus vs Pro
Geekvape Aegis Boost 2 pricing is within the price range of typical pod mod vapes, somewhere around 50$, although it costs a bit more than Boost Pro and Plus. Considering cost-effectiveness alone, Aegis Boost Pro sure beats the pants off the other two. After all it's a 100W mod vape compatible with all 510 tanks. While if you're looking for a truly intuitive hassle-free pod mod, Boost 2 costs more, but will be worth every penny.